I've got a great, simple keto stir fry for you here that can be ready inside 15-20 minutes. This is a really easy dish to learn and I use it often, usually on a weeknight when I just want something tasty and fast!
This keto stir fry uses chicken thighs as a base, which I find much more flavorful and forgiving than breast. They're paired up with a good helping of peanuts to give some crunch and texture to the dish, all while adding a bunch of healthy fats.
I use chicken thighs all the time, as I'm cutting back on red meat. They keep this dish cheap and easy as an affordable meat. For more cheap keto meals check out this post which has plenty more chicken thigh recipes.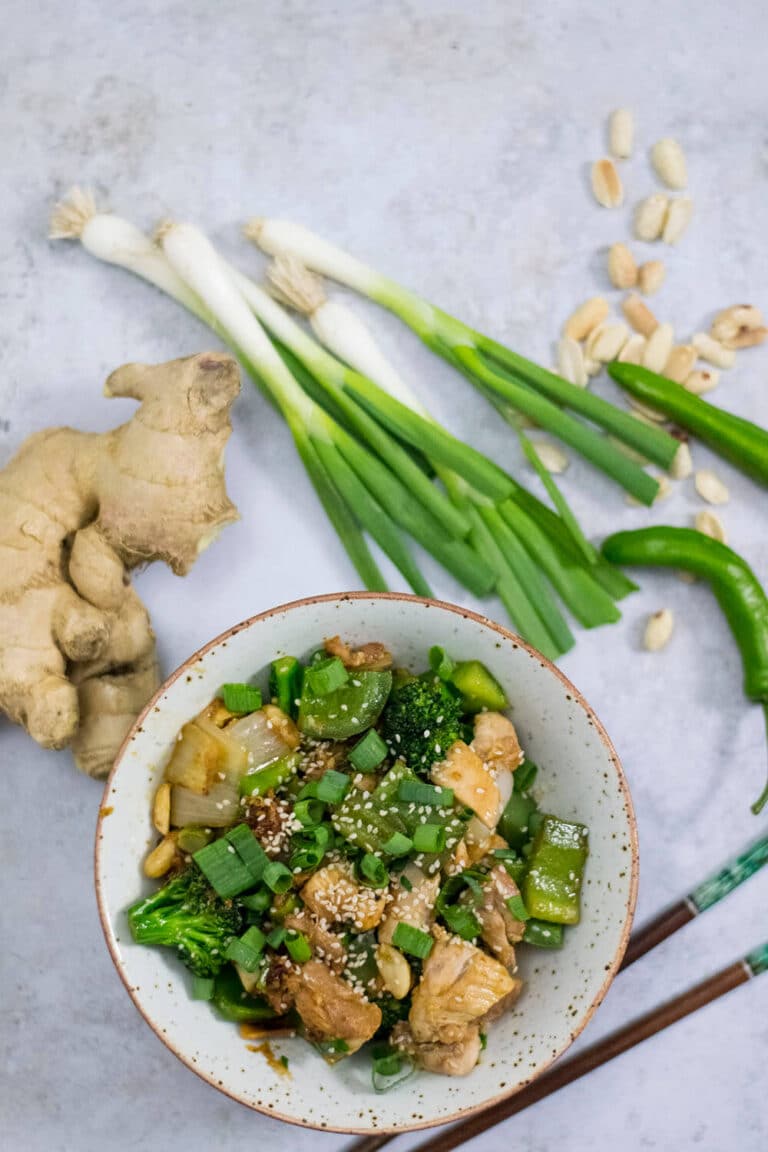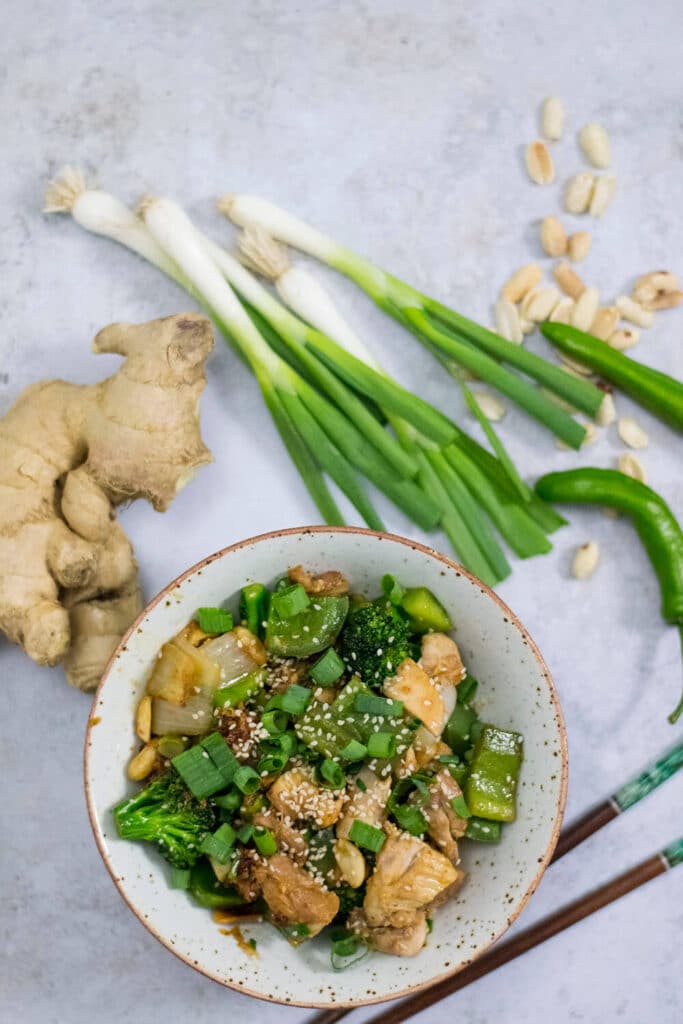 Ginger, garlic and a little sriracha give this heaps of flavor for minimal effort. I use coconut aminos in place of soy sauce, but this is more of a nice to have depending on how strict you're being with your keto.
The key to a good keto stir fry is to cook everything on a really high heat, for as short a time as possible. You want all the ingredients to be just cooked, no mushy veg or tough chicken. I'm using a heavy based skillet for this but for the real deal you'd want to use a wok on a very high heat.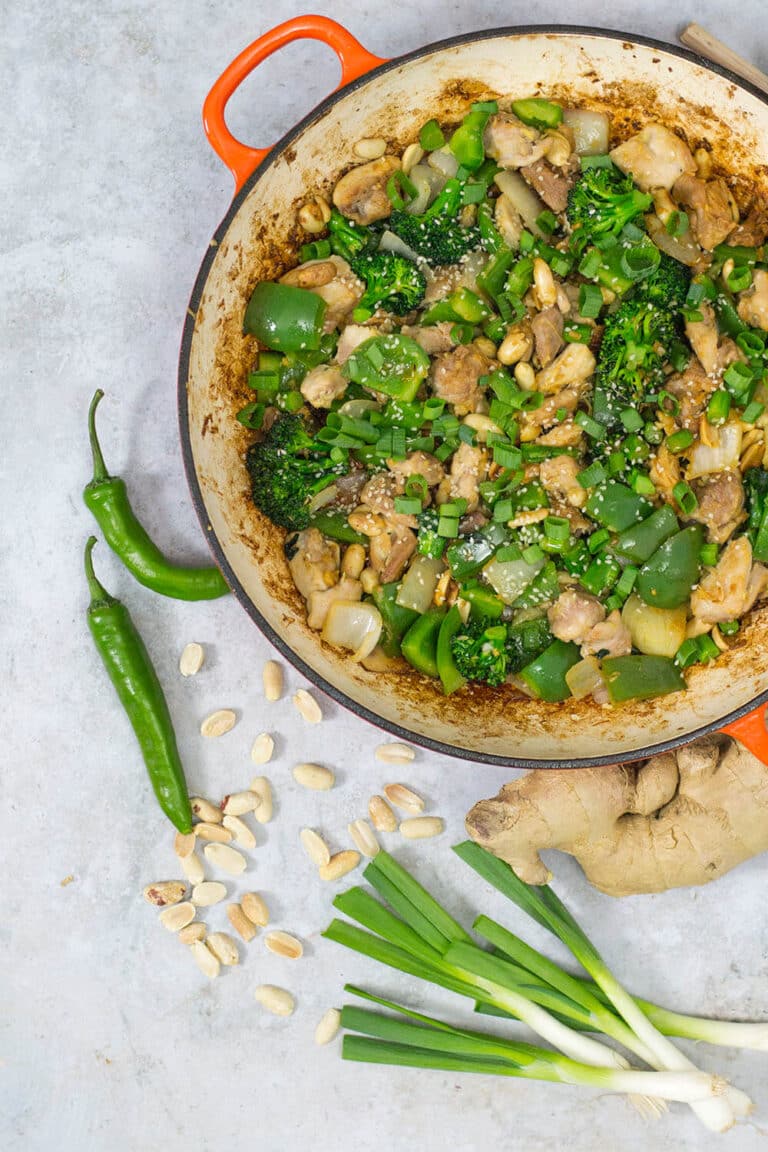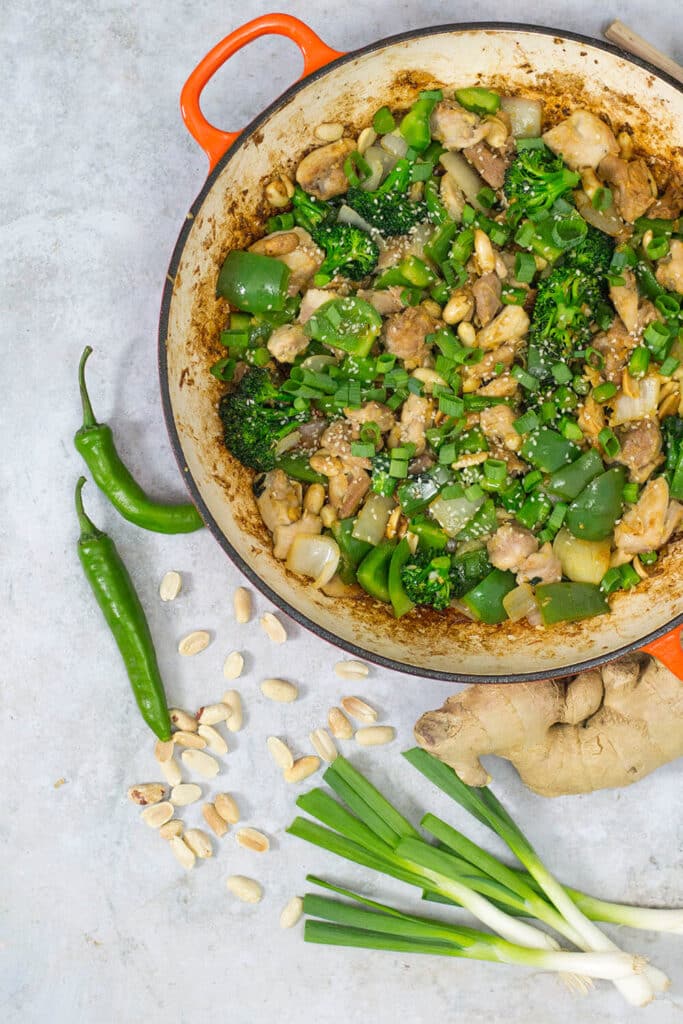 In terms of vegetables I just add whatever green veg I've got to hand. There aren't many high carb green veg so stick with these, in this case I'm using broccoli and green pepper. You could throw in asparagus, kale, peas, green beans etc. this really is a flexible low carb stir fry.
The beauty of this dish is the speed with which you can put this together. The actual cooking time for this keto stir fry is so short that I definitely recommend doing all your prep beforehand, with everything chopped and ready to go. The french call this mise en place, and it's an approach to cooking that makes the whole cooking process more enjoyable.
A Quick and Easy Keto Stir Fry
Give this one a go and let me know what you think in the comments below, I hope you love it! If you do then don't forget to pin it using one of the pin buttons.
This is a great, quick keto meal but I've got loads more to choose from in these two round ups: 15 minute keto dinners and this list of quick keto recipes.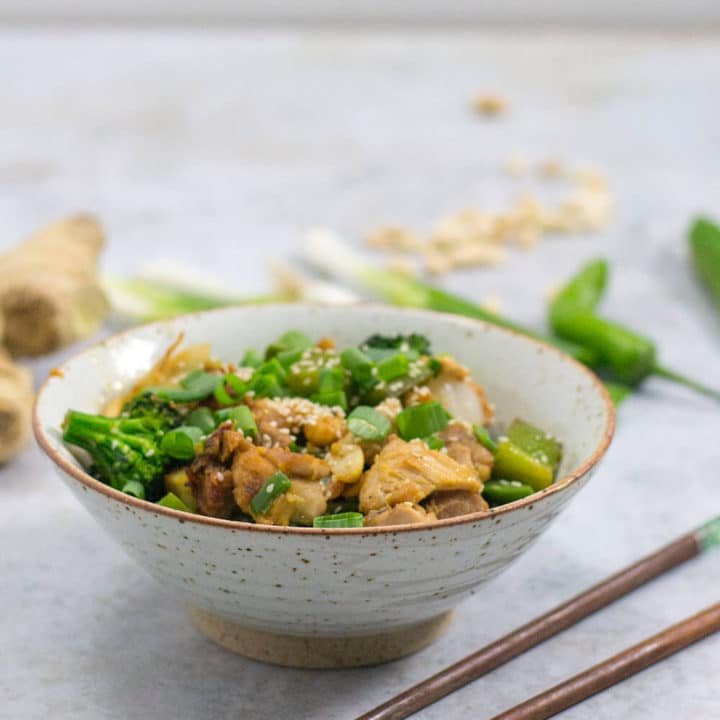 Easy Peanut Chicken Keto Stir Fry
A quick keto stir fry of peanuts and chicken
Ingredients
2 Tbsp Coconut oil
4 Chicken thigh fillets - cubed
1/2 Cup peanuts
1 Green bell pepper - cut into chuncks
1/2 Medium white onion - cut into large chunks
1 medium broccoli - chopped into floret
2 Garlic cloves - crushed
1 inch piece of fresh garlic, grated
1 Tbsp Rice wine vinegar
2 Tbsp Coconut aminos
1 Tbsp Toasted sesame oil
1 Tbsp Sriracha or other chili sauce
1 Tbsp Sesame seeds
1 Tbsp Chopped scallions
Instructions
Heat oil in a hot pan, add the chicken thighs and saute for 5-6 minutes until browned
Add the onion, bell pepper and broccoli and saute for 2-3 minutes, stirring regularly
Add the garlic, peanuts, ginger and remaining liquid ingredients and saute for a further 2-3 minutes
Serve immediately - sprinkle with chopped scallions and sesame seeds to garnish
Nutrition Information
Yield

4
Serving Size

1
Amount Per Serving
Calories

532
Total Fat

38g
Saturated Fat

13g
Trans Fat

0g
Unsaturated Fat

23g
Cholesterol

166mg
Sodium

579mg
Carbohydrates

13g
Fiber

5g
Sugar

5g
Protein

37g