This is one of my favorite easy keto meals, for those times when you just want something quick, hot and easy. This simple keto shrimp recipe is ready in 10 minutes and packed with flavor thanks to plenty of garlic, butter and herbs.
Using zucchini noodles bulks this out with plenty of healthy greens and absorbs the lemony, buttery, garlicky goodness of the sauce for a really satisfying keto meal.
This quick, easy keto shrimp recipe is low carb, paleo and gluten free too. It's a nice light meal ideal for a lunch or light dinner, especially in the summer!
Don't fancy shrimp? Then try these garlic butter chicken thighs instead!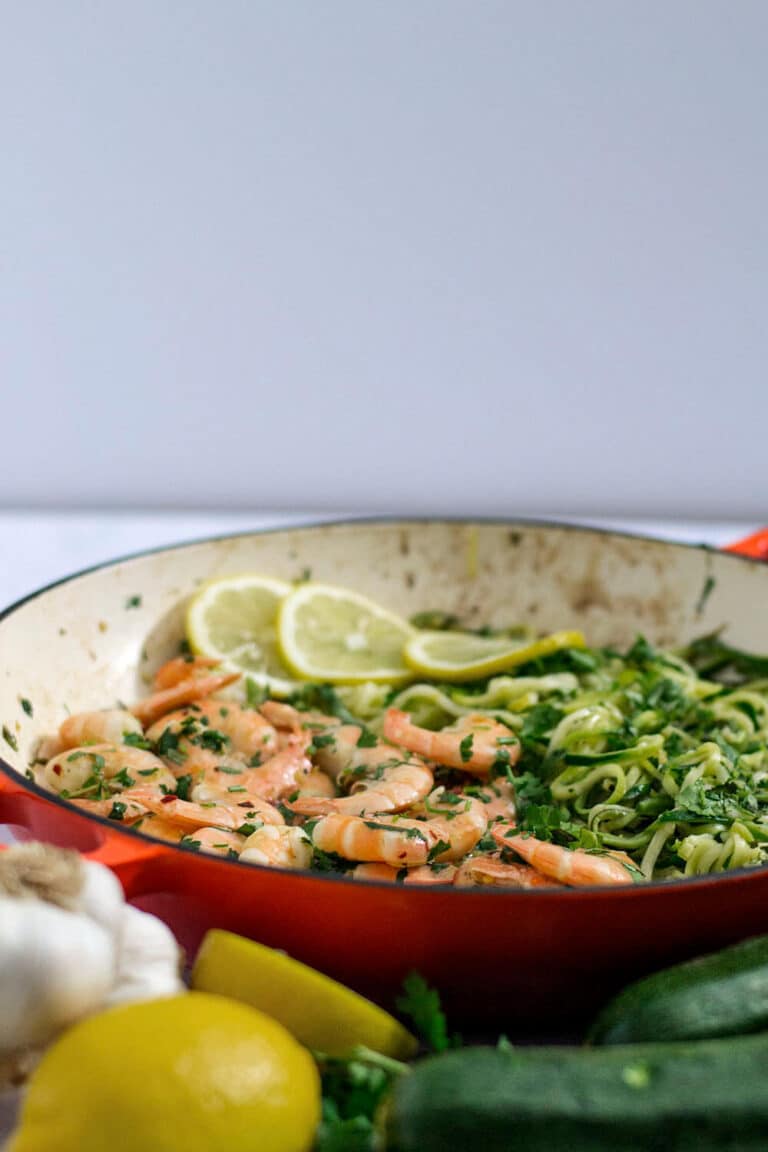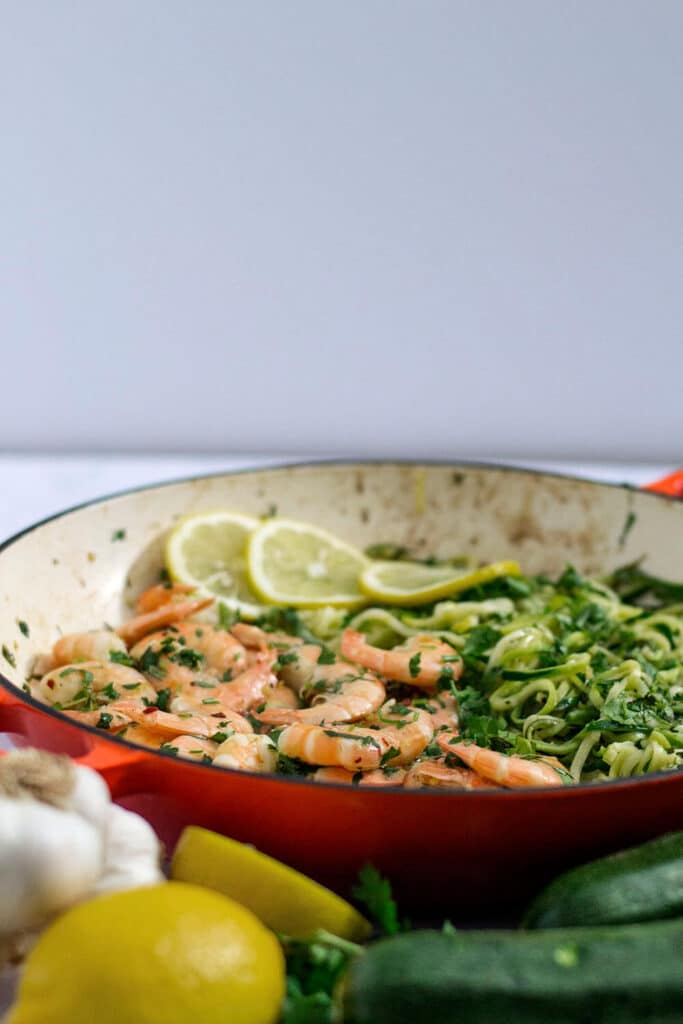 The key to sticking to your diet it to make things as simple as possible, and take away any potential obstacles to success.
Convenient, quick and easy keto recipes like this are great to add to your repertoire, especially if you're just starting out. I've listed out a bunch of these types of dishes here and here if you're interested in more quick recipes.
Being honest with myself I can get pretty lazy when I get home from work sometimes, often after longer days with deadlines etc. Those are the times I get closest to packing it in and ordeting takeout.
This dish is a great go to in those situations because it's so quick, satisfying and can be done in one pan (less washing!)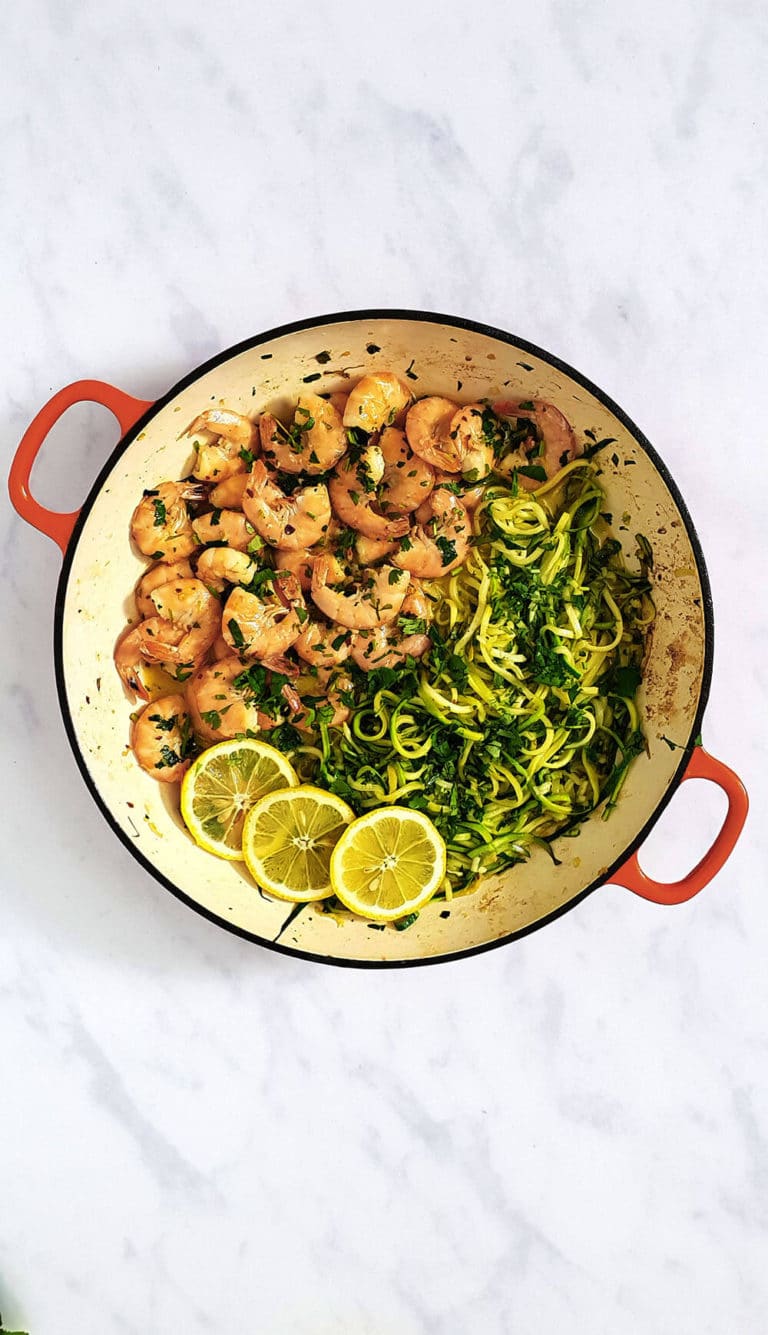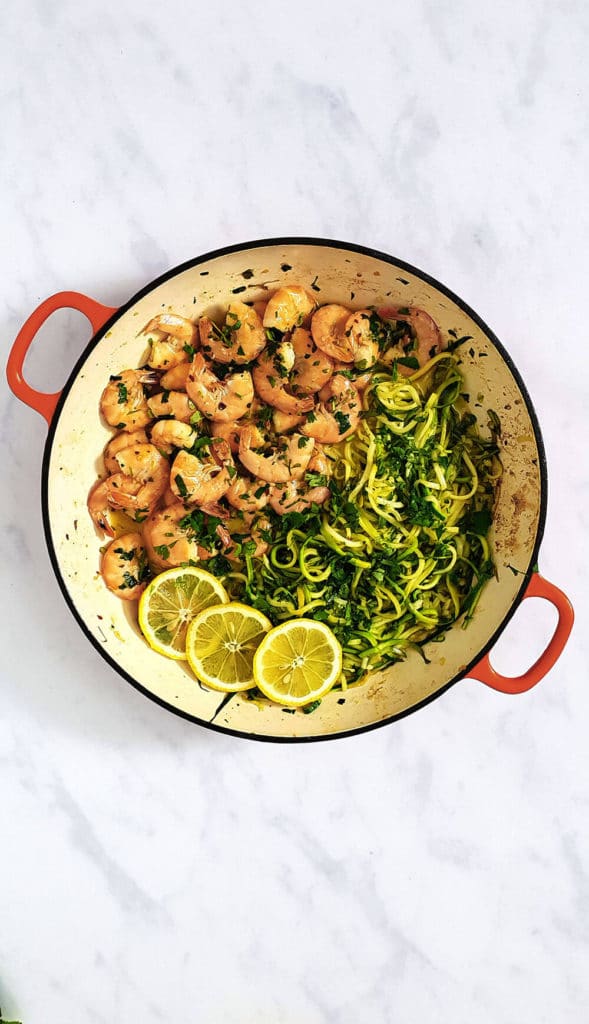 I probably eat this garlic butter shrimp dish at least once a fortnight. I have bunch of frozen shrimp on hand in the freezer at any time for dishes like this and keto curries etc.
It makes it much harder to cheat or find excuses when you've got everything you need for a tasty meal in the house, and can have it ready faster than you can get food delivered!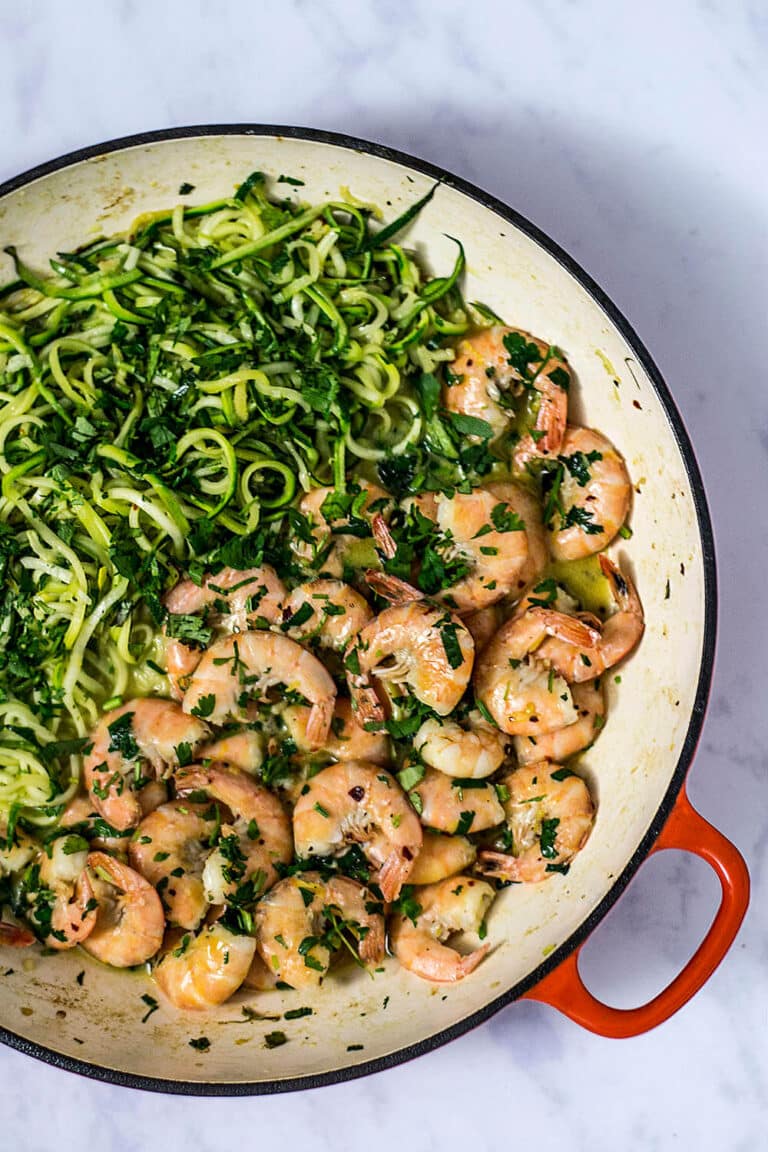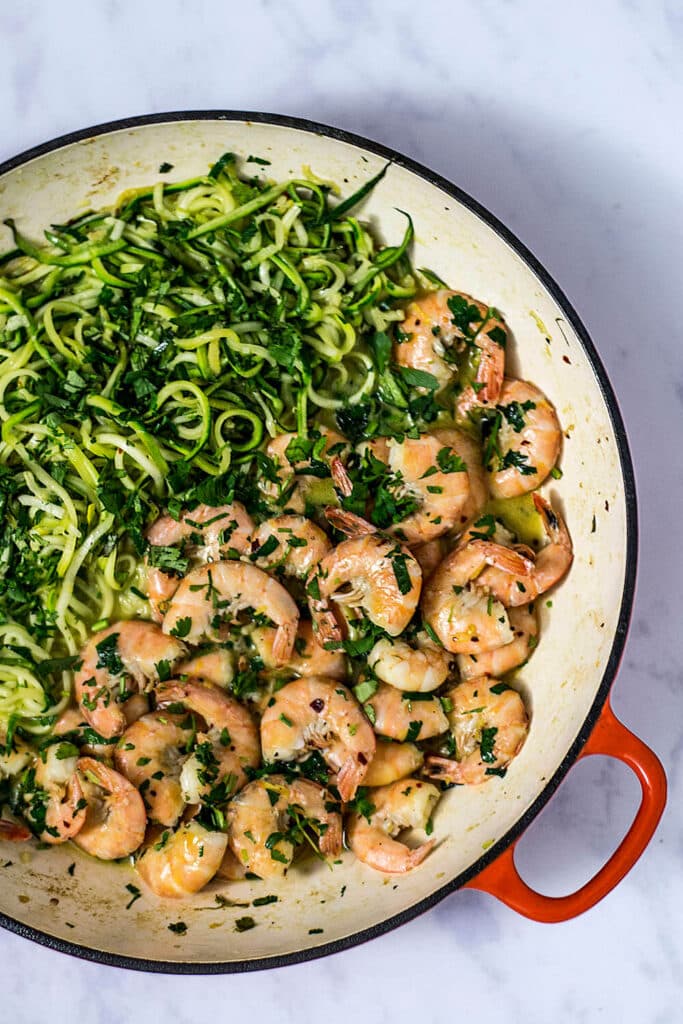 When cooking this remember time is of the essence, you don't want to overcook either the shrimp (as they get tough and chewy) or the zucchini (soggy and wet)
The zucchini will probably only need 1-2 minutes tops, you want them to still have some texture and bite rather than being a big wet mess. This keto garlic butter shrimp recipe is supposed to have a glossy sauce and some texture from the zucchini so don't forget it on the stove!
COOKING TIPS:
1. To keep the zucchini from leeching too much liquid into the sauce – firstly, keep the cook time short. Second, you can pre-firm them using salt.
In a colander, sprinkle the zucchini with salt and mix well to combine. Leave for 5 minute then press firmly to squeeze out the excess moisture, then rinse and drain.

2. For a creamier sauce add the last bit of butter at the very last minute, once you've taken the pan off the heat. Adding it too a hot pan with split the butter, losing some of the softness it adds.

3. This dish would work great with a bunch of other herbs + spices – try with coriander or lemon thyme, I use whatever's in the cupboard most of the time.

4. When it says serve immediately, really do with this one! It's best straight from the pan as the zucchini will continue to soften up the longer you wait.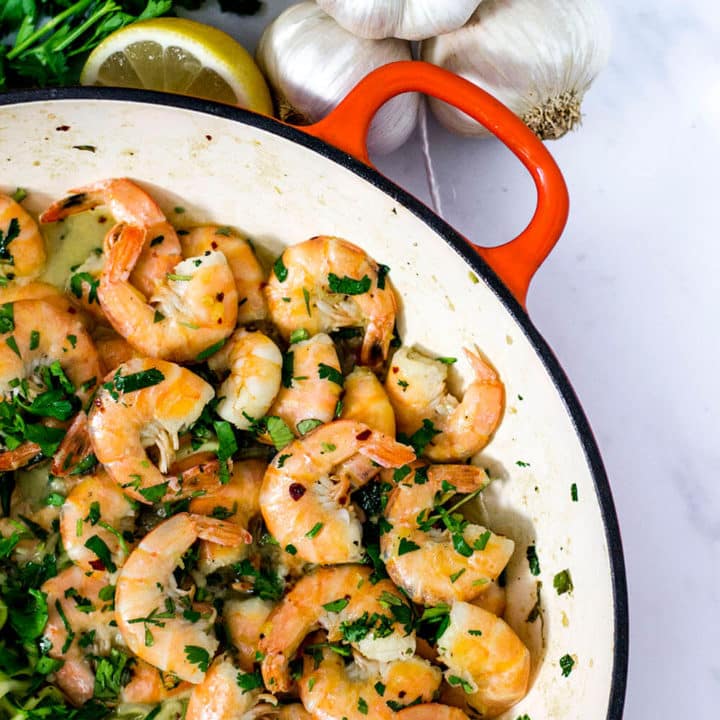 Keto Garlic Butter Shrimp with Zucchini Noodles
A delicious, light, one pot keto dinner of Shrimp and Zucchini Noodles in a lemon, garlic and butter sauce.
Ingredients
2 medium zucchini - spiralized or julienne peeled
1/2 Lb raw shrimp - peeled
3 garlic cloves - finely diced
2 Tbsp - Olive Oil
3 Tbsp - Salted butter - softened
1/2 Lemon - Juice and zest
1/4 cup vegetable or chicken stock
1/2 tsp Paprika
Small handful of chopped parsley (reserve some for garnish)
Salt and black pepper
Instructions
Use a spiralizer or julienne peeler to prepare your zucchini noodles. (Optional) for a firmer end result, sprinkle the spiralized zucchini with salt and mix well in a colander. Leave for 5 minutes then press firmly to remove excess moisture. Rinse and drain well before using.
Heat oil and half of the butter in a heave based skillet on high to medium heat. Add shrimp to pan and saute for one minute.
Add garlic, paprika, salt and pepper and saute for another 2 minutes until shrimp is cooked through, stirring well.
Set aside shrimp, in the same pan add the lemon juice and stock and stir well to de-glaze any browning stuck to the bottom of the pan. Stir for two to three minutes until the sauce starts to thicken
Add in the zucchini, stirring well and cooking for 2 minutes until done.
Take the pan off the heat, add in the shrimp, the remaining butter, a big pinch of lemon zest and parsley. Stir well to melt the butter and serve immediately, enjoy!
Nutrition Information
Yield

2
Amount Per Serving
Calories

406
Total Fat

33g
Saturated Fat

13g
Unsaturated Fat

17g
Cholesterol

211mg
Carbohydrates

13g
Net Carbohydrates

9g
Fiber

4g
Sugar

5g
Protein

18g
Note: approximate values only