Creamy Avocado Keto Salad Dressing: A Rich, Flavorful Delight
Embarking on a keto journey doesn't mean you have to sacrifice flavor for nutrition. In fact, it's an opportunity to explore the rich and satisfying tastes that a low-carb lifestyle has to offer. And what better way to enhance your fresh, crisp salads than with a creamy avocado keto salad dressing? This delectable condiment is not just bursting with flavor, but it's also packed with healthy fats and nutrients, making it a perfect match for your keto diet.
With just the right blend of avocado's buttery texture, the tanginess of fresh lemon juice, and the subtle kick of garlic and spices, this dressing turns any ordinary salad into a gourmet keto delight. Whether you're a seasoned keto aficionado or just looking for a healthier dressing alternative, this recipe is sure to impress.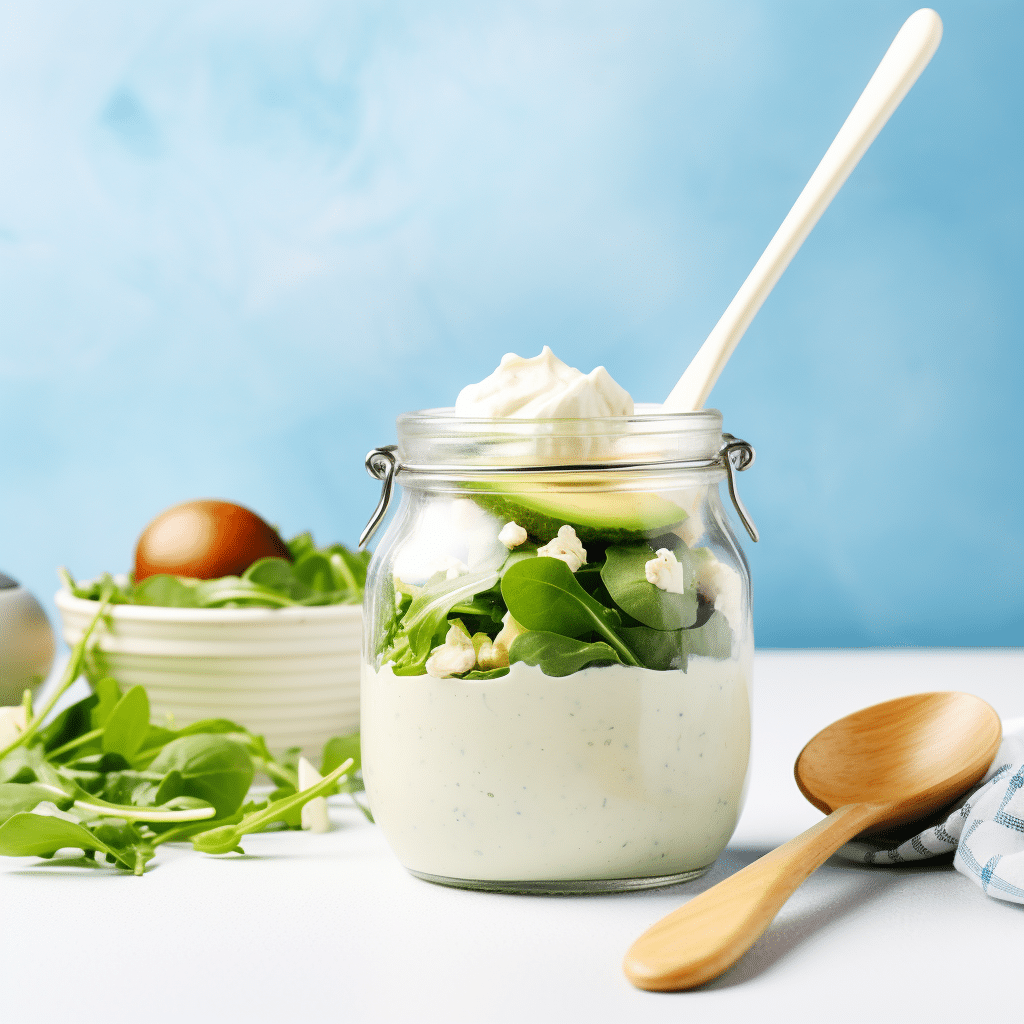 Unveiling the Creamy Avocado Keto Salad Dressing
There's something truly magical about the combination of ripe avocados with the zesty punch of lemon and the richness of sour cream and mayonnaise. This creamy avocado keto salad dressing was born from a desire to create a condiment that could elevate a simple salad to an exquisite meal without compromising on keto principles.
The inspiration for this recipe came from my love for avocados and the need for a keto-friendly dressing that could be a staple in any low-carb kitchen. The result is a versatile and utterly delicious dressing that's not only low in carbs but also high in essential fats, making it an ideal component for maintaining ketosis.
Avocados, the star ingredient, are a powerhouse of nutrients and are widely celebrated in the keto community for their high content of monounsaturated fats. These are the good fats that help to keep you full and energized, and they play a crucial role in heart health. By blending this wonder fruit with other keto-approved ingredients, we've created a dressing that's not just good for your taste buds but also for your body.
Moreover, this dressing isn't just about taste and health; it's about simplicity. With a preparation time of only five minutes, it's a quick and easy way to add a gourmet touch to your meals, proving that eating keto can be both delicious and convenient.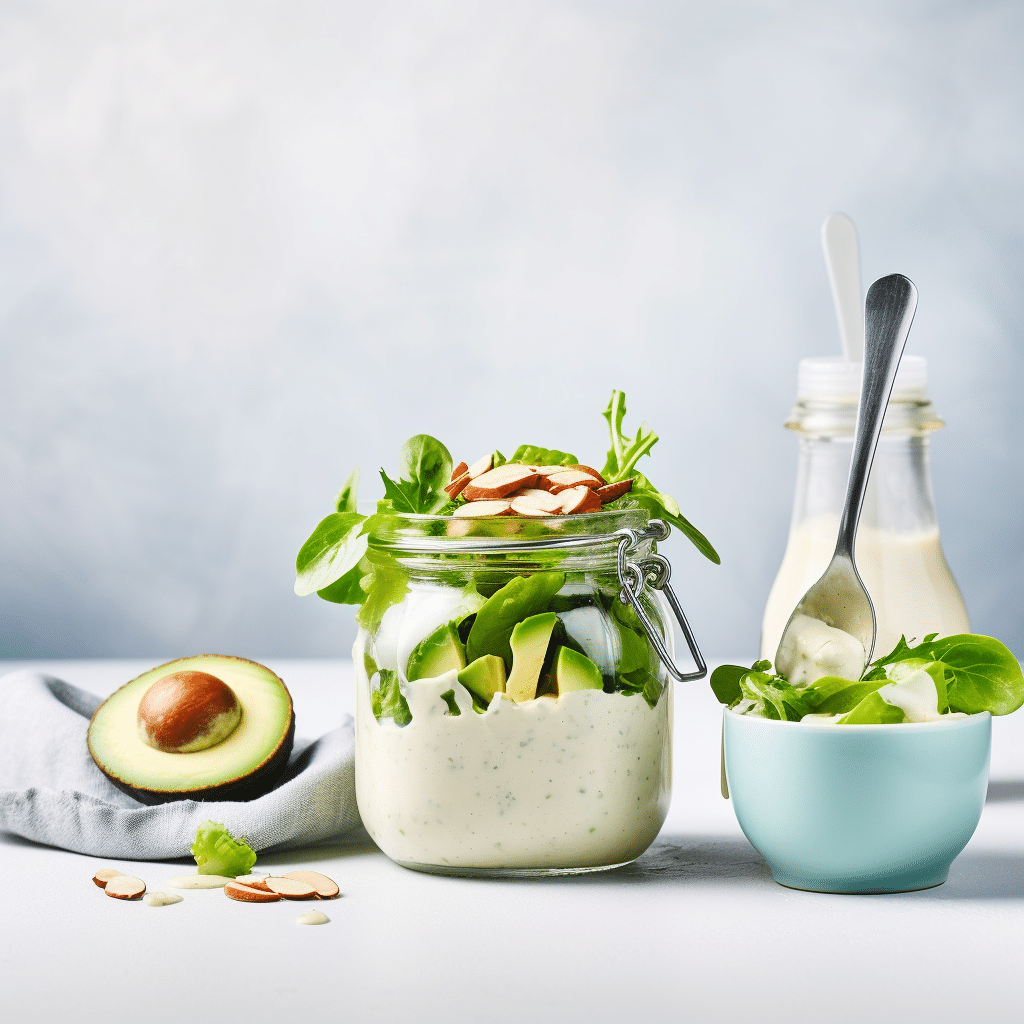 The Method: Crafting the Perfect Keto Salad Dressing
Creating this creamy avocado keto salad dressing is a breeze, but a few chef's tips can elevate it from great to extraordinary. Start by selecting a perfectly ripe avocado; it should feel slightly soft when gently pressed. This ensures a smooth, creamy texture without any lumps.
When adding the ingredients to your blender or food processor, begin with the liquids—olive oil and lemon juice. This helps to create a smoother blend right from the start. As for the garlic, mincing it finely before adding it to the mix will distribute its flavor more evenly throughout the dressing.
While blending, it's important to achieve the right consistency. The dressing should be thick enough to coat the leaves of your salad without weighing them down. If it's too thick, add water tablespoon by tablespoon, blending after each addition. This gradual process allows you to control the thickness precisely.
Don't forget to taste as you go! Adjusting the seasoning with additional salt, pepper, or lemon juice can make a world of difference. And remember, the flavors will continue to develop as the dressing chills in the refrigerator, so making it ahead of time can result in an even more flavorful dressing.
Finally, storing your dressing properly is key. Use a jar or bottle with a tight-fitting lid to keep it fresh. Always give it a good shake before drizzling it over your salad to re-emulsify the ingredients and ensure the perfect consistency with every use.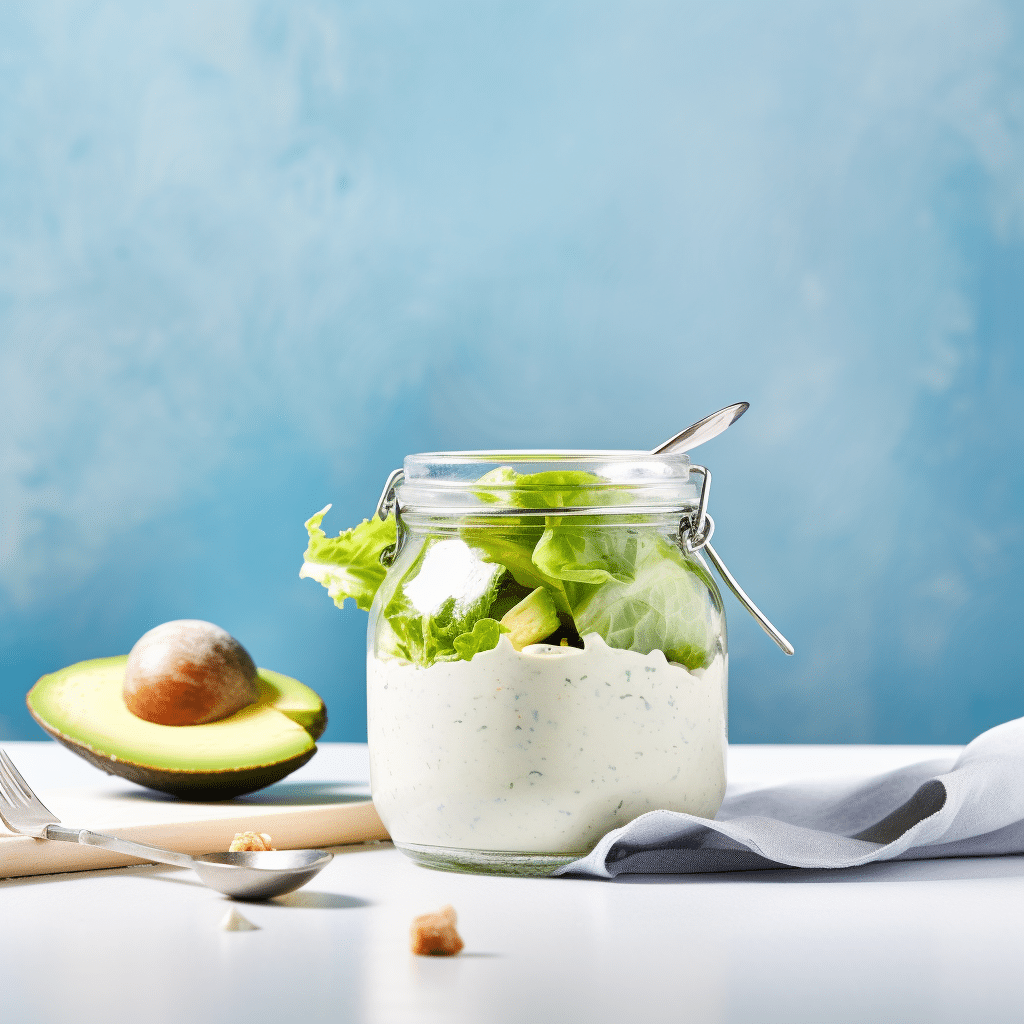 Variations: Personalizing Your Keto Salad Dressing
Herb-Infused Avocado Dressing
Breathe new life into the classic recipe by adding fresh herbs. Basil, cilantro, or dill can infuse the dressing with a refreshing twist. Simply add a handful of your chosen herb to the blender with the other ingredients for a fragrant and colorful variation.
Spicy Chipotle Avocado Dressing
If you're a fan of a little heat, consider adding a chipotle pepper in adobo sauce to the mix. The smoky spice of chipotle peppers can provide a delightful contrast to the creaminess of the avocado, creating a dressing that's perfect for those who love bold flavors.
Citrus Zest Avocado Dressing
Enhance the citrus notes of the dressing by incorporating the zest of the lemon into the blend. You can also experiment with other citrus fruits like lime or orange for a tangy, zesty kick that brightens up any salad.
Substitutions: Tailoring to Your Taste and Needs
While the original recipe is designed to be keto-friendly, there may be times when you need to make substitutions based on dietary restrictions or personal preference. Here are some options:
For a dairy-free version, you can substitute the sour cream and mayonnaise with coconut cream or a dairy-free yogurt. This will maintain the creamy texture while catering to those avoiding dairy.
If you prefer a different type of oil, avocado oil can be a suitable replacement for olive oil, offering a more neutral taste and a boost of additional healthy fats.
For those who are avoiding garlic, asafoetida powder can be a good alternative. It imparts a similar umami flavor and is often used as a garlic substitute in Indian cooking.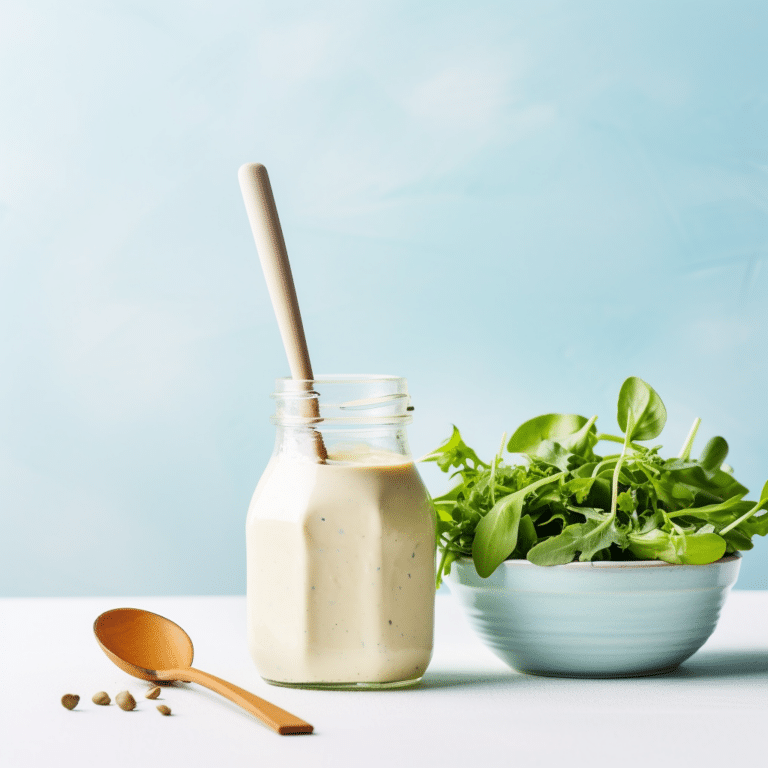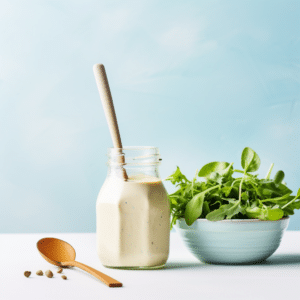 Creamy Avocado Keto Salad Dressing
Indulge in the rich, creamy texture of this avocado keto salad dressing, perfect for drizzling over your favorite greens. Packed with healthy fats and bursting with flavor, this dressing is low in carbs and keto-friendly, making it the ideal addition to your low-carb lifestyle.
Ingredients
1

ripe avocado

200g / 7 oz

¼

cup

sour cream

60 ml / 2 fl oz

¼

cup

mayonnaise

60 ml / 2 fl oz

2

tablespoons

olive oil

30 ml / 1 fl oz

1

tablespoon

fresh lemon juice

15 ml / 0.5 fl oz

1

clove

garlic

minced

½

teaspoon

salt

2.5g / 0.09 oz

¼

teaspoon

black pepper

1g / 0.04 oz

¼

teaspoon

onion powder

0.5g / 0.02 oz

¼

teaspoon

Dijon mustard

1.25 ml / 0.04 fl oz

2-3

tablespoons

water

for desired consistency (30-45 ml / 1-1.5 fl oz)
Instructions
Cut the avocado in half, remove the pit, and scoop out the flesh into a blender or food processor

Add the sour cream, mayonnaise, olive oil, fresh lemon juice, minced garlic, salt, black pepper, onion powder, and Dijon mustard to the blender

Blend on high until the mixture becomes smooth and creamy

If the dressing is too thick, gradually add water, one tablespoon at a time, blending after each addition until reaching the desired consistency

Taste and adjust the seasoning if necessary

Transfer the dressing to a jar or bottle and refrigerate until ready to use. Shake well before serving
Nutrition
Calories:
120
kcal
Carbohydrates:
3
g
Protein:
1
g
Fat:
12
g
Fiber:
2
g
FAQ: Mastering Your Keto Salad Dressing
Q: How long can I store this dressing in the refrigerator?
A: When stored properly in an airtight container, the dressing can last for up to a week in the refrigerator. Always check for freshness before using.
Q: Can I freeze this avocado salad dressing?
A: It's not recommended to freeze this dressing as it may affect the texture and consistency. It's best enjoyed fresh or stored in the refrigerator.
Q: Is this dressing only suitable for salads?
A: Absolutely not! It's also fantastic as a dip for veggies, a spread for keto-friendly wraps or sandwiches, or a topping for grilled meats.
Q: How can I tell if an avocado is ripe enough for this recipe?
A: A ripe avocado will yield to gentle pressure and have a slight give. The skin should be dark green to black, and the fruit should not have any sunken spots or cracks.
Q: Can I make this dressing without a blender?
A: Yes, you can mash the avocado with a fork and whisk in the other ingredients for a chunkier texture. However, a blender will provide the smoothest result.