A super simple low carb dessert, these keto crumble pots are an ideal easy keto dessert when you want something sweet, but not too complex. This keto crumble / keto cobbler is ideally served in individual pots, making these a great prep ahead dish to pull out and cook as and when you need them.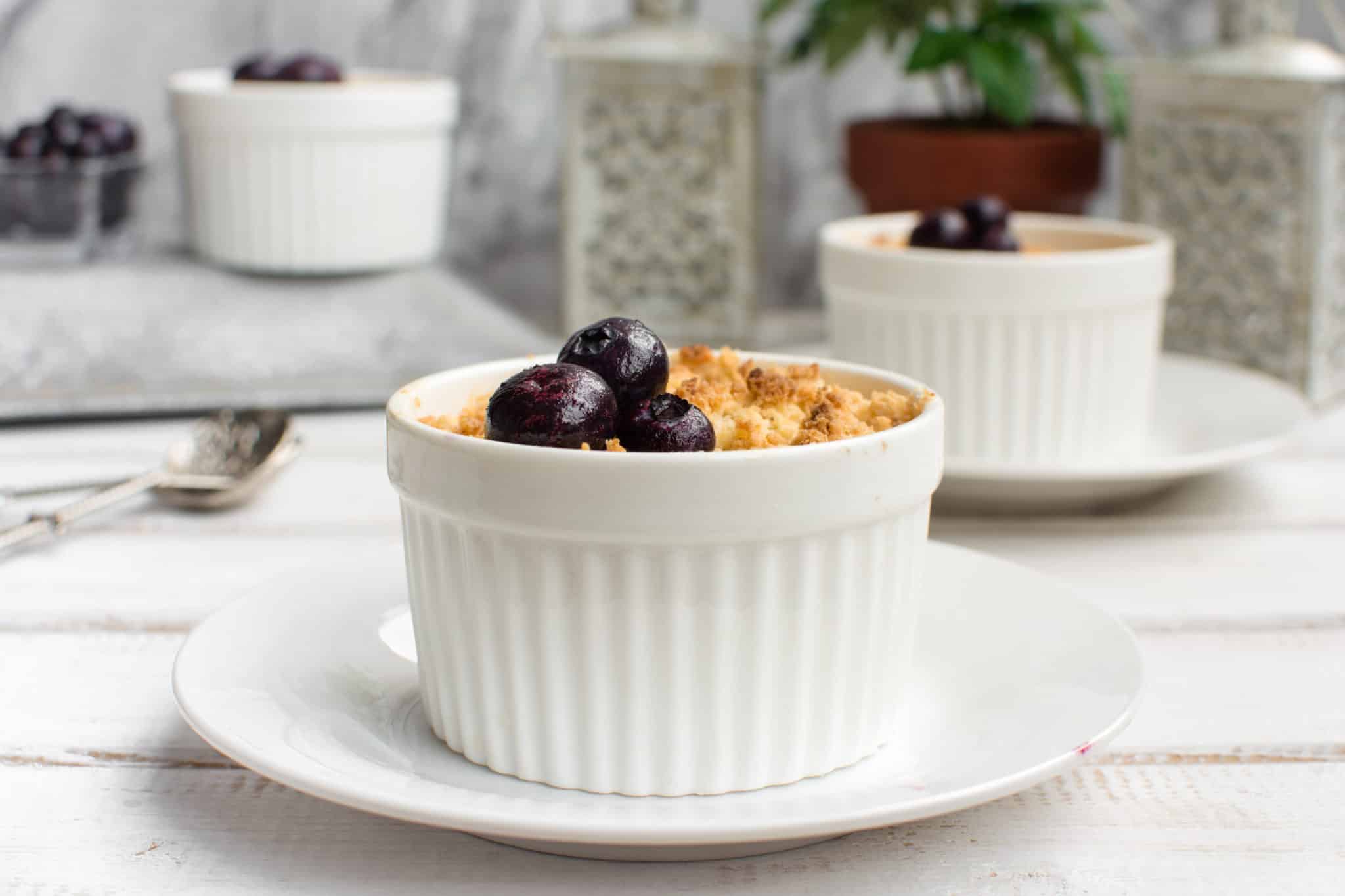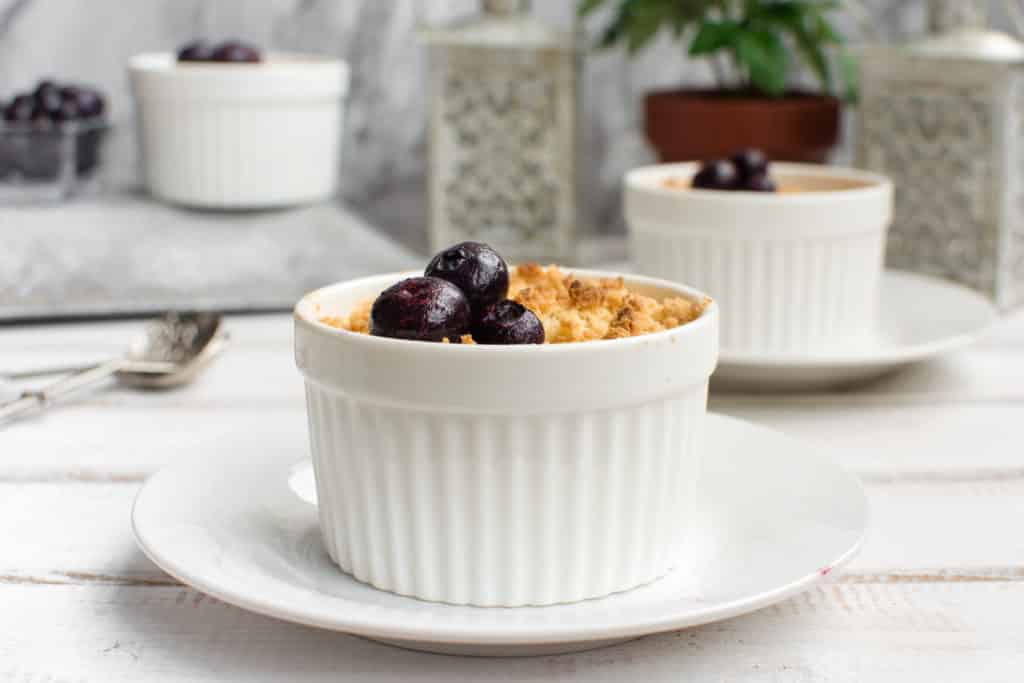 Blueberries are known for their antioxidant power, they are also recognized as a" superfood". Besides being a vitamin powerhouse, blueberries are rich in minerals and fiber whilst being on the lower end of carb content.
We use blueberries a lot in our house for a sweet snack – they're not the lowest carb so moderation is required but they're perfect for naturally sweetening desserts and smoothies. We use them in our coffee mocha smoothie as a sweetener for instance where they add sweetness without overpowering the other flavors and adding plenty of vitamins.
This recipe is similar to a berry cobbler, but much easier. Most of the ingredients you may already have in your cupboard and these can be made with only 10 minutes of preparation.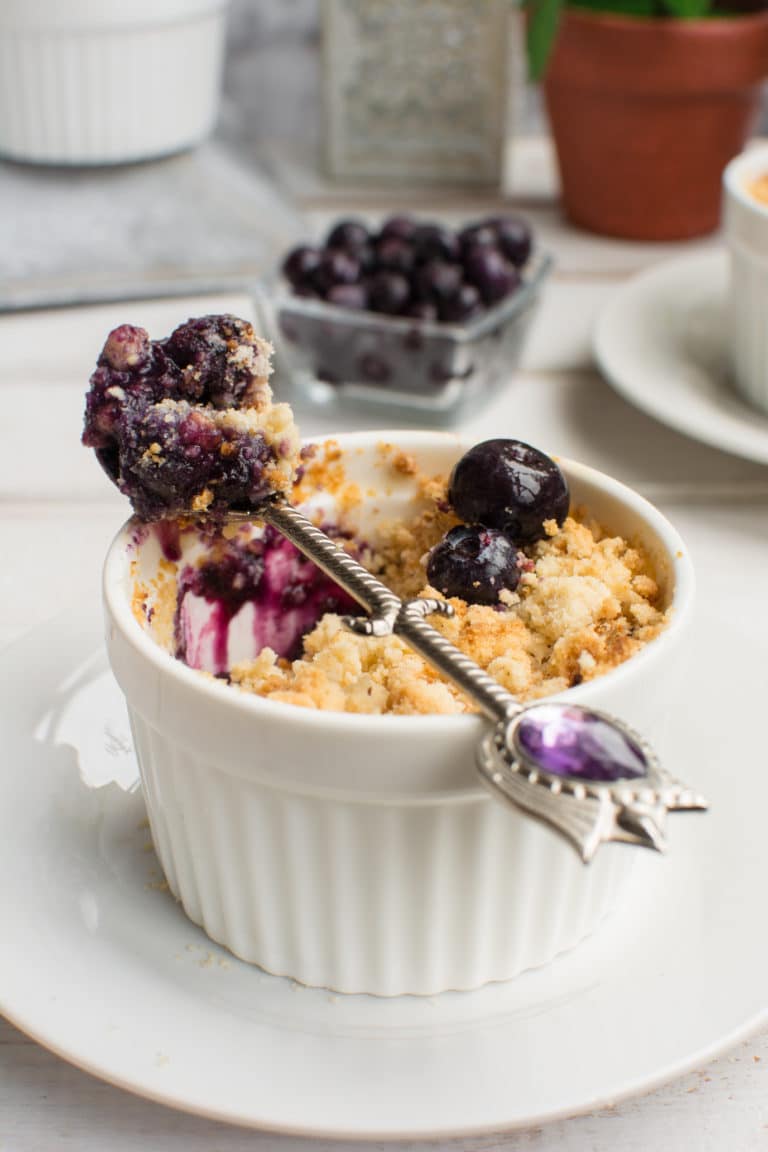 The easiest way to make these keto crumbles is in ramekins, they're perfect for serving. But you can also use a larger casserole dish if you want to make a centrepiece dessert for the table rather than individual portions..
These taste great on their own, but you could serve the pots with a keto friendly ice cream or a full fat Greek yogurt (if not being super strict keto). If you freeze the Greek yogurt you can serve these with a frozen-yo and have something completely new to enjoy.
You can of course use other berries here too, blackberries in particular are lower carb than blueberries, although not as sweet usually (we use them in this indulgent blackberry cheesecake smoothie where their sweetness is just right!). Raspberries or strawberries would work too – raspberries can quickly cook down into mush and lose their structure so lower the cook time for those is trying that approach.
For another great berry dessert recipe, check out our elegant raspberry keto cheesecakes here. For something a little more indulgent, these low carb chocolate chip cookies should do the trick!
Whatever you choose we're sure you'll enjoy these pots. Let us know your thoughts and any pairing ideas you have for these in the comments below.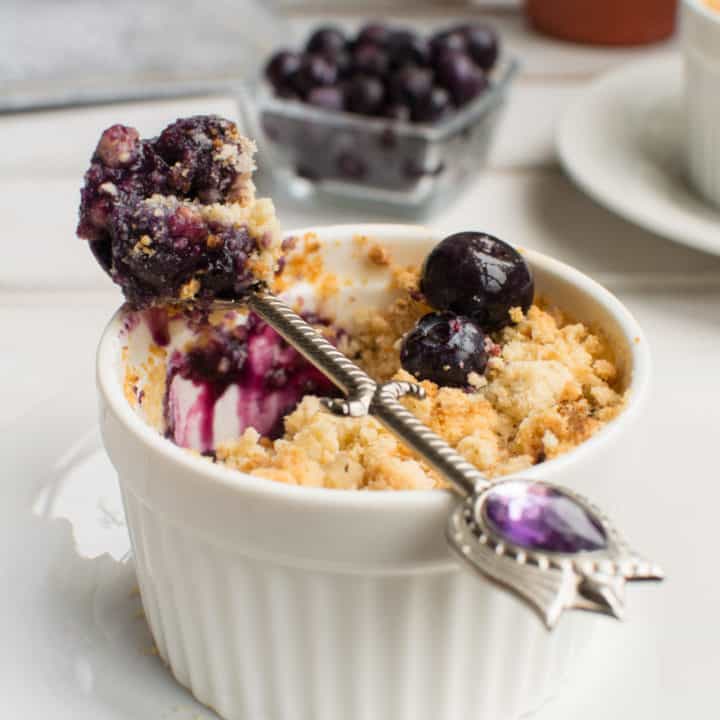 Blueberry Crumble Pots
Ingredients
220g blueberries
70g powdered Erythritol, divided
1/2 tsp xanthan gum
60g almond flour
1/4 tsp cinnamon
30g butter, melted and cooled
Instructions
Preheat oven to 180C.
Gather your ingredients.
Toss the blueberries with half the Erythritol and xanthan gum.
Divide the blueberries among three ramekins.
Make the crumble; combine almond flour, remaining Erythritol, cinnamon, and butter in a mixing bowl.
Stir with clean fingertips until you have a coarse mixture.
Top the blueberries with the crumbs.
Bake the pots for 30 minutes.
Serve warm.
Nutrition Information
Yield

3
Amount Per Serving
Calories

133
Total Fat

9.8g
Saturated Fat

5.3g
Cholesterol

22mg
Sodium

59mg
Carbohydrates

11.5g
Net Carbohydrates

8.3g
Fiber

3.2g
Sugar

7.3g
Protein

1.3g