If you love dishes with a combination of sweet and savoury flavours, this recipe for keto Kung Pao chicken is perfect for you.
This recipe is actually much more simple and easy to make than it sounds. It's basically stir-fried chicken served with a thick complex sauce characterised by salty, sweet, spicy and sour notes.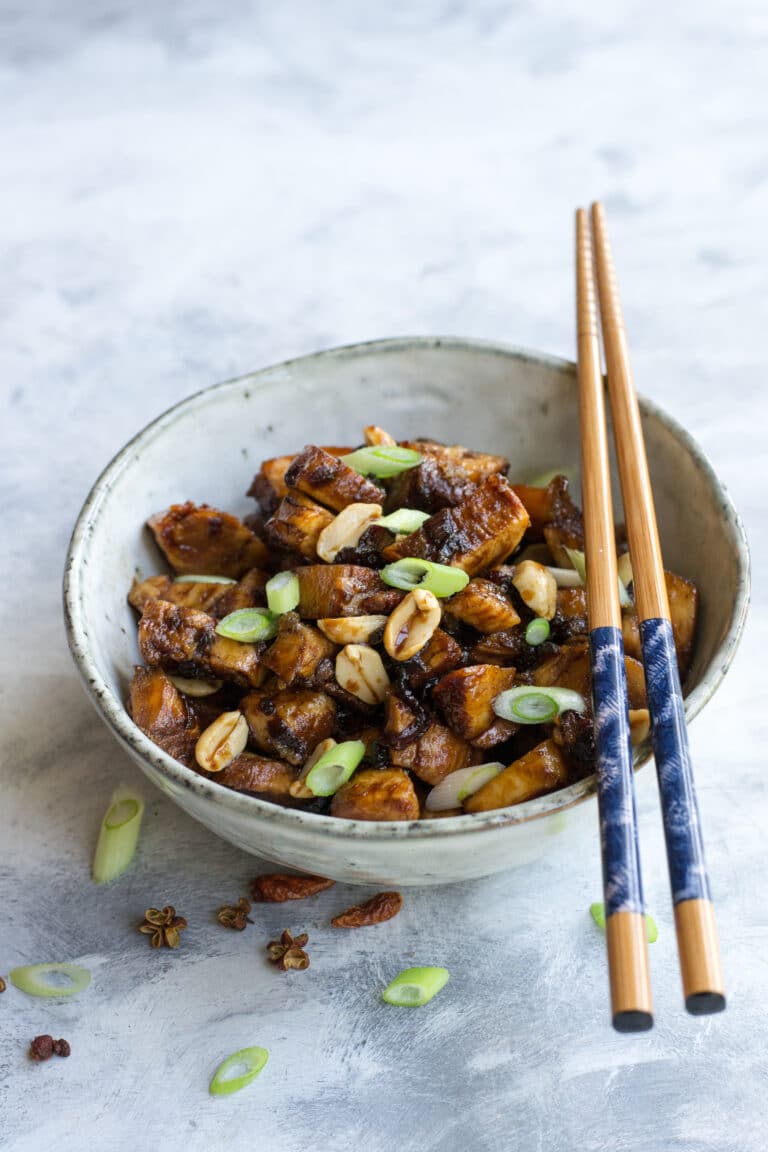 While this keto recipe has some differences with more traditional versions of this Chinese dish, you'll recognise in it the typical strong flavours of this preparation.
How to make this keto Kung Pao chicken
Usually, in recipes for Kung Pao chicken, the meat is coated with cornstarch and/or baking soda. Sometimes cornstarch is used to adjust the consistency of the sauce, too. Some low-carb versions swap cornstarch for arrowroot powder, but, in this recipe, the chicken fillets are first grilled, then chopped into small pieces and stir-fried with toasted sesame oil.
Many preparations for Kung Pao chicken, call for brown sugar or honey. In this keto recipe, the sweet note comes from a little bit of caramelised shallots. Even if it's a small amount, you would be able to notice the difference. You could also use onions, but shallots will give you the best result.
Don't underestimate the importance of the sauce! When it comes to chicken, the ingredients that you choose to pair it with can truly make the difference (for example, think about curries). The complex flavour of this dish comes from all the different ingredients of the sauce: rice vinegar, soy sauce, ginger, Szechuan peppercorns, dried red chillies, peanuts and caramelised shallots.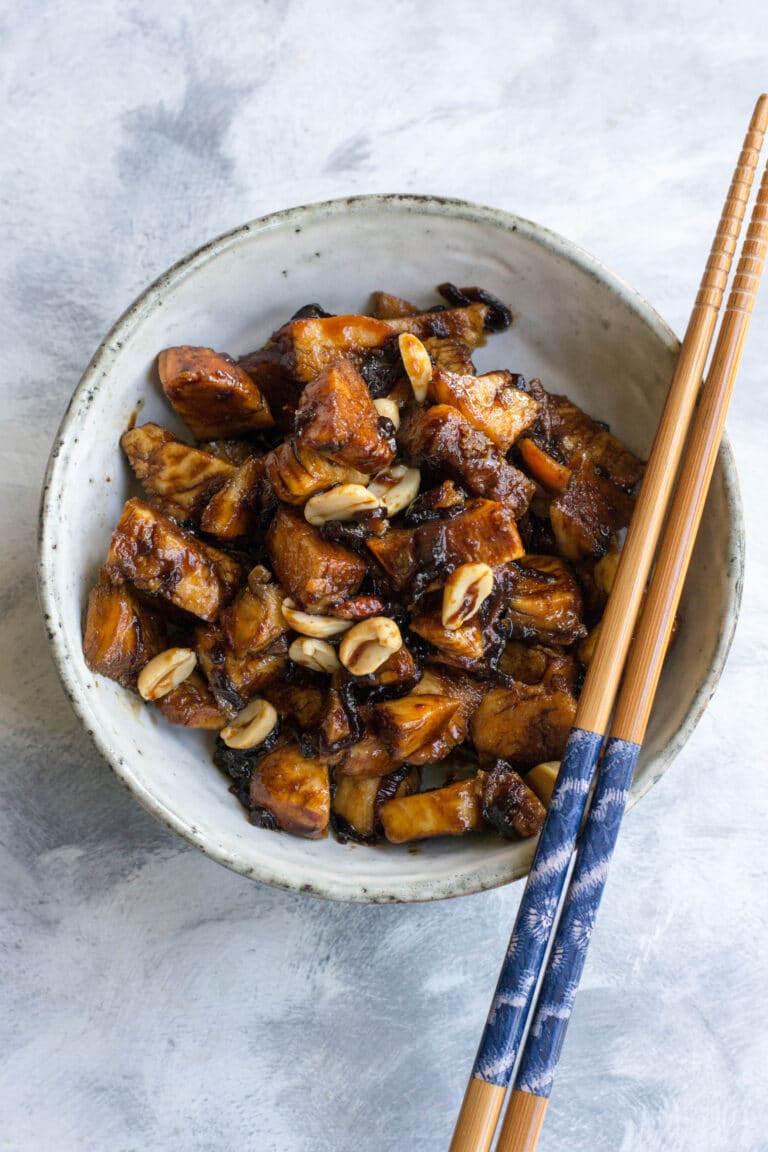 Common questions about this keto Kung Pao chicken recipe
How to serve this Kung Pao chicken? Try it with cauliflower rice or a salad. You could also serve this tasty stir-fried chicken with a selection of salads.
Can I make this keto recipe in advance? Yes, it would actually get even better the next day, but you may need to adjust the consistency of the sauce.
Can I add some vegetables in the sauce? Yes. You can try to use some finely chopped mixed peppers or even mushrooms.
Can I add garlic into the sauce? Yes. Use approx. 2 garlic cloves for the quantities written below.
What can I use if I can't find Szechuan peppercorns? The flavour of Szechuan peppercorns is quite unique, so it's not easy to swap them for another ingredient. You can try to use a 1:1 mix of black pepper and coriander seeds crushed into a mortar.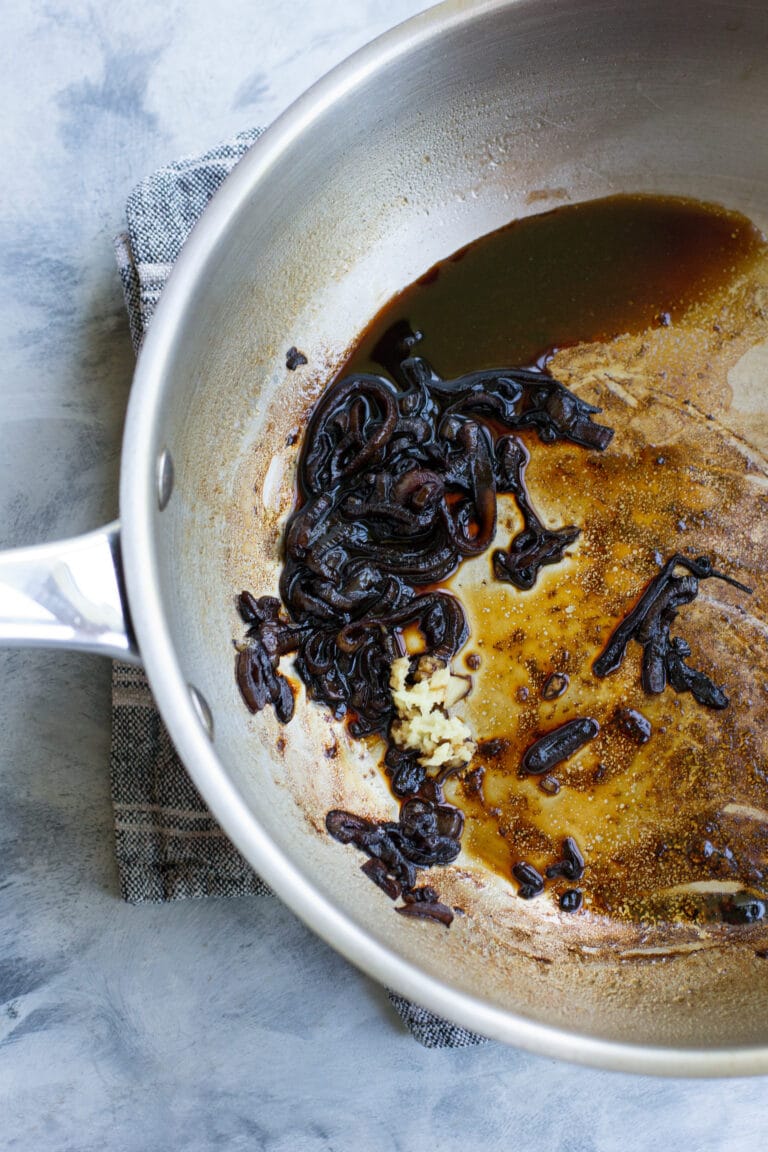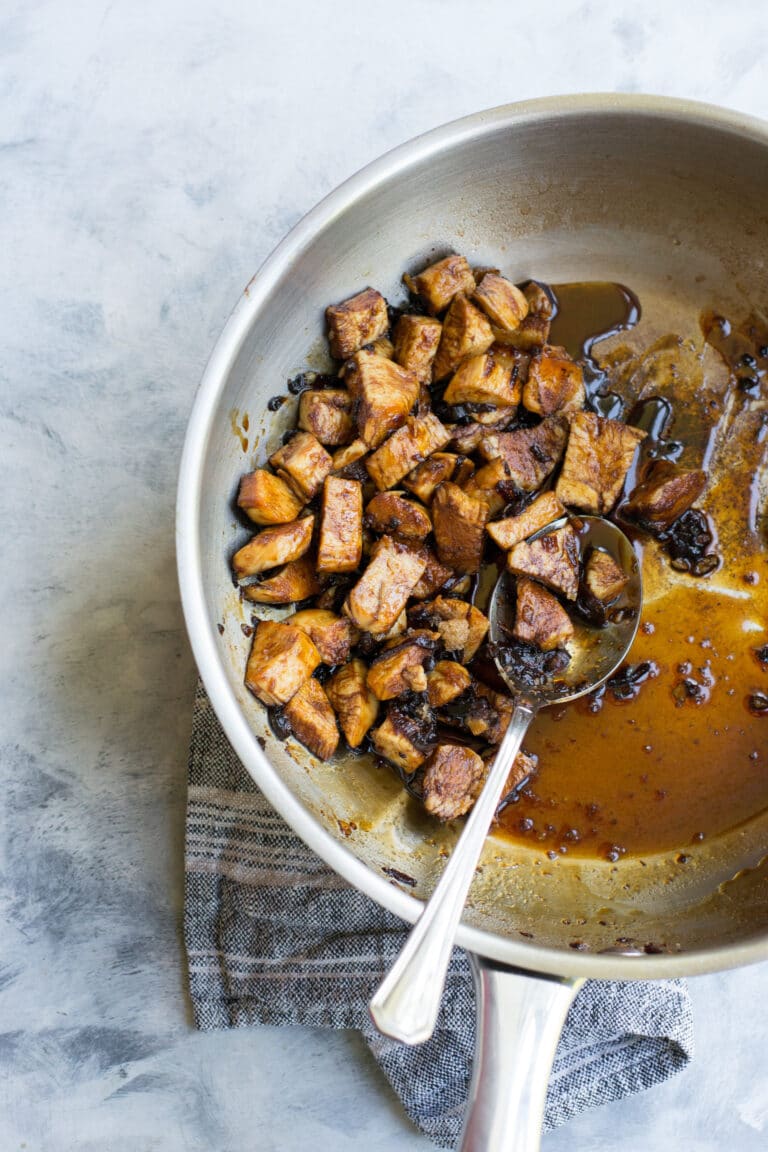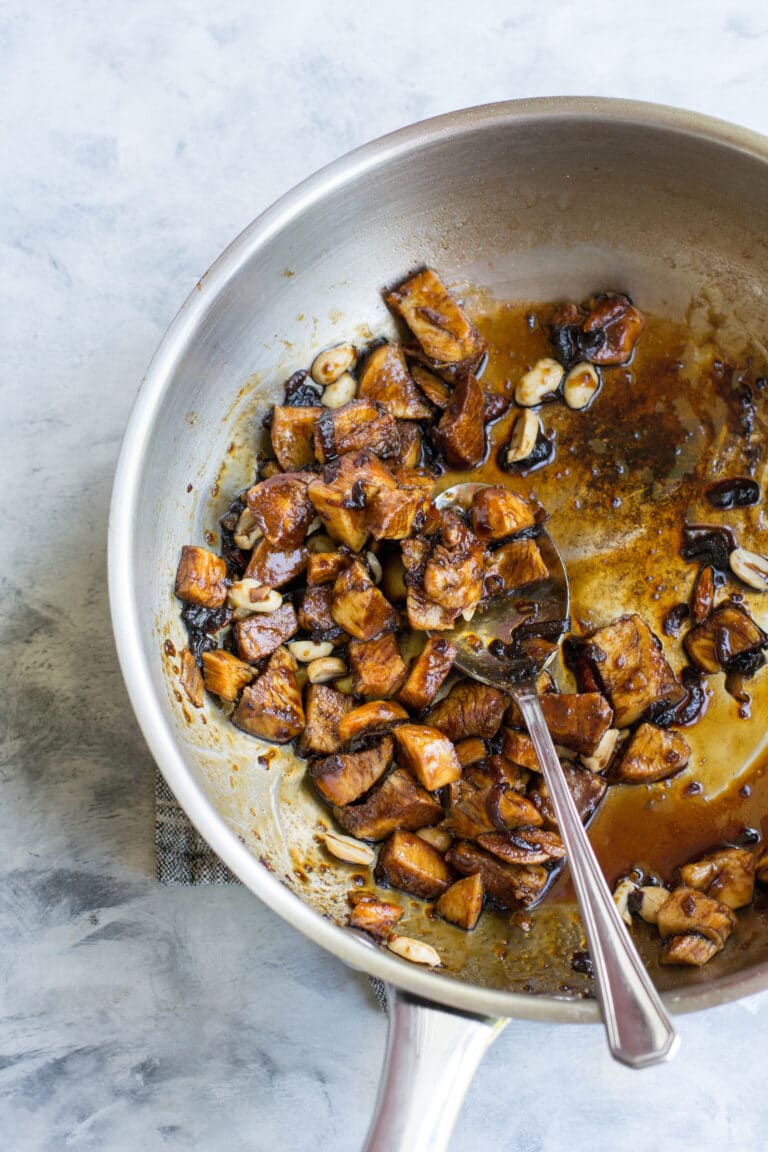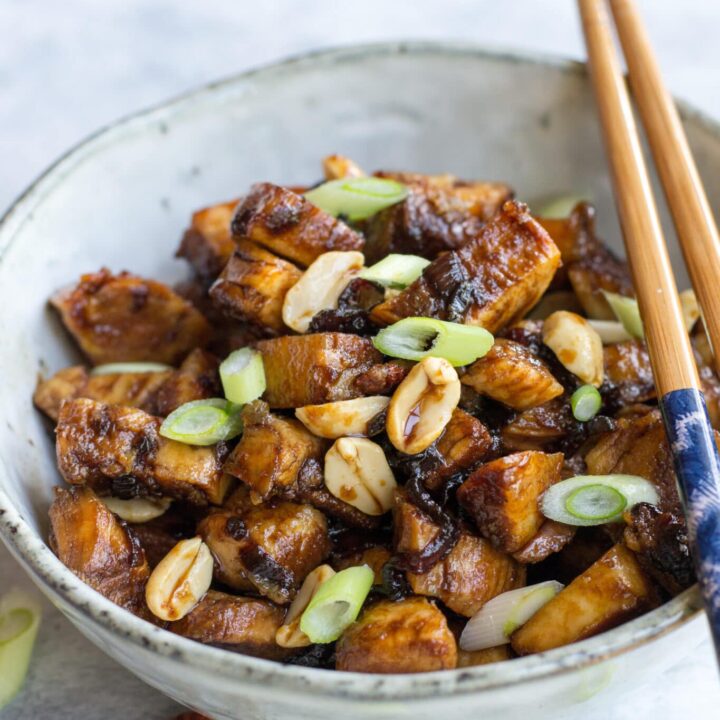 Keto Kung Pao chicken
If you love dishes with a combination of sweet and savoury flavours, this recipe for keto Kung Pao chicken is perfect for you.
Ingredients
250 g chicken fillets, grilled
25 g shallots (approx. 1 small shallot)
3 tbsp low-sodium soy sauce
1 tbsp rice vinegar 
1 tsp freshly grated ginger
15 g unsalted peanuts
1 tsp Szechuan peppercorns
3-5 small dried red chillies or chilli pods
2 tbsp toasted sesame oil
1/2 tbsp spring onions, finely chopped (scallions)
1/2 tbsp fresh parsley (optional)
water
Instructions
To make the caramelised shallots, heat 1 tbsp of toasted sesame oil in a pan over medium heat. Add the finely sliced shallots. Stir until the shallots turn golden, then reduce the heat and 1 tbsp of soy sauce. Keep stirring for another 30 seconds, until you'll notice the formation of a sort of brown coating inside the pan. Add a few tablespoons of water and cook for approx. 10-15 minutes; while cooking the shallots, remember to stir frequently and add more water when needed.
Once the shallots are caramelised, add 1 tsp of grated ginger, 2 tbsp of soy sauce, 1 tbsp of rice vinegar and 3 tbsp of water. Combine all the ingredients and cook over low heat until you get a nice sauce; it won't be as thick as it is in the traditional recipe with cornstarch and sugar or honey, but, with some patience, you'll be able to get it right. Add more water when needed.
Toast the Szechuan peppercorns in a pan, then crush them in a mortar. Remove any bigger piece.
Chop the grilled, and already well cooked through, chicken fillets into small pieces and prepare a frying pan with 1 tbsp of sesame oil over medium heat. Use a non-stick pan if possible. Add the chicken and fry for 2-3 minutes, or until golden.
Add the sauce into the pan with chicken. Mix well. Add the freshly crushed peppercorns, dried chillies and peanuts, then cook for approx. 30 seconds. Taste the sauce and adjust the amount of spices if needed.
Add some finely chopped scallions and parsley just before serving.
Notes
These quantities make 2 small portions.
Nutrition Information
Yield

2
Amount Per Serving
Calories

327
Total Fat

20.8g
Carbohydrates

5.2g
Net Carbohydrates

4g
Fiber

1.2g
Protein

29.5g