Keto Garlic and Rosemary Mashed Cauliflower
Imagine a dish that brings all the comfort of traditional mashed potatoes but fits perfectly into your keto lifestyle. That's exactly what you get with this Keto Garlic and Rosemary Mashed Cauliflower. Each forkful is a blend of robust garlic and aromatic rosemary, enveloped in a creamy, buttery cauliflower puree that's not only delicious but also low in carbs and high in fats – ideal for maintaining ketosis. Whether you're looking to spice up your side dish repertoire or seeking a satisfying substitute for starchy favorites, this recipe is a game-changer.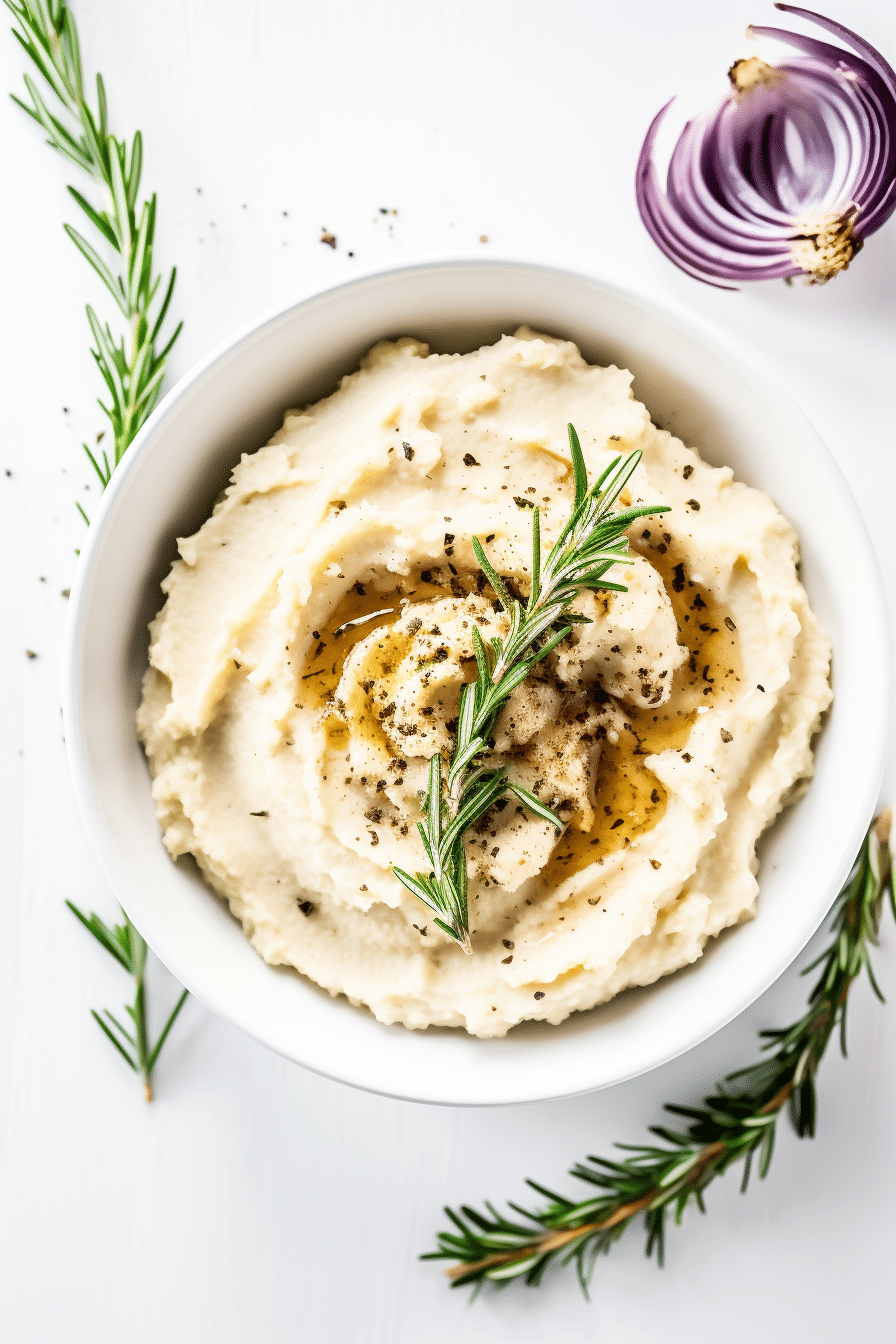 Why This Keto Recipe is a Keeper
As someone who has been on the keto journey, I understand the importance of finding recipes that are not only nutritious but also gratifying. This Keto Garlic and Rosemary Mashed Cauliflower came from a craving for comfort food that wouldn't compromise my carb limit. It's a testament to the versatility of cauliflower – a keto superstar known for its ability to mimic high-carb favorites.
The high-fat content from the butter and heavy cream ensures that you stay full and energized, while the garlic and rosemary add depth and sophistication to the dish. This recipe is a staple in my kitchen because it pairs beautifully with a variety of proteins, making it a reliable side for any meal. It's a prime example of how keto recipes can be rich, flavorful, and nourishing without being overly complicated or time-consuming.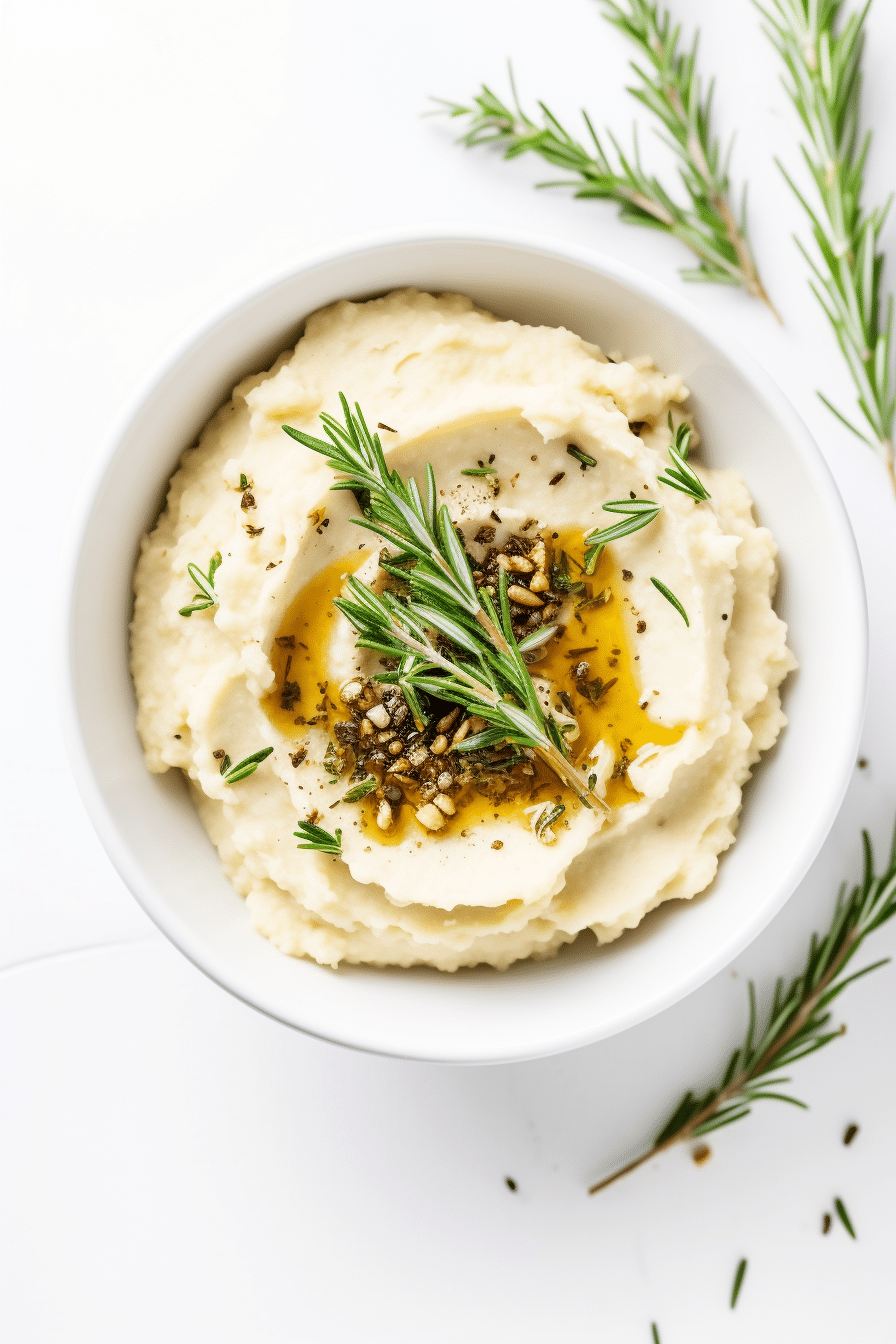 Mastering the Method
Creating the perfect texture and flavor profile for this mashed cauliflower requires a bit more than just blending ingredients together. Steaming the cauliflower until it's very tender is crucial; it should almost fall apart when pierced with a fork. This ensures a smooth puree without any grainy bits.
When sautéing the garlic and rosemary in butter, keep the heat at a medium level. The goal is to release their essential oils without burning them, as burnt garlic can introduce a bitter taste. Adding these aromatics to the cauliflower while it's hot will help to infuse the flavors more deeply.
While processing the mixture, be patient. Take the time to scrape down the sides and blend thoroughly to achieve that silky-smooth consistency reminiscent of traditional mashed potatoes. If you find the mixture too thick, a splash more of heavy cream can work wonders. Remember, the key is to add the cream gradually – you can always add more, but you can't take it out.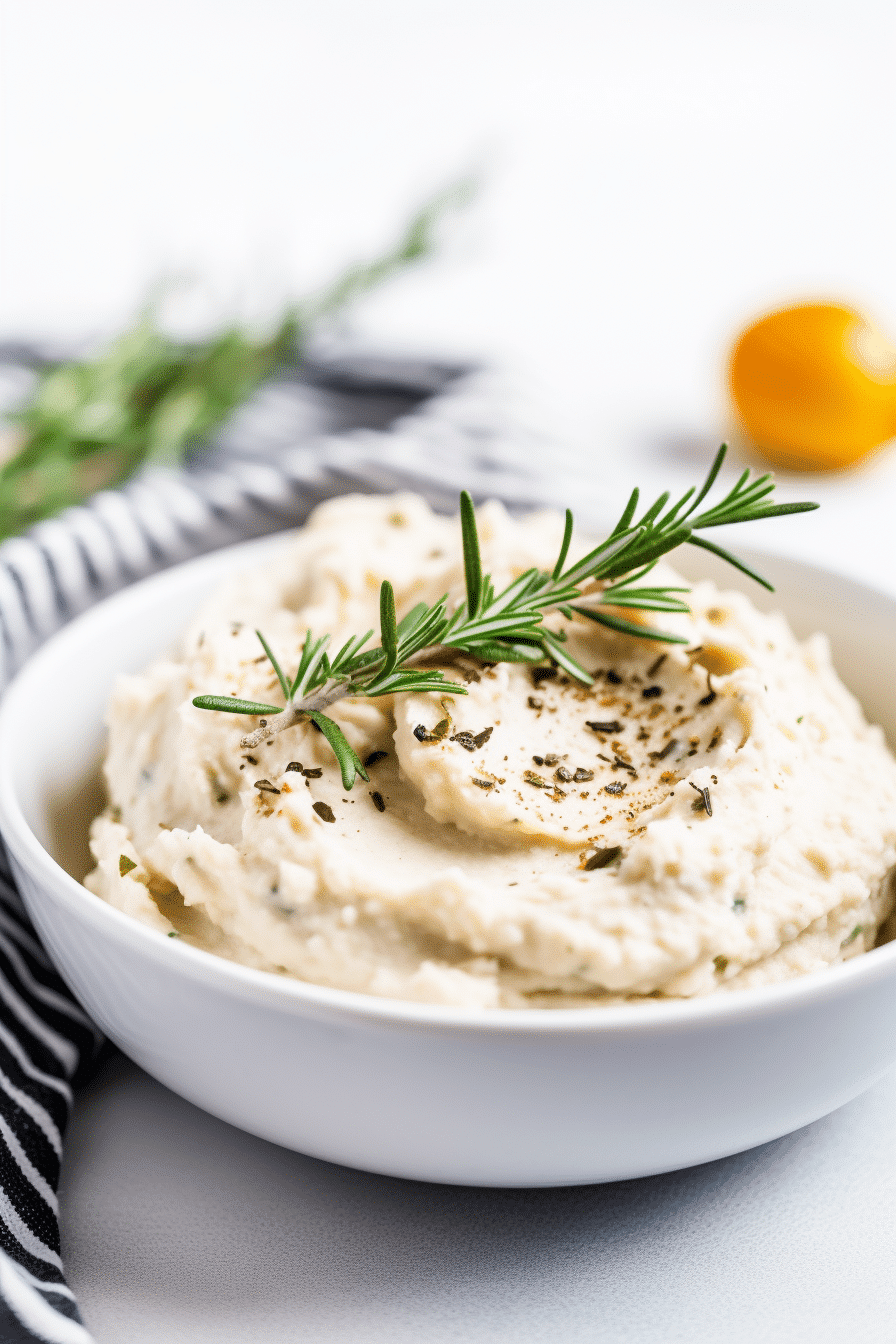 Variations to Spice Up Your Keto Side Dish
Bacon & Cheddar Mashed Cauliflower
For a heartier version, fold in some crumbled cooked bacon and shredded cheddar cheese after processing. The smokiness of the bacon complements the garlic and rosemary, while the cheddar adds a comforting, cheesy element.
Spicy Chipotle Mashed Cauliflower
Infuse a smoky heat by adding a teaspoon of chipotle powder or minced chipotle in adobo sauce. This will give the dish a Southwestern twist that pairs well with grilled meats and vegetables.
Roasted Garlic Mashed Cauliflower
For a sweeter, more mellow garlic flavor, roast a whole head of garlic and squeeze the softened cloves into the cauliflower mixture. Roasting garlic transforms its pungency into a delicate sweetness that's irresistible.
Substitutions for Dietary Restrictions and Preferences
If you're dairy-free or simply prefer to use alternative ingredients, this recipe is flexible. Substitute the butter with a high-quality olive oil for a dose of healthy fats and a subtle, fruity undertone. Instead of heavy cream, full-fat coconut milk can provide the necessary creaminess while adding a hint of tropical flavor.
For those who don't have fresh herbs on hand, dried rosemary can be used in a pinch. Just remember that dried herbs are more potent, so you'll need less – typically one-third the amount of fresh.
Lastly, for an oniony kick without the carbs, try adding a sprinkle of onion powder to the cauliflower before blending. It's a simple addition that can make a big difference in the overall flavor profile.
Frequently Asked Questions
| Question | Answer |
| --- | --- |
| Can I make this ahead of time? | Yes, you can prepare this dish in advance and reheat it before serving. Just be sure to store it in an airtight container in the refrigerator. |
| How do I reheat the mashed cauliflower? | Gently reheat on the stove over low heat, adding a splash of cream if it seems too thick. You can also microwave it, covered, stirring occasionally. |
| Can I freeze this dish? | While you can freeze it, the texture may change slightly upon thawing. For best results, consume it fresh or from the refrigerator. |
| Is this recipe suitable for vegetarians? | Yes, it's vegetarian-friendly. For a vegan version, use the suggested dairy-free substitutions. |
| Can I use frozen cauliflower? | Frozen cauliflower can work, but it might be more watery. If using frozen, ensure it's well-drained before processing. |

## Keto Garlic and Rosemary Mashed Cauliflower

Savory and creamy, this Keto Garlic and Rosemary Mashed Cauliflower is a sublime alternative to traditional mashed potatoes. Each bite is infused with aromatic garlic and rosemary, providing a low-carb side dish that's perfect for any keto-friendly meal.

**Servings:** 4

**Prep time:** 10 minutes

**Cook time:** 15 minutes

**Cuisine:** Keto, American

**Category:** Side Dish

**Ingredients:**
– 1 large head of cauliflower (approx. 2-2.5 lbs or 900-1130g), cut into florets
– 4 cloves garlic, finely minced
– 2 tablespoons fresh rosemary, chopped (about 1.5g)
– 1/4 cup heavy cream (60ml)
– 3 tablespoons unsalted butter (42g)
– Salt and pepper to taste
– Optional: Chives for garnish

**Method:**
1. Begin by steaming the cauliflower florets until they are very tender, about 7-10 minutes.
2. While the cauliflower is steaming, in a small saucepan, melt the butter over medium heat. Add the minced garlic and chopped rosemary, sautéing until fragrant, roughly 2-3 minutes. Be careful not to burn the garlic.
3. Once the cauliflower is tender, transfer it to a food processor. Add the sautéed garlic and rosemary, along with the heavy cream. Season with salt and pepper.
4. Process until the mixture is smooth and creamy, stopping to scrape down the sides as necessary. If the mixture is too thick, you can add a little more heavy cream to reach your desired consistency.
5. Taste and adjust the seasoning if needed, then transfer to a serving bowl.
6. Garnish with chives if desired, and serve warm as the perfect complement to any keto-friendly main dish.

**Calories:** 150 per serving

**Carbohydrates:** 8g per serving

**Net Carbs:** 5g per serving

**Fiber:** 3g per serving

**Fat:** 12g per serving

**Protein:** 3g per serving

**Equipment Used:**
– Steamer or pot with steaming basket
– Food processor
– Small saucepan
– Measuring cups and spoons
– Knife and cutting board

**Other Notes:**
– To make this dish dairy-free, you can substitute the butter with olive oil and the heavy cream with full-fat coconut milk.
– The consistency of the mashed cauliflower can be adjusted according to personal preference by modifying the amount of heavy cream added.
– Leftovers can be stored in an airtight container in the refrigerator for up to 3 days and reheated before serving.