Baked keto courgette chips with a secret ingredient for some extra flavour: Parmesan cheese! Delicious, crispy and easy to make: these baked chips are perfect on their own but they would also make a great pair with a smooth dip, some spiced Greek yogurt or a bowl of Tzatziki. If you feel particularly creative, you may also want to try to pair these chips with a mackerel pâté.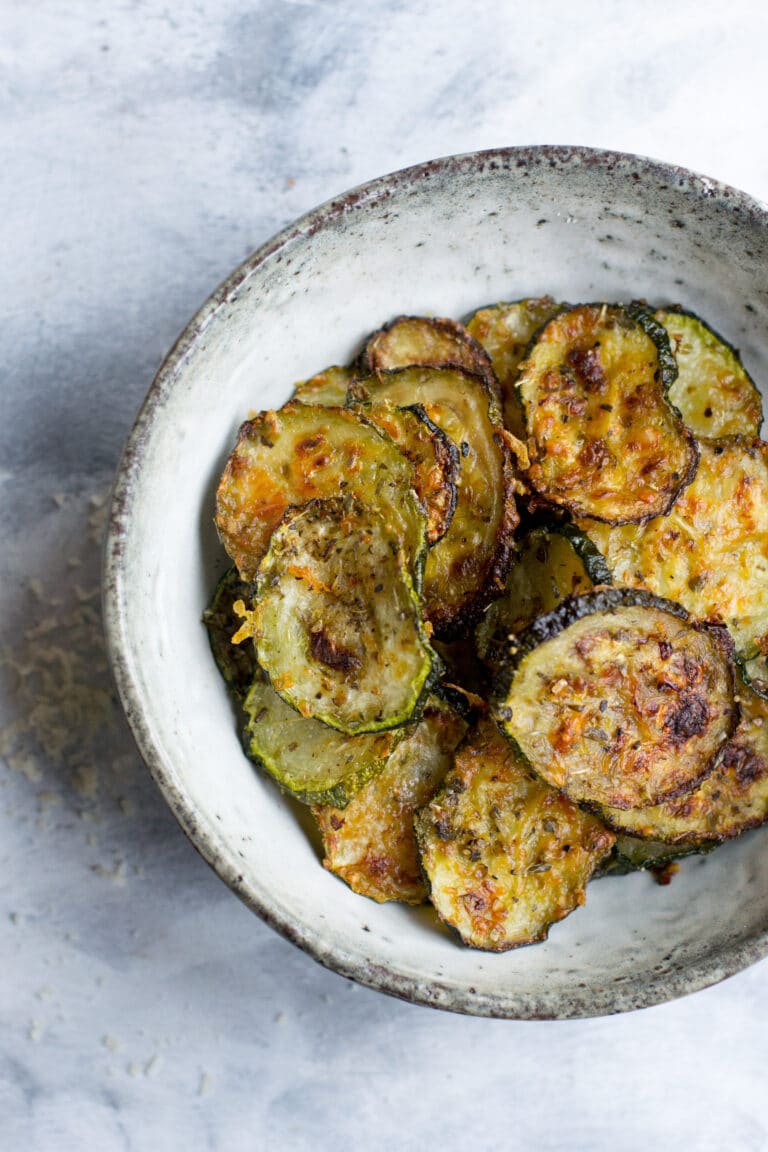 If you are looking for a quick, simple and nutritious idea for an appetizer or a snack, this recipe may be exactly what you were looking for. These baked courgette chips are easy to make and require only 5 ingredients:
courgettes
Parmesan cheese
olive oil
dried oregano
black pepper
For this recipe, the actual preparation is really easy because you just have to cut the courgettes and mix them with the other ingredients but it's important to pay attention to how you bake these chips. Don't worry, there's nothing too complicated about this step but you have to keep in mind that these thin slices of courgettes tend to burn quite easily. To avoid burning these baked keto courgette chips, follow these tips:
don't try to speed up the preparation and cook them at a higher temperature; 180°C is fine
ensure all the slices have a similar height
divide the cheese into 2 parts: sprinkle the courgettes with 1/3 of the total amount at the begin and use the remaining cheese when the chips are almost ready
keep an eye on the chips all the time (especially after they start to turn golden)
Common questions about these baked keto courgette chips:
Can I swap Parmesan cheese for something else? Parmesan cheese is the best option for this recipe, but if you prefer to opt for another kind of cheese, go for an aged one. You want to get that crispy effect on the outside of the chips.
Can I avoid using cheese? Yes, you can easily make a vegan version of this recipe without using the cheese. For some extra flavour, you can add a bit of nutritional yeast to the courgettes (when the chips are almost ready or just before serving). If you don't use any cheese, you'll need to adjust the amount of spices and salt because in this recipe the Parmesan plays a really important role in terms of flavour.
Can I make these baked keto courgette chips in advance? No, it' better to make them just before serving. They tend to lose their crispiness over time, so if you bake them in advance they will be quite soft (still tasty, but definitely not crispy).
How to pair these keto courgette chips? Try to pair them with a smooth dip and a salad (or a selection of salads) for a lovely appetizer.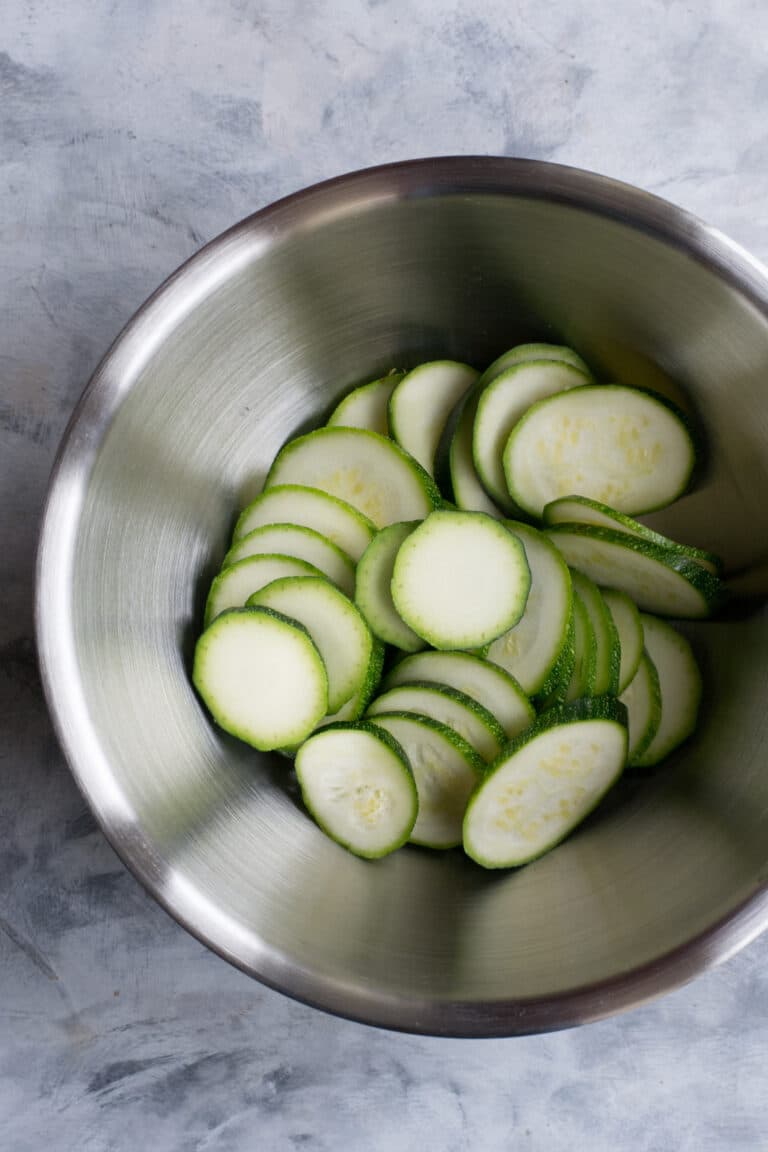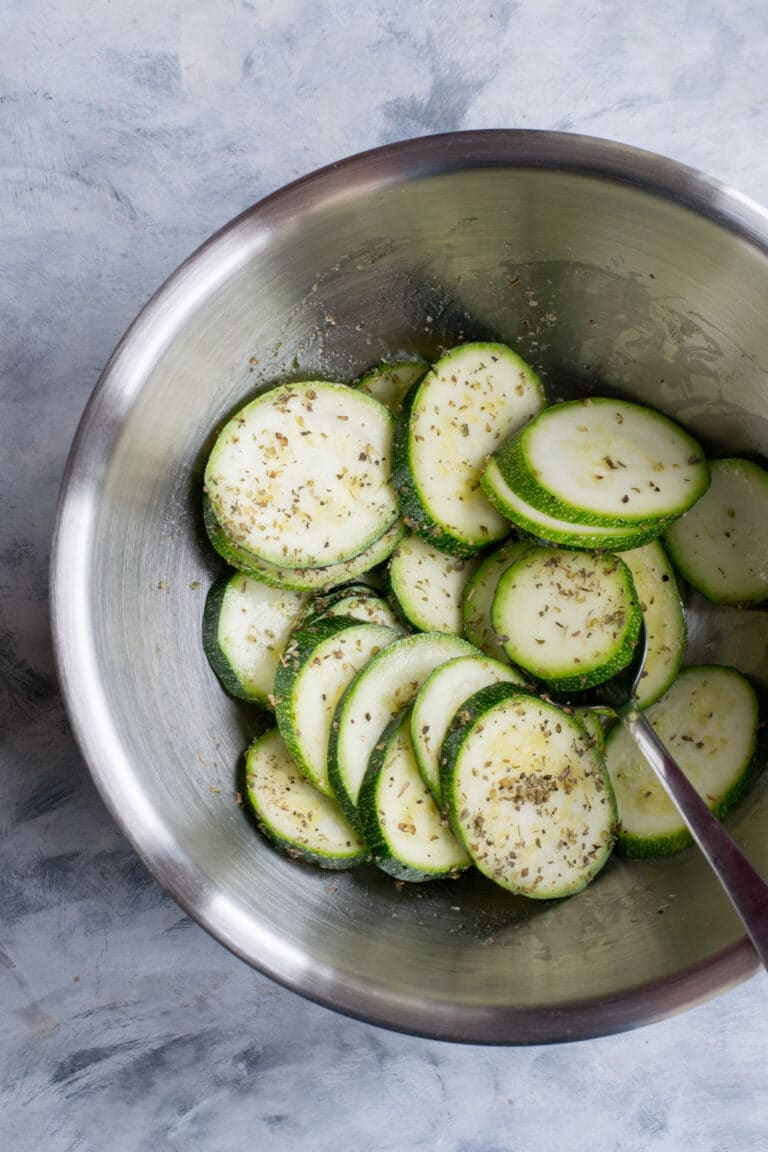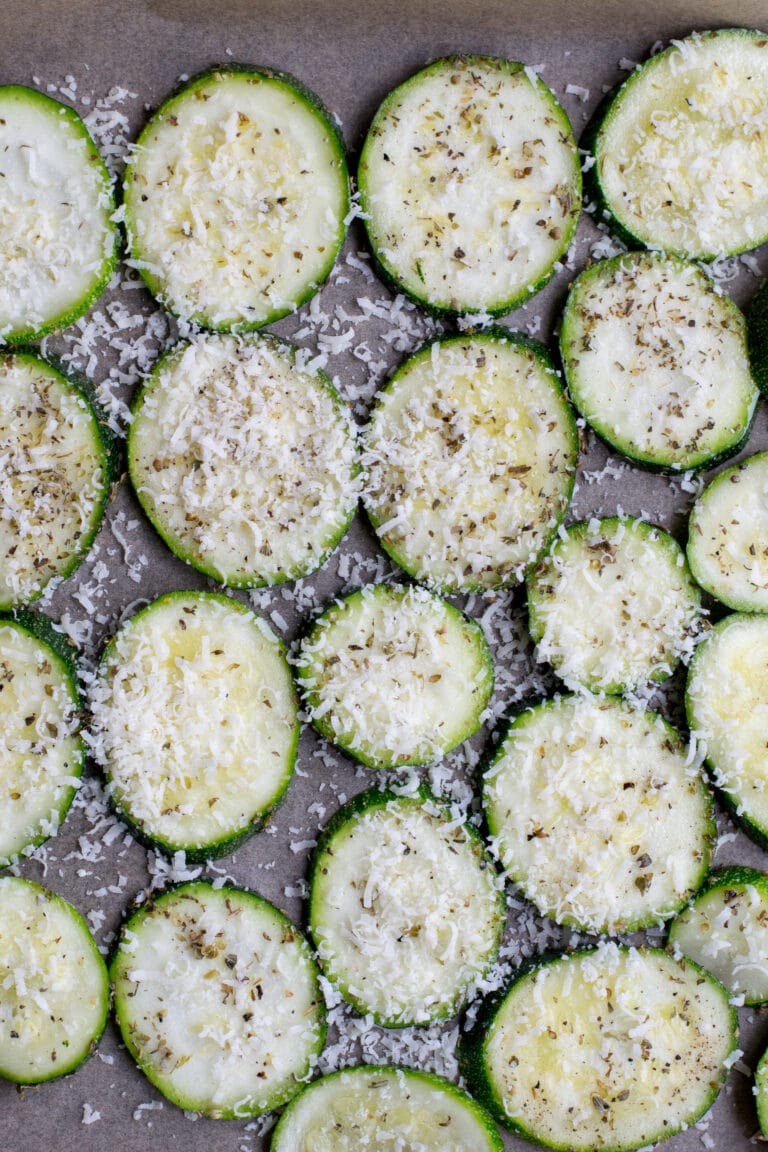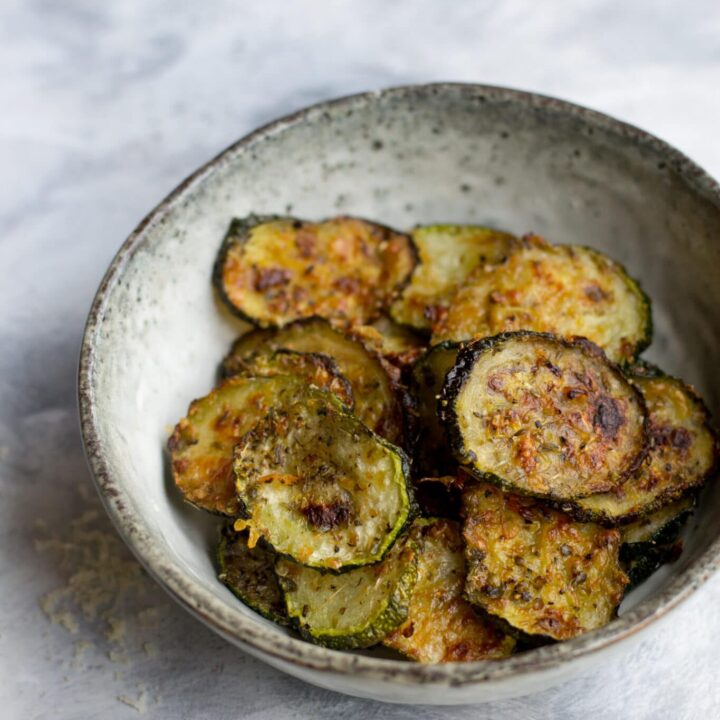 Baked keto courgette chips
Delicious, crispy and easy to make: these baked chips are perfect on their own but they would also make a great pair with a smooth dip.
Ingredients
250 g courgettes, sliced
10 g grated Parmesan cheese
1 tsp dried oregano
1/2 tsp ground black pepper
1 1/2 tbsp olive oil
Instructions
Mix the sliced courgettes with the spices and the olive oil.
Preheat the oven at 180°C.
Arrange the slices of courgettes on a baking tray lined with parchment paper, sprinkle with 1/3 of the total amount of grated cheese. Bake for 20-30 minutes.
When the courgettes are almost ready, add the remaining part of cheese. Turn the chips a couple of times to ensure they will be crispy. They are ready when they are golden brown and crispy. It may be useful to bake them with the door of the oven slightly open for a few minutes toward the end.
Nutrition Information
Yield

1
Amount Per Serving
Calories

228
Total Fat

23.2g
Carbohydrates

3g
Net Carbohydrates

2.2g
Fiber

0.8g
Protein

3.1g