I didn't realise fish pie was mainly a British thing, until I started looking up recipes to adapt for this keto fish pie recipe. To me it was one of those comforting, moreish meals for a cold autumn or winter day, something my mum would make in a huge baking dish and we'd end up eating for 3 days straight.
We went for a long walk in the woods earlier today and in the autumn chill I suddenly got the urge for this meal to warm us up at home, I kept on talking about it all the way home (along with half a dozen other warming dishes I was lusting after)
For those who don't know, a classic fish pie is made up of a bunch of different types of fish, cooked in a creamy, and if you like, cheesy sauce. Throw in a bunch of parsley, top it with a mashed potato topping and bake until golden! Not really mid-summer food but satisfying, tasty and filling, perfect after my autumn walk.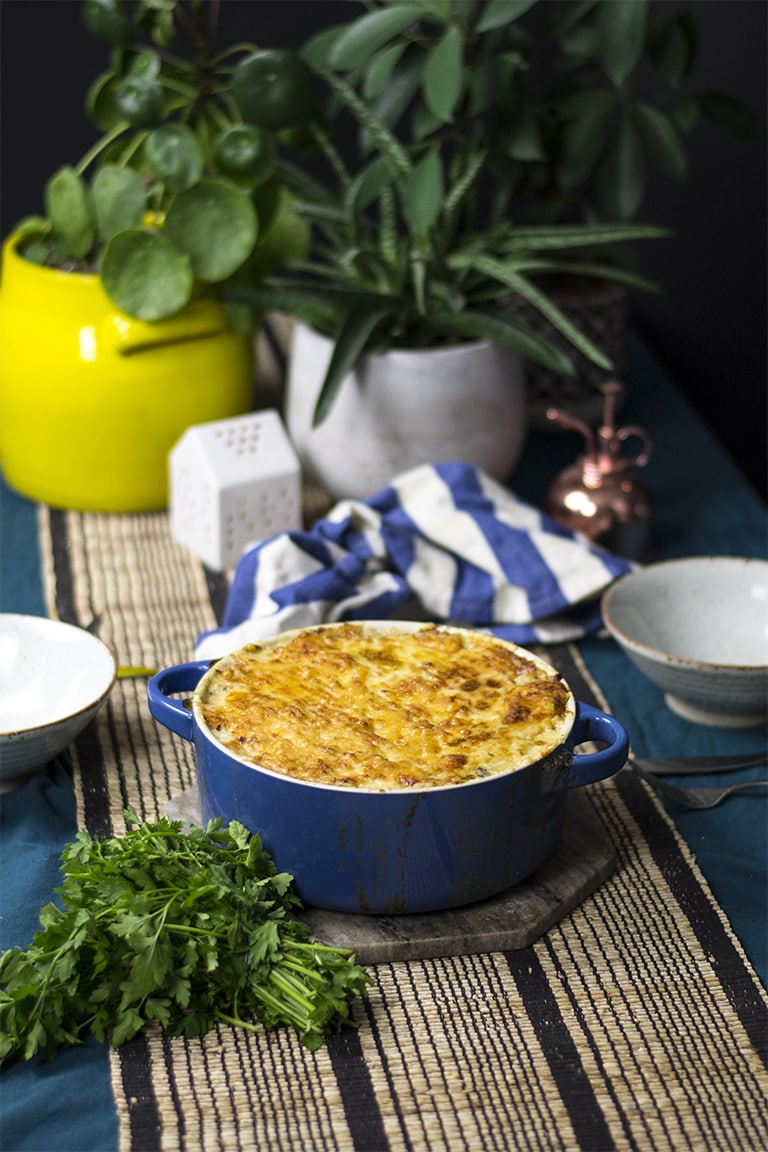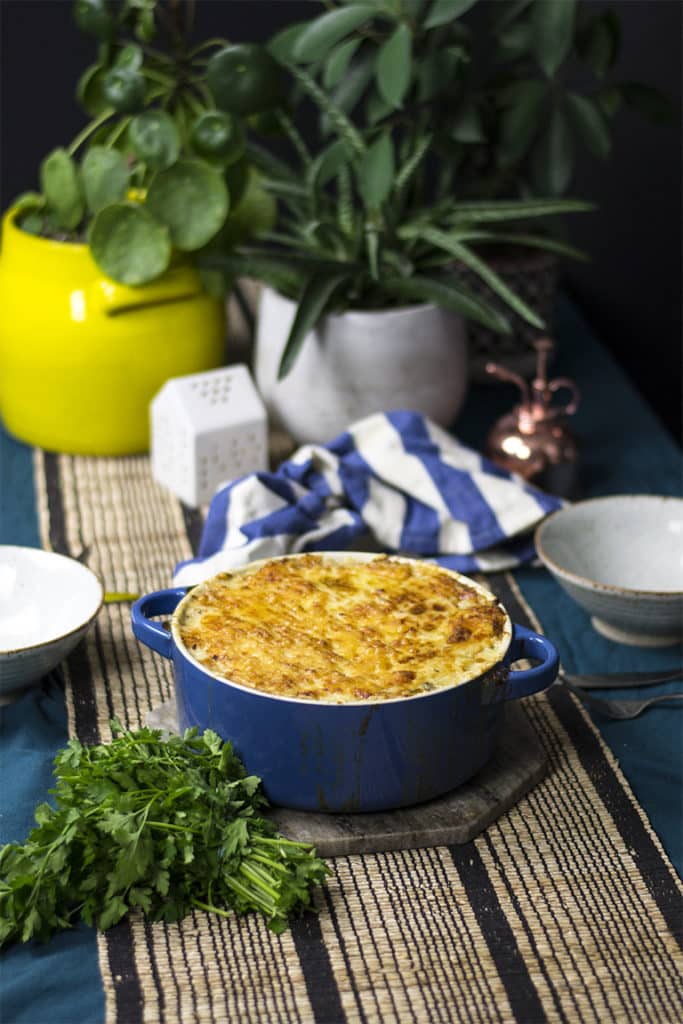 The problem for making a keto fish pie was always going to be the potato topping, but fortunately there's an easy, and arguably much tastier alternative that does turn this into a low carb meal, Cauliflower! Cauliflower really is a low carb workhorse, used as a stand in for just about any starchy staple. Rice? Use cauliflower, Potatoes? Use cauliflower, Cous Cous …you get the idea.
Now everybody has their preferences and ideas of what should go in a fish pie, but these are mine. Should you add smoked fish? (Yes!) Should the sauce be cheesey (Double Yes!) Should you use expensive fish (lobster anyone?) No!. This should be a relatively cheap dish, something you cook to serve the whole family or cook in bulk to eat for a couple of days if you're doing keto on a budget.
In the UK it's easy enough to buy a 'fish pie mix' from the fishmonger, a pre chopped selection of usually salmon, cod and smoked haddock. In the likely event you can't get this just know you want a mix of white fish, pink(?) fish, and a little smoked fish (not cured and smoked though like the smoked salmon you might get on a blini as an appetiser).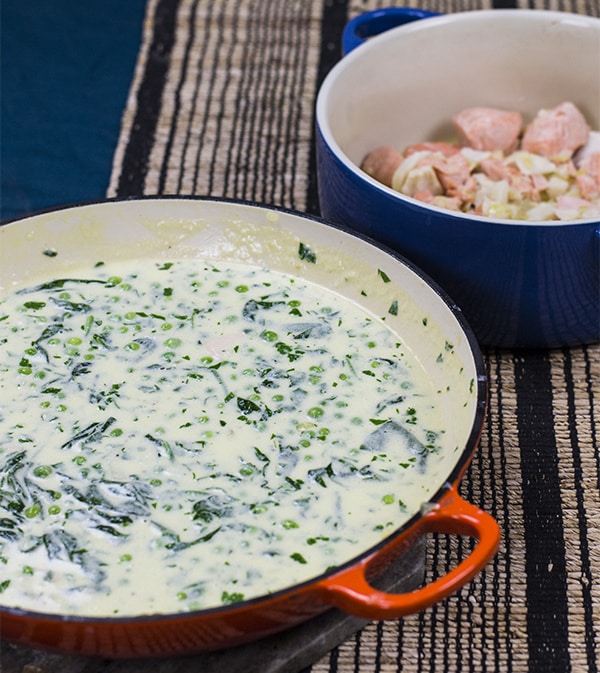 You can throw in some shrimp too, though I'd add them at the very end of the recipe as you're layering up the pie to avoid overcooking them. Lobster is completely unnecessary. Don't do it
The sauce in a normal fish pie is thickened using flour in a roux, which is obviously not very keto. I'm using more cream and cheddar cheese in the sauce than usual to try and thicken things up slightly and keep this a keto fish pie (bonus: more cheese!)
When served hot from the oven this isn't supposed to cut out of the pan in neat squares and hold it's shape. This is comforting family food, not haute cuisine, so presentation is out the window (except the mandatory sprig of parsley on top…)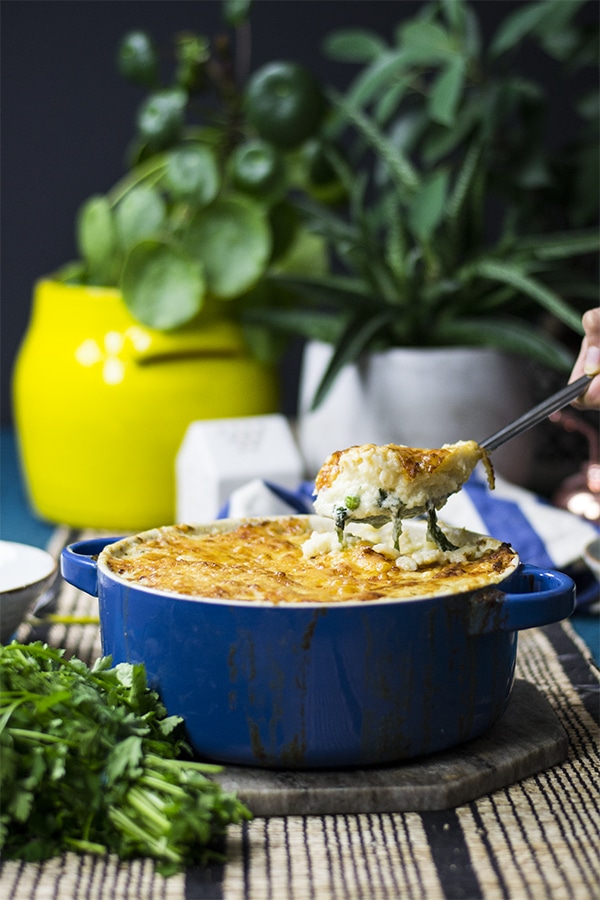 I usually serve this with greens on the side, although I've now taken to adding peas and spinach into the sauce too (although this brings a small bump in the carb count). Getting enough greens on the keto diet is a usual criticism so I'm trying to add them left, right and centre to dispel that one.
Let me know what you think of this keto fish pie. On a cold day spent outdoors, this is exactly what I need.
If you like it then please give it a share on pinterest!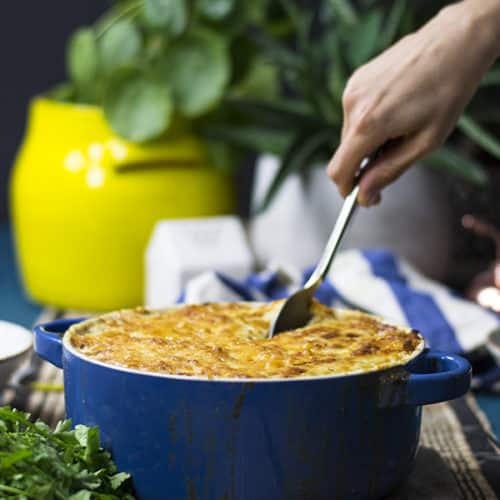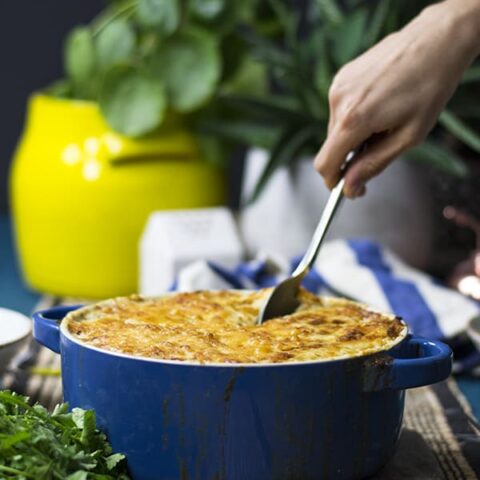 Keto Fish Pie
Ingredients
1 large cauliflower, (2lb ish)
100 g butter
200 g white fish, cubed and skin removed, (Haddock, cod or similar)
200g g salmon fillets, cubed and skin removed
100g g smoked white fish, (smoked haddock, mackerel or similar)
1 onion, (finely chopped)
3 bay leaves
3 cloves
1 cup heavy whipping cream
1/2 cup whole milk
1 tsp Dijon mustard
2 cups cheddar cheese
1 small bunch fresh parsley, (about 20g)
1 cup spinach
1/2 cup peas
1 pinch nutmeg
Instructions
Preheat the oven to 200°C (390°F)
Start with the cauliflowe topping. Cut into small chunks and steam for 10 minutes. Remove from the steam and let the water evaporate off the cauliflower for a couple of minutes before placing into a food processor. Add 50g of butter and a pinch of salt and blend until smooth. Set aside and keep warm.
Begin the sauce in a medium heat pan whilst the cauliflower is steaming. Add the butter, chopped onion and bay leaves. Fry for 5 minutes until the onion is translucent but not browned.
Add the cream, milk and cloves and bring to a simmer. Add the fish and poach in the pan on a low heat for 10 minutes, stirring regularly.
Remove the fish from the pan using a slotted spoon and put into the baking dish you're going to bake the pie in. Continue to simmer the sauce, raising to a medium heat.
Remove the clove and bay leaves from the sauce and add in 1 1/2 cups of cheddar, dijon mustard and the pinch of nutmeg
Once the cheese has melted into the sauce add the spinach, peas and parsley to the sauce and bring back to a simmer for 5 minutes, stirring regularly
Now prepare the pie. Pour the sauce over the fish and mix to combine. Top with the cauliflower mash, then drag the prongs of a fork over the mash to rough up the surface. Sprinkle the top with the remaining cheddar cheese and bake for 25-30 minutes until the cheese is golden brown and bubbling on top.
Allow the pie to cool for 10-15 minutes, then serve with a garnish of fresh parsley. Serve immediately or let cool and store for up to 4 days in the fridge
Nutrition Information
Yield

6
Amount Per Serving
Calories

573
Total Fat

43g
Unsaturated Fat

0g
Net Carbohydrates

10g
Protein

34g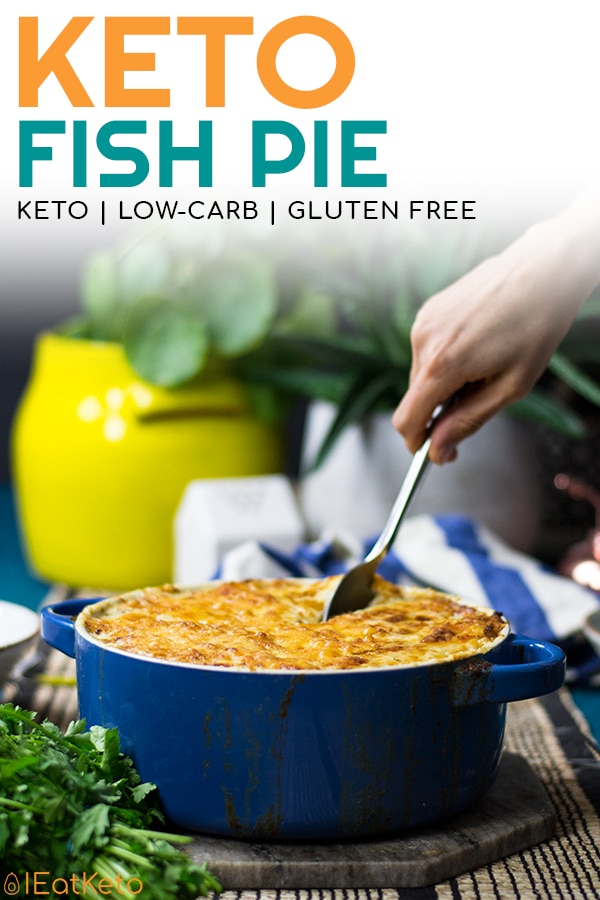 Where to next on
your keto journey

?

1. Learn more about working out on the keto diet with our keto exercise guide

2. Find out how to get into a deeper state of ketosis with our 6 steps for optimal ketosis

3. Discover the signs and symptoms to know for sure when you're properly in ketosis

4. Check out these tips and tricks to save money and lose weight with our keto on a budget guide

5. Stock up your keto cupboard with this list of ready to eat keto snacks

6. Keto in a hurry? Make one of these keto friendly smoothies to fuel your day

7. Learn more about the keto diet with our beginners guide to keto