This easy keto cauliflower soup is the perfect winter warmer, lightly spiced, rich and flavorful. It's a simple low carb soup that can be prepped in bulk and frozen for those rainy days.
I like to make this with coconut milk for added richness, as well as a little cream cheese which thickens the soup further. It's ready in a pretty short time but great to cook in bulk.
Curry and turmeric spices complement the coconut and cauliflower nicely for deeper flavor, without this turning into a curry sauce! The aim is for a delicate spice rather than an overpowering hit.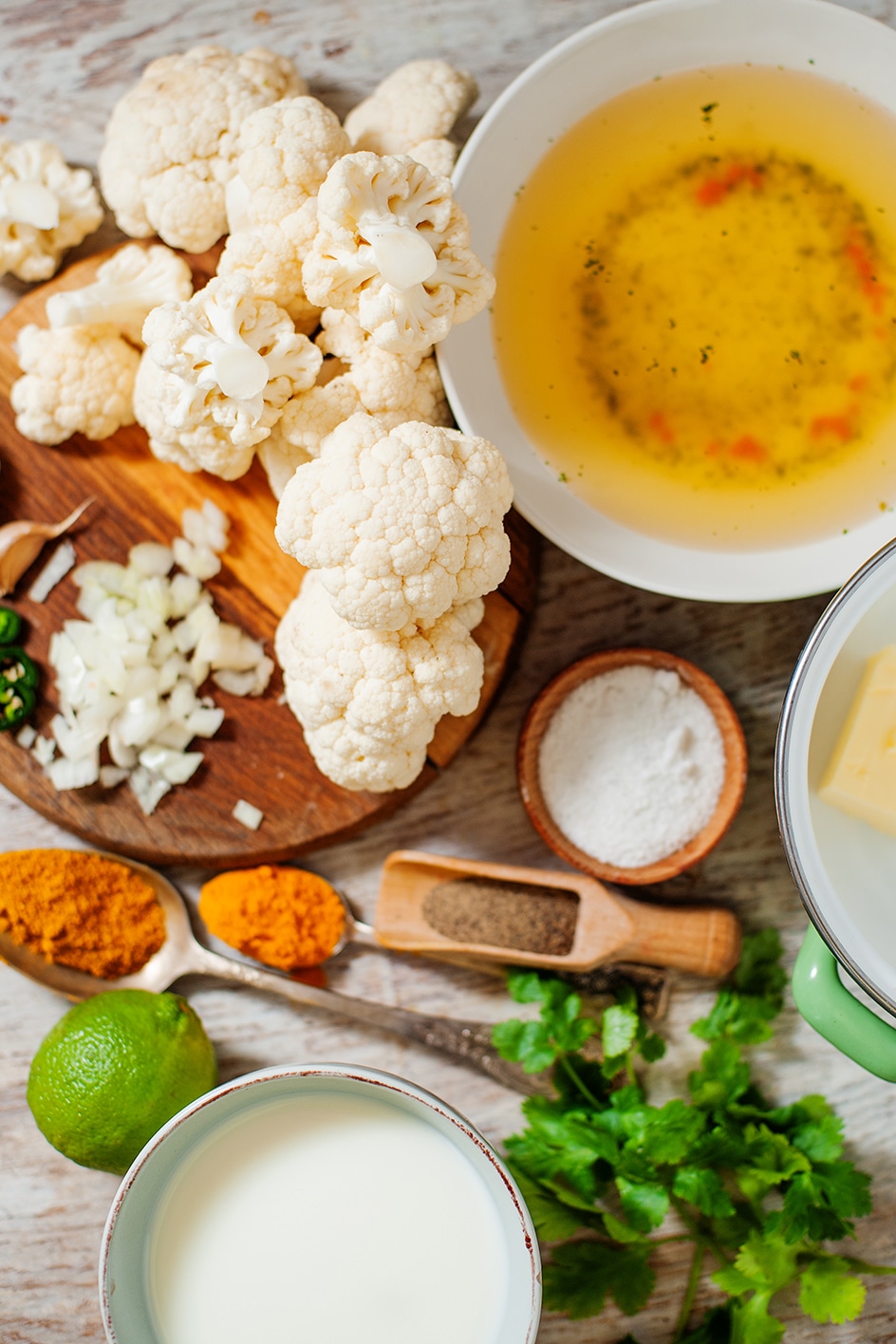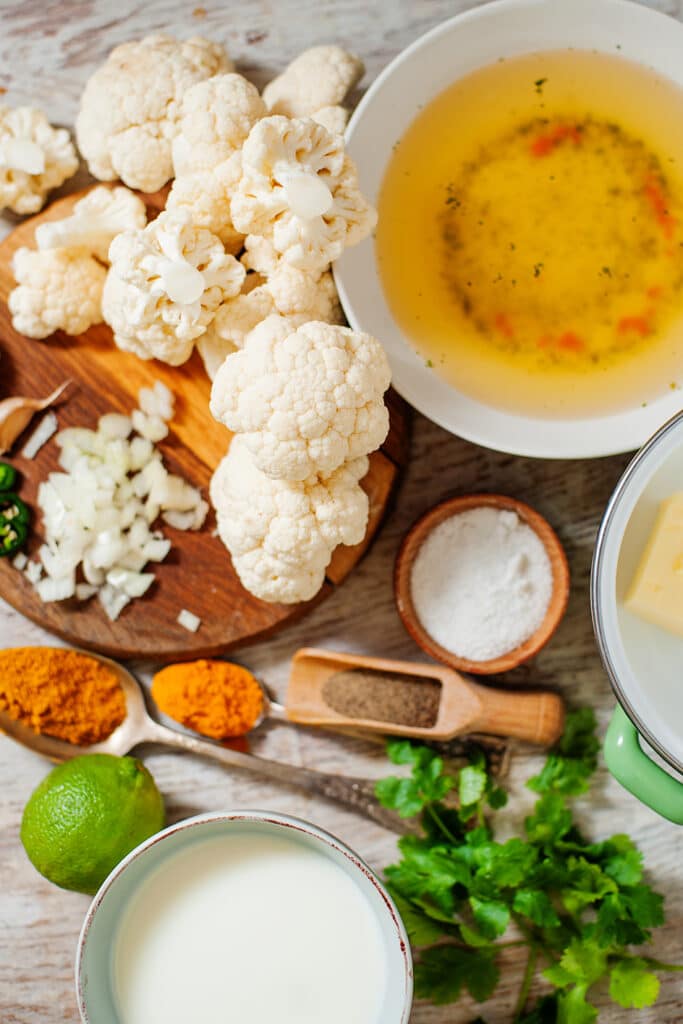 Be sure to cook the cauliflower long enough that it's really soft and will break down when blended. If you blend too early the less cooked cauliflower can be a little grainy unless you blend for a long time.
Keto Cauliflower Soup Variations
This keto cauliflower soup is a great base, you can mix up the spices and flavorings in many different ways. Cumin goes great with cauliflower, as does cheese if you want to take this in a different direction (I wouldn't suggest mixing spice and cheese in the same recipe necessarily – one or the other) For a more luxurious take you could use a little saffron rather than turmeric and spice – giving a more delicate flavor here.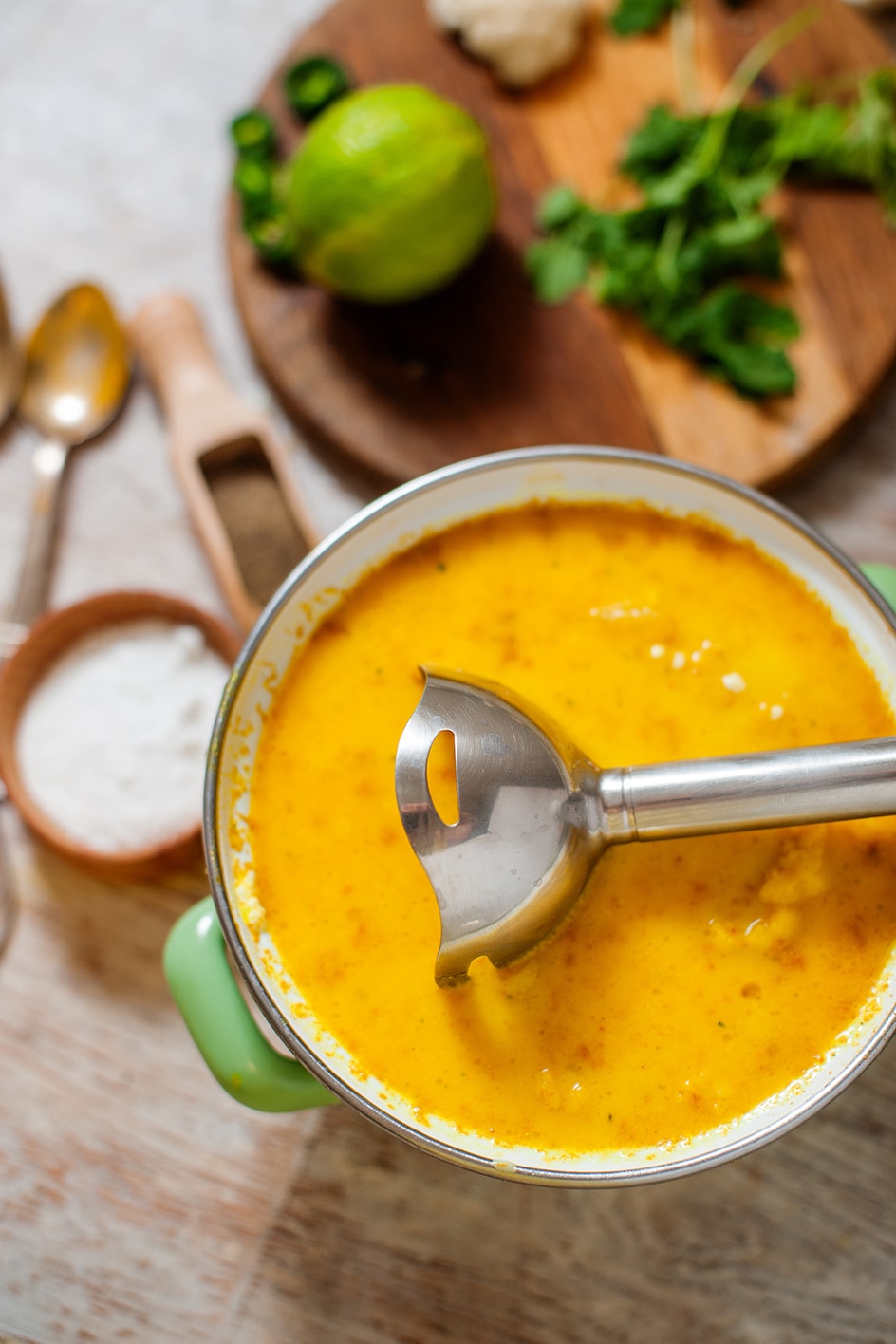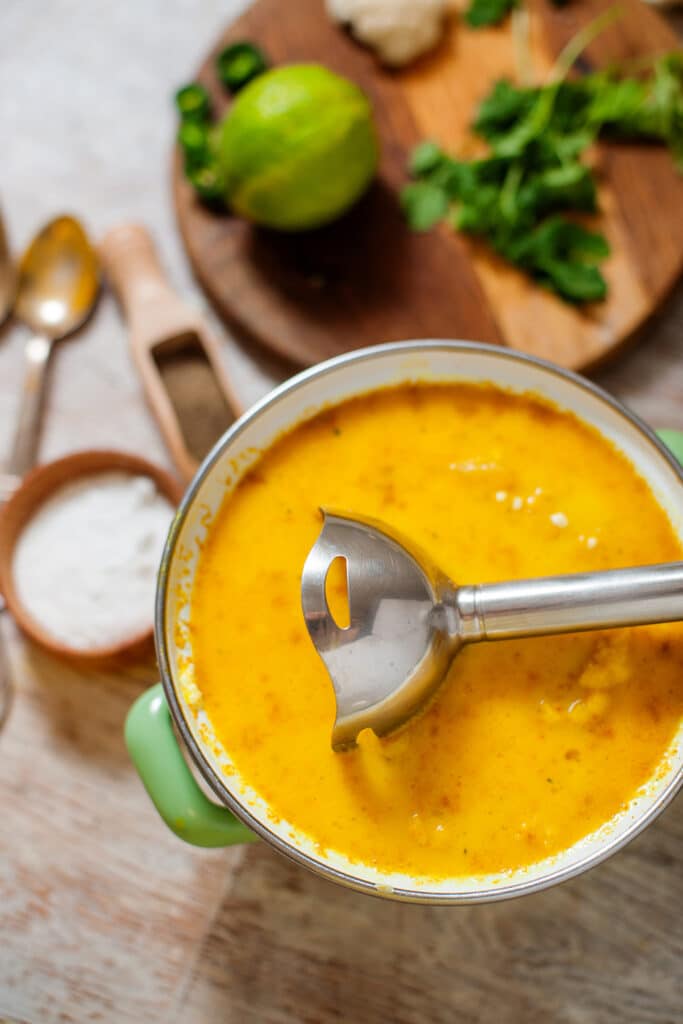 This healthy cauliflower soup recipe is great to freeze and reuse later – it's easy to scale up the numbers on this and cook a big batch. Just remember to portion out the soup prior to freezing if you're not going to defrost it all in one go (I forget this – a lot!)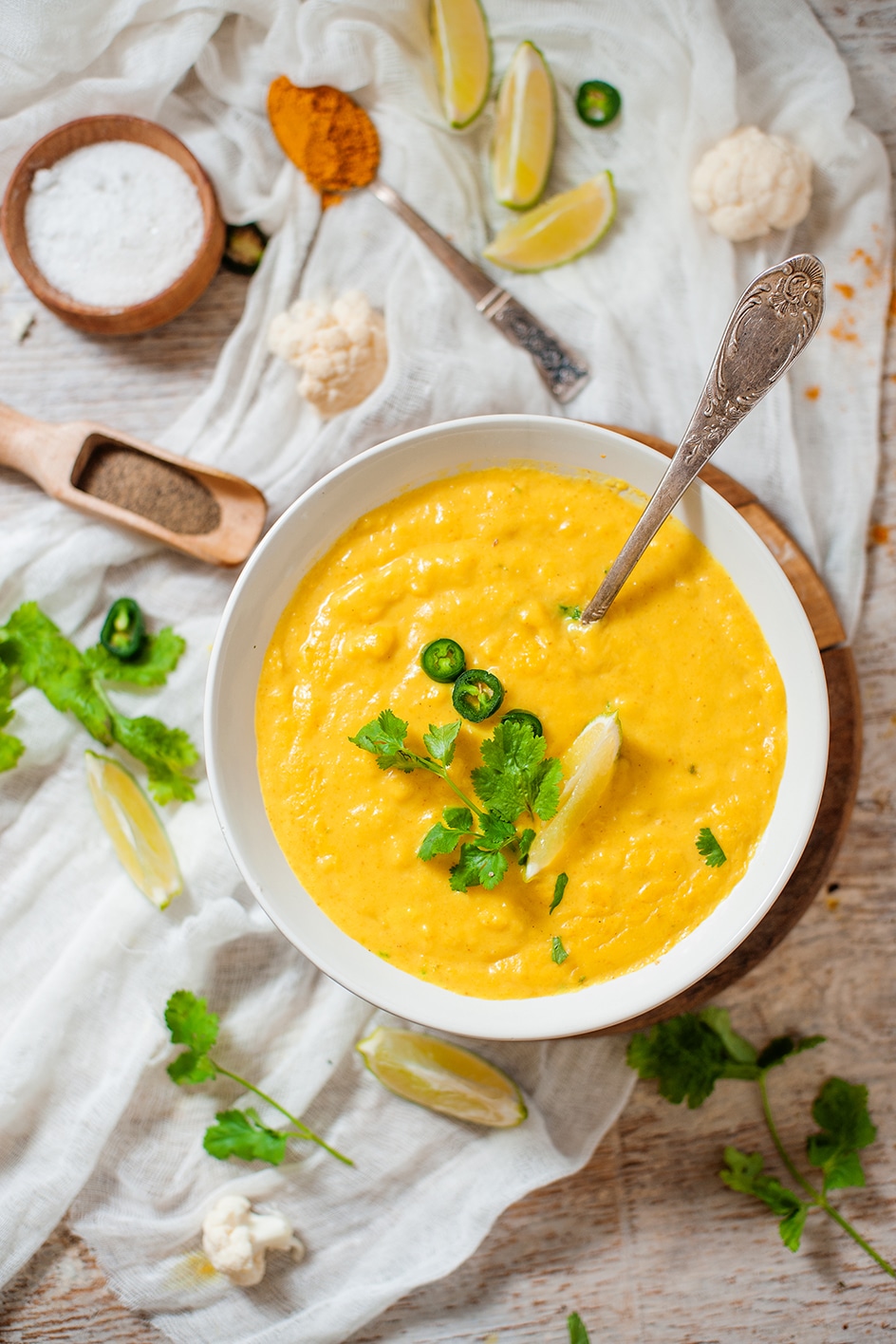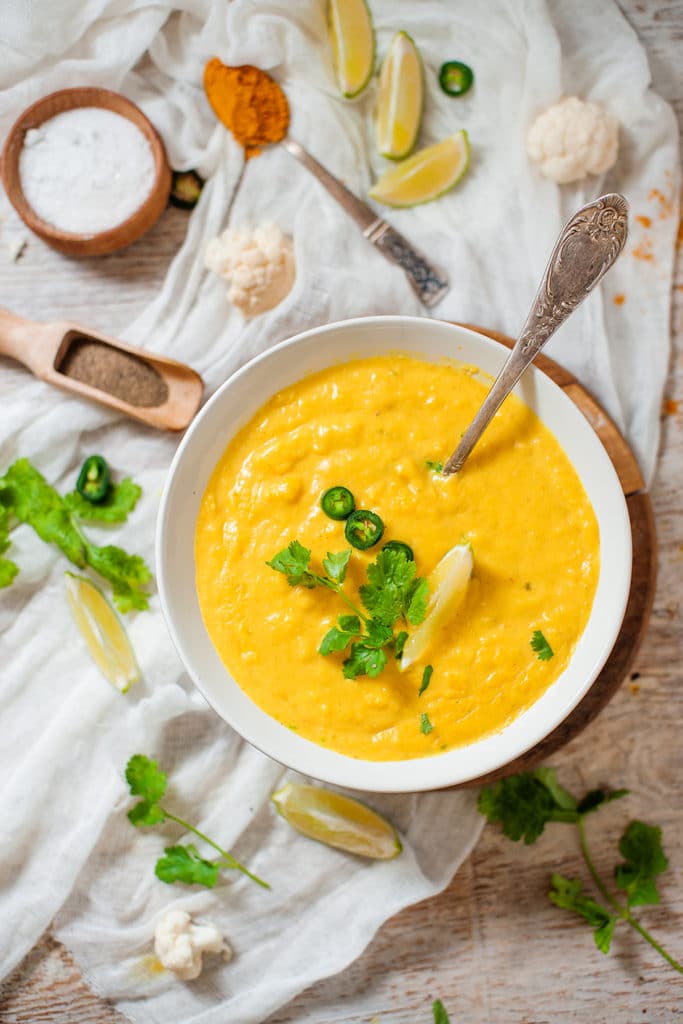 In these pictures I just blended the keto cauliflower soup using a stick blender – which gives a slightly rougher texture than if you use a proper blending machine. To get a smoother result you can pass the soup through a seive, using the back of a spoon to push the mix through the mesh.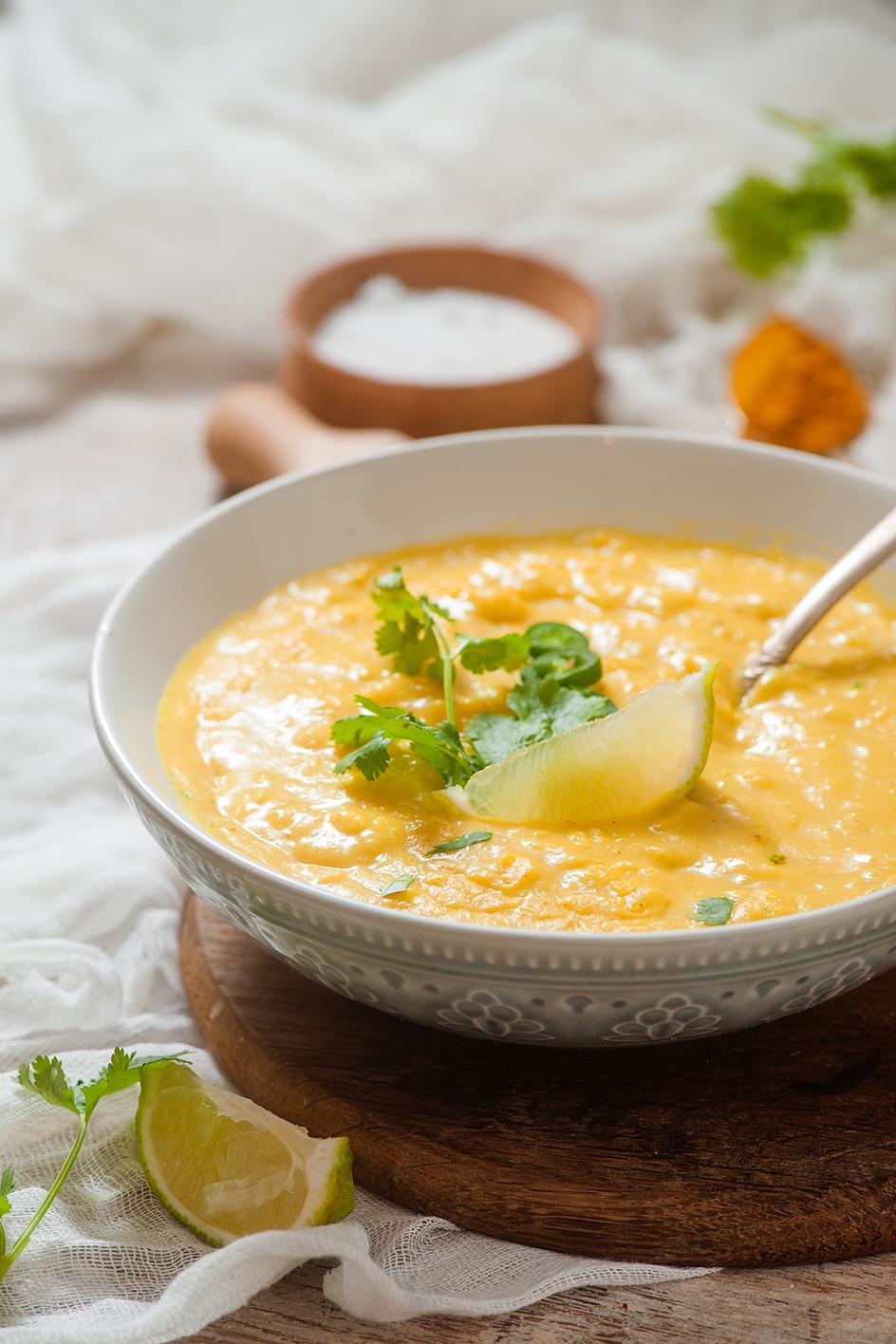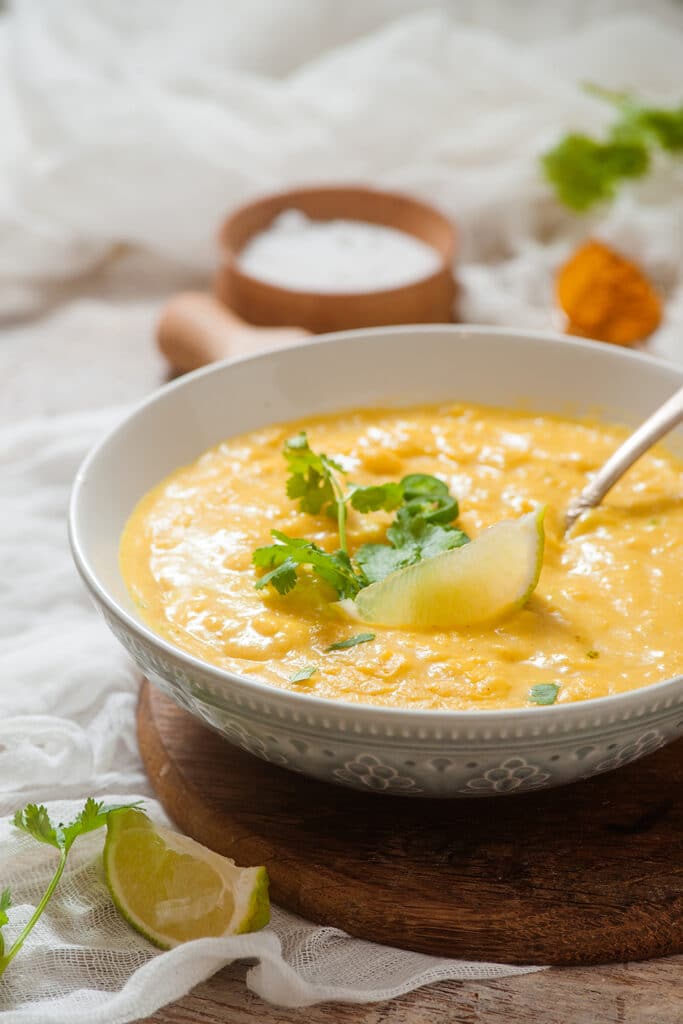 I hope you enjoy this simple keto cauliflower soup recipe. Let me know in the comments below your thoughts and any tips/recommendations you may have for improving or adjusting the dish, I'm always looking to improve my recipes where possible!
Be sure to share this on facebook or pinterest if you've enjoyed it, many thanks!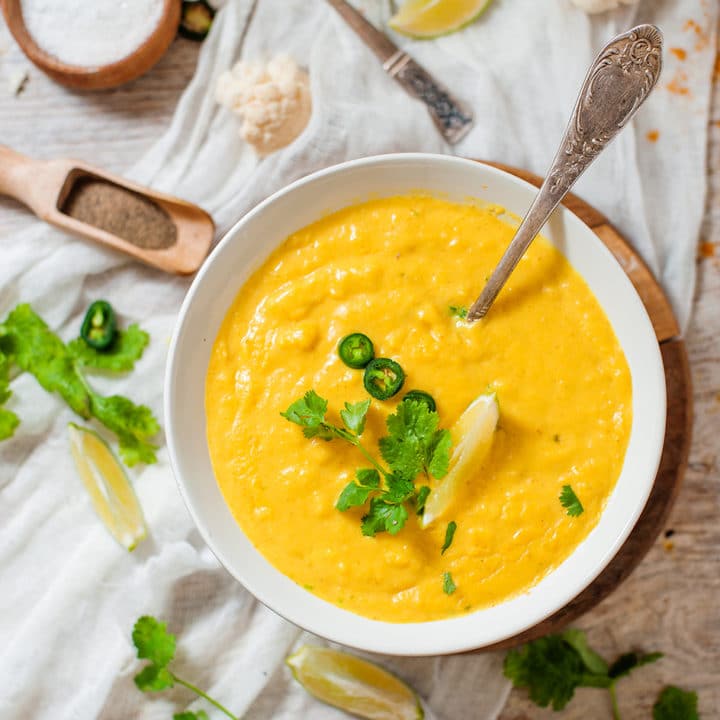 Keto Cauliflower and Coconut Soup
A quick, simple and warming keto cauliflower soup with coconut and spices
Ingredients
50g of butter
1/2 onion, diced
2 garlic cloves, grated
1½ tbsp of curry powder
1 tsp turmeric
1 litre chicken or vegetable stock
1 large cauliflower (about 1kg), broken into florets
400ml of coconut milk
200g of cream cheese
4 tbsp of chopped coriander
1 green chillies, sliced (optional)
Finely grated zest of 1 lime
salt and pepper
Instructions
Melt butter in saucepan on medium-low heat. Add onion and garlic and sweat for 5-10 mins until soft. Add curry powder and cook for further 1-2min
Add the stock, bring up to simmer and add cauliflower, cook for 5-10 minutes until cauliflower is soft
Stir in coconut milk and cream cheese, bring back up to boil then take off heat
Using a stick blender, jug blender or food processor blitz the soup until smooth. Pass the soup through a seive if you have time for a smoother texture.
Season soup to taste, serve sprinkled with coriander, chilli and lime zest
Nutrition Information
Yield

4
Amount Per Serving
Calories

449
Total Fat

40g
Saturated Fat

30g
Unsaturated Fat

4g
Cholesterol

27mg
Carbohydrates

19g
Net Carbohydrates

12g
Fiber

7g
Sugar

9g
Protein

9g