Keto Spiced Pork Belly with Apple Cider Vinegar Glaze
Embark on a culinary journey that will tantalize your taste buds and align perfectly with your keto lifestyle. The Keto Spiced Pork Belly with Apple Cider Vinegar Glaze is not just a dish; it's a symphony of flavors that marries the indulgent richness of pork belly with a vibrant, tangy glaze. This recipe stands out in the keto realm for its ability to deliver a deeply satisfying eating experience while maintaining low carb integrity. Whether you're a seasoned keto enthusiast or a curious foodie looking to dive into the world of healthy fats, this dish promises to deliver on both taste and nutrition.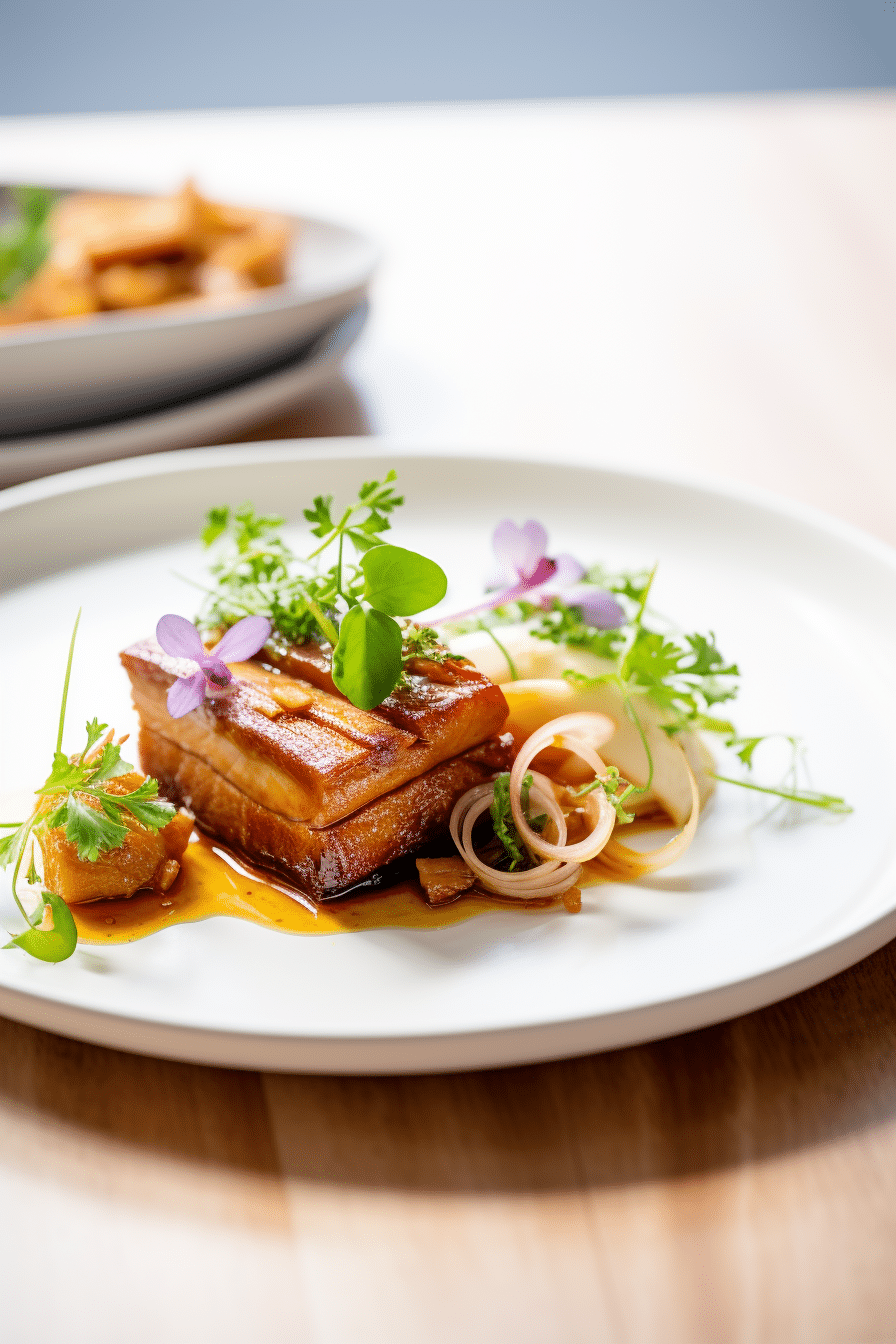 Recipe Details
The genesis of this Keto Spiced Pork Belly with Apple Cider Vinegar Glaze can be traced back to a fusion of traditional roasting methods and the modern keto diet's principles. Pork belly, a cut known for its luscious fat and tender meat, becomes the perfect canvas for a blend of aromatic spices. The result is a dish that is both comforting and exotic, satisfying the soul and the macros.
Keto diets often emphasize the importance of high-fat, low-carb foods, making this recipe an excellent fit. The pork belly itself is naturally high in fat, which can help to keep you feeling full and energized. The spices used not only create a crust that's bursting with flavor but also come with their own set of health benefits. For instance, cumin is known for its potential to improve digestion, while paprika can provide a dose of antioxidants.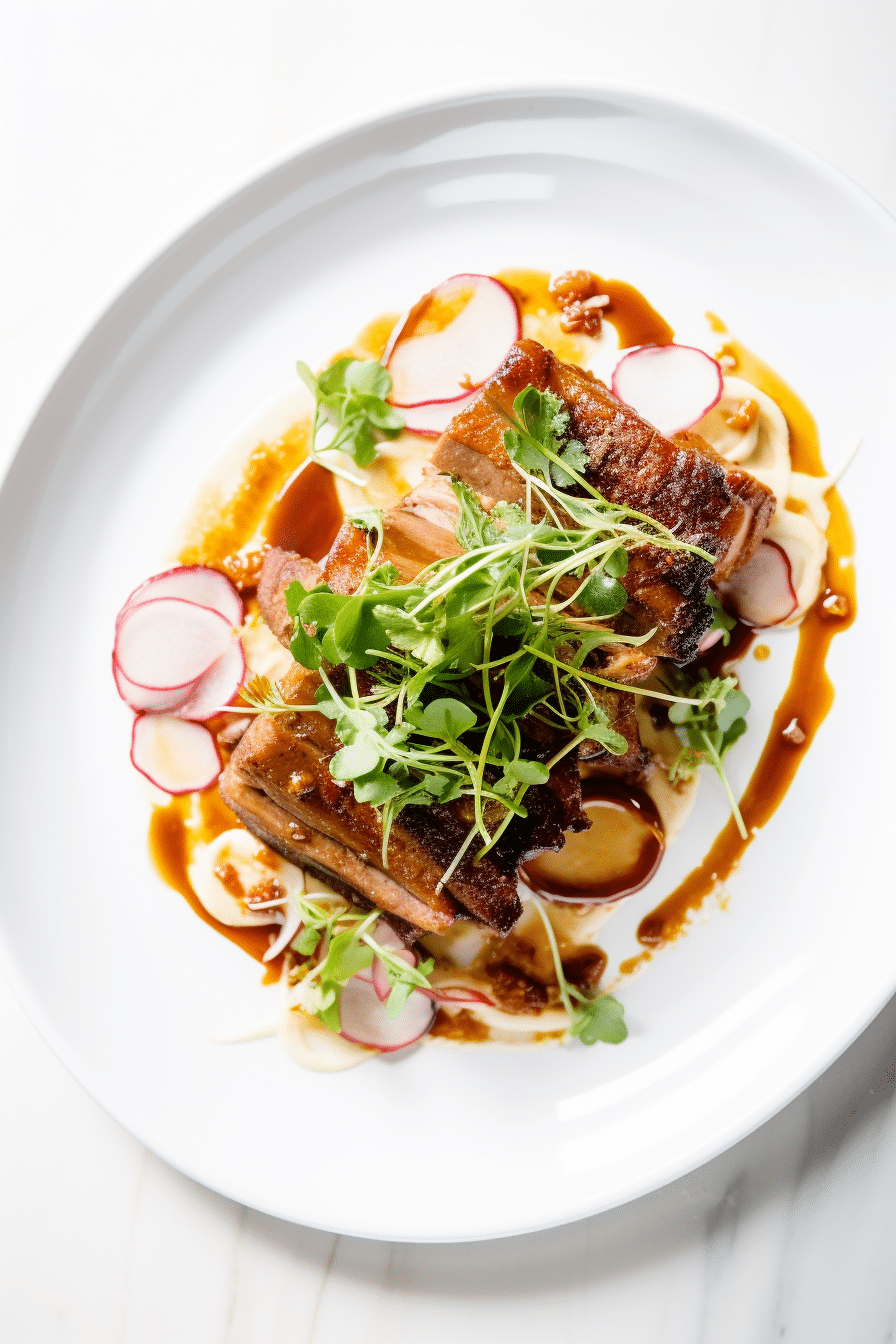 The Method
Creating this dish is an art that involves patience and attention to detail. Let's walk through the process, infusing chef's tips to elevate your cooking experience.
**Preparation:** Begin by preheating your oven to a gentle 325°F, setting the stage for a slow roast that will ensure the pork belly is cooked to perfection. The spice rub, a medley of smoked paprika, garlic, and onion powders, along with cumin, salt, pepper, and an optional kick of cayenne, should be mixed thoroughly. This not only ensures an even distribution of flavors but also allows the spices to fully activate their aromatic oils.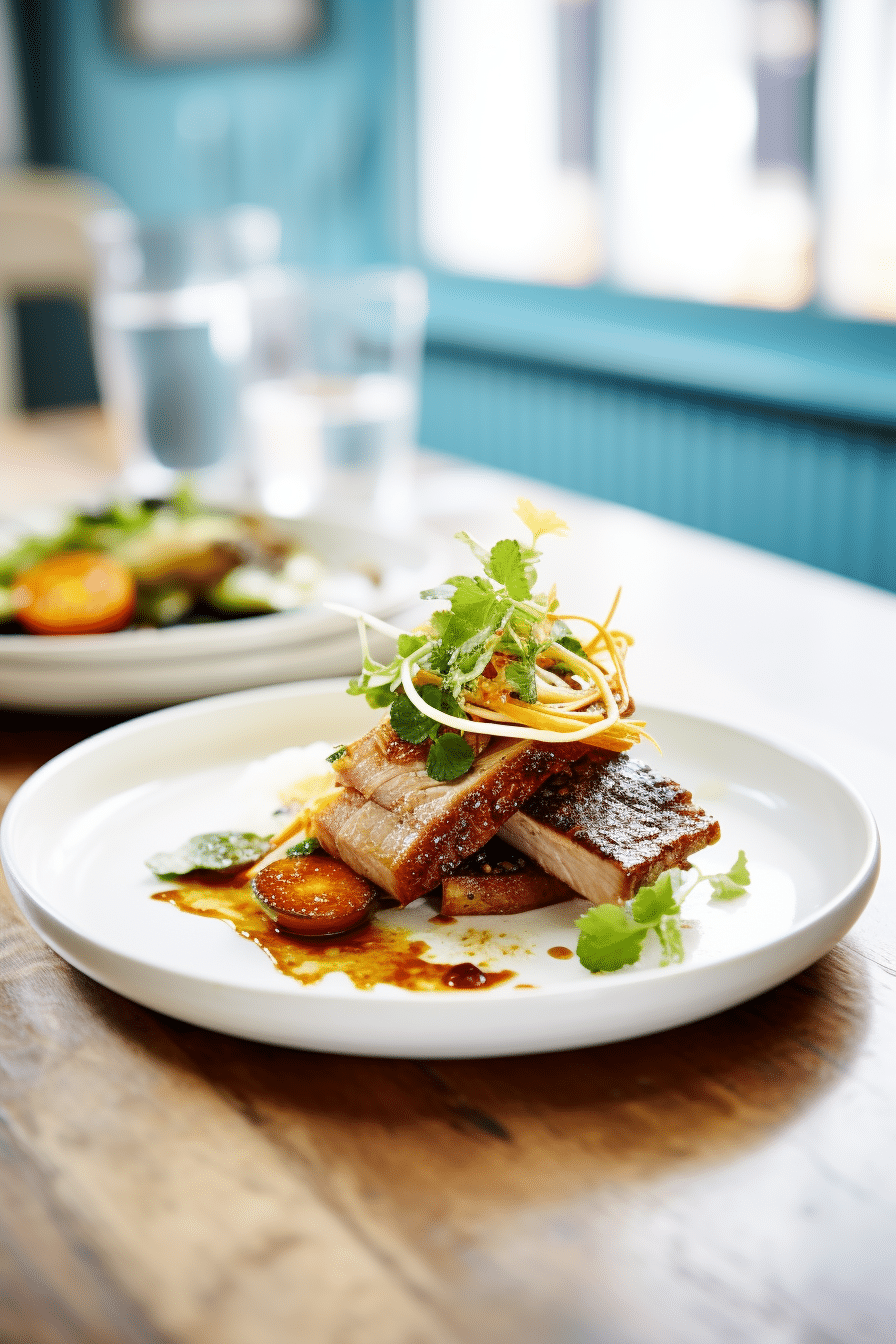 Variations
Herb-Infused Pork Belly
For those who prefer a more herbal note, consider adding a blend of thyme, rosemary, and sage to the spice mix. These herbs not only complement the richness of the pork belly but also bring a fresh, earthy dimension to the dish.
Spicy Asian Glaze
Introduce an Asian twist by incorporating a bit of soy sauce, a touch of keto-friendly sweetener, and a sprinkle of chili flakes into the glaze. This variation offers a sweet, salty, and spicy profile that's sure to excite your palate.
Citrus Zest Finish
After glazing, grate a bit of lemon or orange zest over the pork belly before its final roast. The citrus will cut through the fat and add a bright, zesty flavor that balances the dish beautifully.
Substitutions
Understanding the need for flexibility in the kitchen, here are some substitutions that can help tailor the recipe to your preferences or pantry stock.
**Sweetener Swap:** If erythritol isn't your go-to keto sweetener, you can easily substitute it with monk fruit sweetener or stevia. Be mindful of the conversion rates, as these sweeteners can vary in sweetness.
**Mustard Alternatives:** While Dijon mustard offers a tangy depth, feel free to use whole grain mustard for a different texture or even a bit of wasabi or horseradish for a fiery twist.
**Vinegar Variations:** Apple cider vinegar is a fantastic choice for its health benefits and flavor profile, but white wine vinegar or even a splash of balsamic vinegar (use sparingly due to its sugar content) can be used for a different type of acidity.
FAQ Section
Here are answers to some common questions to guide you through making this delectable keto dish.
Q: Can I make this dish ahead of time?
A: Absolutely! You can roast the pork belly in advance and then reheat it, glazing just before serving to ensure the crust is crispy and the glaze is sticky.
Q: Is pork belly a good choice for a keto diet?
A: Yes, pork belly is rich in healthy fats and low in carbs, making it ideal for maintaining ketosis.
Q: Can I use a different cut of pork for this recipe?
A: While pork belly is recommended for its fat content and texture, you can use pork shoulder with an adjusted cooking time.
Q: How do I store leftovers?
A: Store any leftovers in an airtight container in the refrigerator. They can be enjoyed within 3 days.
Q: Can I use a slow cooker instead of an oven?
A: Yes, a slow cooker can be used to render the pork belly tender. However, you'll miss the crispy finish that the oven provides.

## Keto Spiced Pork Belly with Apple Cider Vinegar Glaze

Tender, succulent pork belly meets a tangy apple cider vinegar glaze in this keto-friendly dish that's bursting with flavor. The spices form a perfect crust, complementing the natural richness of the pork, while the glaze adds a touch of sweetness without the carbs. It's a dish that promises to satisfy your cravings and keep you on track with your dietary goals.

**Servings:** 4

**Prep time:** 15 minutes

**Cook time:** 2 hours 30 minutes

**Cuisine:** Keto, American

**Category:** Dinner

**Ingredients:**
For the Pork Belly:
– 2 pounds pork belly (approximately 900g)
– 1 tablespoon smoked paprika (7g)
– 1 teaspoon garlic powder (3g)
– 1 teaspoon onion powder (3g)
– 1 teaspoon ground cumin (2g)
– 1 teaspoon sea salt (5g)
– 1/2 teaspoon ground black pepper (1g)
– 1/2 teaspoon cayenne pepper (optional for heat) (1g)
For the Apple Cider Vinegar Glaze:
– 1/2 cup apple cider vinegar (120ml)
– 2 tablespoons erythritol (24g)
– 1 teaspoon Dijon mustard (5g)
– 1/2 teaspoon ground cinnamon (1g)
– 1/4 teaspoon ground ginger (0.5g)
– A pinch of salt

**Method:**
1. Preheat your oven to 325°F (163°C).
2. In a small bowl, mix together the smoked paprika, garlic powder, onion powder, ground cumin, sea salt, ground black pepper, and cayenne pepper to create the spice rub.
3. Pat the pork belly dry with paper towels and rub the spice mixture all over the pork, ensuring it's well coated.
4. Place the pork belly on a wire rack set over a baking sheet and roast in the preheated oven for about 2 hours, or until the meat is tender.
5. While the pork belly is roasting, prepare the glaze. In a small saucepan, combine the apple cider vinegar, erythritol, Dijon mustard, cinnamon, ginger, and a pinch of salt. Bring to a simmer over medium heat, stirring until the erythritol has dissolved. Reduce the heat and simmer the glaze until it thickens slightly, about 10 minutes. Set aside.
6. Once the pork belly is tender, increase the oven temperature to 400°F (204°C). Brush the pork belly with the apple cider vinegar glaze, and return to the oven for an additional 10-15 minutes, or until the glaze is caramelized and sticky.
7. Remove from the oven and let the pork belly rest for 10 minutes before slicing.
8. Serve warm, drizzled with extra glaze if desired.

**Calories:** 762 kcal
**Carbohydrates:** 3g
**Net Carbs:** 2g
**Fiber:** 1g
**Fat:** 75g
**Protein:** 22g

**Equipment Used:**
– Oven
– Wire rack
– Baking sheet
– Small bowl
– Paper towels
– Small saucepan
– Pastry brush

**Other Notes:**
– The erythritol in the glaze can be substituted with another keto-friendly sweetener if preferred.
– Leftovers can be stored in an airtight container in the refrigerator for up to 3 days. Reheat gently to retain the texture.
– For a crispier finish, broil the pork belly for the last few minutes of cooking, watching carefully to avoid burning.