Keto Cranberry Orange Bundt Cake: A Zesty Delight
Welcome to a delightful twist on a classic dessert that will tantalize your taste buds and keep your keto goals on track. The Keto Cranberry Orange Bundt Cake is a harmonious blend of tangy cranberries and zesty orange flavors, wrapped in a moist, tender cake that's surprisingly low in carbs. This cake is perfect for those who follow a ketogenic lifestyle or anyone looking for a healthier alternative to traditional sugary desserts. With its bright flavors and festive appearance, it's a showstopper at any gathering or a cozy treat for your family's dessert table.
Why does this recipe stand out in the crowded world of keto desserts? It's all about the balance of ingredients. The almond and coconut flours create a gluten-free base that's both nutritious and satisfyingly cake-like in texture. The use of erythritol as a sweetener keeps the sugar content in check, while the addition of fresh cranberries provides a burst of natural tartness that complements the sweet citrus notes. This cake is not only delicious but also packed with healthy fats and fiber, making it a guilt-free indulgence.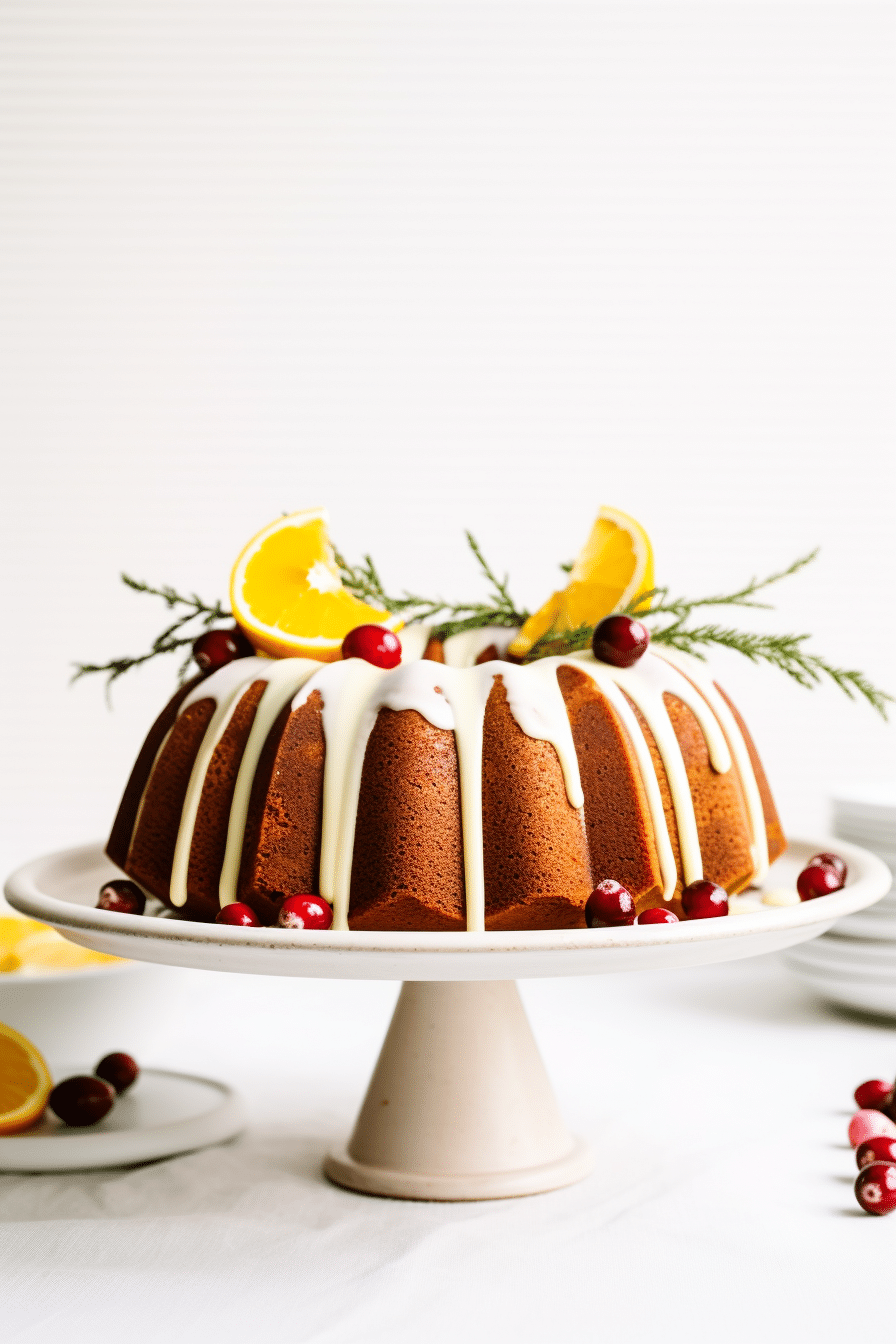 The Story Behind This Keto Delight
Imagine the aroma of fresh oranges and the vibrant pop of cranberries as you slice into a perfectly moist cake. That's the experience I wanted to recreate when I set out to craft this recipe. As a dedicated follower of the ketogenic diet, I often found myself missing the simple pleasure of a slice of cake with my afternoon coffee. That's when the inspiration struck: why not create a cake that's not only permissible on a keto diet but also bursting with flavor?
The Keto Cranberry Orange Bundt Cake is more than just a dessert; it's a testament to the versatility of keto baking. By carefully selecting low-carb ingredients that mimic the properties of traditional baking staples, I've created a cake that's indistinguishable from its high-carb counterpart. Almond flour and coconut flour provide the structure, while erythritol lends sweetness without the added sugars.
But the real stars of the show are the cranberries and orange zest. Cranberries, with their natural tartness, cut through the richness of the cake, adding a layer of complexity to each bite. The orange zest infuses the batter with a bright, citrusy aroma that's both refreshing and comforting. Together, these flavors create a symphony in your mouth, a balance of sweet and tart that's simply irresistible.
This cake isn't just a dessert; it's a celebration of what's possible within the constraints of a ketogenic diet. It's proof that you don't have to sacrifice flavor or texture to stay true to your dietary choices. Whether you're serving this at a holiday meal, a special occasion, or simply as a weekend treat, it's sure to impress both keto and non-keto eaters alike.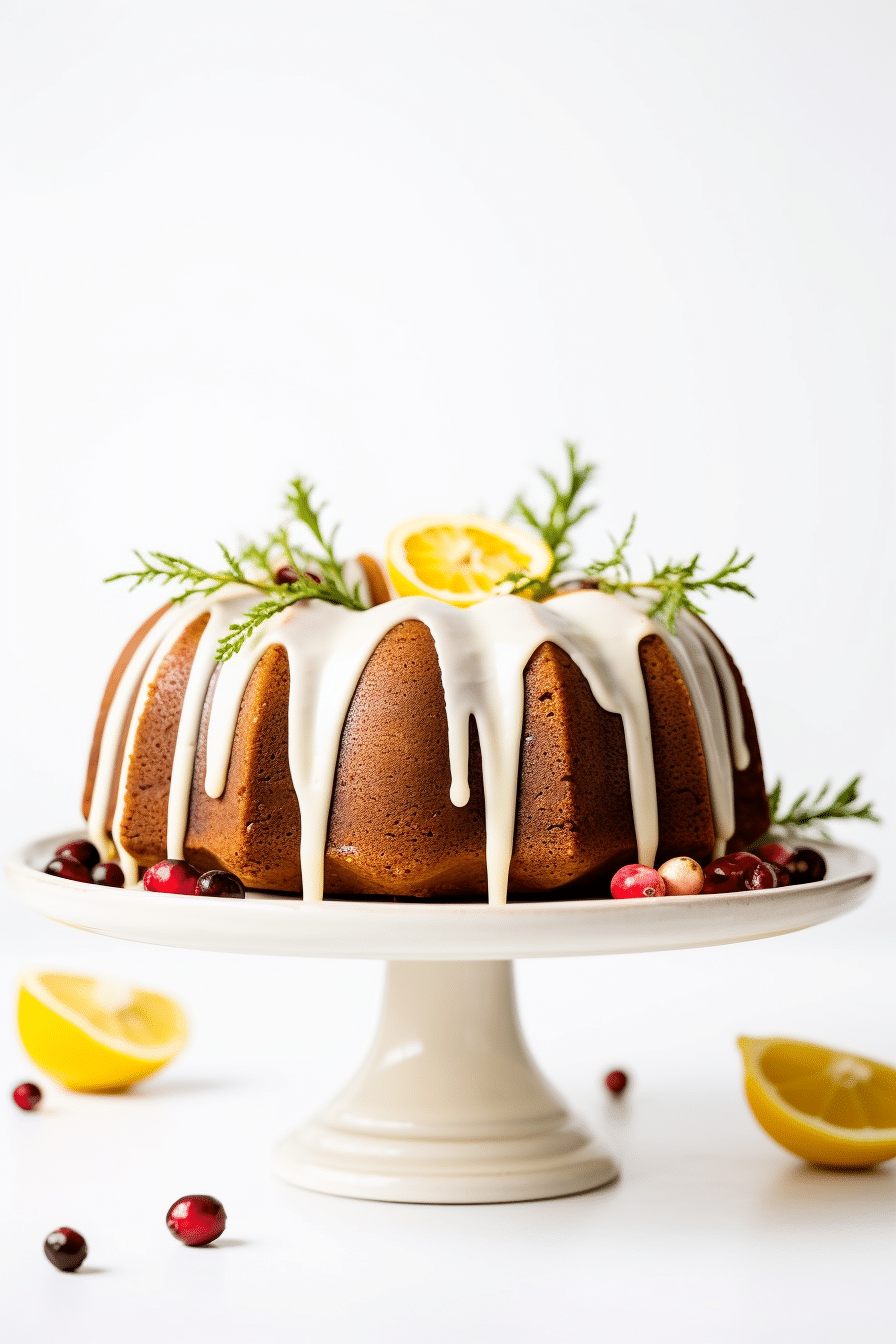 Mastering the Keto Cranberry Orange Bundt Cake
Creating the perfect Keto Cranberry Orange Bundt Cake is an art that requires attention to detail and a bit of know-how. The key to success lies in the preparation and understanding of how each ingredient works together to create a cohesive final product. Let's dive into the step-by-step process, complete with chef's tips to ensure your cake is nothing short of perfection.
Firstly, **preheating your oven** is crucial. An oven that's not properly preheated can lead to uneven baking, and nobody wants a half-baked cake! Make sure to grease your Bundt cake pan thoroughly. A well-greased pan ensures that your cake will release smoothly, showcasing the beautiful design that Bundt pans are known for.
When you whisk together your dry ingredients, ensure there are **no lumps**. Lumps in the batter can lead to pockets of dry flour in your finished cake, which is not pleasant. In a separate bowl, beating the eggs until they're light and frothy is essential for incorporating air into the batter, which contributes to the cake's light texture.
As you combine the wet and dry ingredients, do so **slowly and gently**. Overmixing can lead to a dense cake, as it develops the gluten in the almond flour. Once the batter is just combined, gently fold in the fresh cranberries. This will distribute them evenly throughout the cake, ensuring that every slice has a burst of tart cranberry flavor.
When pouring the batter into the pan, take a moment to smooth the top with a spatula. This small step will help your cake to rise evenly, creating a more professional appearance. As the cake bakes, resist the temptation to open the oven door too often. Keep it closed to maintain a consistent temperature, which is key to even baking.
Finally, **cooling the cake** in the pan for 10 minutes allows it to set and makes it less likely to break apart when you invert it onto a wire rack. Patience is a virtue here – give your cake the time it needs to cool completely before slicing. This waiting period allows the flavors to meld and the texture to settle, resulting in a more enjoyable eating experience.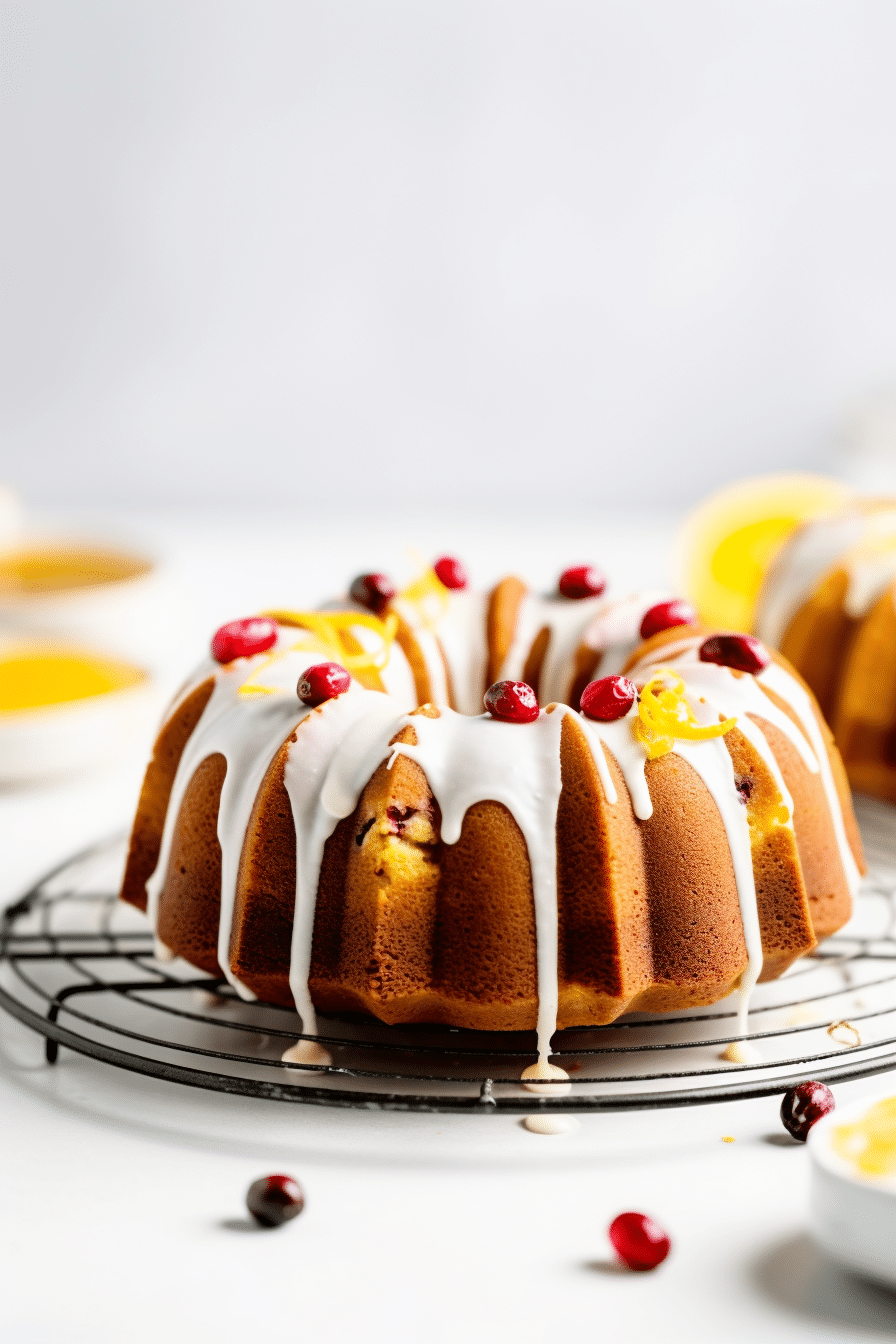 Variations to Spice Up Your Keto Cake
Lemon Blueberry Twist
For a sunny variation, replace the orange zest with lemon zest and swap out cranberries for blueberries. The lemon provides a tartness that pairs beautifully with the sweet, subtle flavor of blueberries.
Chocolate Chip Charm
Chocolate lovers can rejoice by adding sugar-free chocolate chips to the batter. The chocolate chips melt slightly as the cake bakes, creating pockets of rich, gooey chocolate throughout the cake.
Nutty Delight
Enhance the texture and flavor by adding chopped pecans or walnuts to the batter. The nuts add a satisfying crunch and a nutty depth that complements the fruit flavors.
Substitutions for Every Keto Baker
If you don't have almond flour on hand, you can substitute with an equal amount of ground sunflower seed meal for a nut-free option. Keep in mind that this may slightly alter the flavor profile.
For those who prefer a different sweetener, monk fruit sweetener can replace erythritol in a 1:1 ratio. This natural sweetener is keto-friendly and provides a similar level of sweetness.
If you're out of unsweetened almond milk, any keto-friendly milk alternative, such as coconut milk or cashew milk, can be used. These substitutions will not significantly affect the texture or taste of the cake.
Frequently Asked Questions
Can I use frozen cranberries instead of fresh?
Yes, frozen cranberries can be used without thawing to prevent them from bleeding into the batter.
How can I ensure my cake doesn't stick to the pan?
Grease the pan thoroughly with butter or non-stick spray and consider using a pan with a non-stick coating.
Is there a dairy-free alternative to butter in this recipe?
You can use coconut oil or a dairy-free butter substitute in equal amounts.
Can I make this cake ahead of time?
Yes, this cake can be made a day in advance and stored in an airtight container to maintain freshness.
How do I store leftovers?
Store the cake at room temperature for up to 3 days or refrigerate for up to a week in an airtight container.
—
title: Keto Cranberry Orange Bundt Cake
description: Indulge in a moist, flavorful Keto Cranberry Orange Bundt Cake that marries the zesty freshness of oranges with tart cranberries, all while keeping it low-carb and keto-friendly.
servings: 12
prep_time: 20 minutes
cook_time: 45 minutes
cuisine: American
category: Dessert
—
## Ingredients
– Almond flour: 2 cups (224g)
– Coconut flour: 1/4 cup (28g)
– Erythritol: 1 cup (200g)
– Baking powder: 1 tablespoon (14g)
– Sea salt: 1/2 teaspoon (2g)
– Eggs, large: 4
– Unsalted butter, melted: 1/2 cup (118ml)
– Unsweetened almond milk: 1/2 cup (118ml)
– Fresh orange zest: 2 tablespoons (from about 1 large orange)
– Orange extract: 1 teaspoon (5ml)
– Vanilla extract: 1 teaspoon (5ml)
– Fresh cranberries: 1 cup (100g)
## Method
1. Preheat your oven to 325°F (163°C) and grease a Bundt cake pan thoroughly with butter or non-stick spray.
2. In a large mixing bowl, whisk together the almond flour, coconut flour, erythritol, baking powder, and sea salt.
3. In a separate bowl, beat the eggs until they are light and frothy. Add in the melted butter, almond milk, orange zest, orange extract, and vanilla extract, and continue to beat until well combined.
4. Slowly incorporate the wet ingredients into the dry ingredients, mixing until just combined and ensuring there are no lumps.
5. Gently fold in the fresh cranberries, distributing them evenly throughout the batter.
6. Pour the batter into the prepared Bundt cake pan and smooth the top with a spatula.
7. Bake in the preheated oven for 45 minutes, or until a toothpick inserted into the cake comes out clean.
8. Allow the cake to cool in the pan for 10 minutes before inverting onto a wire rack to cool completely.
## Nutrition Information
– Calories: 220
– Carbohydrates: 10g
– Net carbs: 3g
– Fiber: 2g
– Fat: 19g
– Protein: 6g
## Equipment Used
– Large mixing bowl
– Hand mixer or stand mixer
– Bundt cake pan
– Spatula
– Wire rack
## Other Notes
– Ensure all ingredients are at room temperature to prevent the batter from seizing.
– For a glossy finish, you can drizzle a keto-friendly glaze made with powdered erythritol and a bit of orange juice over the cooled cake.
– Store leftovers in an airtight container at room temperature for up to 3 days or refrigerate for up to a week.