Welcome to a festive twist on your favorite martini that's sure to bring the joy of the holiday season to your keto lifestyle. The Keto White Christmas Martini is a luxurious, creamy cocktail that will dazzle your senses and keep your carbs in check. If you're looking for a drink that's as elegant as it is keto-friendly, this is the perfect recipe for you. With a blend of smooth vodka, rich coconut milk, and a touch of vanilla, this martini is a sumptuous treat that's low in carbs but high in holiday spirit. Let's raise a glass to a merry and bright keto Christmas with this delightful concoction!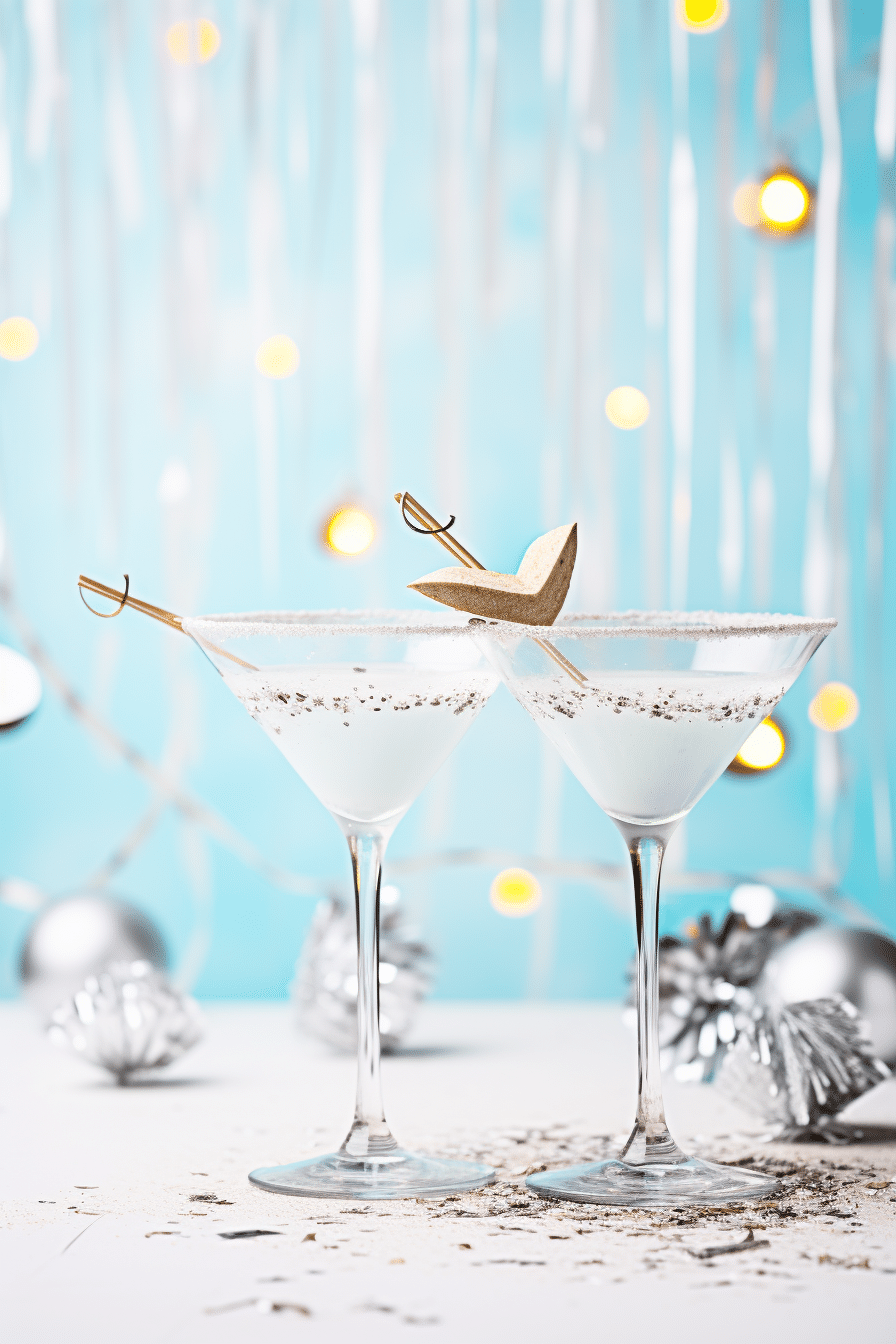 Recipe Details
The Keto White Christmas Martini is more than just a cocktail; it's a celebration in a glass. This recipe was born from the desire to enjoy the decadence of the holiday season without straying from a ketogenic lifestyle. The richness of the coconut milk and heavy cream reflects the indulgence of the season, while the use of monk fruit sweetener or erythritol keeps it low-carb and keto-compliant.
When it comes to holiday cocktails, many are laden with sugars and syrups that can quickly add up in carbs. This can be a challenge for those of us committed to maintaining a ketogenic diet. However, the Keto White Christmas Martini offers a solution, providing a way to partake in the festive cheer without the guilt. The carefully selected ingredients balance each other out to create a smooth, creamy texture with a hint of tropical flavor thanks to the coconut, making it a good keto recipe for your holiday gatherings.
The vodka base ensures a crisp, clean taste that allows the other flavors to shine through. Unsweetened coconut milk is a fantastic keto staple, offering healthy fats and a creamy consistency without the added sugars found in many other milk alternatives. Heavy cream adds to the luxurious mouthfeel and helps to create a frothy top when shaken, reminiscent of a fresh winter snowfall. The vanilla extract rounds out the flavor profile with its warm, comforting aroma, making each sip a little taste of Christmas joy.
With just 3 grams of carbohydrates per serving, this martini is a dream come true for keto dieters looking to indulge responsibly. It's a testament to the fact that a ketogenic lifestyle doesn't mean sacrificing flavor or fun, especially during the holidays. Whether you're hosting a Christmas party or simply enjoying a quiet evening by the fire, this Keto White Christmas Martini is sure to become a new holiday favorite.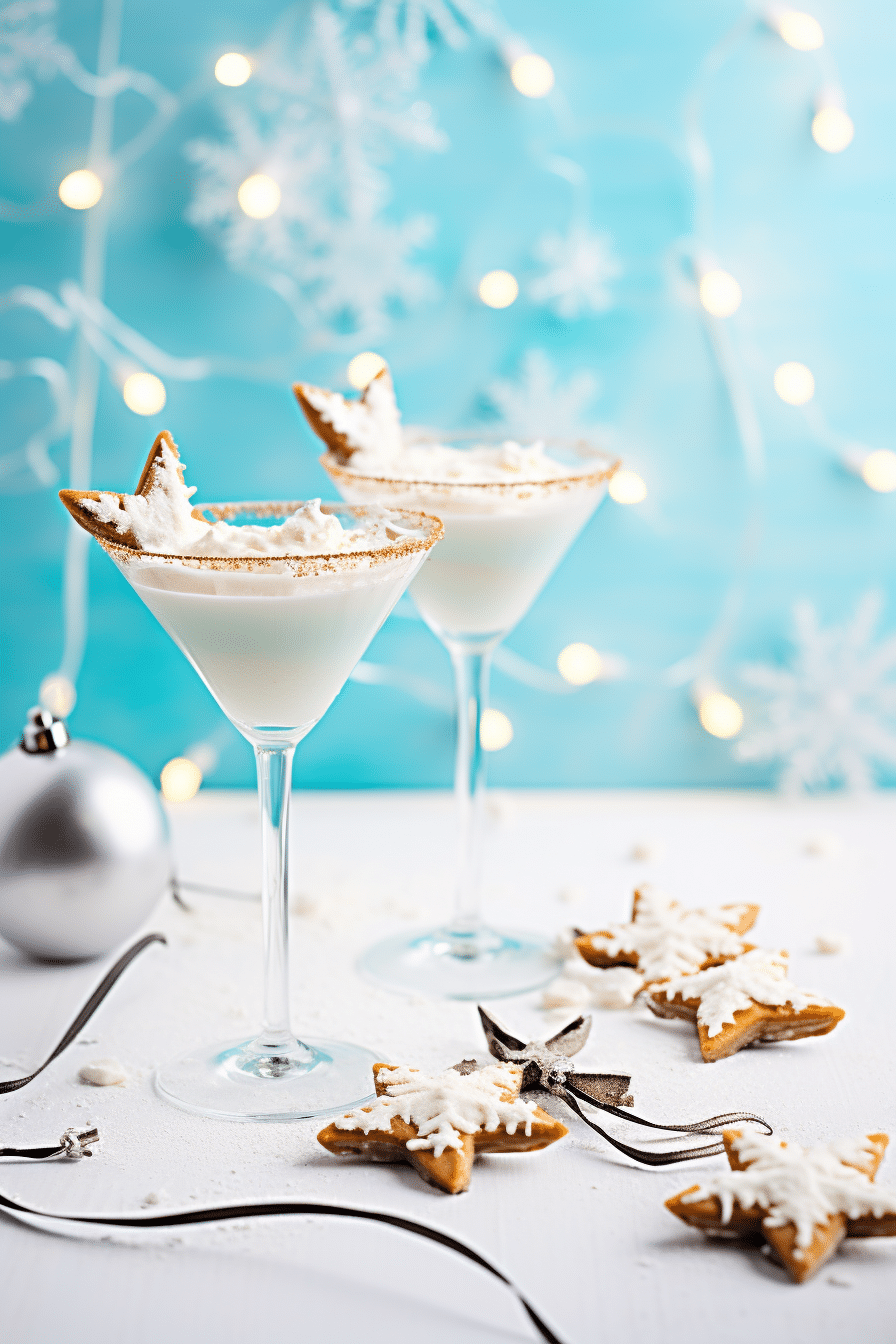 The Method
The key to the perfect Keto White Christmas Martini lies in the preparation. Start by chilling your martini glasses; this not only enhances the presentation but also ensures your cocktail stays cold and refreshing from the first sip to the last.
When combining your ingredients in the shaker, it's important to use ice cubes that are fresh and not too small. Smaller ice will melt faster and can dilute the drink, affecting the flavor and texture. Shake the mixture vigorously; you want to hear the ice hitting the sides of the shaker. This aerates the cocktail, creating that desired frothy texture.
The rimming of the glass with shredded coconut isn't just for aesthetics; it adds a tactile element and an extra burst of coconut flavor with each sip. To ensure an even coat, use a shallow dish for dipping the rim. When straining the cocktail into the glasses, do so with confidence to avoid any unnecessary dripping and to maintain the froth on top.
Garnishing is the final touch that makes this cocktail special. A sprinkle of shredded coconut on top not only looks like a dusting of snow but also adds a pleasant contrast in texture. Serve immediately to capture the essence of the cocktail's freshness and rich flavors.
Remember, the quality of the ingredients will greatly influence the outcome of your martini. Choose a smooth vodka that complements rather than overpowers the other ingredients. The coconut milk should be unsweetened to maintain the low-carb profile, and the heavy cream should be fresh for the best taste and consistency.
By following these steps and paying attention to the details, you'll craft a Keto White Christmas Martini that's as impressive as it is delicious. It's a cocktail that will not only satisfy your keto requirements but will also become a highlight of your holiday celebrations.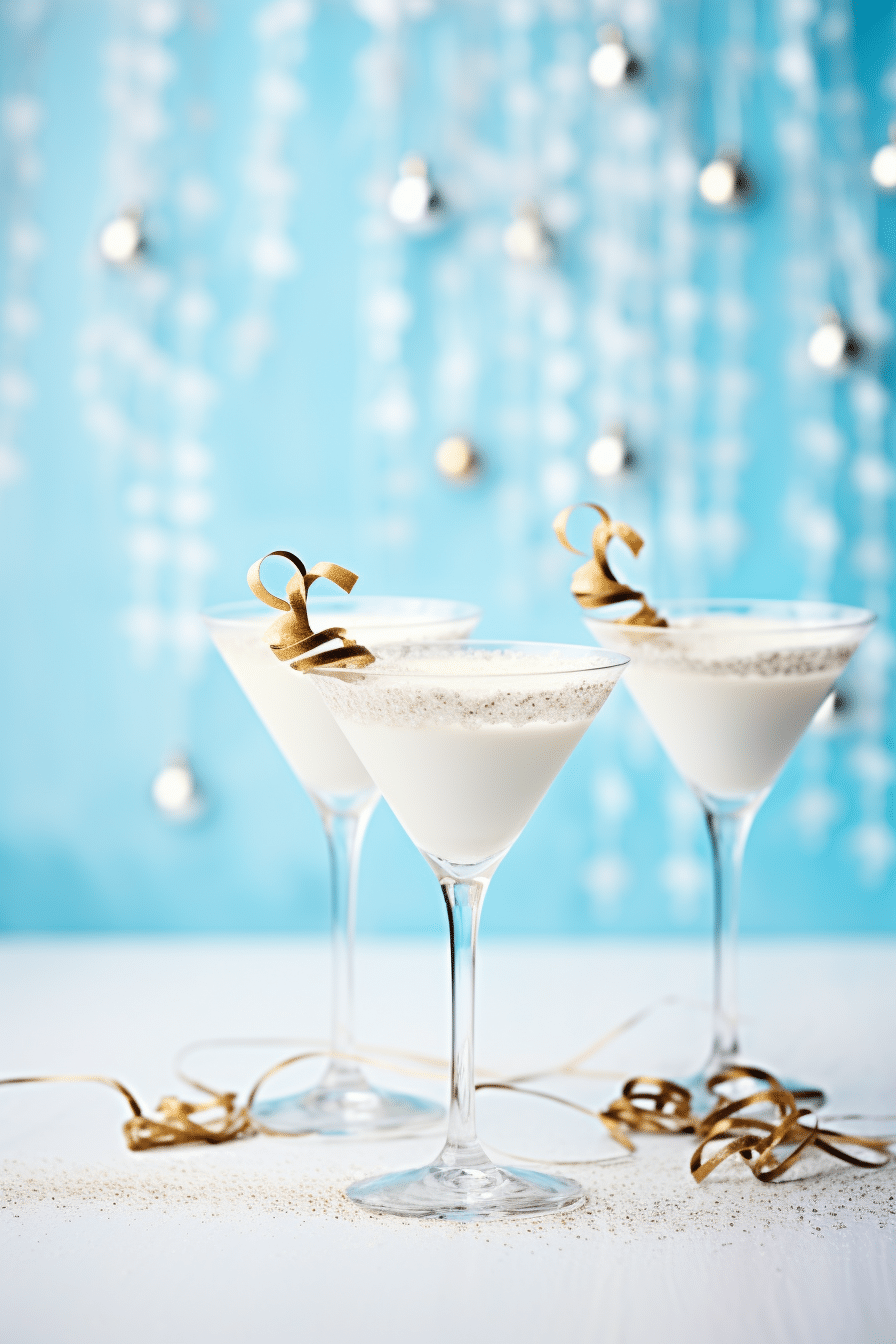 Variations
Peppermint White Christmas Martini
For a minty twist, add a drop of peppermint extract to your shaker before mixing. Garnish with a small candy cane for a festive touch.
Chocolate Coconut White Christmas Martini
Drizzle the inside of your glass with sugar-free chocolate syrup before pouring the martini. This creates a beautiful pattern and adds a hint of chocolate to your sip.
Spiced White Christmas Martini
Infuse your vodka with cinnamon and star anise for a couple of days before making your martini. This will give your cocktail a warm, spiced undertone that's perfect for the winter season.
Substitutions
If you're unable to find monk fruit sweetener or erythritol, you can substitute with another keto-friendly sweetener like stevia or allulose. Keep in mind that the sweetness level can vary, so adjust according to taste.
In place of heavy cream, you can use full-fat coconut cream for a dairy-free version. This will enhance the coconut flavor and maintain the creamy texture.
For a nuttier profile, consider using unsweetened almond milk instead of coconut milk. This substitution will slightly alter the taste but can add a new dimension to the cocktail.
FAQ Section
Can I make this cocktail ahead of time?
It's best served fresh to maintain the frothy texture and chilled temperature. However, you can mix the liquid ingredients and store them in the fridge, ready to shake with ice just before serving.
How can I make this cocktail dairy-free?
Use coconut cream in place of heavy cream and ensure your vodka is dairy-free (most are, but it's always good to check).
Is there a non-alcoholic version of this cocktail?
Yes, replace the vodka with additional coconut milk and a splash of non-alcoholic vanilla flavoring.
Can I use regular vodka for this recipe?
Absolutely, any good-quality plain vodka will work well in this cocktail.
What can I use if I don't have a cocktail shaker?
You can use a mason jar with a tight lid or any container that can be sealed well. Just make sure to shake vigorously!
Keto White Christmas Martini
Celebrate the festive season with a Keto White Christmas Martini that's as delightful to behold as it is to sip. This creamy, decadent martini is the perfect indulgence for your holiday festivities, without the worry of excessive carbs. Rich in flavor yet low in carbohydrates, this cocktail is a luxurious blend of smooth vodka, rich coconut milk, and a hint of vanilla, finished with a sprinkle of coconut flakes for that snowy, Christmassy touch.
Servings: 2
Prep Time: 5 minutes
Cook Time: 0 minutes
Cuisine: American
Category: Beverage
Ingredients:
Vodka – 4 oz (120 ml)
Unsweetened coconut milk – 6 oz (180 ml)
Heavy cream – 2 oz (60 ml)
Monk fruit sweetener or Erythritol – 2 tsp (8 g)
Vanilla extract – 1/2 tsp (2.5 ml)
Unsweetened shredded coconut – for garnish (1 tbsp or 5 g)
Ice cubes
Method:
Begin by chilling two martini glasses in the freezer for at least 15 minutes before serving.
In a shaker, combine the vodka, unsweetened coconut milk, heavy cream, monk fruit sweetener or Erythritol, and vanilla extract.
Fill the shaker with ice cubes, secure the lid tightly, and shake vigorously for about 30 seconds, or until the mixture is well-chilled and frothy.
Take the chilled martini glasses out of the freezer. If desired, wet the rim of each glass and dip into shredded coconut to coat the rim.
Strain the mixture into the prepared glasses, dividing equally.
Garnish each martini with a sprinkle of shredded coconut on top.
Serve immediately and enjoy the festive, keto-friendly cocktail.
Nutrition Information:
Per serving:
Calories: 230
Carbohydrates: 3g
Net Carbs: 2g
Fiber: 1g
Fat: 18g
Protein: 1g
Equipment Used:
Martini glasses
Shaker
Measuring spoons and cups
Other Notes:
For a non-alcoholic version, replace the vodka with additional coconut milk and a splash of non-alcoholic vanilla flavoring. Adjust the sweetener to taste. You can also rim the glasses with a mix of erythritol and shredded coconut for an extra festive look and flavor.