Keto Bacon-Wrapped Stuffed Jalapeños
Embark on a culinary adventure with these Keto Bacon-Wrapped Stuffed Jalapeños, where each bite delivers a symphony of flavors that are sure to delight. Perfect for keto dieters or anyone looking to reduce their carb intake, these stuffed jalapeños are not only low in carbohydrates but also high in satisfying fats, making them an ideal fit for a ketogenic lifestyle. The combination of spicy jalapeño, rich cream cheese, and savory bacon creates a taste sensation that is hard to resist. In this recipe, we'll explore how to craft this delicious appetizer that's as indulgent as it is health-conscious.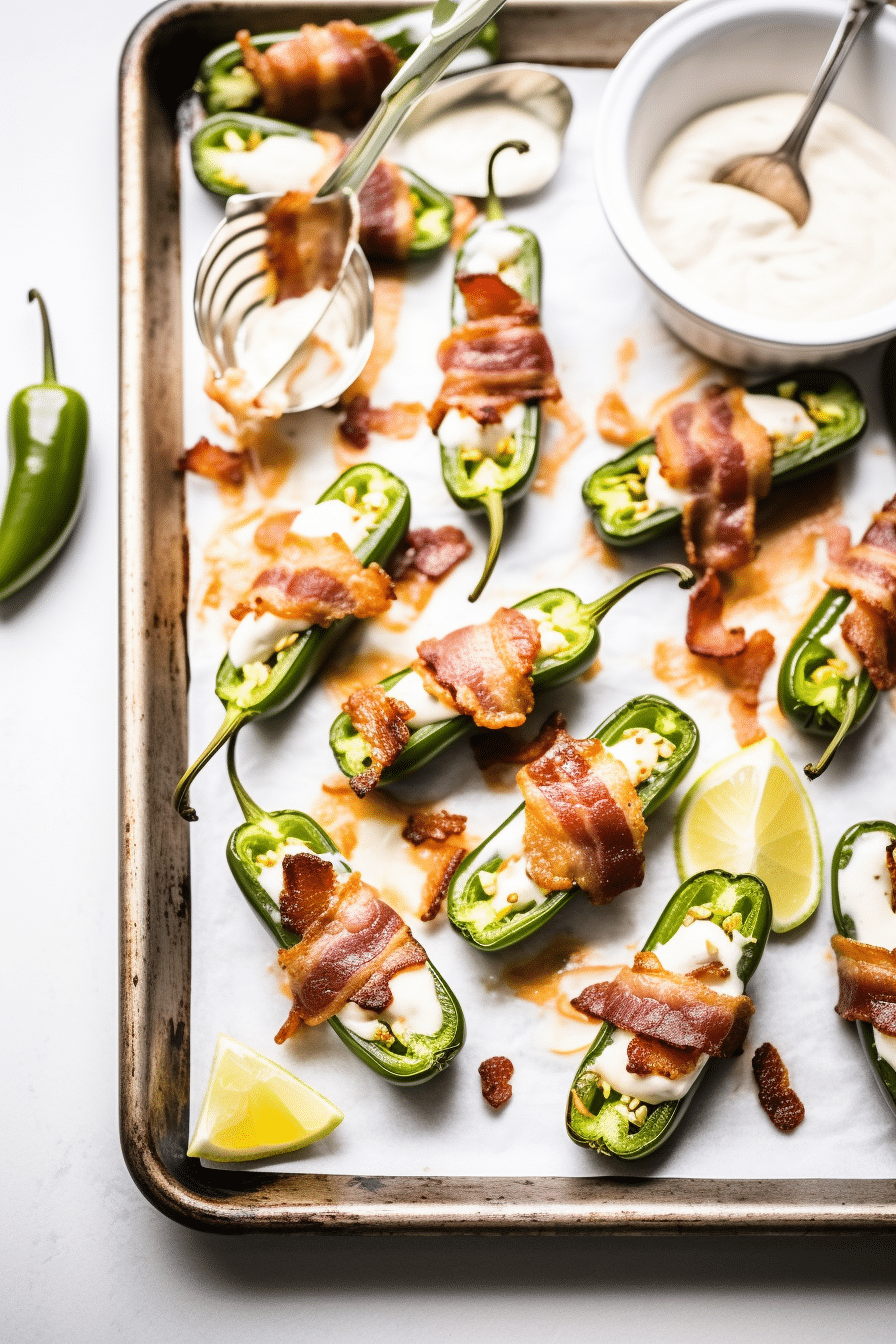 Recipe Details
This appetizer is a staple in my kitchen, especially during gatherings where I want to serve something that's not only delicious but also adheres to my dietary preferences. The inspiration for these Keto Bacon-Wrapped Stuffed Jalapeños comes from classic jalapeño poppers, with a keto twist that replaces the traditional breading with a bacon wrap, adding both flavor and healthy fats.
**Why is this a good keto recipe?** Well, it's all about the balance of macronutrients. A ketogenic diet emphasizes low carb, moderate protein, and high fat intake. This recipe hits all those marks, with jalapeños providing minimal carbs, cheese offering both fat and protein, and bacon bringing in additional fat without adding carbs.
The result is a dish that's not only mouthwatering but also keeps your body fueled and in ketosis. The creamy filling provides a counterbalance to the heat of the jalapeños, while the bacon adds a satisfying crunch. It's a dish that's as much about the experience as it is about the taste.
Each component of this recipe has been carefully chosen to create a harmonious blend that's both keto-friendly and incredibly tasty. The high-fat content from the cream cheese and bacon aligns perfectly with the keto diet's requirements, helping to provide sustained energy and satiety. Plus, the spices and herbs can be adjusted to suit your taste, making it a versatile dish that can be enjoyed by many.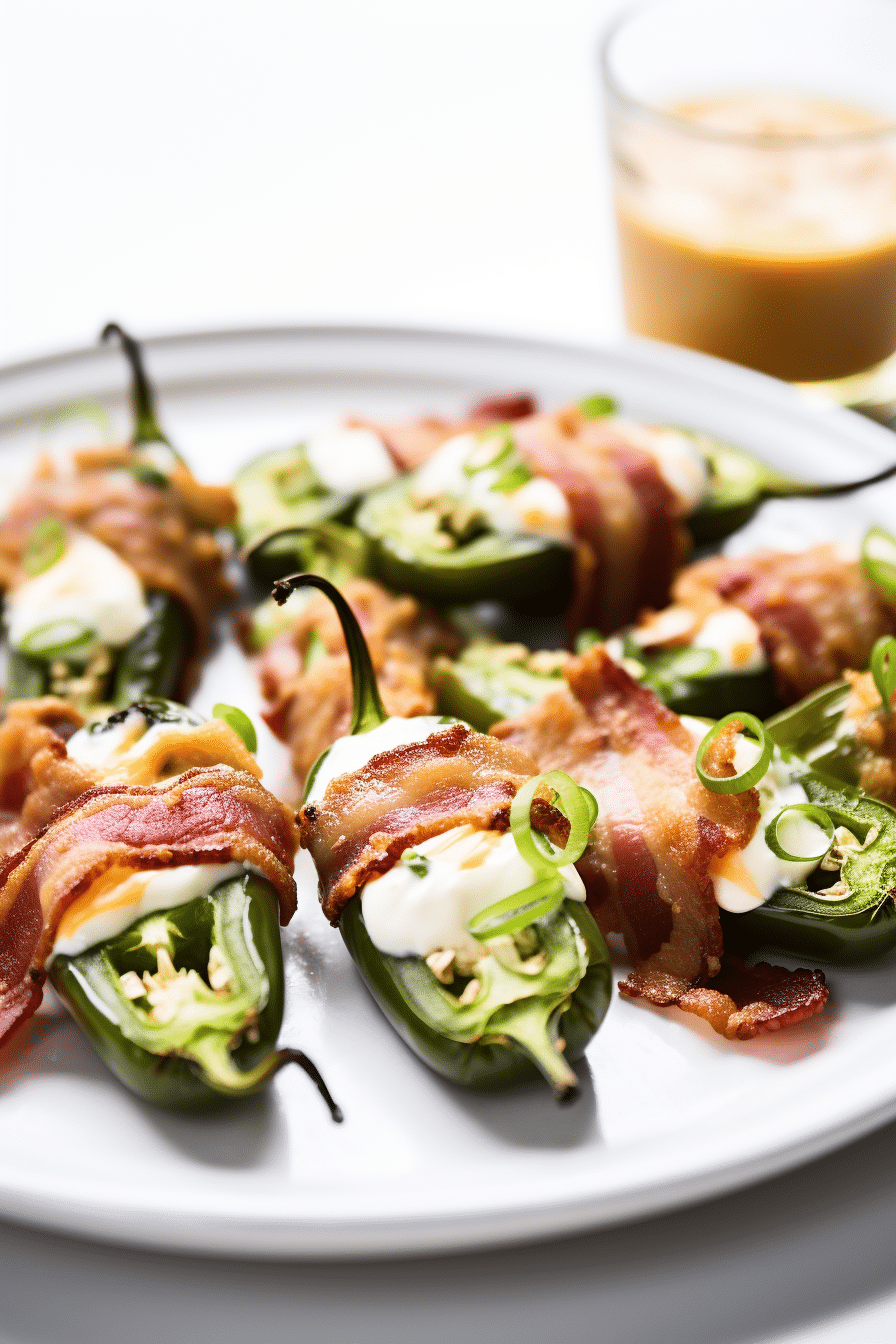 The Method
Let's dive into the step-by-step process to ensure your Keto Bacon-Wrapped Stuffed Jalapeños turn out perfectly. **Starting with the jalapeños**, it's crucial to handle them with care. I recommend wearing gloves to avoid any potential irritation from the capsaicin. When you're deseeding the peppers, take the time to remove the membranes thoroughly for a milder heat profile.
**The filling** is the heart of this dish, and it's important to get the consistency right. Your cream cheese should be at room temperature for easy mixing. Combine it with the shredded cheddar for that delightful cheesy stretch, and don't forget the spices for that extra kick of flavor. It's essential to mix until the ingredients are fully incorporated.
When **wrapping the jalapeños with bacon**, aim for an even layer without overlapping too much. This will ensure the bacon crisps up nicely. If your bacon is on the thicker side, you might want to pre-cook it slightly to ensure it reaches the desired crispiness without overcooking the peppers.
**Baking is a critical stage**; keep an eye on the oven as not all ovens are created equal. The goal is for the bacon to reach a state of crisp perfection without burning. If you notice the tops are browning too quickly, you can tent them with foil to prevent over-browning.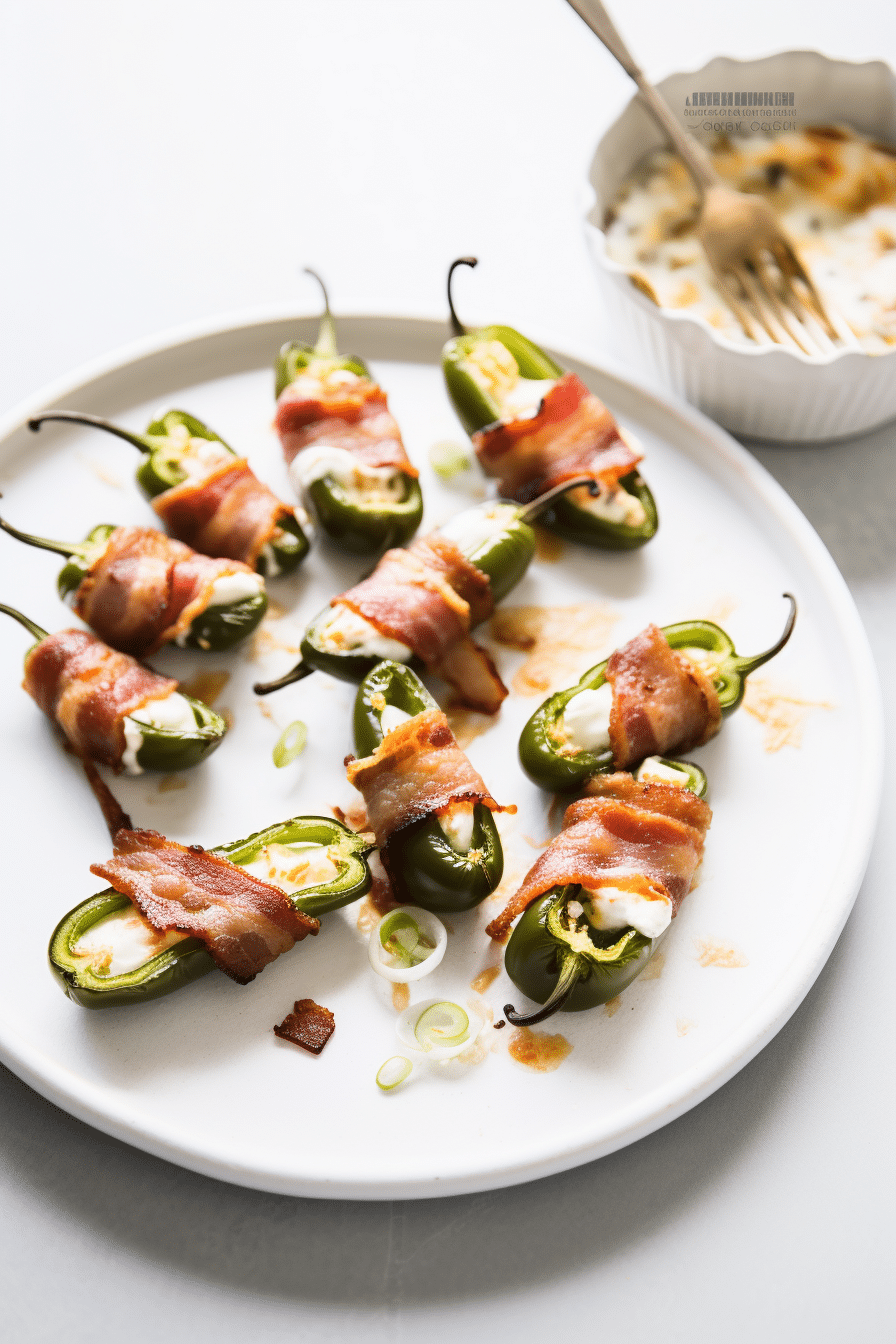 Variations
Buffalo Chicken Stuffed Jalapeños
For a protein-packed twist, mix shredded cooked chicken with buffalo sauce into your cream cheese filling. The tangy, spicy flavor of buffalo sauce adds a new dimension and pairs wonderfully with the richness of the cheese and bacon.
Pesto and Mozzarella Stuffed Jalapeños
Swap out the cheddar for mozzarella and add a spoonful of pesto to the cheese mixture for an Italian-inspired version. The fresh flavors of basil and pine nuts in the pesto complement the creamy mozzarella and spicy jalapeño beautifully.
Crabmeat Stuffed Jalapeños
Elevate your stuffed jalapeños with some lump crabmeat mixed into the cheese filling. The sweetness of the crab creates a gourmet appetizer that's sure to impress at any dinner party.
Substitutions
**Dairy-Free Cheese**: For those who are dairy-intolerant, there are several high-quality dairy-free cream cheese and shredded cheese alternatives available that melt well and offer a similar texture and taste.
**Turkey Bacon**: If you're looking to cut down on red meat, turkey bacon is a fantastic substitute. It's leaner than traditional bacon and still provides that crucial crispy element.
**Almond Cheese**: For those on a paleo-keto hybrid diet, almond cheese can replace regular cheese, offering a similar meltability and a boost of nutty flavor.
FAQ Section
Can I make these ahead of time?
Yes, you can prepare the jalapeños and store them in the refrigerator for up to a day before baking. Just be sure to let them sit at room temperature for a few minutes before popping them in the oven.
How do I store leftovers?
Leftovers can be stored in an airtight container in the refrigerator for up to 3 days. Reheat in the oven to maintain crispiness.
Can I use pickled jalapeños instead of fresh?
Pickled jalapeños can be used, but they will have a softer texture and a tangier flavor. Adjust the cooking time as they won't need as long in the oven.
Is there a way to make these less spicy?
Removing the seeds and membranes will significantly reduce the heat. You can also soak the jalapeño halves in cold water for a few hours to mellow the spice.
Can I freeze these jalapeño poppers?
They can be frozen before baking. Freeze them on a baking sheet and then transfer to a freezer bag. Bake from frozen, adding a few extra minutes to the cooking time.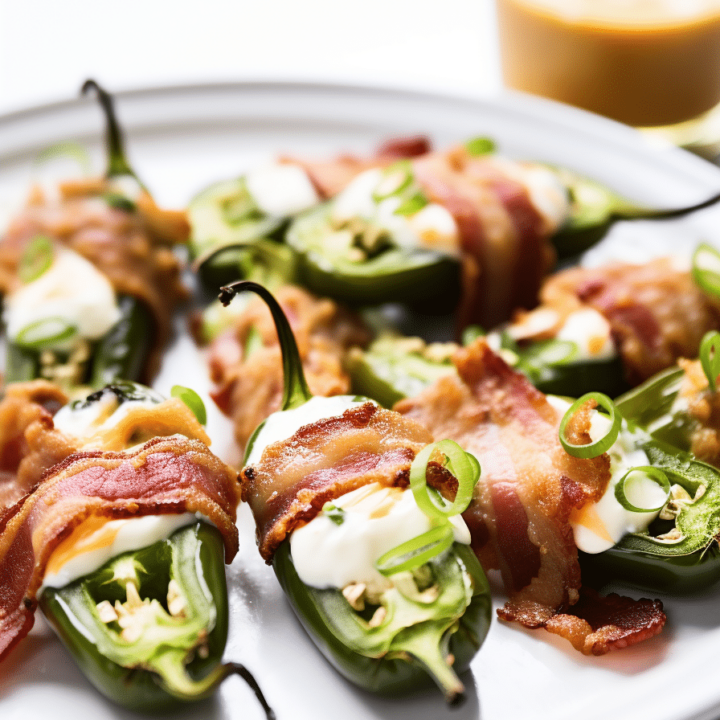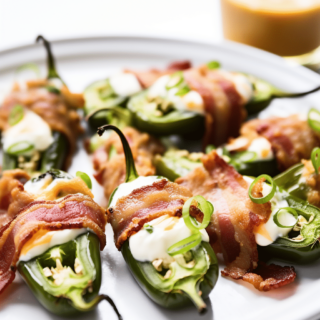 Keto Bacon-Wrapped Stuffed Jalapenos
Ignite your taste buds with these Keto Bacon-Wrapped Stuffed Jalapeños, a perfect fusion of spicy and creamy with a satisfying crunch. Ideal for anyone following a low-carb lifestyle, these poppers make an excellent appetizer or snack that's not just delicious but also keto-friendly.
Ingredients
12

fresh jalapeños

approximately 1 lb / 450g

8

oz

227g cream cheese, softened

1

cup

112g shredded cheddar cheese

½

tsp

garlic powder

½

tsp

onion powder

¼

tsp

smoked paprika

12

slices

of bacon

approximately 1 lb / 450g

1

tbsp

chopped fresh cilantro for garnish

optional
Instructions
Preheat your oven to 400°F (204°C) and line a baking sheet with parchment paper.

Cut the jalapeños in half lengthwise and remove the seeds and membranes with a spoon.

In a bowl, mix together the softened cream cheese, shredded cheddar cheese, garlic powder, onion powder, and smoked paprika until well combined.

Fill each jalapeño half with the cheese mixture, being careful not to overfill.

Wrap each stuffed jalapeño half with a slice of bacon, securing it with a toothpick if necessary.

Place the bacon-wrapped jalapeños on the prepared baking sheet and bake in the preheated oven for 25 minutes, or until the bacon is crispy and the peppers are tender.

Remove from the oven and optionally garnish with chopped cilantro before serving.
Notes
To ensure even cooking, select jalapeños that are similar in size and shape. Adjust the level of spice by removing more or less of the jalapeño membranes, and feel free to experiment with different cheeses for new flavors. If you're using particularly thick bacon, consider pre-cooking it slightly before wrapping the jalapeños to ensure a crispy finish.
Nutrition
Calories:
345
kcal
Carbohydrates:
6
g
Protein:
15
g
Fat:
30
g
Fiber:
2
g