Keto Tuna Tartare in Cucumber Cups: A Refreshing Gourmet Delight
Are you looking for a delightful appetizer that's not only pleasing to the palate but also fits perfectly within your keto lifestyle? Look no further than this exquisite Keto Tuna Tartare in Cucumber Cups recipe. It's a dish that marries the richness of fresh sushi-grade tuna with the crisp, refreshing bite of cucumber, creating a harmony of flavors that's hard to resist. This recipe is a testament to the versatility of keto-friendly ingredients, transforming simple produce into a gourmet snack or starter that is bound to impress.
With its low carbohydrate content and high-quality fats, this dish is an excellent choice for anyone following a ketogenic diet. Not only does it provide essential nutrients and proteins, but it also keeps you in line with your carb count. The combination of avocado oil, sesame, and a hint of chili brings a depth of flavor that complements the delicate taste of fresh tuna. Let's dive into this culinary adventure that's as straightforward to prepare as it is sophisticated to serve.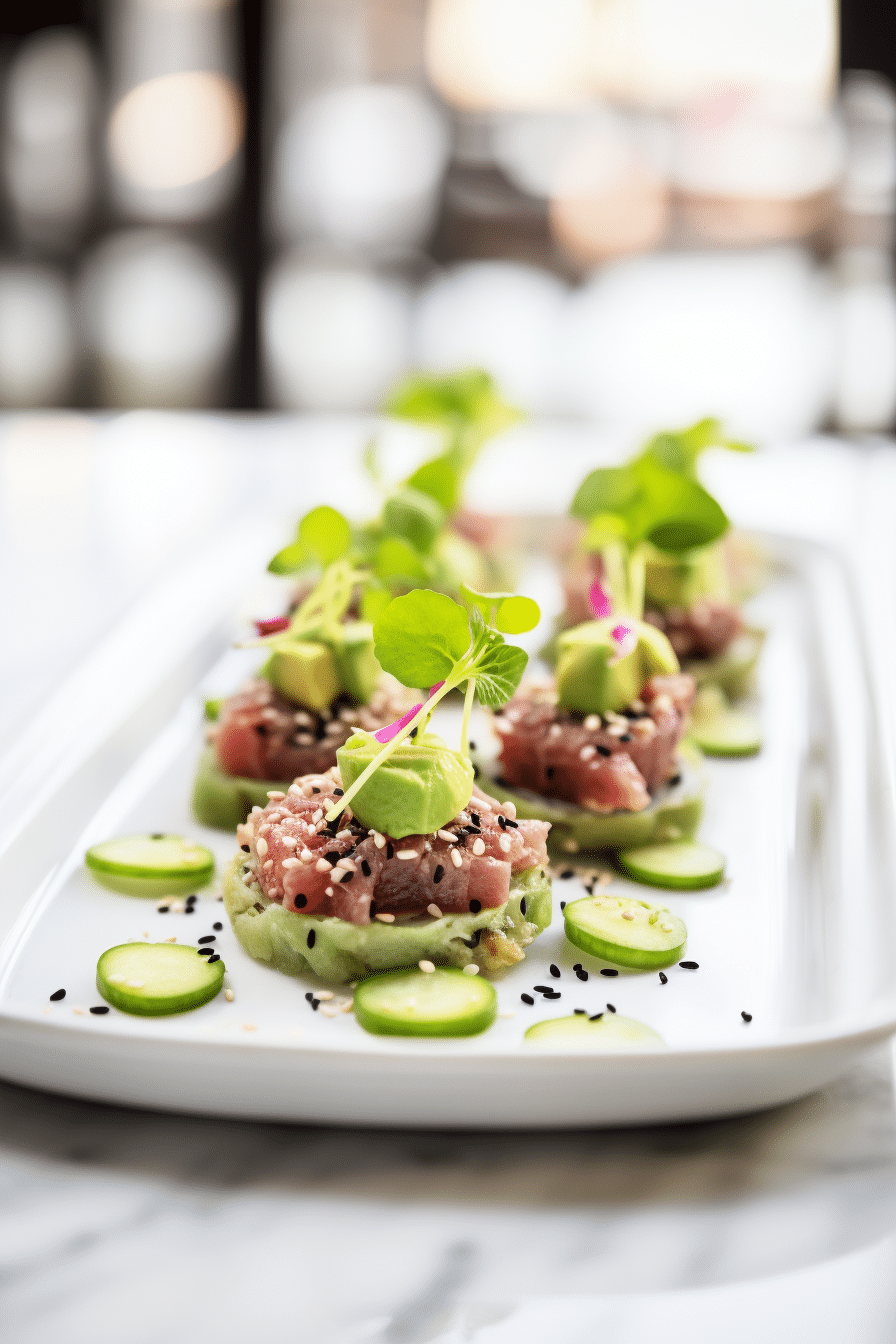 The Inspiration Behind Keto Tuna Tartare in Cucumber Cups
This recipe is a fusion of Japanese culinary finesse and the keto way of eating. It's inspired by the traditional tuna tartare dish but reinvented to suit a low-carb diet without compromising on taste or presentation. The concept of serving tartare in cucumber cups is not only innovative but also adds a refreshing crunch that elevates the dish. The choice of ingredients ensures that each serving is packed with healthy fats and proteins while keeping the carbs to a minimum.
The beauty of this recipe lies in its simplicity and the quality of ingredients. Sushi-grade tuna is a powerhouse of flavor and nutrition, and when paired with the monounsaturated fats from avocado oil and the fiber from cucumbers, it becomes a well-rounded keto-friendly dish. It's a perfect example of how a keto diet doesn't have to be restrictive but can instead open doors to a world of creative and delectable cuisine.
Preparing this dish is a joyful experience, as it's not only about the flavors but also the artful assembly. The vibrant colors of the tuna, cucumber, and garnishes make for a visually stunning presentation that's sure to captivate your guests. Whether you're hosting a dinner party or simply treating yourself, this Keto Tuna Tartare in Cucumber Cups is a celebration of good food that's good for you.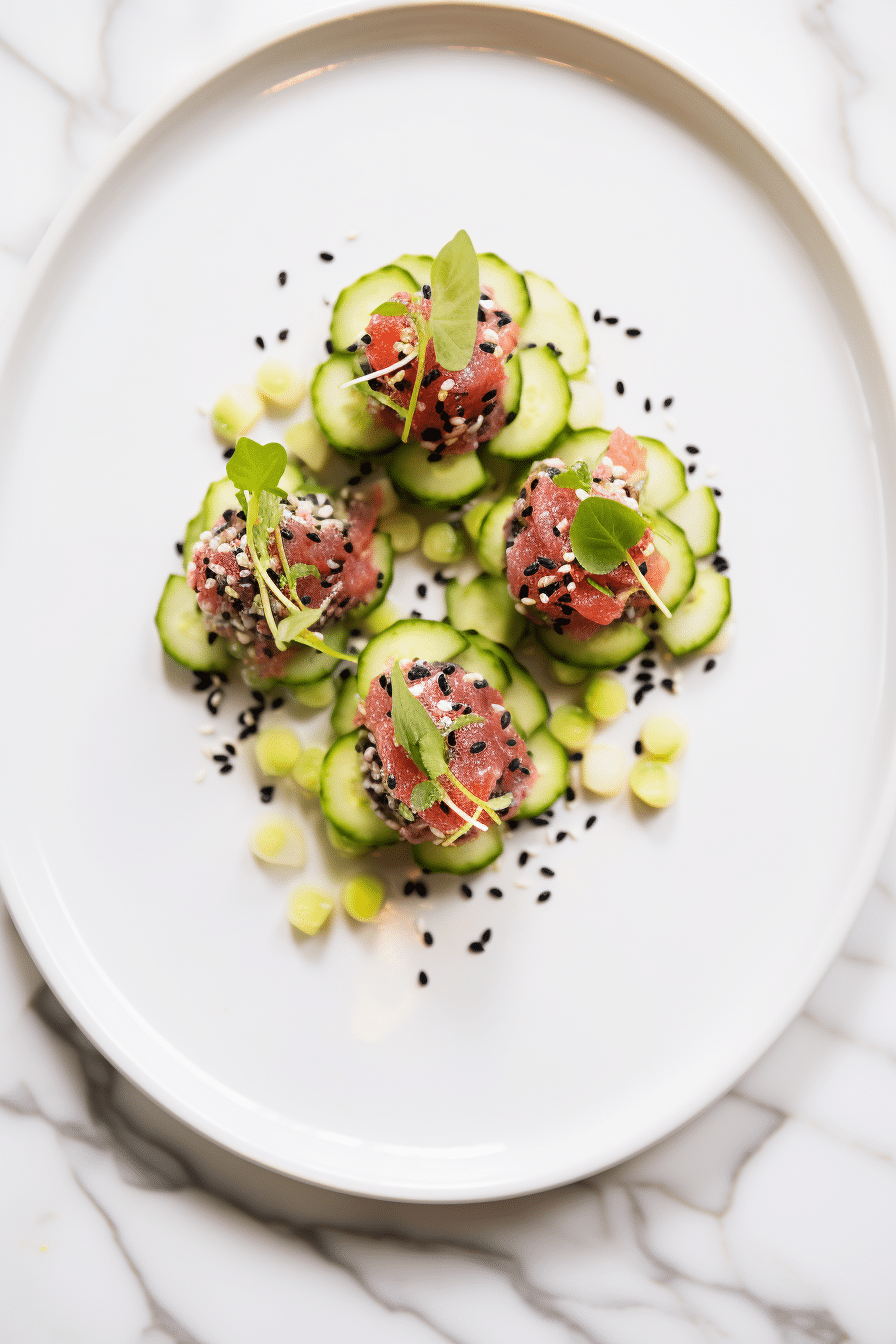 Mastering the Art of Keto Tuna Tartare in Cucumber Cups
Creating this dish is as much about technique as it is about the freshness of the ingredients. Starting with the cucumber cups, it's crucial to choose cucumbers that are firm and even in size to ensure they hold their shape and provide a sturdy base for the tartare. When hollowing out the centers, use a gentle touch to avoid puncturing through the bottom, as this will hold the delicate tuna mixture.
When it comes to the tuna tartare, the key is in the marinade. The combination of avocado oil, soy sauce, and sesame oil creates a rich, umami-laden base that enhances the natural flavors of the fish. Grating the ginger fresh is essential, as it adds a zesty note that cuts through the richness. Be sure to mix the ingredients gently to keep the tuna's texture intact.
Allowing the mixture to marinate is not a step to be overlooked. This brief rest in the refrigerator allows the flavors to meld together and the tuna to absorb the marinade, resulting in a more cohesive and flavorful bite. As for the garnishes, the avocado adds a creamy contrast, while the cilantro provides a burst of freshness. If cilantro isn't to your taste, feel free to substitute it with another herb like dill or parsley for a personalized touch.
Serving this dish is about timing. Tartare is best enjoyed fresh, so prepare the cucumber cups and garnishes ahead of time, but assemble just before serving to maintain the freshness and texture of each component. This attention to detail will ensure that your Keto Tuna Tartare in Cucumber Cups is a dish remembered for its taste as well as its elegance.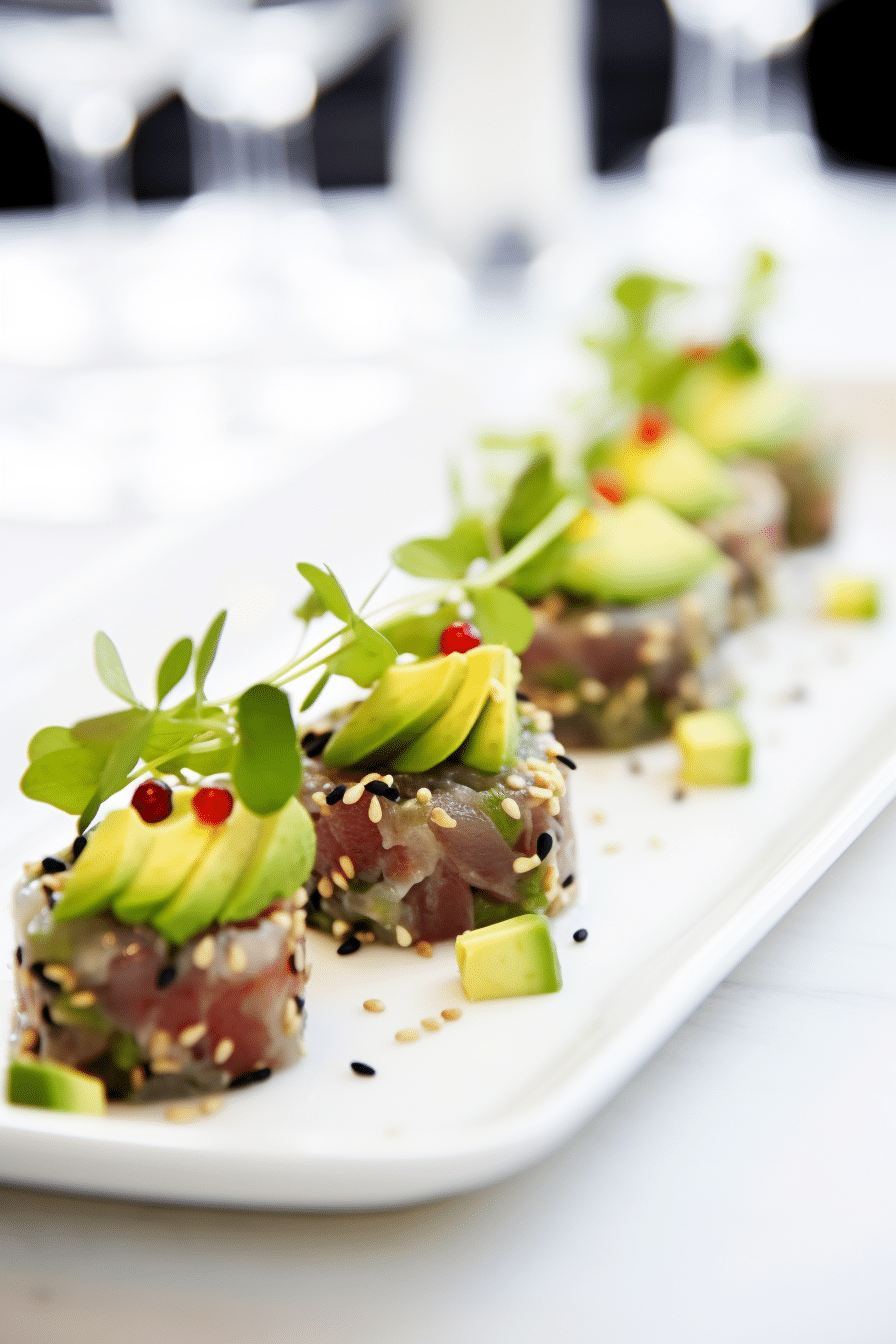 Variations to Spice Up Your Keto Tuna Tartare
Spicy Tuna Tartare Cups
For those who enjoy a bit of heat, adding a finely diced jalapeño or a drizzle of sriracha sauce to the tuna mixture can provide a spicy kick that complements the cool cucumber perfectly.
Herbal Tuna Tartare Cups
Herbs can dramatically change the profile of a dish. Try incorporating finely chopped dill, basil, or mint for a refreshing twist on the classic tartare flavor.
Asian-Inspired Tuna Tartare Cups
Incorporate diced mango or a splash of lime juice for a tropical flair that adds sweetness and acidity, balancing the savory notes of the tuna.
Substitutions for Dietary Preferences and Variations
Soy sauce is a staple in this recipe, but for a gluten-free or soy-free alternative, tamari or coconut aminos are excellent substitutes that maintain the umami flavor.
If sesame oil is not available or you're allergic, a good quality olive oil can be used in its place, though it will slightly alter the flavor profile.
For those who do not consume fish, a vegetarian version can be made using finely diced tofu that's been pressed and marinated in similar seasonings.
Frequently Asked Questions
Can I prepare this dish ahead of time? The cucumber cups can be prepared a few hours in advance, but it's best to fill them with the tuna tartare just before serving to maintain freshness.
What if I can't find sushi-grade tuna? Sushi-grade tuna is recommended for safety and flavor, but if unavailable, you can use canned tuna in water as a last resort, ensuring you drain it well.
Is this recipe dairy-free? Yes, this recipe is completely dairy-free, making it suitable for those with dairy intolerances or allergies.
How do I store leftovers? It's best to consume the tuna tartare immediately, but if necessary, store it in an airtight container in the refrigerator for up to one day.
Can I add other vegetables to the tartare? Absolutely! Feel free to include finely diced bell peppers or avocado for added texture and nutrients.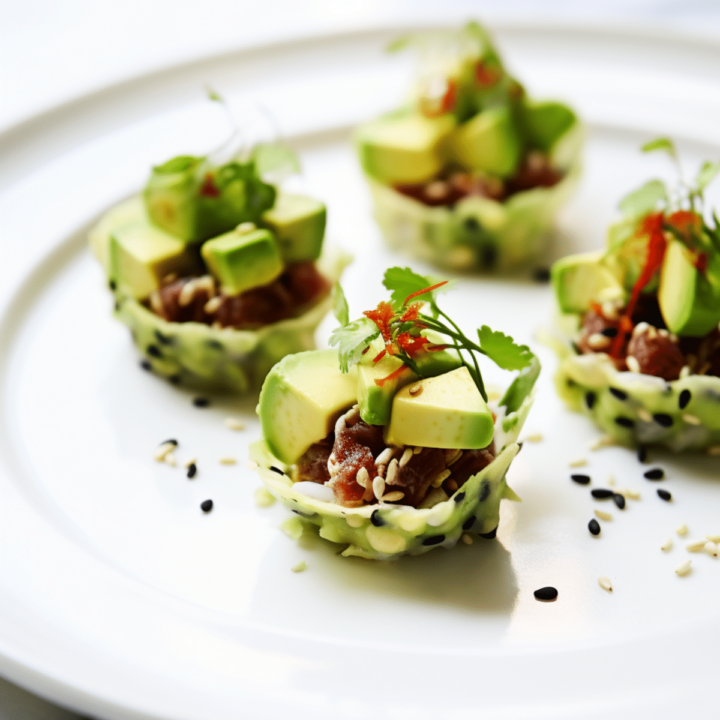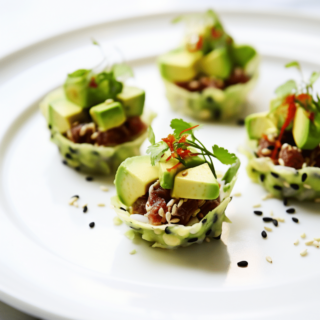 Keto Tuna Tartare in Cucumber Cups
Indulge in a refreshing and sophisticated appetizer that aligns perfectly with your keto lifestyle. Our Keto Tuna Tartare in Cucumber Cups combines the subtle brininess of fresh tuna with the crispness of cucumber, creating a dish that's as visually appealing as it is delicious. Perfect for impressing guests or treating yourself to a gourmet snack.
Ingredients
- 8 oz

227g fresh sushi-grade tuna, finely diced

- 2 medium cucumbers

- 2 tbsp

30 ml avocado oil

- 1 tbsp

15 ml soy sauce or tamari (gluten-free)

- 1 tsp

5 ml sesame oil

- 1 tsp

5g grated fresh ginger

- 1/4 cup

4g finely chopped green onions

- 1 tbsp

9g sesame seeds

- 1/4 tsp

1g chili flakes (optional)

- Salt and pepper to taste

- 1 avocado

diced (for garnish)

- Fresh cilantro leaves

for garnish
Instructions
Begin by preparing the cucumber cups. Wash the cucumbers and pat them dry. Slice the cucumbers into 1-inch thick rounds and, using a melon baller or small spoon, hollow out the center of each round to create a cup, being careful not to puncture the bottom.

In a mixing bowl, combine the diced tuna, avocado oil, soy sauce or tamari, sesame oil, and grated ginger. Mix well to ensure the tuna is evenly coated with the marinade.

Add the chopped green onions, sesame seeds, and chili flakes to the tuna mixture. Season with salt and pepper to taste. Gently fold in the ingredients until just combined.

Cover the bowl with plastic wrap and let the tuna mixture marinate in the refrigerator for 10 to 15 minutes.

While the tuna is marinating, dice the avocado and set aside for garnish.

Remove the tuna mixture from the refrigerator. Using a spoon, carefully fill each cucumber cup with the marinated tuna tartare.

Garnish each cup with diced avocado and fresh cilantro leaves. Serve immediately on a chilled platter.
Notes
- Ensure the tuna is fresh and of sushi-grade quality for the best flavor and safety.
- Adjust the level of chili flakes to suit your preference for heat.
- If you're not a fan of cilantro, you may substitute it with another herb like dill or parsley.
- For an extra kick, add a few drops of hot sauce to the tuna mixture.
Nutrition
Calories:
190
kcal
Carbohydrates:
6
g
Protein:
17
g
Fat:
12
g
Fiber:
3
g