Keto Sage and Brown Butter Cauliflower Mash: A Low-Carb Delight
Discover the ultimate comfort food with a keto twist: Keto Sage and Brown Butter Cauliflower Mash. This dish takes the beloved creamy texture of traditional mashed potatoes and reinvents it with cauliflower, a low-carb superstar. Infused with the nutty richness of brown butter and aromatic sage, this recipe is not just a side dish, but a showstopper in its own right. Perfect for those on a ketogenic diet, this cauliflower mash delivers on flavor without the guilt of carbs. Let's dive into the delicious world of keto-friendly indulgence!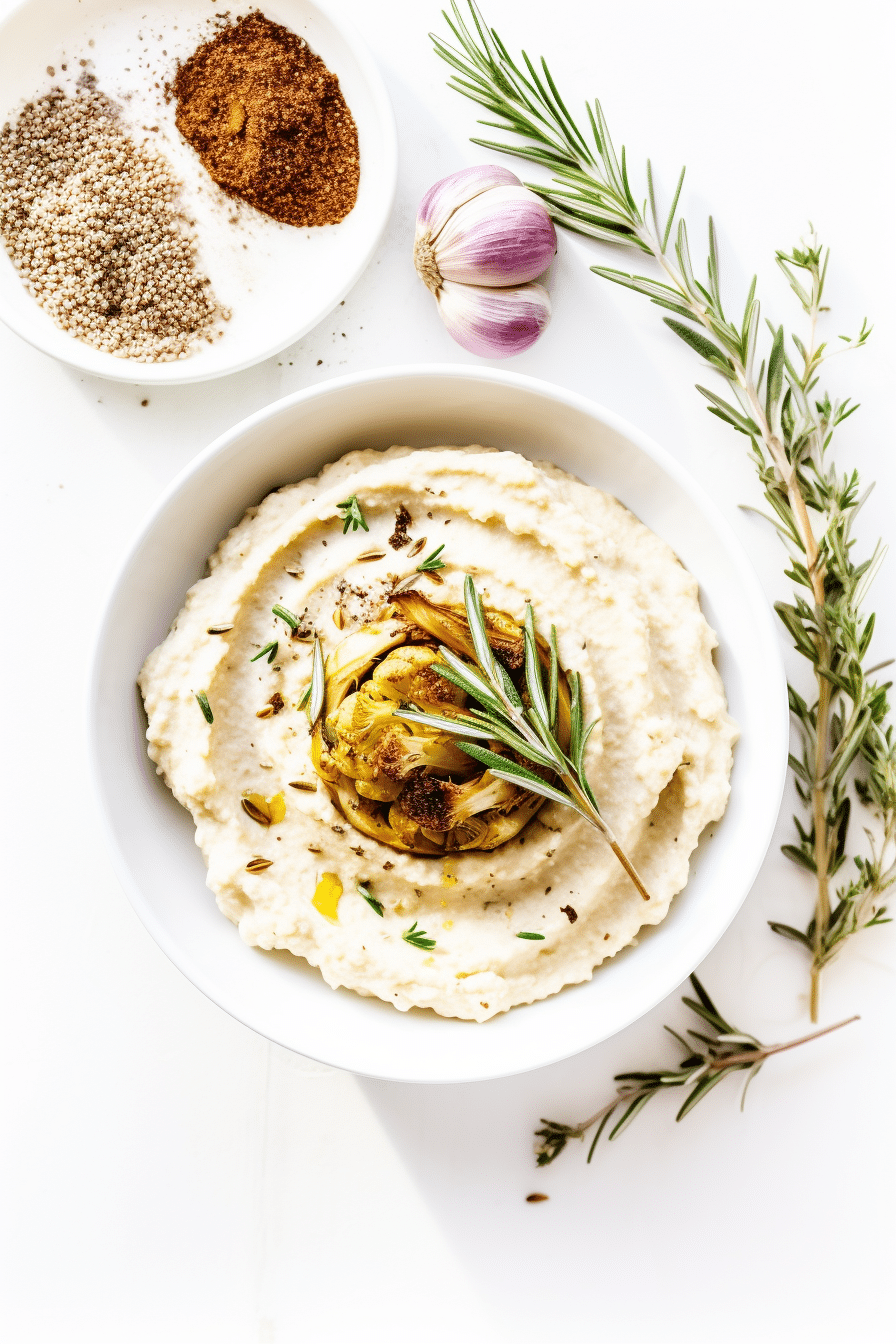 The Origins and Benefits of This Keto Delight
Rooted in the need for a hearty yet healthy alternative to starchy sides, this Keto Sage and Brown Butter Cauliflower Mash embodies the essence of a satisfying meal without compromising dietary goals. Cauliflower, the star of this dish, is a versatile vegetable that provides an ideal base for a variety of flavors. Its ability to mimic the texture of potatoes, while keeping carbs in check, makes it a staple in the keto kitchen.
The addition of brown butter, with its deep, caramelized flavor, elevates the mash to a new level of gourmet goodness. Sage, an herb with earthy and slightly peppery notes, complements the richness of the butter, creating a harmonious blend of tastes. This dish is not just a testament to keto creativity but also to the power of simple, quality ingredients coming together to form something truly special.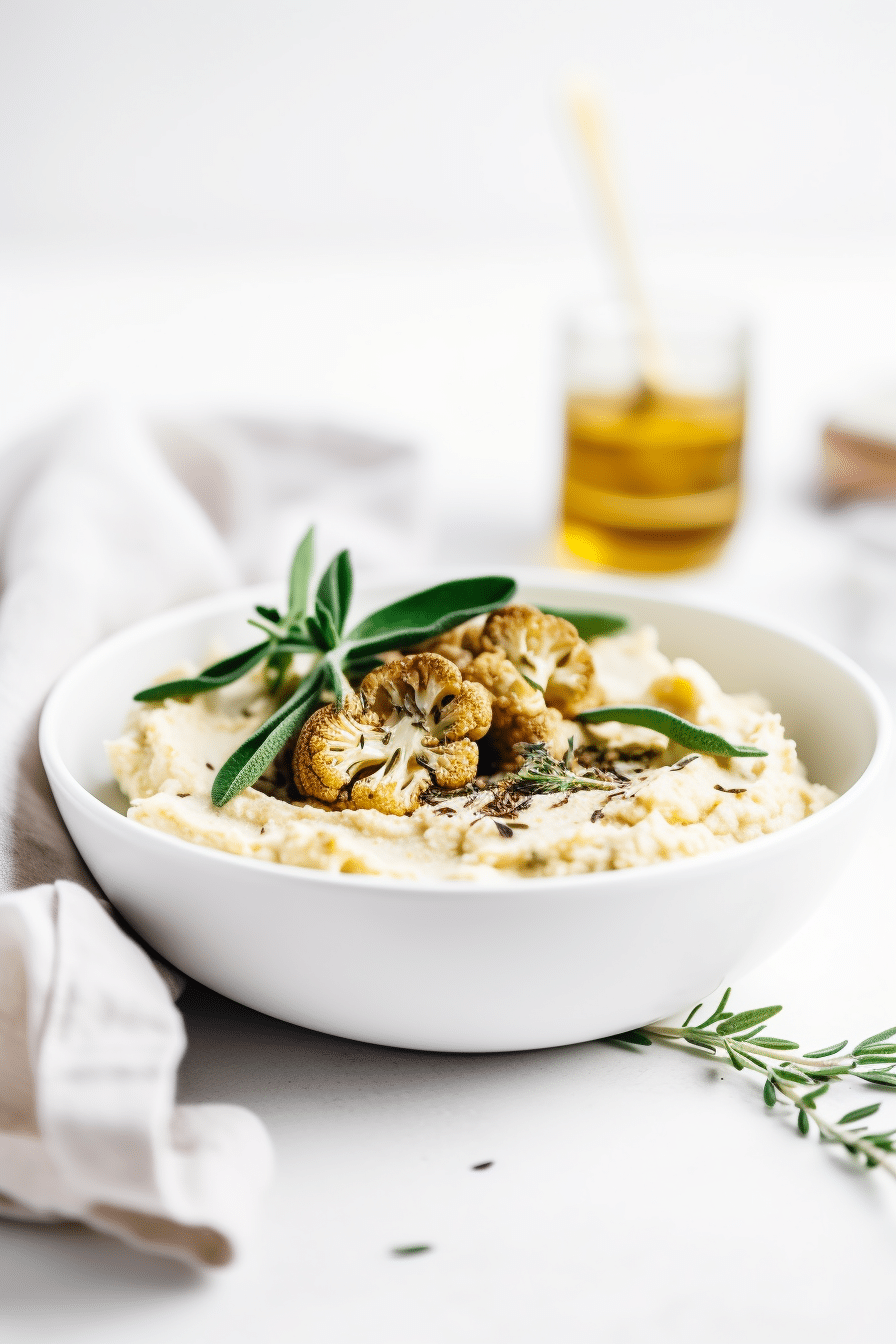 Step-by-Step Mastery of the Mash
Creating the perfect Keto Sage and Brown Butter Cauliflower Mash is all about technique and timing. Begin by boiling the cauliflower until it's fork-tender – this is crucial for a smooth consistency. Overcooking can lead to a watery mash, so keep a close eye on the pot.
Browning the butter is an art in itself. Heat the butter until it reaches a golden hue, and watch as the sage leaves infuse their flavor and crisp up. This step is where the magic happens, and the butter transforms into a rich, nutty elixir.
When mashing, be it with a food processor or a potato masher, aim for a creamy texture with just enough body to remind you of classic mashed potatoes. The heavy cream adds a luxurious touch, but be sure to pour gradually; you can always add more, but you can't take it out.
Finally, seasoning is key. Salt and pepper are your best friends here, enhancing the natural flavors of the ingredients. Remember, it's easier to add more seasoning than to correct an over-seasoned dish, so taste as you go.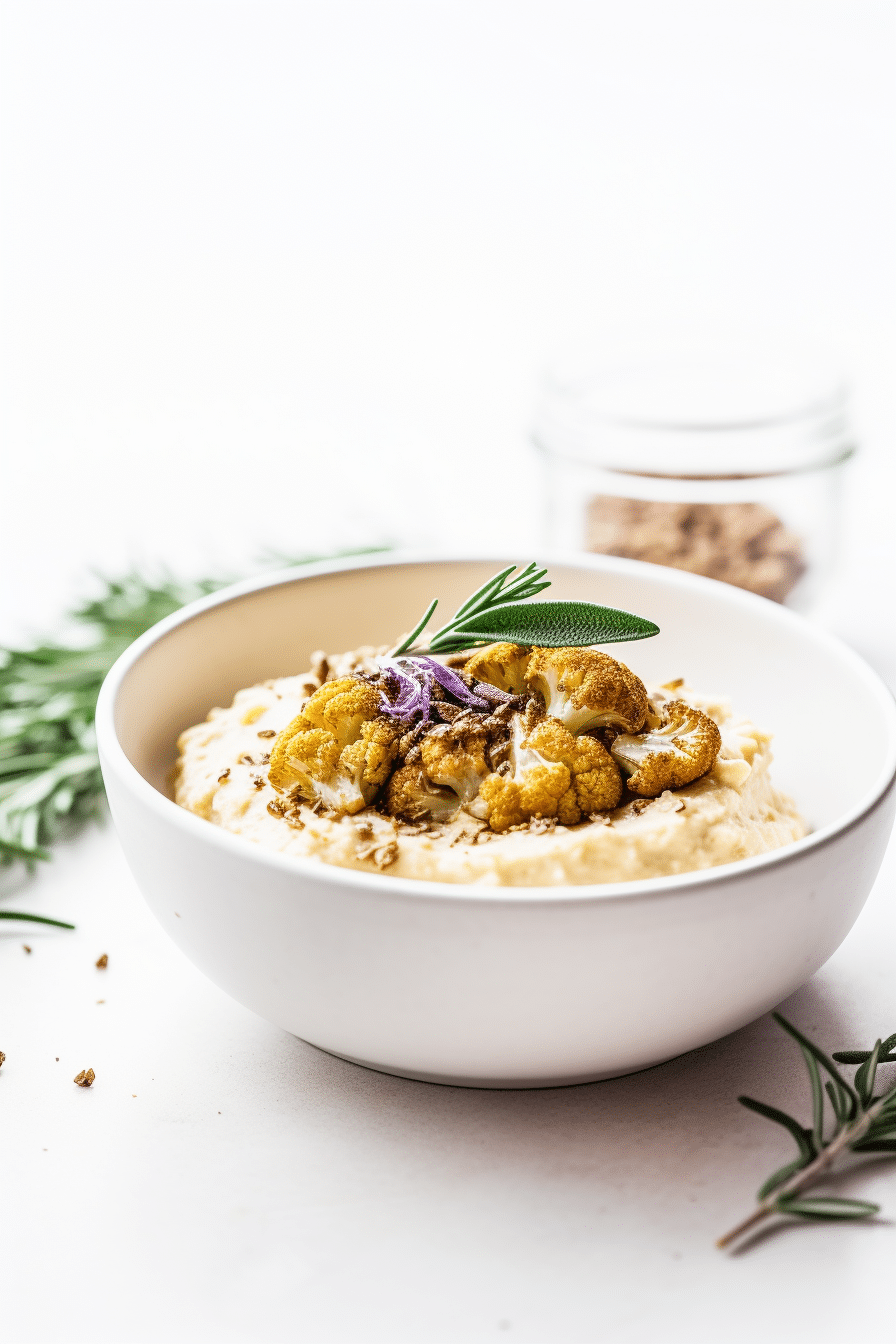 Variations to Spice Up Your Mash
Roasted Garlic and Chive Cauliflower Mash
For a twist on the classic, roast a head of garlic and blend it into the mash. Top with freshly chopped chives for a burst of color and flavor.
Spicy Jalapeño Cauliflower Mash
Add some heat with diced jalapeños. The spice pairs well with the creaminess of the mash, offering a zesty kick.
Cheesy Bacon Cauliflower Mash
Stir in some shredded cheddar cheese and crispy bacon bits for a decadent, savory variation that's sure to please.
Substitutions for Dietary Needs and Preferences
For those with different dietary needs or preferences, here are some easy substitutions:
Dairy-Free: Replace butter with coconut oil and heavy cream with coconut cream to maintain richness without dairy.
Nut-Free: If using ghee in place of butter, ensure it's labeled as nut-free. For a nuttier flavor without actual nuts, try toasting some seeds like pumpkin or sunflower and sprinkle on top.
Vegan: Opt for vegan butter and a plant-based cream alternative. Nutritional yeast can add a cheesy flavor without the need for actual cheese.
Frequently Asked Questions
| Question | Answer |
| --- | --- |
| Can I make this dish ahead of time? | Yes, you can prepare the mash ahead and reheat it, making it perfect for meal prep or holiday gatherings. |
| How can I store leftovers? | Store leftovers in an airtight container in the refrigerator for up to 3 days. Reheat gently before serving. |
| Is this dish freezer-friendly? | While it's best enjoyed fresh, you can freeze the mash for up to a month. Thaw in the fridge before reheating. |
| Can I use frozen cauliflower? | Frozen cauliflower can be used but may result in a less creamy texture due to excess water content. Thaw and drain well before cooking. |
| What can I serve with this mash? | This mash pairs beautifully with a variety of keto-friendly proteins like grilled chicken, steak, or roasted salmon. |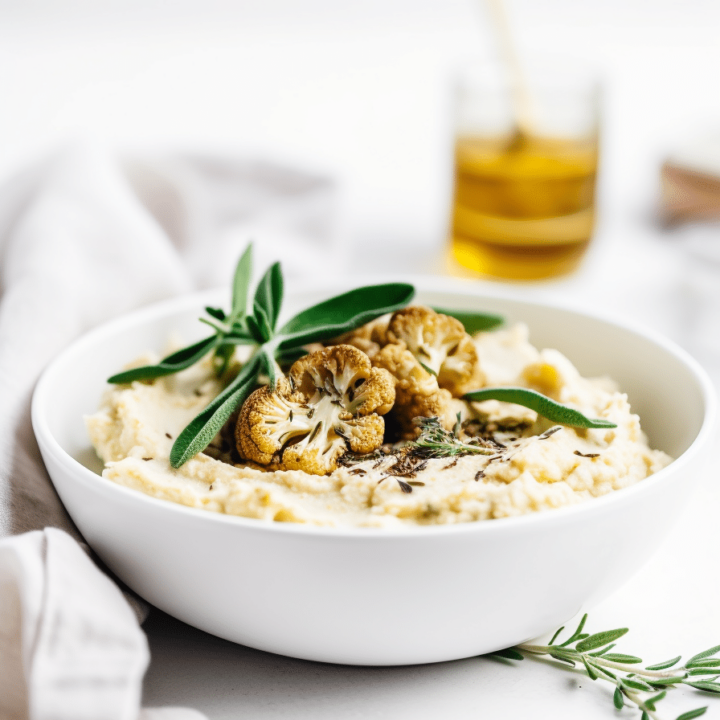 Keto Sage and Brown Butter Cauliflower Mash
Indulge in the rich, nutty flavors of sage and brown butter paired with creamy cauliflower for a keto-friendly twist on classic mashed potatoes. This Keto Sage and Brown Butter Cauliflower Mash is the perfect low-carb side dish to complement any meal, bringing comfort food to your table without the guilt.
Ingredients
- 1 large head of cauliflower

approx. 2-3 lbs or 900g-1.3kg, cut into florets

- 4 tablespoons unsalted butter

2 oz or 56g

- 6 fresh sage leaves

- 3 cloves of garlic

minced

- 1/4 cup heavy cream

2 oz or 60ml

- Salt and pepper

to taste

- Optional: grated Parmesan cheese for garnish
Instructions
Start by bringing a large pot of salted water to a boil. Add the cauliflower florets and cook until they are very tender, about 7-10 minutes. Drain well to remove as much moisture as possible to ensure a creamy mash.

While the cauliflower is cooking, heat a skillet over medium heat. Add the butter and allow it to melt and start to foam. Once the foaming subsides, add the sage leaves. Cook until the butter has turned a golden brown color and the sage leaves are crispy, about 3-5 minutes. Remove the sage leaves and set them aside for garnish.

Transfer the drained cauliflower to a food processor. Add the browned butter, leaving behind the sage, and minced garlic. Process until smooth. For those who prefer a chunkier texture, you can use a potato masher instead of a food processor.

Pour in the heavy cream and continue to process until the mixture is velvety and resembles traditional mashed potatoes. Season with salt and pepper to taste.

Spoon the cauliflower mash into a serving bowl. Garnish with crispy sage leaves and optional grated Parmesan cheese. Serve warm as a delicious keto-friendly side to your favorite main course.

Nutrition
Calories:
235
kcal
Carbohydrates:
8
g
Protein:
4
g
Fat:
20
g
Fiber:
3
g