Welcome to a culinary delight that's as pleasing to the eye as it is to the palate – the Keto Whole Roasted Cauliflower with Whipped Goat Cheese. This recipe is not just a feast for your taste buds but also a perfect fit for your keto diet, bringing together the rich, nutty flavor of roasted cauliflower with the creamy tanginess of whipped goat cheese.
If you're on the lookout for a dish that's low in carbs, high in healthy fats, and loaded with flavor, this is the one for you. Let's embark on a journey to create a dish that's as nutritious as it is delicious, and guaranteed to impress at any dinner table.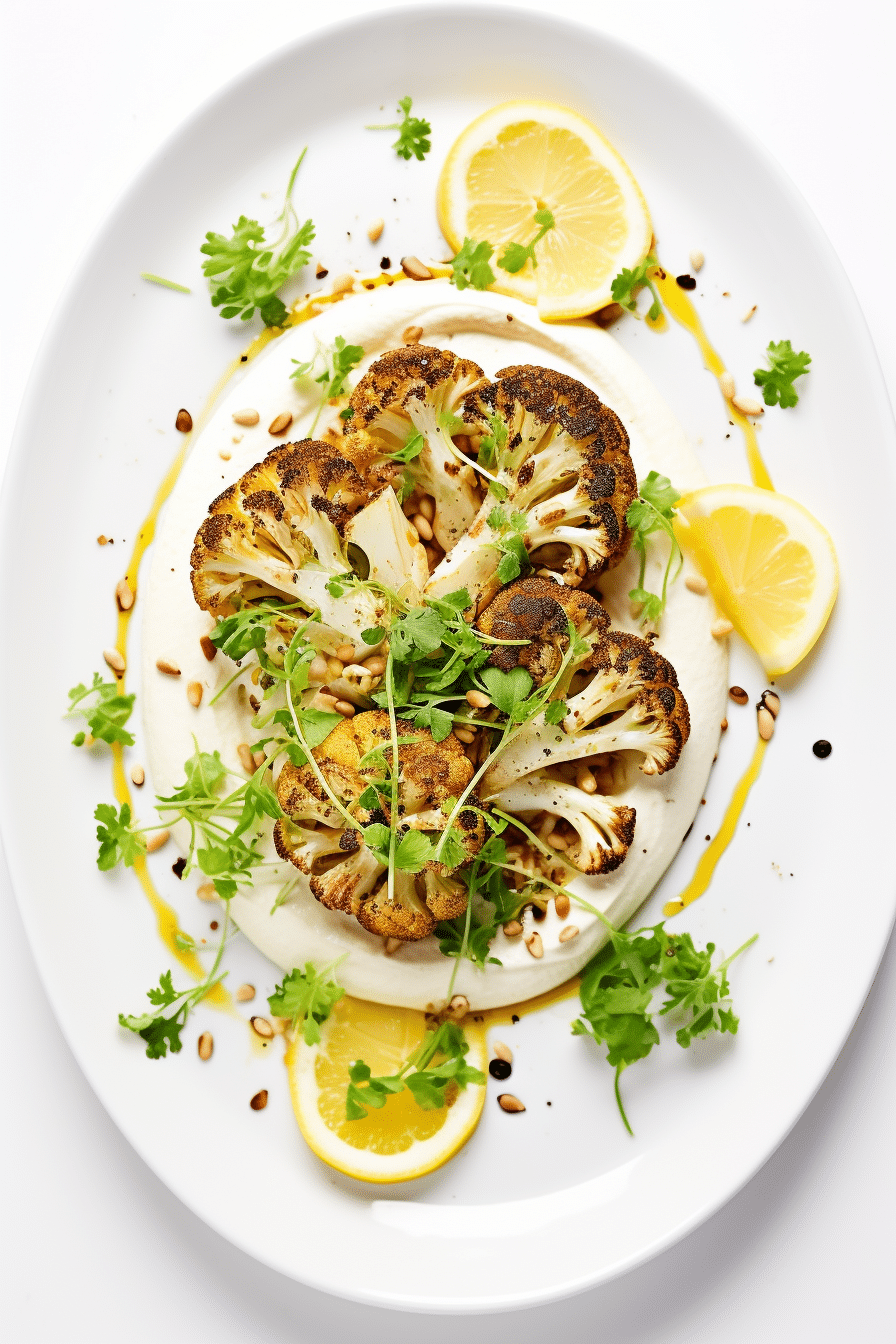 Recipe Details
There's something about the simplicity of a whole roasted cauliflower that speaks volumes about its versatility and appeal. This dish has its roots in the heart of gourmet cooking, yet it's perfectly suited for a keto lifestyle.
Cauliflower, being low in carbs and high in fiber, makes for an excellent substitute for starchy ingredients commonly avoided on a keto diet. When paired with the high-fat content of goat cheese, this dish becomes a keto powerhouse.
The inspiration behind this recipe comes from a desire to create a meal that's not only nourishing but also a work of art on the plate. The whipped goat cheese adds a luxurious touch that makes this dish a standout. It's a testament to the fact that a keto diet can be as indulgent as it is health-conscious.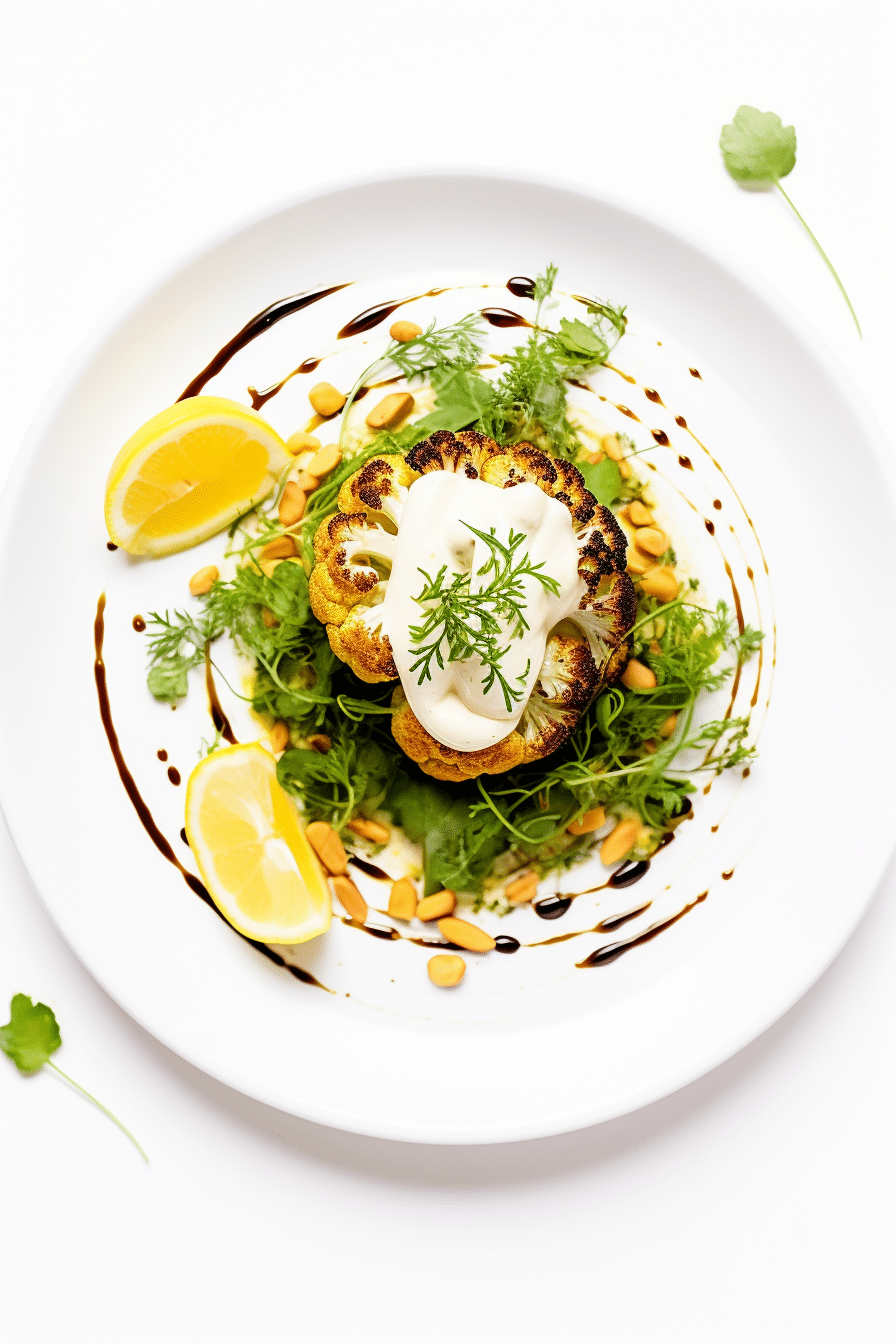 The Method
The key to perfecting this dish lies in the details. Starting with a high-quality, fresh cauliflower is essential. You want a firm, tightly packed head with crisp, green leaves.
When preparing the cauliflower, be gentle as you remove the leaves and trim the stem. This will ensure that the head remains whole and provides a stunning visual when served.
As for the seasoning, the combination of garlic powder, smoked paprika, sea salt, and black pepper creates a flavor profile that is both rich and subtle. The olive oil serves as the perfect medium, helping the spices adhere to the cauliflower and ensuring an even roast.
When brushing the cauliflower with the oil mixture, don't be shy. Every nook and cranny should be coated for maximum flavor.
The roasting process transforms the cauliflower, yielding a tender, almost meaty texture with a beautifully caramelized exterior.
Keep a close eye on the oven, as the size of your cauliflower will dictate the exact cooking time. What you're looking for is a golden-brown surface and a knife that slides easily into the core.
While the cauliflower is the star of the show, the whipped goat cheese is the supporting act that steals the scene. Achieving that light, airy texture is all about patience and the right equipment. A food processor is ideal for this task, creating a smooth, spreadable cheese that's irresistible.
Remember to taste as you season – the tanginess of the goat cheese should be prominent, but not overwhelming.
When it's time to serve, presentation is key. A warm, whole roasted cauliflower topped with dollops of whipped goat cheese and garnished with fresh parsley and lemon zest will not only tantalize the taste buds but also provide a feast for the eyes.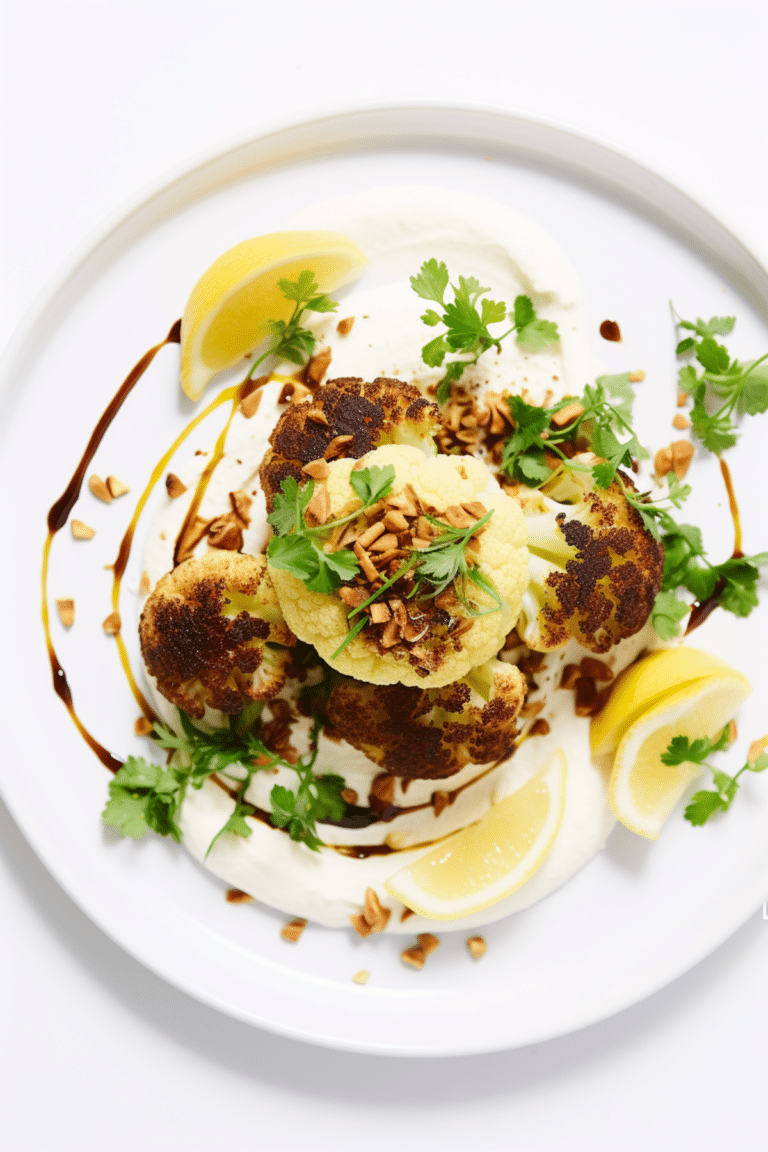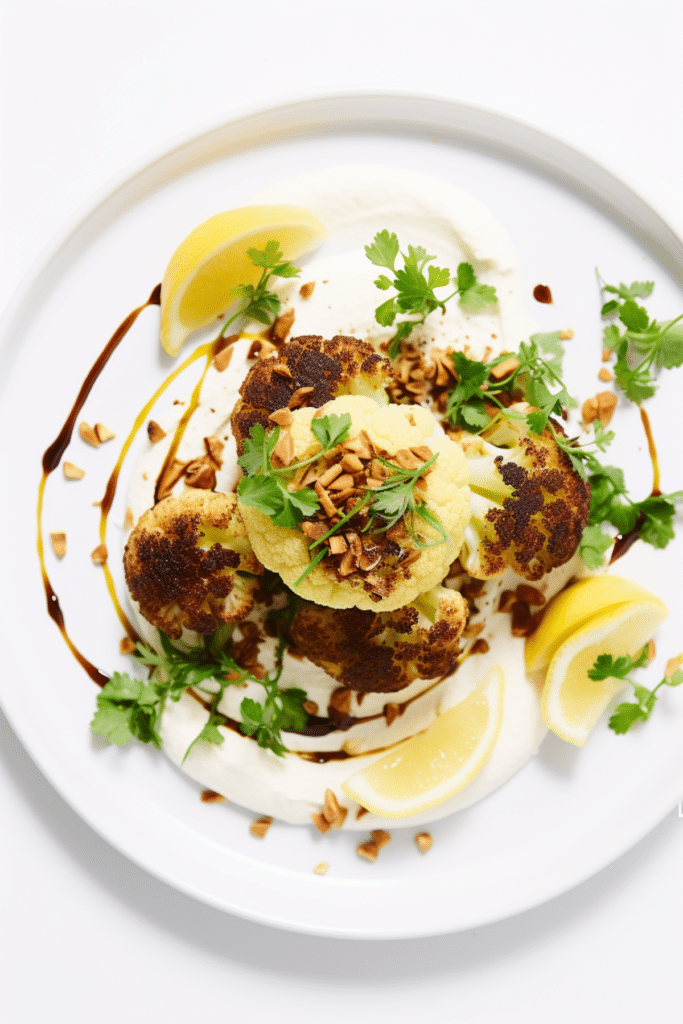 Variations
Spicy Roasted Cauliflower
For those who enjoy a bit of heat, adding a pinch of cayenne pepper or chili flakes to the oil mixture before roasting will give this dish a spicy twist. The heat complements the creaminess of the goat cheese beautifully.
Herb-Infused Goat Cheese
Mixing fresh herbs like thyme, rosemary, or basil into the goat cheese before whipping can add a fragrant dimension to the dish. This herbaceous variation pairs wonderfully with a robust red wine.
Mediterranean Style
Adding a sprinkle of za'atar spice blend over the cauliflower before roasting, and topping the finished dish with pomegranate seeds and a drizzle of tahini, can transport your taste buds to the Mediterranean.
Substitutions
While this recipe is designed with keto-friendly ingredients, there's always room for customization based on dietary needs or personal preference.
For the Cauliflower: If you're not a fan of olive oil, melted coconut oil or avocado oil are excellent substitutes that maintain the keto integrity of the dish.
For the Goat Cheese: If goat cheese isn't your thing, whipped feta cheese or a blend of cream cheese and sour cream can offer a similar creamy texture and tangy flavor.
For the Heavy Cream: Those avoiding dairy can opt for coconut cream as a suitable alternative in the whipped cheese mixture, adding a subtle coconut flavor.
FAQ Section
Can I make this dish ahead of time?
Absolutely. You can roast the cauliflower ahead of time and reheat it in the oven before serving. The whipped goat cheese can be prepared a day in advance and stored in the refrigerator.
How do I store leftovers?
Store any leftovers in an airtight container in the refrigerator. Reheat in the oven for the best texture.
Is this dish suitable for vegetarians?
Yes, this dish is vegetarian-friendly and can be a show-stopping main course or a side dish.
Can I use frozen cauliflower?
While fresh is best for texture and flavor, frozen cauliflower can be used in a pinch. Thaw and pat dry before roasting to avoid sogginess.
What can I serve with this dish?
This dish pairs well with a simple green salad, keto-friendly bread, or grilled meats for those not strictly vegetarian.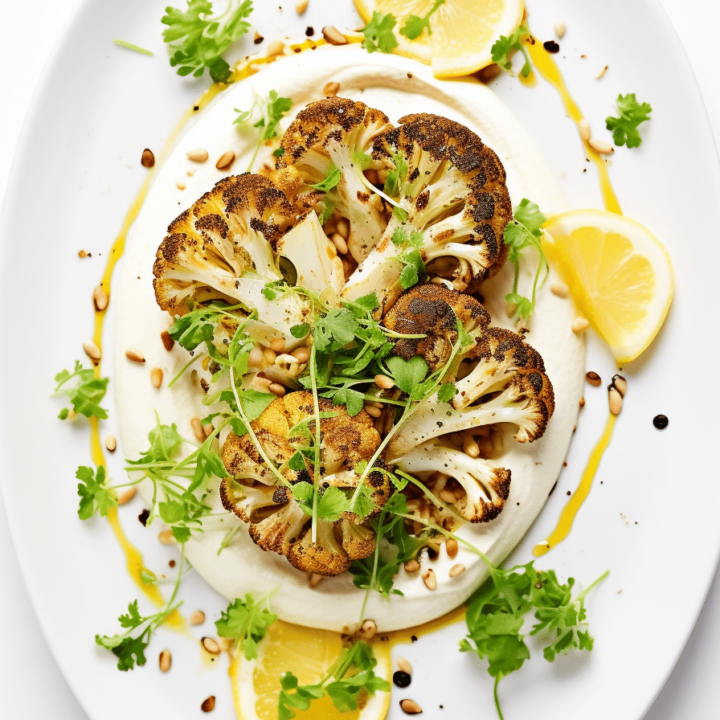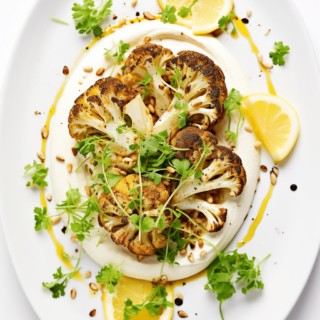 Keto Whole Roasted Cauliflower with Creamy Whipped Goat Cheese
Indulge in a symphony of flavors with our Keto Whole Roasted Cauliflower with Whipped Goat Cheese. This stunning centerpiece is perfect for impressing guests or treating yourself to a gourmet keto-friendly meal. The roasted cauliflower offers a nutty, sweet flavor and a satisfying texture, while the whipped goat cheese provides a creamy, tangy contrast that elevates the dish to new heights. Ideal for anyone following a low-carb lifestyle who doesn't want to compromise on taste or presentation.
Ingredients
Cauliflower:

1

large head of cauliflower

approx. 2-3 lbs / 0.9-1.4 kg

¼

cup

olive oil

60 ml

1

tsp

sea salt

5 g

½

tsp

ground black pepper

2 g

½

tsp

garlic powder

2 g

½

tsp

smoked paprika

2 g

Whipped Goat Cheese:

10

oz

goat cheese

285 g

¼

cup

heavy cream

60 ml

1

tbsp

lemon juice

15 ml

Salt and pepper to taste

Garnish:

2

tbsp

chopped fresh parsley

8 g

Zest of 1 lemon
Instructions
Preheat your oven to 400°F (205°C) and line a baking sheet with parchment paper.

Carefully remove the leaves from the cauliflower and trim the stem to create a flat base, ensuring the head remains intact.

In a small bowl, mix together the olive oil, sea salt, black pepper, garlic powder, and smoked paprika.

Place the cauliflower head on the prepared baking sheet and generously brush the entire surface with the seasoned oil mixture.

Roast in the preheated oven for 1 hour, or until the surface is golden brown and a knife inserts easily into the core.

While the cauliflower is roasting, prepare the whipped goat cheese by combining the goat cheese, heavy cream, and lemon juice in a food processor. Blend until the mixture is smooth and airy. Season with salt and pepper to taste.

Once the cauliflower is done, let it rest for a few minutes before transferring it to a serving plate.

Top the cauliflower with dollops of whipped goat cheese, a sprinkle of chopped parsley, and lemon zest for a burst of freshness.

Serve immediately while warm, slicing into wedges and ensuring each portion has a generous helping of whipped goat cheese.
Notes
If you can't find a large head of caul-iflower, two smaller ones will work just as well. Adjust cooking time accordingly.
For an extra kick, add a pinch of cayenne pepper to the oil mixture.
Store any leftovers in an airtight container in the refrigerator for up to 3 days; reheat in the oven for best results.
Nutrition
Calories:
390
kcal
Carbohydrates:
13
g
Protein:
15
g
Fat:
32
g
Fiber:
5
g