Keto Pumpkin Spice Martini: A Delightful Autumnal Indulgence
As the leaves turn golden and the air gets crisp, there's nothing quite like embracing the flavors of fall. And what better way to do so than with a Keto Pumpkin Spice Martini? This delightful concoction is not just a nod to the season's best, but it's also a perfect fit for those following a ketogenic lifestyle.
With its low carb content and high-fat profile, this martini ensures you can indulge in the festive spirit without compromising your dietary goals. The creamy texture, coupled with the warm spices, makes this beverage a cozy and sophisticated choice. Whether you're hosting a holiday party or simply winding down after a long day, this Keto Pumpkin Spice Martini is sure to be the highlight of your evening.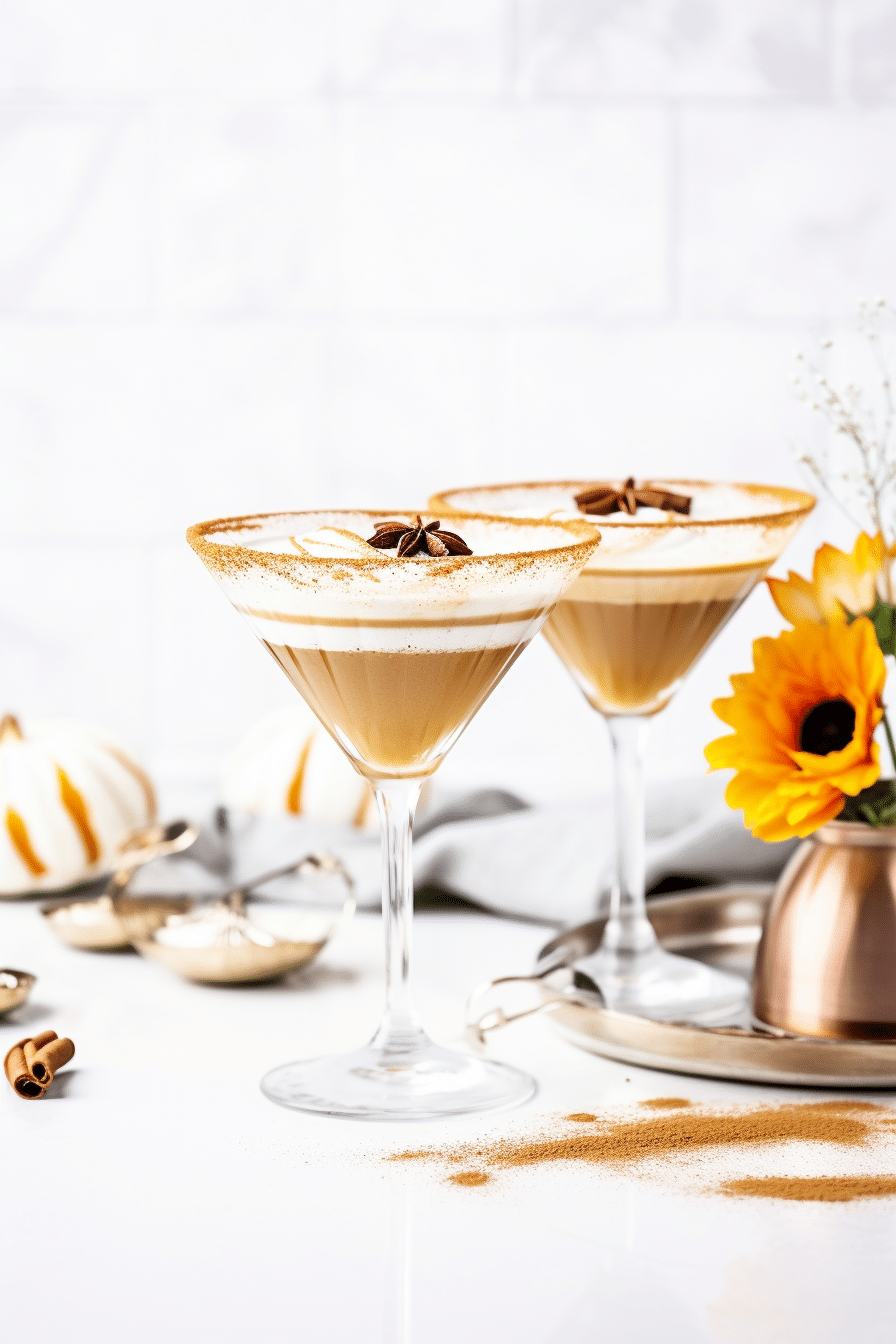 The Story Behind the Keto Pumpkin Spice Martini
There's something magical about the blend of pumpkin and spice that evokes the essence of autumn. The traditional pumpkin spice latte has been a fall favorite for many, but when you're on a keto diet, that sugary treat becomes off-limits. This is where the inspiration for the Keto Pumpkin Spice Martini comes in—transforming the classic flavors into a keto-friendly version that's just as satisfying.
The pumpkin spice blend, a mix of cinnamon, nutmeg, ginger, and cloves, typically heralds the arrival of fall. By incorporating these spices into a martini, we're not only celebrating the season but also enjoying a treat that's low in carbs and high in flavor.
Vodka, the base spirit of our martini, is naturally carb-free, making it an excellent choice for keto dieters. When combined with the richness of heavy cream and the natural sweetness of pumpkin, the result is a cocktail that's both indulgent and in line with a ketogenic lifestyle.
As a keto enthusiast, I'm always looking for ways to enjoy the flavors I love without breaking my carb bank. This martini does just that. It's a testament to the versatility of keto cooking and mixology, proving that you can have your martini and drink it too, all while staying true to your keto commitments. So, let's raise a glass to this creamy, spiced, and utterly delectable Keto Pumpkin Spice Martini—a true celebration of fall that fits perfectly into your low-carb, high-fat diet.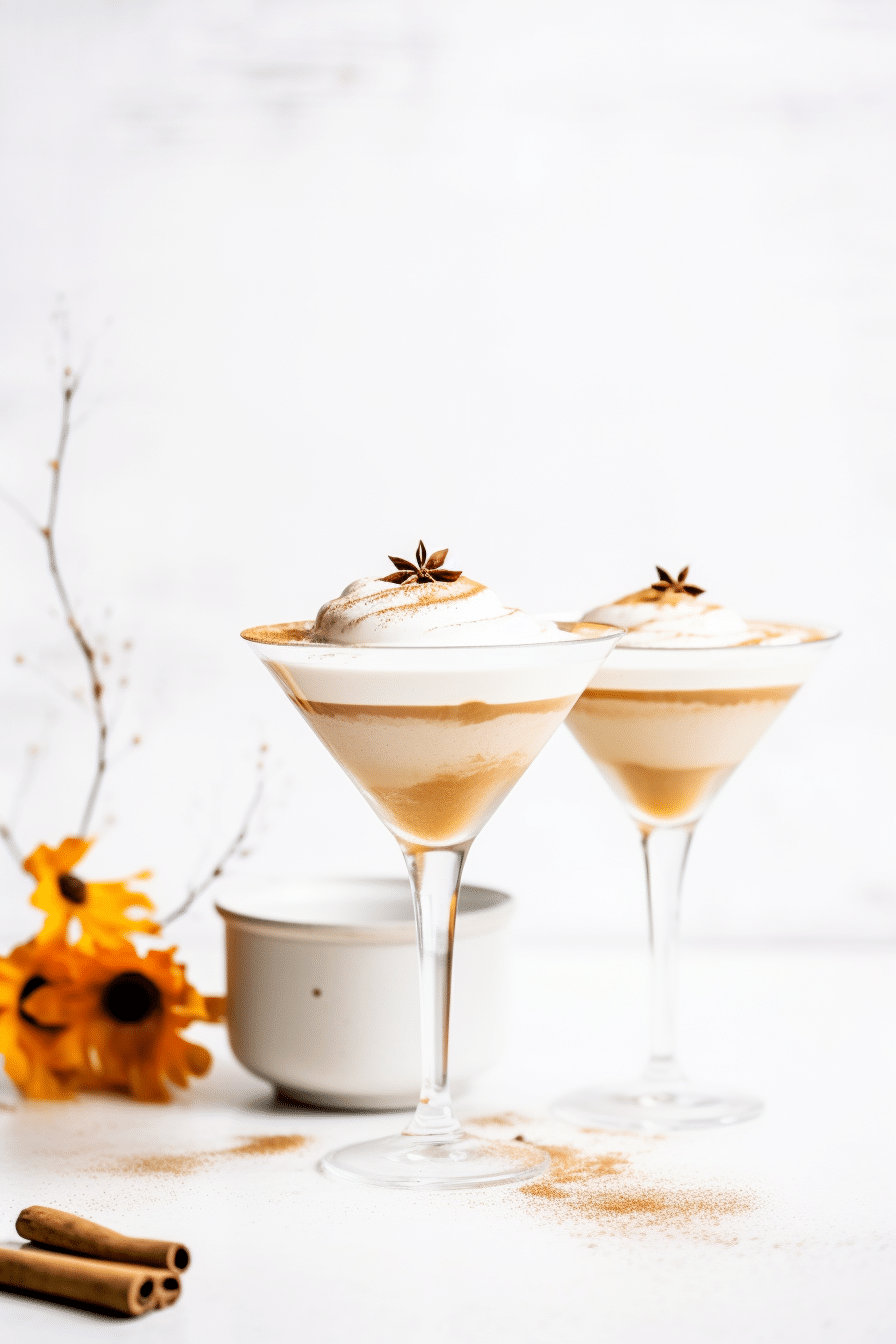 Mastering the Art of the Perfect Keto Pumpkin Spice Martini
Creating the perfect Keto Pumpkin Spice Martini is about more than just mixing ingredients—it's an art form. To ensure your martini is as delightful to sip as it is to look at, follow these detailed steps, keeping an eye out for the nuances that make all the difference.
Step 1: Chilling Your Glasses
Start by chilling your martini glasses. This is a crucial step that's often overlooked but makes a significant impact. A chilled glass will keep your martini colder for longer, enhancing the drinking experience. Simply place the glasses in the freezer for at least 15 minutes before you plan to serve.
Step 2: Combining Your Ingredients
In a cocktail shaker, you'll combine the vodka, pumpkin puree, vanilla syrup, heavy cream, and spices. Each ingredient plays a vital role in the cocktail's flavor profile. The vodka provides a clean, strong base, while the pumpkin puree brings in the seasonal flair. The sugar-free vanilla syrup adds sweetness without the carbs, and the heavy cream gives that luxurious mouthfeel. The spices, of course, are the stars of the show, infusing the drink with the quintessential fall aroma and taste.
Step 3: Shaking to Perfection
Once your ingredients are in the shaker, it's time to add the ice. The goal here is to chill the martini without watering it down. Fill the shaker about halfway with ice and secure the lid tightly. Now, shake vigorously for about 30 seconds. This not only chills the drink but also ensures that the pumpkin puree is fully integrated, avoiding any clumps.
Step 4: The Perfect Pour
After shaking, strain the martini into your chilled glasses. The straining process is key to achieving that smooth, velvety texture. If you've shaken well, the mixture should be frothy and cold, with a beautiful cinnamon hue.
Step 5: The Final Touch
If you're opting for whipped cream, add a dollop on top of each martini. This not only adds to the visual appeal but also introduces an extra layer of creaminess. A final sprinkle of cinnamon serves as the perfect garnish, offering a hint of spice with every sip.
By following these steps, you'll craft a Keto Pumpkin Spice Martini that's not only delicious but also a testament to your mixology skills. Remember, the key is in the details—from the chill of the glass to the vigor of your shake.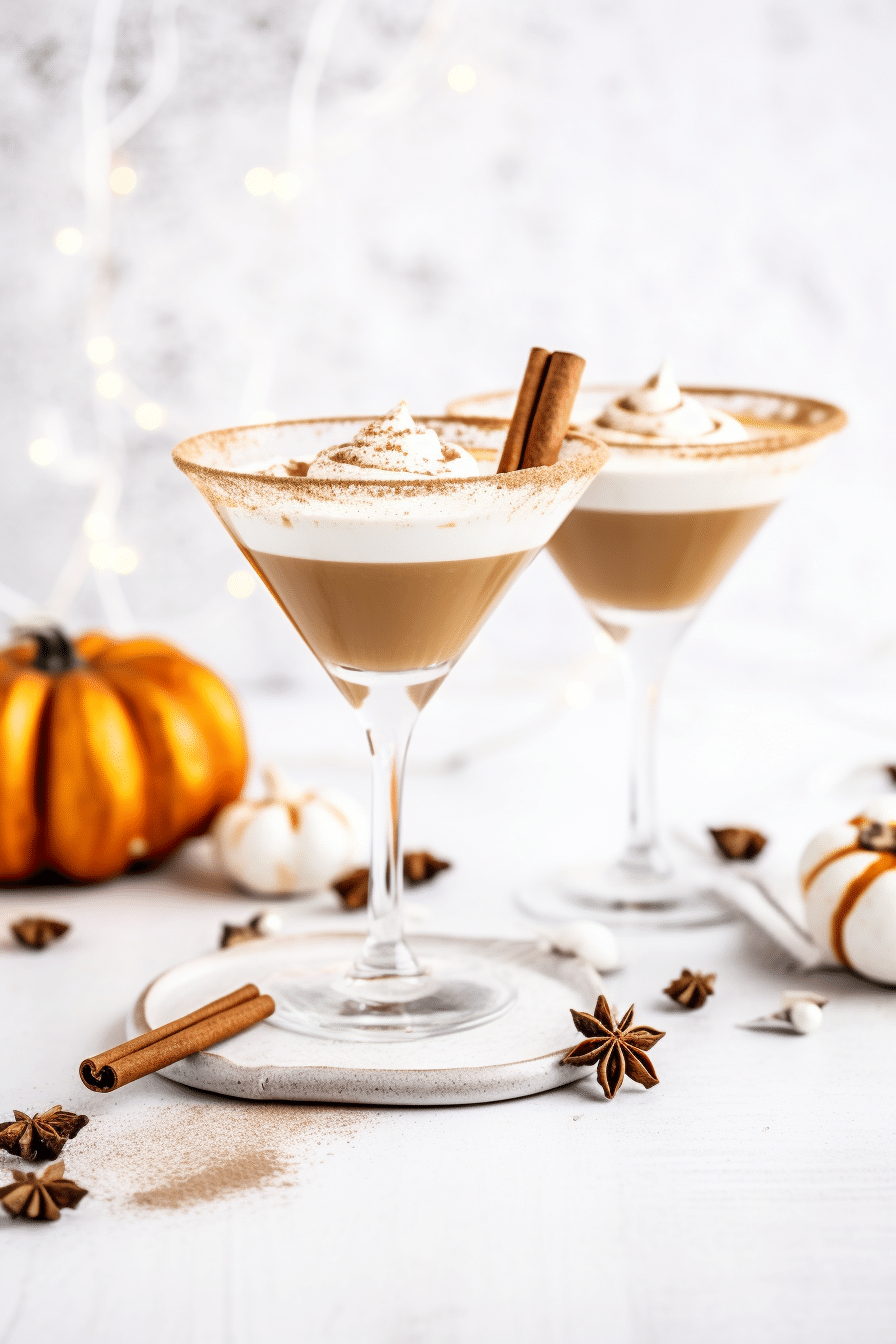 Variations to Spice Up Your Keto Pumpkin Spice Martini
Cinnamon Swirl Martini
For a twist on the classic, add a cinnamon stick to your shaker before mixing. This infuses the drink with an even stronger cinnamon flavor, creating a "Cinnamon Swirl" effect that's both aromatic and warming.
Chocolate Pumpkin Martini
Chocolate and pumpkin are a match made in heaven. Add a tablespoon of sugar-free cocoa powder to the mix for a Chocolate Pumpkin Martini. The cocoa adds depth and a touch of bitterness that beautifully complements the sweetness of the pumpkin.
Nutty Pumpkin Martini
Introduce a nutty profile by adding a splash of sugar-free almond or hazelnut syrup. This Nutty Pumpkin Martini variation offers a complex flavor palette that's sure to impress.
Substitutions for Your Keto Pumpkin Spice Martini
While the original recipe is designed to be keto-friendly, you may want to tailor it to your own preferences or dietary restrictions. Here are some substitutions that can help you customize your martini while keeping it keto.
Dairy-Free Cream
If you're avoiding dairy, coconut cream is a fantastic alternative to heavy cream. It provides a similar richness and a subtle tropical flavor that pairs beautifully with the pumpkin and spices.
Alternative Sweeteners
Not a fan of vanilla syrup? Try using a few drops of liquid stevia or a sugar-free maple syrup. These can add a different dimension of sweetness without adding carbs.
Spice Mixes
Feel free to play around with the spice blend. If you prefer more nutmeg or a hint of allspice, adjust the quantities to suit your taste. The goal is to create a martini that's perfect for you.
Frequently Asked Questions
When embarking on the creation of a Keto Pumpkin Spice Martini, you may have some questions. Here are answers to some common queries that will help you craft the perfect cocktail.
Can I use fresh pumpkin instead of canned puree?
Yes, you can use fresh pumpkin. Just ensure it's cooked and pureed to a smooth consistency. Measure it the same as you would canned puree.
Is it necessary to use a cocktail shaker?
While a cocktail shaker is ideal for combining and chilling the ingredients, you can use a mason jar with a tight-fitting lid as an alternative.
Can I make this martini in advance?
It's best enjoyed fresh, but you can mix the ingredients without ice and store them in the refrigerator. Just shake with ice before serving.
What if I don't have sugar-free vanilla syrup?
You can use a different sugar-free syrup or a few drops of vanilla extract mixed with your preferred keto-friendly sweetener.
How can I ensure my martini isn't too diluted?
Shake the martini just until it's chilled, about 30 seconds, and strain immediately to prevent over-dilution from melting ice.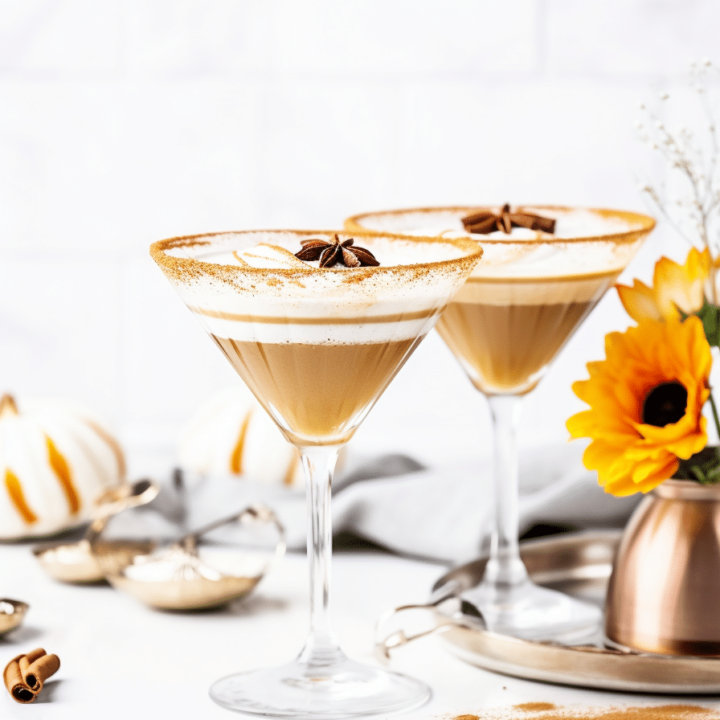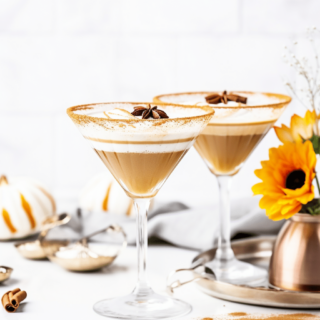 Keto Pumpkin Spice Martini
This Keto Pumpkin Spice Martini is a festive and indulgent treat that perfectly captures the essence of autumn without the carb overload. It's creamy, it's spiced, and it's everything you want in a cozy yet sophisticated cocktail. Whether you're toasting to the holidays or just enjoying a night in, this martini is sure to delight your taste buds and keep your keto goals on track.
Ingredients
- 3 oz

85g vodka

- 2 oz

60ml unsweetened pumpkin puree

- 1.5 oz

45ml sugar-free vanilla syrup

- 2 tbsp

30ml heavy cream

- 1/4 tsp pumpkin pie spice

- 1/4 tsp ground cinnamon

plus extra for garnish

- Ice cubes

- Optional: sugar-free whipped cream for topping
Instructions
Begin by chilling two martini glasses in the freezer for at least 15 minutes prior to making the cocktail.

In a cocktail shaker, combine the vodka, unsweetened pumpkin puree, sugar-free vanilla syrup, heavy cream, pumpkin pie spice, and ground cinnamon.

Fill the shaker with ice cubes, ensuring there is enough ice to cool the mixture without diluting it too much.

Firmly secure the lid on the shaker and shake vigorously for about 30 seconds. The mixture should be well combined and chilled.

Strain the mixture into the chilled martini glasses, dividing evenly.

If desired, top each martini with a dollop of sugar-free whipped cream and a sprinkle of ground cinnamon for garnish.

Serve immediately and enjoy responsibly.
Notes
- For a dairy-free version, you can substitute the heavy cream with coconut cream.
- Ensure that your vanilla syrup is sugar-free to maintain the keto-friendly aspect of the cocktail.
- Always consume alcohol responsibly and in moderation.
Nutrition
Calories:
160
kcal
Carbohydrates:
4
g
Protein:
1
g
Fat:
5
g
Fiber:
1
g