Welcome to your new breakfast favorite: Crispy Golden Keto Waffles. These waffles are a game-changer for anyone on a ketogenic diet or anyone looking for a low-carb breakfast that doesn't compromise on taste or texture. Imagine biting into a waffle that's crispy on the outside, fluffy on the inside, and full of delicious flavor. Now imagine that it's also keto-friendly. That's what you get with this keto waffle recipe. It's the perfect way to satisfy your breakfast cravings without breaking your carb budget for the day.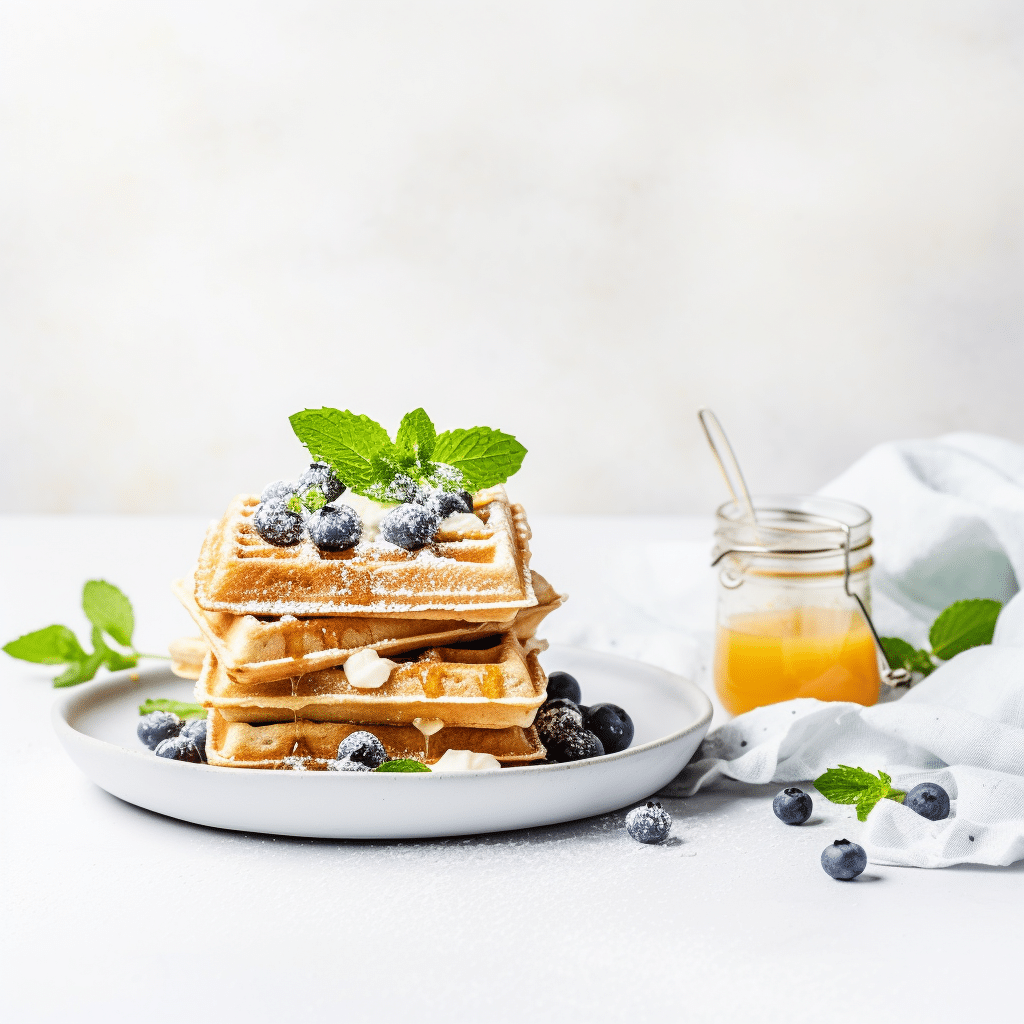 The Perfect Keto Waffle Recipe for a Low-Carb Lifestyle
As a dedicated keto dieter, I know the struggle of finding breakfast options that fit within the low-carb, high-fat parameters of the ketogenic lifestyle. It's challenging to watch others indulge in traditional high-carb breakfasts while you're left searching for alternatives. That's why I created this keto waffle recipe. It's not just a substitute; it's a stand-alone star that'll make you forget about its carb-laden counterparts.
These waffles are made with a blend of almond and coconut flours, providing a healthy dose of fats and fiber while keeping the carb count low. The use of erythritol, a natural sugar alcohol, ensures that you can enjoy a hint of sweetness without the added sugars that could disrupt ketosis. The inclusion of xanthan gum gives these waffles the perfect texture, mimicking the mouthfeel of traditional waffles.
What sets this recipe apart is its ability to deliver a satisfying, comforting breakfast experience without the guilt. Each serving is carefully calculated to fit within your daily macros, ensuring that you can indulge in a delicious breakfast that fuels your body and supports your keto goals.

Mastering the Art of Keto Waffles
To achieve the perfect keto waffle, it's essential to understand the nuances of working with low-carb ingredients. Start by preheating your waffle iron, as a consistent temperature is key to achieving that golden crispness. When combining your dry ingredients, whisk them thoroughly to prevent clumping and ensure even distribution of the baking powder, which acts as the leavening agent.
When it comes to the wet ingredients, beat the eggs first to incorporate air, which contributes to the fluffiness of the waffles. The melted butter should be cooled slightly before adding to prevent cooking the eggs, and the unsweetened almond milk adds moisture without the carbs. The vanilla extract is the final touch, infusing the batter with a warm, aromatic flavor.
As you combine the wet and dry ingredients, do so gently to avoid overmixing. Overmixed batter can lead to dense waffles. The consistency of the batter should be thick but pourable; if it's too thick, you can adjust with a bit more almond milk. When spooning the batter onto the waffle iron, don't overfill it. The batter will expand as it cooks, and overfilling can lead to a mess and unevenly cooked waffles.
Patience is crucial when cooking your waffles. Resist the urge to open the waffle iron too early, as this can cause the waffles to split and lose their structure. Wait until the steam subsides, indicating that the waffles are nearly done. The cook time may vary depending on your waffle iron, so watch for the telltale signs of doneness: a crisp exterior and a rich, golden color.
Delicious Keto Waffle Variations to Try
Chocolate Chip Keto Waffles
For a sweet treat, fold sugar-free chocolate chips into the batter before cooking. The chips will melt into the waffles, creating pockets of chocolatey goodness that are still keto-friendly.
Savory Herb and Cheese Keto Waffles
Transform your waffles into a savory delight by adding grated cheese and finely chopped herbs like chives or rosemary to the batter. These waffles pair beautifully with eggs and bacon for a complete keto breakfast.
Pumpkin Spice Keto Waffles
Embrace the flavors of fall by incorporating pumpkin puree and a blend of pumpkin pie spices into your batter. This variation adds a festive twist while still keeping carbs in check.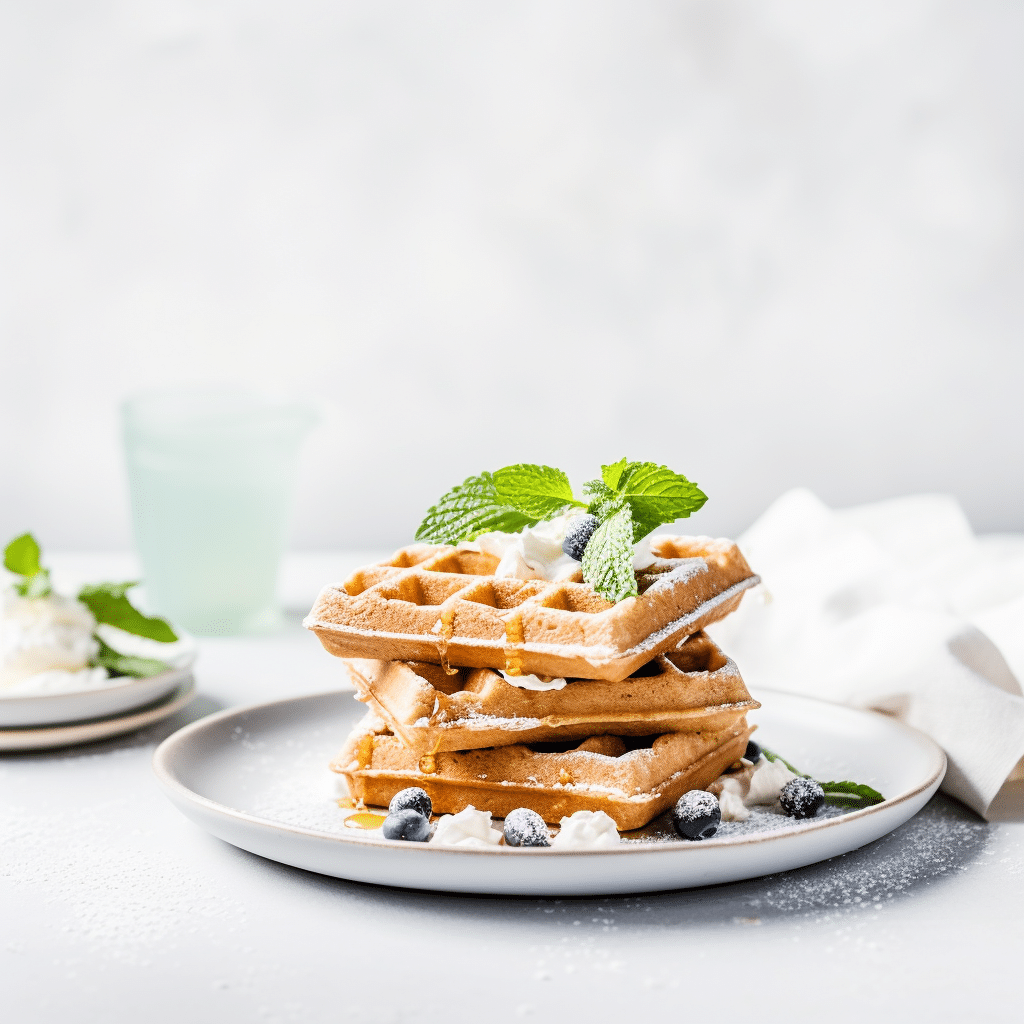 Flexible Ingredient Substitutions for Your Keto Waffles
Understanding the flexibility of ingredients in keto recipes can help you tailor them to your preferences and what you have on hand. If almond flour isn't your favorite or you have an allergy, ground sunflower seed meal can be a suitable substitute. It provides a similar texture and fat content, ensuring your waffles stay keto-friendly.
Coconut flour is highly absorbent, so if you're substituting with another flour, you may need to adjust the quantity. Flaxseed meal can be used in place of coconut flour, but you'll likely need less of it to achieve the right batter consistency.
For those who don't consume dairy, melted coconut oil can replace the butter in this recipe. It offers a similar fat content and helps to achieve the desired crispiness without using dairy products.
Frequently Asked Questions
Can I make these waffles ahead of time? Yes, you can cook the waffles and store them in the refrigerator or freezer. Reheat them in a toaster or oven for a quick and easy breakfast.
Are these waffles actually crispy? Absolutely! The combination of almond and coconut flours with the melted butter ensures a crisp exterior while maintaining a fluffy interior.
Can I use a different sweetener? Yes, you can use other keto-friendly sweeteners like stevia or monk fruit. Adjust the quantity to your taste preference and the sweetener's conversion rate.
How do I know when the waffles are done? Look for a reduction in steam from the waffle iron and a golden-brown color. The waffles should easily lift from the iron when done.
Can I add toppings to these waffles? Certainly! Top with sugar-free syrup, whipped cream, or fresh berries. Just be sure to account for any additional carbs from your toppings.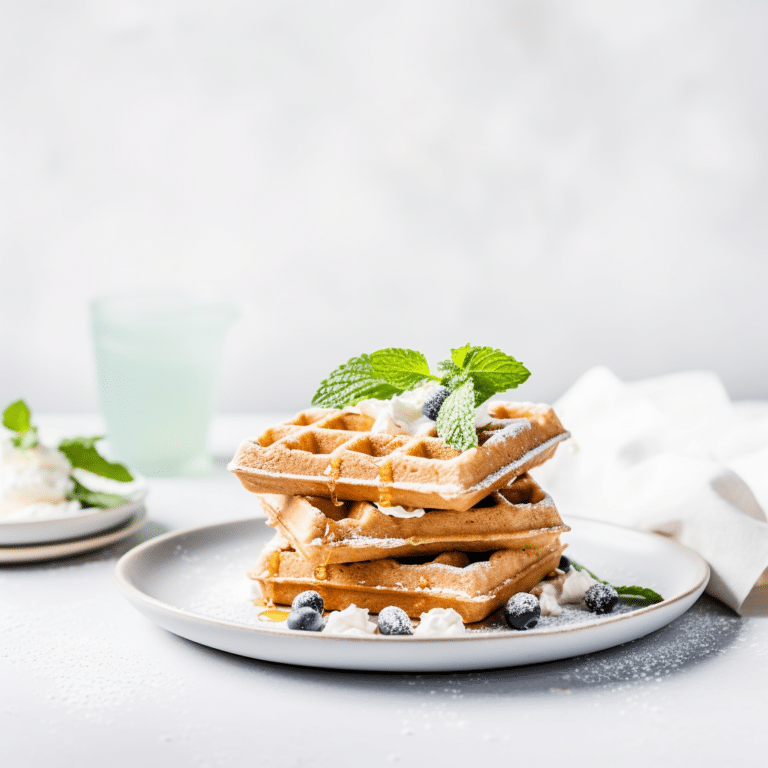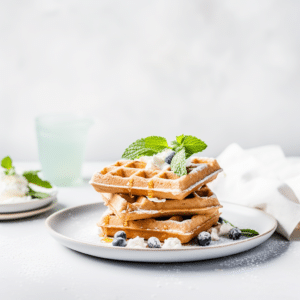 Ultimate Keto Waffle Recipe: Perfect for a Low-Carb Breakfast Treat!
Indulge in a morning delight with these crispy golden keto waffles. Perfectly low-carb, these waffles are fluffy on the inside, crispy on the outside, and packed with delicious flavors that will kickstart your day without breaking ketosis.
Ingredients
1

cup

almond flour

96g

¼

cup

coconut flour

30g

2

tablespoons

erythritol

24g

1

teaspoon

baking powder

4g

½

teaspoon

xanthan gum

1g

¼

teaspoon

sea salt

1g

4

large eggs

¼

cup

unsalted butter

melted (60ml)

½

cup

unsweetened almond milk

120ml

1

teaspoon

vanilla extract

5ml
Instructions
Preheat your waffle iron according to manufacturer's instructions

In a large mixing bowl, whisk together almond flour, coconut flour, erythritol, baking powder, xanthan gum, and sea salt until well combined.

In a separate bowl, beat the eggs, then mix in the melted butter, unsweetened almond milk, and vanilla extract until smooth

Pour the wet ingredients into the dry ingredients and stir until a thick batter is formed

Spoon the batter onto the hot waffle iron, spreading evenly. Close the lid and cook until the waffle is golden brown and crisp, about 5 minutes.

Carefully remove the waffle and repeat with the remaining batter

Serve the waffles hot with your favorite low-carb toppings, like sugar-free syrup or fresh berries.
Nutrition
Calories:
320
kcal
Carbohydrates:
10
g
Protein:
12
g
Fat:
28
g
Fiber:
3
g