Embark on a journey to satiate your cravings and fuel your body with our Keto Protein Bars recipe. Perfectly tailored for the ketogenic lifestyle, these bars are a harmonious blend of low-carb indulgence and high-quality protein support.
Whether you're in need of a pre-workout boost, a post-workout recovery, or simply a nutritious snack to get you through the day, these homemade protein bars are your go-to solution. Crafted with wholesome ingredients, they deliver a satisfying crunch and a subtle sweetness, all while aligning with your keto goals. Dive into this recipe and discover how easy it is to maintain your macros and please your palate.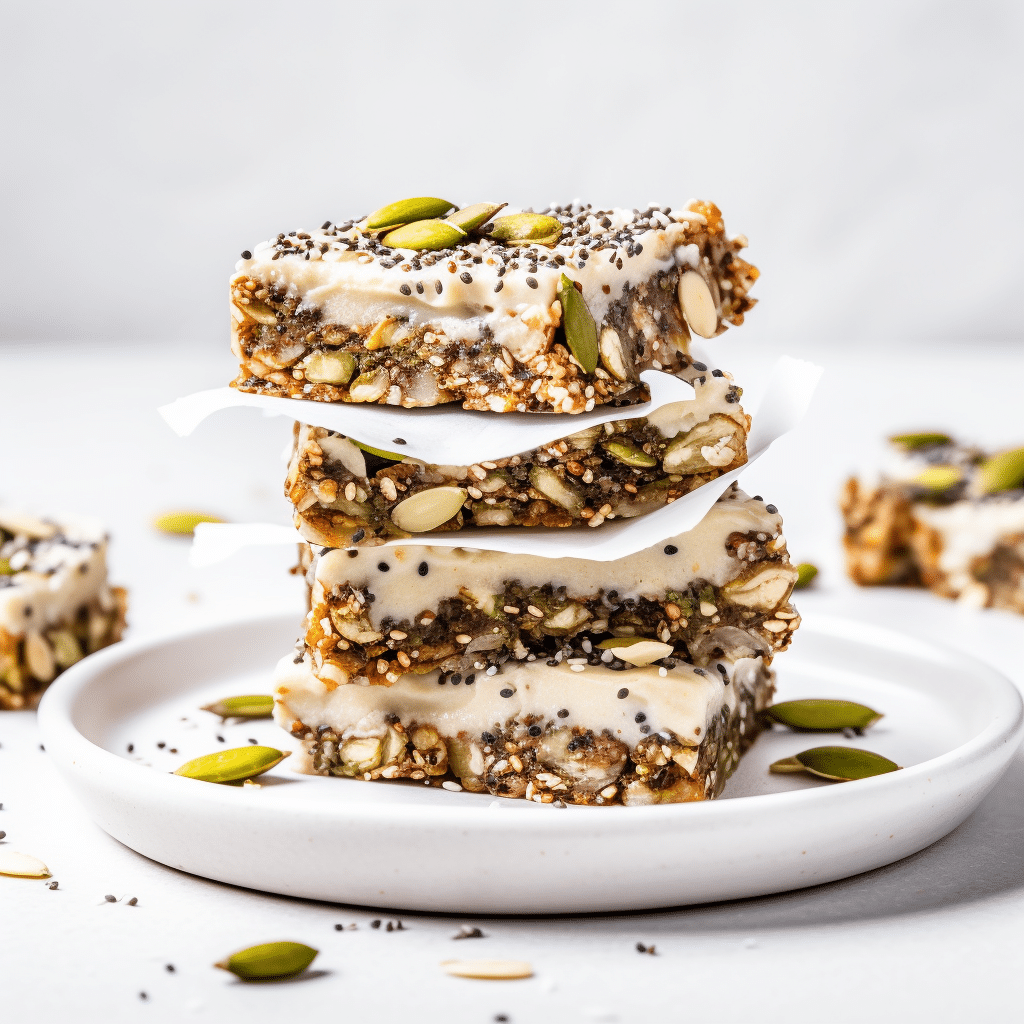 Protein Bars: A Keto Delight
My journey into the world of keto cooking has been one of delicious discovery, and these Keto Protein Bars are a testament to that adventure. Born from a desire to blend convenience with health, this recipe is more than just a snack; it's a celebration of the ketogenic ethos. Each ingredient has been carefully selected to provide a balance of fats, proteins, and minimal carbs, ensuring that you stay energized and satisfied without compromising your dietary goals.
The inspiration for these bars came from my own need for a portable and straightforward keto-friendly snack. Store-bought options often contain hidden sugars and unwanted additives, so I set out to create a recipe that was both clean and simple. The result is a bar that boasts a rich texture, thanks to the almond flour and coconut, and a protein kick from the whey powder, making it an ideal companion for anyone following a ketogenic lifestyle.
These bars are more than just a convenient snack; they're a symbol of the keto diet's versatility. With every bite, you're enjoying a snack that's not only delicious but also packed with nutrients to support your health and well-being. They're perfect for busy professionals, active gym-goers, and anyone in-between who values nutrition and flavor in equal measure.
What makes this recipe stand out is its adaptability. Whether you're at home or on the go, these bars are designed to fit seamlessly into your lifestyle. They're a testament to the fact that eating well doesn't have to be complicated or time-consuming. With just a few minutes of preparation, you can have a week's worth of snacks ready to go.
Furthermore, this recipe is a shining example of how keto-friendly foods can be just as indulgent as their high-carb counterparts. The natural sweetness from the erythritol and the richness from the almond butter make these bars a treat that you can enjoy without guilt. They're proof that you don't have to sacrifice flavor for fitness, and that's what makes them a cornerstone of my keto recipe collection.
So, whether you're a seasoned keto enthusiast or just starting out, these Keto Protein Bars are sure to become a staple in your culinary repertoire. They embody the essence of what it means to eat well on keto: nutrient-dense, flavorful, and utterly satisfying.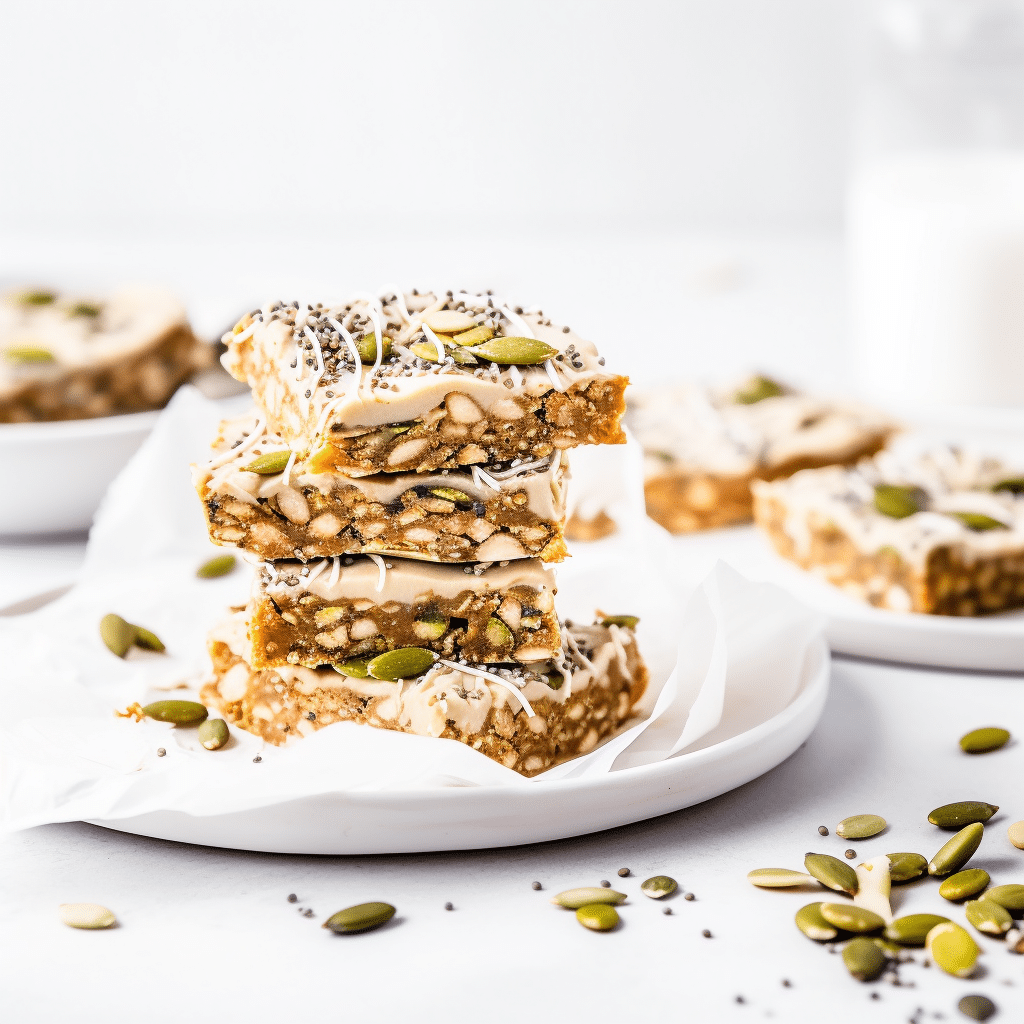 The Method: Crafting Your Keto Protein Bars
Creating the perfect Keto Protein Bar is an art that involves precision, patience, and a bit of creativity. The process is straightforward, but a few chef's tips can elevate your bars from good to great.
Preparation Perfection
Starting with the preparation, lining your baking pan with parchment paper is crucial. This simple step is the key to ensuring your bars can be easily removed after setting. Be generous with the overhang; it acts as a handle to lift out the bars once they're firm.
Mixing Matters
When combining your dry ingredients, ensure that each component is evenly distributed. This uniformity is vital for the bars' texture and taste. Pay particular attention to the protein powder, as it tends to clump. Sifting it into the mixture can prevent this issue, resulting in a smoother blend.
Wet Ingredient Wisdom
The amalgamation of wet ingredients is where the magic happens. The almond butter should be at room temperature to mix smoothly with the melted coconut oil. If the coconut oil is too hot, it can cause the mixture to separate. Aim for a warm, not hot, temperature when combining.
Combining Techniques
Integrating the wet and dry ingredients is a decisive moment. Fold the mixture gently to avoid overworking it, which can lead to dense bars. Stop as soon as you see a uniform dough. The consistency should be sticky but manageable; if it's too dry, add a touch more coconut oil.
Setting Secrets
Pressing the mixture into the pan is more than just a formality. Apply even pressure to avoid air pockets and ensure the bars hold together. A flat spatula or the back of a spoon can help achieve a smooth, even layer that will set properly.
Cutting with Care
Once set, the cutting process is critical. A sharp knife is essential for clean edges. Dip the knife in hot water and wipe it between cuts for the neatest finish. This technique melts through the cold fats, making slicing a breeze.
Remember, these bars are best enjoyed chilled. They maintain their shape and texture when kept cool, so store them in the refrigerator or freezer as directed. This not only preserves their quality but also enhances their flavor profile.
With these tips in hand, you're ready to master the art of making Keto Protein Bars. Each step is a building block to creating a snack that's as nutritious as it is delightful. Embrace the process, and you'll soon be enjoying the fruits of your labor – one delicious, keto-friendly bar at a time.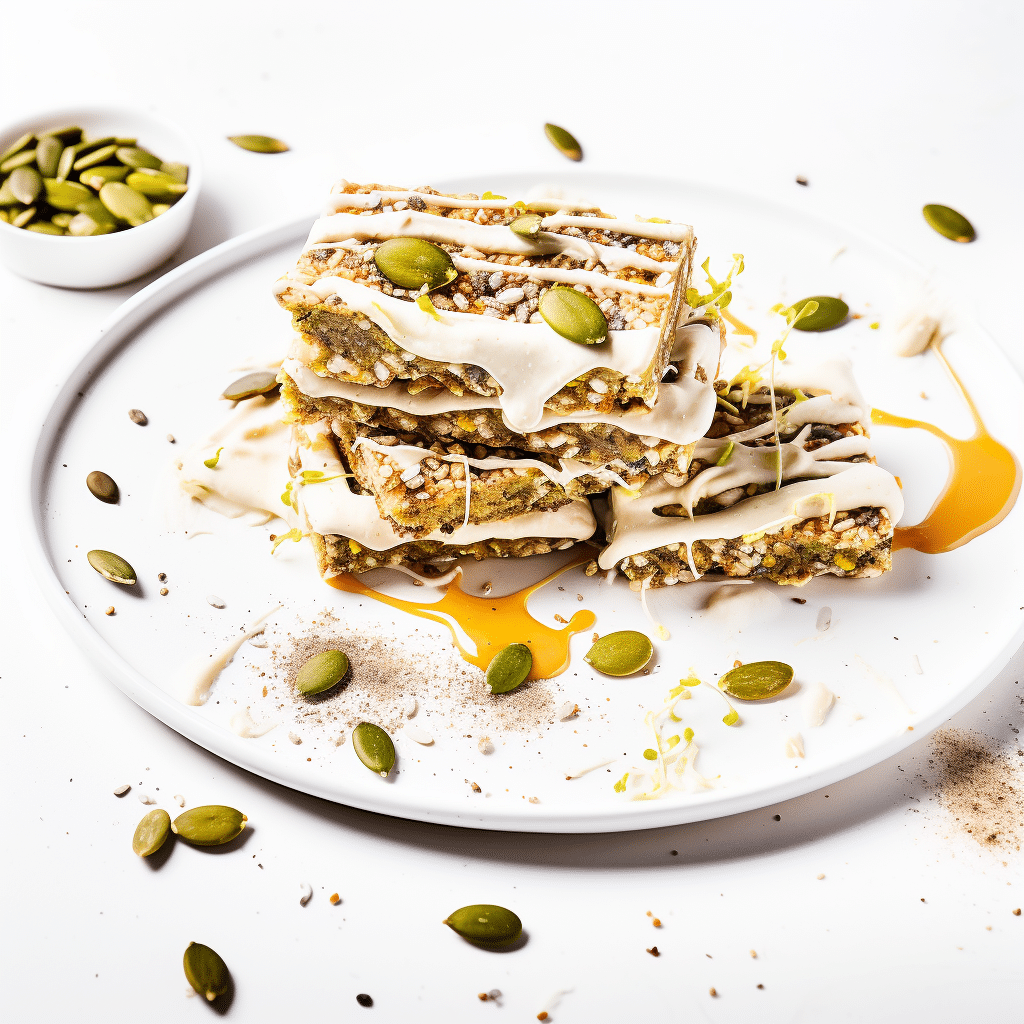 Variations: Personalize Your Protein Bars
Chocolate Almond Bliss
For the chocolate lovers, introducing cocoa powder to the mix can transform your bars into a chocolatey delight. Replace a portion of the almond flour with unsweetened cocoa powder, and consider adding sugar-free dark chocolate chips for an extra indulgent twist.
Nutty Adventure
Nuts are a keto staple, and for good reason. They're packed with healthy fats and add a satisfying crunch. Try incorporating chopped pecans, walnuts, or macadamia nuts in place of the pumpkin seeds for a different texture and flavor profile.
Fruity Undertones
While fruit is often limited on a keto diet, a small amount of freeze-dried berries can add a burst of flavor without too many additional carbs. Sprinkle in some crushed freeze-dried raspberries or strawberries for a tart contrast to the sweet and nutty base.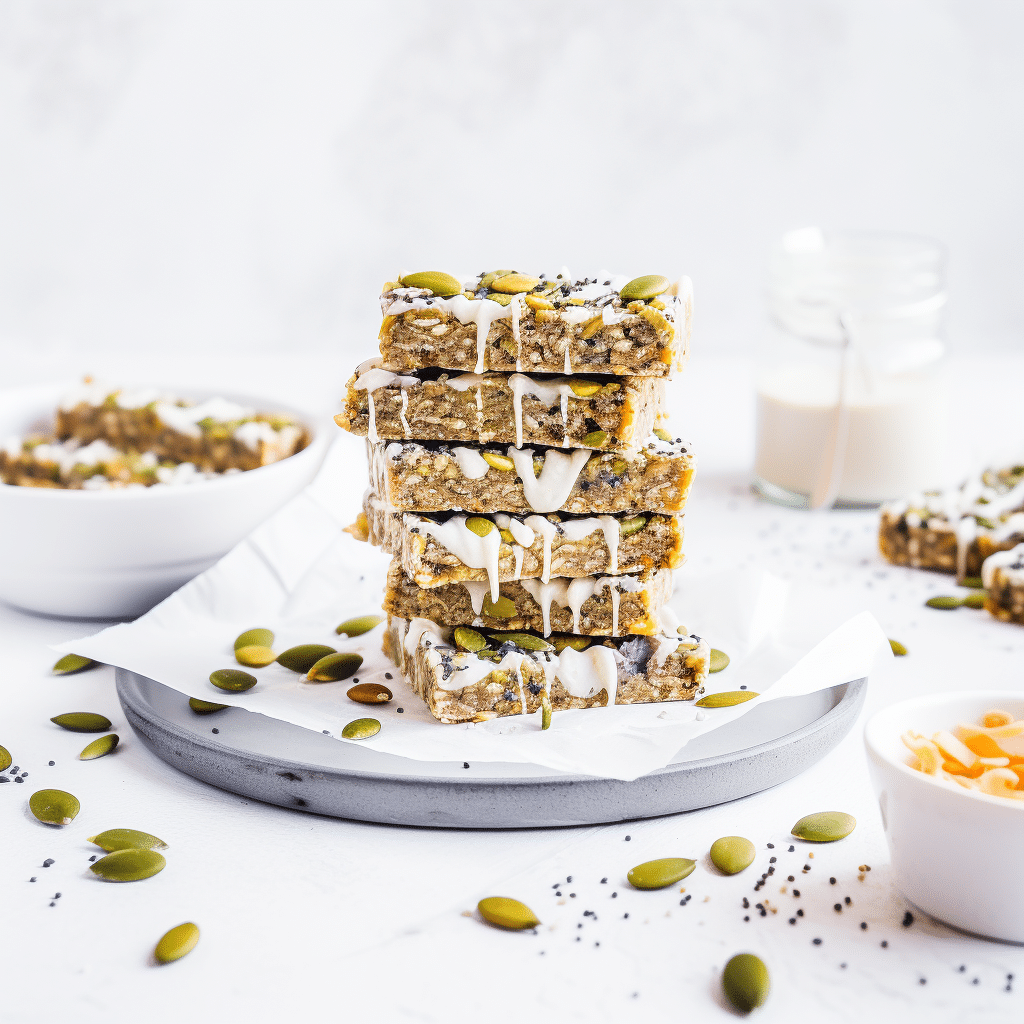 Substitutions: Tailoring the Recipe to Your Needs
Understanding the flexibility of ingredients in keto recipes is crucial for both personalization and necessity. Here are a few substitutions to consider:
Almond Flour Alternatives
If almond flour isn't your preference or you have an allergy, coconut flour can be a suitable substitute. Keep in mind that coconut flour is more absorbent, so you'll need to use less—about 1/4 cup of coconut flour for every cup of almond flour.
Protein Powder Possibilities
Not a fan of whey or need a dairy-free option? Try using a plant-based protein powder such as pea or hemp protein. The taste and texture may vary slightly, so you may need to adjust the sweetener or fat content to achieve a similar result.
Sweetener Swaps
Erythritol is a popular keto sweetener, but if it's not to your liking or you don't have it on hand, other sugar alcohols like xylitol or non-glycemic sweeteners like stevia or monk fruit extract can be used in its place. The conversion rates may differ, so adjust according to taste and the sweetener's packaging instructions.
Frequently Asked Questions
Can I use a different type of nut butter?
Yes, you can use other nut butters like peanut or cashew butter. Just ensure they're unsweetened and without added oils to maintain the keto-friendly aspect of the recipe.
How do I store the protein bars, and how long will they last?
Store the bars in an airtight container in the refrigerator for up to one week. For longer storage, you can freeze them for up to a month. Always wrap them individually to maintain freshness.
What can I do if my bars are too crumbly?
If your bars are crumbly, it may be due to not enough binding fat. Try increasing the amount of almond butter or coconut oil slightly to help them hold together better.
Is there a way to increase the protein content further?
For an extra protein boost, consider adding hemp seeds or additional protein powder. Be mindful of the dry to wet ingredient ratio, and adjust as necessary to maintain the consistency of the dough.
Are these protein bars suitable for diabetics?
These bars are low in carbohydrates and use a sugar alcohol as a sweetener, which may be suitable for diabetics. However, it's essential to consult with a healthcare provider before making dietary changes.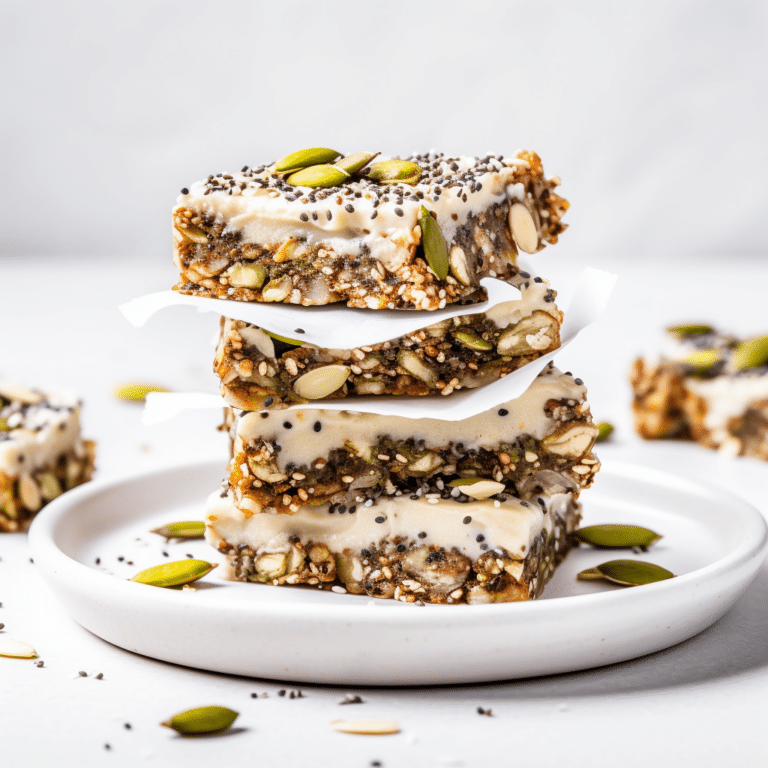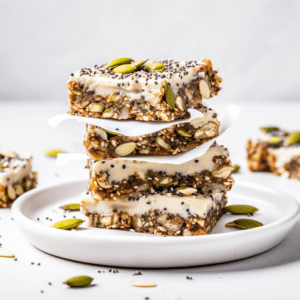 Easy to Make Keto Protein Bars Recipe: Your Ultimate Low-Carb Snack Guide
Indulge in a healthy, high-protein snack with our homemade Keto Protein Bars. Packed with nuts, seeds, and a hint of natural sweetness, these bars are perfect for a quick energy boost without the carb crash.
Ingredients
1

cup

almond flour

96g / 3.4 oz

½

cup

vanilla whey protein powder

60g / 2.1 oz

¼

cup

unsweetened shredded coconut

20g / 0.7 oz

¼

cup

raw pumpkin seeds

30g / 1.1 oz

¼

cup

chia seeds

40g / 1.4 oz

¼

cup

almond butter

64g / 2.3 oz

¼

cup

coconut oil

melted (60ml / 2 fl oz)

2

tbsp

erythritol or preferred keto sweetener

24g / 0.8 oz

1

tsp

vanilla extract

5ml

Pinch

of salt
Instructions
Line an 8x8 inch baking pan with parchment paper, leaving some overhang for easy removal.

In a large mixing bowl, combine almond flour, whey protein powder, unsweetened shredded coconut, pumpkin seeds, and chia seeds.

In a separate bowl, whisk together almond butter, melted coconut oil, erythritol, vanilla extract, and a pinch of salt until smooth.

Pour the wet ingredients into the dry ingredients and mix until well combined and a sticky dough forms.

Transfer the mixture into the prepared baking pan, pressing down firmly into an even layer.
Place the pan in the freezer for about 1 hour, or until the bars are set.

Remove the pan from the freezer, lift the bars out using the parchment paper overhang, and place on a cutting board.

Using a sharp knife, cut into 10 equal bars.
Store the bars in an airtight container in the refrigerator for up to one week, or freeze for longer storage.
Nutrition
Calories:
220
kcal
Carbohydrates:
10
g
Protein:
14
g
Fat:
18
g
Fiber:
8
g