Welcome to a culinary journey where tradition meets innovation, and flavor embraces health. Today, we're delving into the delightful world of Keto Naan Bread, a recipe that's not only tantalizing to the taste buds but also perfectly aligned with your keto dietary needs. This Keto Naan Bread Recipe is a game-changer for anyone who loves the comfort of soft, fluffy bread without the carb overload.
Whether you're pairing it with a robust keto curry or enjoying it as a standalone treat, this naan is bound to become a staple in your low-carb repertoire.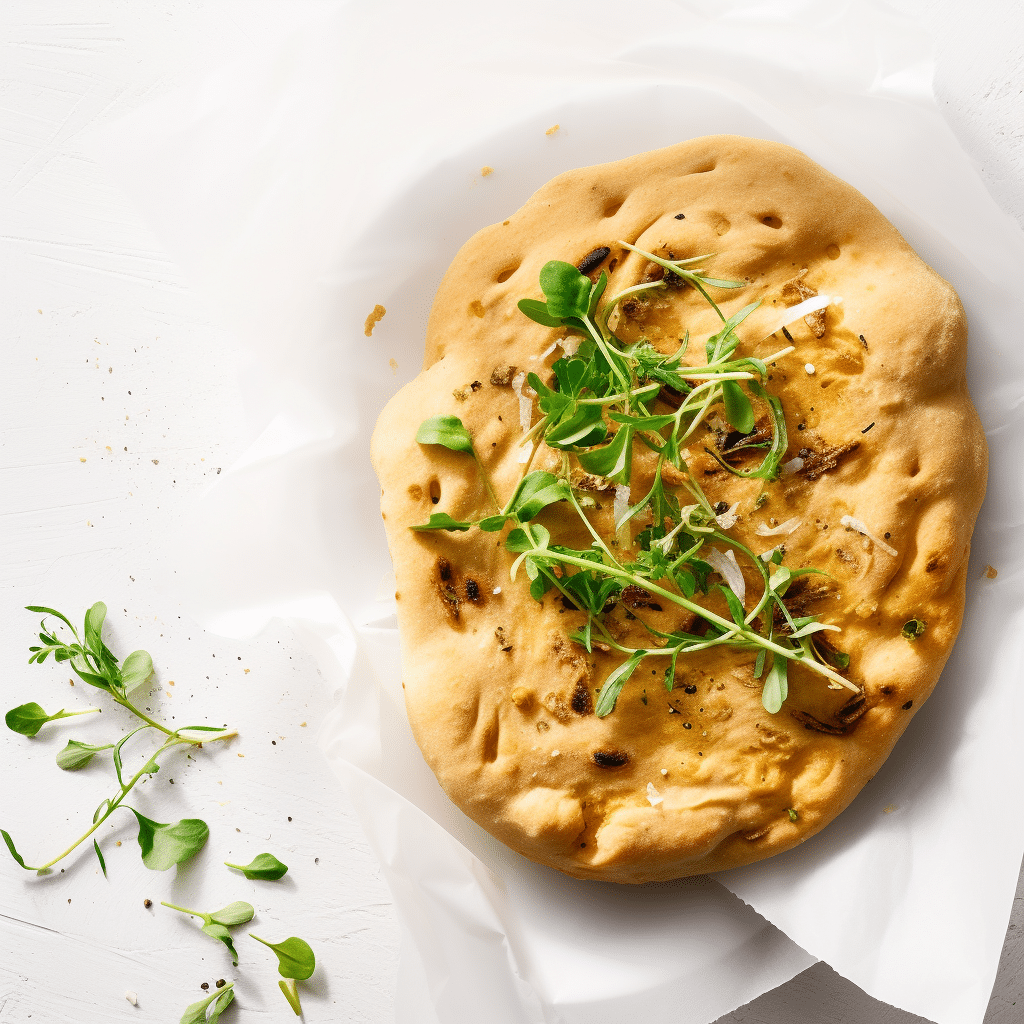 The inspiration behind this Keto Naan Bread Recipe stems from the desire to create a low-carb bread alternative that doesn't sacrifice flavor or texture. As someone who follows a ketogenic lifestyle, I understand the challenge of finding bread substitutes that genuinely satisfy. That's where this recipe shines, with its blend of almond and coconut flours to mimic the classic naan's heartiness, and the Greek yogurt to achieve that desirable chewiness.
Naan bread, traditionally a staple in Indian cuisine, is known for its pillowy softness and slightly chewy texture, often used as a vehicle to scoop up curries and dips. However, the usual high-carb content in regular naan can be a setback for those on a ketogenic diet. This Keto Naan Bread offers a solution: it's rich in healthy fats, moderate in protein, and low in net carbs, making it an excellent choice for maintaining ketosis.
With only 4g of net carbs per serving, this naan bread aligns with your keto goals while allowing you to indulge in the comforting familiarity of bread. The combination of almond and coconut flours not only reduces the carb count but also increases the fiber content, which is essential for digestive health. The addition of full-fat Greek yogurt provides a moist texture and a slight tang, reminiscent of traditional naan, while the xanthan gum ensures the bread maintains its shape and elasticity.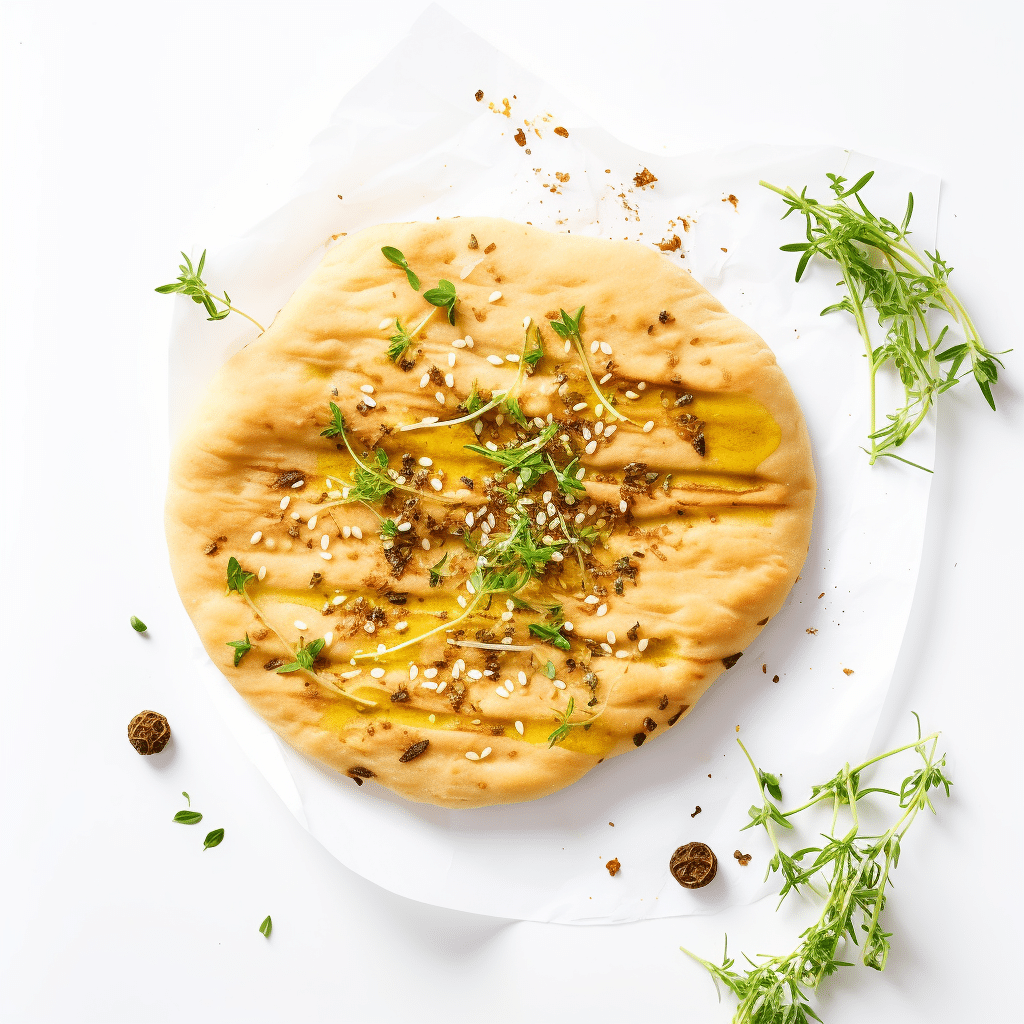 The Method
Creating the perfect Keto Naan Bread is an art that requires a blend of the right ingredients and technique. Here's a detailed step-by-step guide to ensure you achieve the best results:
Step 1: Start by thoroughly whisking the dry ingredients. This is crucial for avoiding clumps and ensuring that the rising agents, like baking powder, are evenly distributed throughout the flour. A uniform mixture is key to a consistent texture in your naan.
Step 2: When combining the wet ingredients, aim for a smooth, lump-free blend. The consistency of the Greek yogurt and egg mixture should resemble a creamy batter, which will help bind the dry ingredients together seamlessly.
Step 3: Introduce the wet ingredients to the dry mix gradually. Patience is your friend here, as it allows the flours to absorb the moisture evenly, preventing a sticky or overly wet dough. Adding water incrementally helps you control the dough's consistency, which should be pliable but not sticky.
Step 4: Dividing the dough into four portions ensures that each naan is the perfect individual serving size. When rolling out the dough, the parchment paper prevents sticking and allows you to achieve that classic, oval naan shape without adding extra carbs from flour dusting.
Step 5: The skillet's temperature is critical. Too hot, and the naan will burn on the outside before cooking through. Too cool, and it won't develop those characteristic bubbles or a golden-brown exterior. Aim for a medium heat and adjust as needed.
Step 6: Flipping the naan requires a gentle touch to keep its shape intact. Use a wide spatula and be swift yet careful to avoid deflating those beautiful bubbles that give the naan its texture.
Step 7: Cooking in batches allows you to focus on each naan, ensuring even cooking and perfect browning. Don't rush the process; good things come to those who wait.
Step 8: Serve the naan warm for the best experience, as it highlights the bread's softness and flavor. If storing, let them cool completely to prevent condensation, which can lead to sogginess.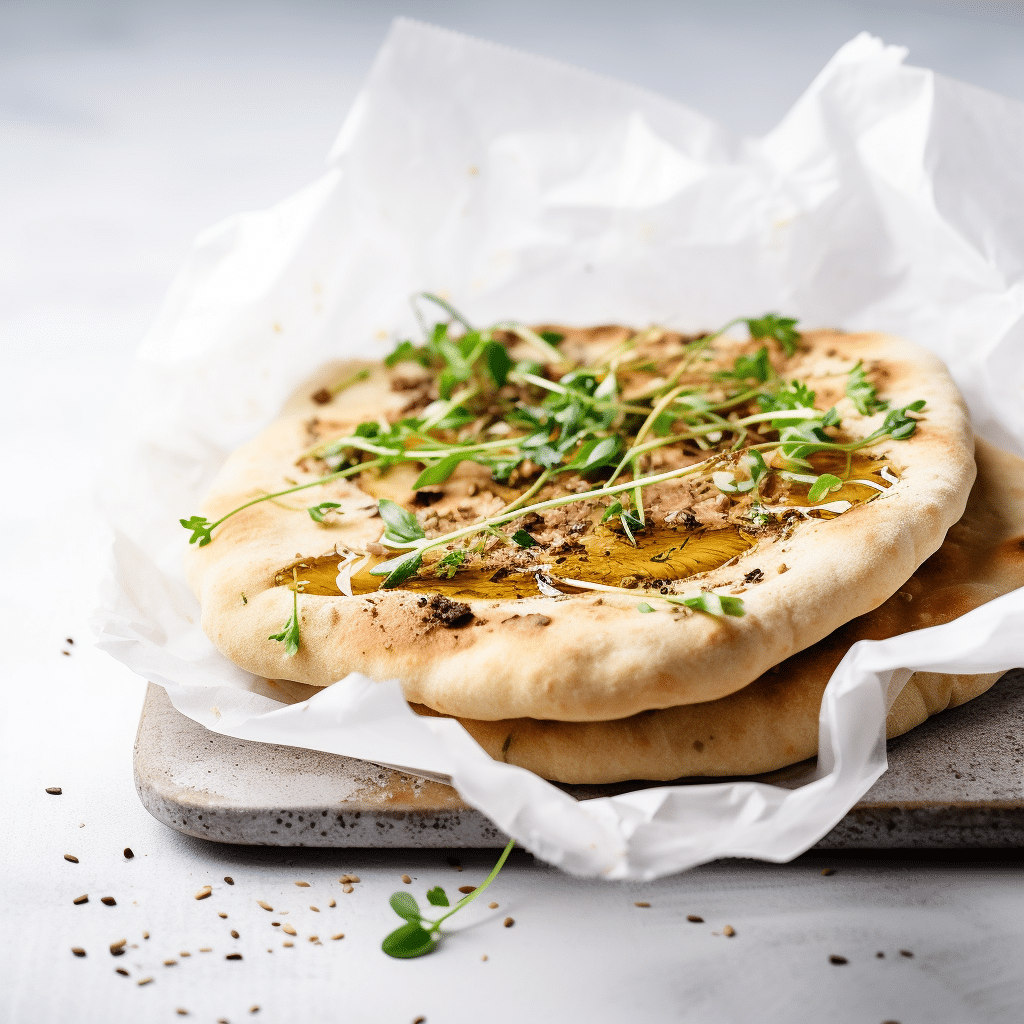 Variations
Herb and Garlic Naan
Enhance your Keto Naan with a blend of minced garlic and finely chopped fresh herbs such as cilantro, parsley, or dill. Mix these into the dough for a fragrant twist on the classic recipe.
Cheese-Stuffed Naan
For a decadent variation, add a filling of shredded mozzarella or crumbled feta cheese to the center of your naan before rolling it out. The cheese will melt as the naan cooks, creating a deliciously gooey center.
Spicy Jalapeño Naan
For those who enjoy a kick of heat, dice some jalapeños and knead them into the dough. The spice pairs wonderfully with the naan's mild flavor and adds a vibrant pop of color.
Substitutions
While the recipe is designed with keto-friendly ingredients in mind, here are some substitutions you can consider:
Almond Flour: If you have a nut allergy or prefer a different flour, sunflower seed flour is an excellent substitute for almond flour. It has a similar fat content and provides a neutral flavor.
Coconut Flour: Coconut flour can be replaced with an equal amount of ground psyllium husk, which will also help provide the naan with structure and fiber.
Greek Yogurt: For a dairy-free version, use coconut cream or a high-fat, unsweetened plant-based yogurt alternative. Keep in mind that this may slightly alter the flavor profile.
FAQ Section
Can I make this naan bread ahead of time?

Yes, you can prepare the naan ahead of time and store it in the refrigerator for up to a week or freeze it for longer shelf life. Reheat in a skillet or oven before serving.

Is this Keto Naan Bread vegan-friendly?

As it contains egg and Greek yogurt, it's not vegan-friendly. However, you can experiment with vegan substitutes like flax eggs and plant-based yogurt.

Can I bake this naan instead of cooking it in a skillet?

While traditionally naan is cooked in a skillet, you can bake it in the oven. Preheat to 350°F (175°C) and bake for 10-15 minutes or until golden.

How do I store leftover naan?

Wrap the naan in foil or place it in an airtight container. Store in the fridge for up to a week or freeze for up to 3 months.

Can I add toppings to this naan?

Absolutely! Feel free to sprinkle on some sesame seeds, chopped nuts, or cheese before cooking for added flavor and texture.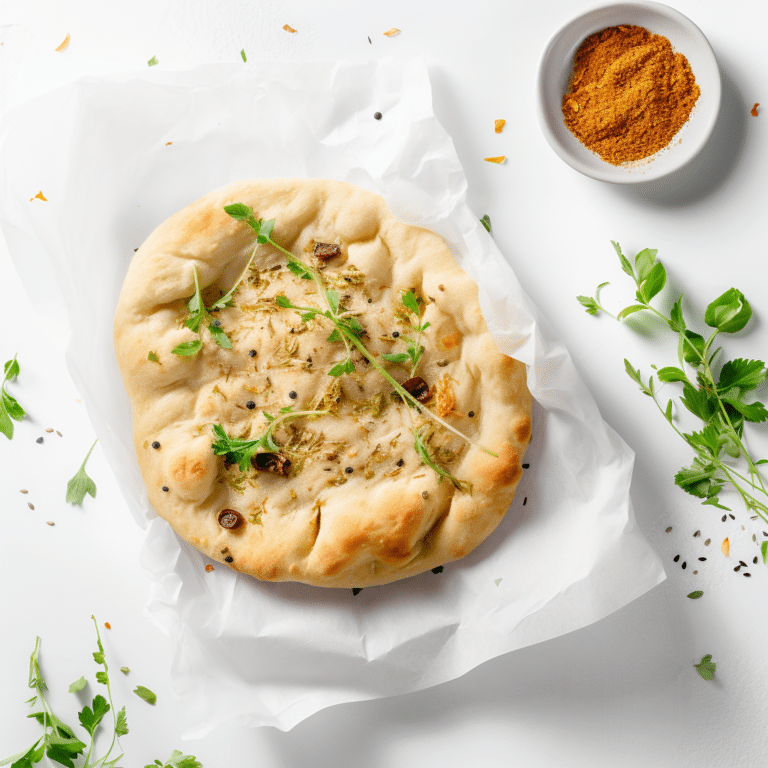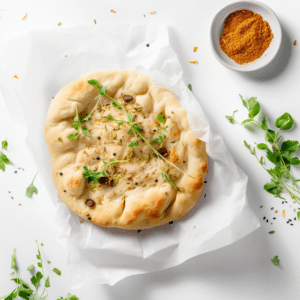 Ultimate Keto Naan Bread Recipe: Perfect Low Carb Indian Flatbread for Your Diet
Ingredients
1

cup

almond flour

96g / 3.4oz

¼

cup

coconut flour

30g / 1.06oz

½

tsp

xanthan gum

1.5g / 0.05oz

½

tsp

baking powder

2g / 0.07oz

¼

tsp

salt

1g / 0.035oz

¼

cup

full-fat Greek yogurt

60g / 2.1oz

1

large egg

beaten

2

tbsp

water

30ml / 1.01oz

1

tbsp

olive oil

15ml / 0.51oz, for cooking

Optional: garlic powder

herbs, or spices for flavor
Instructions
Begin by combining almond flour, coconut flour, xanthan gum, baking powder, and salt in a medium-sized bowl. Whisk these dry ingredients together to ensure an even mix.

In a separate bowl, mix together the full-fat Greek yogurt and the beaten egg. Stir thoroughly until you achieve a consistent blend.

Gradually incorporate the wet ingredients into the dry ingredients, stirring continuously to combine. Add the water incrementally to form a dough. If you're opting for additional flavor, fold in your choice of garlic powder, herbs, or spices at this stage.

Once the dough is formed, divide it into four equal portions. Roll each portion into a ball and then flatten it to create a disk.

Place each disk between two pieces of parchment paper and roll out into the shape of a naan, about 1/4 inch thick.

Preheat a non-stick skillet over medium heat with a tablespoon of olive oil. Once hot, gently place one piece of rolled-out dough onto the skillet. Cook until the surface begins to bubble and the bottom turns a golden brown, about 2-3 minutes.

Carefully flip the naan and cook for an additional 2-3 minutes on the other side, until fully cooked through and golden brown.

Repeat the process with the remaining dough, adding more oil to the skillet as needed.

Once all naan breads are cooked, they can be served immediately with your favorite keto-friendly dishes, or stored in the refrigerator for later use.

Nutrition
Calories:
260
kcal
Carbohydrates:
8
g
Protein:
12
g
Fat:
20
g
Fiber:
4
g