A Scrumptious Start to Your Day: Creamy Keto Porridge
Imagine starting your morning with a warm, comforting bowl that satisfies your oatmeal cravings while aligning perfectly with your keto lifestyle. Our Creamy Keto Porridge is not just a breakfast option; it's a delightful experience for anyone on a low-carb, high-fat diet.
his porridge is a game-changer, offering the creamy texture and heartiness of traditional oatmeal without the carb overload. Its rich consistency and customizable flavor profile make it a top choice for those seeking a nutritious and delicious keto-friendly breakfast. Packed with fiber and healthy fats, this porridge will keep you fueled and content until your next meal. Let's explore why this keto porridge recipe is a must-try and how it can transform your breakfast routine!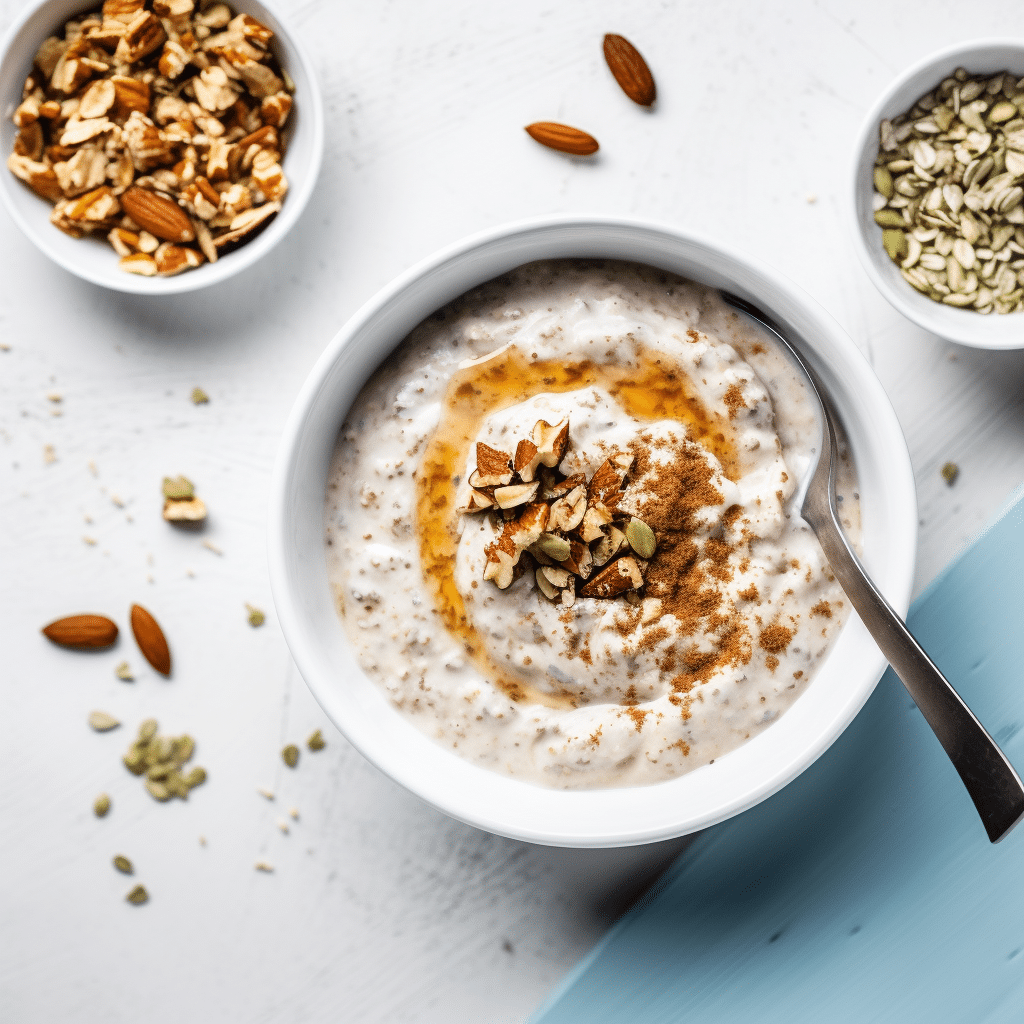 The Story Behind the Creamy Keto Porridge
As a passionate keto dieter, I've always been on the lookout for breakfast options that not only align with my nutritional goals but also provide a sense of comfort and satisfaction. The inspiration for this Creamy Keto Porridge comes from a deep-rooted love for the traditional morning oatmeal, combined with the need to maintain a ketogenic lifestyle. After much experimentation, I discovered the perfect blend of almond flour, coconut flour, flaxseed meal, and chia seeds to create a porridge that is not only low in carbs but also rich in fiber and essential fats.
This keto porridge recipe is a testament to the versatility and adaptability of keto cooking. It demonstrates that with the right ingredients and techniques, you can recreate the flavors and textures you love, without compromising on your health goals. The combination of almond milk and heavy cream in this recipe provides a luxurious creaminess, while the chia seeds add a delightful texture reminiscent of traditional porridge. The erythritol and cinnamon lend a gentle sweetness and warmth, making each spoonful an indulgent yet guilt-free pleasure.
Why is this porridge an excellent choice for keto dieters? It's simple. This porridge is designed to keep your body in a state of ketosis, thanks to its high-fat and low-net-carb content. The flaxseed meal and chia seeds are not only low in digestible carbs but also high in omega-3 fatty acids, which are beneficial for heart health and inflammation. The almond and coconut flours provide a source of healthy fats and are gluten-free, making them ideal for those with gluten sensitivities. Overall, this porridge is a nourishing and satisfying way to start your day, keeping you on track with your keto goals.
Mastering the Art of Keto Porridge
The secret to creating the perfect bowl of Creamy Keto Porridge lies in the method. Begin by combining your dry ingredients – the almond flour, coconut flour, flaxseed meal, and chia seeds – in a medium-sized saucepan. It's crucial to mix these thoroughly to avoid any lumps, which could result in an uneven texture.
Next, incorporate the unsweetened almond milk and heavy cream, stirring constantly. This slow integration is essential for achieving that creamy consistency. As you transfer the saucepan to medium heat, maintain a gentle simmer and keep stirring. This not only prevents sticking but also helps the porridge to thicken evenly.
When the porridge starts to thicken, lower the heat and let it simmer for another 5-7 minutes. This is where patience pays off, as the porridge reaches the perfect consistency. It's also the perfect time to add the erythritol, cinnamon, and a pinch of salt. Remember, the sweetness and spice levels are personal, so adjust to taste.
Once off the heat, allow the porridge to sit for a minute – this is when it truly thickens to its final glorious state. Serve it hot, and don't forget to add your favorite keto-friendly toppings for an extra layer of flavor and texture. Whether you prefer a dollop of nut butter or a sprinkle of seeds, these finishing touches can elevate your porridge to new heights.
Remember, the key to a great keto porridge is in the details. Keep a watchful eye on the heat – too high, and you risk burning the bottom; too low, and your porridge might not thicken properly. Stirring regularly is not just a suggestion, it's a requirement for that smooth, creamy texture we're aiming for. And finally, the resting time is not to be skipped; it allows the porridge to develop its final, spoonable consistency.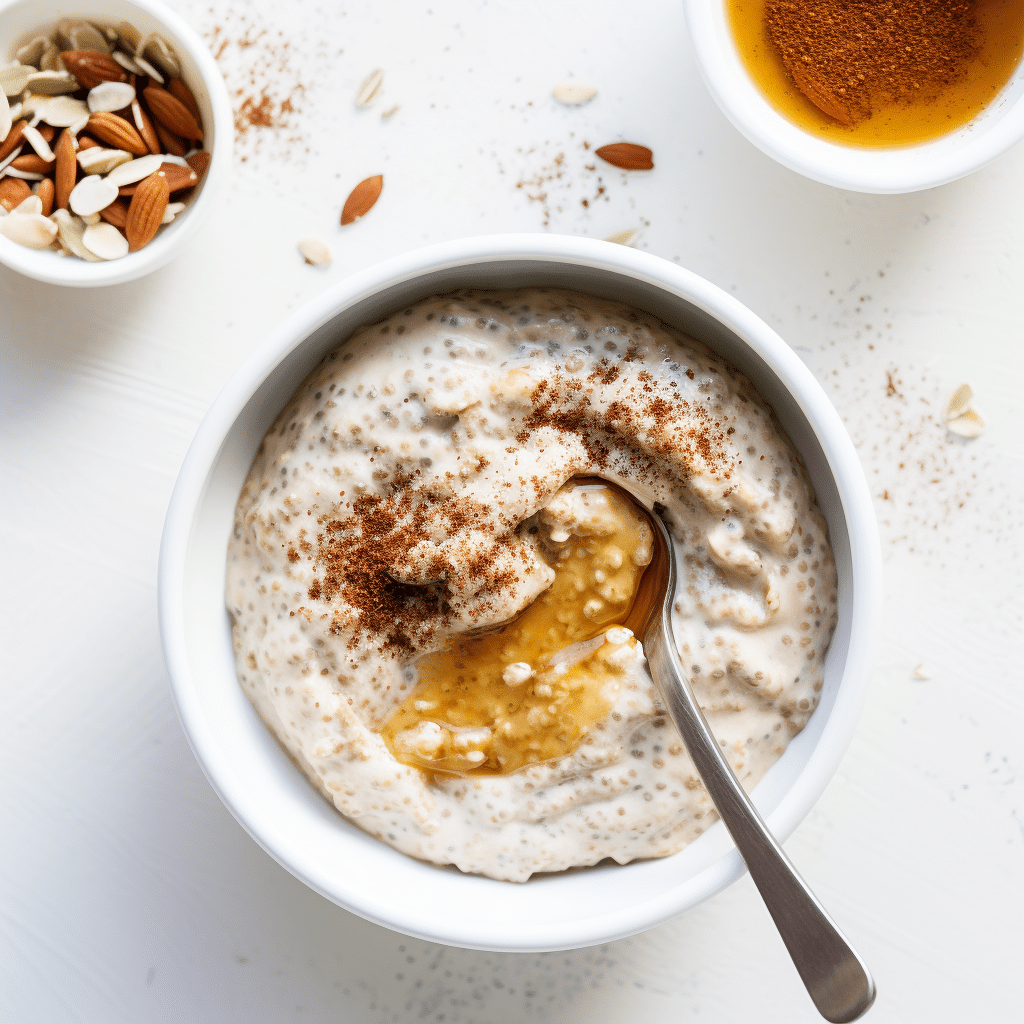 Delicious Keto Porridge Variations
Chocolate Almond Delight
For those with a love for all things chocolate, transform your porridge by adding a tablespoon of unsweetened cocoa powder during the cooking process. The rich chocolate flavor pairs beautifully with the nuttiness of the almond flour. Top with slivered almonds and a few keto-friendly chocolate chips for an indulgent breakfast treat.
Pumpkin Spice Porridge
Embrace the flavors of fall any time of the year with a pumpkin spice twist. Mix in two tablespoons of pure pumpkin puree and a teaspoon of pumpkin spice blend before you start cooking. This variation not only adds a festive touch but also infuses your porridge with an extra dose of nutrients.
Berry Coconut Bliss
Turn your porridge into a fruity delight by adding a handful of fresh or frozen berries to the mixture after it has thickened. The natural sweetness and tartness of the berries complement the creaminess of the coconut flour and heavy cream, making for a refreshing and vibrant start to your day.
Ingredient Substitutions for Keto Porridge
Understanding that everyone's pantry and dietary preferences vary, here are some ingredient substitutions that can help tailor this porridge to your needs while remaining keto-friendly:
Almond Flour: If you're allergic to almonds or simply don't have almond flour on hand, you can substitute it with sunflower seed flour or another nut flour of your choice. Keep in mind that different flours may have varying absorbency rates, so you may need to adjust the liquid content slightly.
Heavy Cream: For those who are dairy-free, coconut cream makes an excellent substitute for heavy cream. It maintains the richness of the porridge while adding a subtle coconut flavor.
Erythritol: If erythritol isn't your preferred sweetener, you can easily swap it out for stevia, monk fruit sweetener, or any other keto-friendly sweetener. Be sure to adjust the quantity based on the sweetness level and conversion rate of your chosen substitute.
Frequently Asked Questions About Keto Porridge
When it comes to keto porridge, I often get asked a variety of questions. Here are some of the most common queries and my insights to help you perfect your porridge-making skills:
Can I make this porridge ahead of time?
Yes, you can prepare this porridge ahead of time and store it in the refrigerator for up to 3 days. Reheat it on the stove or in the microwave, adding a little extra almond milk if needed to loosen the consistency.
Is this porridge suitable for those with nut allergies?
If you have a nut allergy, you can substitute almond flour with sunflower seed flour and use coconut milk instead of almond milk. Always ensure that your substitutions are safe for your specific allergies.
Can I use regular milk instead of almond milk?
While regular milk can be used, it is higher in carbs and may not be suitable for a strict keto diet. For a low-carb alternative, consider other nut milks or hemp milk.
How can I increase the protein content in this porridge?
To boost the protein content, consider adding a scoop of your favorite keto-friendly protein powder or collagen peptides into the porridge during the cooking process.
Is this porridge vegan-friendly?
This recipe can be made vegan by using coconut cream instead of heavy cream and a plant-based sweetener. Ensure all your toppings and add-ins are also vegan.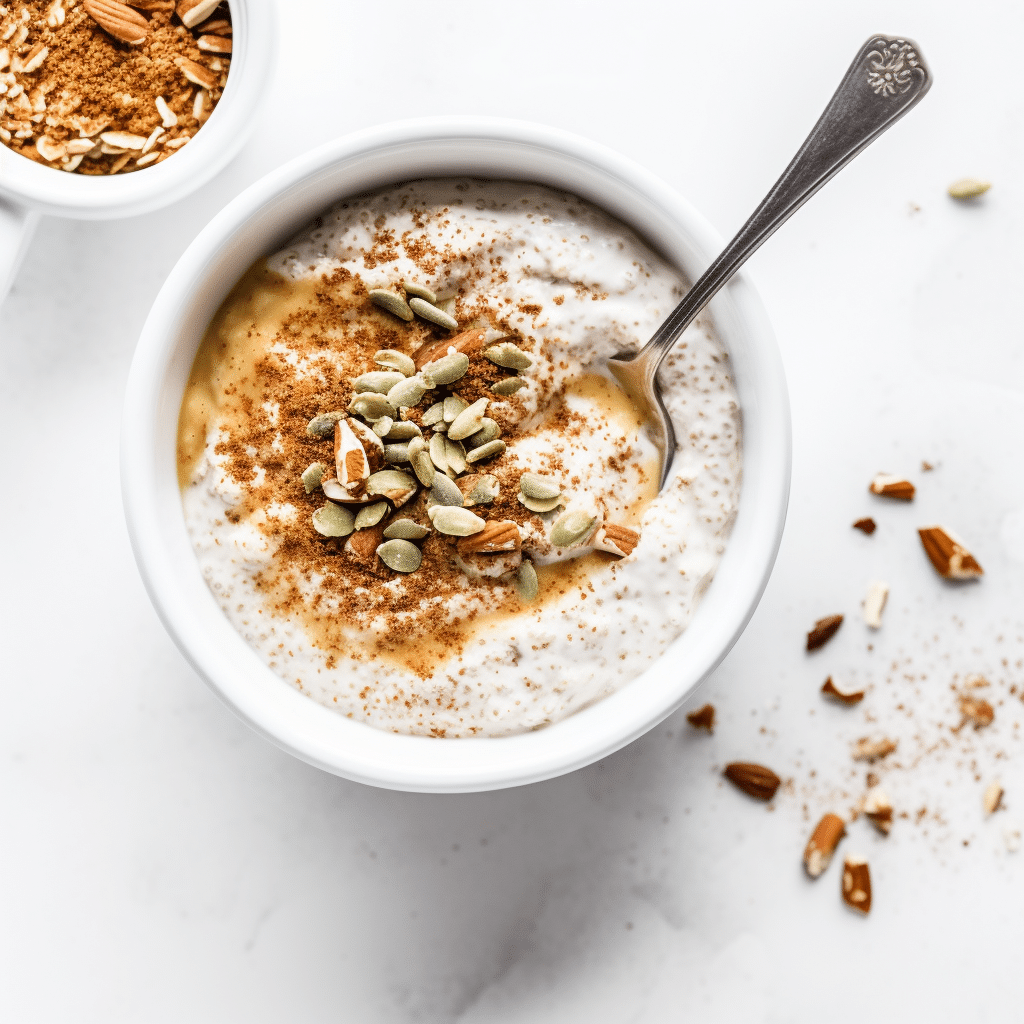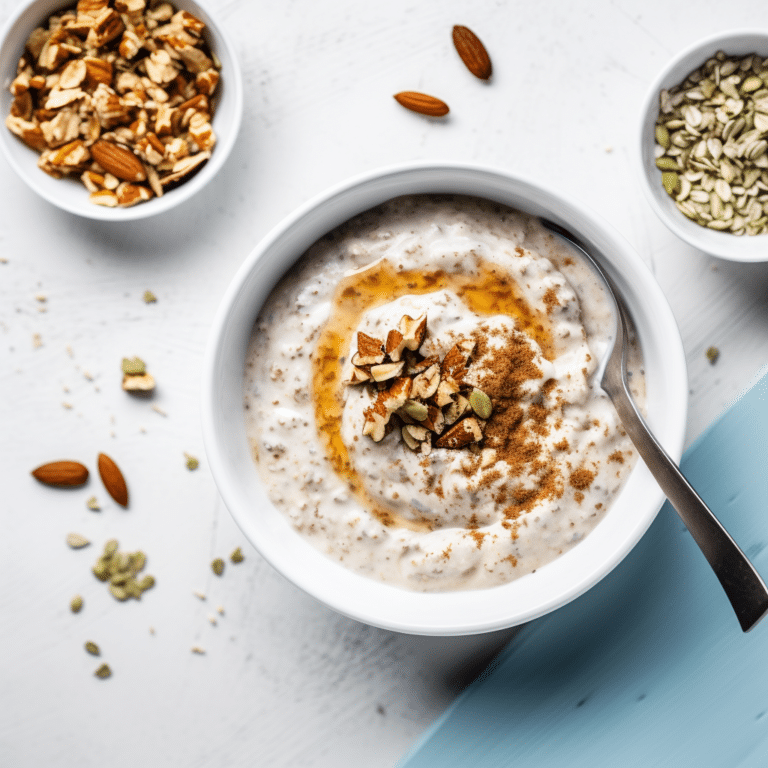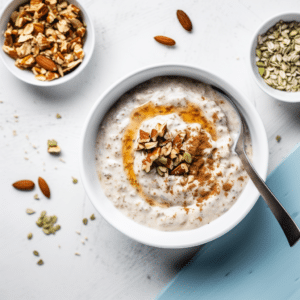 Easy and Delicious Keto Porridge Recipe to Kickstart Your Morning
Dive into a warm, comforting bowl of Creamy Keto Porridge, a low-carb breakfast staple that mimics the classic oatmeal experience without the carbs. Packed with healthy fats and fiber, this porridge will keep you satiated throughout the morning.
Ingredients
¼

cup

1 oz / 28 g almond flour

2

tbsp

1 oz / 28 g coconut flour

1

tbsp

0.5 oz / 14 g flaxseed meal

1

tbsp

0.5 oz / 14 g chia seeds

½

cup

4 fl oz / 118 ml unsweetened almond milk

½

cup

4 fl oz / 118 ml heavy cream

1

tbsp

0.5 oz / 14 g erythritol or other keto-friendly sweetener

½

tsp

0.1 oz / 2 g cinnamon

Pinch

of salt
Instructions
In a medium-sized saucepan, combine almond flour, coconut flour, flaxseed meal, and chia seeds. Mix well to combine.

Add the unsweetened almond milk and heavy cream to the saucepan, stirring constantly to ensure there are no lumps.

Place the saucepan over medium heat and bring the mixture to a gentle simmer. Keep stirring regularly to prevent sticking and to help the porridge thicken.

Once the porridge begins to thicken, reduce the heat to low and continue to cook for an additional 5-7 minutes, or until it reaches your desired consistency.

Stir in the erythritol, cinnamon, and a pinch of salt, adjusting the sweetness and spices to taste.

Remove from heat and let the porridge sit for a minute to further thicken.

Serve hot with your choice of keto-friendly toppings such as nuts, seeds, or a dollop of nut butter.
Nutrition
Calories:
325
kcal
Carbohydrates:
12
g
Protein:
11
g
Fat:
28
g
Fiber:
8
g