A Delicious Twist on a Classic: Keto 'Apple' Pie Recipe
Imagine the warm, comforting embrace of a classic apple pie, with its golden crust and sweetly spiced filling, now made keto-friendly. This Keto Apple Pie recipe brings the traditional dessert back to your table without the carb overload. Crafted with a flaky, buttery crust and a clever zucchini filling that astonishingly mimics the taste and texture of apples, this pie is a testament to the versatility of keto cooking. Perfect for those on a low-carb diet, it ensures you can indulge in the flavors of fall any time of the year. Discover how this guilt-free treat can satisfy your sweet tooth while keeping your macros in check.
The Story Behind This Keto-Friendly Delight
There's nothing quite like the aroma of a freshly baked apple pie, a scent that evokes nostalgia and comfort. However, for those of us following a ketogenic diet, traditional apple pie is off-limits due to its high carbohydrate content. This is where ingenuity comes into play. My Keto Apple Pie recipe is born out of a desire to recreate this beloved dessert while adhering to keto principles. The secret lies in substituting high-carb apples with zucchini, which, when cooked with lemon juice and warm spices, transform into a filling so reminiscent of apple pie, you'll be pleasantly surprised.
As a keto enthusiast, I've been perfecting this recipe to ensure it delivers not just in taste but also in texture and appearance. The crust, made with almond and coconut flour, provides a sturdy yet flaky base that rivals any traditional pie crust. The filling, sweetened with erythritol, a keto-friendly sweetener, achieves the perfect balance of sweetness without the sugar spike. This pie is not just a dessert; it's a celebration of how keto can be creatively satisfying.
With only 10 grams of carbs per serving, this pie fits seamlessly into a keto diet, allowing you to enjoy the richness of a homemade pie without compromising your nutritional goals. The high-fat content from the butter and almond flour ensures you're getting that essential keto energy source, while the zucchini and spices provide a modest but important amount of fiber and antioxidants. This Keto Apple Pie is more than a recipe; it's a testament to the fact that with a little creativity, the keto diet can be deliciously diverse.
Mastering the Keto Apple Pie: Step-by-Step Instructions

Creating this keto masterpiece is easier than you might think, but there are a few chef's tips to ensure your pie turns out perfectly. Let's walk through the process, step by step:
For the crust: Start by combining the almond and coconut flours with salt in a large bowl. When adding the chilled, cubed butter, work quickly to avoid warming it with your hands, as this could affect the flakiness of the crust. After whisking the egg and incorporating it into the mixture, be careful not to overwork the dough. Press it gently into your pie pan, ensuring an even thickness throughout for a consistent bake.
For the filling: The transformation of zucchini into a faux-apple filling is nothing short of magical. Cook the zucchini with lemon juice until just tender. It's crucial not to overcook it at this stage, or you'll lose the texture that mimics apple slices. When adding the erythritol and spices, taste as you go. The sweetness and spice level can be adjusted to your preference. The xanthan gum is your thickening agent, so sprinkle it evenly to avoid clumps and achieve that glossy, thickened filling that's characteristic of a great apple pie.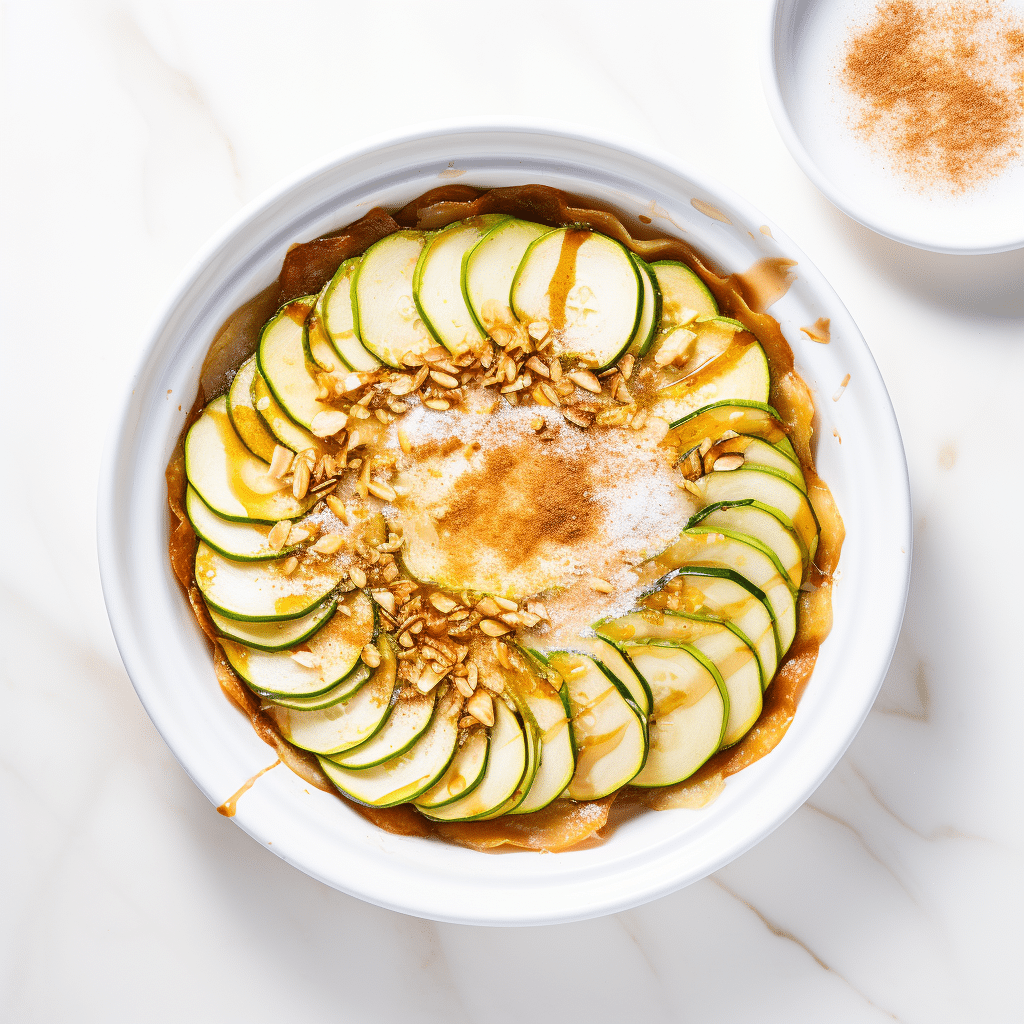 Assembling the pie is straightforward, but don't rush the cooling process after baking. Allowing the pie to cool ensures the filling sets and slices cleanly. Serve this pie with a dollop of keto-friendly whipped cream or a scoop of sugar-free vanilla ice cream for an extra indulgent treat.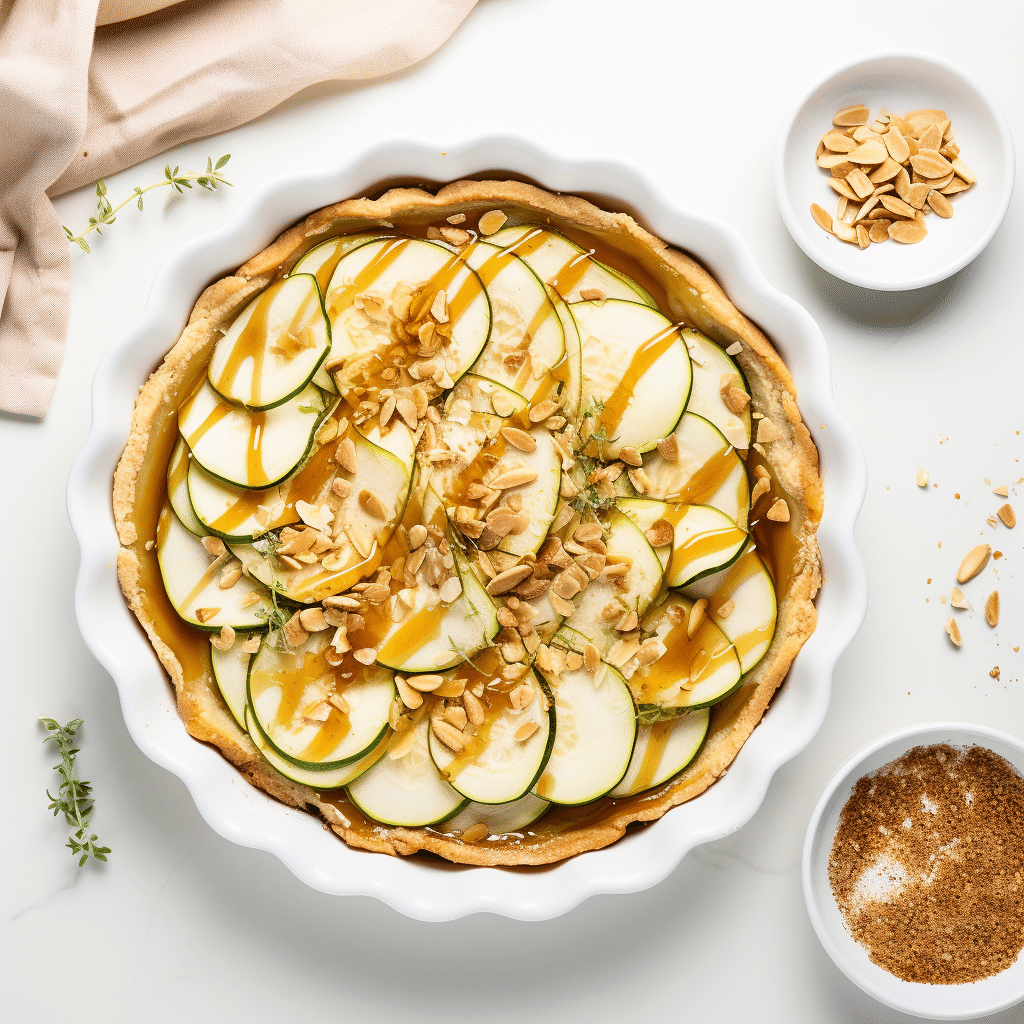 Exciting Variations to Keep It Fresh
Keto Salted Caramel Apple Pie
For a decadent twist, drizzle a homemade keto caramel sauce over the pie. Make the sauce by simmering butter, heavy cream, and a keto sweetener until thickened, then finish with a pinch of sea salt.
Berry Apple Keto Pie
Add a burst of antioxidants by incorporating raspberries or blackberries into the zucchini filling. The tartness of the berries complements the sweetness beautifully.
Chai Spice Keto Apple Pie
Infuse your pie with the warm, aromatic spices found in chai tea. Cardamom, cloves, and black pepper offer a complex flavor profile that's perfect for the cooler months.
Ingredient Substitutions for Every Keto Pantry
Not everyone has the same ingredients on hand, so here are some substitutions to keep your pie-making experience stress-free:
Almond Flour: If you're allergic to almonds, sunflower seed flour is an excellent alternative with a similar fat content and low carbs.
Coconut Flour: While unique in its properties, in a pinch, additional almond flour can be used. Just remember that coconut flour absorbs more liquid, so you'll need to adjust the quantity.
Erythritol: Other keto sweeteners like monk fruit or stevia can be used, but be mindful of their conversion rates as they can be sweeter than erythritol.
Frequently Asked Questions
Can I use actual apples in this recipe? While apples are higher in carbs, using a small amount mixed with zucchini can be a compromise if you have room in your carb count for the day.
Is this pie crust versatile? Absolutely! You can use this crust recipe for any keto pie, sweet or savory.
How do I store leftovers? Store your pie in the refrigerator for up to 5 days. It can be enjoyed cold or reheated in the oven.
Can I freeze this pie? Yes, this pie freezes well. Wrap it tightly and freeze for up to 3 months. Thaw in the fridge before reheating.
Is there a dairy-free option for the crust? You can substitute the butter with coconut oil or a dairy-free butter alternative to keep it dairy-free.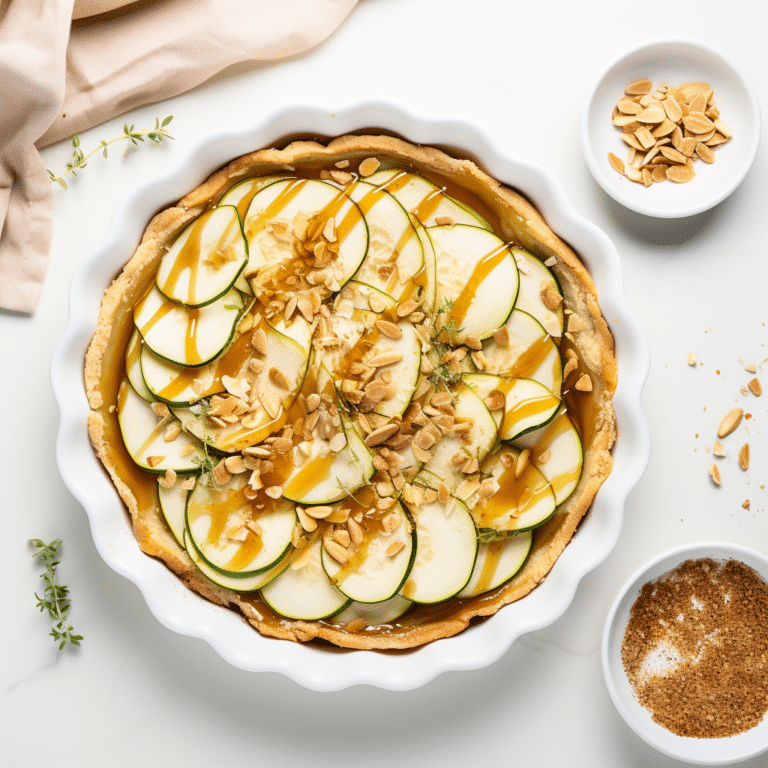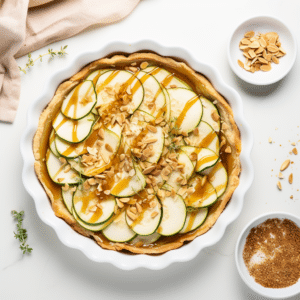 Unbelievable Keto 'Apple' Pie Recipe: Tasty, Low Carb & Easy to Make!
Indulge in a classic dessert without the guilt with this delicious Keto Apple Pie recipe. Featuring a flaky, buttery crust and a sweet, cinnamon-spiced zucchini filling that mimics the taste and texture of apples, it's the perfect treat for anyone following a low-carb lifestyle
Ingredients
Crust:

1 ½

cups

almond flour

150g / 5.3oz

⅓

cup

coconut flour

40g / 1.4oz

½

cup

unsalted butter

chilled and cubed (113g / 4oz)

1

large egg

¼

teaspoon

salt

Filling:

4

cups

peeled and chopped zucchini

about 4 medium zucchinis, 900g / 2lbs

1

tablespoon

lemon juice

15ml

⅔

cup

granulated erythritol

128g / 4.5oz

1

teaspoon

ground cinnamon

¼

teaspoon

ground nutmeg

1

teaspoon

vanilla extract

5ml

1

tablespoon

unsalted butter

14g / 0.5oz

1

tablespoon

of xanthan gum

8g / 0.28oz
Instructions
Preheat your oven to 350°F (175°C).

Make the crust by combining almond flour, coconut flour, and salt in a large bowl.

Add chilled, cubed butter to the flour mixture and blend until it resembles coarse crumbs.

Whisk the egg in a separate bowl and mix it into the flour and butter mixture until a dough forms.

Press the dough into a 9-inch pie pan, covering the bottom and sides evenly. Prick the bottom with a fork and bake for 10 minutes. Remove and let cool.

For the filling, cook chopped zucchini and lemon juice in a saucepan over medium heat until tender, about 5 minutes.

Add erythritol, cinnamon, nutmeg, and vanilla extract. Sprinkle xanthan gum over and stir well. Cook for 5 more minutes until thickened.

Pour the zucchini mixture into the pre-baked crust, dot with butter, and bake in the oven.

Bake for 30-35 minutes or until the crust is golden and the filling is bubbly.

Let the pie cool before slicing to set the filling. Serve and enjoy your Keto Apple Pie!
Nutrition
Calories:
320
kcal
Carbohydrates:
10
g
Protein:
7
g
Fat:
28
g
Fiber:
2
g
Sugar:
2
g