Embarking on a keto journey doesn't mean you have to sacrifice taste or variety in your meals. If you're craving something that's both nutritious and satisfying, look no further than this Keto Avocado Chicken Wrap recipe.
This dish is a perfect example of how a keto diet can be diverse and delicious. Each wrap is a harmony of creamy avocado, tender chicken, and a perfect blend of spices, all nestled within a homemade, low-carb wrap that will delight your taste buds. Not only is this recipe a great fit for your low-carb lifestyle, but it's also packed with healthy fats and protein to keep you energized and satiated.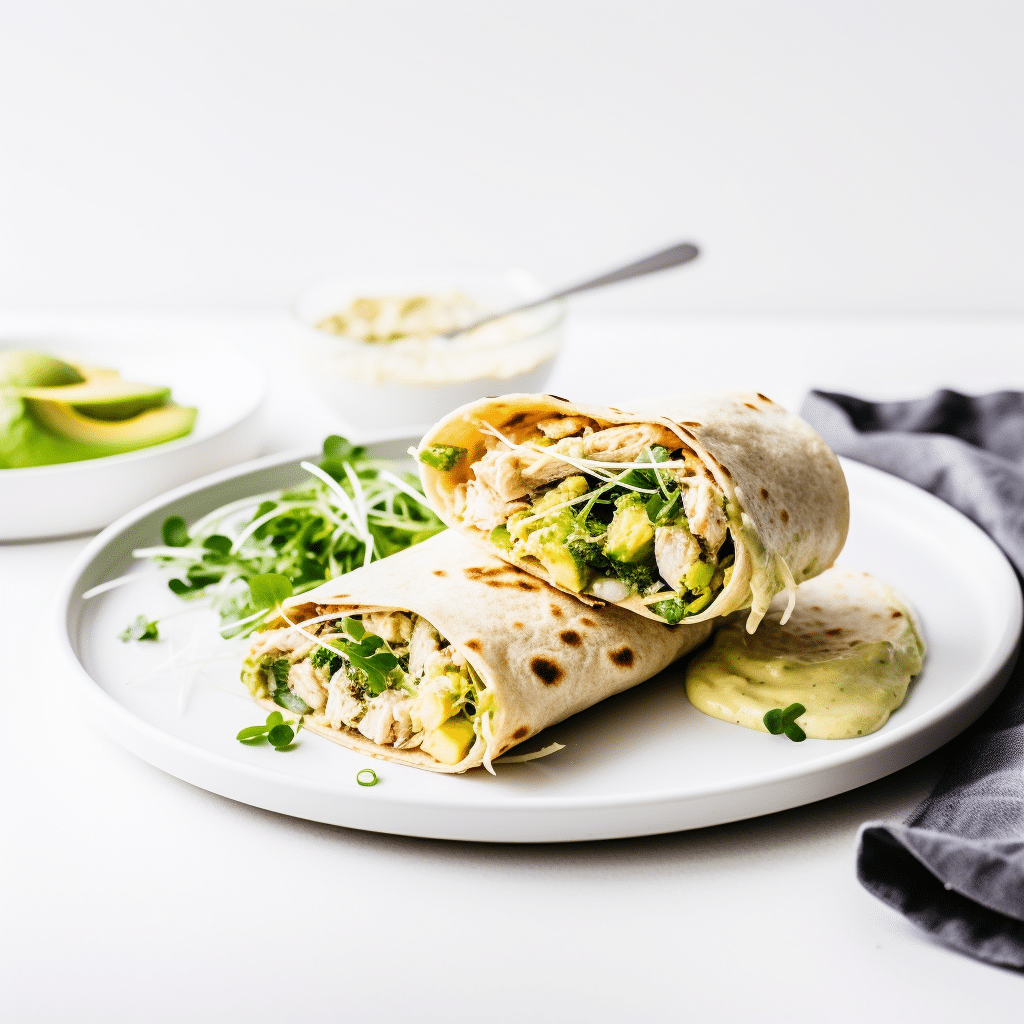 The Story Behind Keto Avocado Chicken Wraps
My journey with the Keto Avocado Chicken Wraps began as a mission to craft a meal that was not only fitting for the ketogenic diet but also bursting with flavor and textures.
The inspiration came from traditional wraps, which are often high in carbs and not suitable for a keto lifestyle. I wanted to recreate that experience without the guilt, focusing on nutrient-dense ingredients that could provide the same satisfaction.
These wraps are a testament to the versatility of keto cooking. By using eggs and coconut flour, we create a wrap that's low in carbs but high in fiber and healthy fats. The addition of almond milk ensures the wrap is tender, while garlic and onion powders bring a depth of flavor that complements the filling beautifully.
As for the filling, chicken and avocado are a match made in heaven. The chicken provides lean protein, essential for muscle repair and maintenance, while the avocado offers a dose of heart-healthy monounsaturated fats.
These fats are not only good for your heart but also help to keep you full, making these wraps an excellent option for a satisfying meal that aligns with your keto goals.
The beauty of this recipe lies in its simplicity and the quality of its ingredients. Each wrap contains about 4 grams of net carbs, making it an ideal choice for those on a strict ketogenic diet. The high content of healthy fats and moderate protein also ensures that you stay within your daily macronutrient limits without feeling deprived.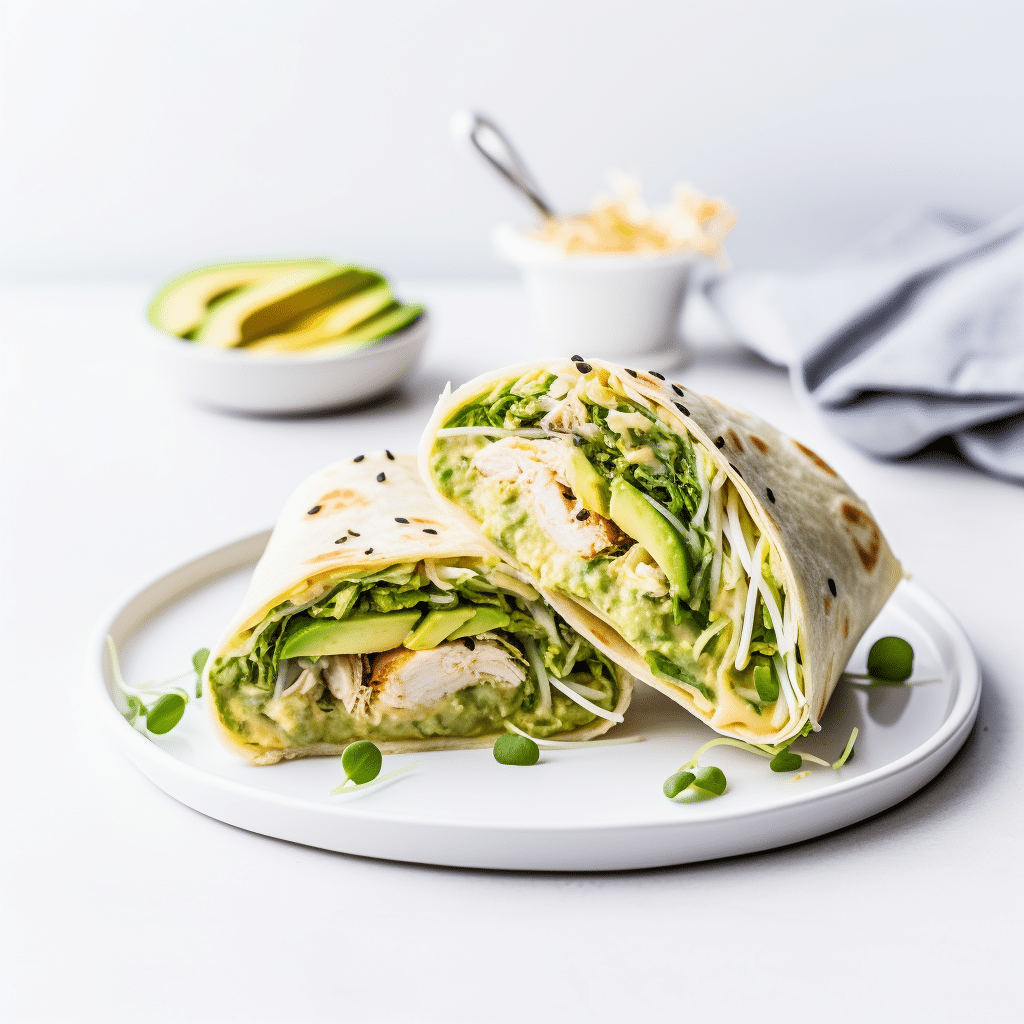 Mastering the Keto Wrap: Step-by-Step Guide
Creating the perfect Keto Avocado Chicken Wrap is an art that requires a bit of finesse and attention to detail. Here's how you can achieve the best results:
Whisking the Eggs: Start by cracking the eggs into a medium-sized mixing bowl. Whisking is crucial as it incorporates air and ensures a light, fluffy texture for your wraps. Make sure to combine the yolks and whites thoroughly for a smooth batter.
Creating the Batter: Add the coconut flour, unsweetened almond milk, and spices to the eggs. Coconut flour can be quite absorbent, so mix steadily to avoid clumps. The batter should be smooth and slightly thick, akin to traditional crepe batter.
Cooking the Wraps: Heat your non-stick skillet over medium heat. A well-seasoned cast iron pan can also work if you prefer. Pour a quarter of the batter into the skillet, tilting it to spread evenly. Watch for the edges to lift, indicating it's time to flip. The wrap should be golden and pliable, not crispy.
Assembling the Wraps: Lay out the cooked wraps and distribute the chicken, avocado, and cheese evenly. The warmth of the wraps will start to melt the cheese, creating a gooey, delicious texture. Sprinkle with cilantro to add a fresh, herby note that cuts through the richness.
Rolling and Serving: Rolling the wrap snugly ensures the fillings stay put. If you like a crispy exterior, return the wraps to the skillet for a quick sear. This not only melts the cheese further but also adds a delightful texture contrast to the soft interior.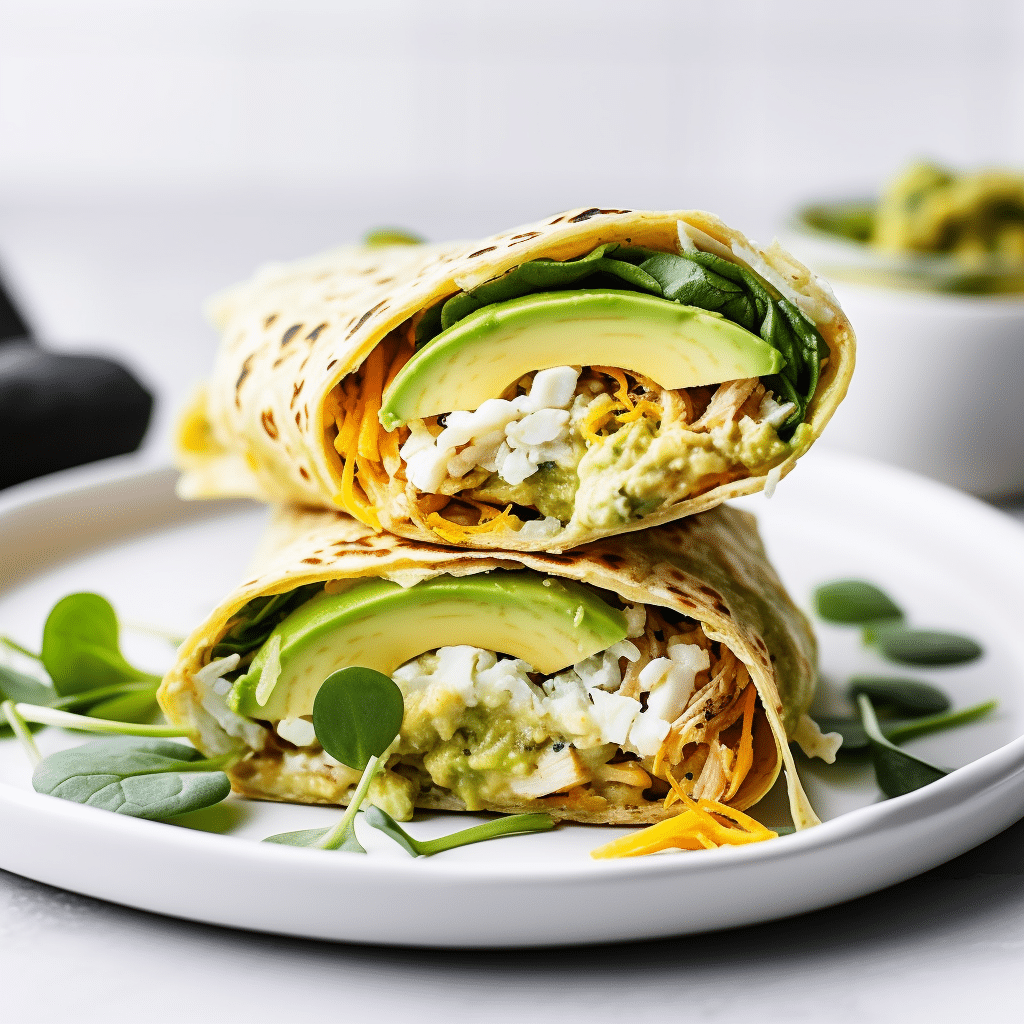 Exciting Keto Wrap Variations
Spicy Buffalo Chicken Keto Wrap
For those who love a bit of heat, toss your shredded chicken in a keto-friendly buffalo sauce before assembling your wraps. The spicy kick will complement the coolness of the avocado and the richness of the cheese.
Egg and Bacon Breakfast Keto Wrap
Transform this wrap into a hearty breakfast option by adding scrambled eggs and crispy bacon. The smokiness of the bacon pairs beautifully with the eggs and avocado for a satisfying start to your day.
Vegetarian Mediterranean Keto Wrap
Swap out the chicken for grilled zucchini, eggplant, and bell peppers. Add a dollop of keto-friendly tzatziki and a sprinkle of feta cheese for a Mediterranean twist that's bursting with flavor.
Keto Wrap Substitutions
While this recipe is designed to be keto-friendly, you may need to make substitutions based on dietary needs or personal preferences. Here are some options:
Almond Milk Alternatives
If you're allergic to nuts or prefer another option, coconut milk or heavy cream diluted with water can be excellent substitutes for unsweetened almond milk.
Dairy-Free Cheese Options
For a dairy-free version, nutritional yeast or a dairy-free cheese alternative can replace the cheddar cheese, providing a similar cheesy flavor without the lactose.
Herb Variations
If cilantro isn't to your taste, try using fresh parsley or dill for a different but equally delightful herby touch to your wraps.
Frequently Asked Questions
| Question | Answer |
| --- | --- |
| Can I make the wraps ahead of time? | Yes, the wraps can be made in advance and stored in the refrigerator for up to three days. Reheat in a skillet or microwave before serving. |
| How can I ensure my wraps don't break when rolling? | Make sure your wraps are not overcooked and remain flexible. Also, don't overfill them, and roll gently but firmly. |
| What can I use instead of coconut flour? | Almond flour can be used as an alternative to coconut flour, but you may need to adjust the quantity as it has a different absorption rate. |
| Is this recipe freezer-friendly? | The wraps can be frozen without fillings. Wrap them individually in parchment paper and store in a freezer-safe bag. |
| Can I add different vegetables to the filling? | Absolutely! Feel free to add low-carb vegetables like spinach, mushrooms, or bell peppers to customize your wrap. |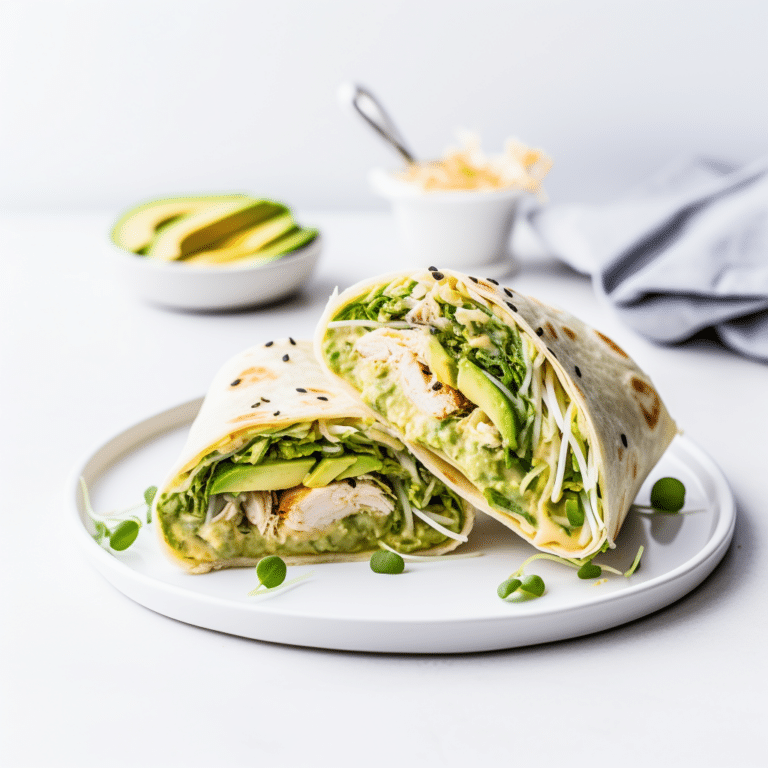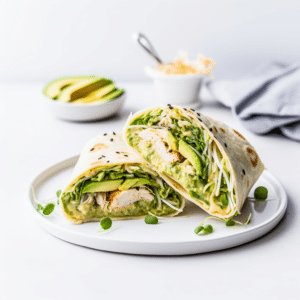 Ultimate Keto Wrap Recipe: Delicious & Easy-to-Make for Diet Success!
Dive into a delectable keto-friendly meal with these Keto Avocado Chicken Wraps. Packed with creamy avocado, succulent chicken, and a medley of herbs and spices, these wraps are not only low in carbs but also rich in healthy fats and protein—a perfect combination for maintaining your keto diet without sacrificing flavor.
Ingredients
4

large eggs

224g / 8oz

¼

cup

coconut flour

30g / 1.05oz

½

cup

unsweetened almond milk

120ml / 4.05fl oz

½

teaspoon

onion powder

1.5g / 0.05oz

½

teaspoon

garlic powder

1.5g / 0.05oz

¼

teaspoon

sea salt

1.5g / 0.05oz

¼

teaspoon

black pepper

0.5g / 0.02oz

1

cup

cooked and shredded chicken breast

140g / 5oz

1

ripe avocado

sliced (200g / 7oz)

½

cup

grated cheddar cheese

60g / 2.1oz

¼

cup

fresh cilantro

chopped (4g / 0.14oz)
Instructions
Begin by cracking the eggs into a medium-sized mixing bowl. Whisk them gently until the yolks and whites are well combined.

Add the coconut flour, unsweetened almond milk, garlic powder, onion powder, sea salt, and black pepper to the eggs. Stir the mixture thoroughly until the batter is smooth without any lumps.

Heat a non-stick skillet over medium heat. Pour a quarter of the batter into the skillet, tilting it to spread the batter evenly. Cook the wrap for about 2 minutes or until the edges start to lift, then flip and cook for an additional minute on the other side. Repeat this process with the remaining batter to make four wraps.

Once the wraps are cooked, lay them out and divide the shredded chicken, avocado slices, and grated cheddar cheese evenly among them. Sprinkle with chopped cilantro for an added burst of flavor.

Carefully roll up the wraps, tucking in the edges to hold the fillings inside. Serve immediately, or if you prefer, give them a quick sear in the skillet for a minute on each side to melt the cheese and warm the fillings.
Nutrition
Calories:
300
kcal
Carbohydrates:
8
g
Protein:
18
g
Fat:
25
g