When the weather cools down or you simply crave the comfort of a classic, nothing hits the spot quite like a warm bowl of tomato soup. But when you're committed to a ketogenic lifestyle, finding a version that doesn't compromise your carb count can be a challenge. That's where this keto tomato soup recipe comes in, offering all the rich, tangy flavors you love without the carbs that you don't.
recipe is more than just a soup; it's a hearty, satisfying experience that caters to your keto needs while tantalizing your taste buds. Perfect for a cozy night in or as a nutritious lunch option. Whilst not the strictest keto recipe, with a slightly higher amount of carbs, there's so much goodness here it's worth them all!

The Story Behind the Soup: A Keto Delight
There's something deeply nostalgic about tomato soup. For many, it harkens back to childhood days, but for those on a ketogenic diet, this comfort food needed a transformation. This keto tomato soup recipe is born from the desire to recreate those cherished memories without the carb-heavy ingredients that traditional recipes often contain. By carefully selecting keto-friendly components, this soup maintains the essence of the beloved classic while ensuring you stay within your daily carb limit.
Tomatoes, the star of this dish, are naturally low in carbohydrates, making them an excellent base for a keto-friendly soup. The addition of heavy cream not only contributes to the luxurious texture but also infuses the soup with healthy fats, which are central to a ketogenic diet. The inclusion of aromatic spices like basil and oregano not only enhance the flavor profile but also offer health benefits, such as anti-inflammatory properties.
As a dedicated keto dieter, I understand the importance of meal satisfaction in maintaining a long-term commitment to this lifestyle. This soup delivers on that front, providing a satiating and flavorful meal that can be enjoyed alone or paired with other keto dishes. It's the kind of recipe that makes you feel good about your food choices, knowing that you're nourishing your body without sacrificing taste or comfort.
Whether you're new to keto or a seasoned veteran, this tomato soup recipe is a testament to the versatility and adaptability of ketogenic cooking. It proves that with a little creativity and a focus on high-quality ingredients, you can enjoy all your favorite dishes while staying true to your health goals.

Mastering the Keto Tomato Soup: A Step-by-Step Guide
Step 1: Begin by melting the unsalted butter in a large pot over medium heat. The choice of butter is crucial here, as it adds richness to the soup without introducing additional carbs. As the butter melts, it will start to foam slightly; that's your cue to add the chopped onions. Cooking the onions until translucent is key, as it brings out their natural sweetness and provides a subtle depth of flavor to the soup.
Step 2: Once the onions are just right, it's time to stir in the minced garlic. Garlic is a powerhouse of flavor, and by cooking it for just a minute, you'll release its aromatic qualities without risking any bitterness that comes from overcooking.
Step 3: Now, introduce the diced tomatoes and tomato sauce to the pot. The no-sugar-added varieties are essential for keeping this dish keto-friendly. Let the mixture simmer gently, as this cooking time allows the tomatoes to break down and the flavors to marry beautifully.
Step 4: Next, pour in the chicken broth and heavy cream, followed by the dried herbs and spices. The heavy cream is a keto essential, providing the fat content needed for energy on this diet. Keep the soup at a gentle simmer, which ensures that the flavors develop without reducing the liquid too much.
Step 5: After the flavors have infused for 20 minutes, it's time to blend. An immersion blender is a keto cook's best friend, allowing you to puree the soup directly in the pot to your desired consistency. If you're using a traditional blender, be cautious of the steam and blend in batches for safety.
Step 6: Seasoning is where you can personalize the soup to your taste. Salt and pepper are the final flavor enhancers, while the Parmesan cheese adds a savory umami element that beautifully complements the tomato base.
Step 7: Serving the soup hot is non-negotiable. The warmth of the soup not only provides comfort but also ensures that the cheese is perfectly melted and the flavors are at their peak. A garnish of fresh basil adds a pop of color and a fresh twist to each bowl.
Throughout the cooking process, keep an eye on the consistency of the soup. If it thickens too much, feel free to add a bit more broth to achieve the perfect texture. Remember, patience is key; allow the soup to simmer slowly and the flavors will reward you with every spoonful.

Delicious Twists: Keto Tomato Soup Variations
Roasted Red Pepper Keto Tomato Soup
For a smoky twist, add roasted red peppers to the tomato mixture before blending. The peppers not only impart a beautiful color but also add a depth of flavor that complements the tomatoes wonderfully. Make sure to use peppers that are free of added sugars to keep it keto.
Spicy Keto Tomato Soup
If you enjoy a bit of heat, introduce a diced jalapeño or a pinch of red pepper flakes to the soup as it simmers. The spice will not only warm you up but also rev up your metabolism, which is a welcomed bonus on a keto diet.
Creamy Avocado Keto Tomato Soup
For an extra dose of healthy fats, blend in a ripe avocado once the soup is cooked. The avocado will make the soup even creamier and add a richness that's hard to beat. Plus, it's a fantastic way to incorporate more heart-healthy monounsaturated fats into your meal.
Customize Your Keto Tomato Soup: Ingredient Substitutions
Understanding the need for flexibility in the kitchen, especially when following a ketogenic diet, here are some ingredient substitutions that can help you tailor this recipe to your preferences or pantry availability.
Dairy-Free Option
For those who are dairy-sensitive or prefer to avoid dairy, you can substitute the butter with olive oil and the heavy cream with full-fat coconut milk. These substitutions will maintain the richness of the soup while keeping it dairy-free and keto-friendly.
Vegetarian Version
To make this soup suitable for vegetarians, simply swap out the chicken broth for vegetable broth. Ensure that the vegetable broth is low in carbs and free from added sugars to keep the soup within keto guidelines.
Herb Varieties
If you don't have dried basil or oregano on hand, feel free to use Italian seasoning as a substitute. This blend usually contains both herbs along with other complementary flavors, making it an easy one-stop swap.
Expert Answers to Your Keto Tomato Soup Queries
As a keto dieter, you're bound to have questions about how to make the most of this recipe. Here are some answers to common queries that might arise:
Can I use fresh tomatoes instead of canned?
Yes, you can use fresh tomatoes. Just be sure to weigh them to match the canned quantities and consider peeling and seeding them for a smoother soup.
Is this soup freezable?
Absolutely. This keto tomato soup freezes well. Just cool it down completely before transferring it to freezer-safe containers.
How can I thicken the soup without adding carbs?
If you find the soup too thin, allow it to simmer a bit longer to reduce, or add a small amount of xanthan gum for a carb-free thickening agent.
Can I add protein to this soup?
Definitely! Cooked chicken or shrimp can be a great addition to this soup for an extra protein boost.
What can I serve with this keto tomato soup?
Keto-friendly options like almond flour bread or a side salad with a high-fat dressing complement the soup perfectly.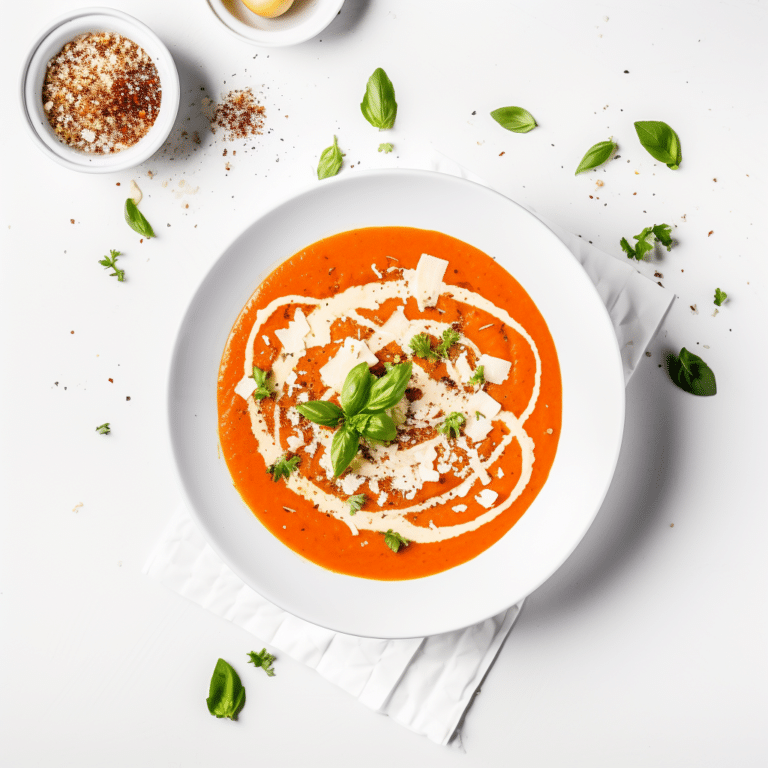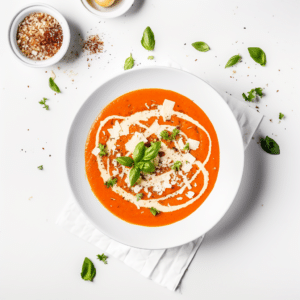 Mouthwatering Low Carb Tomato Soup Recipe: Perfect For Your Low-Carb Lifestyle
This keto tomato soup is a creamy and satisfying dish perfect for any low-carb lifestyle. It's made with fresh ingredients and aromatic spices, yielding a soup that's both nourishing and delicious. With its rich texture and robust flavor, it's a wonderful appetizer or a light meal on its own.
Ingredients
2

tablespoons

unsalted butter

28g

1

medium onion

chopped (about 150g)

3

cloves

garlic

minced (about 9g)

1

can

14.5 oz diced tomatoes, no sugar added (about 411g)

1

can

15 oz tomato sauce, no sugar added (about 425g)

2

cups

chicken broth

480ml

1

cup

heavy cream

240ml

1

teaspoon

dried basil

1g

½

teaspoon

dried oregano

0.5g

¼

teaspoon

cayenne pepper

0.5g

Salt and pepper to taste

¼

cup

grated Parmesan cheese

30g

Fresh basil for garnish

optional
Instructions
Melt the butter in a large pot over medium heat. Add the chopped onions and cook until they're translucent, about 3-4 minutes.

Stir in the minced garlic and cook for an additional minute until fragrant.

Pour in the diced tomatoes and tomato sauce. Stir to combine and let the mixture cook for about 5 minutes, allowing the flavors to meld together.

Add the chicken broth, heavy cream, dried basil, oregano, and cayenne pepper. Bring the mixture to a simmer, then reduce the heat to maintain a gentle simmer. Cook for 20 minutes, stirring occasionally.

After 20 minutes, use an immersion blender to puree the soup directly in the pot until smooth. If you don't have an immersion blender, carefully transfer the soup to a blender in batches and puree until smooth, then return to the pot.

Season the soup with salt and pepper to taste. Stir in the grated Parmesan cheese until well combined and melted into the soup.

Serve hot, garnished with fresh basil if desired.

Nutrition
Serving:
1
g
Calories:
320
kcal
Carbohydrates:
8
g
Protein:
4
g
Fat:
20
g
Saturated Fat:
12
g
Polyunsaturated Fat:
6
g
Trans Fat:
1
g
Cholesterol:
61
mg
Sodium:
542
mg
Fiber:
1
g
Sugar:
5
g