Imagine a steaming bowl of ramen, rich in flavor and aroma, yet perfectly aligned with your ketogenic dietary goals. Our Keto Ramen Recipe promises just that—a comforting embrace in the form of a savory, umami-packed broth, tender meat, and noodles that are anything but ordinary.
This dish is a testament to the versatility of keto cooking, proving that you don't have to sacrifice your favorite flavors to stay on track. Whether you're new to the keto lifestyle or a seasoned pro, this recipe is designed to delight your palate while keeping carbs in check. Let's dive into the world of low-carb, high-fat culinary delights with this exquisite keto-friendly twist on a Japanese classic.

The Journey to a Keto-Friendly Bowl
My passion for traditional Japanese cuisine and my commitment to a ketogenic lifestyle led me to craft this Keto Ramen Recipe. Ramen, with its complex flavors and satisfying textures, has always been a favorite of mine. But the typical ramen's high-carb content posed a challenge. I was determined to create a version that would be just as soul-soothing without the carb overload.
The secret to this recipe's success lies in its carefully selected ingredients. By replacing traditional wheat noodles with spiralized zucchini and shirataki noodles, we significantly cut down on carbs while adding a fresh, crunchy twist. The chicken bone broth base offers a deep, nourishing flavor, rich in collagen and essential nutrients, making it a powerhouse for both taste and health. Each element, from the aromatic garlic and ginger to the umami-packed soy sauce and fish sauce, has been chosen to construct a harmonious balance that honors the essence of ramen.
As a keto enthusiast, I understand the importance of maintaining a low-carb diet without compromising on taste. This recipe delivers just that, providing a generous dose of healthy fats from sesame oil and chicken thighs, while keeping net carbs to a mere 7 grams per serving. It's a perfect example of how keto meals can be both nutritious and delicious, offering a satisfying experience that aligns with your health goals.

Mastering the Keto Ramen Creation
Creating the perfect bowl of keto ramen is an art form that begins with the broth. Heat the sesame oil in a large pot, allowing the flavors of garlic and ginger to permeate the oil. This initial step sets the stage for a broth that's rich in aroma and depth.
As the broth simmers with soy sauce, fish sauce, and optional chili paste, it's crucial to let the flavors meld together. Adding the mushrooms and chicken thighs at the right moment ensures they absorb the broth's essence while cooking to perfection. Keep an eye on the pot, adjusting the heat as needed to maintain a gentle simmer.
When spiralizing the zucchini noodles, aim for a consistent thickness to ensure even cooking. Introduce them to the broth at the optimal time, allowing them to cook until just al dente. This preserves their texture, preventing them from becoming too soft and mushy.
Assembling the ramen is the final act of this culinary performance. Carefully ladle the broth, ensuring each bowl receives an equal share of chicken, mushrooms, and noodles. The soft-boiled eggs and green onions are more than mere garnishes; they're integral components that bring additional layers of flavor and texture to the dish.
Remember, the key to exceptional keto ramen lies in the details. Pay attention to the simmering broth, the tenderness of the chicken, and the firmness of the noodles. With practice and patience, you'll master the nuances that turn a simple meal into a gourmet experience.
Customizing Your Keto Ramen Experience
Spicy Miso Keto Ramen
For those who crave a bit more heat and depth, integrating miso paste and additional chili oil can transform your ramen into a fiery delight. The miso adds a complex, fermented flavor that complements the richness of the broth.
Seafood Keto Ramen
Seafood lovers can rejoice with a version that features shrimp, scallops, or even slices of fatty fish like salmon. The seafood not only infuses the broth with a briny essence but also provides an excellent source of omega-3 fatty acids.
Vegetarian Keto Ramen
Vegetarians can swap out the chicken for tofu or a medley of keto-friendly vegetables such as bok choy, spinach, and bell peppers. The result is a colorful, nutrient-dense bowl that's just as comforting and satisfying.
Ingredient Swaps for Dietary Needs
If soy sauce isn't suitable for your dietary needs, coconut aminos make for a fantastic alternative, offering a similar savory flavor without the soy. Those with a sensitivity to sesame oil can opt for avocado oil, which has a neutral taste and a high smoke point, making it ideal for sautéing.
For a different protein option, thinly sliced beef or pork can stand in for chicken thighs, adding variety to the dish. And if you're not a fan of zucchini noodles, try using shirataki noodles—these are made from konjac yam and are naturally low in carbs.
Frequently Asked Questions
Can I make this ramen recipe ahead of time? Yes, you can prepare the broth and toppings in advance. Just be sure to add the zucchini noodles when you're ready to serve to maintain their texture.
Is this recipe gluten-free? By using tamari or coconut aminos instead of traditional soy sauce, this recipe can be made gluten-free.
How can I store leftovers? Store the broth, chicken, and vegetables separately from the zucchini noodles to prevent them from becoming soggy. Reheat gently when ready to enjoy.
Can I use a different type of mushroom? Absolutely! Feel free to experiment with varieties like shiitake or oyster mushrooms for different flavors and textures.
Is this ramen spicy? The recipe includes optional chili paste for heat, which you can adjust to your preference or omit entirely for a milder version.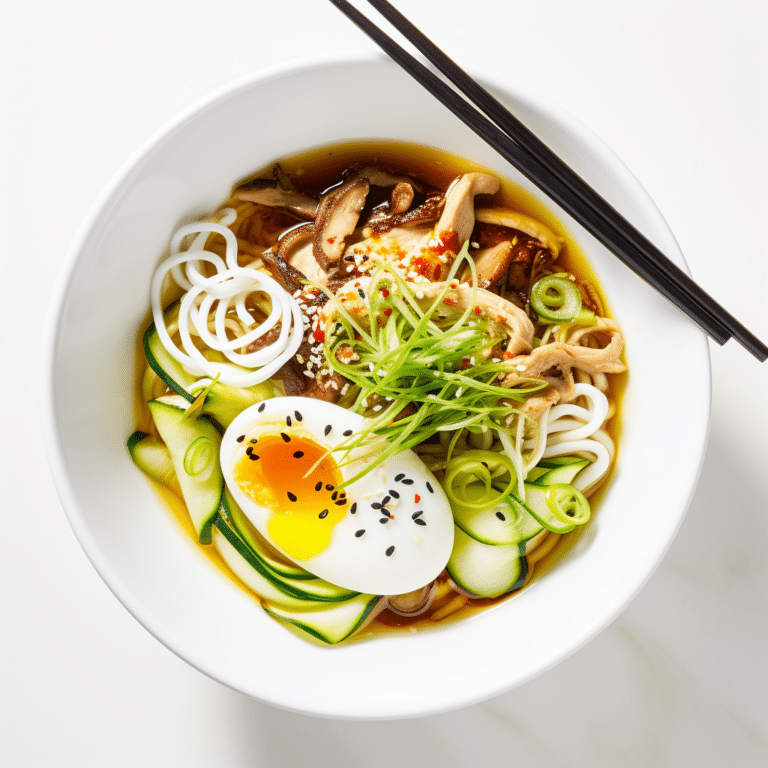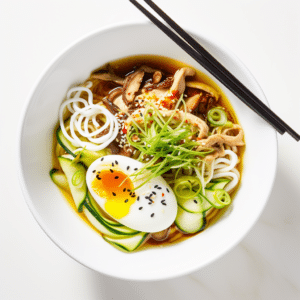 Ultimate Keto Ramen Recipe: Perfect Low Carb Comfort Food for Everyone
Indulge in the warm, comforting flavors of a classic ramen while maintaining your keto lifestyle with this delectable Keto Ramen Recipe. Packed with succulent meat, a rich, umami broth, and spiralized zucchini noodles to keep things low carb, this dish is both satisfying and health-conscious. Perfect for a cozy night in or a nutritious meal prep option, our keto ramen is bound to become a new favorite.
Ingredients
2

tablespoons

sesame oil

30 ml

4

cloves

garlic

minced (about 16 g)

1

inch

fresh ginger

grated (about 2.5 cm, 10 g)

6

cups

chicken bone broth

1.4 liters

2

tablespoons

soy sauce or tamari for gluten-free

30 ml

1

tablespoon

fish sauce

15 ml

1

teaspoon

chili paste

5 g [optional for heat]

8

ounces

sliced mushrooms

227 g

1

pound

chicken thighs

thinly sliced (454 g)

4

medium zucchini

spiralized (about 800 g total)

one pack shiritaki noodles

4

soft-boiled eggs

peeled and halved (about 240 g)

2

green onions

thinly sliced (about 30 g)

Salt and pepper to taste
Instructions
Heat the sesame oil in a large pot over medium heat. Add the minced garlic and grated ginger, sautéing until fragrant, about 1-2 minutes.

Pour the chicken bone broth into the pot and bring to a low simmer. Add the soy sauce, fish sauce, and chili paste (if using), stirring to combine.

Add the sliced mushrooms and chicken thighs to the broth. Simmer for about 20 minutes, or until the chicken is fully cooked and the mushrooms are tender.

While the broth simmers, prepare the zucchini noodles using a spiralizer. Set aside.

Once the chicken is cooked, season the broth with salt and pepper to taste. Add the spiralized zucchini noodles to the pot, cooking for an additional 3-4 minutes until they are tender but still al dente.

Carefully divide the hot broth, chicken, mushrooms, and zucchini noodles among four serving bowls.

Top each bowl with two halves of the soft-boiled eggs and a sprinkle of green onions.

Serve immediately, and enjoy your comforting bowl of keto-friendly ramen!
Nutrition
Calories:
380
kcal
Carbohydrates:
10
g
Protein:
24
g
Fat:
27
g