Welcome to a mouth-watering journey into the ketogenic world with our Keto Stuffed Peppers Recipe. These stuffed peppers pack a punch of flavor without the carb overload, making them an ideal choice for anyone following a ketogenic diet.
The combination of tender bell peppers, hearty ground meat, rich cheeses, and aromatic spices creates a symphony of taste that will delight your palate. Perfect for a family dinner or a meal prep option, this recipe is designed to impress with its simplicity and nutritional profile.

Recipe Details
My love affair with Keto Stuffed Peppers began as a quest to satisfy my cravings for something hearty yet healthy. The idea was to create a dish that could be a staple in my keto journey, one that wouldn't make me miss the high-carb meals I had left behind. This recipe is born out of that desire, and it perfectly encapsulates the essence of keto cooking: low in carbohydrates, high in fat, and moderate in protein.
Stuffed peppers have always been a crowd-pleaser, but this keto version takes it to the next level by swapping out traditional rice fillers with a rich, savory blend of cheeses and cream. The result is a dish that is not just low in carbs but also incredibly satiating, thanks to the high-fat content that's key to a successful ketogenic diet. Ground beef or turkey provides ample protein, ensuring you stay full and energized throughout the day.
Each ingredient has been carefully selected to keep the carb count low while maximizing flavor. From the smoky paprika to the sharp cheddar cheese, these flavors meld together inside a colorful bell pepper 'boat' that's not just a vessel for the filling, but a delicious component that brings its own set of nutrients, like vitamin C and various antioxidants. It's this thoughtful balance of taste and nutrition that makes this recipe an excellent choice for anyone looking to maintain a keto diet without sacrificing enjoyment in their meals.
This dish is more than just a recipe; it's a testament to how versatile and enjoyable keto cooking can be. It proves that with the right ingredients and a bit of creativity, you can transform traditional dishes into keto-friendly feasts. Whether you're new to the keto lifestyle or a seasoned pro, these Keto Stuffed Peppers are sure to become a regular in your meal rotation.

The Method
Creating this dish is a culinary journey worth taking, and I'm here to guide you through each step. Preheat your oven to a cozy 375°F (190°C) as you begin the prep work. The bell peppers are the stars of the show, and choosing vibrant, firm peppers will ensure they hold their shape and offer a sweet contrast to the savory filling. Slice off the tops carefully and scoop out the seeds and membranes with a spoon.
Next, the foundation of flavor begins with onions and garlic, sautéed until they're just translucent and fragrant. This is where patience pays off, as allowing them to cook slowly will bring out their natural sweetness, providing a subtle undertone to the dish. As you brown your choice of ground meat, remember to break it apart for even cooking. This is a crucial step; larger chunks can lead to uneven flavors and a less appealing texture.
Spices are the soul of this recipe, and adding them at the right time is key. Chili powder, cumin, and paprika need a minute to bloom in the heat, releasing their oils and infusing the meat with deep, complex flavors. Watch for the spices to become aromatic before proceeding, as this indicates they've reached their peak flavor potential.
When you introduce the cream cheese, heavy cream, and tomato sauce to the mix, you're creating a rich, creamy concoction that will bind the filling together. Stir gently until the cheeses melt and marry with the other ingredients, then remove from heat. This is where the magic happens, as the heat gently coaxes the cream cheese and heavy cream into a luxurious sauce that envelops the meat in creamy goodness.
Filling the peppers is an art in itself. Spoon the mixture generously, but be mindful not to overfill, as the cheese will bubble and expand in the oven. Topping each pepper with shredded cheddar cheese adds a final touch of decadence that will crisp and turn golden brown in the oven—a sight and smell that will call everyone to the table.
Bake until the peppers are tender to your liking; some prefer a bit of crunch, while others enjoy a softer pepper. This is your dish, so tailor it to your taste. A final garnish of fresh herbs like parsley or cilantro can add a bright, fresh flavor that cuts through the richness of the cheese.
As you master this method, you'll find that these Keto Stuffed Peppers are not just a recipe, but a canvas for your culinary creativity. Each step offers an opportunity to infuse your personal touch, making this dish uniquely yours every time you prepare it.

Variations
Spicy Keto Stuffed Peppers
For those who crave a kick, add diced jalapeños or a pinch of cayenne pepper to the meat mixture. The heat from these peppers can elevate the dish, providing a spicy contrast to the creamy, cheesy filling.
Veggie-Packed Keto Stuffed Peppers
Incorporate a rainbow of nutrients by adding spinach, mushrooms, or zucchini to the skillet when sautéing the onions and garlic. These vegetables not only add texture and flavor but also boost the nutritional value of the dish.
Taco-Style Keto Stuffed Peppers
Embrace the flavors of a taco night by including a homemade keto-friendly taco seasoning to the meat. Top the stuffed peppers with diced avocado, a sprinkle of cheese, and a dollop of sour cream for a festive twist.
Substitutions
If you're looking to customize this recipe further, consider these substitutions that maintain the keto-friendly profile:
Ground Meat: While ground beef or turkey are excellent choices, feel free to substitute with ground chicken or pork for a different flavor profile. Each type of meat brings its own unique taste and texture to the dish.
Cheese: Not a fan of cheddar? Try swapping it out for pepper jack, mozzarella, or gouda. Each cheese offers a different level of creaminess and sharpness, allowing you to tailor the dish to your preferences.
Cream Cheese and Heavy Cream: If dairy is a concern, there are several non-dairy cream cheese alternatives made from nuts like cashews or almonds. Similarly, coconut cream can replace heavy cream, adding a subtle sweetness and rich texture.
FAQ Section
Can I make this recipe ahead of time? Absolutely! Assemble the stuffed peppers and store them in the refrigerator for up to 24 hours before baking. You may need to add a few extra minutes to the cooking time if they go into the oven cold.
How do I store leftovers? Leftover Keto Stuffed Peppers can be stored in an airtight container in the refrigerator for up to 3 days. Reheat in the oven or microwave until warmed through.
Are bell peppers keto-friendly? Yes, bell peppers are low in carbs and suitable for a ketogenic diet. They're also high in fiber, which can help with digestion.
Can I freeze Keto Stuffed Peppers? These peppers freeze well. Cool them completely before freezing and store them in a freezer-safe container. Thaw in the refrigerator overnight before reheating.
Is it possible to make this recipe vegetarian? Certainly! Substitute the ground meat with a keto-friendly plant-based alternative or increase the number of vegetables and cheese for the filling.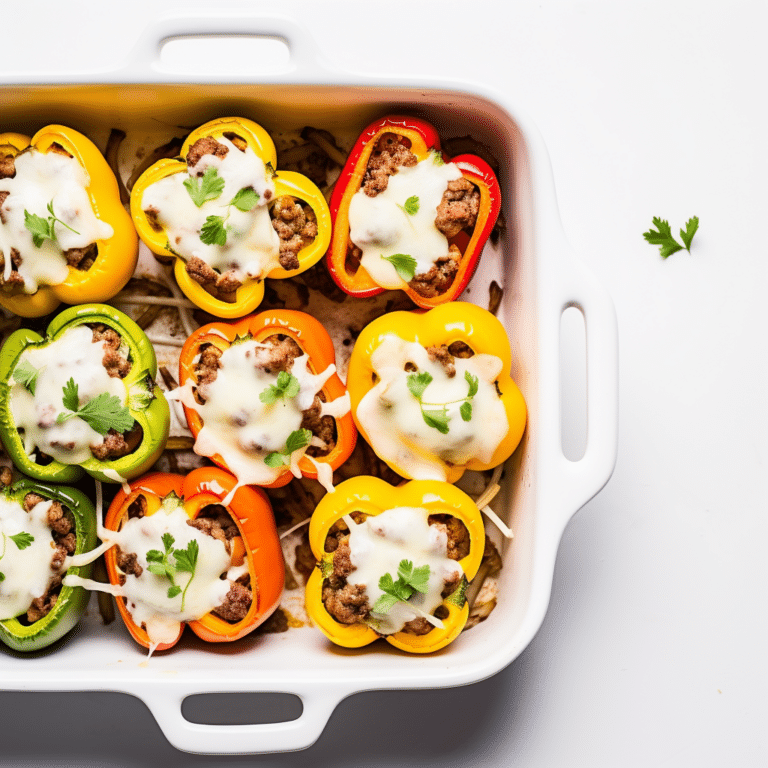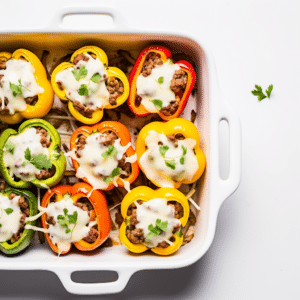 Easy and Delicious Keto Stuffed Peppers Recipe: A Must-Try For Low-Carb Dieters
Discover the flavorsome world of keto cuisine with our Keto Stuffed Peppers Recipe. This dish is a perfect blend of juicy bell peppers filled with a savory mixture of ground meat, cheese, and spices, baked to perfection. It's an easy, low-carb meal that's as nutritious as it is delicious.
Ingredients
4

large bell peppers

assorted colors (about 1 lb / 454 g)

1

lb

454 g ground beef or turkey

1

cup

128 g shredded cheddar cheese

½

cup

64 g cream cheese, softened

¼

cup

60 ml heavy cream

¼

cup

60 ml low-carb tomato sauce

1

small onion

finely chopped (about 2.5 oz / 70 g)

2

cloves

garlic

minced

1

tsp

2 g chili powder

1

tsp

2 g cumin

½

tsp

1 g paprika

½

tsp

1 g salt

¼

tsp

0.5 g black pepper

2

tbsp

30 ml olive oil

Fresh parsley or cilantro for garnish

optional
Instructions
Preheat your oven to 375°F (190°C).
Cut the tops off the bell peppers and remove the seeds and membranes. Set aside.

In a large skillet, heat the olive oil over medium heat. Add the chopped onions and cook until translucent, about 3-4 minutes.

Add the minced garlic to the skillet and sauté for an additional minute until fragrant.

Increase the heat to medium-high and add the ground meat to the skillet. Cook until browned, breaking it apart with a spatula, approximately 5-7 minutes.

Stir the chili powder, cumin, paprika, salt, and black pepper into the meat mixture, cooking for another minute to combine flavors.

Reduce the heat to low and mix in the cream cheese, heavy cream, and tomato sauce. Stir until the cheeses are melted and ingredients are well combined, then remove from heat.

Spoon the meat and cheese mixture evenly into the hollowed-out bell peppers.
Place the stuffed peppers in a baking dish and top each with shredded cheddar cheese.

Bake in the preheated oven for 20-25 minutes, or until the peppers are tender and the cheese is bubbly and golden brown.

Garnish with fresh parsley or cilantro, if desired, before serving.

Nutrition
Calories:
485
kcal
Carbohydrates:
12
g
Protein:
28
g
Fat:
35
g