As the holiday season approaches, the quest for indulgent yet health-conscious recipes becomes paramount for those following a keto diet.
Fear not, for this keto stuffing recipe is here to grace your festive table with all the traditional flavors you love, minus the carbs that you don't.
Imagine a dish brimming with savory herbs, rich sausage, and a delightful texture that promises to complement your main course exquisitely. This stuffing isn't just a side dish; it's a testament to the versatility and joy that keto cooking can bring to the holidays.
The Story Behind This Keto Stuffing
Stuffing is a staple at any holiday feast, but for those of us committed to a keto lifestyle, the usual bread-laden dish is off the menu. That's where this inspired creation comes in, a recipe born out of the desire to enjoy every aspect of a traditional holiday meal without the carb-laden guilt.
What makes this stuffing quintessentially keto is its ingenious use of almond flour, replacing bread crumbs to achieve a similar consistency while keeping carbs to a minimum.
The beauty of this stuffing lies in its rich combination of pork sausage meat and aromatic herbs like sage, rosemary, and thyme, which evoke the classic flavors of the season.
The addition of heavy cream and butter lends the dish a luxurious mouthfeel, ensuring that you won't miss the traditional version one bit.
Each serving is carefully calculated to fit within your daily macros…just about! Ok, full disclosure, this isn't going to be an everyday meal on keto, more of a holiday treat.
Fundamentally, it depends what you're having it with. In the pictures here I've roasted the stuffing with celeriac, for a lower carb version of roast potatoes (about 5g net carbs per 100g)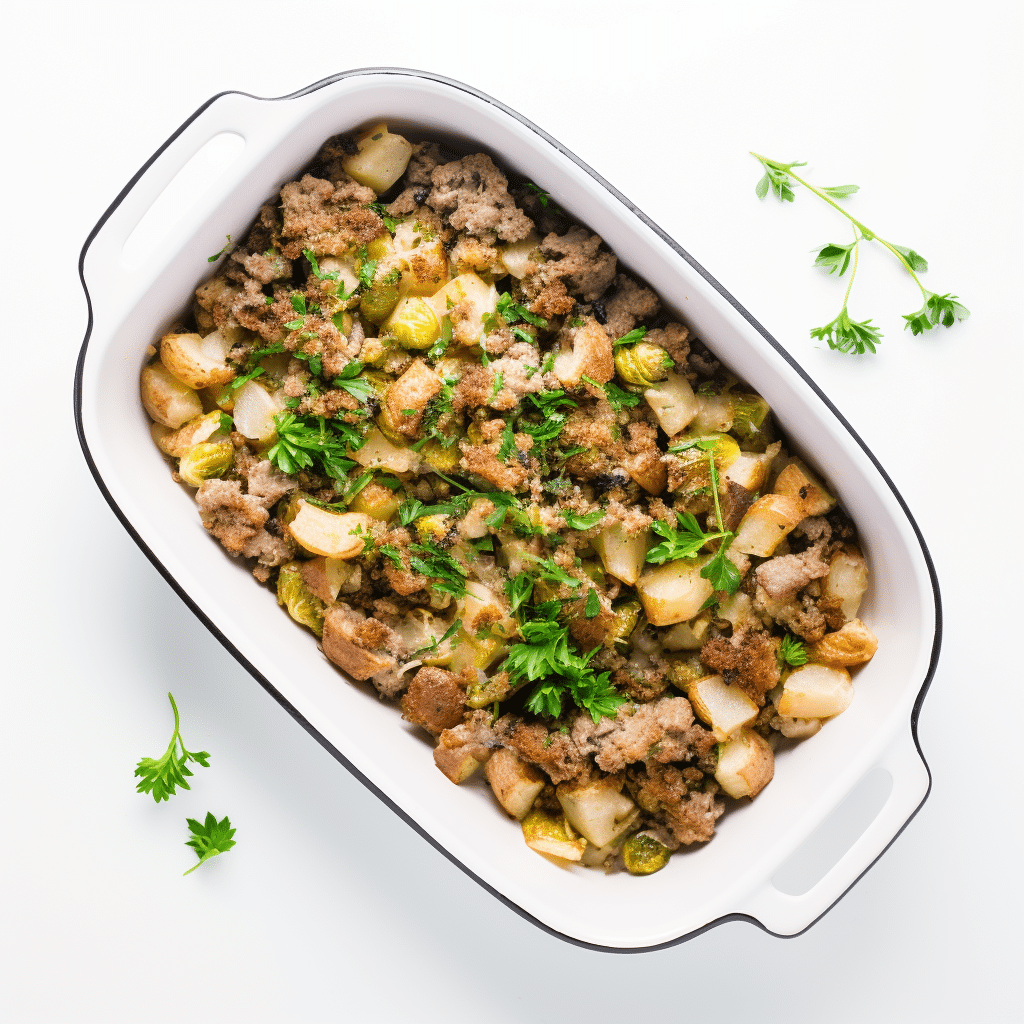 Mastering the Keto Stuffing Method
Let's dive into the kitchen and begin the journey of creating this delectable keto stuffing. The process starts with preheating your oven to a cozy 350°F (175°C) and preparing your baking dish with a smear of butter or a spritz of non-stick spray. This is where the magic begins, setting the stage for the rich, golden crust that will crown your stuffing.
Cooking the pork sausage meat is the first step, and it's crucial to break it apart as it browns. Aim for a crumbly texture, which will ensure that every bite of your stuffing is interspersed with savory morsels of meat. As the sausage cooks, the aroma will begin to fill your kitchen, signaling the start of a festive feast.
The vegetables are next, sautéed in the same skillet where the sausage was cooked. This not only builds layers of flavor but also infuses the onion and celery with the rich essence of the sausage. The garlic joins the mix at the very end, just long enough to release its pungent fragrance without burning.
Combining the almond flour with the meat and vegetables, you'll notice the mixture starts to resemble traditional stuffing. The addition of chicken broth, heavy cream, and beaten eggs is a pivotal moment, as it creates a custard-like base that will bind the ingredients together while baking.
Herbs are the soul of this dish, and it's essential to use fresh ones if possible. Chopping them finely releases their essential oils, which will permeate the stuffing with their herbaceous notes. When you mix these with the rest of the ingredients, take a moment to appreciate the symphony of scents that arise—it's a preview of the deliciousness to come.
Spreading the mixture into your prepared dish, you'll want to ensure an even layer for consistent cooking. As the stuffing bakes, watch for the top to transform into a golden-brown crust, a sign that your keto stuffing is reaching perfection. Once out of the oven, a brief rest will allow the flavors to meld and the stuffing to set, creating the ideal texture for serving.
Throughout the cooking process, maintain a gentle touch and a watchful eye. The goal is a stuffing that's moist yet not soggy, with a top that's crisp but not overdone. It's a delicate balance, achieved through careful attention and the love you pour into your cooking.

Variations to Keep Your Keto Stuffing Fresh
Mushroom and Walnut Keto Stuffing
For an earthy twist, sauté a mix of mushrooms with the onions and celery. The umami-rich fungi will add depth, while chopped walnuts provide a satisfying crunch. This version is perfect for those seeking a hearty, nutty flavor profile in their stuffing.
Spicy Chorizo Keto Stuffing
Replace the pork sausage with spicy chorizo to infuse your stuffing with a kick of heat and smokiness. The chorizo's bold spices will permeate the dish, offering a zesty alternative for those who enjoy a little spice in their holiday fare.
Apple and Pecan Keto Stuffing
Add diced, keto-friendly apples, such as Granny Smith, for a subtle sweetness and fresh crunch. Toss in a handful of pecans for nuttiness, and you'll have a stuffing that marries sweet and savory notes beautifully.
Substituting Ingredients for Dietary Needs
For those who don't consume pork, ground turkey or chicken can be used as an excellent substitute for sausage meat. These alternatives will still absorb the flavors of the herbs and spices, ensuring a delicious outcome.
If dairy is a concern, swap out the butter for ghee or coconut oil and use a dairy-free cream substitute. This will keep the recipe within the keto framework while catering to those with dairy sensitivities or lactose intolerance.
For a nut-free version, replace almond flour with coconut flour. Be mindful that coconut flour is more absorbent, so you may need to adjust the liquid ingredients to achieve the right consistency.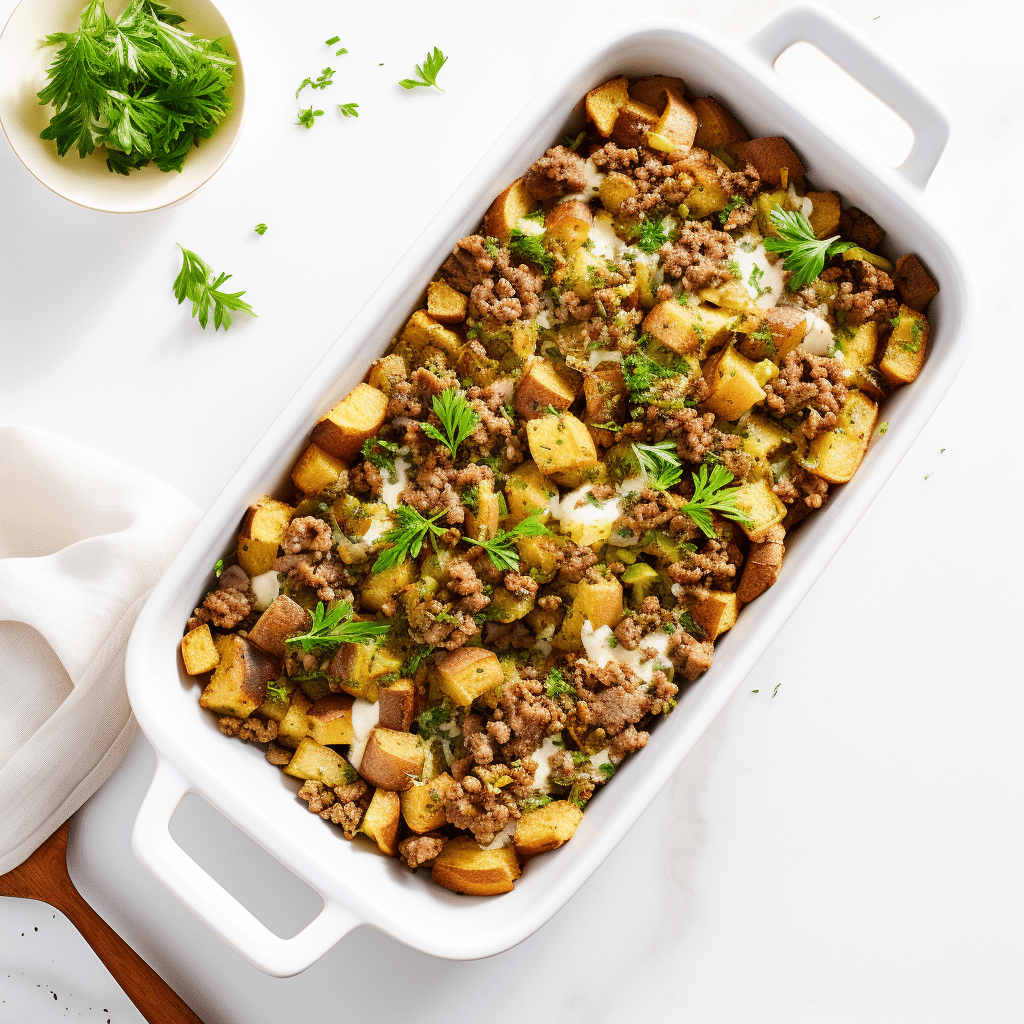 Frequently Asked Questions About Keto Stuffing
Can I make this stuffing ahead of time?
Yes, you can prepare the stuffing a day in advance and refrigerate it. Just be sure to bring it to room temperature before baking to ensure even cooking.
How long does keto stuffing last in the fridge?
When stored in an airtight container, keto stuffing can last up to 4 days in the refrigerator.
Can this stuffing be frozen?
Yes, this keto stuffing freezes well. Cool it completely before transferring it to a freezer-safe container or bag. It can be frozen for up to 3 months.
Is this stuffing gluten-free?
Yes, by using almond flour instead of traditional breadcrumbs, this stuffing is naturally gluten-free.
Can I use this stuffing to fill a turkey?
While you can use this to stuff a turkey, it's best cooked separately to ensure the turkey cooks evenly and the stuffing reaches a safe temperature.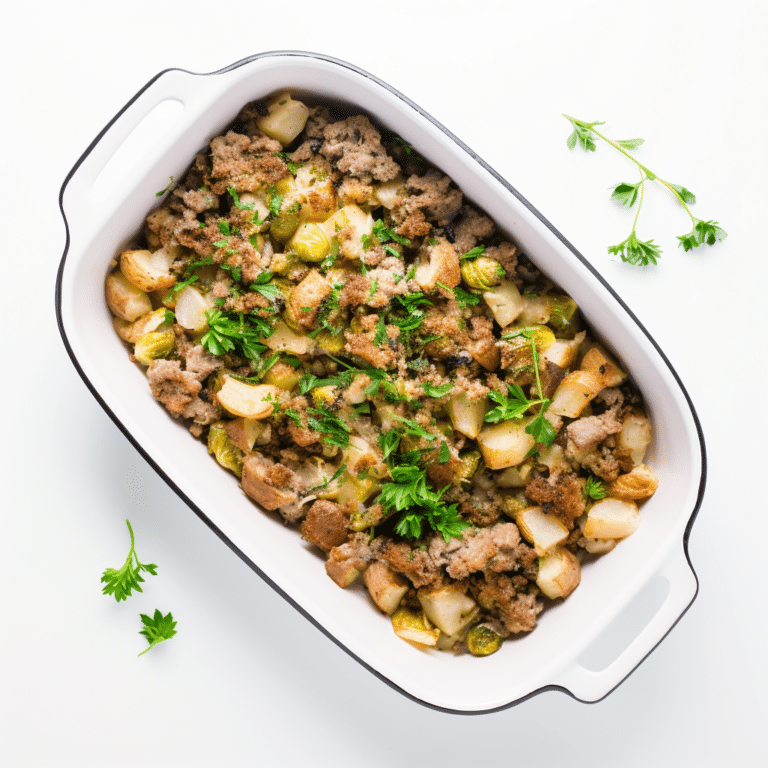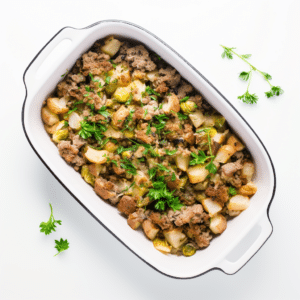 Ultimate Keto Stuffing Recipe
This keto stuffing recipe is the perfect low-carb alternative to traditional stuffing, ensuring you don't miss out on any of the festive flavors during holiday meals. Packed with savory herbs, a variety of textures, and rich sausage meat, this stuffing will be the highlight of your keto-friendly feast.
Ingredients
- 1 lb

450g pork sausage meat

- 2 cups

200g almond flour

- 1/4 cup

56g unsalted butter

- 1 medium onion

diced (about 1 cup/150g)

- 2 celery stalks

diced (about 1/2 cup/60g)

- 3 cloves garlic

minced

- 1 cup

240ml chicken broth

- 1/4 cup

4 tablespoons/60ml heavy cream

- 2 large eggs

beaten

- 2 tablespoons fresh parsley

chopped

- 1 tablespoon fresh sage

chopped

- 1 tablespoon fresh rosemary

chopped

- 1 tablespoon fresh thyme leaves

- 1 teaspoon salt

- 1/2 teaspoon black pepper
Instructions
Preheat your oven to 350°F (175°C) and grease a 9x13 inch baking dish.


In a large skillet over medium heat, cook the sausage meat until browned, breaking it apart with a spatula as it cooks. Once cooked through, remove it from the pan and set aside.


In the same skillet, melt the butter, then add the diced onion and celery. Cook for 5-7 minutes until the vegetables soften. Add the minced garlic and cook for another minute until fragrant.


In a large bowl, combine the almond flour, cooked sausage meat, and the sautéed onion, celery, and garlic mixture.


In a separate bowl, whisk together the chicken broth, heavy cream, and beaten eggs. Pour this liquid mixture into the bowl with the almond flour and sausage, stirring to combine.


Add the chopped parsley, sage, rosemary, thyme, salt, and pepper to the bowl, and stir until all the ingredients are well incorporated.


Transfer the stuffing mixture into the prepared baking dish, spreading it evenly.

Bake in the preheated oven for 30-35 minutes, or until the top is golden brown and the stuffing is set.


Remove from the oven and let it sit for 5 minutes before serving.
Nutrition
Calories:
345
kcal
Carbohydrates:
8
g
Protein:
15
g
Fat:
28
g