Keto Tiramisu: A Decadent Low-Carb Indulgence
Imagine diving into a dessert that is not only decadently delicious but also aligns perfectly with your ketogenic lifestyle. Keto Tiramisu is that indulgent treat, offering the classic flavors of the beloved Italian dessert without the carb overload.
This recipe will guide you through creating a sumptuous layering of homemade almond flour ladyfingers, soaked in rich espresso, and a creamy, luscious mascarpone filling. Perfect for any occasion, this low-carb delight is sure to satisfy your sweet tooth and impress your guests, all while keeping your dietary goals intact.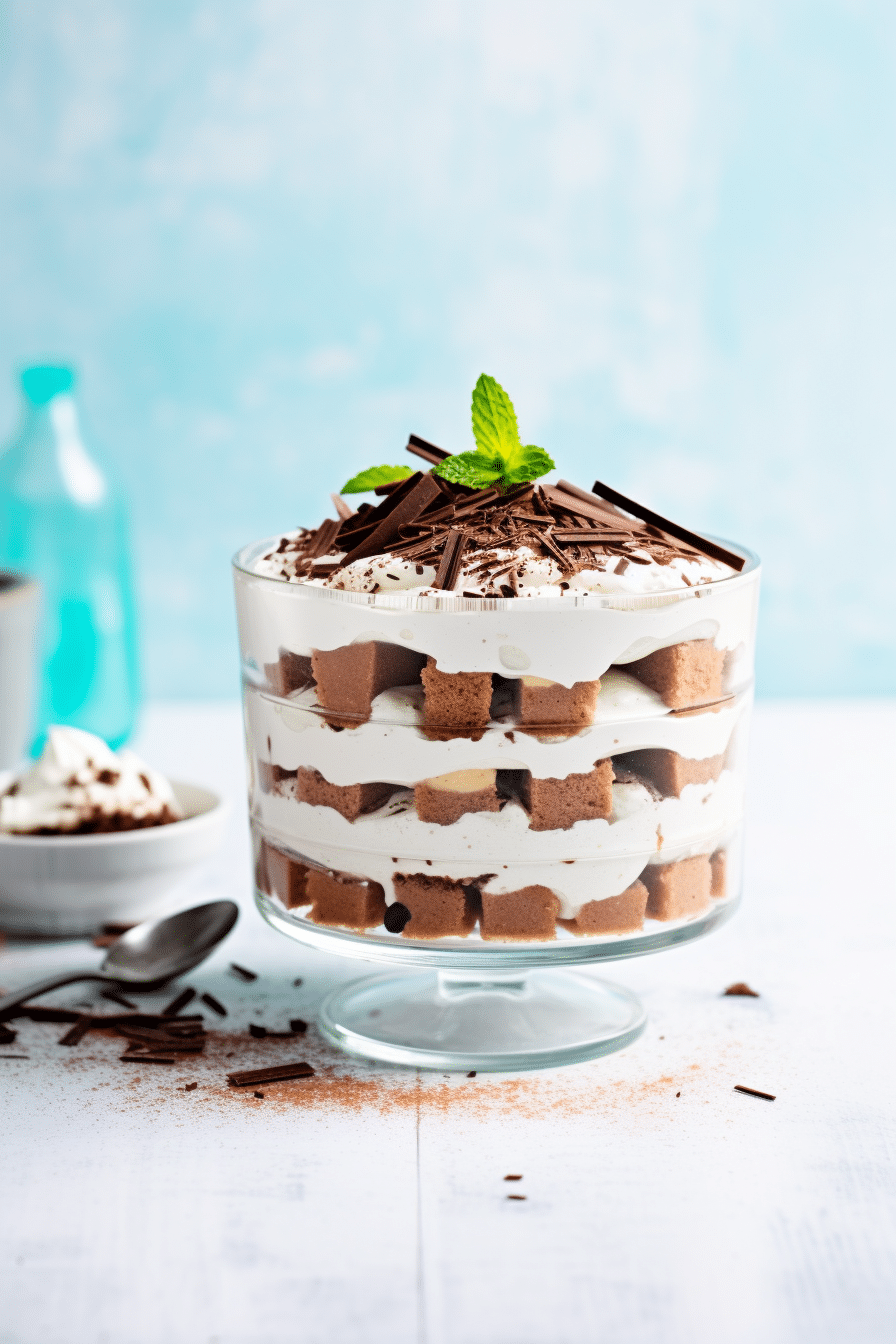 Discovering this Keto Tiramisu
From the quaint coffee shops of Italy to the bustling streets of international cities, tiramisu has made a name for itself as a dessert that transcends borders. But for those following a ketogenic diet, the traditional recipe presents a problem: it's laden with sugar and high-carb ingredients. This is where the inspiration for Keto Tiramisu was born.
As a dessert lover and a staunch advocate of the keto lifestyle, I sought to recreate this classic without compromising its integrity or flavor. Through trial and error, I found the perfect balance of keto-friendly ingredients that replicate the taste and texture of the original. Almond flour ladyfingers provide a nutty, yet familiar base, while the blend of mascarpone and heavy whipping cream creates a filling that's both rich and airy.
But it's not just the taste that makes this Keto Tiramisu a winning recipe; it's also the nutritional profile. Each serving contains only 3g of net carbs, making it an ideal dessert for those monitoring their carbohydrate intake. The high fat content from the mascarpone and heavy cream aligns with the keto diet's macronutrient ratios, ensuring that you can indulge without guilt.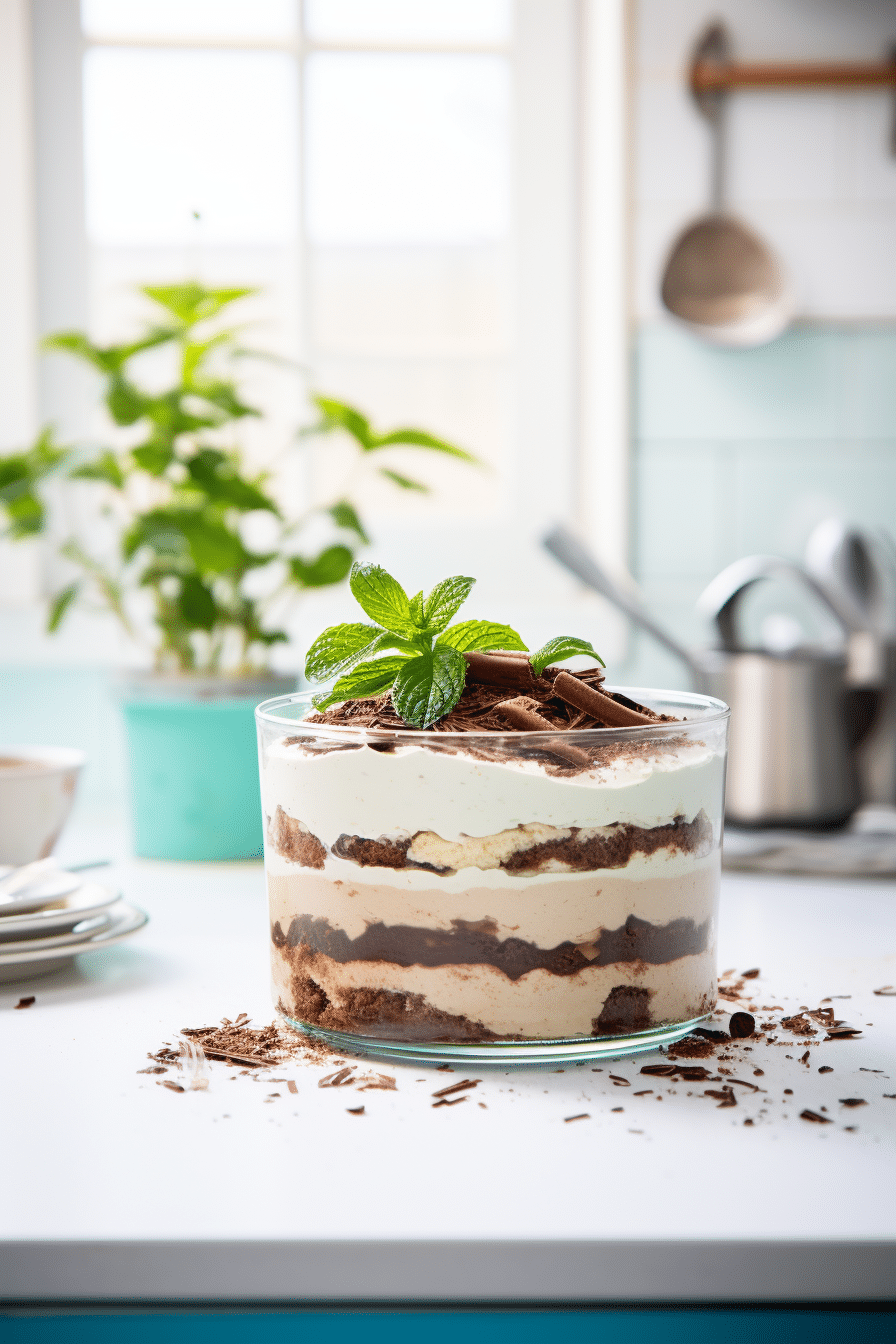 The Art of Keto Tiramisu
Creating the perfect Keto Tiramisu is much like conducting a symphony; every element must come together in harmony. The process begins with the ladyfingers, which are the foundation of the dessert. Using almond flour not only keeps the carbs in check but also adds a subtle depth of flavor that complements the espresso soak. When beating the egg whites for the ladyfingers, ensure they reach stiff peaks for that essential airy texture.
The coffee soak is next, and while the addition of coffee liqueur is optional, it can add an extra layer of complexity to the flavor profile. Be mindful not to oversoak the ladyfingers; they should be moistened but not soggy, to maintain their structure.
As for the mascarpone filling, achieving that silky-smooth consistency is crucial. This is where room temperature ingredients make all the difference. The powdered erythritol blends seamlessly, sweetening the filling without any graininess. When folding the whipped cream into the mascarpone mixture, do so gently to preserve the airiness that makes the filling so divine.
Finally, the assembly is where your tiramisu comes to life. Layering the components correctly ensures every bite is a perfect balance of coffee-soaked ladyfinger and creamy filling. A generous dusting of cocoa powder not only adds a touch of bitterness to counter the sweet but also completes the presentation with a classic tiramisu look.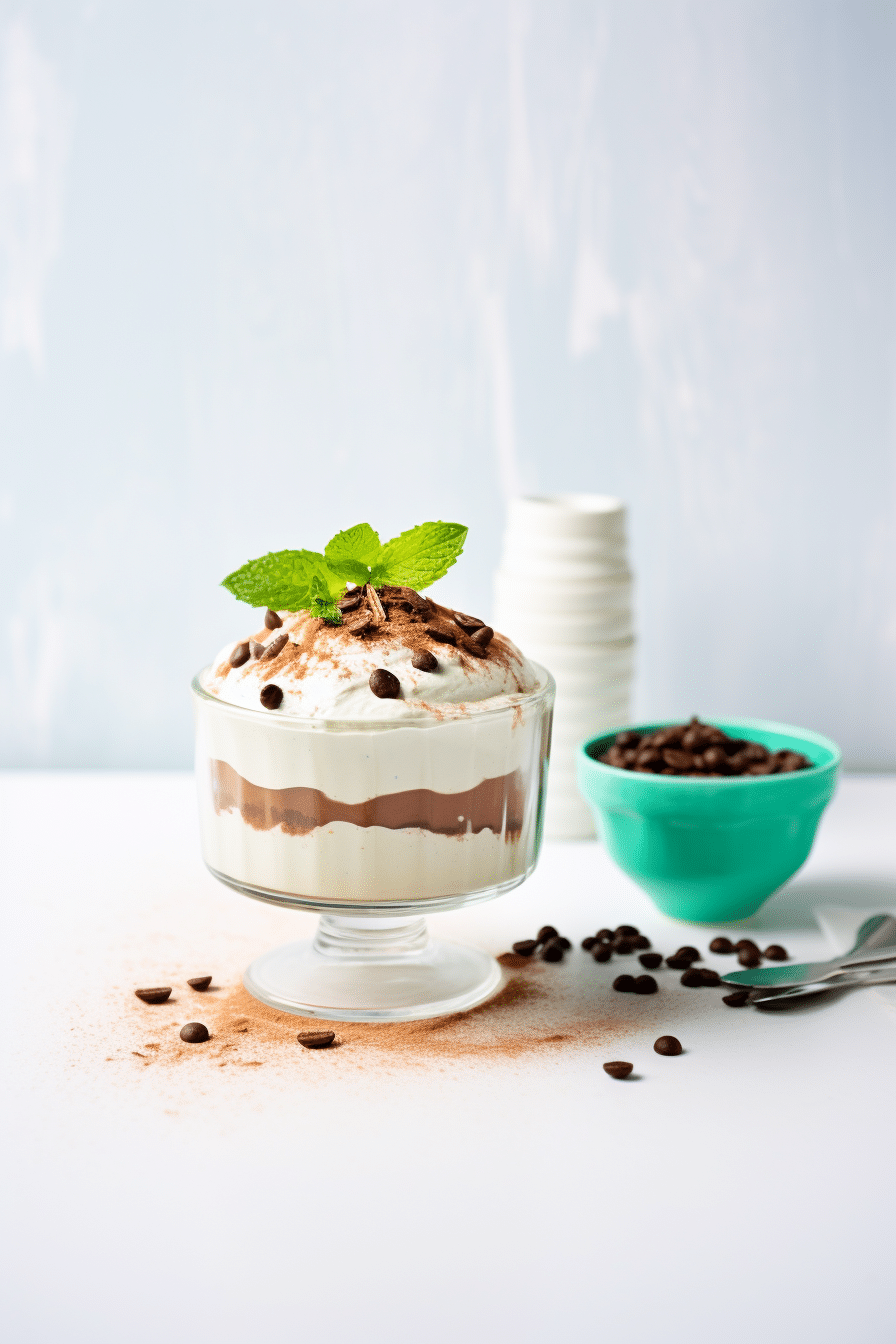 Variations to Keto Tiramisu
Chocolate Keto Tiramisu
For chocolate lovers, incorporating a chocolate layer can take this dessert to new heights. Melt sugar-free dark chocolate and drizzle it between the layers of ladyfingers and mascarpone for a chocolatey twist.
Berry-Infused Keto Tiramisu
Adding a tart contrast to the creamy and coffee flavors, a berry layer can be delightful. Consider a layer of fresh raspberries or strawberries, or a swirl of sugar-free berry compote.
Nutty Keto Tiramisu
Introduce a crunchy texture and nutty flavor by sprinkling chopped pecans or walnuts over the mascarpone layer. This not only adds variety but also healthy fats to your dessert.
Ingredient Substitutions
When it comes to keto cooking, flexibility is key. If you're missing an ingredient or have dietary restrictions, there are substitutions you can make without sacrificing taste or texture.
Almond Flour: If you're allergic to almonds, coconut flour can be used as a substitute, though you'll need to adjust the quantity as coconut flour is more absorbent.
Mascarpone Cheese: While mascarpone is traditional, cream cheese can be used in a pinch. It will alter the flavor slightly but still provide a creamy filling.
Erythritol: Other sugar substitutes like stevia or monk fruit can be used, but be sure to convert the measurements appropriately as their sweetness can vary.
Frequently Asked Questions
Can I make Keto Tiramisu ahead of time? Yes, it's actually recommended to make it a day in advance to allow the flavors to meld together.
How long does Keto Tiramisu last in the fridge? Properly stored, it will last up to 3 days in the refrigerator.
Can I freeze Keto Tiramisu? Freezing is not recommended as it can affect the texture of the mascarpone filling.
Is this dessert diabetic-friendly? While it is low in carbs, it's always best to consult with your healthcare provider regarding your specific dietary needs.
Can I omit the coffee liqueur? Absolutely, it's optional and can be left out for a stricter keto version.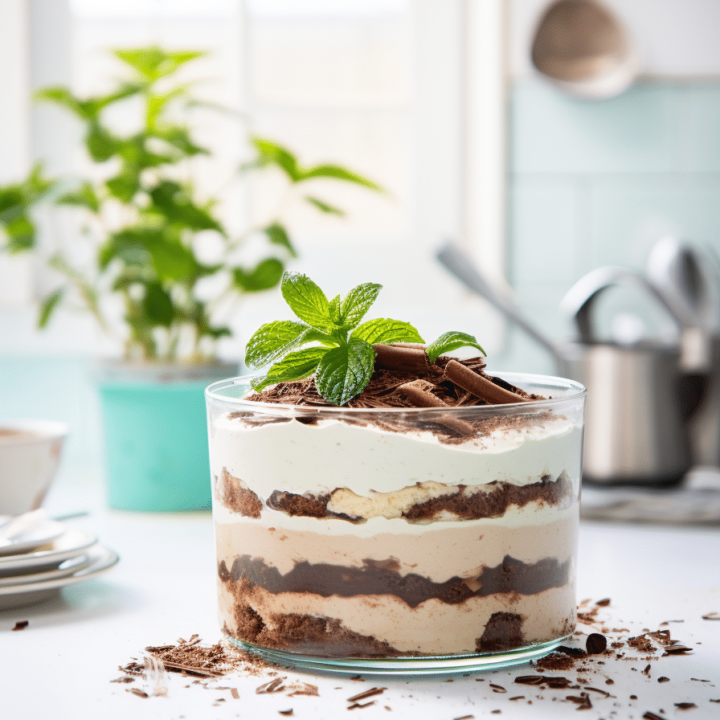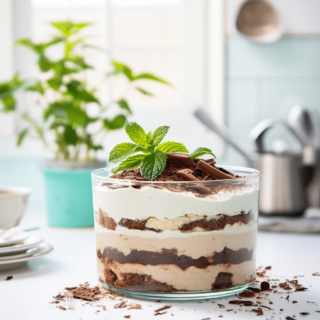 Keto Tiramisu Recipe
Indulge in a guilt-free version of the classic Italian dessert with this Keto Tiramisu recipe. It's a sumptuous layering of almond flour ladyfingers soaked in rich espresso, paired with a creamy and luscious mascarpone filling. This low carb delight is perfect for satisfying your sweet tooth without compromising your dietary goals.
Ingredients
_For the Keto Ladyfingers:_

- 1 cup almond flour

96g

- 3 large eggs

separated

- 1/4 cup erythritol

48g

- 1/2 tsp vanilla extract

2.5ml

- 1/4 tsp cream of tartar

1g

_For the Coffee Soak:_

- 1/2 cup strong brewed espresso

cooled (120ml)

- 1 tbsp coffee liqueur

optional (15ml)

_For the Mascarpone Filling:_

- 1 1/2 cups mascarpone cheese

360g

- 1/2 cup powdered erythritol

96g

- 1 cup heavy whipping cream

240ml

- 1 tsp vanilla extract

5ml

_For the Topping:_

- Unsweetened cocoa powder for dusting
Instructions
Preheat your oven to 350°F (177°C) and line a baking sheet with parchment paper.

In a medium bowl, whisk together the almond flour and erythritol for the ladyfingers.

In a separate bowl, beat the egg whites with the cream of tartar until stiff peaks form.

In another bowl, beat the egg yolks with vanilla extract until smooth.

Gently fold the egg yolks into the whipped egg whites, then gradually fold in the almond flour mixture until just combined.

Transfer the mixture to a piping bag and pipe into 3-inch long ladyfinger shapes on the prepared baking sheet.

Bake for 18-20 minutes, or until golden. Allow to cool completely.

Mix the espresso and coffee liqueur in a shallow dish. Briefly dip each ladyfinger into the mixture, ensuring they are moist but not soggy.

For the filling, beat the mascarpone cheese, powdered erythritol, and vanilla extract until smooth. In a separate bowl, whip the heavy cream until stiff peaks form, then fold into the mascarpone mixture.

In a serving dish, layer half of the soaked ladyfingers, topped with half of the mascarpone filling. Repeat with another layer of ladyfingers and mascarpone crea

Refrigerate for at least 4 hours, or until set.

Before serving, dust with cocoa powder.
Notes
- The coffee liqueur is optional; omit for a stricter keto version.
- Ensure all ingredients, especially the eggs and mascarpone, are at room temperature to achieve the smoothest filling.
- The tiramisu can be made a day ahead and kept refrigerated to allow flavors to meld.
- Store leftovers in the refrigerator for up to 3 days.
Nutrition
Calories:
320
kcal
Carbohydrates:
5
g
Protein:
7
g
Fat:
30
g
Fiber:
2
g