Keto Beef Tenderloin with Gorgonzola Sauce
Welcome to a culinary experience where decadence meets dietary mindfulness. Keto Beef Tenderloin with Gorgonzola Sauce is a dish that promises to satisfy your cravings for a sumptuous meal without compromising your keto lifestyle. This recipe features a perfectly seared beef tenderloin, rich in flavor and protein, topped with a creamy and tangy Gorgonzola sauce.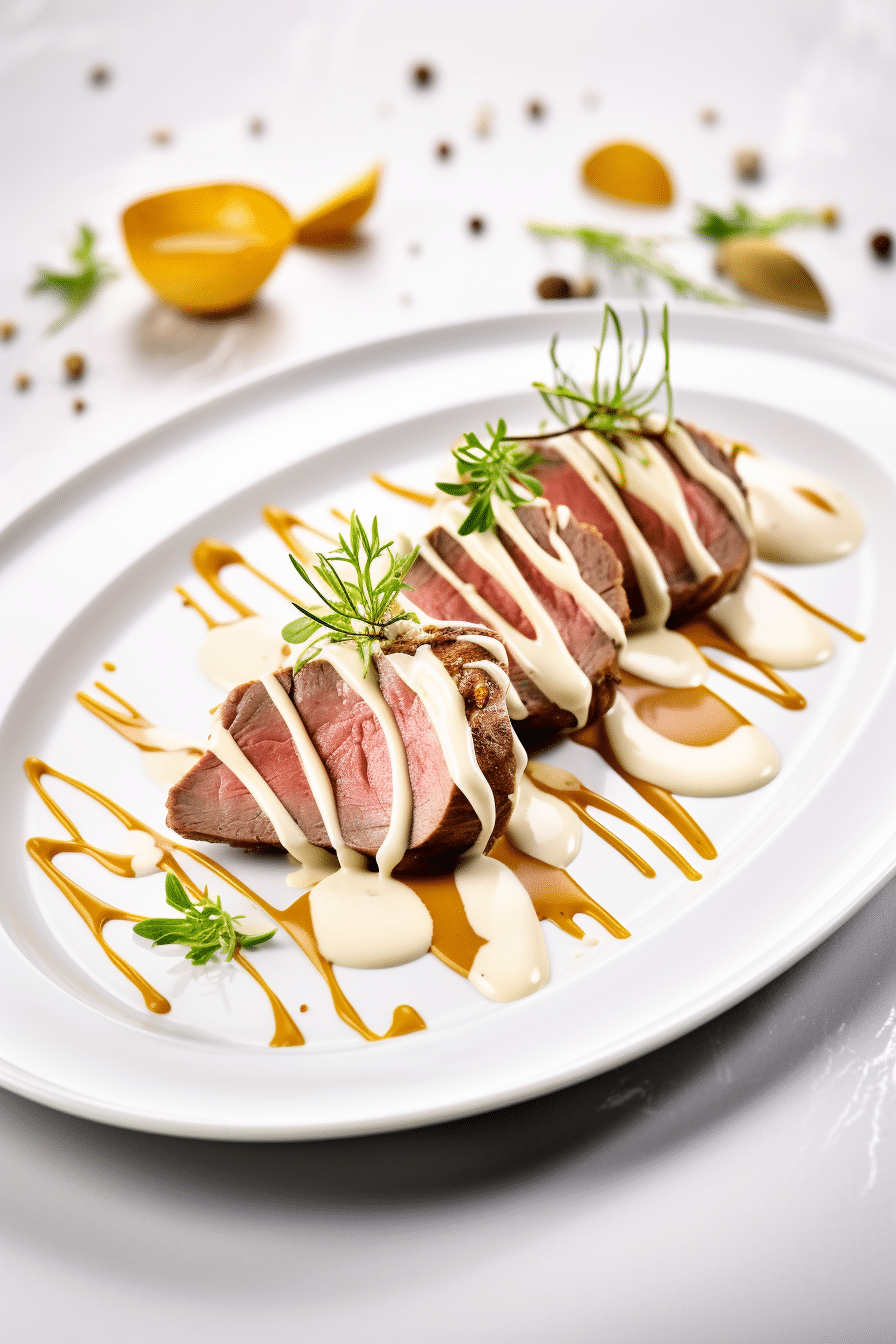 Recipe Details
This keto beef tenderloin with Gorgonzola sauce is more than just a meal; it's a celebration of fine dining within the comforts of your own home. The inspiration behind this dish stems from classic steakhouse fare, reimagined for the keto enthusiast. The high-fat content of the sauce complements the lean protein of the tenderloin, ensuring you stay within your macronutrient goals while enjoying a truly gourmet experience.
The beef tenderloin, known for its tenderness and mild flavor, serves as the perfect canvas for the bold and robust Gorgonzola sauce. The sauce, with its rich and creamy texture, is carefully balanced with a hint of garlic, enhancing the meat's natural flavors without overwhelming them. The result is a harmonious dish that is not only keto-friendly but also incredibly satisfying.
Choosing the right ingredients is essential for this recipe. The beef tenderloin should be of the highest quality, and the Gorgonzola cheese should be pungent yet not overpowering. This dish is a testament to the fact that keto recipes can be luxurious and indulgent, proving that a low-carb lifestyle does not mean sacrificing taste or enjoyment.
With each serving boasting a generous amount of protein and healthy fats, this recipe aligns perfectly with the ketogenic diet's requirements. The minimal carbohydrates present come from the trace amounts in the dairy, making it an excellent option for maintaining ketosis. Whether you're hosting a dinner party or treating yourself to a lavish meal, this keto beef tenderloin with Gorgonzola sauce is sure to impress.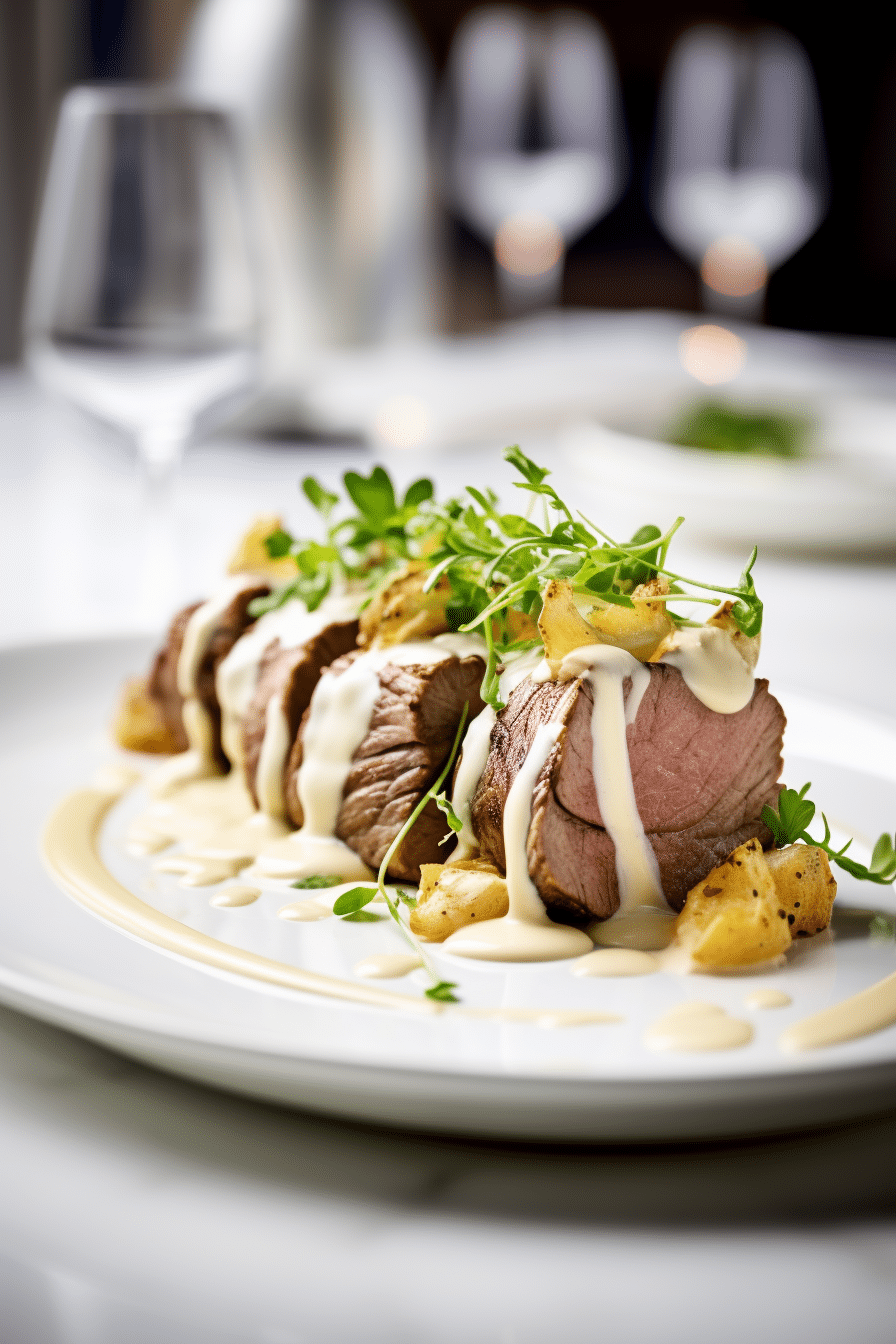 The Method
Creating this exquisite dish requires attention to detail and a touch of culinary finesse. Here's how to bring this keto beef tenderloin with Gorgonzola sauce to life in your kitchen:
Begin by allowing the beef tenderloin to reach room temperature. This step is crucial for even cooking and achieving that perfect sear. Season generously with kosher salt and black pepper, ensuring the spices are evenly distributed over the meat's surface.
Heat olive oil in a skillet over medium-high heat. Once the oil is shimmering, place the tenderloin in the skillet. Sear each side until a golden-brown crust forms. This process should take about 3-4 minutes per side. The crust not only adds flavor but also seals in the juices, ensuring a moist and tender result.
After searing, transfer the skillet to a preheated oven. Roast until the internal temperature reaches your desired level of doneness. For a medium-rare finish, aim for 135°F (57°C), which should take approximately 15-20 minutes. Use a meat thermometer to check the temperature accurately.
Once removed from the oven, let the beef tenderloin rest. This step is essential as it allows the juices to redistribute throughout the meat, ensuring every slice is succulent. Cover it with aluminum foil and set aside for 10 minutes.
While the beef is resting, focus on the Gorgonzola sauce. Start by melting butter in a small saucepan, then add heavy cream, Gorgonzola cheese, and garlic powder. Stir continuously over medium heat until the cheese has fully melted and the sauce is velvety smooth. Season with salt and pepper to taste.
After the beef has rested, slice it against the grain to ensure maximum tenderness. Serve the slices with a generous drizzle of the warm Gorgonzola sauce. The combination of the juicy, flavorful beef and the rich, creamy sauce creates a symphony of flavors that are sure to delight your palate.
Remember, the key to a perfect tenderloin lies in not overcooking it. Keep a close eye on the internal temperature, and don't skip the resting period. For the sauce, adjust the consistency to your preference by adding more cream if desired. The sauce should be thick enough to coat the back of a spoon without being overly runny.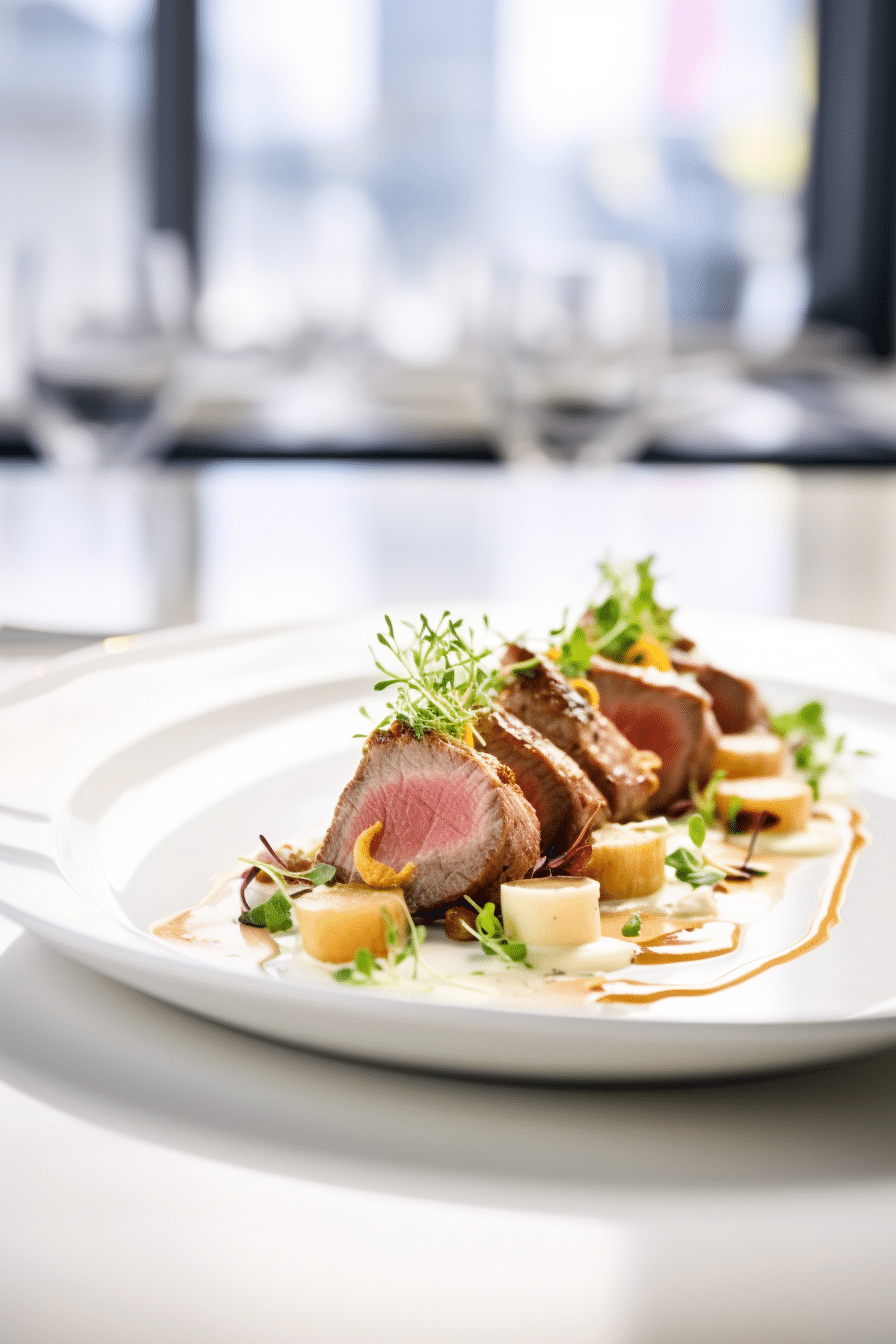 Variations
Herb-Infused Gorgonzola Sauce
For an aromatic twist, infuse your Gorgonzola sauce with fresh herbs. Adding thyme or rosemary to the saucepan while melting the cheese can impart a delightful fragrance and subtle flavor that pairs beautifully with the beef.
Crusted Beef Tenderloin
Enhance the texture of your beef tenderloin by creating a crust. Mix finely chopped herbs, such as parsley and chives, with a bit of almond flour and press this mixture onto the meat before searing. This will add a delightful crunch and an extra layer of flavor.
Spicy Gorgonzola Sauce
If you enjoy a bit of heat, consider adding a pinch of cayenne pepper or diced jalapeños to the Gorgonzola sauce. This will give the sauce a spicy kick that complements the richness of the cheese and the savoriness of the beef.
Substitutions
Understanding that dietary needs and preferences can vary, here are some substitutions to tailor this dish to your requirements:
For those who are dairy-sensitive, replace the Gorgonzola cheese with a dairy-free cheese alternative that melts well. Nutritional yeast can also be added for a cheesy flavor without the dairy. Substitute the heavy cream with full-fat coconut milk to maintain the creaminess of the sauce.
If Gorgonzola's strong flavor isn't to your liking, opt for a milder blue cheese or even feta for a tangy yet less intense taste. Keep in mind that the flavor profile will change, but the essence of the dish will remain intact.
In place of olive oil, consider using avocado oil or ghee for searing the beef. Both have high smoke points and can add a different dimension to the flavor of the meat.
FAQ Section
Here are some common questions and answers to ensure your success with this recipe:
Q: Can I make the Gorgonzola sauce ahead of time?
A: Yes, the sauce can be prepared in advance and gently reheated before serving. However, it's best enjoyed fresh for optimal creaminess.
Q: How do I store leftovers?
A: Store the beef and sauce separately in airtight containers in the refrigerator for up to 3 days. Reheat gently to avoid overcooking the beef.
Q: Can I use a different cut of beef?
A: While tenderloin is ideal for its tenderness, you can use other cuts like ribeye or sirloin. Adjust cooking times accordingly.
Q: Is it necessary to use a meat thermometer?
A: Yes, a meat thermometer is the most reliable way to ensure your beef is cooked to your preferred level of doneness.
Q: Can I make this recipe dairy-free?
A: Absolutely. Use dairy-free cheese alternatives and full-fat coconut milk instead of heavy cream to make a dairy-free version of the sauce.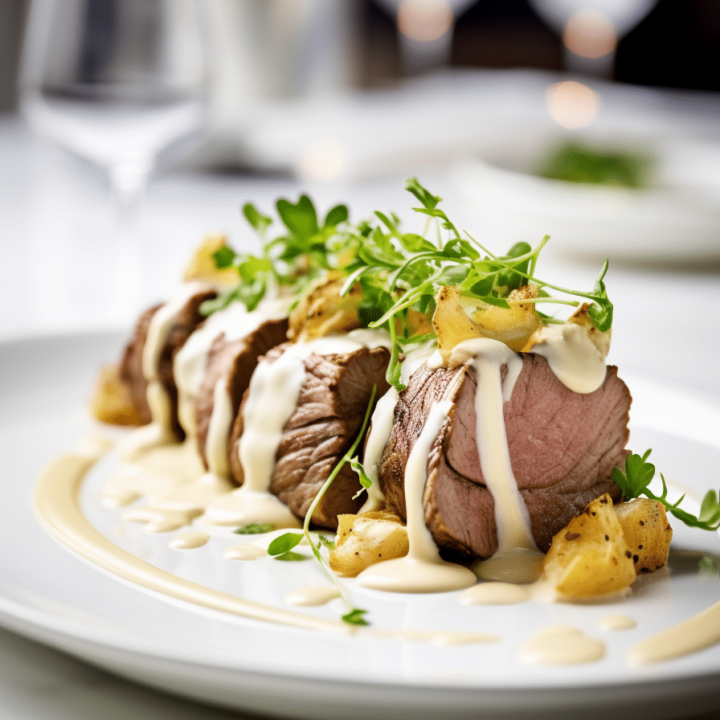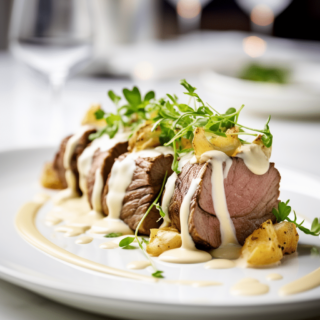 Keto Beef Tenderloin Dripping with Creamy Gorgonzola Sauce
Indulge in a luxurious keto-friendly meal featuring perfectly seared beef tenderloin topped with a creamy, tangy Gorgonzola sauce. This dish combines rich flavors and delicate textures, making it an ideal choice for a special occasion or a sophisticated weeknight dinner.
Ingredients
- Beef Tenderloin:

- 2 lb

907g beef tenderloin, trimmed

- 1 tsp

5g kosher salt

- 1/2 tsp

2.5g black pepper

- 2 tbsp

30ml olive oil

- Gorgonzola Sauce:

- 1/2 cup

120ml heavy cream

- 4 oz

113g Gorgonzola cheese, crumbled

- 1 tbsp

15g unsalted butter

- 1/4 tsp

1.25ml garlic powder

- Salt and pepper

to taste
Instructions
Preheat your oven to 400°F (205°C).

Season the beef tenderloin with kosher salt and black pepper, ensuring even coverage.

Heat olive oil in a skillet over medium-high heat until shimmering but not smoking.

Sear the beef tenderloin on all sides until a golden-brown crust forms, about 3-4 minutes per side.

Transfer the skillet with the seared tenderloin to the preheated oven and roast until the internal temperature reaches 135°F (57°C) for medium-rare, approximately 15-20 minutes.

Remove the skillet from the oven and transfer the beef tenderloin to a cutting board. Tent it with aluminum foil and let it rest for 10 minutes.

While the beef is resting, prepare the Gorgonzola sauce. In a small saucepan, combine heavy cream, Gorgonzola cheese, butter, and garlic powder. Cook over medium heat, stirring frequently until the cheese is melted and the sauce is smooth. Season with salt and pepper to taste.

Slice the rested beef tenderloin and serve it with the warm Gorgonzola sauce drizzled over the top.
Nutrition
Calories:
650
kcal
Carbohydrates:
4
g
Protein:
52
g
Fat:
48
g
Fiber:
1
g