Indulge in a Decadent Keto Delight with Low-Carb Lemon Thyme Roasted Quail
Embark on a culinary adventure that marries the elegance of gourmet dining with the principles of a ketogenic lifestyle. The Low-Carb Lemon Thyme Roasted Quail is a dish that not only tantalizes your taste buds with its harmonious blend of citrus and herbaceous flavors but also fits seamlessly into your low-carb, high-fat diet.
This recipe is a testament to the versatility of keto cooking, proving that a luxurious meal can be both indulgent and health-conscious. Perfect for a special occasion or a sophisticated weeknight dinner, this roasted quail will leave you satisfied without the guilt.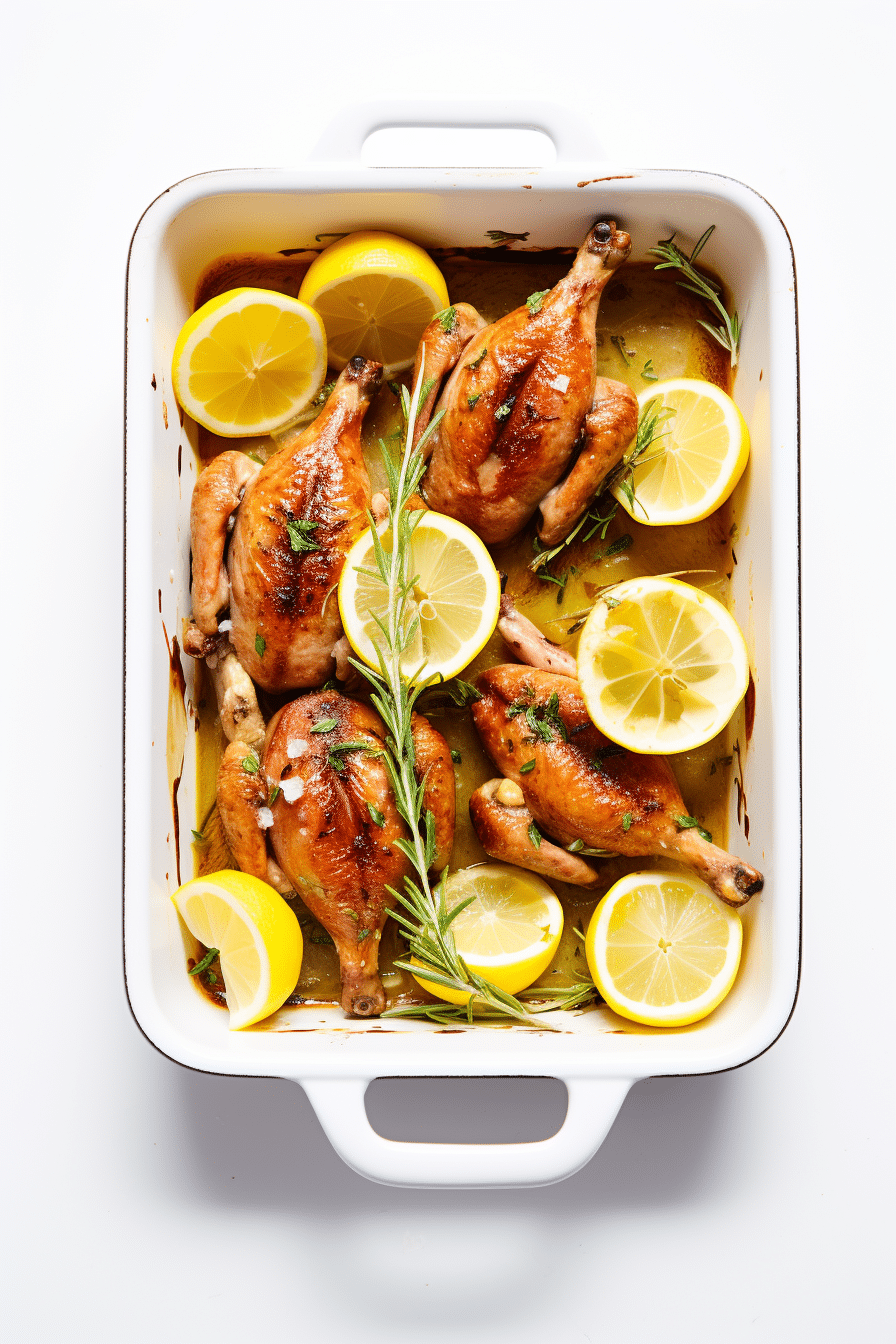 A Personal Touch to Keto Gourmet
My journey with keto cooking has always been about exploring the boundaries of flavor while maintaining a strict low-carb regimen. The inspiration for this Lemon Thyme Roasted Quail comes from a cherished memory of dining in a quaint French bistro, where the simplicity of ingredients spoke volumes on the plate. This dish is a nod to that experience, adapted for the keto diet without compromising on taste or elegance.
Quail, being naturally lean yet rich in protein, aligns perfectly with the keto philosophy of moderate protein intake. The addition of heart-healthy olive oil ensures that we're hitting the high-fat quotient necessary for ketosis. Lemon and thyme, both keto-friendly flavor enhancers, add a burst of zest and a whisper of the earth without adding unwanted carbs.
With each bite, you'll find that this dish not only satiates your appetite but also fuels your body with essential nutrients, making it a stellar choice for anyone committed to the keto way of eating. The balance of macronutrients in this recipe supports sustained energy levels and helps in maintaining a state of ketosis, which is the cornerstone of a successful keto diet.
Mastering the Art of Roasting Quail
Roasting quail to perfection is an art form, and with a few chef's tips, you can elevate this dish to new heights. Begin by ensuring your oven is preheated to the right temperature; this is crucial for achieving that desirable crispy skin.
When preparing the marinade, take the time to emulsify the olive oil with the lemon juice—this small step will result in a more cohesive flavor throughout the bird. As you loosen the skin of the quails, be gentle to avoid tearing, which allows the marinade to infuse directly into the meat, intensifying the taste.
Placing the quails in the roasting pan requires strategy; arrange them with enough space between each to ensure even cooking. Keep a watchful eye on the oven, as quail cooks quickly and you're aiming for that perfect golden-brown finish. A meat thermometer is your best friend here, preventing overcooking while ensuring food safety.
Resting the quails post-roasting isn't merely a suggestion—it's a necessity for juicy, tender meat. This pause allows the juices to settle back into the fibers, locking in moisture and flavor. Follow these tips, and you'll present a dish that's worthy of the finest tables.
Delightful Variations to the Classic Recipe
Herb-Infused Quail with Rosemary and Sage
For a twist on the classic, replace thyme with a combination of rosemary and sage. The piney aroma of rosemary pairs beautifully with the slightly peppery flavor of sage, providing a new dimension to the dish.
Spicy Lemon Quail
Introduce a bit of heat by adding red pepper flakes to the marinade. The spice will cut through the richness of the quail and add a vibrant kick that spice lovers will appreciate.
Orange-Glazed Quail
Substitute lemon with orange for a sweeter citrus note. The natural sugars in the orange will caramelize under the heat, creating a sticky, mouthwatering glaze that complements the savory quail.
Flexible Ingredient Substitutions
While this recipe is designed for optimal keto benefits, certain substitutions can be made to accommodate availability or preference without straying from your dietary goals.
Olive Oil: Avocado oil can be used as a substitute, offering similar monounsaturated fats and a high smoke point, ideal for roasting.
Fresh Thyme: In the absence of fresh herbs, dried thyme can be used; remember to use a third of the amount as dried herbs are more concentrated.
Lemon: Lime can replace lemon for a slightly different citrus profile, still keeping the carbs in check.
Frequently Asked Questions
Can I use chicken instead of quail? Yes, chicken can be used, but cooking times will vary depending on the size of the chicken pieces.
Is this recipe suitable for meal prep? Absolutely, roasted quail can be prepared ahead and stored in the fridge, making it a convenient keto meal option.
How do I know when the quail is cooked through? The safest way is to use a meat thermometer; the internal temperature should reach 165°F (74°C).
Can I grill the quail instead of roasting? Yes, grilling is a great alternative cooking method for this recipe, just be mindful of the heat to avoid charring.
Are there any sides you recommend with this dish? A simple keto-friendly green salad or roasted low-carb vegetables would complement the quail nicely.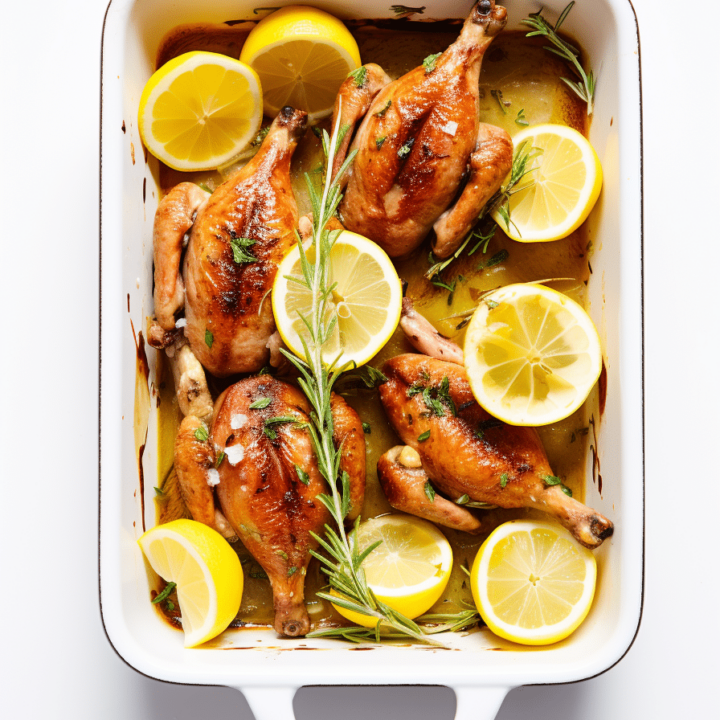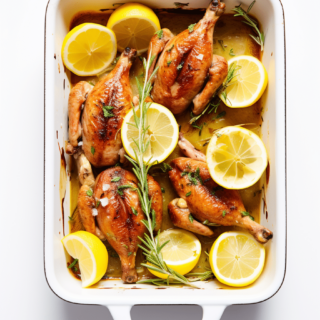 Low-Carb Lemon Thyme Roasted Quail
Treat your palate to a luxurious yet simple dish with our Low-Carb Lemon Thyme Roasted Quail. This recipe perfectly balances the zestiness of lemon and the earthiness of thyme, all while sticking to a keto-friendly blueprint. Ideal for a sophisticated dinner or a high-protein, low-carb meal.
Ingredients
- 2 whole quails

approximately 4-5 ounces or 113-142 grams each

- 2 tablespoons of olive oil

30 ml

- 1 lemon

zest and juice (zest: 1 tablespoon, juice: 2 tablespoons)

- 4 sprigs of fresh thyme

leaves stripped

- 1 teaspoon of sea salt

5 grams

- 1/2 teaspoon of freshly ground black pepper

1 gram

- 1 garlic clove

minced (approx. 1 teaspoon or 5 grams)
Instructions
Preheat your oven to 400°F (200°C).

Pat the quails dry with paper towels, ensuring they are as dry as possible for crispy skin.

In a small bowl, combine the olive oil, lemon zest, lemon juice, thyme leaves, minced garlic, salt, and pepper to create a marinade.

Gently loosen the skin of the quails and rub half of the marinade underneath the skin, directly onto the meat. Use the remaining marinade to coat the outside of the quails.

Place the quails in a roasting pan or on a baking sheet.

Roast in the preheated oven for 25 minutes or until the internal temperature reaches 165°F (74°C) and the skin is golden brown.

Let the quails rest for 5 minutes before serving to allow the juices to redistribute.
Notes
- For best results, ensure the quail is at room temperature before roasting.
- If fresh thyme is unavailable, 1/2 teaspoon of dried thyme can be substituted.
- Leftovers can be stored in the refrigerator for up to 2 days and are great for adding to salads or making a low-carb quail salad.
Nutrition
Calories:
310
kcal
Carbohydrates:
1
g
Protein:
25
g
Fat:
22
g
Fiber:
0.5
g