These delicious sugar free keto snack bars do away with the added sugar and carbs of your typical store candy – with a great nutty flavor from the combination of chocolate and hazelnuts, the perfect sweet keto snack recipe!
They make for a great transitional, low carb snack on your keto journey, calming any sweet tooth cravings until you can wean yourself off of sweet foods.
Add to that the fact they're vegan, packed with healthy fats from nuts and fiber, and you've got a great low carb snack.
What's so great about this low carb snack recipe is that these can easily be prepared in advance and kept in the refrigerator for those moments where cravings get too much, or for a sweet treat here and there, a reward for sticking so well to the rest of your cleaner eating diet!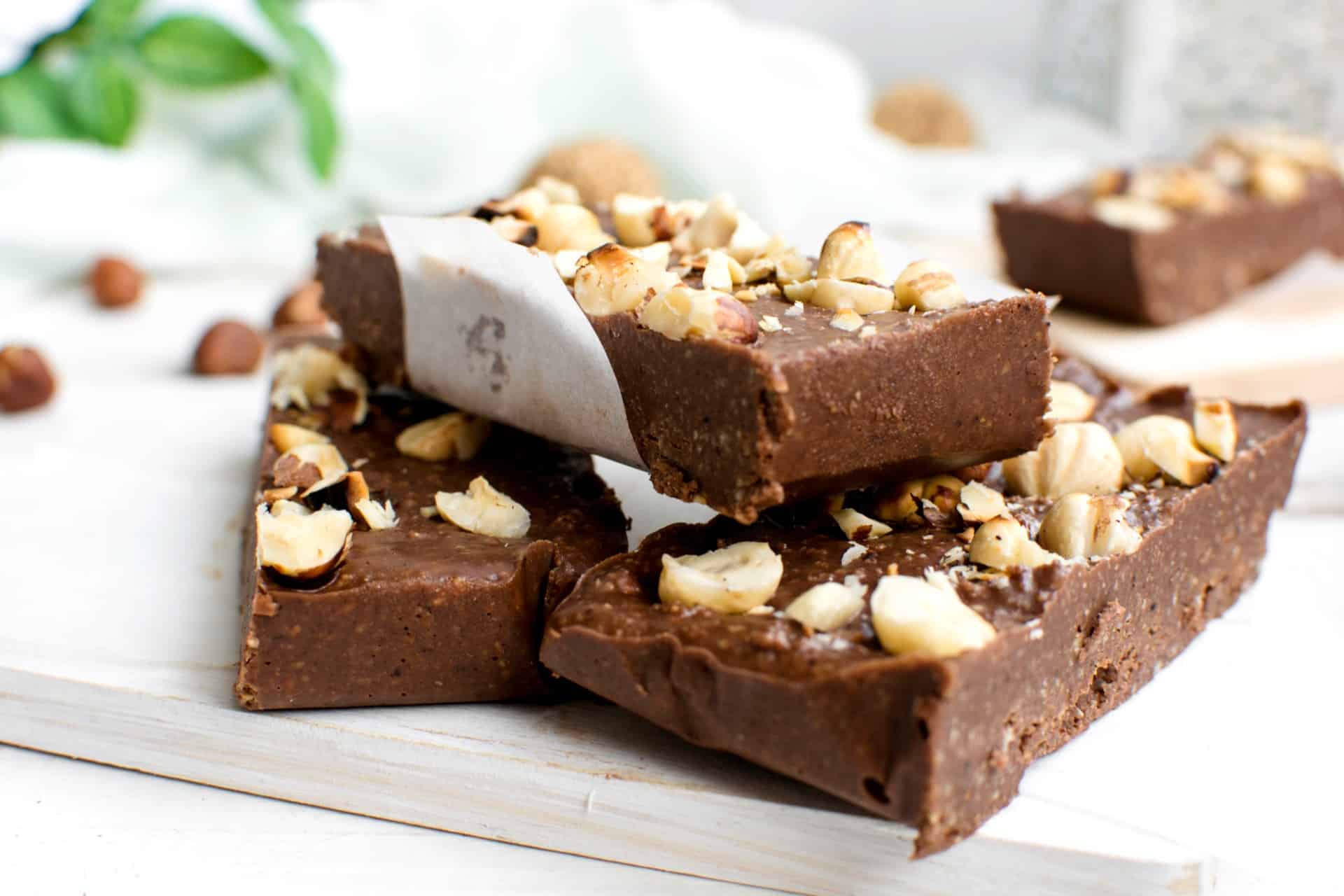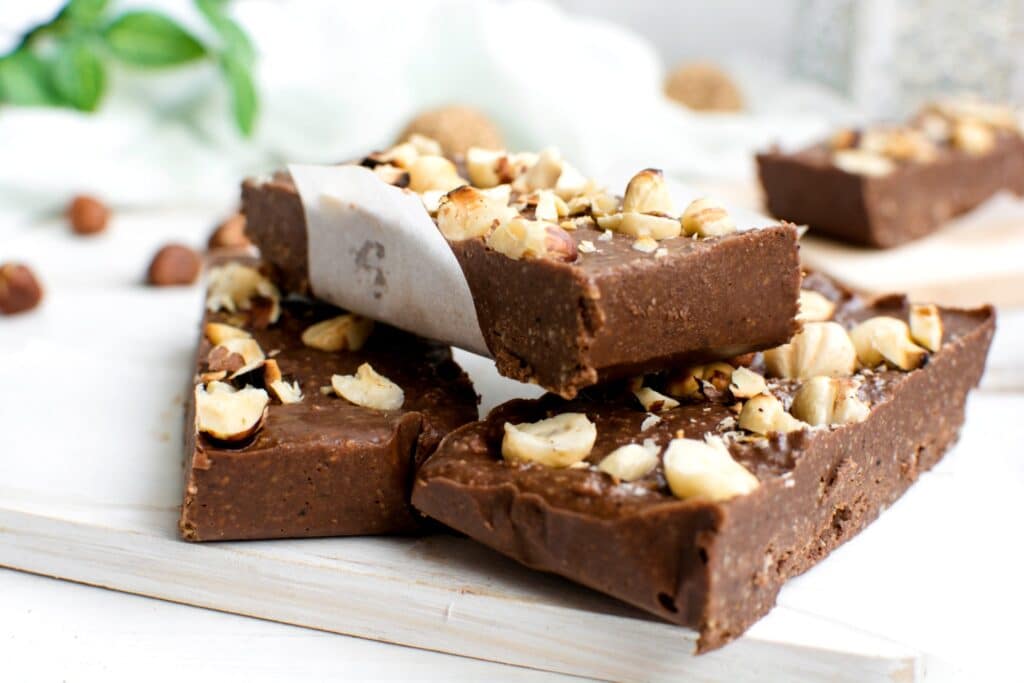 How to make Keto Snack Bars
These are chewy bars (as most keto bars are without added sugars and starches etc.) with a rich, ganache like flavor which pairs perfectly with hazelnuts, almost like nutella!
These keto friendly snacks can be prepped in 15 minutes or less, perfect to prepare in advance.
After an hour or so in the fridge these come out with the just the right amount of firmness to eat without them disintegrating like so many low-carb bars do.
Being so rich in flavor, you might wonder about the carb content? These do not contain any sugar or overly processed ingredients. So these are 100% Keto friendly snack bars with only 2 net carbs per bar.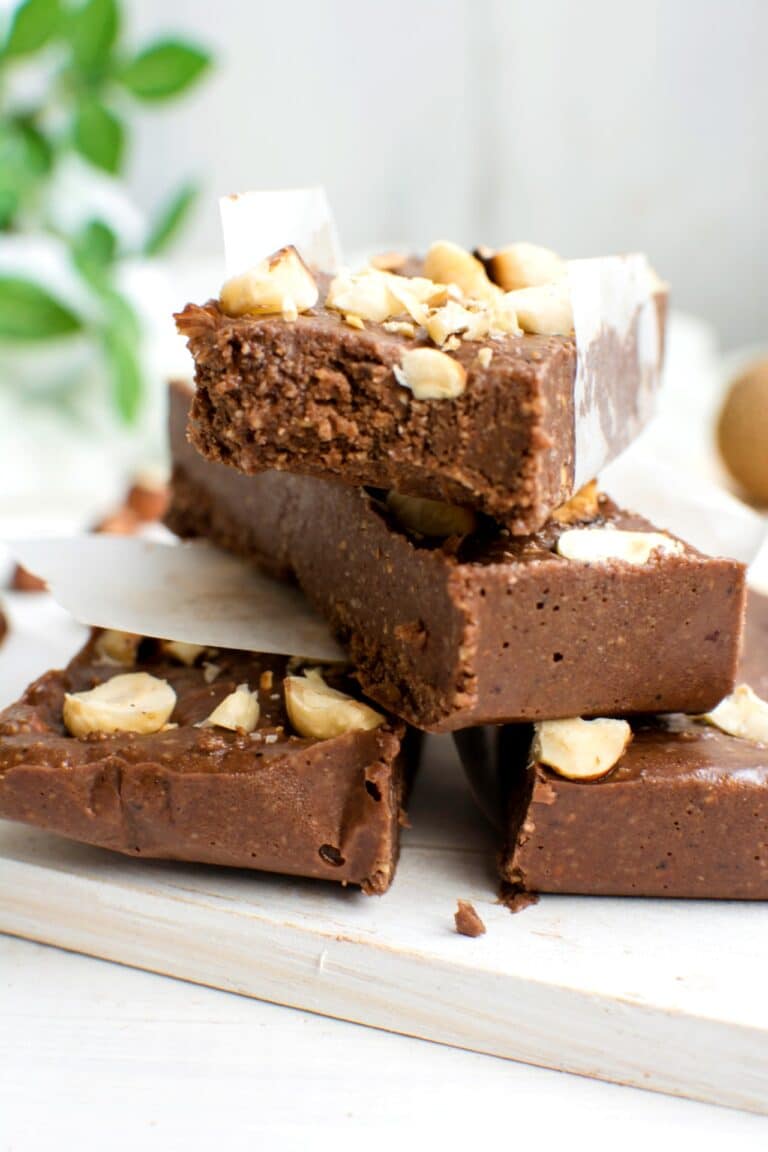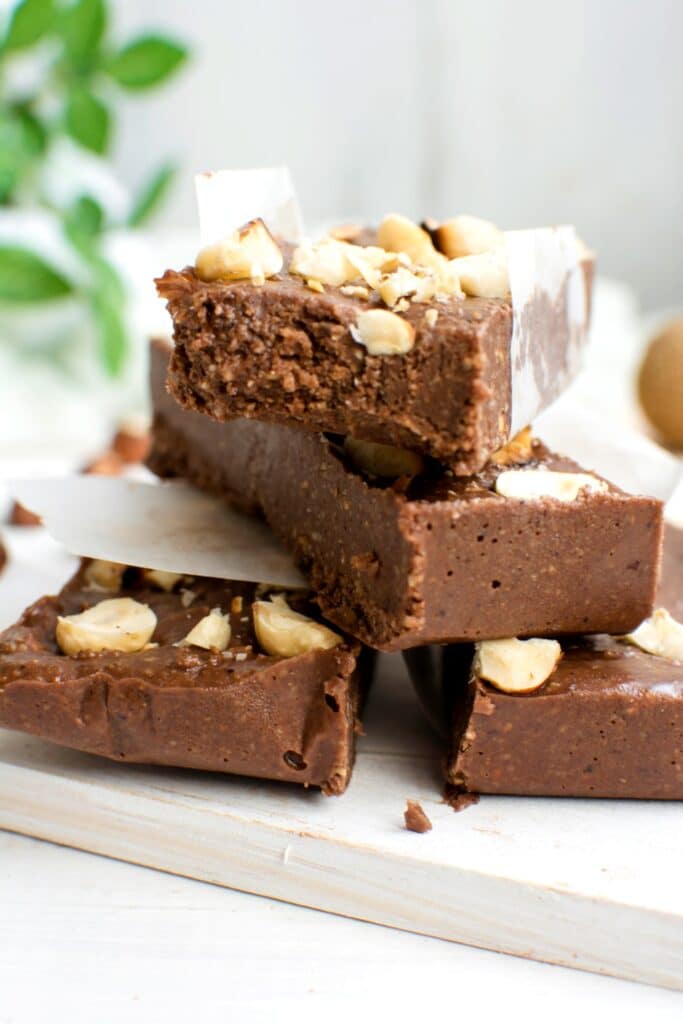 Upgrade Your Low Carb Snack Bars
Working out a lot? You can add some more protein to these these bars by adding some Keto protein powder, chocolate or vanilla flavor, or even hazelnut if you can find one.
We like the Perfect Keto collagen protein powder as a well rounded addition to the keto diet, ideal if you're more active and do regular exercise/weightlifting and want to add more protein to your keto diet.
Another great tweak to these Keto snack bars is to add a pinch of instant coffee granules for more of a nutty, mocha flavour and a caffeine boost.
Those would go brilliantly with our Coffee Mocha Smoothie for a quick, fat fuelled start to the day.
Once you make these, be sure to store in the fridge, wrapped individually in parchment paper. As they have a high-fat content from the nuts and coconut oil, they may melt and bind to one another if allowed to warm up.
For longer shelf life, you can freeze the bars in the freezer. Make sure you remove from the freezer at least 10-15 minutes before consuming it.
Tips and Recommendations for the Best Keto Chocolate Bars
Check your nut butter: Some people find their keto candy bars don't set well in the fridge, others find that the mixture can be too dry to spread. This can usually be traced back to the huge variety you find between different brands of nut butter.
For the best low carb chocolate bars, try to find nut butters without any added ingredients (especially sugar to keep things keto), but also look out for other additives, as these can alter the texture and ability of the mixture to set.
Use a nut butter that is somewhat runny, not the dried, hard bits you often find at the bottom of an older jar. You want to be able to bind all the ingredients together well so they don't crumble.
Chill your bars thoroughly: It'll be tempting to cut the time short, but these really do need a decent amount of time in a cold fridge, an hour is the minimum really. If for some reason they don't set, try putting your keto snack bars in the freezer, you can store them in here then move the fridge shortly before eating if you prefer a more solid bar.
Just remember to put a layer of parchment paper or similar between bars when storing, so they don't stick together!
We hope you love these keto snack bars, drop us a message in the comments with any suggestions or tweaks you may have made to this recipe, we love to get your input.
Not in the mood for DIY? We've got a great list of ready to eat keto snacks to buy, and plenty more easy keto snack recipes here on I Eat Keto.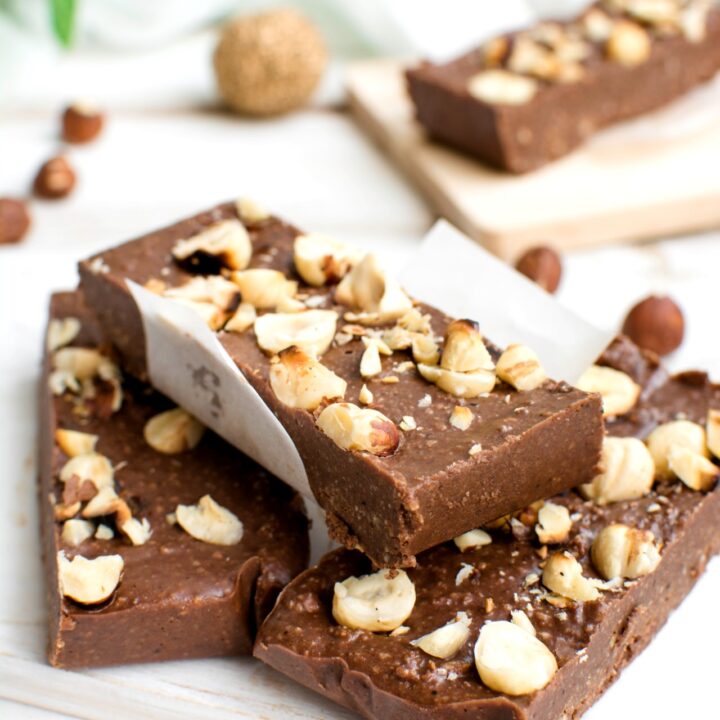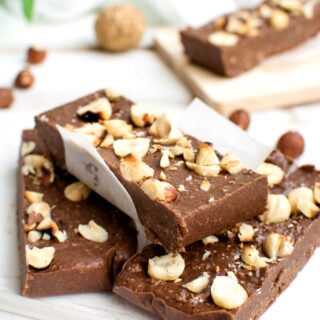 Keto Healthy Snack Bars
A quick and easy keto snack recipe for chocolate hazelnut, low carb bars.
Ingredients
115

g

1 Cup Blanched hazelnuts

40

g

1/3 Cup Almond flour

1

tbsp

cocoa powder

50

g

1/4 Cup Powdered monk fruit allulose blend or desired sweetener

1

heaped tbsp Almond butter or any nut butter

15

g

1/2 oz Coconut oil, softened
Instructions
Gather your ingredients.

Place blanched hazelnuts in a food processor and process until coarse.

Add almond flour, cacao, sweetener, almond butter, and coconut oil.

Process until you have a smooth paste.

Transfer the mixture into a paper-lined loaf pan.

You can top with some hazelnuts or leave as it is. Place in a fridge for at least 1 hour, preferably more.

Cut into bars and serve. You can cut in four or six bars.
Notes
To blanch the hazelnuts yourself, boil the hazelnuts in water with 2 tbsp of baking soda to soften them. Once blanched, drain immediately and let dry.
Try toasted the hazelnuts before blitzing them to bring out more flavor.
Nutrition
Calories:
180
kcal
Carbohydrates:
5
g
Protein:
4
g
Fat:
16
g
Fiber:
3
g
Sugar:
1
g