"`html

Keto Coconut Macaroons Dipped in Dark Chocolate
Embark on a culinary journey that marries the richness of dark chocolate with the tropical allure of coconut in a form that's fully keto-compliant. These Keto Coconut Macaroons Dipped in Dark Chocolate are not just a treat for the senses, but they also align perfectly with your low-carb lifestyle. By choosing ingredients that are high in healthy fats and low in carbohydrates, these macaroons ensure you can indulge without breaking your ketosis. They're chewy, they're chocolatey, and they're completely guilt-free!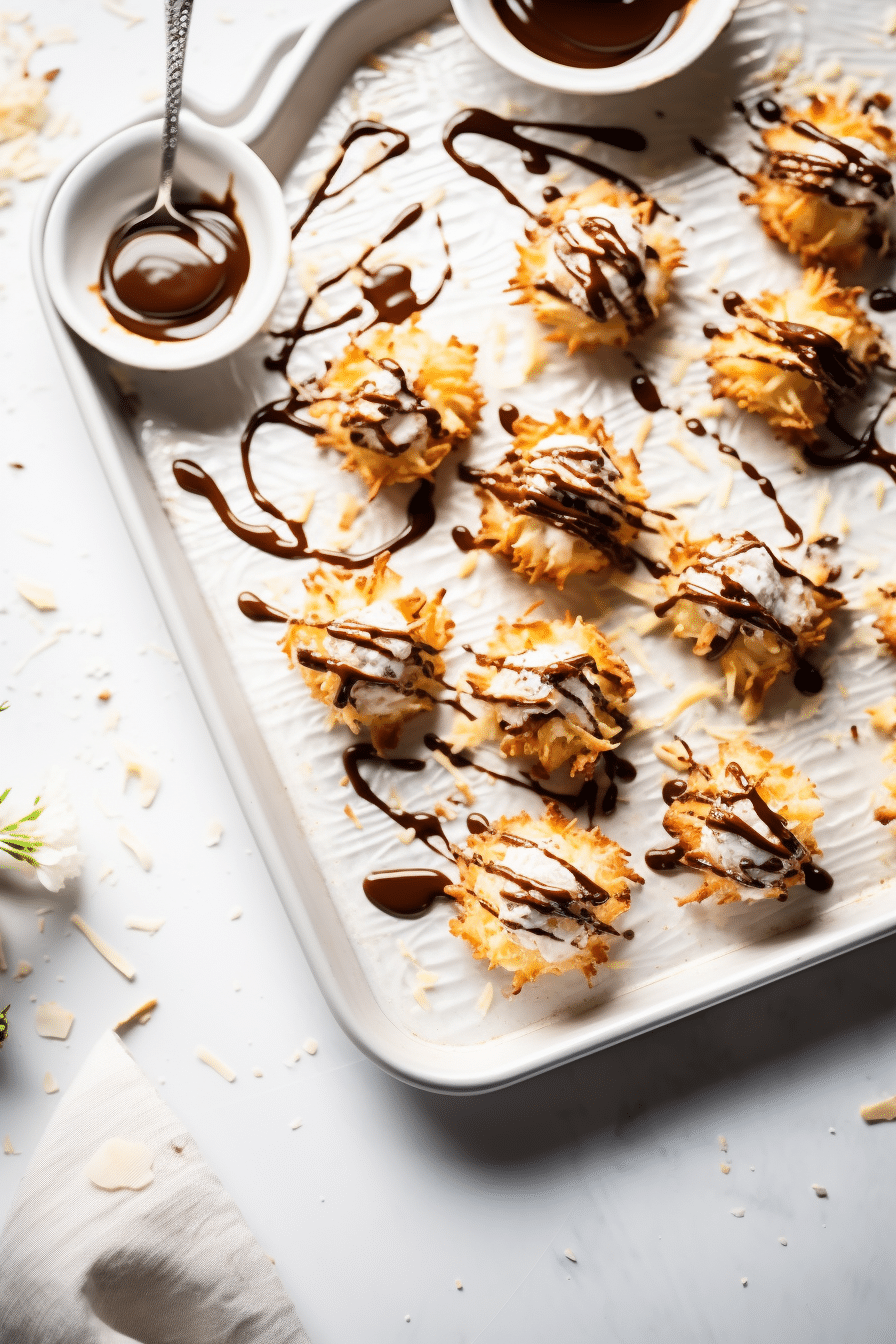 The Origin and Benefits of This Keto Delight
As a connoisseur of keto desserts, I'm always on the hunt for recipes that satisfy the sweet tooth without compromising my macro goals. The inspiration for these Keto Coconut Macaroons Dipped in Dark Chocolate comes from a classic French confection, reimagined for the keto diet. Traditionally, macaroons are a meringue-based treat with a crisp crust and soft, chewy interior. By substituting sugar with granulated erythritol, we maintain the texture and sweetness while slashing the carbs.
Coconut is a keto powerhouse, packed with fiber and healthy fats that help to keep you fuller for longer. When paired with dark chocolate, which is naturally low in sugar and high in antioxidants, you get a dessert that's not just delicious, but also nourishing for your body. The use of sugar-free dark chocolate chips ensures that you're keeping the net carbs to a minimum, making these macaroons a perfect keto-friendly dessert or snack.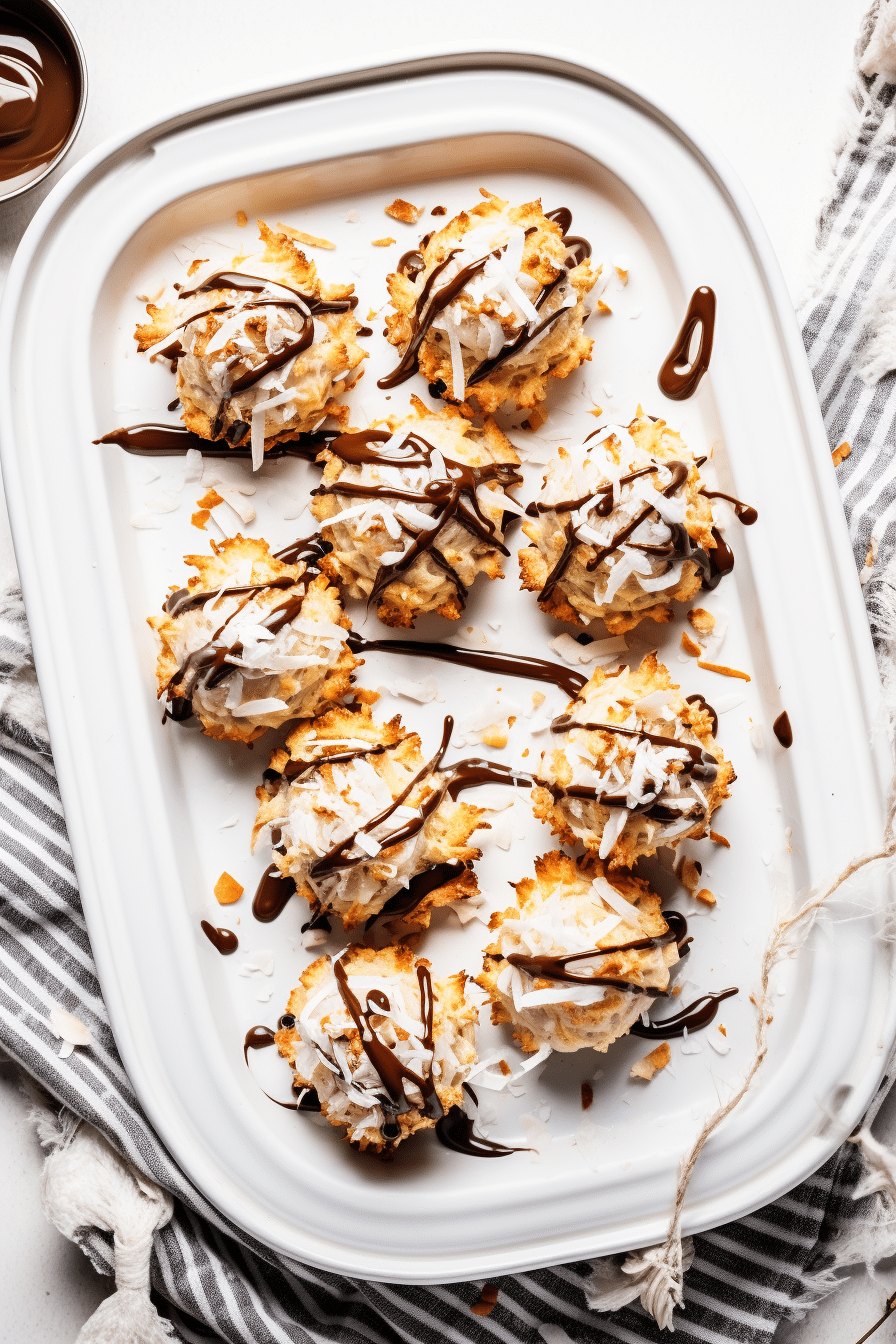 Creating the Perfect Keto Macaroon
The secret to the perfect macaroon lies in the preparation of the egg whites. They must be whisked to stiff peaks, which creates the light and airy texture that macaroons are known for. It's essential to fold the egg whites gently into the coconut mixture to avoid deflating them. This step is crucial for achieving the signature chewiness of the macaroon.
Another key aspect is the baking process. The macaroons should be golden brown around the edges, a sign that they're crispy on the outside while remaining soft on the inside. Overbaking can lead to a dry texture, so keep a close eye on them as they bake.
Dipping the macaroons in dark chocolate adds a touch of sophistication and an extra layer of flavor. The contrast between the sweet coconut and the bitter chocolate is divine. For the best results, ensure the chocolate is smoothly melted and the macaroons are completely cool before dipping. This ensures a clean, crisp layer of chocolate on each macaroon.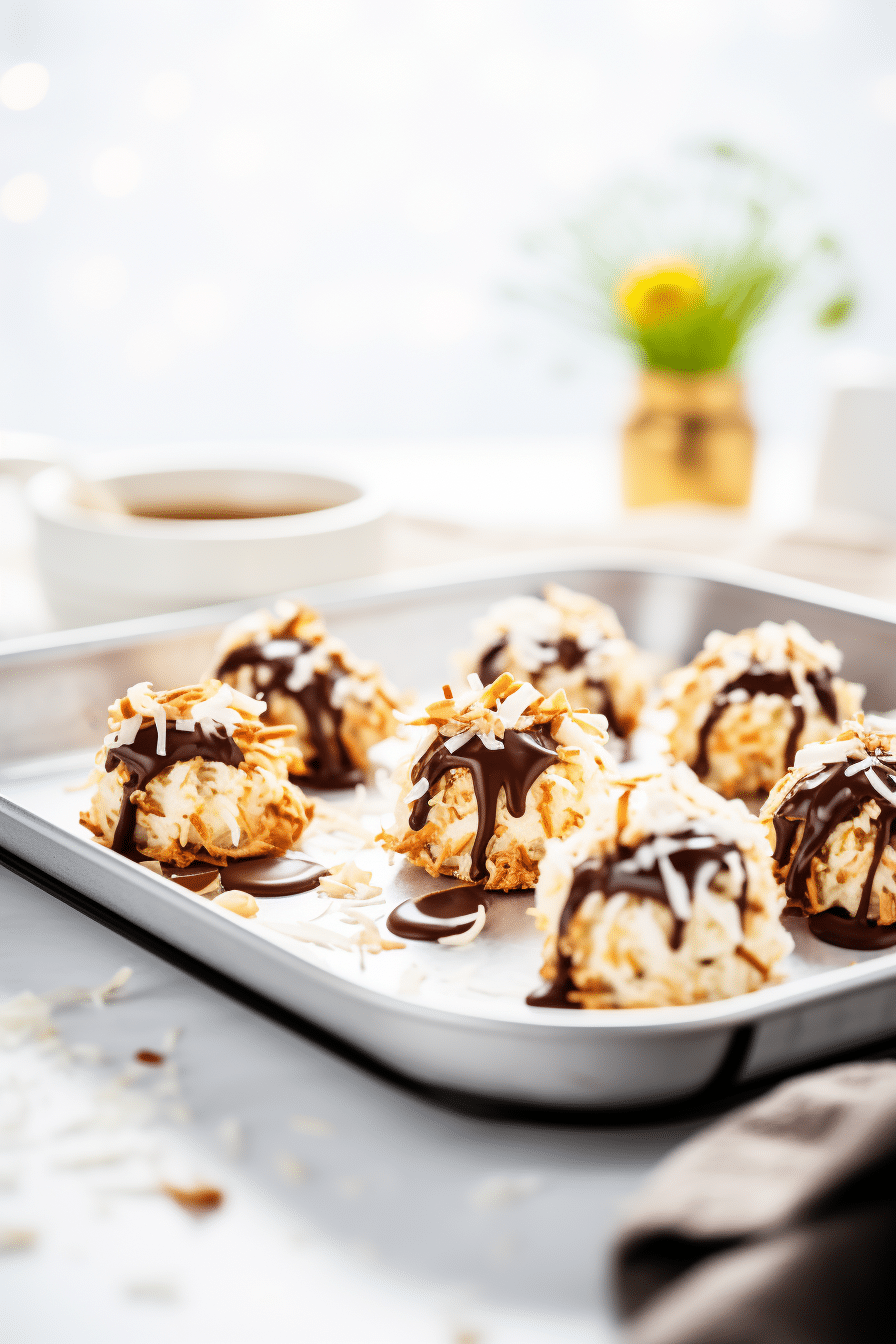 Exciting Variations to Try
Almond Joy-Inspired Macaroons
For a nutty twist, press a whole almond into the center of each macaroon before baking and drizzle with extra chocolate post-dip.
Lemon Zest Macaroons
Add a fresh zing by incorporating lemon zest into the coconut mixture, providing a bright contrast to the rich chocolate.
Spiced Macaroons
Introduce warm spices like cinnamon and nutmeg to the coconut mixture for a cozy, aromatic version of this classic treat.
Flexible Ingredient Substitutions
While the recipe is designed to be keto-friendly, you may find yourself in need of substitutions. Here are a few:
Erythritol: If unavailable, other keto-friendly sweeteners like monk fruit or stevia can be used in equivalent amounts.
Egg Whites: In a pinch, liquid egg whites from a carton can work, though fresh is best for volume.
Dark Chocolate: If sugar-free dark chocolate chips are hard to find, a high-cocoa chocolate bar, chopped finely, can be melted and used instead.
Frequently Asked Questions
| Question | Answer |
| --- | --- |
| Can I use sweetened coconut? | No, sweetened coconut will add extra sugar and carbs, which is not ideal for a keto diet. |
| How do I store the macaroons? | Store in an airtight container at room temperature for up to a week, or refrigerate for extended freshness. |
| Can I freeze these macaroons? | Yes, they freeze well. Just be sure to thaw them at room temperature before enjoying. |
| Is there a dairy-free chocolate option? | Yes, there are dairy-free sugar-free chocolate options available that are suitable for a keto diet. |
| Can I make these macaroons nut-free? | Absolutely, just ensure no nut-based ingredients are used in any variations or substitutions. |
"`
## Keto Coconut Macaroons Dipped in Dark Chocolate

Delight your taste buds with these irresistibly chewy Keto Coconut Macaroons dipped in luscious dark chocolate. Perfect for satisfying your sweet tooth without the guilt, they are wonderfully low in carbs, high in healthy fats, and absolutely gluten-free!

**Servings:** 12 macaroons

**Prep Time:** 15 minutes

**Cook Time:** 25 minutes

**Cuisine:** French-Inspired

**Category:** Dessert

**Ingredients:**
– 3 cups unsweetened shredded coconut (240g / 8.5oz)
– 4 large egg whites
– 1/2 cup granulated erythritol (96g / 3.4oz)
– 1 teaspoon vanilla extract
– 1/4 teaspoon salt
– 1/2 cup sugar-free dark chocolate chips (85g / 3oz)

**Method:**
1. Preheat your oven to 325°F (163°C) and line a baking sheet with parchment paper.
2. In a large bowl, combine the shredded coconut, erythritol, vanilla extract, and salt.
3. In a separate bowl, whisk the egg whites until they form stiff peaks.
4. Gently fold the egg whites into the coconut mixture until well combined, ensuring not to deflate the egg whites.
5. Using a cookie scoop or spoon, form the mixture into 12 rounded mounds on the prepared baking sheet, spacing them about an inch apart.
6. Bake in the preheated oven for 20-25 minutes or until the edges are golden brown.
7. While the macaroons are cooling, melt the dark chocolate chips in a microwave-safe bowl in 30-second intervals, stirring until smooth.
8. Once the macaroons are cool, dip the bottom of each macaroon into the melted chocolate and place them back on the parchment paper.
9. Refrigerate the macaroons for 10-15 minutes to allow the chocolate to set.
10. Serve immediately or store in an airtight container.

**Calories:** 150 per macaroon

**Carbohydrates:** 8g per macaroon

**Net Carbs:** 2g per macaroon

**Fiber:** 6g per macaroon

**Fat:** 14g per macaroon

**Protein:** 3g per macaroon

**Equipment Used:**
– Oven
– Baking sheet
– Parchment paper
– Large mixing bowl
– Medium mixing bowl
– Whisk
– Microwave-safe bowl
– Cookie scoop or spoon

**Other Notes:**
– Ensure your egg whites are at room temperature for the best volume when whisked.
– Be careful not to overmix the batter to keep the macaroons light and airy.
– Store these macaroons in an airtight container at room temperature for up to a week or refrigerate for longer shelf life.
– For an extra touch of elegance, drizzle some melted chocolate over the top of the macaroons before refrigerating.