## Keto Chocolate Hazelnut Spread Filled Cookies
Indulge in a keto-friendly treat that's as delicious as it is satisfying with these **Keto Chocolate Hazelnut Spread Filled Cookies**. If you're on a ketogenic diet and have a sweet tooth, finding desserts that fit your macros can be a challenge. But with this recipe, you can enjoy the rich flavors of chocolate and hazelnuts without the carb overload. The secret lies in the combination of almond flour, natural sweeteners, and healthy fats, resulting in a cookie that's low in carbs but high in taste. Plus, the dreamy hazelnut spread center is the perfect complement to the soft, chocolate cookie exterior, making it a decadent dessert that's sure to please any palate.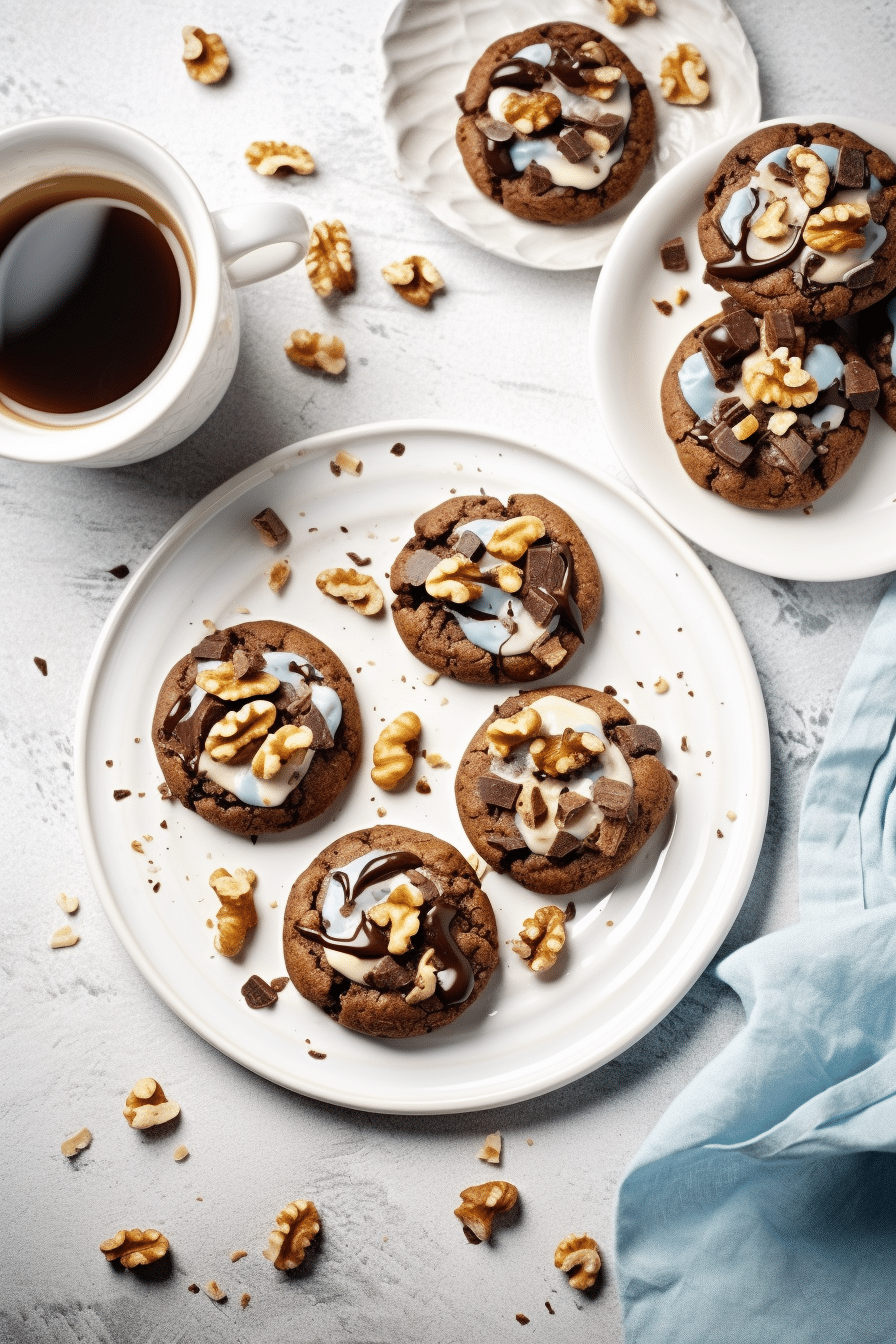 ## The Origin of These Keto Delights
These **Keto Chocolate Hazelnut Spread Filled Cookies** are a testament to the versatility of keto baking. Born from a desire to create a dessert that could be enjoyed without guilt, this recipe is a culmination of trial and error to find the perfect balance of flavors and textures while keeping the carb count low.
The inspiration comes from classic chocolate hazelnut spreads, which are often loaded with sugars and not conducive to a ketogenic lifestyle. By using ingredients like almond flour and erythritol, we've managed to replicate the indulgent experience without compromising on keto principles.
Almond flour is a keto staple, low in carbohydrates and high in healthy fats and fiber, making it an ideal base for these cookies. The natural sweetness of erythritol, a sugar alcohol that our bodies don't metabolize, delivers the desired sweetness without the added sugars.
Cocoa powder adds a rich chocolate flavor, which, when combined with the homemade hazelnut spread, creates a mouthwatering treat that's both nourishing and satisfying. The fats from the butter and coconut oil not only add to the keto ratio of the recipe but also contribute to the cookie's tender crumb and the spread's creamy texture.
These cookies are not just a dessert; they're a celebration of how keto can be deliciously integrated into every meal. They show that with the right ingredients and a bit of creativity, you can enjoy all the flavors you love, without the carbs that you don't.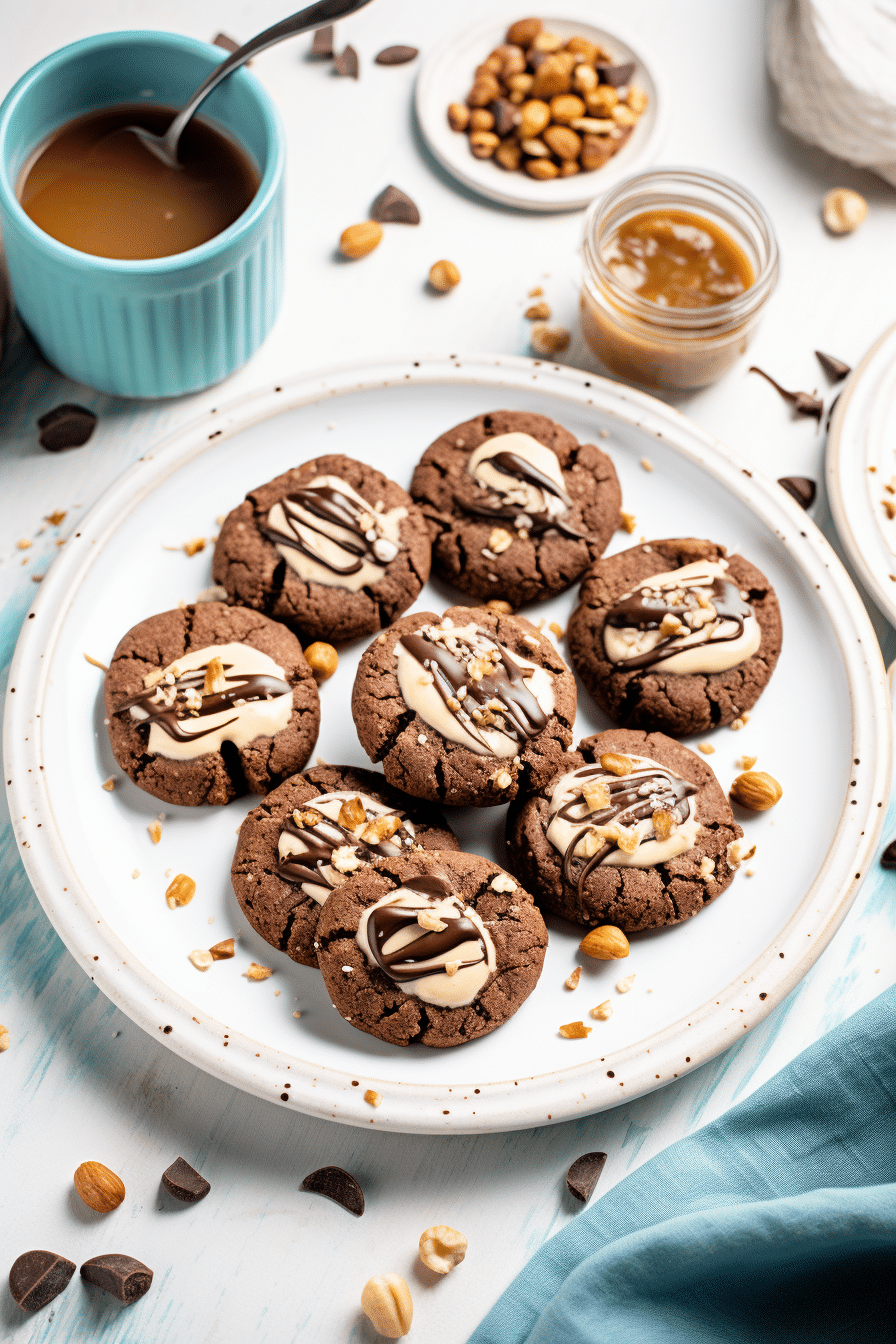 ## Crafting the Perfect Keto Cookie
Creating these cookies is more than just following a recipe; it's about understanding the nuances of keto baking. Here's a step-by-step guide, complete with tips and tricks, to ensure your cookies turn out perfectly every time.
1. **Preheating and Preparing:** Start by getting your oven up to temperature and prepping your baking sheet. A consistent oven temperature is crucial for even baking, and lining your sheet with parchment ensures your cookies won't stick.
2. **Mixing Dry Ingredients:** Sift your almond flour and cocoa powder to prevent lumps. This also helps to evenly distribute the baking powder and salt for a uniform rise and flavor throughout the cookies.
3. **Combining Wet Ingredients:** When you mix in the melted butter with the egg and vanilla, ensure it's cooled slightly to avoid cooking the egg. This mixture is the key to a moist cookie.
4. **Forming the Dough:** Gently fold the wet ingredients into the dry until a soft dough forms. Overmixing can lead to a tough cookie, so be as gentle as possible.
5. **Making the Hazelnut Spread:** The key to a smooth spread is patience. Keep processing those hazelnuts until they release their oils and transform into a buttery paste. This is where the magic happens.
6. **Assembling the Cookies:** Be consistent with the amount of dough and filling for each cookie to ensure even baking. Encase the hazelnut spread fully to prevent any leaks.
7. **Baking to Perfection:** Watch the cookies closely as they bake. They should still be soft in the middle when you take them out, as they will continue to set while cooling.
8. **Cooling Down:** Give the cookies time to rest on the baking sheet before moving them to a wire rack. This helps them set and makes them easier to handle without breaking.
By following these steps and keeping an eye out for the details, you'll create a batch of cookies that are as beautiful as they are delicious.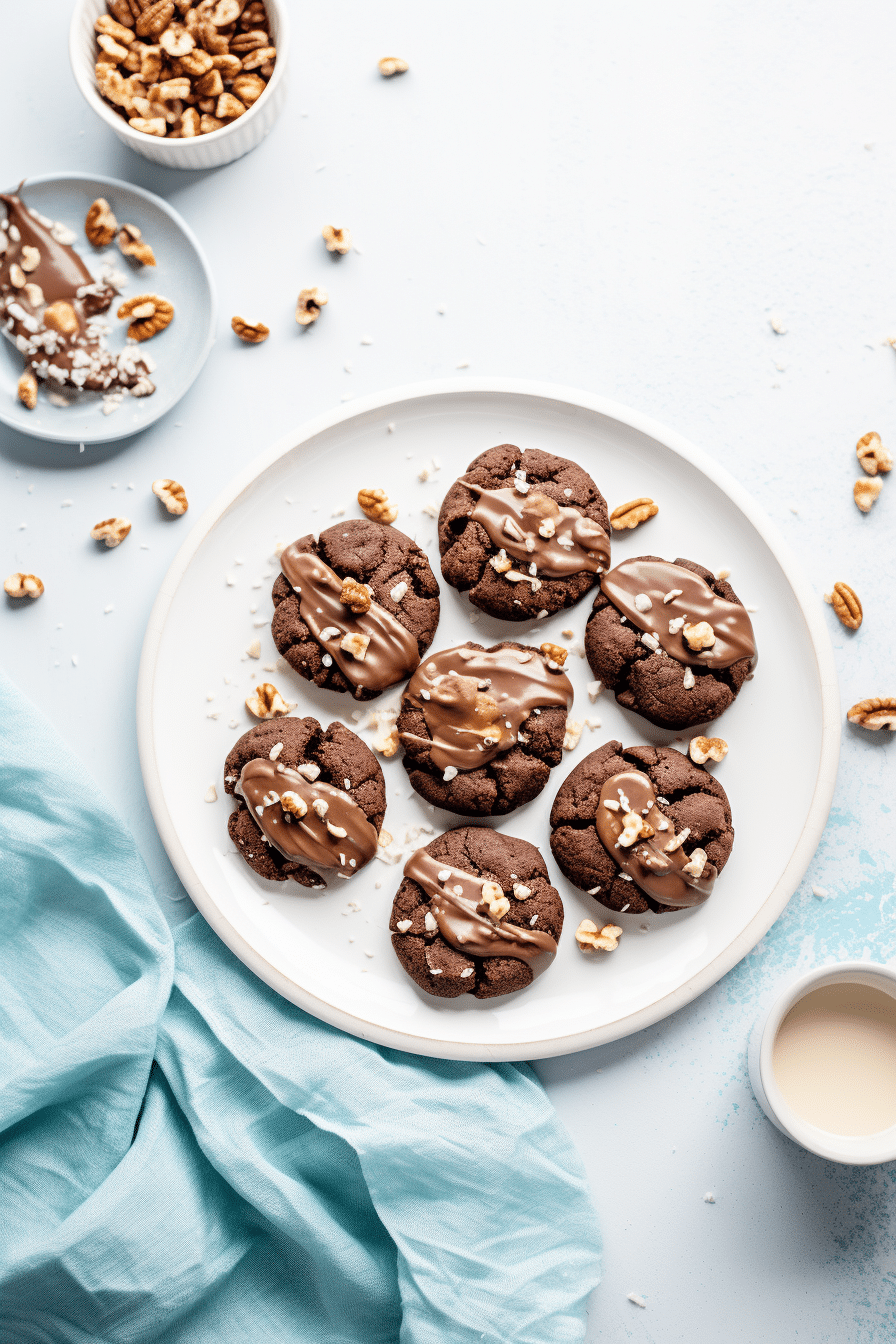 ## Exciting Variations to Try
### **H3 Almond Joy-Inspired Cookies**
Transform your cookies into an almond joy wonder by adding a whole almond into the center of the hazelnut spread before encasing it in the cookie dough. The added crunch and flavor will remind you of the classic candy bar, all while keeping it keto-friendly.
### **H3 White Chocolate Drizzle**
For those who love a touch of elegance, melt some keto-friendly white chocolate and drizzle it over the cooled cookies. The contrast of the white chocolate against the dark cookie is not only visually appealing but adds a creamy taste that's hard to resist.
### **H3 Spiced Hazelnut Cookies**
Introduce some warmth to your cookies by adding a pinch of cinnamon or nutmeg to the hazelnut spread. These spices bring a comforting flavor that's perfect for the cooler months or when you're in the mood for something a little different.

## Ingredient Substitutions
For those with different dietary needs or preferences, here are some substitutions that can help tailor the recipe to your liking:
– **Almond Flour:** If you're allergic to almonds, try using sunflower seed flour or coconut flour. Remember that coconut flour is more absorbent, so you'll need to adjust the amount used.
– **Erythritol:** Not a fan of erythritol? You can use other keto-friendly sweeteners like stevia or monk fruit sweetener. Be mindful of the conversion rates, as they can vary.
– **Butter:** Dairy-free? Substitute the butter with a dairy-free alternative like ghee or coconut oil. This will maintain the fat content needed for a moist cookie without the dairy.

## Frequently Asked Questions
**Q: Can I make these cookies nut-free?**
**A:** While the hazelnut spread is a key feature, you can substitute the hazelnuts with a seed-based spread, like sunflower seed butter, to keep it nut-free.
**Q: How do I store these cookies to keep them fresh?**
**A:** Store them in an airtight container at room temperature for up to 1 week, or refrigerate for up to 2 weeks. You can also freeze the unbaked dough balls for a quick treat later on.
**Q: Can I make the dough ahead of time?**
**A:** Absolutely! The dough can be refrigerated for up to 24 hours before use. Just let it come to room temperature before assembling the cookies.
**Q: Are these cookies diabetic-friendly?**
**A:** The cookies are made with erythritol, which has a minimal impact on blood sugar levels, making them a suitable option for many diabetics. However, it's always best to consult with a healthcare provider.
**Q: Can I use a different type of nut for the filling?**
**A:** Yes, you can experiment with other nuts like almonds or pecans, but the flavor profile will change. Make sure to process them into a smooth paste for the best texture.
## Keto Chocolate Hazelnut Spread Filled Cookies

Indulge in the decadent taste of chocolate and hazelnuts with these Keto Chocolate Hazelnut Spread Filled Cookies. Perfectly tailored for a low-carb lifestyle, these cookies are rich, satisfying, and guilt-free. A dreamy hazelnut spread encased in a soft, chocolate cookie will make you forget you're even following a keto diet!

**Servings:** 12 Cookies

**Prep Time:** 15 minutes

**Cook Time:** 15 minutes

**Cuisine:** American

**Category:** Dessert

**Ingredients:**
For the Keto Chocolate Cookies:
– 1 1/2 cups almond flour (150g)
– 1/2 cup cocoa powder (50g)
– 1/3 cup granulated erythritol (67g)
– 1 tsp baking powder (4g)
– 1/4 tsp salt (1.5g)
– 1 large egg
– 1/2 cup unsalted butter, melted (113g)
– 1 tsp vanilla extract (5ml)
For the Hazelnut Spread Filling:
– 3/4 cup hazelnuts, roasted and skinned (90g)
– 1/4 cup powdered erythritol (50g)
– 2 tbsp cocoa powder (15g)
– 2 tbsp coconut oil (30ml)
– 1/2 tsp vanilla extract (2.5ml)
– A pinch of salt

**Method:**
1. Preheat your oven to 350°F (175°C) and line a baking sheet with parchment paper.
2. In a medium bowl, whisk together almond flour, cocoa powder, granulated erythritol, baking powder, and salt.
3. In a separate bowl, beat the egg, then mix in the melted butter and vanilla extract.
4. Combine the wet ingredients with the dry ingredients and mix until a soft dough forms.
5. For the hazelnut spread, blend the roasted hazelnuts in a food processor until a paste forms.
6. Add powdered erythritol, cocoa powder, coconut oil, vanilla extract, and salt to the hazelnut paste and blend until smooth.
7. Take a tablespoon of cookie dough and flatten it in the palm of your hand. Place a teaspoon of hazelnut spread in the center and fold the dough around it, rolling into a ball.
8. Place the filled dough balls on the prepared baking sheet, spacing them about 2 inches apart.
9. Flatten each ball slightly with the bottom of a glass.
10. Bake for 12-15 minutes or until the cookies are set on the edges but still soft in the middle.
11. Allow the cookies to cool on the baking sheet for 5 minutes before transferring them to a wire rack to cool completely.

**Calories:** 200 per cookie

**Carbohydrates:** 7g per cookie

**Net Carbs:** 3g per cookie

**Fiber:** 4g per cookie

**Fat:** 18g per cookie

**Protein:** 5g per cookie

**Equipment Used:**
– Mixing bowls
– Measuring cups and spoons
– Baking sheet
– Parchment paper
– Food processor
– Oven

**Other Notes:**
– Ensure your hazelnuts are fresh; stale nuts can produce a rancid taste.
– For a smoother hazelnut spread, process the nuts for an extra minute or two.
– These cookies will stay fresh in an airtight container at room temperature for up to 1 week, or in the refrigerator for up to 2 weeks.
– You can freeze the unbaked dough balls for a quick treat; just add a few minutes to the baking time if cooking from frozen.