Keto Caprese Skewers with Balsamic Drizzle
Embark on a culinary journey to the heart of Italy with a keto twist! Keto Caprese Skewers with Balsamic Drizzle are the epitome of a guilt-free indulgence that doesn't skimp on flavor.
This appetizer is a harmonious blend of juicy tomatoes, creamy mozzarella, and aromatic basil, all brought together with a tangy balsamic reduction.
Not only do these skewers stay true to the low carb, high fat ethos of the ketogenic diet, but they also offer a burst of Mediterranean flair that's sure to impress at any gathering.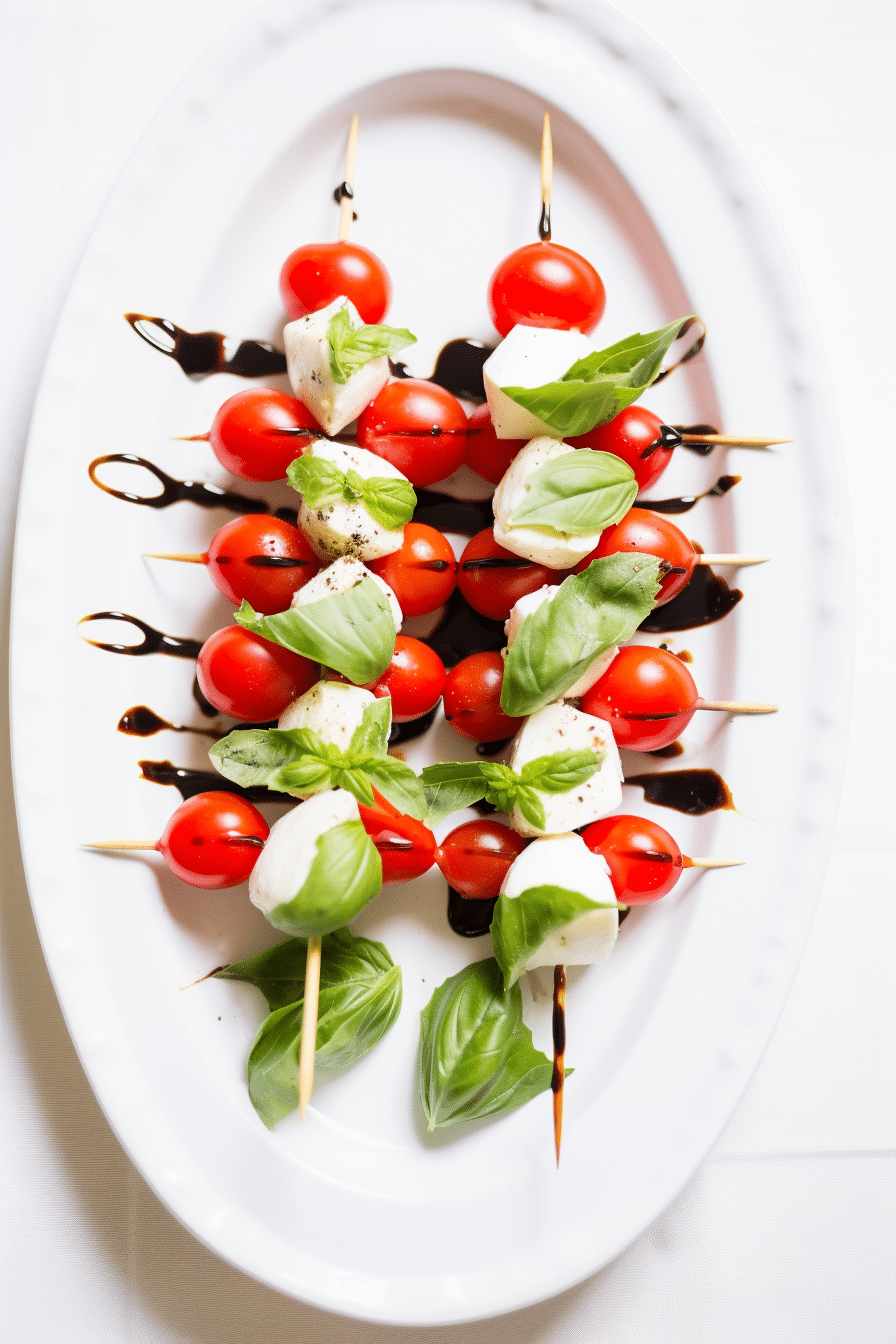 The Story Behind the Skewers
There's something magical about the simplicity of Caprese salad. Its origins trace back to the sun-drenched island of Capri, where the fresh produce and vibrant flavors reflect the spirit of Italian cuisine.
I've taken this classic and transformed it into a keto-friendly delight, maintaining the integrity of its flavors while ensuring it fits seamlessly into a low-carb lifestyle.
The fresh mozzarella offers a rich source of protein and fat, essential for maintaining ketosis, while the cherry tomatoes provide a hint of sweetness and a dose of antioxidants without overloading on carbs.
The extra virgin olive oil and balsamic vinegar not only add depth to the dish but also contribute healthy fats and a tangy zing that elevates the overall experience.
With every bite, you're not just enjoying a delicious appetizer; you're embracing a part of Italian culinary heritage, reimagined for the keto diet. It's the perfect way to start a meal or to serve at a social event where you want to offer a sophisticated option that aligns with your dietary choices.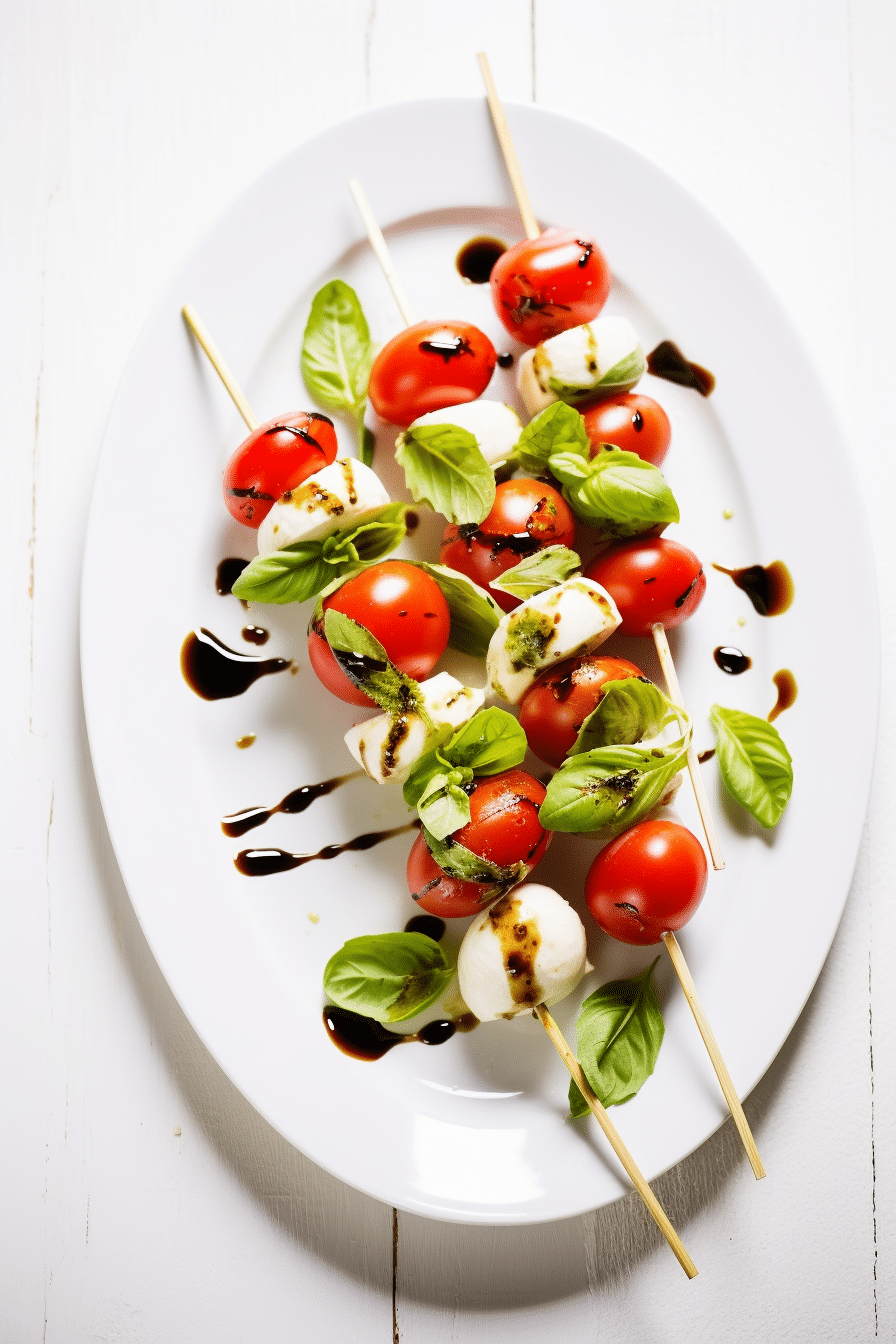 Mastering the Skewers
As you gently simmer the balsamic mixture, the transformation into a luscious drizzle is a sight to behold. The key here is patience – let the heat coax out the vinegar's natural sweetness while it thickens into a glaze. This is where you can play with flavor; a longer reduction leads to a more intense taste and a thicker consistency.
When assembling the skewers, consider the order of ingredients. Starting with a cherry tomato provides a stable base, followed by the basil leaf, which acts as a barrier, keeping the mozzarella in place. The cheese itself should be the centerpiece, its creaminess contrasting with the firm tomato and the crisp basil.
Drizzling the olive oil and balsamic reduction is the final flourish, a moment that's as much about presentation as it is about flavor. A zigzag motion ensures an even distribution, giving each skewer a glossy finish and a hit of flavor that ties everything together.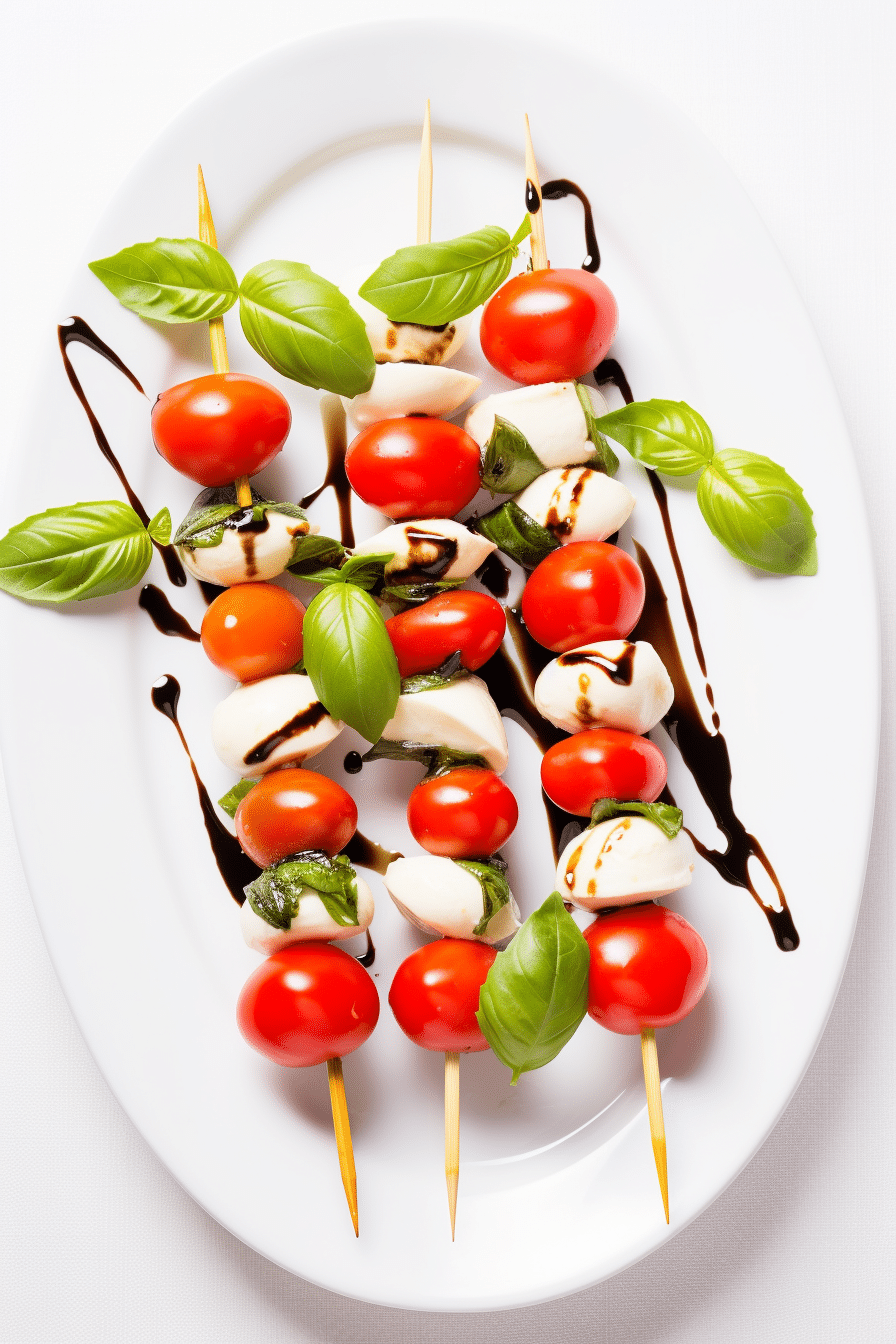 Variations to Spice Things Up
Herb-Infused Balsamic Drizzle
Infuse the balsamic reduction with herbs like rosemary or thyme to add a new dimension to the skewers. The herbs will impart their aroma into the glaze, creating a sophisticated twist on the classic drizzle.
Prosciutto-Wrapped Mozzarella
Wrap the mozzarella cubes with a thin slice of prosciutto before skewering to introduce a salty, savory element that complements the mild cheese and sweet tomatoes perfectly.
Avocado Caprese Skewers
Add a slice of avocado to each skewer for an extra dose of healthy fats. The creamy texture of the avocado pairs beautifully with the other components and makes the dish even more satiating.
Substitutions for Every Keto Kitchen
Not everyone has the same pantry items or dietary preferences, so here are some substitutions to ensure everyone can enjoy these Keto Caprese Skewers:
Tomato Alternatives: If you're looking to lower the carb count even further, consider using diced bell peppers in place of tomatoes. They offer a similar crunch and sweetness, with fewer carbs.
Dairy-Free Cheese: For those avoiding dairy, there are many plant-based cheese alternatives that can mimic the texture and taste of mozzarella. Look for ones that are keto-friendly and melt well.
Oil and Vinegar Swaps: While extra virgin olive oil is a staple in Caprese, avocado oil can be a suitable substitute, offering a neutral flavor and similar health benefits. For the balsamic drizzle, a reduction of red wine vinegar with a keto sweetener can provide a similar tangy sweetness.
Frequently Asked Questions
Can I prepare these skewers in advance? Absolutely! Assemble the skewers ahead of time and store them in the refrigerator. Add the drizzle just before serving to maintain freshness.
How can I ensure the balsamic reduction is keto-friendly? Traditional balsamic vinegar can be high in sugar, so opt for a vinegar that's aged and naturally sweet or use a keto-approved sweetener to taste.
What's the best way to store leftover balsamic drizzle? Keep the drizzle in an airtight container in the fridge. It should last up to a week and can be gently reheated to return to a liquid state.
Is there a non-dairy alternative to mozzarella that works well? Yes, there are several non-dairy cheese alternatives made from nuts or soy that can work, just ensure they are low in carbs to keep it keto.
Can I turn this appetizer into a main course? You can! Serve the skewers over a bed of mixed greens drizzled with olive oil and balsamic for a satisfying and complete keto meal.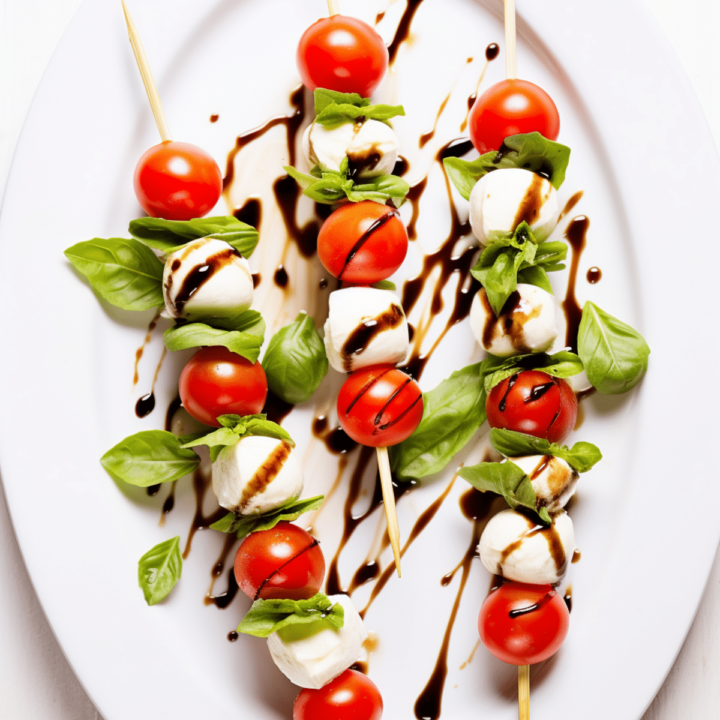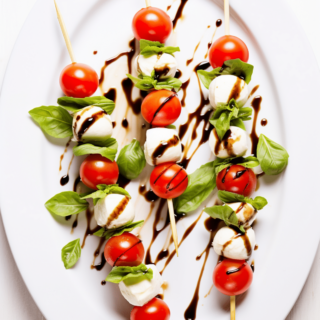 Keto Caprese Skewers with Balsamic Drizzle
These Keto Caprese Skewers with Balsamic Drizzle are a fresh, flavorful appetizer that perfectly marries the classic Italian flavors of ripe tomatoes, creamy mozzarella, fragrant basil, and tangy balsamic vinegar, all with a keto-friendly twist.
Ingredients
- 8 ounces fresh mozzarella cheese

cut into 16 cubes (227g)

- 16 fresh basil leaves

- 16 cherry tomatoes

- 2 tablespoons extra virgin olive oil

30ml

- 1 tablespoon balsamic vinegar

15ml

- 1/4 teaspoon garlic powder

- 1/4 teaspoon salt

- 1/4 teaspoon ground black pepper

- 8 wooden skewers
Instructions
In a small saucepan, combine the balsamic vinegar, garlic powder, salt, and pepper. Place over medium heat and bring to a simmer. Allow the mixture to reduce by half, which should take about 2 minutes, then remove from heat and let it cool to thicken.

As the balsamic reduction cools, start assembling your Caprese skewers. Slide a cherry tomato onto a skewer, followed by a basil leaf (fold in half if large), and then a cube of mozzarella cheese. Repeat the process until all skewers are filled.

Arrange the skewers on a serving platter. Drizzle them with olive oil and the balsamic reduction just before serving.

Notes
For a sweeter balsamic drizzle, you may add a keto-friendly sweetener like erythritol to the reduction. Adjust the consistency by cooking for a shorter or longer time. If you prefer a thicker glaze, allow it to reduce further. Store any leftover balsamic drizzle in the fridge and use within a week.
Nutrition
Calories:
180
kcal
Carbohydrates:
3
g
Protein:
8
g
Fat:
15
g
Fiber:
1
g