"`html

Porcini Mushroom and Thyme Keto Stuffing: A Low-Carb Delight
Welcome to a delectable journey where the classic comfort of stuffing meets the healthful twist of keto! The Porcini Mushroom and Thyme Keto Stuffing is not just a side dish; it's a statement of flavor and health combined. This recipe is the perfect answer to your low-carb cravings, especially if you're on a ketogenic diet and longing for that hearty, earthy addition to your meal. Rich with the deep, umami flavors of porcini mushrooms and infused with the aromatic freshness of thyme, this stuffing doesn't just fill the plate—it satisfies the soul.
Imagine the comfort of traditional stuffing, but with a nutritional profile that fits right into your keto lifestyle. That's what this recipe promises—a guilt-free indulgence that's as kind to your waistline as it is to your taste buds. So, whether you're planning a festive feast or just looking for a delicious way to complement your main dish, let's dive into this exquisite keto-friendly stuffing that's sure to become a new favorite.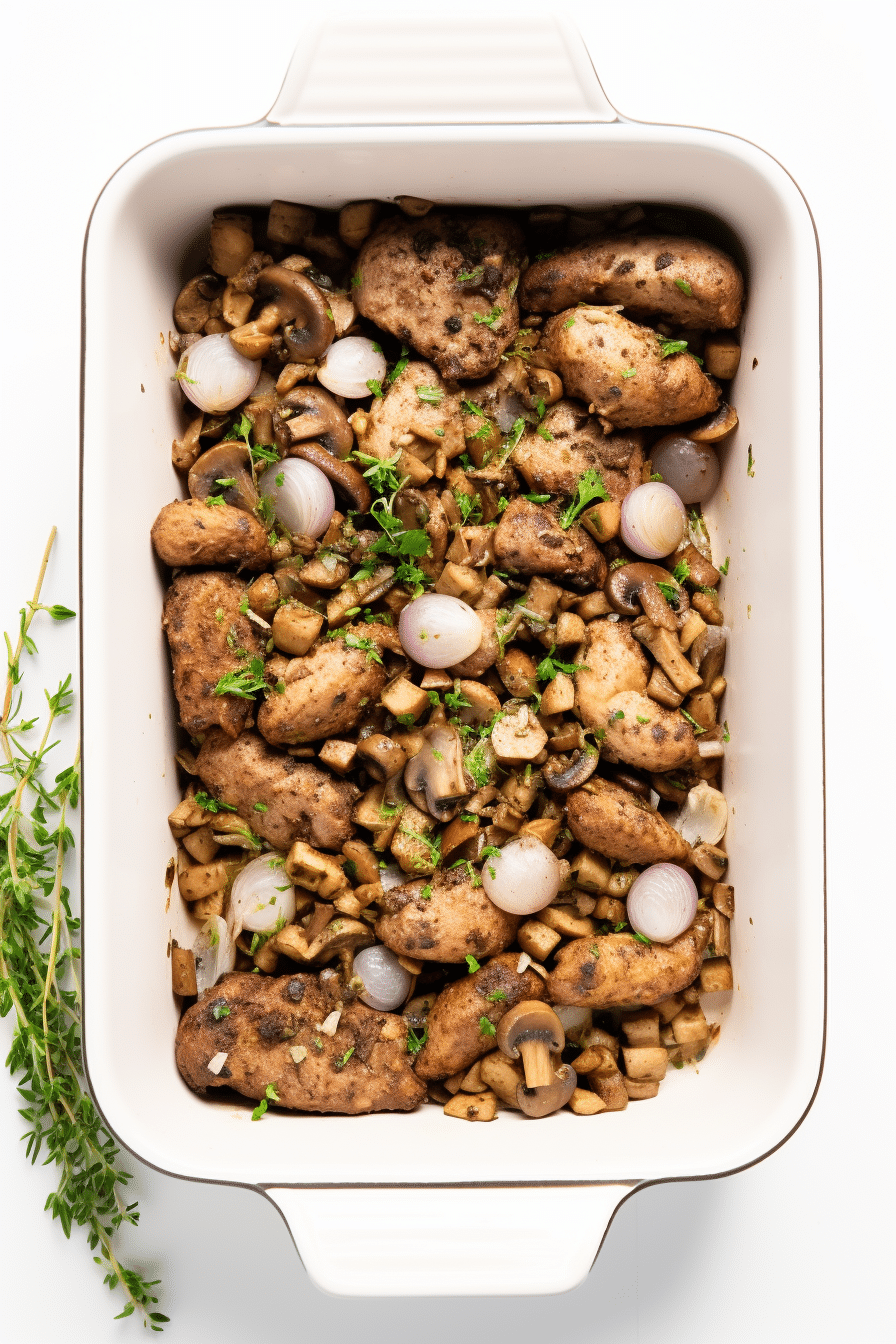 The Story Behind the Porcini Mushroom and Thyme Keto Stuffing
The inspiration for this Porcini Mushroom and Thyme Keto Stuffing comes from a place of innovation and tradition. Having always been a fan of the classic stuffing, I was determined to create a version that would not only honor the original's rich flavors but also cater to a ketogenic lifestyle. After much experimentation, the perfect blend of ingredients emerged, resulting in a dish that is both nourishing and satisfying.
Porcini mushrooms are the star of this recipe, bringing an intense, woodsy flavor that pairs impeccably with the subtle, lemony notes of fresh thyme. The use of almond flour instead of traditional bread crumbs ensures that every bite is low in carbs but high in healthy fats and protein, aligning perfectly with the keto diet's requirements.
By focusing on whole, unprocessed ingredients, this stuffing recipe stands out as a nutritious choice for anyone mindful of their carbohydrate intake. The combination of mushrooms, herbs, and a carefully chosen blend of keto-friendly components results in a dish that is not only delicious but also packed with beneficial nutrients.
Whether you're gathering with family or enjoying a quiet, cozy dinner, this stuffing promises to be the highlight of your meal. It's a testament to the fact that keto eating can be both indulgent and health-conscious, without ever compromising on taste.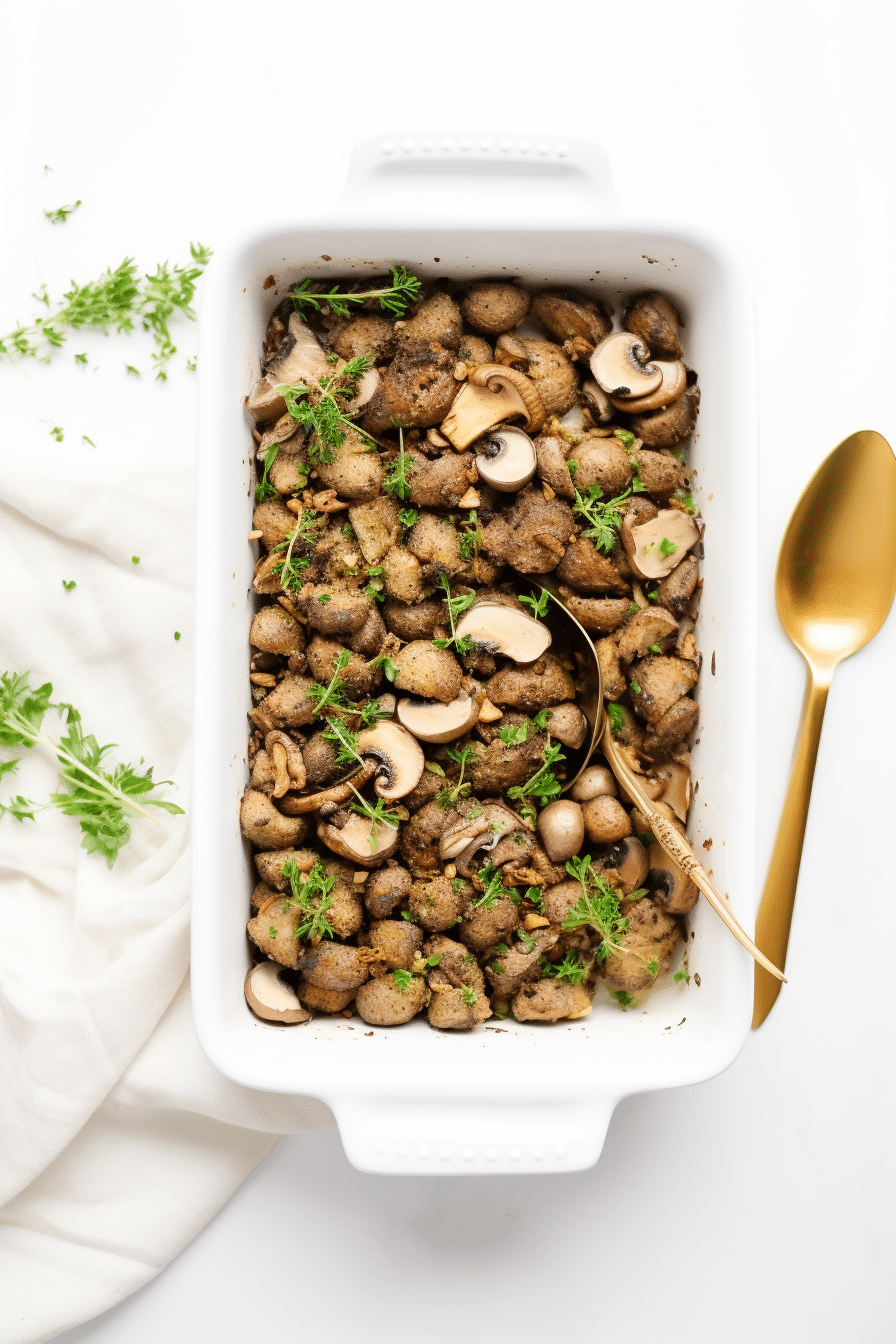 Creating Your Keto Stuffing Masterpiece
Embarking on the preparation of this stuffing is an adventure in both taste and texture. The key to success lies in the details, and I'm here to guide you through each step, ensuring that your stuffing is nothing short of perfection.
Step 1: Preheating your oven is crucial, as a consistent temperature will guarantee an even cook. The greased baking dish will prevent sticking and aid in achieving that desirable crispy top layer.
Step 2: When sautéing the onion, celery, and garlic, aim for a translucent appearance and a soft texture. This will release the aromatic flavors that form the backbone of the stuffing's taste profile.
Step 3: Cooking the porcini mushrooms until their moisture evaporates concentrates their flavor, which is essential for that deep, earthy taste that defines this dish.
Step 4: Adding the fresh thyme, salt, and pepper at this stage allows the herbs and spices to infuse the mushrooms and vegetables, creating a harmonious blend of flavors.
Step 5: The almond flour and egg mixture should resemble coarse breadcrumbs. This texture is pivotal as it ensures that the stuffing will bind together properly while maintaining a pleasant mouthfeel.
Step 6: Folding the vegetables and mushrooms into the almond flour mixture requires a gentle touch to keep the integrity of the ingredients intact.
Step 7: The chicken broth is what brings moisture to the stuffing. Add it gradually and mix until you achieve a moist, but not soggy, consistency.
Step 8: Spreading the mixture evenly in the baking dish is a small but significant step that affects cooking time and texture.
Step 9: Baking until golden brown is the final flourish, the crowning moment where all elements come together in a beautiful, crispy top that yields to a moist, flavorful interior.
Step 10: The fresh parsley garnish not only adds a pop of color but also a fresh, clean taste that cuts through the richness of the stuffing.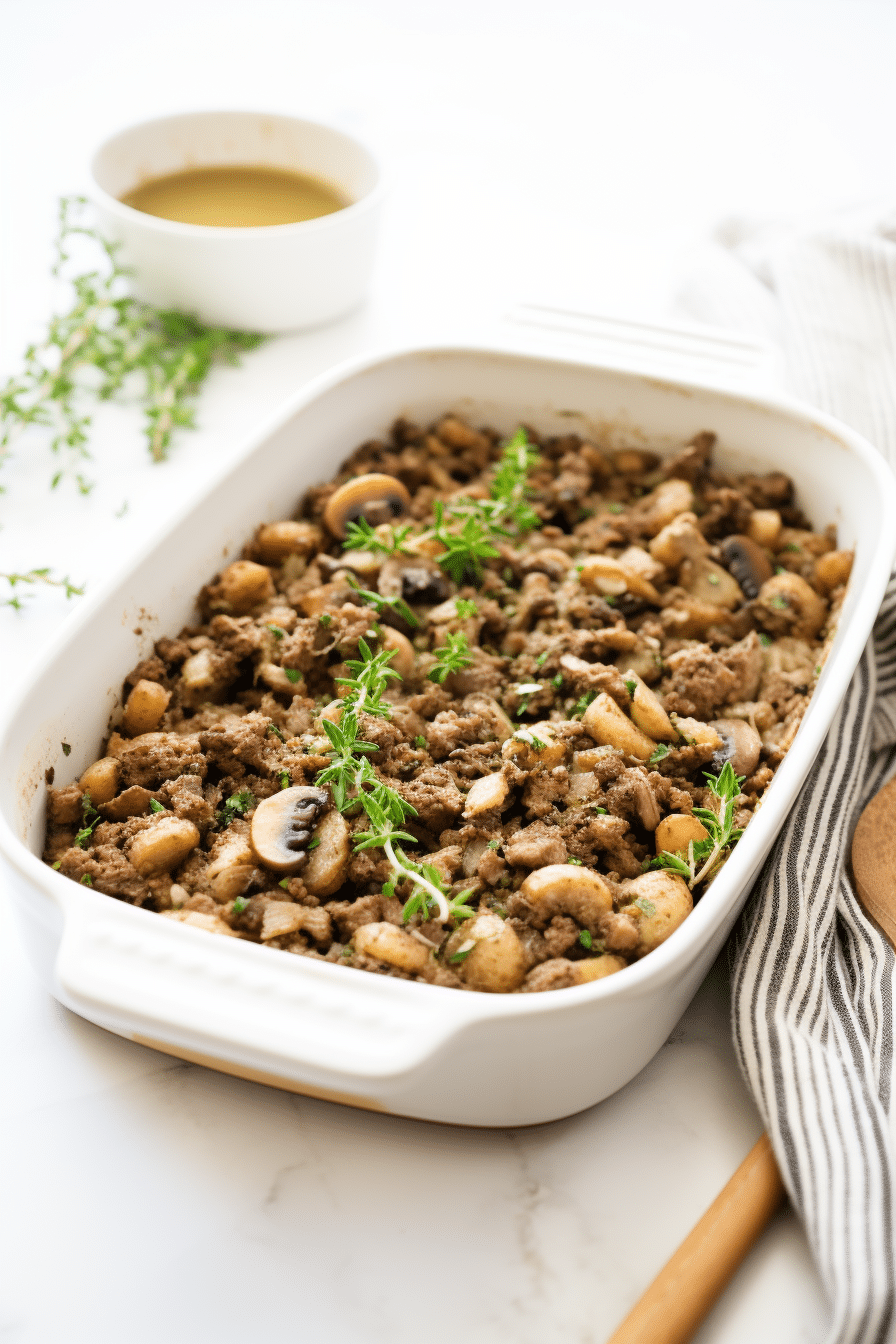 Variations to Spice Up Your Stuffing
Italian Sausage Keto Stuffing
Add a spicy twist by incorporating cooked, crumbled Italian sausage into the mixture before baking. The meat will add a savory depth and a kick of heat that complements the mushrooms and thyme beautifully.
Cheesy Cauliflower Keto Stuffing
For a cheesy delight, mix in steamed cauliflower rice and a generous handful of shredded cheddar or gruyère before baking. The cheese will melt into the stuffing, creating a creamy texture and a rich flavor profile.
Pecan and Cranberry Keto Stuffing
Introduce a touch of sweetness and crunch by adding roasted pecans and sugar-free dried cranberries. This combination offers a festive flair and a contrast of textures that make each bite exciting.
Ingredient Substitutions for Every Keto Kitchen
While the original recipe is designed to delight, there may be times when you need to swap out an ingredient or two. Here are some keto-friendly substitutions that keep the integrity of the dish intact:
Almond Flour: If you're nut-free, ground sunflower seed meal can be used in place of almond flour, offering a similar texture without the allergens.
Butter: For those who are dairy-free, coconut oil or ghee can be a suitable alternative, adding a hint of sweetness or a rich buttery flavor, respectively.
Chicken Broth: Vegetable broth can be used for a vegetarian version of the stuffing, ensuring that the dish remains moist and flavorful.
Frequently Asked Questions
Here are some common questions and answers to help you create the perfect keto stuffing:
| Question | Answer |
| --- | --- |
| Can I make this stuffing ahead of time? | Yes, you can prepare the stuffing in advance and reheat it in the oven at 350°F (175°C) for 10-15 minutes before serving. |
| How do I store leftovers? | Store any leftover stuffing in an airtight container in the refrigerator for up to 3 days. |
| Can I freeze this keto stuffing? | Yes, this stuffing freezes well. Simply thaw it overnight in the refrigerator and reheat it in the oven when ready to serve. |
| Is this stuffing suitable for those with nut allergies? | For a nut-free version, use ground sunflower seed meal instead of almond flour. |
| Can I add meat to this stuffing? | Yes, cooked, crumbled sausage or bacon can be added for extra flavor and protein. |
"`—
title: Porcini Mushroom and Thyme Keto Stuffing
description: Dive into the earthy flavors of porcini mushrooms perfectly paired with fresh thyme in this keto-friendly stuffing. It's the ideal low-carb side dish to complement any main, bringing a classic comfort food to your keto table without the guilt.
servings: 6
prep_time: 20 minutes
cook_time: 40 minutes
cuisine: American
category: Side Dish
—
## Ingredients
– 1 lb (450 g) fresh porcini mushrooms, cleaned and chopped
– 2 cups (240 g) almond flour
– 1/4 cup (56 g) grass-fed butter, melted
– 3 large eggs, beaten
– 1 medium yellow onion, finely diced
– 2 stalks celery, finely chopped
– 4 cloves garlic, minced
– 2 tablespoons fresh thyme leaves
– 1 teaspoon salt
– 1/2 teaspoon black pepper
– 1 cup (240 ml) low-sodium chicken broth
– 1/4 cup (15 g) chopped fresh parsley
– 1 tablespoon olive oil
## Method
1. Preheat your oven to 350°F (175°C) and grease a 9×13 inch baking dish with olive oil.
2. In a large skillet over medium heat, add the butter. Once melted, sauté the onion, celery, and garlic until softened and fragrant, about 5-7 minutes.
3. Add the chopped porcini mushrooms to the skillet and cook until they are tender and their moisture has evaporated, approximately 10 minutes.
4. Stir in the fresh thyme, salt, and black pepper, and cook for an additional 2 minutes. Remove from heat and set aside.
5. In a large bowl, combine the almond flour and beaten eggs until well mixed. The mixture should resemble a coarse breadcrumb texture.
6. Fold the sautéed vegetables and mushrooms into the almond flour mixture until fully incorporated.
7. Gradually pour in the chicken broth, stirring until the mixture is moistened but not overly soggy.
8. Transfer the stuffing mixture to the prepared baking dish, spreading it out evenly.
9. Bake in the preheated oven for 25-30 minutes, or until the top is golden brown and crispy.
10. Garnish with the chopped fresh parsley before serving.
## Nutritional Information (per serving)
– Calories: 345
– Carbohydrates: 14g
– Net carbs: 8g
– Fiber: 6g
– Fat: 29g
– Protein: 12g
## Equipment Used
– 9×13 inch baking dish
– Large skillet
– Large mixing bowl
– Measuring cups and spoons
– Cutting board
– Chef's knife
## Other Notes
– For a nut-free version, substitute almond flour with ground sunflower seed meal.
– The stuffing can be made ahead of time and reheated in the oven at 350°F (175°C) for 10-15 minutes before serving.
– Store leftovers in an airtight container in the refrigerator for up to 3 days.