Embark on a culinary adventure with our Spicy Tuna and Avocado Keto Sushi Rolls, a tantalizing creation that's sure to awaken your palate.
This recipe is a true testament to the versatility of keto cuisine, offering a sumptuous blend of heat from the spicy tuna and the creaminess of the ripe avocado.
Each roll is a low-carb delight, crafted to satisfy your sushi cravings while adhering to the ketogenic lifestyle.
The absence of traditional sushi rice is ingeniously replaced with cauliflower rice, ensuring each bite is not only delicious but also keeps your macros in check. Perfect for anyone looking to indulge in sushi without the guilt, these rolls are poised to become a staple in your keto recipe collection.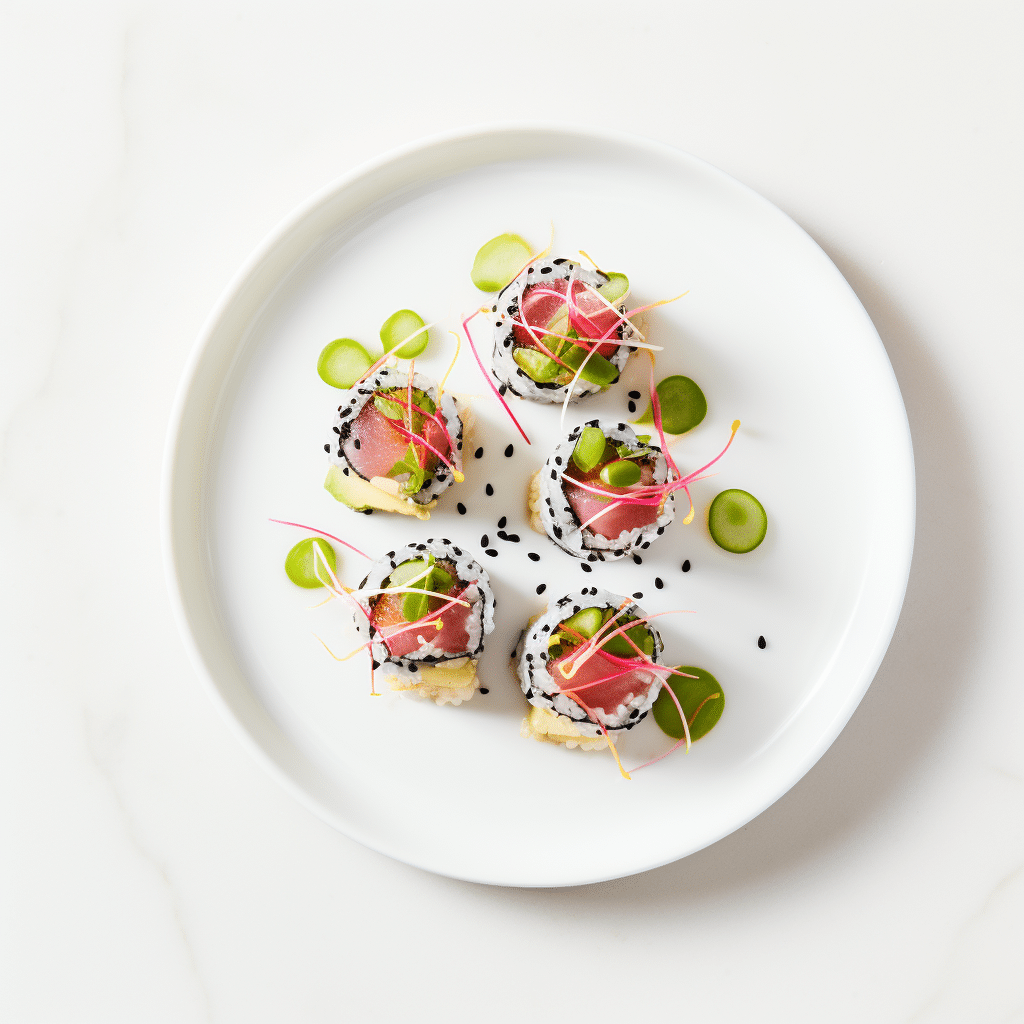 Recipe Details
My journey with keto cuisine has always been about exploring new flavors while maintaining a healthy balance. The Spicy Tuna and Avocado Keto Sushi Rolls are a prime example of this exploration. I remember the first time I tried to make keto-friendly sushi; it was a challenge to think outside the box and replace the high-carb sushi rice. That's where the idea of using cauliflower rice came in, and it was a game-changer.
This recipe is particularly close to my heart because it embodies the essence of keto: high in healthy fats, moderate in protein, and low in carbohydrates. With only 4g of net carbs per serving, it's a dish that allows those on a ketogenic diet to enjoy sushi without any regrets.
The combination of spicy tuna, creamy avocado, and the crunch of cucumber wrapped in nori is not just a treat for the taste buds but a nutrient-dense meal that fuels the body efficiently. Whether you're a seasoned keto dieter or just starting, this sushi roll is a delightful way to keep your meals exciting and your diet on track.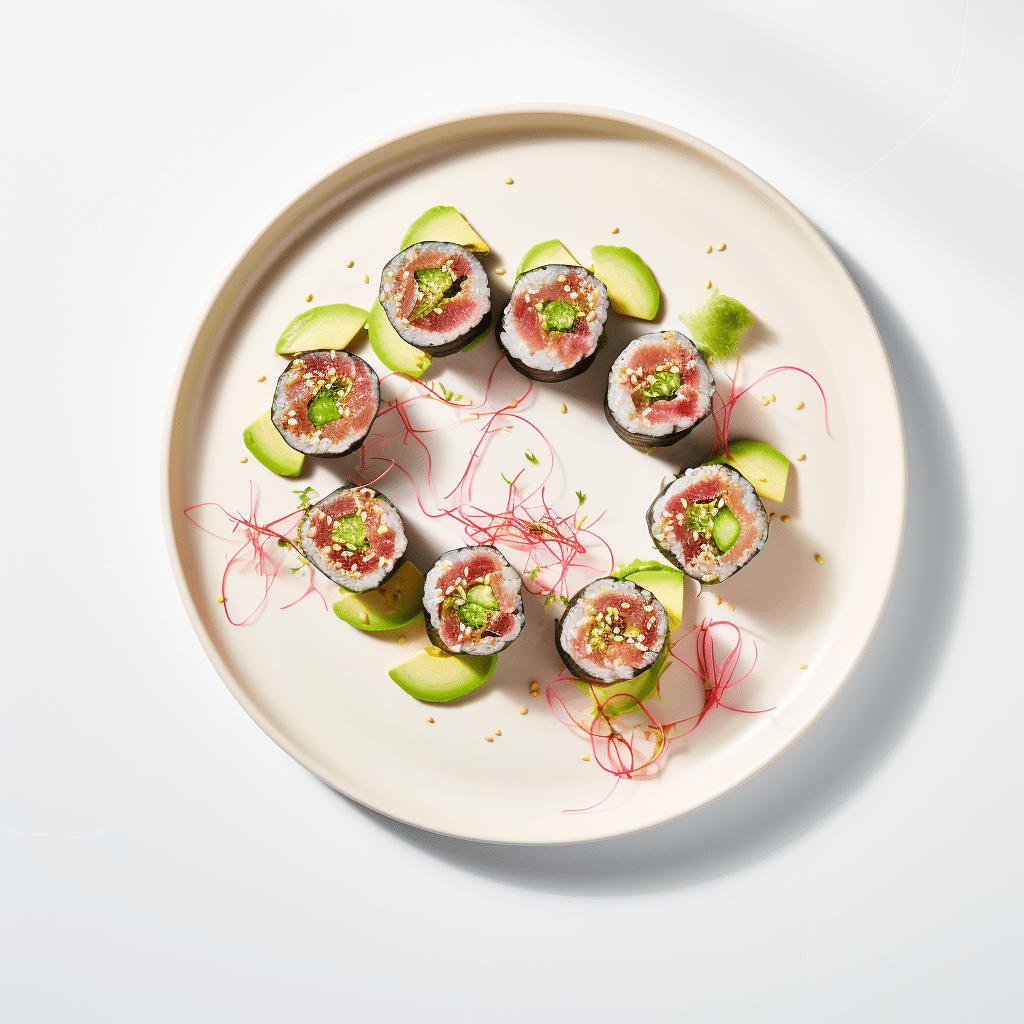 Method
Creating the perfect Spicy Tuna and Avocado Keto Sushi Rolls is an art that requires attention to detail. The key to success is in the preparation. Begin by ensuring your sushi-grade tuna is fresh and finely chopped to allow the flavors of the spicy mayo mixture to permeate each piece.
When preparing your cauliflower rice, make sure it's cooked until just tender and cooled completely; this will help it stick to the nori sheet without making it soggy.
As you lay out your ingredients, take care to distribute them evenly across the nori, creating a balance of flavors in every bite. Rolling the sushi can be the most challenging part for beginners. The trick is to apply even pressure with the bamboo mat or parchment paper, rolling tightly to avoid any loose ends.
A sharp knife is crucial for slicing your rolls; a clean, wet cut will give you those perfect sushi pieces. Remember, practice makes perfect, and soon you'll be rolling sushi like a pro!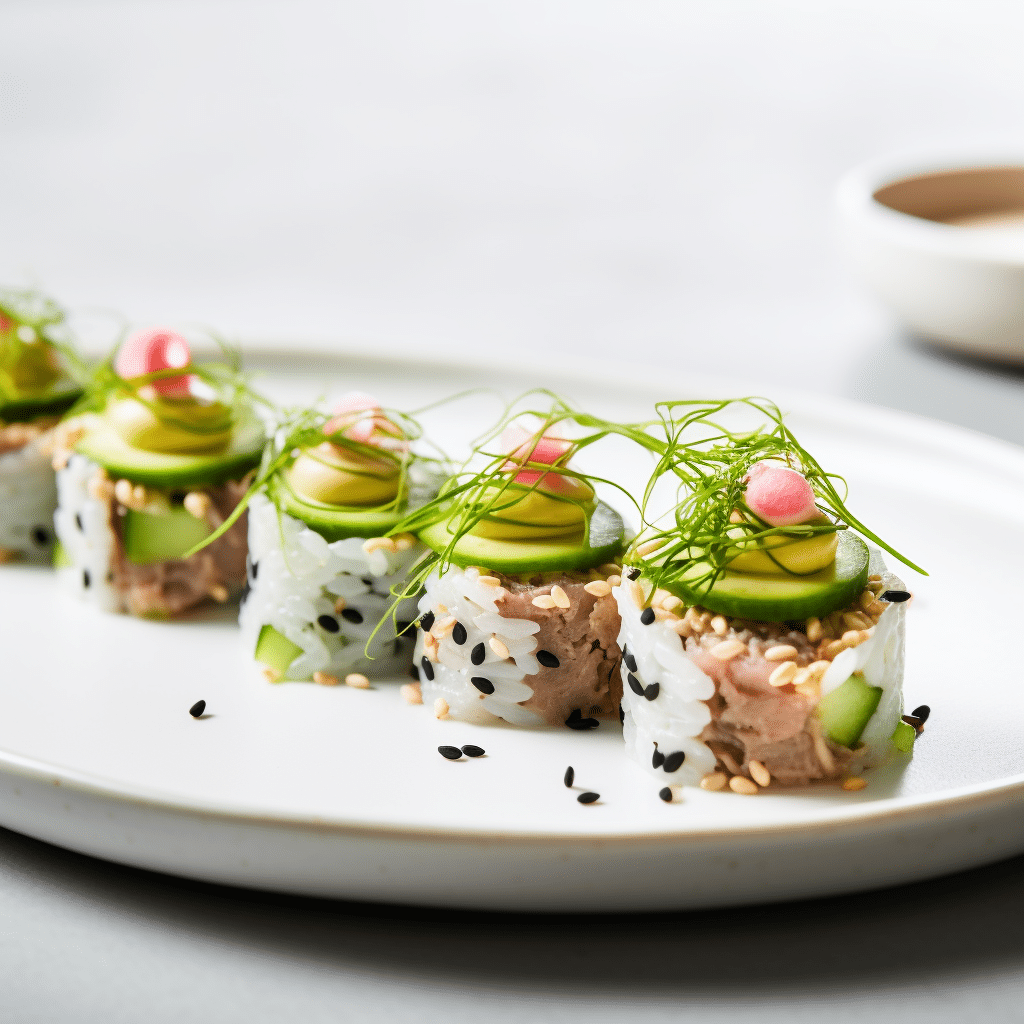 Variations
Experimenting with different ingredients can bring a whole new dimension to these Spicy Tuna and Avocado Keto Sushi Rolls. Try incorporating cream cheese for an extra layer of richness, or swap out the tuna for salmon to enjoy a different kind of omega-3 boost.
If you're looking for a crunch, adding thinly sliced bell peppers can offer a fresh, crisp texture.
Substitutions
While the original recipe is designed to delight, certain ingredients can be substituted to accommodate dietary preferences or restrictions. Greek yogurt can replace mayonnaise for a tangier and lower-fat option, while tamari or coconut aminos can be used instead of soy sauce to keep it gluten-free.
For those who don't consume seafood, shredded chicken tossed in the spicy mayo mixture makes for a delicious alternative. These substitutions ensure that the Spicy Tuna and Avocado Keto Sushi Rolls can be enjoyed by everyone, regardless of their dietary needs.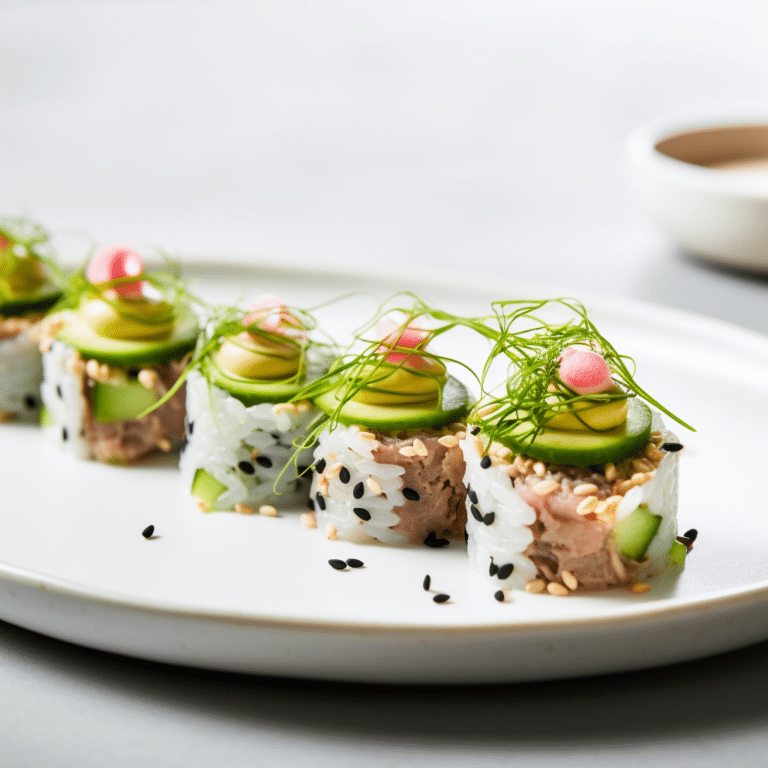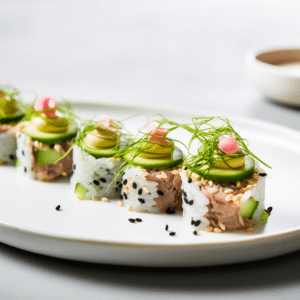 Spicy Tuna and Avocado Keto Sushi Rolls: A Perfect Low Carb Delight
Experience the fusion of flavors with our Spicy Tuna and Avocado Keto Sushi Rolls. This delectable dish combines the rich, creamy texture of avocado with the zest of spicy tuna, all wrapped in a low-carb, keto-friendly package. Perfect for a light lunch or a sophisticated appetizer, these sushi rolls will satisfy your cravings without compromising your dietary goals
Ingredients
8

oz

sushi-grade tuna

finely chopped

1

large avocado

peeled, pitted, and sliced

2

tbsp

mayonnaise

1

tbsp

sriracha sauce

1

tsp

sesame oil

4

large nori seaweed sheets

1

cup

cauliflower rice

cooked and cooled

½

cucumber

julienned

¼

cup

fresh chives

chopped

Sesame seeds for garnish

Soy sauce or tamari

for dipping (optional)

Pickled ginger

for serving (optional)

Wasabi

for serving (optional)
Instructions
Preparation of Tuna Mix: In a medium bowl, combine chopped tuna, mayonnaise, sriracha, and sesame oil. Stir well.

Rice and Nori Setup: Place a nori sheet on a bamboo mat or parchment paper. Spread a layer of cauliflower rice on the nori, leaving an inch at the top.

Adding Filling: Place avocado slices and julienned cucumber in the center of the rice. Add chives.

Tuna Layering: Spoon a portion of the tuna mixture over the fillings.

Rolling Sushi: Lift the edge of the mat or paper, roll over the ingredients to form a sushi roll. Squeeze gently and seal the edge with water if needed.

Slicing: Cut the roll into 6-8 pieces with a wet knife.

Serving: Place the sushi on a plate, sprinkle with sesame seeds. Serve with soy sauce, pickled ginger, and wasabi if desired.
Nutrition
Calories:
290
kcal
Carbohydrates:
8
g
Protein:
18
g
Fat:
20
g