Indulge in Keto-Friendly Bliss with This Scrumptious Blondie Recipe
Embark on a journey of guilt-free indulgence with our Keto Blondie Recipe, a perfect symphony of nutty almond flour and rich, sugar-free chocolate chips. Whether you're a steadfast keto dieter or a curious culinary explorer, these blondies offer a decadent treat that aligns with your low-carb, high-fat lifestyle. Dive into the world of keto baking where every bite is a testament to the fact that healthy choices don't compromise on taste or pleasure.
The Story Behind These Keto-Friendly Blondies
As a passionate keto diet advocate, I've always been on the hunt for recipes that harmonize with the ketogenic lifestyle without skimping on flavor. These Keto Blondies are born from the desire to create a dessert that's not only satisfying and rich but also packed with nutrient-dense ingredients. Almond flour, a staple in the keto kitchen, forms the base of this recipe, providing a gluten-free alternative to traditional wheat flour and a source of healthy fats and protein.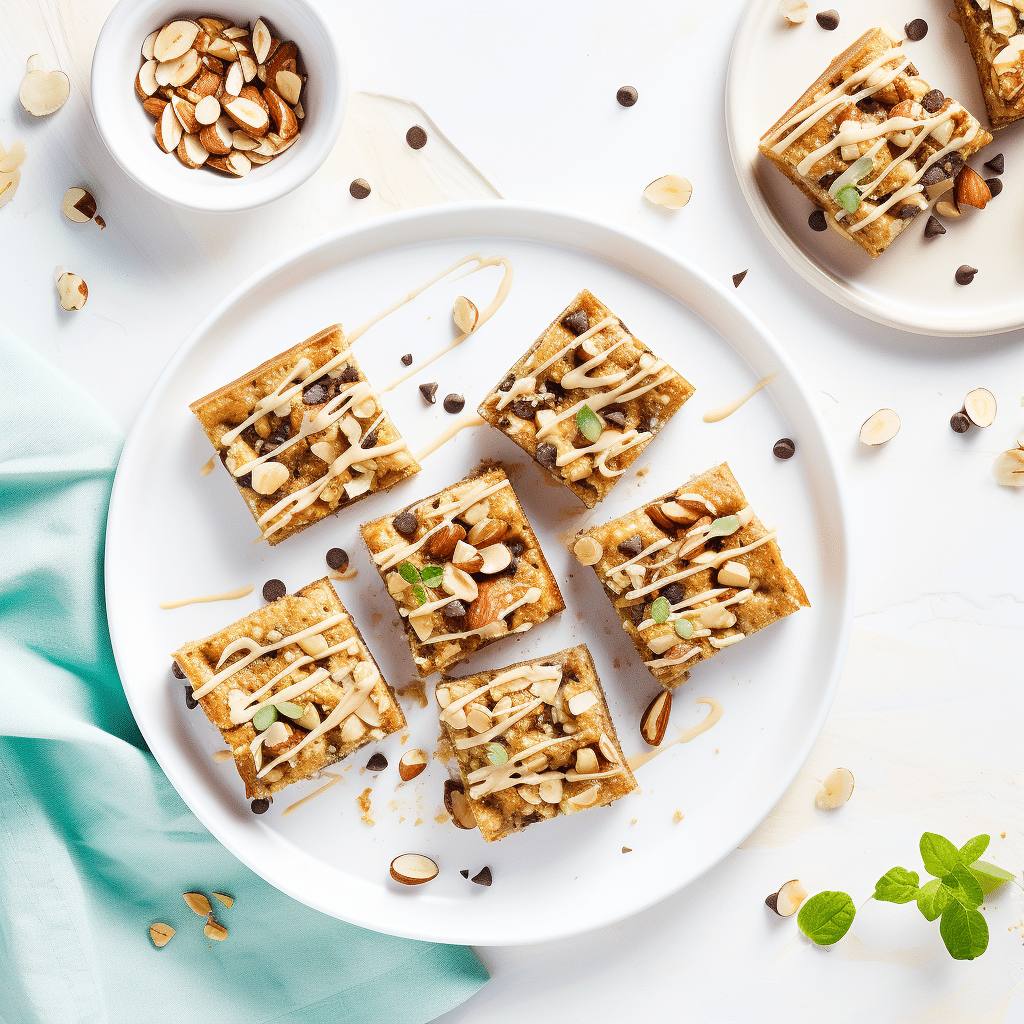 What makes this recipe a stellar keto option is the careful selection of sweeteners and mix-ins. Erythritol, a keto-friendly sweetener, ensures that you can enjoy the sweet, caramel-like flavor characteristic of blondies without the worry of spiking your blood sugar levels. The addition of sugar-free chocolate chips and optional nuts adds texture and depth, making each blondie a multi-layered experience in taste and nutrition.
But the true beauty of this recipe lies in its simplicity and versatility. Whether you're a seasoned baker or new to the kitchen, these blondies are forgiving and adaptable, allowing you to put your own spin on them while staying true to your keto goals. So, let's embark on this baking adventure together and create a treat that will be a hit at any gathering or a cozy night in.

Mastering the Art of Keto Blondie Baking
Creating the perfect Keto Blondie is an art form, and with a few chef's tips, you'll craft a dessert that's sure to impress. The process begins with preheating your oven to 350°F (175°C). This step is crucial for achieving a golden crust and a soft, chewy center. As you prepare your baking pan with grease or parchment paper, consider the latter for an easier release and clean-up.
When combining the melted butter and erythritol, ensure the sweetener dissolves completely to avoid a gritty texture. The eggs and vanilla extract are the binding agents that contribute to the blondies' structure and flavor. Whisk them vigorously to incorporate air and achieve a lighter crumb.
Mixing the dry ingredients separately allows for an even distribution of the baking powder and salt, which are essential for the right rise and balance of flavors. As you fold in the chocolate chips and nuts, do so gently to maintain the airiness of the batter.
Once the batter is poured and smoothed into the pan, resist the temptation to open the oven door while baking. This can cause fluctuations in temperature that may affect the rise and texture of your blondies. After the allotted bake time, perform the toothpick test for doneness and allow the blondies to cool as directed to set properly before slicing.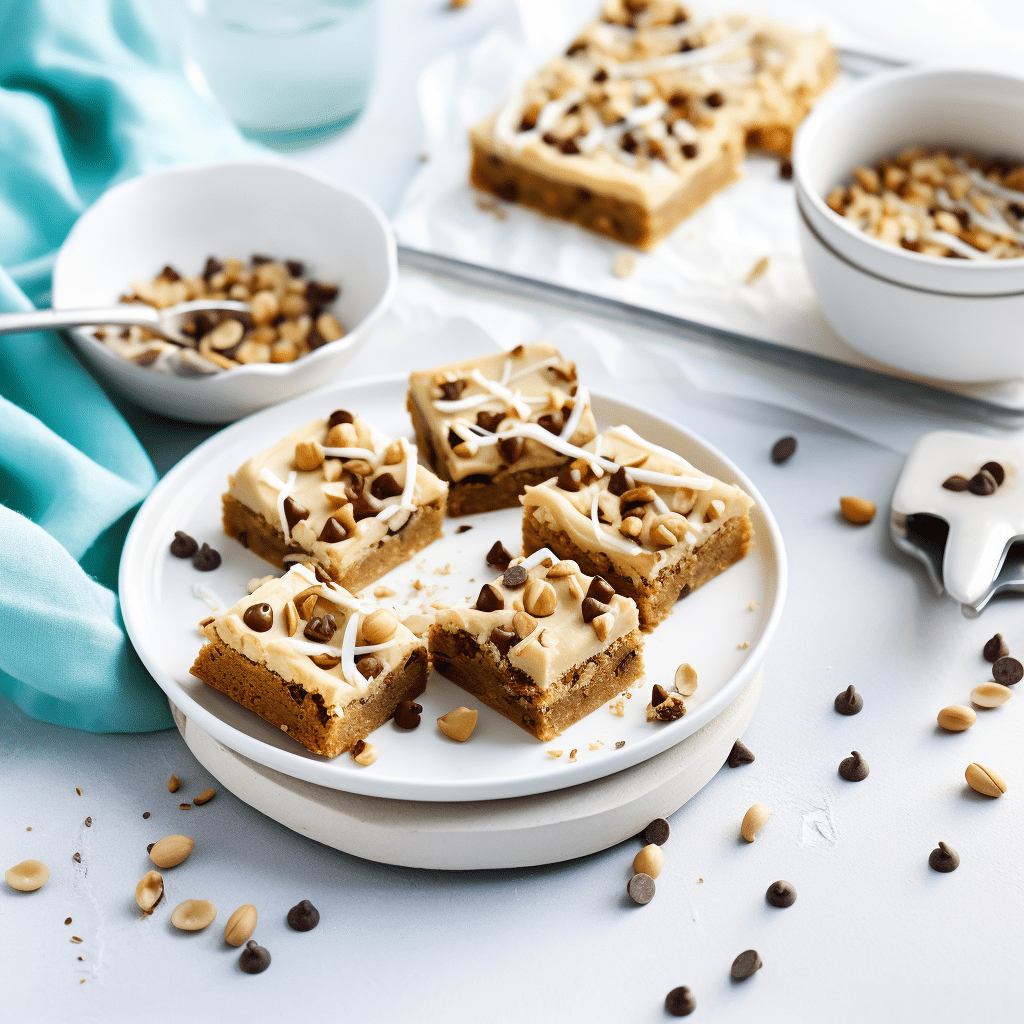 Exciting Keto Blondie Variations to Try
Coconut Bliss Keto Blondies
For a tropical twist, incorporate unsweetened shredded coconut into the batter and top with a sprinkle of coconut flakes before baking. This variation adds a delightful chewiness and a subtle coconut flavor that pairs wonderfully with the almond base.
Peanut Butter Swirl Keto Blondies
Add a decadent swirl of sugar-free peanut butter to your blondie batter before baking. Use a knife to create intricate patterns that not only look impressive but also infuse each bite with a creamy, nutty richness.
Berry Almond Keto Blondies
Fold in a handful of fresh or frozen berries such as raspberries or blueberries for a fruity burst that complements the chocolate chips. The berries add a natural sweetness and a pop of color, making these blondies as beautiful as they are delicious.
Ingredient Substitutions for Keto Blondies
If almond flour isn't your cup of tea or you're dealing with an allergy, coconut flour can be a suitable substitute. Keep in mind that coconut flour is highly absorbent, so you'll need to adjust the quantity and potentially increase the number of eggs to maintain moisture.
For those who don't have erythritol on hand, other keto-friendly sweeteners like monk fruit or stevia can be used. These alternatives vary in sweetness, so you'll want to taste the batter and adjust accordingly.
In place of sugar-free chocolate chips, consider using a roughly chopped keto-friendly chocolate bar. This swap allows you to control the size of the chocolate chunks and can add a rustic, homemade feel to your blondies.
Frequently Asked Questions About Keto Blondies
Can I freeze Keto Blondies? Yes, these blondies freeze well. Simply wrap them individually in cling film and store in an airtight container. Thaw at room temperature when you're ready to enjoy.
How do I store leftovers? Store any leftover blondies in an airtight container at room temperature for up to 3 days or refrigerate to extend their shelf life.
Can I use a different pan size? Absolutely, but keep in mind that changing the pan size will affect the thickness of the blondies and possibly the baking time. Adjust accordingly and always do the toothpick test for doneness.
Are these blondies gluten-free? Yes, since they're made with almond flour, they are naturally gluten-free, making them suitable for those with gluten sensitivities.
Can I add protein powder to this recipe? You can add protein powder to increase the protein content, but be mindful of the added dry ingredient. You may need to increase the wet ingredients to compensate.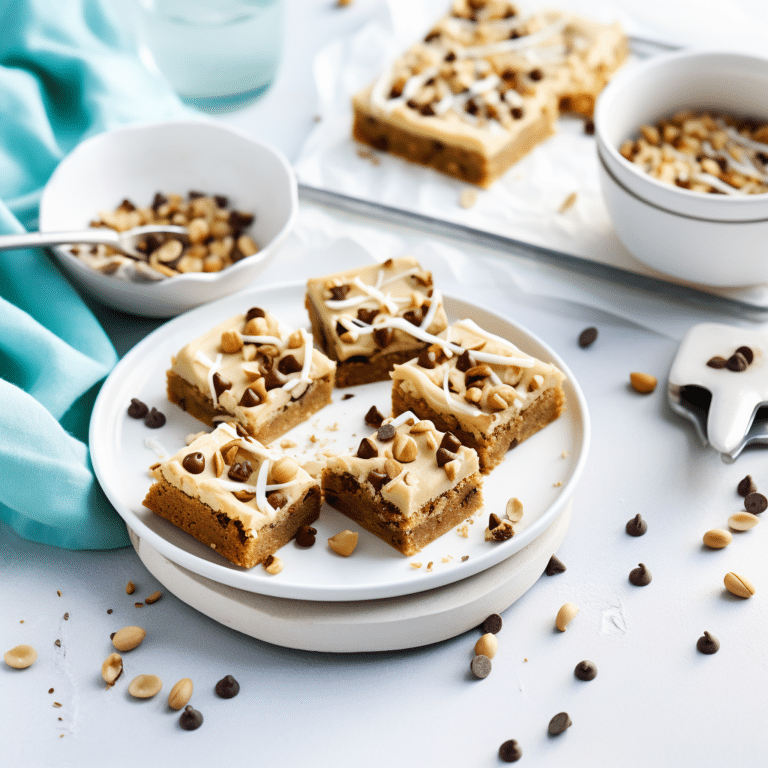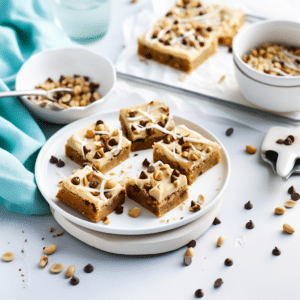 Decadently Indulgent Keto Blondie Recipe: A Guilt-Free Dessert Delight!
Indulge in a guilt-free dessert with this delectable Keto Blondie recipe. Perfect for those following a ketogenic diet, these blondies are low in carbs yet rich in flavor and satisfyingly dense. Made with nutrient-dense almond flour and sweetened with a low-glycemic sweetener, they're a delicious way to stick to your health goals without sacrificing taste.
Ingredients
- 2 cups almond flour

224g / 7.9 oz

- 1/2 cup unsalted butter

melted (113g / 4 oz)

- 3/4 cup erythritol or another keto-friendly sweetener

150g / 5.3 oz

- 2 large eggs

- 1 tsp vanilla extract

5ml

- 1/2 tsp baking powder

2g / 0.07 oz

- 1/4 tsp salt

1.5g / 0.05 oz

- 1/2 cup sugar-free chocolate chips

85g / 3 oz

- 1/2 cup chopped nuts

optional (60g / 2.1 oz)
Instructions
Preheat your oven to 350°F (175°C) and grease an 8x8 inch (20x20 cm) baking pan or line it with parchment paper.


In a large mixing bowl, combine the melted butter and erythritol. Whisk them together until the sweetener is completely dissolved.


Beat in the eggs and vanilla extract until the mixture is smooth and well combined.


In a separate bowl, mix together the almond flour, baking powder, and salt.


Gradually incorporate the dry ingredients into the wet mixture, stirring until a uniform batter is formed.


Fold in the sugar-free chocolate chips and chopped nuts if using, ensuring they are evenly distributed throughout the batter.


Pour the batter into the prepared baking pan, smoothing the top with a spatula.


Bake in the preheated oven for 25 minutes, or until the edges are golden and a toothpick inserted into the center comes out clean.


Allow the blondies to cool in the pan for 10 minutes before transferring them to a wire rack to cool completely.


Once cooled, cut into 12 equal squares and serve.
Nutrition
Calories:
220
kcal
Carbohydrates:
8
g
Protein:
5
g
Fat:
20
g