Keto Spicy Shrimp Tacos with Avocado Crema
Are you ready to experience a flavor explosion that fits perfectly within your keto lifestyle? These Keto Spicy Shrimp Tacos with Avocado Crema are about to become your new favorite dish. Packed with bold spices and topped with a creamy, zesty avocado crema, these tacos are not only delicious but also incredibly nutrient-rich and low in carbs. Perfect for a quick dinner or a festive gathering, this recipe will leave everyone asking for more. Plus, it's a fantastic way to keep your meal plan exciting and varied while sticking to your keto goals.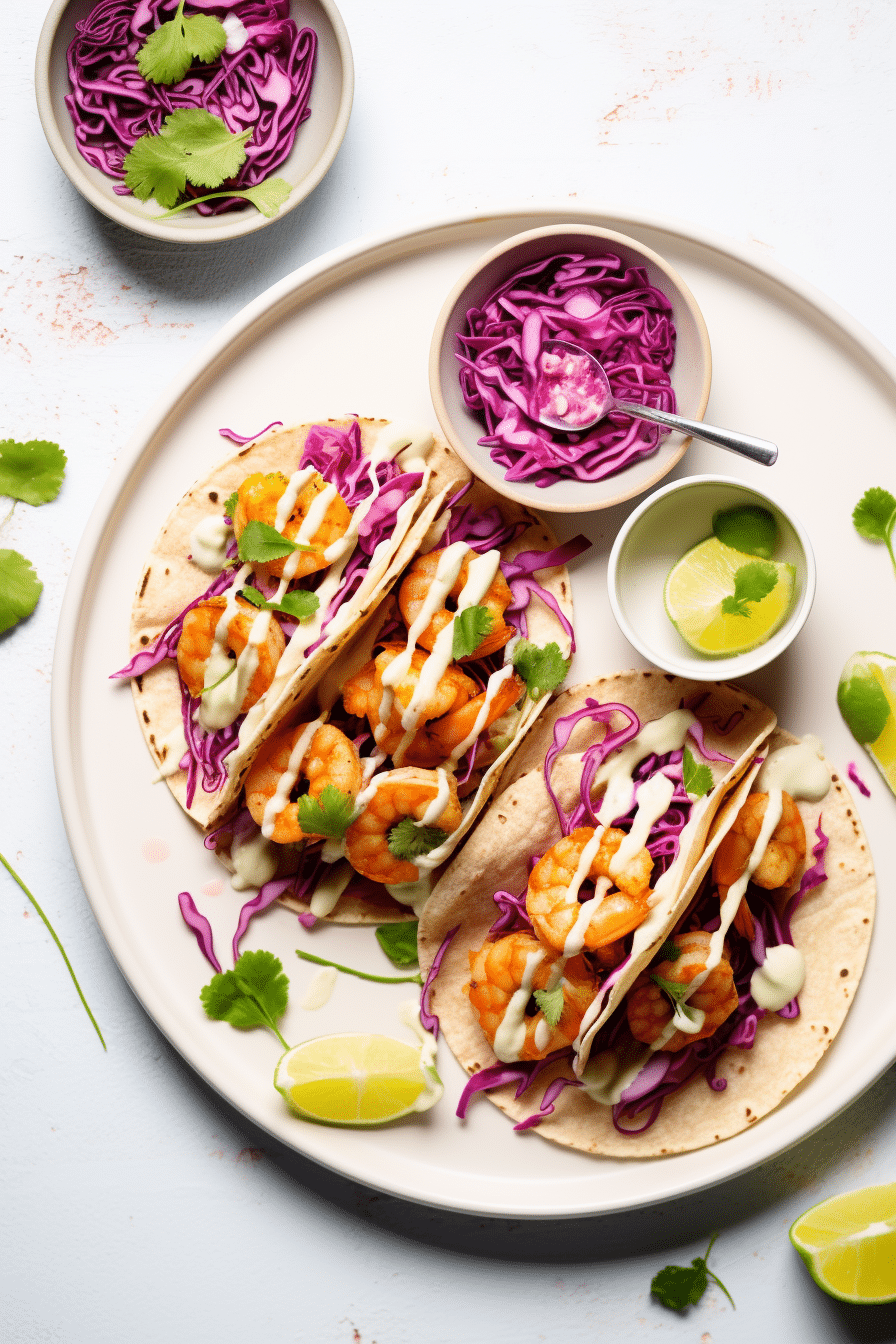 Recipe Details
When it comes to keto cooking, it's all about finding the right balance between low-carb ingredients and flavorful food that satisfies. These Keto Spicy Shrimp Tacos with Avocado Crema are the epitome of that balance. Born from a love of traditional Mexican cuisine and the need to accommodate a ketogenic diet, this recipe is a testament to the fact that you don't have to sacrifice taste for health.
The star of this dish is undoubtedly the spicy shrimp. Shrimp is an excellent source of high-quality protein and provides essential nutrients without the carb load. The spices, including chili powder and cayenne pepper, not only add a kick to the dish but also boast metabolism-boosting properties.
On the other hand, the avocado crema is a creamy, dreamy addition that not only adds a cool contrast to the spiced shrimp but also brings in healthy fats, which are a cornerstone of the keto diet. Avocados are high in monounsaturated fats that can help to keep you full and satisfied, making these tacos both indulgent and smart for your nutritional needs.
Finally, the use of low-carb tortillas ensures that you can enjoy these tacos without the guilt or worry of going over your carb limit. These tortillas often use fiber-rich ingredients that help to keep the net carb count low while still providing that familiar, comforting texture of a traditional taco.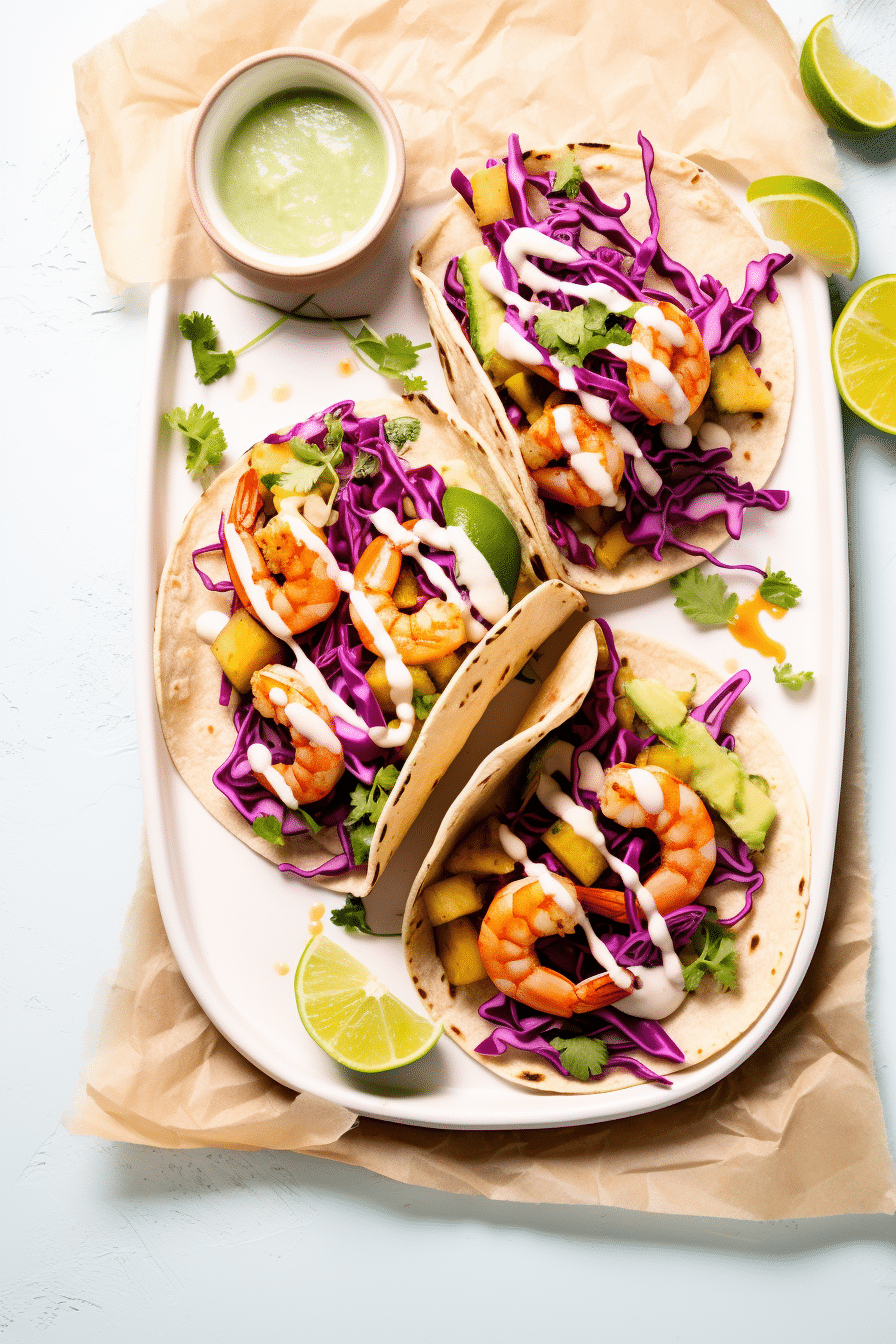 Method
Creating these Keto Spicy Shrimp Tacos with Avocado Crema is an art that involves simple yet precise steps to ensure the perfect combination of flavors and textures. Here's how you can achieve the best results:
Marinating the Shrimp: Start by tossing the shrimp in a blend of spices. This not only infuses the shrimp with flavor but also ensures that each bite is as delicious as the last. Make sure the shrimp are well-coated and let them sit for a few minutes to absorb the flavors.
Cooking the Shrimp: Shrimp cook quickly, so keep an eye on them to avoid overcooking. They should be pink and slightly firm to the touch. Remember, they'll continue to cook slightly after you remove them from the heat, so it's better to err on the side of undercooking.
Blending the Crema: The avocado crema should be smooth and creamy. To achieve this, scrape down the sides of the food processor a few times during blending. If it's too thick, a splash of water can help you reach the right consistency without diluting the flavor.
Warming the Tortillas: Don't skip warming the tortillas, as this makes them more pliable and enhances their flavor. A hot, dry skillet works best for getting a little char without adding extra moisture or oil.
Assembling the Tacos: Balance is key here. Start with the shrimp, then add your cabbage for crunch, and finally, drizzle with the crema. Each element should complement the others without overwhelming them.
Garnishing: Fresh cilantro and a squeeze of lime juice can elevate the tacos by adding a burst of freshness and acidity to cut through the richness of the crema and the spiciness of the shrimp.
These tips will help you create a dish that's not only visually appealing but also packed with flavors that are true to the keto diet and your taste buds.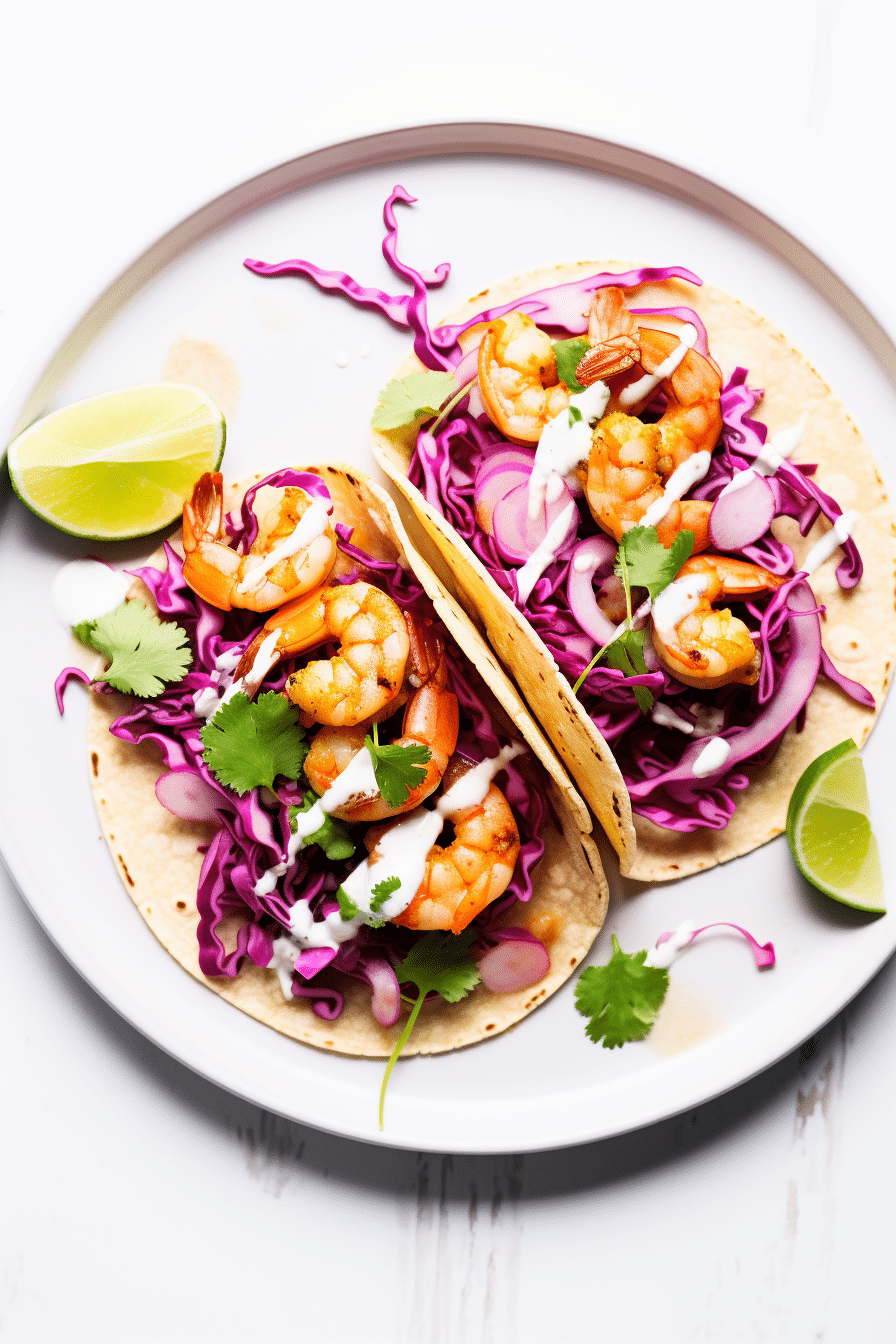 Variations
Grilled Chicken Tacos with Avocado Crema
For a different protein option, try using grilled chicken. Marinate chicken thighs in the same spices as the shrimp and grill them for a smoky flavor. Slice the chicken and serve in the same low-carb tortillas with the avocado crema.
Fish Tacos with Cilantro-Lime Crema
Fish tacos are another classic that can easily be made keto. Use a firm white fish like cod or mahi-mahi, and create a crema with cilantro and lime for a tangy twist. The fish can be grilled or pan-seared for a crispy exterior.
Vegetarian Tacos with Walnut "Meat"
For a vegetarian option, walnut "meat" is a great substitute. Pulse walnuts with the same spice mix in a food processor until they resemble ground meat. Sauté this mixture briefly and use it as a taco filling.
Substitutions
While this recipe is designed to be keto-friendly, you may need to make substitutions based on availability or personal preference. Here are some options:
Sour Cream Alternatives: If you're avoiding dairy, you can use a dairy-free sour cream substitute or even full-fat coconut cream with a bit of lemon juice to mimic the tanginess of sour cream.
Shrimp Substitutes: If you're not a fan of shrimp, you can easily substitute it with other proteins like diced chicken, beef, or even tofu for a plant-based option. Just ensure to adjust cooking times accordingly.
Tortilla Options: If you can't find low-carb tortillas, you can use large lettuce leaves as a wrap for an even lower carb count and a fresh, crunchy texture.
FAQ Section
Can I make this recipe ahead of time?
Yes, you can prepare the components ahead of time, but for the best texture and flavor, assemble the tacos just before serving.
How can I store leftovers?
Store the shrimp, avocado crema, and other components separately in airtight containers in the refrigerator. Assemble when ready to eat.
Is this recipe spicy?
The level of spice can be adjusted to your preference by altering the amount of cayenne pepper used in the seasoning.
Can I use frozen shrimp?
Yes, just ensure they are fully thawed and patted dry before seasoning and cooking to avoid excess moisture.
What if I don't have a food processor for the crema?
You can use a blender or even mash the avocado and mix the ingredients by hand for a chunkier texture.
Keto Spicy Shrimp Tacos with Avocado Crema
Ignite your taste buds with these Keto Spicy Shrimp Tacos, wrapped in low-carb tortillas and drizzled with a lusciously smooth avocado crema. This dish is a perfect harmony of flavors and textures, combining succulent shrimp with a kick of heat, all balanced by the cooling effect of avocado. It's a keto-friendly fiesta on a plate!
Servings: 4
Prep Time: 20 minutes
Cook Time: 10 minutes
Cuisine: Mexican
Category: Dinner
Ingredients:
Spicy Shrimp:

1 lb (453g) shrimp, peeled and deveined
1 tbsp (15ml) olive oil
1 tsp (2g) chili powder
1/2 tsp (1g) garlic powder
1/2 tsp (1g) paprika
1/4 tsp (0.5g) cayenne pepper
1/4 tsp (1.5g) salt
1/4 tsp (0.5g) black pepper

Avocado Crema:

1 ripe avocado, pitted and scooped
1/4 cup (60g) sour cream
2 tbsp (30ml) lime juice
1/4 tsp (1.5g) salt

4 low-carb tortillas (8-inch diameter)
1/4 cup (25g) red cabbage, shredded
1/4 cup (25g) fresh cilantro, chopped
1 lime, cut into wedges
Method:
In a mixing bowl, combine the shrimp, olive oil, chili powder, garlic powder, paprika, cayenne pepper, salt, and black pepper. Toss until the shrimp are evenly coated with the spices.
Preheat a skillet over medium-high heat. Add the seasoned shrimp and cook for 2-3 minutes on each side, or until they turn pink and are cooked through. Remove from heat and set aside.
For the avocado crema, blend the avocado, sour cream, lime juice, and salt in a food processor until smooth. If the mixture is too thick, add a tablespoon of water to reach the desired consistency.
Warm the low-carb tortillas according to the package instructions, or by placing them in a dry skillet over medium heat for about 30 seconds on each side.
Assemble the tacos by placing an equal amount of cooked shrimp on each tortilla. Top with shredded red cabbage and a generous drizzle of avocado crema.
Garnish with chopped cilantro and serve immediately with lime wedges on the side.
Nutritional Information (per serving):
Calories: 320
Carbohydrates: 18g
Net Carbs: 5g
Fiber: 13g
Fat: 20g
Protein: 25g
Equipment Used:
Skillet
Mixing bowl
Food processor or blender
Other Notes:
For an even lower carb count, you can use lettuce wraps instead of low-carb tortillas.
Adjust the level of spiciness to your preference by increasing or decreasing the amount of cayenne pepper.
Leftover avocado crema can be stored in an airtight container in the refrigerator for up to 2 days. The lime juice will help prevent browning.