Keto Saffron Cauliflower Pilaf with Pine Nuts
Embark on a culinary journey that aligns perfectly with your keto lifestyle with this Keto Saffron Cauliflower Pilaf with Pine Nuts. This dish is not only a feast for the eyes with its vibrant hues but also a testament to how low-carb eating doesn't mean sacrificing flavor or elegance.
Saffron, the star of the show, imparts a luxurious taste and aroma, while the cauliflower provides a nutritious, low-carb base, making it an excellent keto diet recipe. The addition of toasted pine nuts adds a delightful crunch, rounding out this dish to perfection.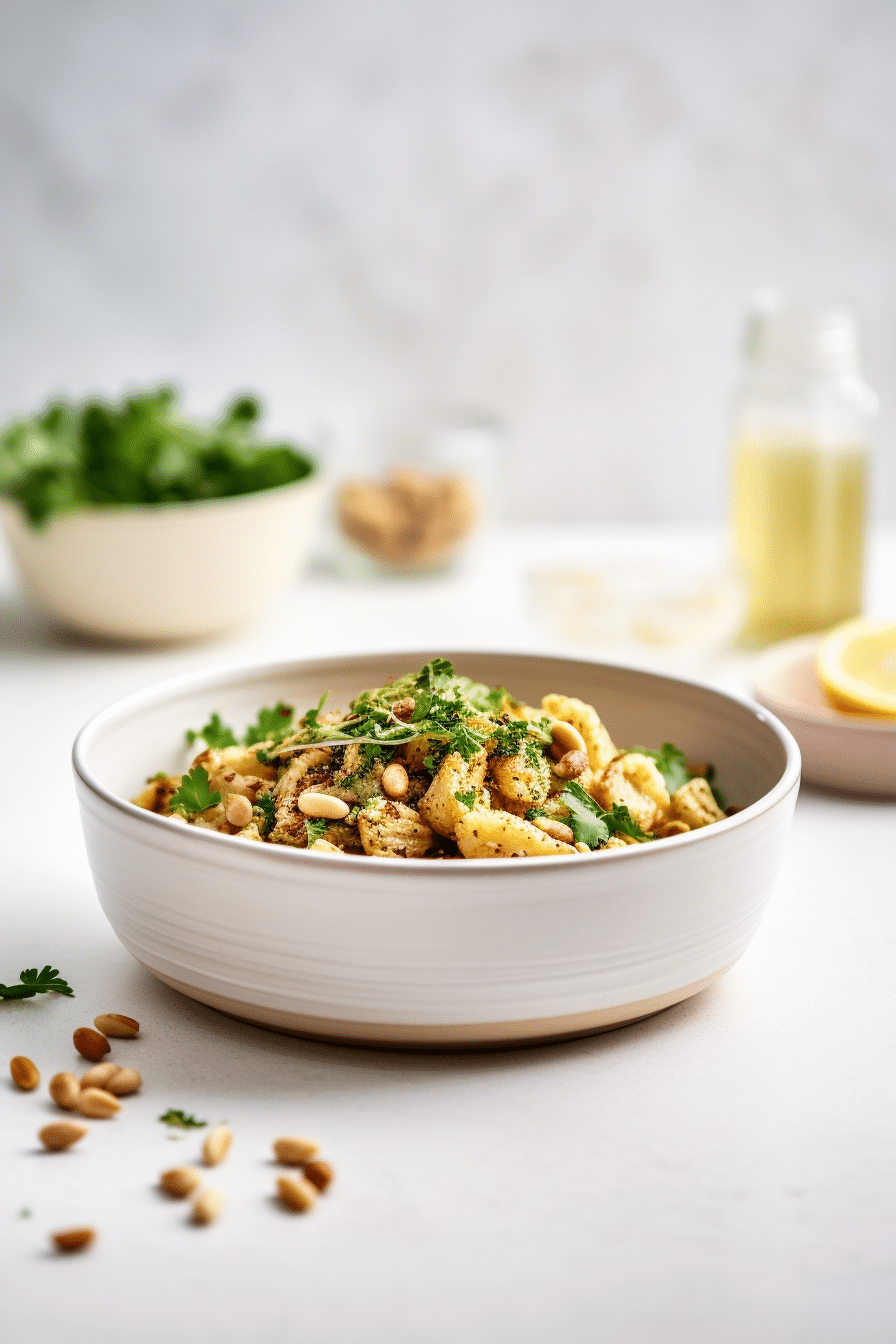 Recipe Details
This Keto Saffron Cauliflower Pilaf with Pine Nuts is more than just a side dish; it's a statement that keto meals can be as gourmet as any traditional cuisine. The inspiration for this recipe comes from the rich and aromatic flavors of Middle Eastern cuisine, which often features saffron as a key ingredient. Saffron, known for its distinctive color and flavor, is a precious spice that brings an exotic touch to the humble cauliflower, transforming it into a pilaf that can stand proudly next to any grain-based counterpart.
As someone following a keto diet, you're likely aware that keeping carbs low is essential. This recipe excels in that regard, using cauliflower instead of rice, which significantly lowers the carbohydrate content without compromising on texture or taste. The pine nuts are not just a garnish; they're a source of healthy fats, which are a cornerstone of the keto diet. They also provide a satisfying crunch that contrasts beautifully with the softness of the cauliflower.
Each serving of this pilaf is carefully calculated to ensure it fits within your daily carb limit, making it an excellent choice for anyone looking to maintain ketosis. With only 8g of net carbs per serving, you can indulge in this luxurious dish without any guilt. Moreover, the combination of olive oil, pine nuts, and cauliflower delivers a good dose of healthy fats and fiber, further supporting your keto goals.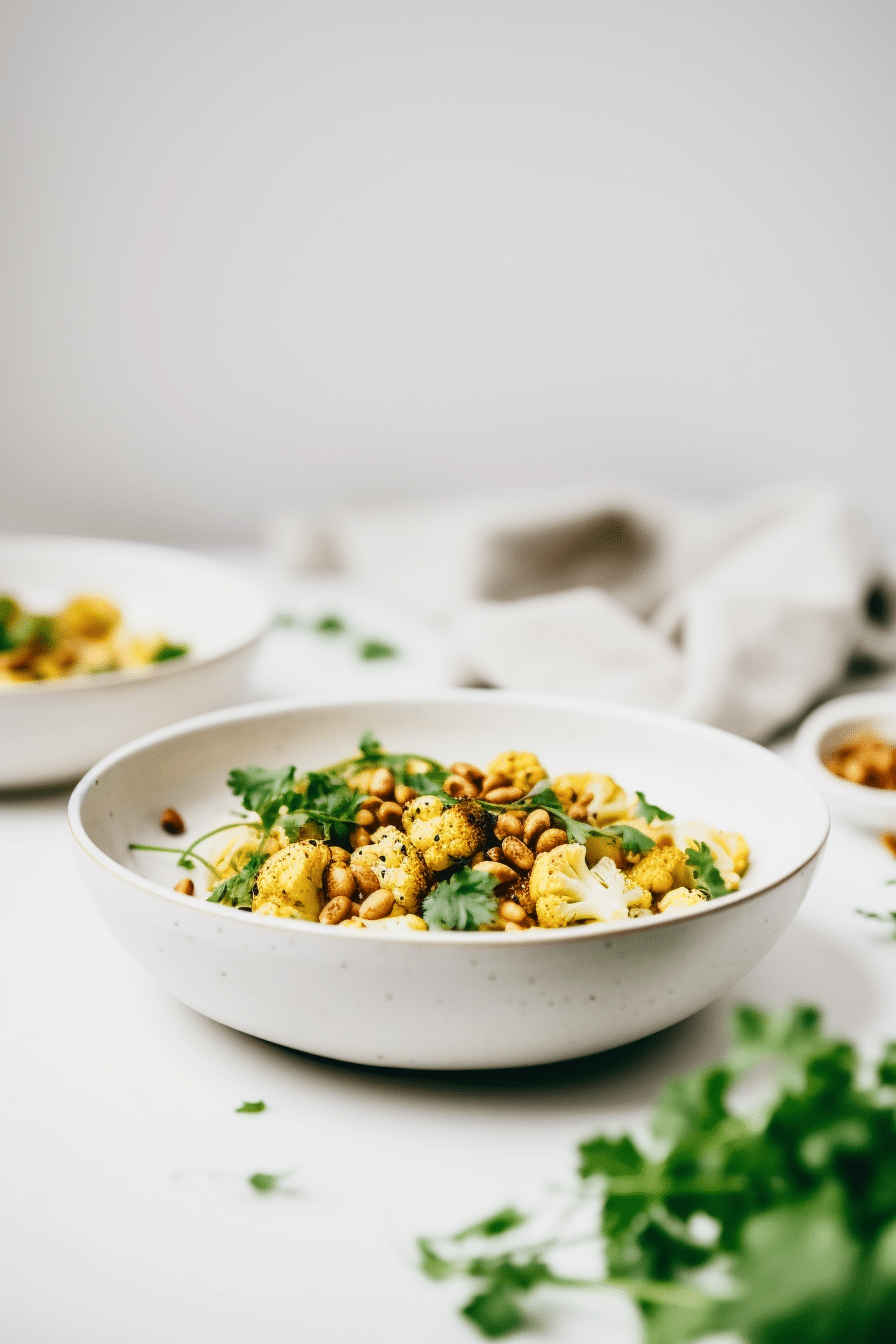 The Method
The key to perfecting this Keto Saffron Cauliflower Pilaf lies in the method. Start by toasting the pine nuts until they're golden brown. This not only enhances their flavor but also adds a delightful texture to the pilaf. Make sure to keep an eye on them as they toast since pine nuts can go from perfectly golden to burnt in a matter of seconds.
When sautéing the onions, aim for a translucent appearance. This indicates that they are cooked enough to be sweet and soft, providing a subtle flavor base for the pilaf. The addition of garlic and saffron at this stage is crucial; it allows the heat to activate the saffron's aroma and infuse the oil, creating a flavorful foundation.
As you add the riced cauliflower to the skillet, the goal is to achieve a tender yet slightly firm texture, reminiscent of traditional rice pilaf. The broth not only cooks the cauliflower but also absorbs the saffron's color, dispersing it throughout the dish for an even, appealing presentation.
Seasoning is best done at the end of cooking so you can adjust the salt and pepper to your taste. Finally, the toasted pine nuts are stirred in, and the dish is garnished with fresh parsley, adding a pop of color and a fresh flavor that complements the rich saffron.
Remember, the key to a great pilaf is balance: the cauliflower should not be mushy, and the nuts should retain their crunch. Follow these tips, and you'll have a pilaf that's sure to impress.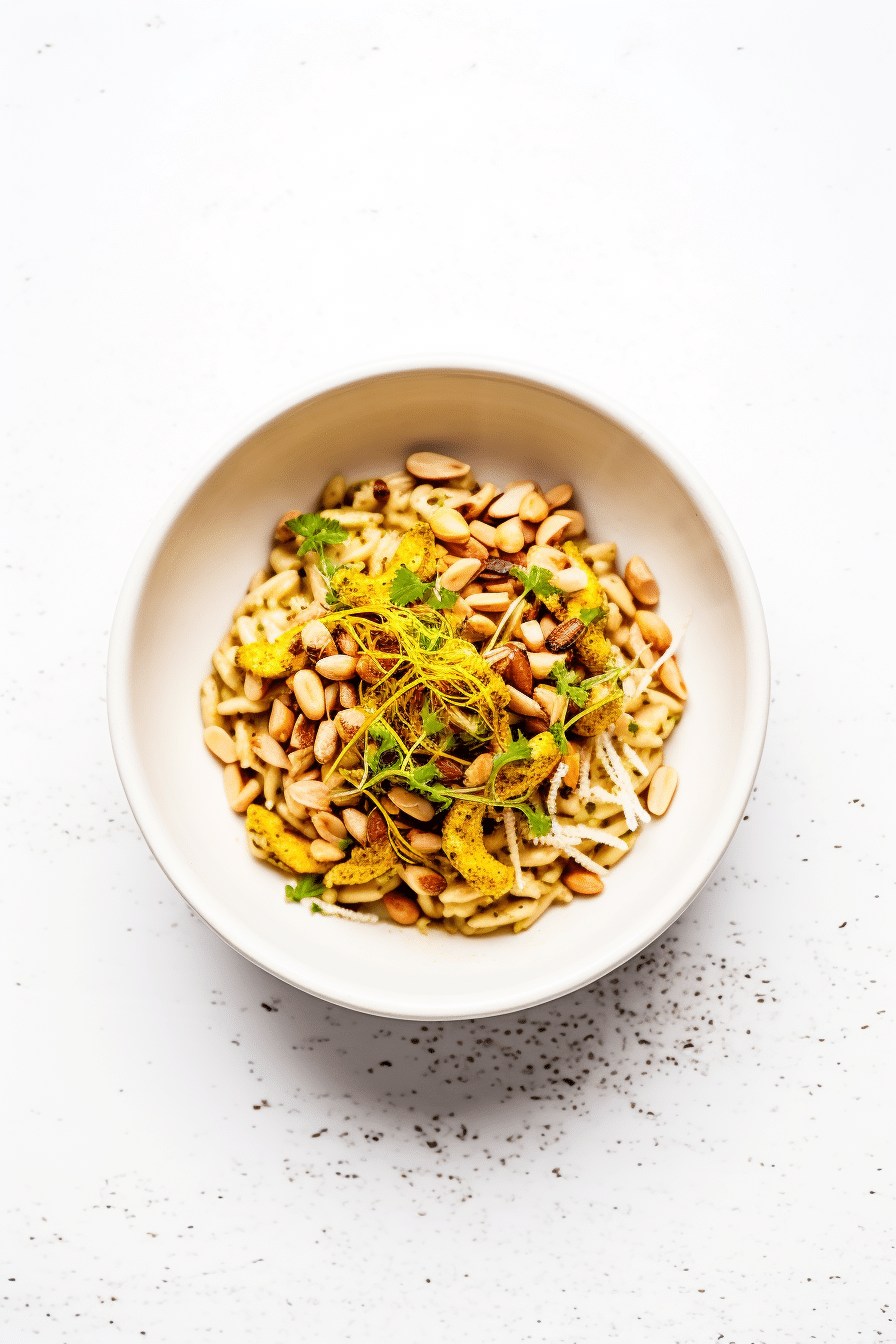 Variations
Herb-Infused Pilaf
Enhance the flavor profile by adding a mix of fresh herbs such as cilantro, dill, or mint. Chop the herbs and stir them in at the end of cooking for a burst of freshness.
Spicy Pilaf
For those who enjoy a bit of heat, add a chopped red chili or a sprinkle of red pepper flakes when sautéing the onions. This will introduce a spicy kick that complements the saffron's subtle warmth.
Protein-Packed Pilaf
Turn this side dish into a main by adding cooked, diced chicken or shrimp. Make sure the protein is added towards the end of cooking to prevent it from becoming too dry.
Substitutions
Understanding that dietary needs and pantry stocks vary, here are some substitutions you can make while still keeping the dish keto-friendly:
Cauliflower: If you're out of fresh cauliflower, frozen riced cauliflower is a convenient alternative. Just be sure to thaw and drain it well to prevent excess moisture.
Pine Nuts: Although pine nuts offer a distinct flavor and texture, slivered almonds or chopped walnuts can be used as a substitute for a different nutty crunch.
Broth: While chicken or vegetable broth is recommended, bone broth can be used for an extra nutrient boost.
FAQs
Q: Can I make this dish ahead of time?
A: Absolutely! Prepare the pilaf as instructed and store it in an airtight container in the refrigerator. Reheat gently before serving.
Q: Is this dish suitable for freezing?
A: While you can freeze it, the texture of the cauliflower may change upon thawing. For best results, enjoy it fresh or refrigerated.
Q: How can I ensure the cauliflower doesn't become mushy?
A: Sauté the riced cauliflower just until it begins to soften and ensure the broth simmers gently. Overcooking will lead to a mushy texture.
Q: Can this pilaf be served cold?
A: Yes, it can be enjoyed as a cold salad. However, the flavors are more pronounced when it's served warm.
Q: How can I make this dish dairy-free?
A: This recipe is naturally dairy-free, so no modifications are necessary!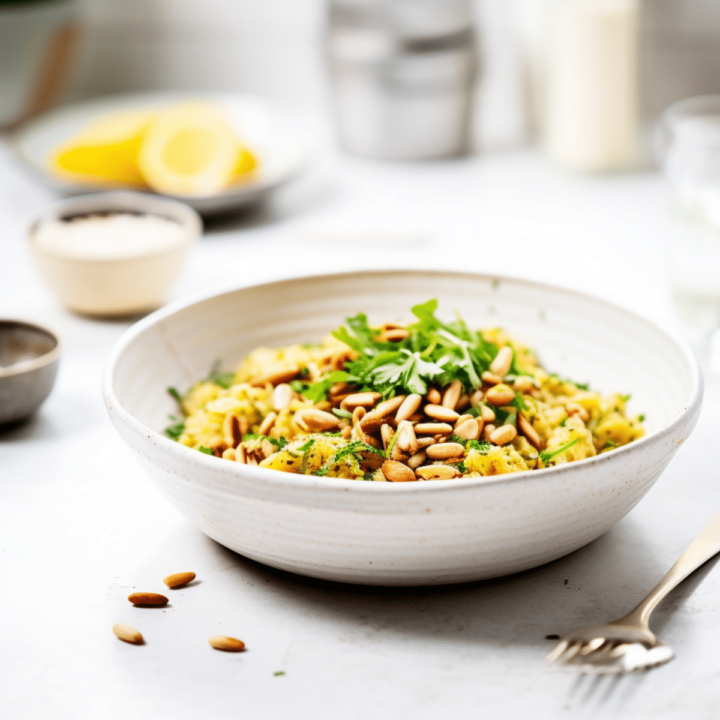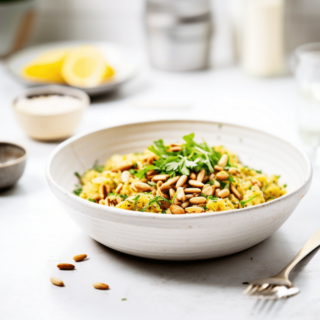 Aromatic Keto Saffron Cauliflower Pilaf with Pine Nuts
This Keto Saffron Cauliflower Pilaf with Pine Nuts is an aromatic and flavorful side dish that brings a luxurious touch to your keto dining experience. Infused with the rich color and taste of saffron and speckled with the crunch of toasted pine nuts, this pilaf is the perfect low-carb substitute for traditional rice dishes.
Ingredients
- 1 large head of cauliflower

riced (about 4 cups / 16 oz / 450g)

- 2 tablespoons olive oil

30ml

- 1 small onion

finely chopped (about 2.5 oz / 70g)

- 2 cloves garlic

minced

- 1/2 teaspoon saffron threads

about 0.02 oz / 0.5g

- 1 cup chicken or vegetable broth

8 fl oz / 240ml

- 1/3 cup pine nuts

about 1.5 oz / 40g

- Salt and pepper

to taste

- Fresh parsley

chopped for garnish
Instructions
Heat a large skillet over medium heat and add the pine nuts. Toast them, stirring frequently, until they're golden brown. Remove the pine nuts from the pan and set aside.

In the same skillet, heat the olive oil over medium heat. Add the chopped onion and cook until it's translucent, about 5 minutes.

Stir in the minced garlic and saffron threads, cooking for another minute until the garlic is fragrant.

Increase the heat to medium-high and add the riced cauliflower to the skillet. Sauté for about 5-7 minutes, or until the cauliflower begins to soften.

Pour in the broth, bring the mixture to a simmer, then reduce the heat to maintain a gentle simmer. Cover and let cook for about 10-12 minutes, or until the liquid is absorbed and the cauliflower is tender.

Remove from heat, season with salt and pepper to taste, and stir in the toasted pine nuts.

Garnish with fresh parsley before serving.
Notes
- To rice the cauliflower, you can use a food processor or grate it using a box grater.
- For a nut-free version, substitute the pine nuts with pumpkin seeds or simply omit them.
- The saffron can be steeped in a tablespoon of hot water for 10 minutes before adding to the dish to release more of its flavor and color.
- Store leftovers in an airtight container in the refrigerator for up to 3 days. Reheat gently before serving.
Nutrition
Calories:
220
kcal
Carbohydrates:
14
g
Protein:
5
g
Fat:
18
g
Fiber:
7
g
Sugar:
7
g