Savory Keto Ground Beef Lettuce Wraps
Welcome to a mouthwatering journey into the world of keto-friendly cuisine with our Savory Keto Ground Beef Lettuce Wraps. If you're on the hunt for a dish that's not only delicious but also aligns with your low-carb, high-fat dietary needs, you've struck gold. These lettuce wraps are a powerhouse of flavor and nutrition, making them an ideal choice for anyone following a ketogenic lifestyle. Packed with protein, healthy fats, and just the right amount of crunch, this recipe is sure to become a staple in your keto recipe arsenal.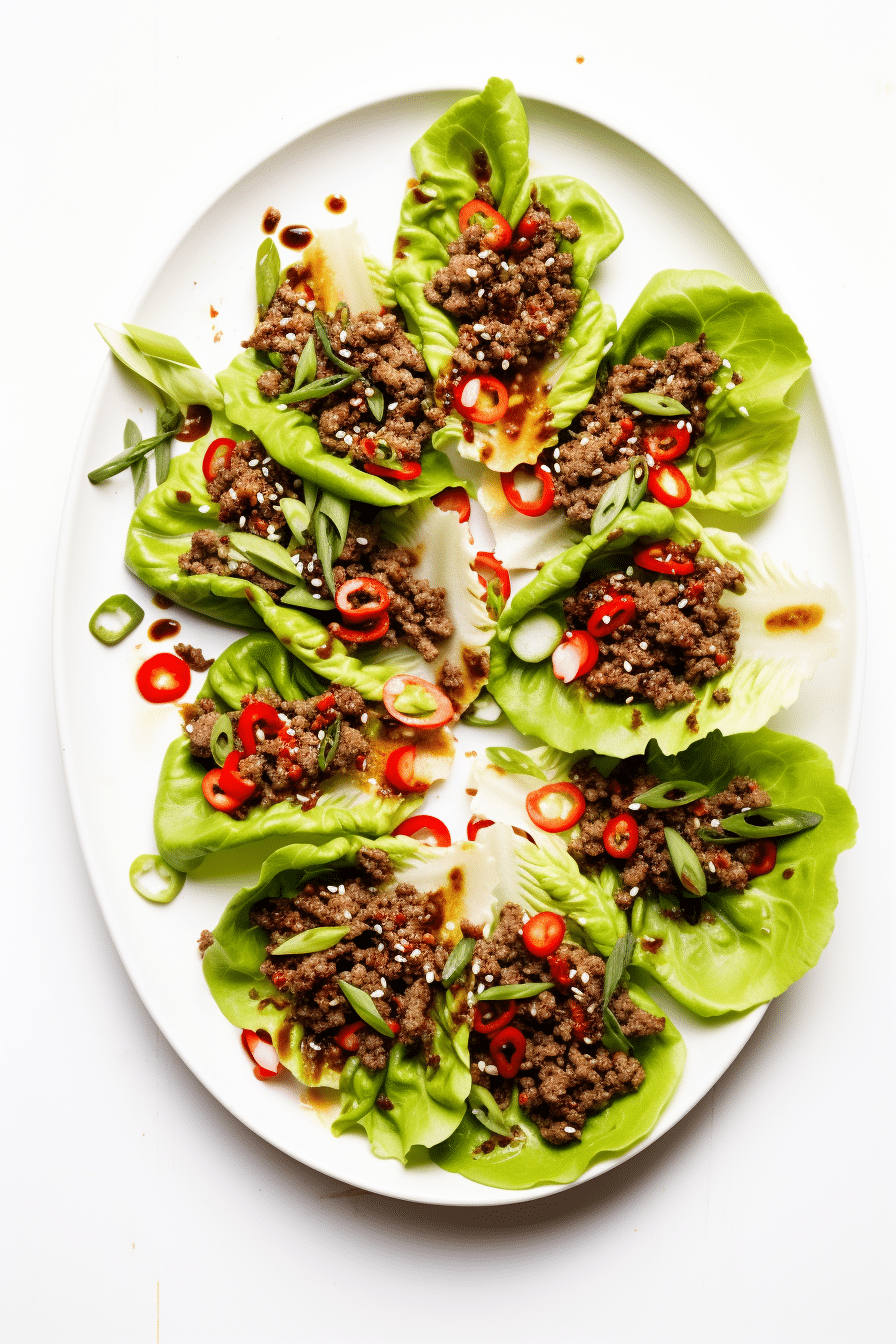 Why These Keto Lettuce Wraps Are a Must-Try
Originating from the concept of Asian lettuce wraps, this dish has been transformed into a keto-friendly delight. The inspiration came from the desire to create a meal that is both nutrient-dense and low in carbohydrates. The beauty of this recipe lies in its simplicity and adaptability. Not only does it cater to the ketogenic diet, but it also provides a refreshing twist to your regular meal routine.
The key to maintaining a successful keto diet is to find meals that you look forward to eating, and these lettuce wraps tick all the boxes. They're quick to make, incredibly tasty, and they keep you feeling full and energized. The combination of savory ground beef, aromatic spices, and crisp lettuce creates a symphony of textures and flavors that will tantalize your taste buds.
Moreover, these lettuce wraps are a fantastic source of protein and healthy fats, which are essential on a ketogenic diet. The use of ingredients like avocado oil and sesame oil not only enhances the taste but also boosts the nutritional profile of the dish. With each bite, you're fueling your body with what it needs to thrive on keto.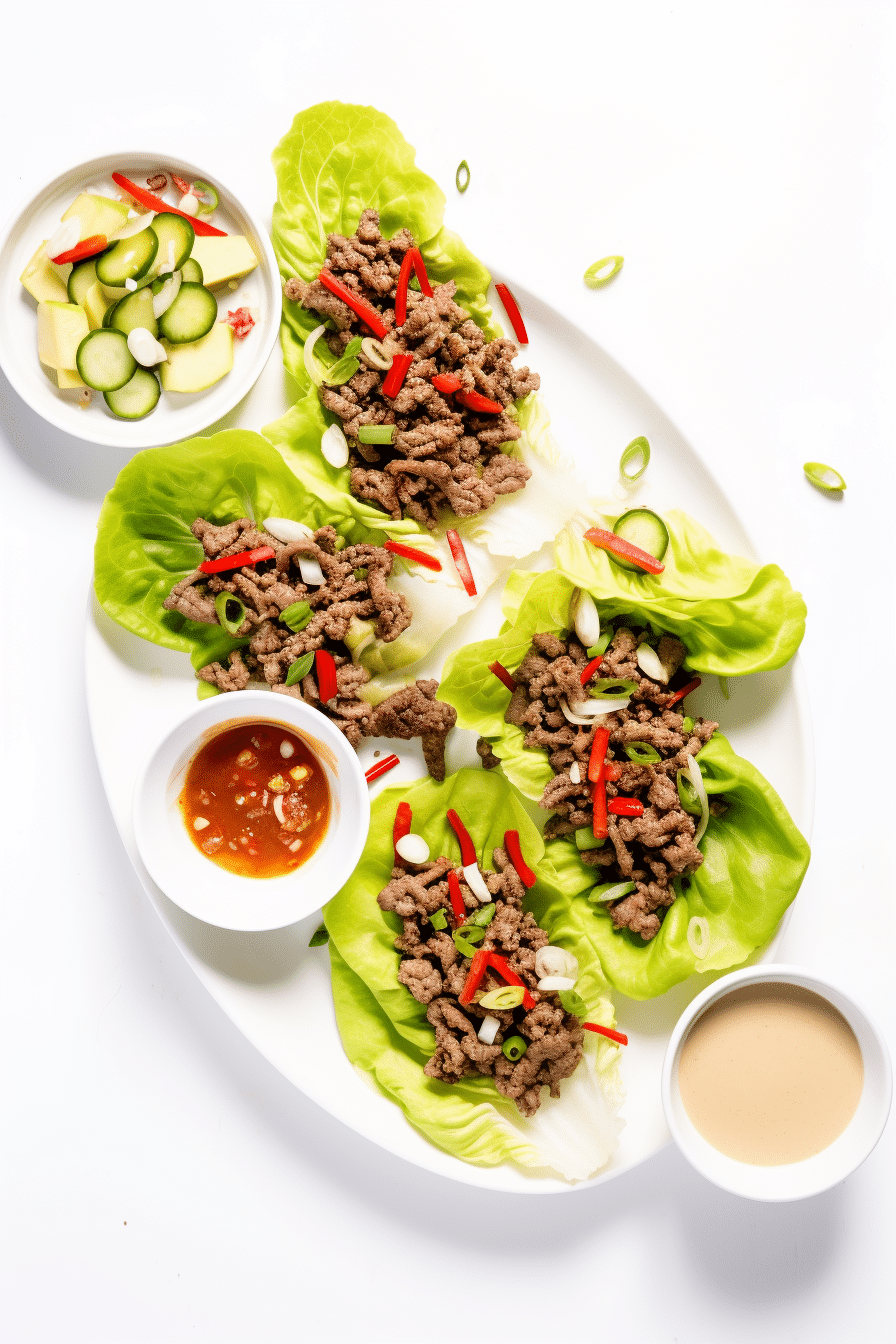 Mastering the Method
Creating these keto ground beef lettuce wraps is an art that's easy to master with a few chef's tips. The process begins with selecting the right type of lettuce. Iceberg or butter lettuce works best due to their sturdy and pliable leaves, which make perfect vessels for the beef filling.
When cooking the ground beef, make sure to brown it well. This is where the flavor develops. Don't rush this step, as the Maillard reaction is key to achieving that deep, savory taste. Once the beef is browned, draining excess fat is important, but leave a little behind for that richness essential to keto.
The real magic happens when you add the aromatics and sauces. Garlic and onions should be sautéed until just translucent to avoid any bitterness. The combination of sesame oil, soy sauce, and sugar-free sriracha provides a balance of umami, tang, and heat. Remember to taste as you go, adjusting the seasonings to your preference.
When assembling the wraps, don't overfill the lettuce leaves. You want to ensure each wrap can be easily picked up and eaten without the filling spilling out. Place a modest amount of the beef mixture in the center, allowing room to fold the lettuce around it.
Finally, garnishes are more than just a decorative touch. Fresh cilantro, green onions, and sesame seeds add layers of flavor and texture. They're the finishing touches that transform a good dish into a great one.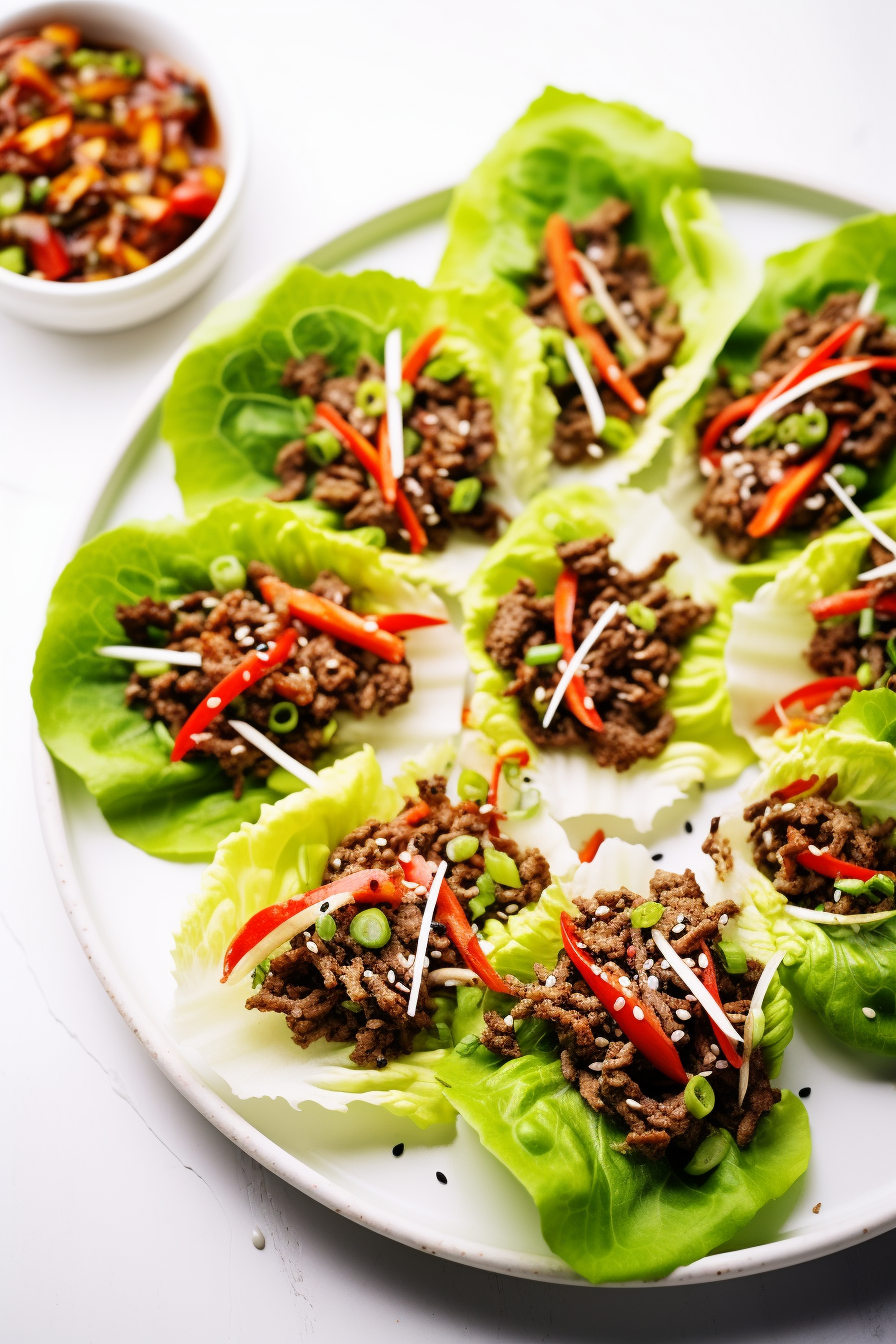 Variations to Keep It Fresh
Spicy Thai Beef Lettuce Wraps
For a Thai twist, add a tablespoon of fish sauce and a squirt of lime juice to the beef mixture. Top with fresh mint and crushed peanuts for a fragrant and crunchy finish.
Mediterranean-Style Wraps
Swap the ground beef for lamb and season with cumin, coriander, and a touch of cinnamon. Serve with diced cucumber, cherry tomatoes, and a dollop of keto tzatziki.
Buffalo Chicken Lettuce Wraps
Replace the beef with ground chicken and season with keto-friendly buffalo sauce. Top with crumbled blue cheese and diced celery for a game-day favorite.
Substitutions for Every Pantry
Not everyone has the same ingredients on hand, but that shouldn't stop you from enjoying these lettuce wraps. Here are a few substitutions:
If you don't have avocado oil, coconut oil or even olive oil can be used for sautéing. For a soy-free option, use coconut aminos instead of soy sauce. And if you're out of fresh garlic, garlic powder can work in a pinch.
For those who don't consume beef, ground turkey or chicken are excellent alternatives that still keep the dish keto-friendly. And if you're avoiding all kinds of meat, consider using crumbled tofu or tempeh as suggested in the recipe notes.
Frequently Asked Questions
| Question | Answer |
| --- | --- |
| Can I make these lettuce wraps ahead of time? | Yes, you can prepare the beef mixture ahead of time and store it in the refrigerator. Assemble the wraps just before serving for the best texture. |
| How do I store leftovers? | Store the beef mixture and lettuce leaves separately in airtight containers in the refrigerator for up to 3 days. |
| What's the best way to reheat the beef mixture? | Gently reheat it in a skillet on the stove or in the microwave, ensuring it's heated through before serving. |
| Can I freeze the cooked beef mixture? | Yes, it can be frozen for up to a month. Thaw overnight in the refrigerator before reheating. |
| Are these wraps suitable for meal prep? | Absolutely, they're perfect for meal prep! Just keep the components separate until you're ready to enjoy. |
—
**Recipe Name:**
Savory Keto Ground Beef Lettuce Wraps
**Description:**
These savory Keto Ground Beef Lettuce Wraps are a symphony of flavors wrapped in the crisp freshness of lettuce leaves. Perfect for a low-carb lunch or dinner, they're packed with protein and healthy fats, ensuring you stay on track with your keto goals while enjoying a delicious and satisfying meal.
**Servings:**
4 servings
**Prep time:**
15 minutes
**Cook time:**
10 minutes
**Cuisine:**
Asian-Inspired
**Category:**
Lunch/Dinner
**Ingredients:**
– 1 lb (453g) ground beef
– 1 tablespoon (15ml) avocado oil
– 2 cloves garlic, minced
– 1 medium onion, finely chopped (about 1/2 cup/115g)
– 1 bell pepper, diced (about 1 cup/150g)
– 1 teaspoon (5ml) sesame oil
– 2 tablespoons (30ml) soy sauce or tamari for gluten-free option
– 1 tablespoon (15ml) rice vinegar
– 1 tablespoon (15g) sugar-free sriracha sauce
– 1 teaspoon (5g) ground ginger
– Salt and pepper to taste
– 8 large lettuce leaves (e.g., iceberg or butter lettuce)
– Optional garnishes: fresh cilantro, sliced green onions, sesame seeds
**Method:**
1. Heat the avocado oil in a large skillet over medium-high heat.
2. Add the minced garlic and chopped onion to the skillet, sautéing until the onion becomes translucent, about 2-3 minutes.
3. Introduce the ground beef to the skillet, breaking it apart with a spatula. Cook until the beef is browned and no longer pink, approximately 5-6 minutes.
4. Drain excess fat from the skillet if necessary, then add the diced bell pepper to the beef mixture, cooking for an additional 2 minutes.
5. Pour in the sesame oil, soy sauce, rice vinegar, sugar-free sriracha sauce, and ground ginger. Stir well to combine all the ingredients.
6. Season with salt and pepper to taste, and allow the mixture to simmer for another 2-3 minutes, stirring occasionally.
7. While the beef mixture is simmering, prepare the lettuce leaves by washing and drying them thoroughly.
8. Spoon the cooked beef mixture into the center of each lettuce leaf.
9. If desired, garnish with fresh cilantro, sliced green onions, and sesame seeds.
10. Serve immediately, with additional sriracha sauce on the side for those who prefer an extra kick.
**Calories:**
Approximately 248 calories per serving
**Carbohydrates:**
6g per serving
**Net carbs:**
4g per serving
**Fiber:**
2g per serving
**Fat:**
18g per serving
**Protein:**
20g per serving
**Equipment Used:**
– Large skillet
– Spatula
– Knife
– Cutting board
– Measuring spoons
– Measuring cups
**Other Notes:**
– For a vegetarian version, substitute ground beef with crumbled tofu or tempeh and adjust the cooking time accordingly.
– The lettuce wraps can be made ahead and stored in the refrigerator. For best results, store the beef mixture and lettuce leaves separately and assemble just before serving.
– Customize your Keto Ground Beef Lettuce Wraps with additional keto-friendly toppings like diced avocado, shredded cheese, or a dollop of sour cream.
—