Welcome to a world of indulgence with our Keto Cinnamon Roll Wreath, a perfect confection that marries the warm, spicy flavors of a classic cinnamon roll with the health-conscious approach of the ketogenic diet. This recipe is a testament to the versatility of keto baking, proving that you can still enjoy decadent treats without compromising your dietary goals. Crafted with nutrient-dense almond and coconut flours, sweetened with erythritol, and enriched with creamy butter and eggs, this cinnamon roll wreath is a high-fat, low-carb delight that will keep you satiated and satisfied. Ideal for anyone following a ketogenic lifestyle or simply looking for a lower-carb option, this recipe promises to deliver on flavor without the guilt. So, let's embark on this culinary journey and create a stunning centerpiece that's as delightful to the palate as it is to the eyes.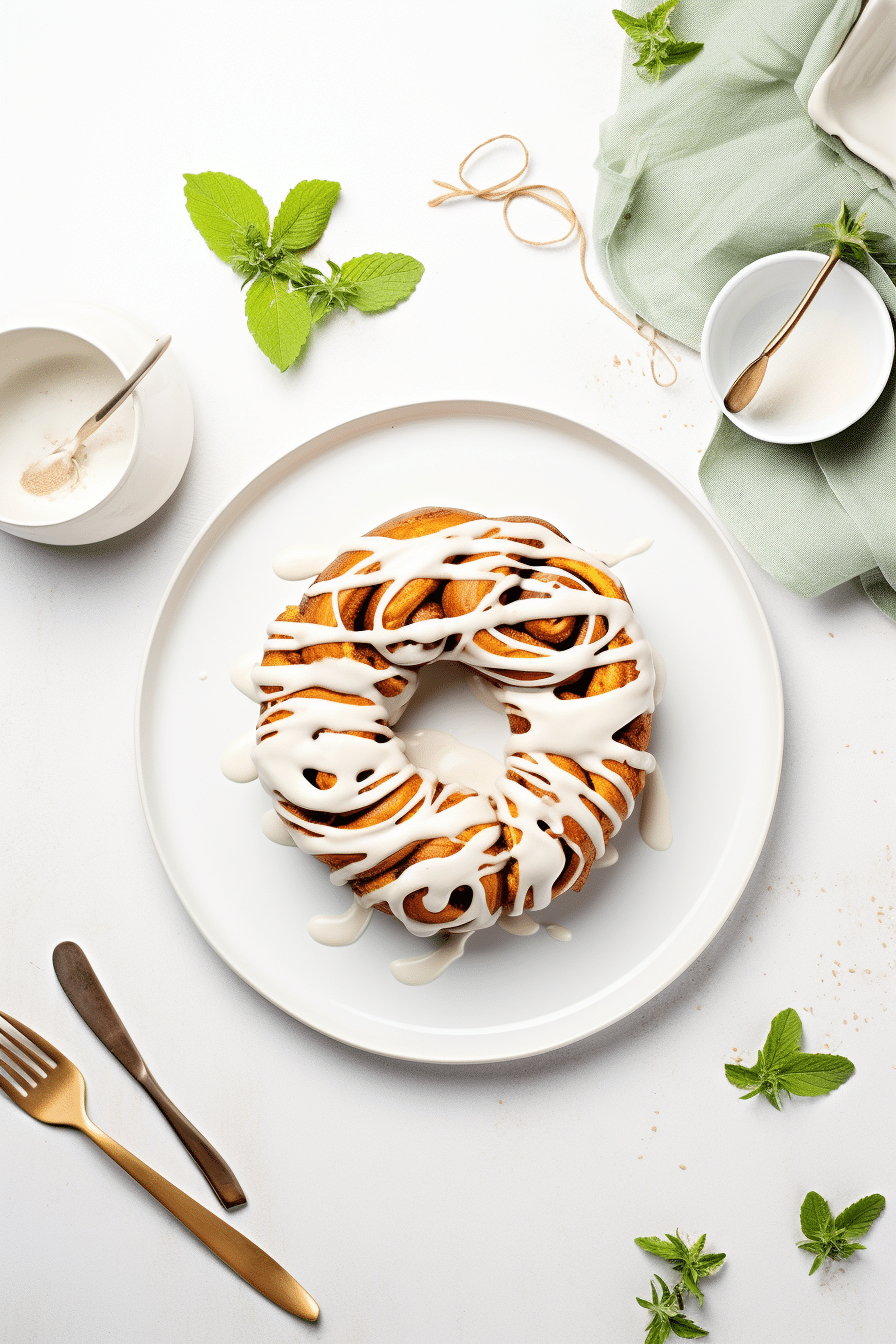 Recipe Details
The inspiration for this Keto Cinnamon Roll Wreath comes from a blend of holiday nostalgia and a passion for maintaining a healthy lifestyle. Cinnamon rolls have long been a staple of festive gatherings and cozy mornings, but their traditional recipes are laden with sugars and carbs. This keto-friendly version offers a guilt-free alternative, ensuring that you can partake in the celebrations without straying from your dietary objectives.
What makes this recipe stand out is its high-fat content, primarily from wholesome ingredients like almond flour, butter, and cream cheese. These elements not only contribute to the ketogenic profile of the dish but also provide a rich taste and satisfying texture that mimics the original dessert. The use of low-glycemic sweeteners like erythritol allows for the sweet, indulgent flavor of a cinnamon roll without causing a spike in blood sugar, making it an excellent choice for those monitoring their glycemic index.
Almond flour serves as the base for our dough, offering a gluten-free, low-carb alternative to traditional wheat flour. It's packed with healthy fats and fiber, contributing to the feeling of fullness and aiding in digestion. The addition of coconut flour enhances the dough's texture and provides a subtle sweetness that complements the bold cinnamon flavor. With the right techniques and a touch of culinary magic, this Keto Cinnamon Roll Wreath will become a cherished recipe in your low-carb baking repertoire.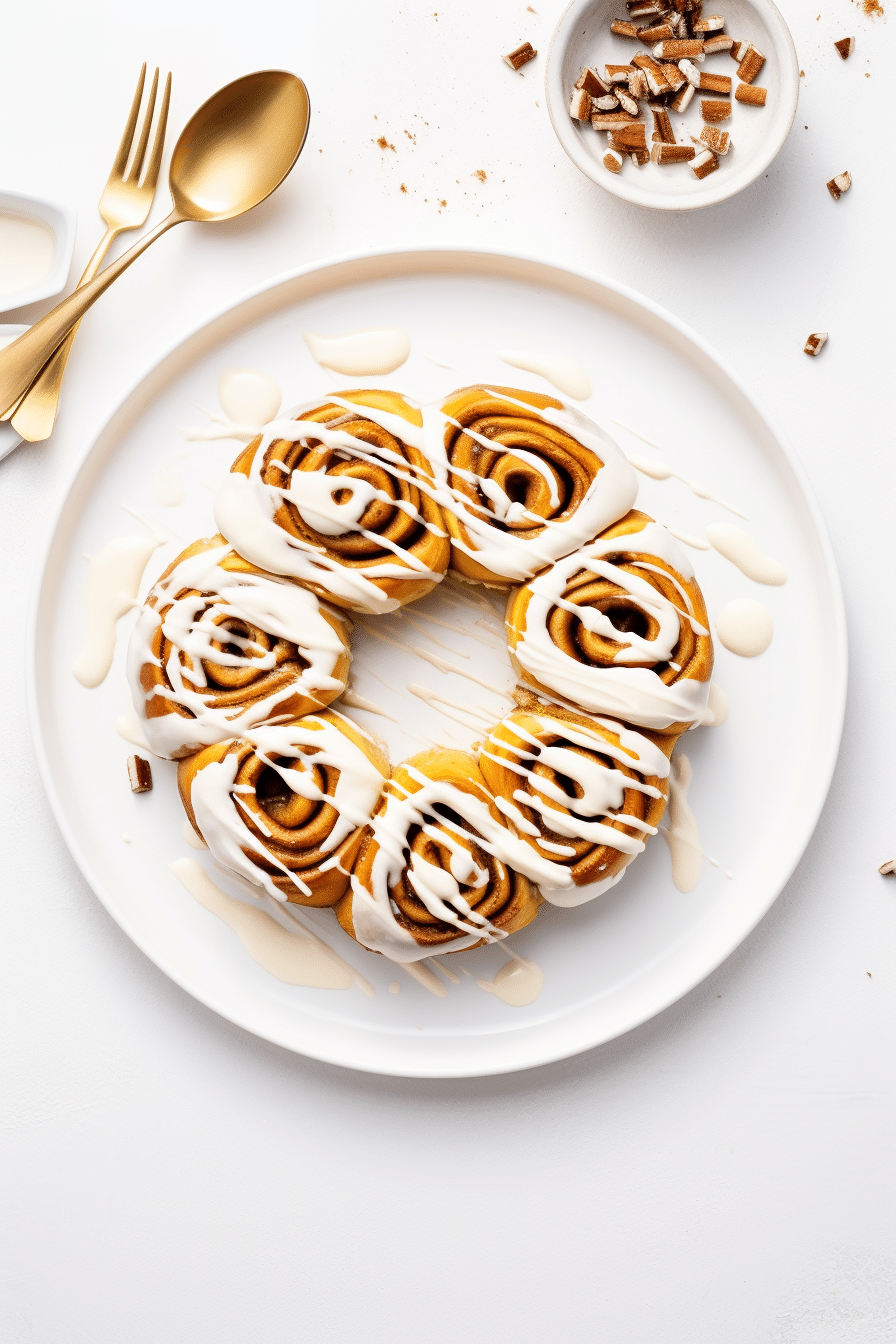 The Method
Creating the perfect Keto Cinnamon Roll Wreath requires attention to detail and a few chef's tricks to ensure a delightful outcome. Begin by preheating your oven to the right temperature, as a consistent heat is crucial for even baking. When combining your dry ingredients, take care to mix them thoroughly, ensuring that the xanthan gum, which acts as a gluten substitute, is evenly distributed to provide the right structure to your dough.
As you introduce the wet ingredients, aim for a smooth, cohesive dough. If it appears too sticky, a sprinkle of almond flour can help you achieve the desired consistency. Rolling out the dough between two sheets of parchment paper prevents sticking without the need for additional flour, which could throw off your carb count.
Applying the softened butter to the dough should be done gently to maintain the dough's integrity. Sprinkle the cinnamon-erythritol mixture evenly for a consistent flavor in every bite. When rolling the dough into a log, work slowly and with confidence to keep the roll tight without tearing the dough.
Slicing the log into even pieces ensures that each section of your wreath cooks uniformly. Arrange the pieces carefully on your baking sheet, remembering that they will expand slightly as they bake. Watch the wreath as it nears the end of its baking time; the golden-brown color is your cue that it's done.
While the wreath cools, whip up the frosting to a silky-smooth texture for easy drizzling. Applying the frosting to a warm (not hot) wreath allows it to seep into the rolls, creating pockets of creamy sweetness. With these tips in mind, your Keto Cinnamon Roll Wreath will not only look spectacular but also taste heavenly.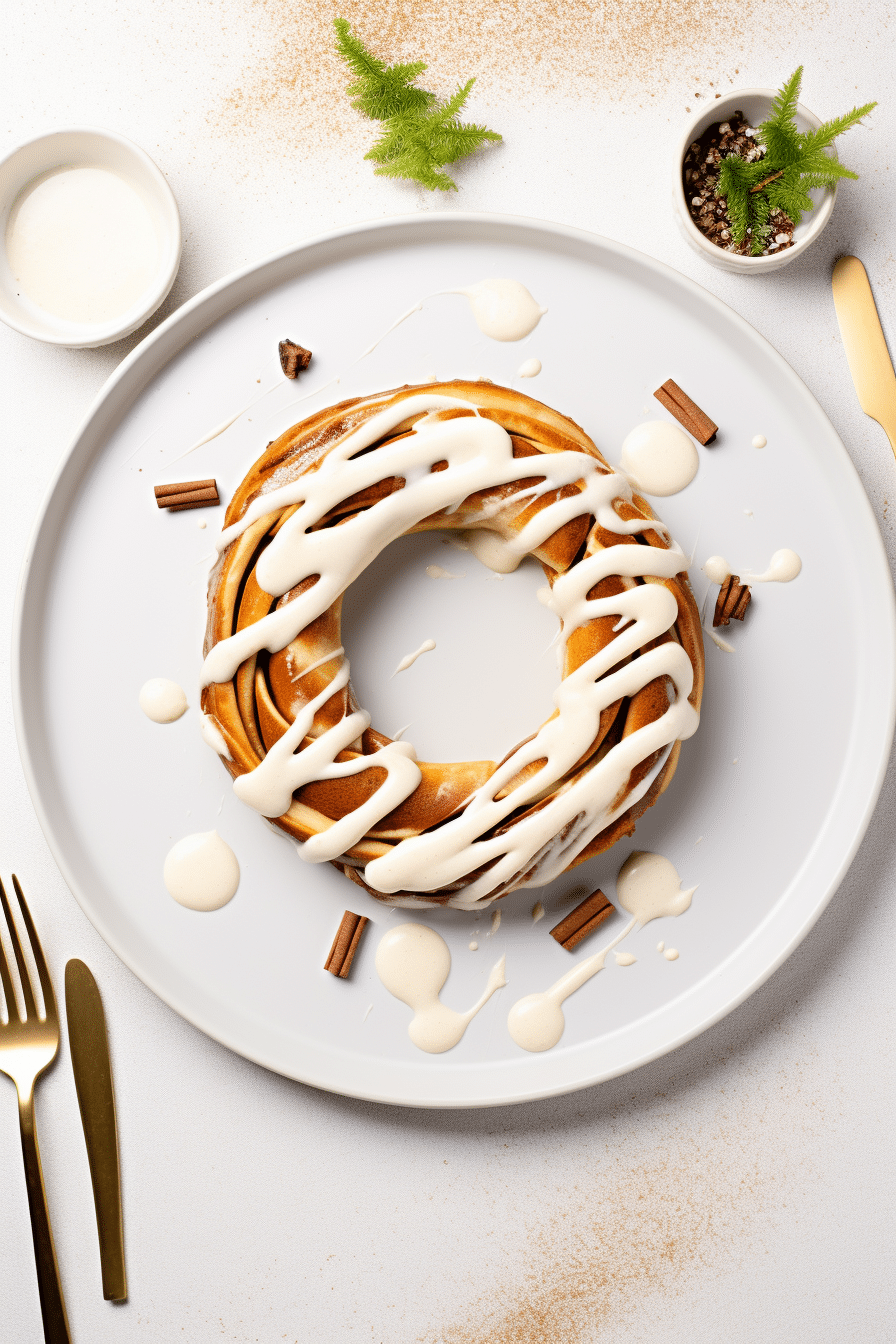 Variations
Chocolate Chip Cinnamon Roll Wreath
For a chocolatey twist, fold sugar-free chocolate chips into the dough before rolling. These will melt slightly as the wreath bakes, creating gooey chocolate pockets that pair beautifully with the cinnamon.
Pecan Praline Cinnamon Roll Wreath
Enhance the wreath with a Southern flair by adding chopped pecans to the cinnamon filling. Once baked, top the wreath with a keto-friendly praline sauce made from butter, cream, and a sweetener.
Pumpkin Spice Cinnamon Roll Wreath
Embrace autumnal flavors by incorporating pumpkin pie spice into the cinnamon filling. You can also add pureed pumpkin to the dough for an extra moist and flavorful roll.
Substitutions
If almond flour isn't your preference or if you're dealing with allergies, ground sunflower seed meal can be a fantastic alternative. Keep in mind that it may slightly alter the flavor profile.
For those who don't enjoy the taste of erythritol, monk fruit sweetener is an excellent substitute that provides a similar sweetness without the cooling effect some people perceive with erythritol.
In place of xanthan gum, you can use ground psyllium husk powder. It's another gluten-free binder that helps give the dough elasticity and structure.
FAQ Section
Can I make this recipe dairy-free?
Yes, you can substitute the butter with coconut oil and use a dairy-free cream cheese alternative for the frosting.
How do I store leftovers?
Store the wreath in an airtight container at room temperature for up to 3 days or freeze for longer storage.
Can I use a different sweetener?
Yes, you can use any granulated keto-friendly sweetener of your choice, such as allulose or a stevia blend.
Is this recipe gluten-free?
Yes, by using almond and coconut flours, this recipe is naturally gluten-free.
Can I prepare the wreath ahead of time?
You can prepare the dough and shape the wreath a day in advance. Keep it covered in the refrigerator, then bake as instructed when ready.
Keto Cinnamon Roll Wreath
Indulge in the festive spirit with a Keto Cinnamon Roll Wreath, a delectable low-carb treat that brings the classic flavors of a cinnamon roll into a beautiful wreath form. Perfect for a holiday breakfast or a cozy brunch, this recipe keeps your keto goals on track while satisfying your sweet tooth.

Servings: 8

Prep time: 20 minutes

Cook time: 25 minutes

Cuisine: Keto, American

Category: Breakfast, Dessert
Ingredients:
Dough:
2 cups almond flour (224g / 7.9 oz)
1/3 cup coconut flour (40g / 1.4 oz)
1/4 cup granulated erythritol (48g / 1.7 oz)
1 tsp xanthan gum
1 tbsp baking powder
1/4 tsp salt
3 large eggs
1/4 cup unsalted butter, melted (57g / 2 oz)
1 tsp vanilla extract
Filling:
1/2 cup granulated erythritol (96g / 3.4 oz)
2 tbsp ground cinnamon
1/4 cup unsalted butter, softened (57g / 2 oz)
Frosting:
1/2 cup cream cheese, softened (4 oz / 113g)
2 tbsp heavy cream
1/4 cup powdered erythritol (48g / 1.7 oz)
1/2 tsp vanilla extract
Method:
Preheat your oven to 350°F (175°C) and line a baking sheet with parchment paper.
In a large mixing bowl, combine almond flour, coconut flour, granulated erythritol, xanthan gum, baking powder, and salt.
Add in the eggs, melted butter, and vanilla extract to the dry ingredients. Mix until a dough forms.
Between two pieces of parchment paper, roll out the dough into a rectangle, about 1/4 inch thick.
For the filling, mix together the erythritol and cinnamon. Spread the softened butter over the rolled-out dough, then sprinkle the cinnamon-erythritol mixture evenly on top.
Carefully roll the dough into a log, starting from the long edge. Slice the log into 2-inch pieces.
Arrange the slices on the prepared baking sheet in a circle, slightly overlapping each piece to form a wreath shape.
Bake for 25 minutes, or until the wreath is golden brown.
While the wreath is baking, prepare the frosting by mixing cream cheese, heavy cream, powdered erythritol, and vanilla extract in a bowl until smooth.
Remove the wreath from the oven and allow it to cool for about 10 minutes.
Drizzle the frosting over the warm cinnamon roll wreath before serving.
Nutrition Information (per serving):
Calories: 345
Carbohydrates: 11g
Net carbs: 3g
Fiber: 8g
Fat: 29g
Protein: 9g
Equipment Used:
Large mixing bowl
Baking sheet
Parchment paper
Rolling pin
Knife
Mixing bowl for frosting
Other Notes:
For best results, ensure all the wet ingredients are at room temperature before starting. The wreath can be stored in an airtight container for up to 3 days or frozen for longer storage. Allow it to reach room temperature before serving for the best flavor and texture. Enjoy your Keto Cinnamon Roll Wreath as a delightful start to your day or a sweet, guilt-free treat!