Keto Sautéed Green Beans with Almonds and Lemon Zest
Introducing a dish that's as nutritious as it is delicious—Keto Sautéed Green Beans with Almonds and Lemon Zest. This recipe is a symphony of flavors, bringing together the earthy crunch of almonds, the freshness of green beans, and the zesty kick of lemon. It's a side that's sure to impress, whether you're catering to keto dieters, health enthusiasts, or simply looking for a tasty new way to enjoy your greens. With minimal carbs and plenty of healthy fats, it's the perfect accompaniment to any keto-friendly main course.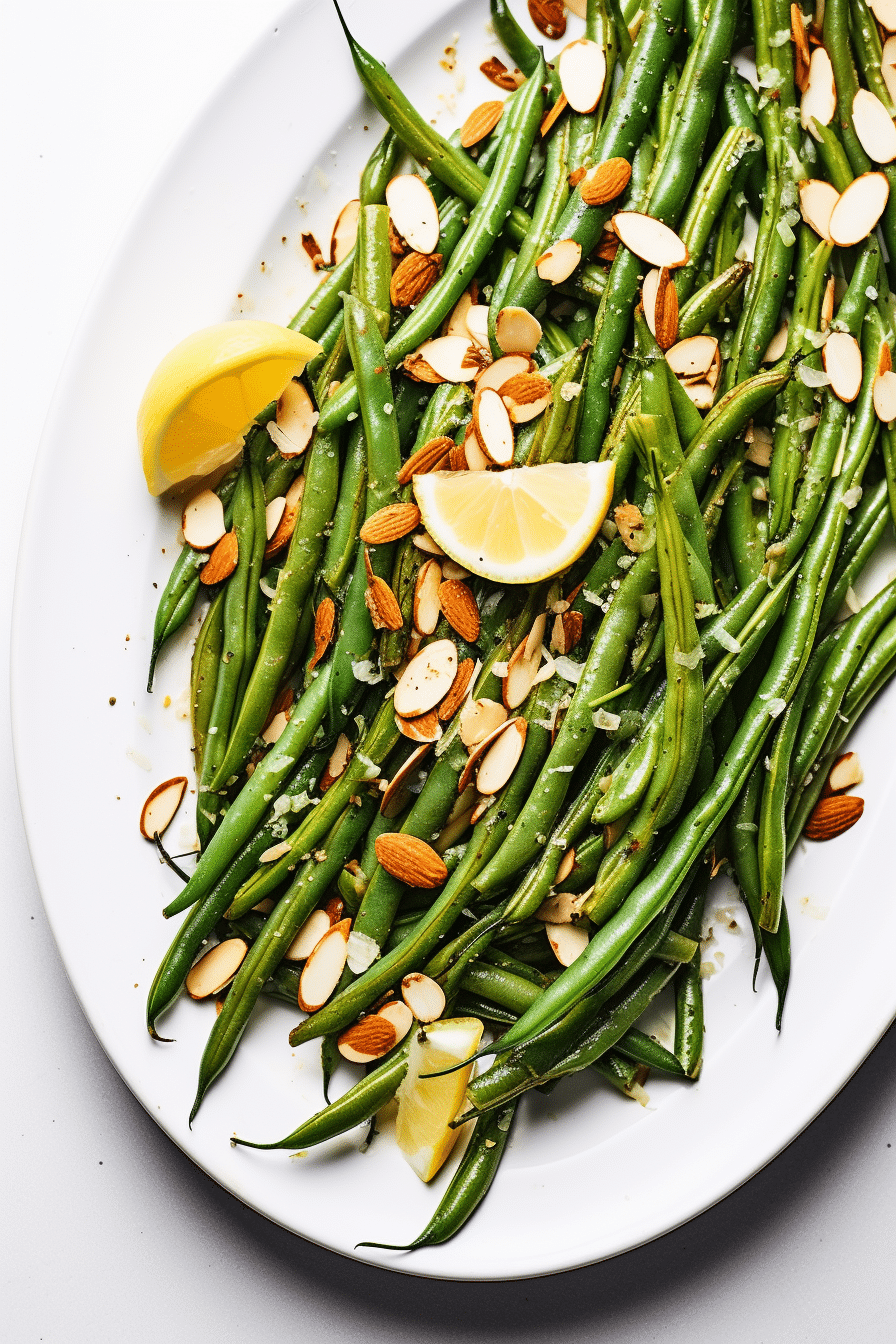 Recipe Details
This recipe is more than just a dish; it's a testament to the versatility and flavor potential of keto cuisine. Born from a love of simple, fresh ingredients, this recipe showcases how a low-carb diet doesn't have to be restrictive. Green beans are a fantastic source of fiber and nutrients, while almonds add a satisfying crunch and are rich in healthy fats and protein. The lemon zest brings a burst of flavor that can brighten up any meal. As someone who adores both the keto lifestyle and innovative cooking, I find this dish to be a perfect representation of how food can be both healthful and indulgent.
Green beans are a staple in keto diets due to their low net carb content and versatility. They pair beautifully with the richness of almonds, whose high fat content is ideal for maintaining ketosis. The lemon zest not only adds a refreshing twist but also aids in digestion and brings an array of health benefits. This dish is a celebration of flavors that align perfectly with the principles of a ketogenic diet, offering a balance of macronutrients while keeping carbs in check.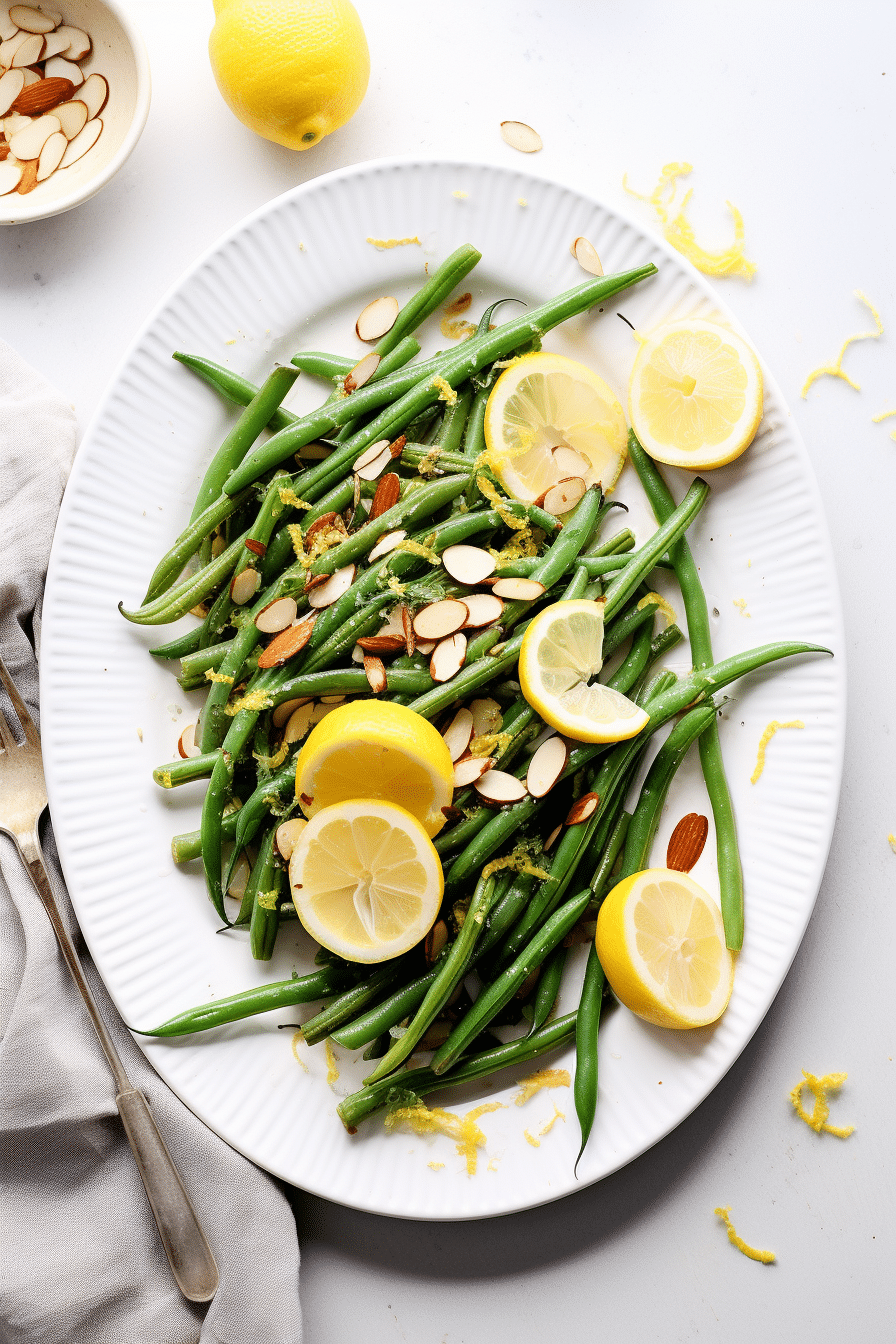 The Method
Creating this dish is a delightful process that involves a few key steps to ensure the perfect texture and flavor. Start by toasting the almonds—this enhances their nutty taste and adds a layer of crunchiness that contrasts beautifully with the tender green beans. Use a dry skillet to avoid burning and keep them moving to ensure even toasting.
When sautéing the green beans, heat is your friend. A higher temperature will sear the beans, locking in their vibrant color and natural flavors. However, be cautious not to overcook them, as you want to maintain a tender-crisp texture. Introducing the garlic, salt, and pepper at the right moment is crucial; you want the garlic to be aromatic but not burnt.
Once off the heat, the final touch is combining the toasted almonds, lemon zest, and juice. This step is where the dish truly comes to life. The acidity of the lemon juice will cut through the richness of the almonds and oil, creating a well-rounded flavor profile. Remember to taste and adjust the seasoning, as this will personalize the dish to your preference.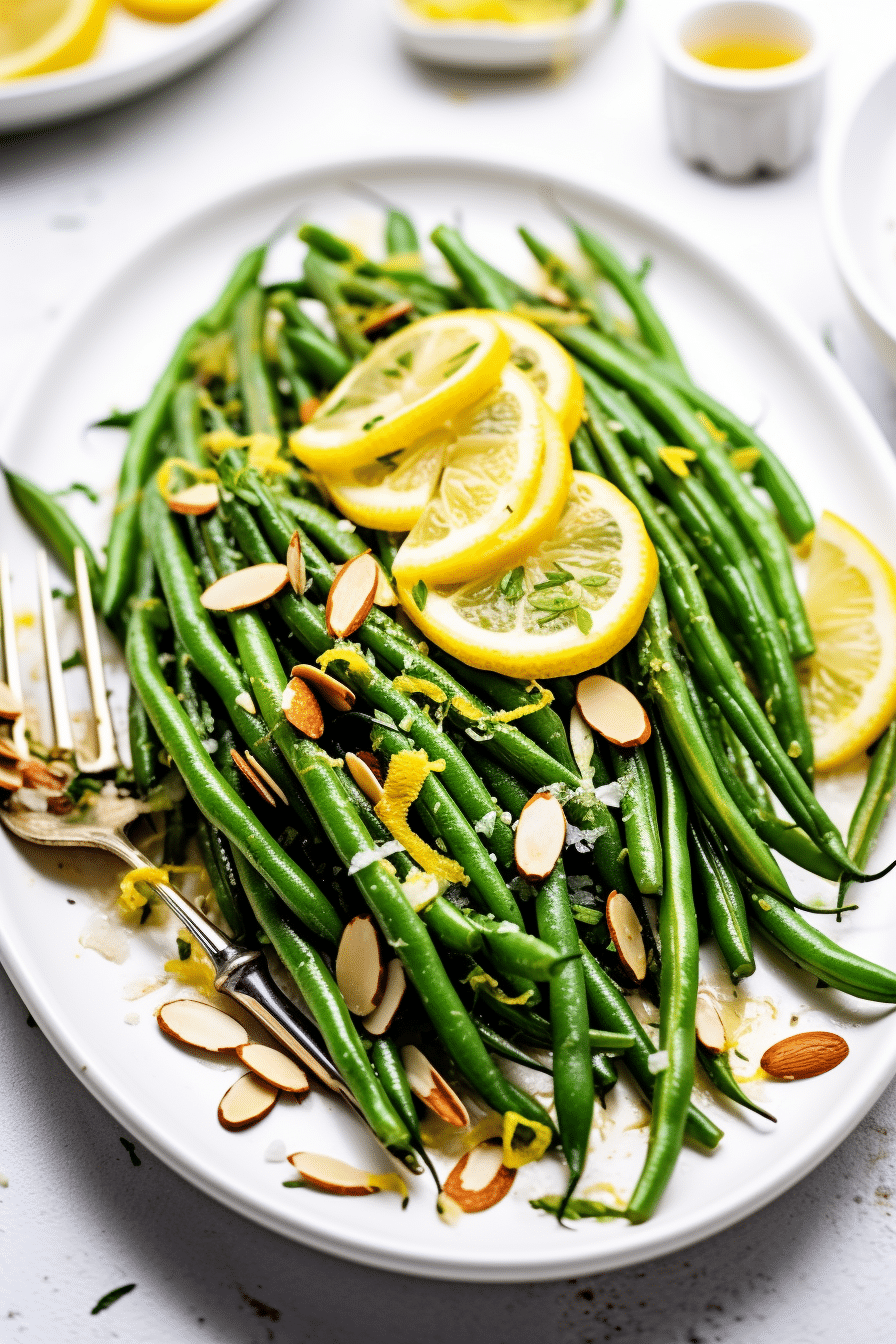 Variations
Balsamic Bliss
Enhance the dish with a drizzle of balsamic reduction just before serving. The sweetness and tanginess will add an extra layer of complexity to the flavors.
Cheesy Delight
Add a sprinkle of grated parmesan cheese over the top for a salty, umami-packed finish that complements the almonds and lemon zest perfectly.
Herbaceous Flair
For those who love herbs, a handful of fresh basil or parsley can bring a new dimension to the dish, adding both color and a fragrant aroma.
Substitutions
If you're unable to find fresh green beans, frozen ones can be an excellent substitute. Just ensure they're thawed and patted dry to avoid excess moisture during sautéing. In place of slivered almonds, chopped walnuts or pecans can offer a similar textural contrast and are equally keto-friendly. For those who don't consume dairy, a vegan parmesan alternative can be used to mimic the cheesy flavor in variations.
FAQ Section
Can I use bottled lemon juice instead of fresh? While fresh is best for flavor and zest, bottled lemon juice can work in a pinch.
How can I store leftovers? Store in an airtight container in the fridge for up to 3 days. Reheat gently to maintain texture.
Is this recipe suitable for meal prep? Absolutely! Prepare a batch and enjoy it throughout the week as a quick side.
Can I make this dish nut-free? Yes, for a nut-free version, skip the almonds and add seeds like pumpkin or sunflower for crunch.
What can I pair this with for a full keto meal? This side pairs well with grilled meats or fatty fish for a balanced keto meal.
Keto Sautéed Green Beans with Almonds and Lemon Zest
An exquisite side dish that pairs the fresh, crisp taste of green beans with the nutty crunch of almonds, all elevated by the bright aroma of lemon zest. This keto-friendly recipe is a perfect addition to any meal, providing a satisfying blend of flavors and textures while keeping carbs to a minimum.
Servings: 4
Prep Time: 10 minutes
Cook Time: 15 minutes
Cuisine: Keto
Category: Side Dish
Ingredients
1 lb (450g) fresh green beans, ends trimmed
1/4 cup (1 oz / 28g) slivered almonds
2 tablespoons (30ml) extra-virgin olive oil
Zest of 1 lemon
2 cloves garlic, minced
1/2 teaspoon (2.5g) sea salt
1/4 teaspoon (1g) black pepper, freshly ground
1 tablespoon (15ml) fresh lemon juice
Method
Heat a large skillet over medium heat and add the slivered almonds. Toast them, stirring frequently, until they're golden brown and fragrant, about 3-4 minutes. Remove the almonds from the skillet and set aside.
In the same skillet, increase the heat to medium-high and add the olive oil. Once the oil is hot, add the green beans. Sauté for about 5-7 minutes, or until they start to soften and turn bright green.
Add the minced garlic, sea salt, and black pepper to the skillet with the green beans. Continue to cook, stirring frequently, for another 2-3 minutes, or until the garlic is fragrant and the green beans are tender-crisp.
Remove the skillet from the heat. Stir in the toasted almonds, lemon zest, and fresh lemon juice until everything is well combined.
Taste and adjust the seasoning if necessary before serving.
Nutritional Information per serving
Calories: 160
Carbohydrates: 10g
Net Carbs: 6g
Fiber: 4g
Fat: 12g
Protein: 4g
Equipment Used
Large skillet
Stirring spoon
Measuring cups and spoons
Zester or grater
Other Notes
To ensure the green beans remain crisp and vibrant, avoid overcooking them. If preferred, blanch the green beans before sautéing to preserve their bright green color. For an extra flavor boost, consider adding a splash of balsamic vinegar or a sprinkle of parmesan cheese just before serving.