"`html
Keto Pumpkin Cream Cheese Swirl Brownies
When the leaves start to turn and the air gets crisp, it's time to indulge in the flavors of fall. And what better way to do so than with a treat that's as comforting as it is keto-friendly? Keto Pumpkin Cream Cheese Swirl Brownies combine the richness of chocolate with the seasonal taste of pumpkin, all while keeping your carb count in check. This dessert is the perfect fusion of a fudgy brownie base with a creamy, spiced pumpkin layer that swirls through each bite.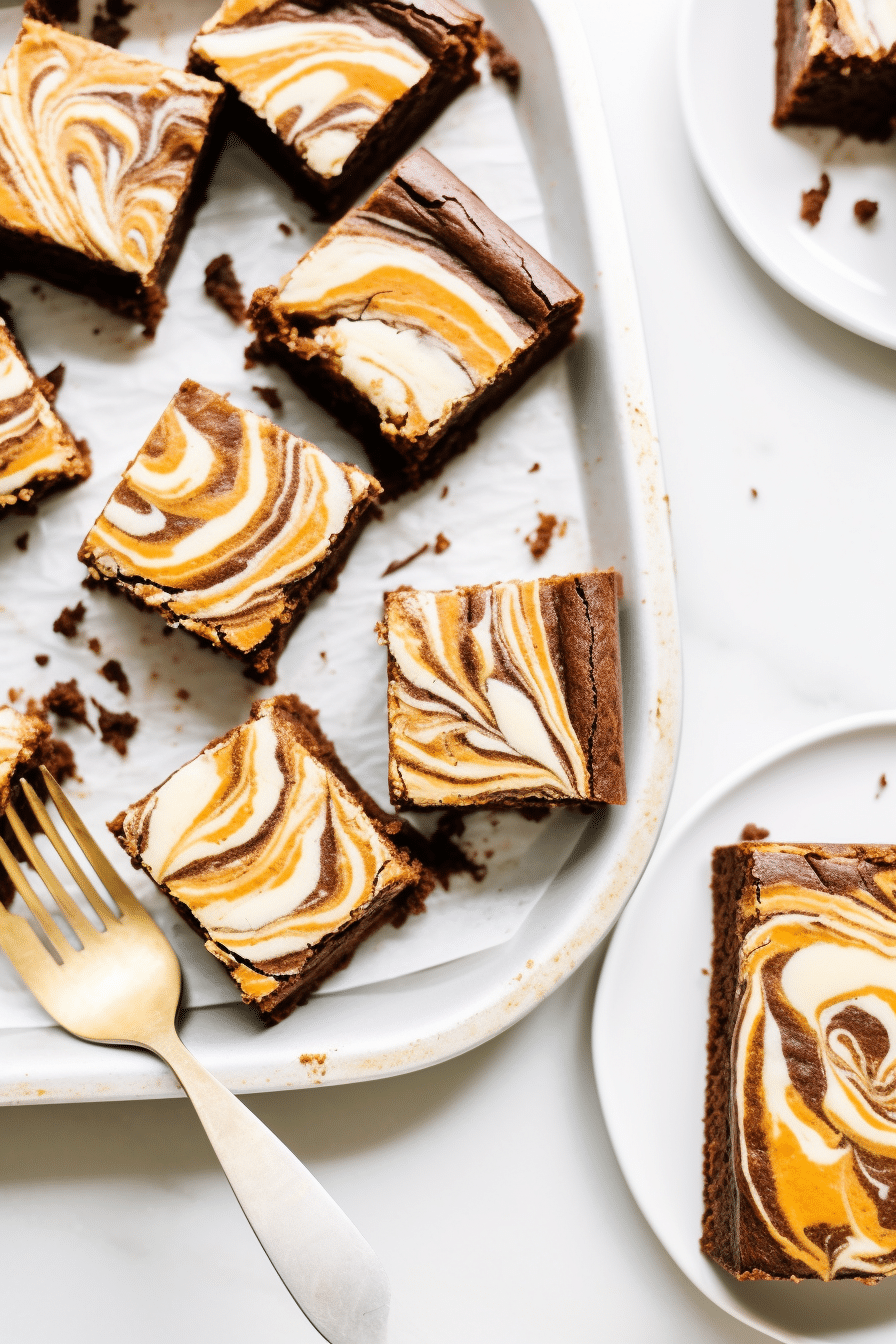 Recipe Origins and Benefits
My journey with these Keto Pumpkin Cream Cheese Swirl Brownies began as an experiment to bring the beloved flavors of autumn into a dessert that wouldn't disrupt my ketogenic lifestyle. The result was a decadent, low-carb treat that quickly became a favorite among friends and family. This recipe is a testament to the versatility of keto baking, proving that you can enjoy the traditional tastes of the season without the guilt.
Each ingredient has been carefully selected to create a balanced, keto-friendly profile. The almond flour provides a gluten-free base, rich in healthy fats and fiber, while the erythritol offers a sugar-free sweetness that won't spike your blood sugar. Unsweetened cocoa powder delivers that deep chocolate taste and is loaded with antioxidants. The pumpkin puree and pumpkin pie spice bring in the warmth of fall spices, and the cream cheese adds a luxurious texture that makes these brownies truly special.
What makes this recipe stand out is its nutritional content. With only 4g of net carbs per serving, it's a dessert you can enjoy without stepping out of ketosis. The high fiber content is beneficial for digestion, and the fats are predominantly from sources that support a healthy keto diet. Plus, the protein in these brownies helps to keep you satiated, making them a satisfying snack or end to a meal.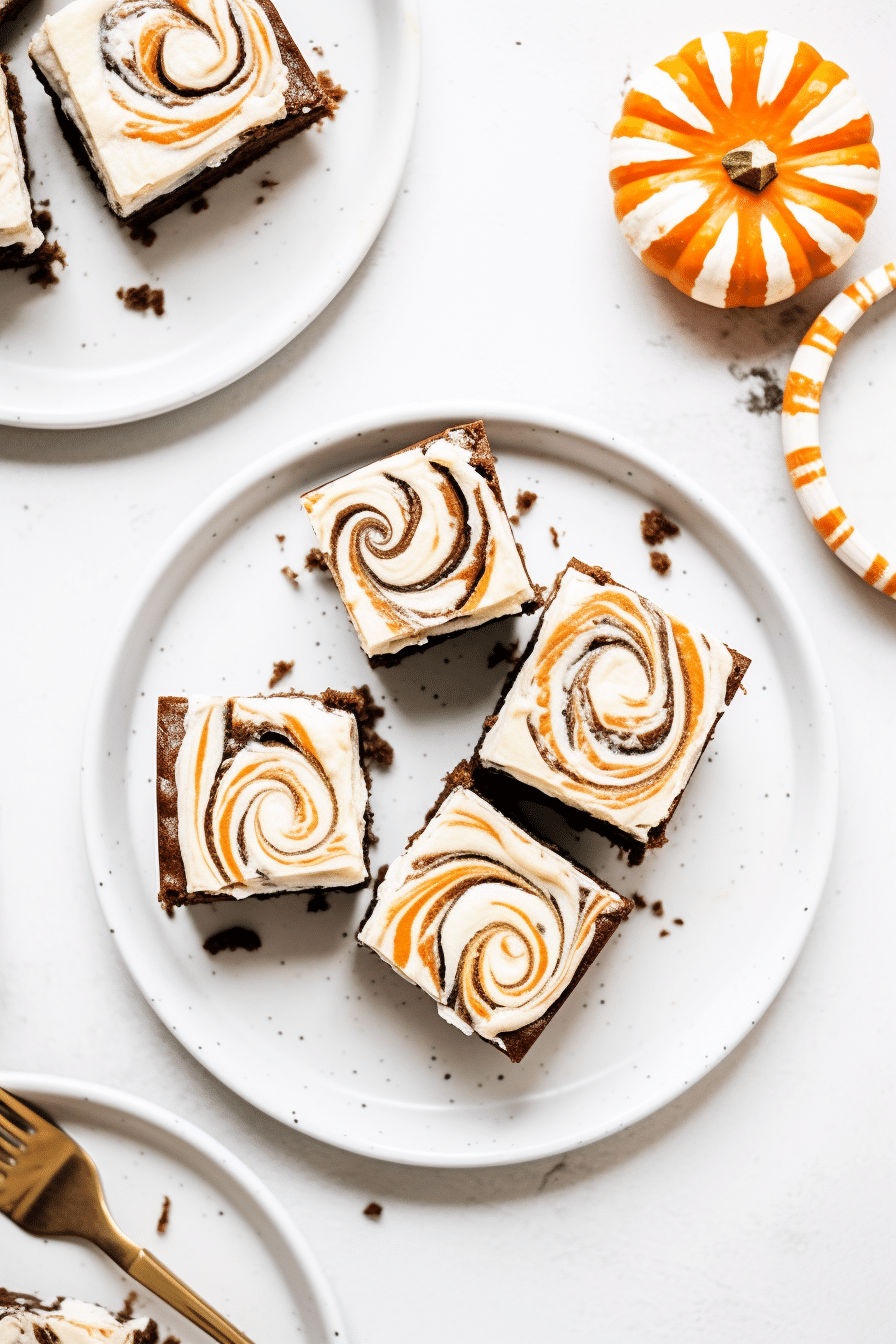 Step-by-Step Method
Let's dive into the baking process. As with any recipe, the secret to perfection lies in the details. Here's how to ensure your Keto Pumpkin Cream Cheese Swirl Brownies turn out just right.
First, preheat your oven to the correct temperature and prepare your baking pan. This step is crucial for a consistent bake. When combining your dry ingredients for the brownie layer, make sure to whisk them thoroughly to avoid any clumps of almond flour or cocoa powder. This will give you a smooth, even batter.
For the wet ingredients, it's essential that your butter is fully melted and cooled slightly before adding it to the eggs and vanilla. If the butter is too hot, it could begin to cook the eggs, which we want to avoid. Once combined, fold the wet mixture into the dry ingredients gently, being careful not to overmix as this can lead to a denser brownie.
When layering the pumpkin cream cheese mixture over the brownie batter, don't be afraid to get creative with your swirling technique. The goal is to create a beautiful marbled effect, so have fun with it! Remember, the brownies will continue to set as they cool, so don't overbake them. They should be slightly soft in the center when you take them out of the oven.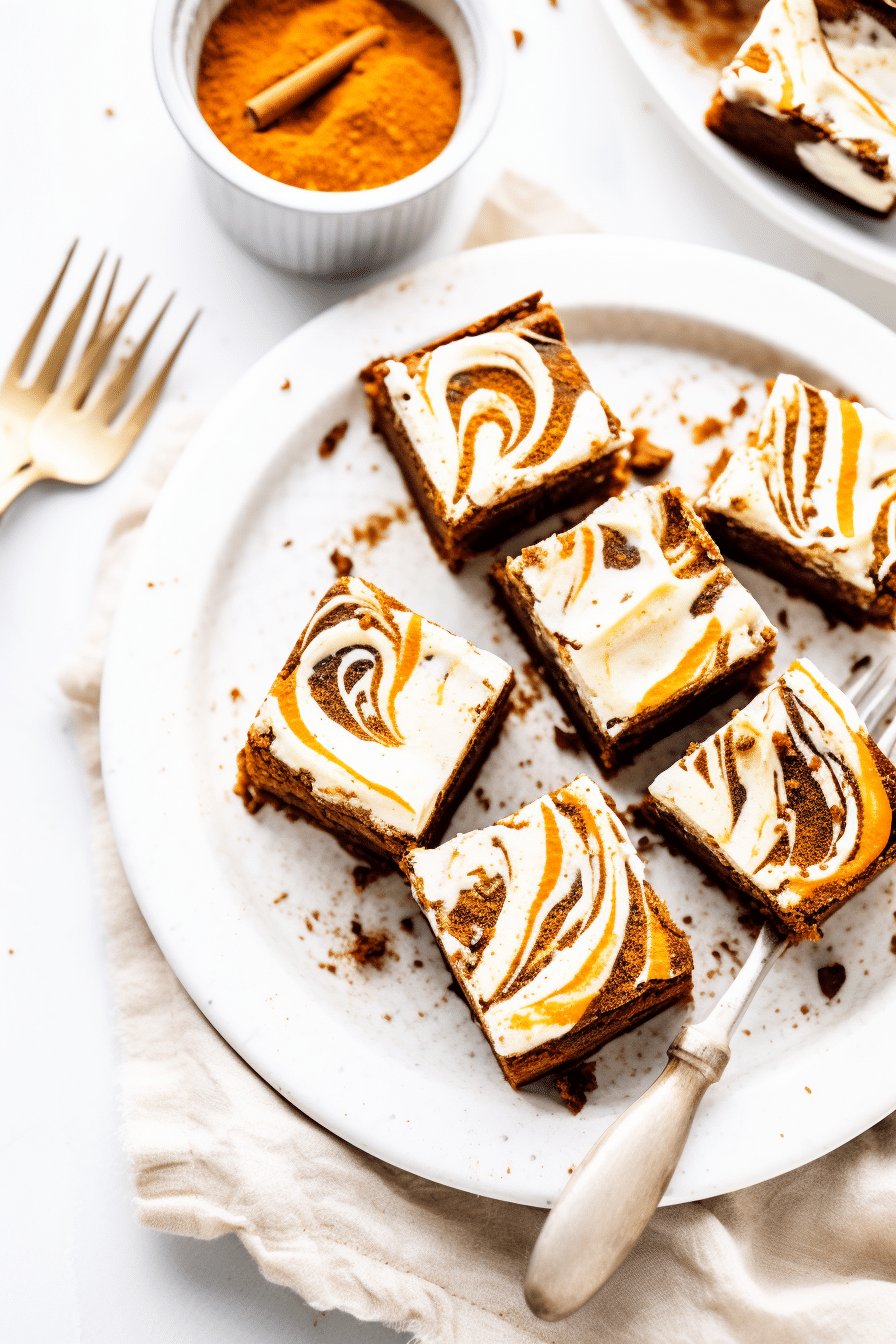 Variations
Chocolate Chip Pumpkin Brownies
Add a handful of keto-friendly chocolate chips to the brownie batter for an extra chocolatey experience. The chips will melt slightly as the brownies bake, creating pockets of gooey chocolate throughout.
Nutty Pumpkin Brownies
Stir in some chopped pecans or walnuts into the pumpkin cream cheese layer for a delightful crunch. Nuts not only add texture but also healthy fats and protein, enhancing the nutritional profile of the brownies.
Espresso Pumpkin Brownies
For coffee lovers, infuse the brownie batter with a shot of espresso or a teaspoon of instant coffee powder. The coffee will intensify the chocolate flavor and add a subtle energy boost to your treat.
Substitutions
Understanding substitutions can help you tailor this recipe to your preferences or dietary needs without compromising the keto-friendly aspect.
If almond flour isn't your thing or you have an allergy, coconut flour can be a suitable substitute. Keep in mind that coconut flour is more absorbent, so you will need to use less of it—about 1/3 of the amount of almond flour called for.
Not a fan of erythritol? Try using monk fruit sweetener or stevia as an alternative. These are natural, low-carb sweeteners that work well in keto baking. You'll need to adjust the amount based on the sweetness level of the substitute you choose.
For those who are dairy-free, consider using a dairy-free cream cheese alternative. There are several brands available that offer soy-based or nut-based cream cheese that would work well in this recipe.
FAQs
| Question | Answer |
| --- | --- |
| Can I use canned pumpkin pie filling instead of pumpkin puree? | No, canned pumpkin pie filling often contains added sugars and spices, which can affect the carb count and flavor balance. Stick to plain pumpkin puree. |
| How do I store these brownies? | Store them in an airtight container in the fridge for up to 5 days. You can also freeze them for longer storage. |
| Can I make these brownies nut-free? | Yes, you can use sunflower seed flour or pumpkin seed flour in place of almond flour for a nut-free version. |
| Are these brownies freezer-friendly? | Absolutely! Once cooled, cut them into squares and freeze them in a single layer before transferring to a container. |
| Can I make these brownies dairy-free? | Yes, use a dairy-free butter substitute and a dairy-free cream cheese alternative. |
"`—
title: Keto Pumpkin Cream Cheese Swirl Brownies
description: Indulge in the rich, decadent flavors of autumn with these Keto Pumpkin Cream Cheese Swirl Brownies. Perfectly balanced with a fudgy base, pumpkin spice, and a creamy cheese swirl, they are sure to satisfy your sweet tooth without the carb overload.
servings: 12
prep_time: 20 minutes
cook_time: 30 minutes
cuisine: American
category: Dessert
—
## Ingredients
**For the Brownie Layer:**
– 1 cup almond flour (120g)
– 3/4 cup granulated erythritol (150g)
– 1/2 cup unsweetened cocoa powder (50g)
– 1/2 cup butter, melted (1 stick or 113g)
– 2 large eggs
– 1 teaspoon vanilla extract (5ml)
– 1/4 teaspoon salt
**For the Pumpkin Cream Cheese Layer:**
– 8 ounces cream cheese, softened (227g)
– 1/2 cup pumpkin puree (120g)
– 1/4 cup granulated erythritol (50g)
– 1 large egg
– 1 teaspoon pumpkin pie spice (5ml)
– 1/2 teaspoon vanilla extract (2.5ml)
## Method
1. Preheat your oven to 350°F (175°C) and line an 8×8 inch baking pan with parchment paper.
2. Start with the brownie layer: In a mixing bowl, combine almond flour, 3/4 cup erythritol, cocoa powder, and salt.
3. In a separate bowl, whisk together the melted butter, eggs, and vanilla extract until well combined.
4. Mix the wet ingredients into the dry ingredients until you have a smooth batter.
5. Pour the brownie batter into the prepared baking pan, spreading it evenly with a spatula.
6. For the pumpkin cream cheese layer: In another bowl, beat the softened cream cheese with 1/4 cup erythritol until smooth.
7. Add the pumpkin puree, egg, pumpkin pie spice, and vanilla extract to the cream cheese mixture and beat until well combined.
8. Dollop the pumpkin cream cheese mixture over the brownie layer. Use a knife or a toothpick to swirl the two mixtures together, creating a marbled effect.
9. Bake in the preheated oven for 30 minutes, or until the edges are set but the center is still slightly soft.
10. Allow the brownies to cool in the pan for at least 10 minutes before lifting out and cutting into squares.
## Nutritional Information (per serving)
– Calories: 210
– Total Carbohydrates: 9g
– Net Carbs: 4g
– Fiber: 5g
– Fat: 19g
– Protein: 5g
## Equipment Used
– 8×8 inch baking pan
– Parchment paper
– Mixing bowls
– Whisk
– Spatula
– Electric mixer (optional)
## Other Notes
– Ensure all ingredients are at room temperature to avoid lumps in the cream cheese layer.
– Store leftovers in an airtight container in the fridge for up to 5 days.
– For a firmer texture, chill the brownies before serving.
– The erythritol can be substituted with another keto-friendly sweetener if desired. Adjust according to your taste preference and the sweetness level of the sweetener used.