The holiday season brings a sense of warmth, comfort, and the irresistible allure of festive flavors. Among the most cherished holiday treats is the gingerbread latte, a drink that embodies the essence of winter cheer. But for those on a ketogenic diet, indulging in the traditional version of this beloved beverage isn't an option. Enter the Keto Gingerbread Latte Mocktail: a guilt-free, non-alcoholic twist on the classic that's just as satisfying and utterly keto-friendly.
Crafted with a blend of aromatic spices and rich, decaffeinated espresso, this mocktail provides the holiday experience without compromising your dietary goals. It's a low-carb, high-fat masterpiece that's perfect for sipping by the fireside or as a cozy complement to your keto holiday feast. With this recipe, you'll discover that you don't need sugar to relish the festive flavors of the season.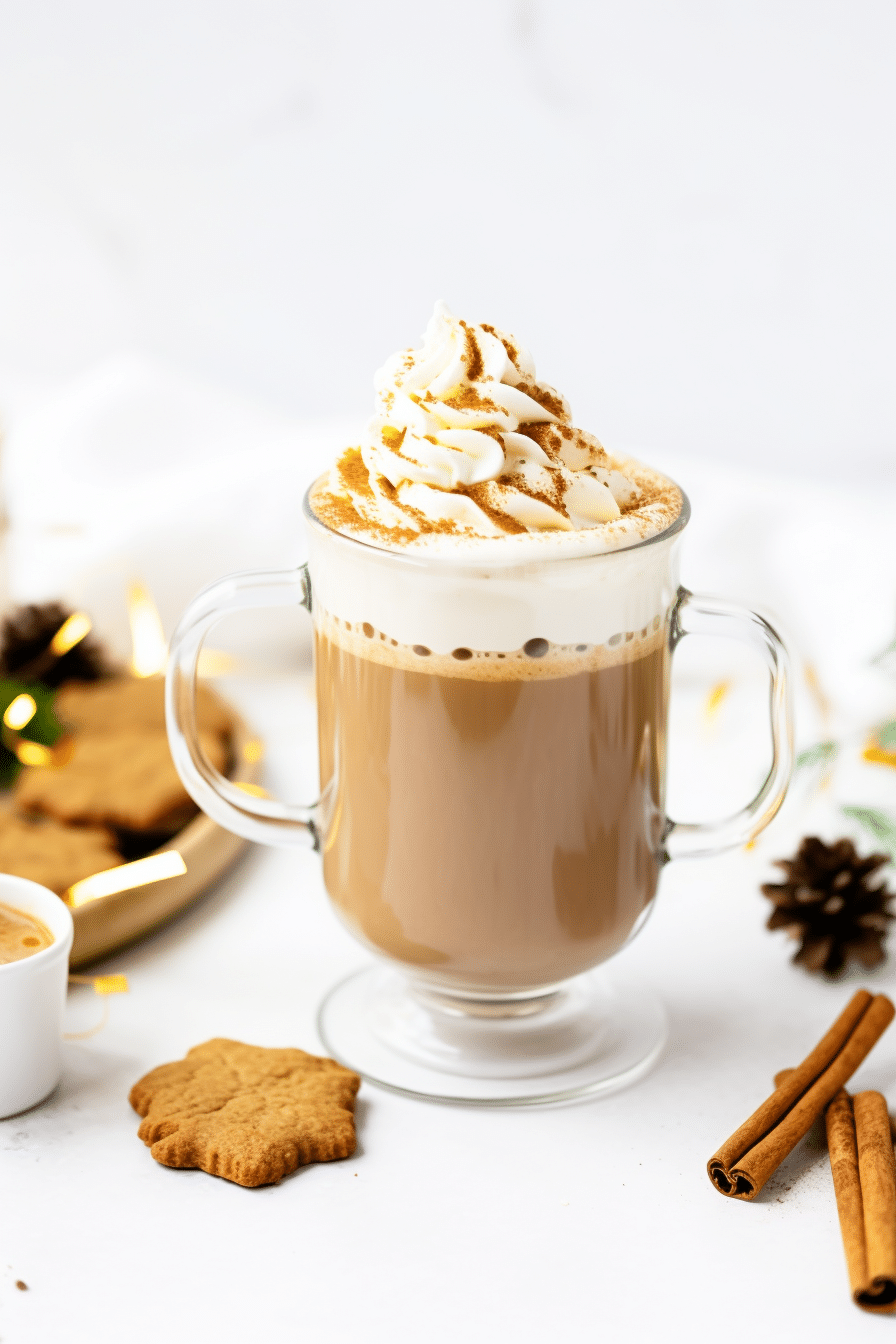 The Story Behind the Keto Gingerbread Latte Mocktail
This Keto Gingerbread Latte Mocktail is more than just a drink; it's a celebration of the holiday spirit without the worry of excessive carbs. Born from the desire to enjoy the traditional flavors of a gingerbread latte, this recipe has been carefully crafted to align with a ketogenic lifestyle. The **low-carb almond milk** base, combined with the natural sweetness of erythritol and the boldness of decaf espresso, creates a harmonious blend that's both comforting and invigorating.
The choice of spices in this mocktail—ginger, nutmeg, cinnamon, and cloves—evokes the classic gingerbread cookie, but without the sugar crash. Each spice not only contributes to the rich flavor profile but also brings its own health benefits, making this beverage a powerhouse of both taste and nutrition. It's a testament to the versatility of keto cooking, proving that you can have your (keto-friendly) cake and eat it too.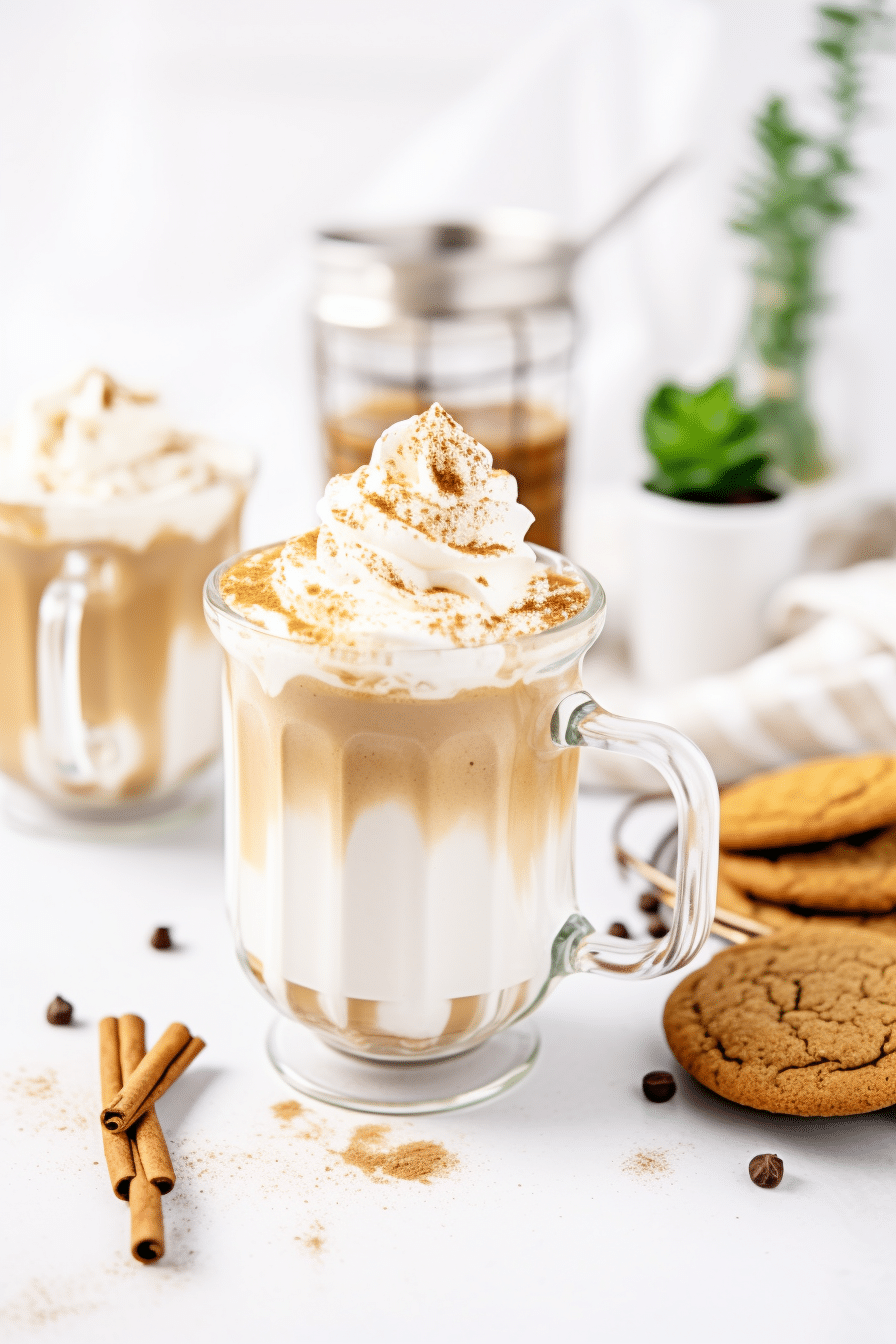 The Method: Crafting Your Keto Gingerbread Latte Mocktail
Creating the perfect Keto Gingerbread Latte Mocktail is an artful process that combines simplicity with a touch of culinary finesse. Here's how you can achieve the best results:
1. Gently Heat the Almond Milk: Start by slowly warming the almond milk in a saucepan. Avoid boiling to maintain the milk's smooth texture and prevent any unwanted separation.
2. Whisk in the Flavors: As the milk warms, add the erythritol and spices. Whisking continuously is key to dissolving the sweetener and evenly distributing the spices for a consistent flavor throughout the drink.
3. Brew the Decaf Espresso: Whether you're using an espresso machine or a French press, ensure your coffee is strong and rich. This will be the backbone of your mocktail, providing depth and complexity.
4. Assemble with Care: Pour the espresso into mugs before adding the spiced milk mixture. This method ensures the espresso's robust flavor isn't overshadowed and creates a visually appealing latte effect.
5. Top it Off: A dollop of keto-friendly whipped cream and a sprinkle of ground cloves add the finishing touches to this festive drink. It's important not to overdo the whipped cream; a little goes a long way in maintaining the right macros.
6. Serve Immediately: To fully enjoy the warm and inviting flavors, serve your Keto Gingerbread Latte Mocktail hot and fresh.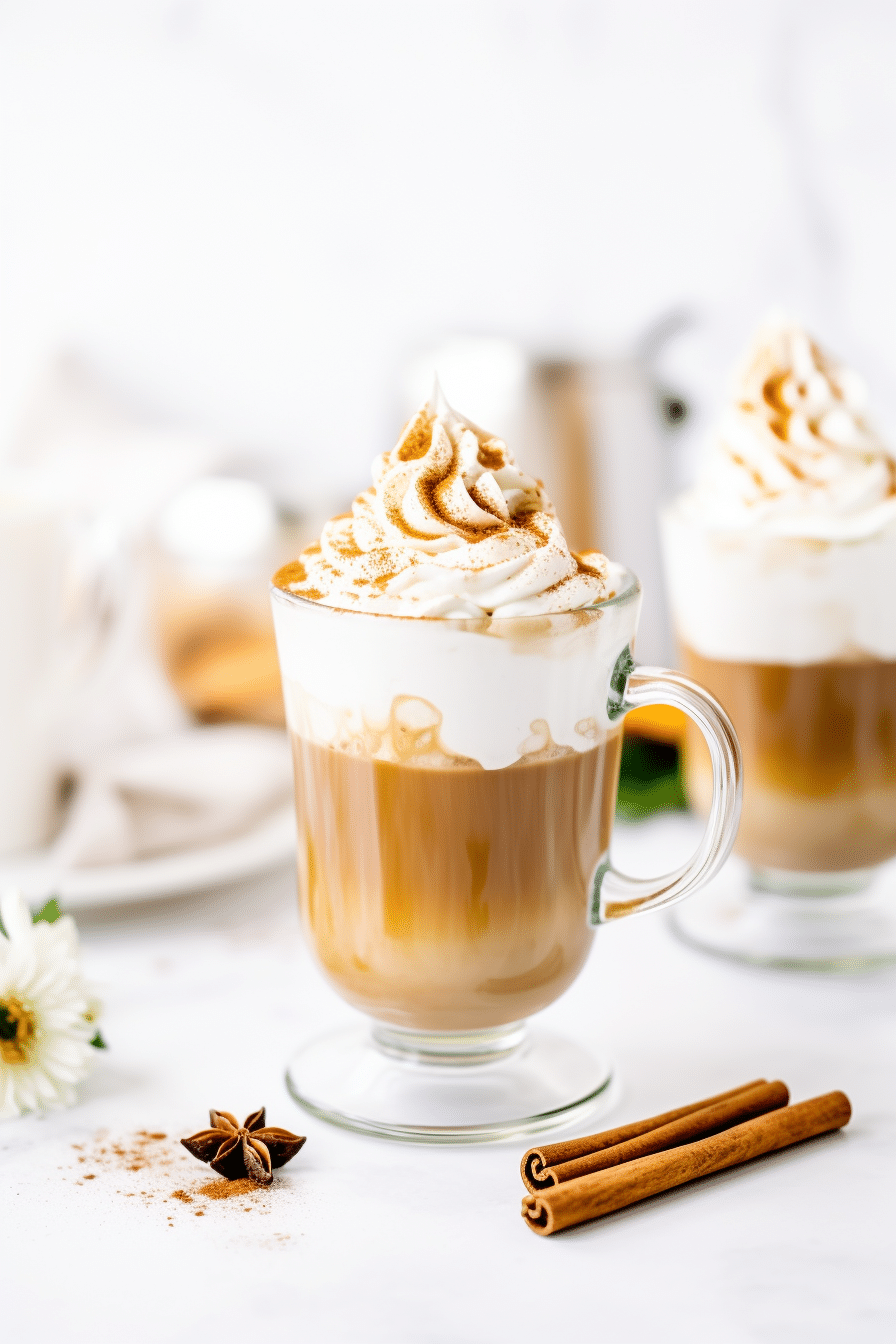 Variations
Dairy-Free Delight
For those who prefer to avoid dairy or have allergies, swap the almond milk for full-fat coconut milk. This not only keeps the mocktail keto but adds a tropical twist to the traditional gingerbread flavor.
Mocha Magic
Add a spoonful of unsweetened cocoa powder to the milk mixture for a chocolatey dimension. This mocha version is a delightful cross between a gingerbread cookie and a rich chocolate treat.
Pumpkin Spice Twist
Incorporate a tablespoon of keto-friendly pumpkin puree and a dash of pumpkin pie spice into the milk as it warms. This variation offers a pumpkin spice latte vibe, perfect for autumn celebrations.
Substitutions
– Sweetener Swap: If erythritol isn't your preferred sweetener, consider using monk fruit sweetener or stevia. Be mindful of the conversion rates, as these can be sweeter than sugar.
– Nut-Free Alternative: For a nut-free option, substitute almond milk with hemp milk or flaxseed milk. These alternatives offer a similar consistency and are keto-friendly.
– Coffee Choices: If decaf isn't necessary for you, opt for regular espresso or caffeinated coffee. This will give you an extra energy boost along with the festive flavors.
FAQs
Q: Can I make this mocktail ahead of time?
A: It's best enjoyed fresh, but you can prepare the spiced milk mixture in advance and reheat it before serving.
Q: How can I ensure the whipped cream is keto-friendly?
A: Look for brands that use minimal additives and sugars, or make your own with heavy cream and a keto sweetener.
Q: Can I use store-bought almond milk?
A: Absolutely, just ensure it's unsweetened to keep the carb count low.
Q: Is this recipe suitable for a vegan keto diet?
A: Yes, just use a vegan whipped cream alternative and ensure your espresso is vegan-friendly.
Q: Can I turn this into a cocktail?
A: While this recipe is designed as a mocktail, you could add a shot of keto-friendly liquor, like whiskey or rum, for an alcoholic version. Remember to account for the added calories and carbs.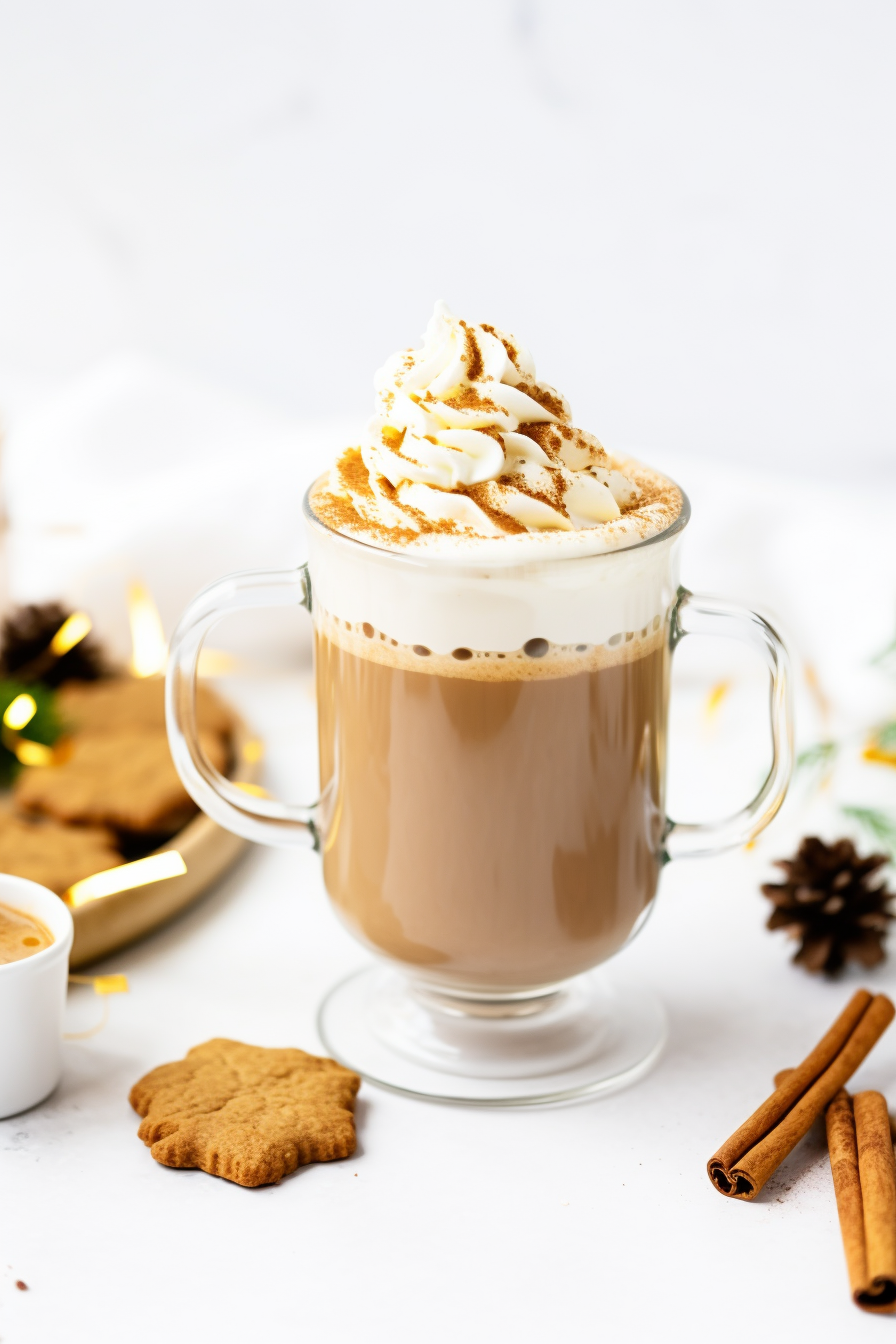 Keto Gingerbread Latte
A festive, warming treat, this Keto Gingerbread Latte Mocktail is the perfect indulgence for your holiday season without the guilt. Rich in flavor with a hint of spice and everything nice, it's a comforting non-alcoholic beverage that can be enjoyed any time of the day.

Ingredients
- 2 cups of unsweetened almond milk

480 ml

- 2 tbsp of granulated erythritol

24g

- 1/2 tsp ground ginger

1g

- 1/4 tsp ground nutmeg

0.5g

- 1/4 tsp ground cinnamon

0.5g

- 1/4 tsp vanilla extract

1.2 ml

- 2 shots of decaffeinated espresso

60 ml or strong brewed decaf coffee

- Whipped cream

keto-friendly for topping

- A pinch of ground cloves

<0.1g

- Optional: Keto-friendly gingerbread cookie for garnish
Instructions
Begin by heating the unsweetened almond milk in a small saucepan over medium heat. You want to warm the milk without bringing it to a boil.


Once the almond milk is warm, add the granulated erythritol, ground ginger, ground nutmeg, ground cinnamon, and vanilla extract. Whisk the mixture continuously to ensure the spices and sweetener are fully dissolved and incorporated into the milk.


Prepare the decaffeinated espresso shots or strong brewed decaf coffee. If using a coffee machine, follow the manufacturer's instructions to pull two espresso shots. Alternatively, use a French press or coffee maker to brew a strong decaf coffee.


Divide the espresso or coffee between two mugs.


Pour the spiced almond milk mixture over the espresso in each mug, creating a latte effect.


Top each mug with a dollop of keto-friendly whipped cream and sprinkle with a pinch of ground cloves for that extra festive touch.


If desired, garnish with a keto-friendly gingerbread cookie on the side of the mug or crumbled over the top.


Serve immediately and enjoy the cozy flavors of a gingerbread latte in a mocktail form.
Notes
- Feel free to adjust the level of spices according to your taste preferences. More ginger will give a spicier kick, while additional cinnamon can add sweetness.
- If you're not following a strict keto diet, you can substitute the granulated erythritol with another sweetener of your choice. However, be mindful this will alter the carbohydrate content.
- For a nut-free version, coconut milk can be used in place of almond milk.
- Ensure that any garnish such as whipped cream or keto-friendly cookies fit within your dietary needs.
Nutrition
Calories:
60
kcal
Carbohydrates:
1
g
Protein:
1
g
Fat:
4
g
Fiber:
1
g