Keto Cranberry and Walnut Biscotti
Embark on a culinary journey with a keto-friendly twist on the beloved Italian classic—Keto Cranberry and Walnut Biscotti. This delectable recipe is the perfect fusion of nutty and tart flavors, enveloped in a delightful crunch that's just right for dipping into your morning coffee or savoring as a guilt-free snack. Not only does it satisfy those sweet tooth cravings, but it also aligns seamlessly with your low-carb, high-fat dietary goals. Indulge in the harmonious blend of textures and tastes that make this biscotti a must-try for anyone on the keto journey.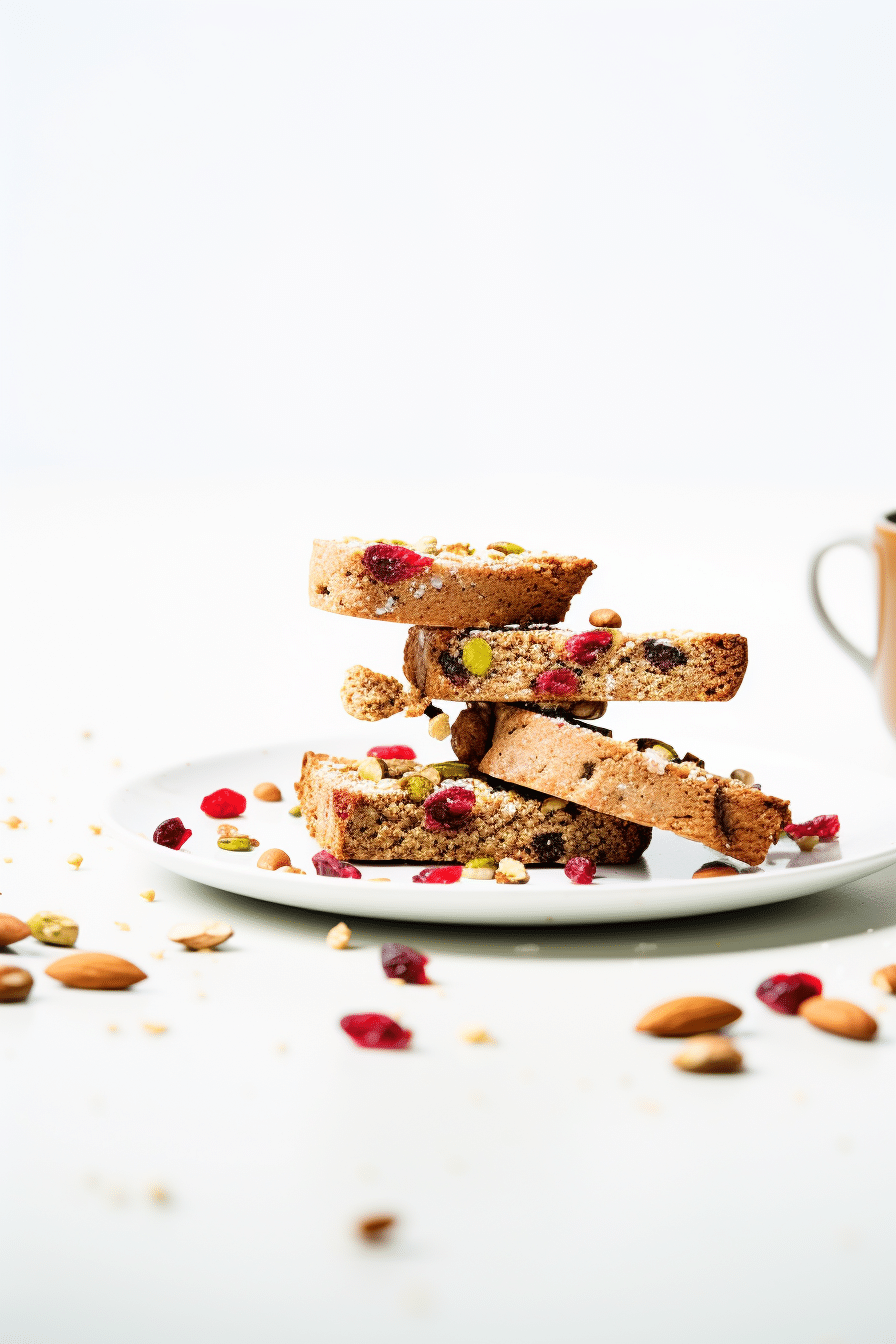 Recipe Origins and Keto Benefits
Originating from the Italian word for 'twice-cooked', biscotti have been savored for centuries, but it's only recently that they've been reinvented to suit a ketogenic lifestyle. This Keto Cranberry and Walnut Biscotti recipe is my personal take on the classic, designed to bring joy to those of us who seek to maintain ketosis while still enjoying the finer things in life.
The combination of almond and coconut flours provides a low-carb alternative to traditional wheat flour, ensuring that each biscuit is both light and nourishing. With the addition of sugar-free dried cranberries and heart-healthy walnuts, this recipe offers a satisfying crunch and a burst of flavor without compromising your macros. The inclusion of erythritol as a sweetener keeps the sugar content in check, making these biscotti a smart choice for anyone on a ketogenic diet.
What makes this recipe stand out is its ability to deliver the indulgent experience of a classic biscotti without the carb load. The cranberries add a tartness that cuts through the richness of the nuts, while the twice-baked process ensures the perfect crispness that biscotti are famous for. Whether you're a long-time keto enthusiast or just starting out, these biscotti are a testament to the versatility and creativity possible within the diet's constraints.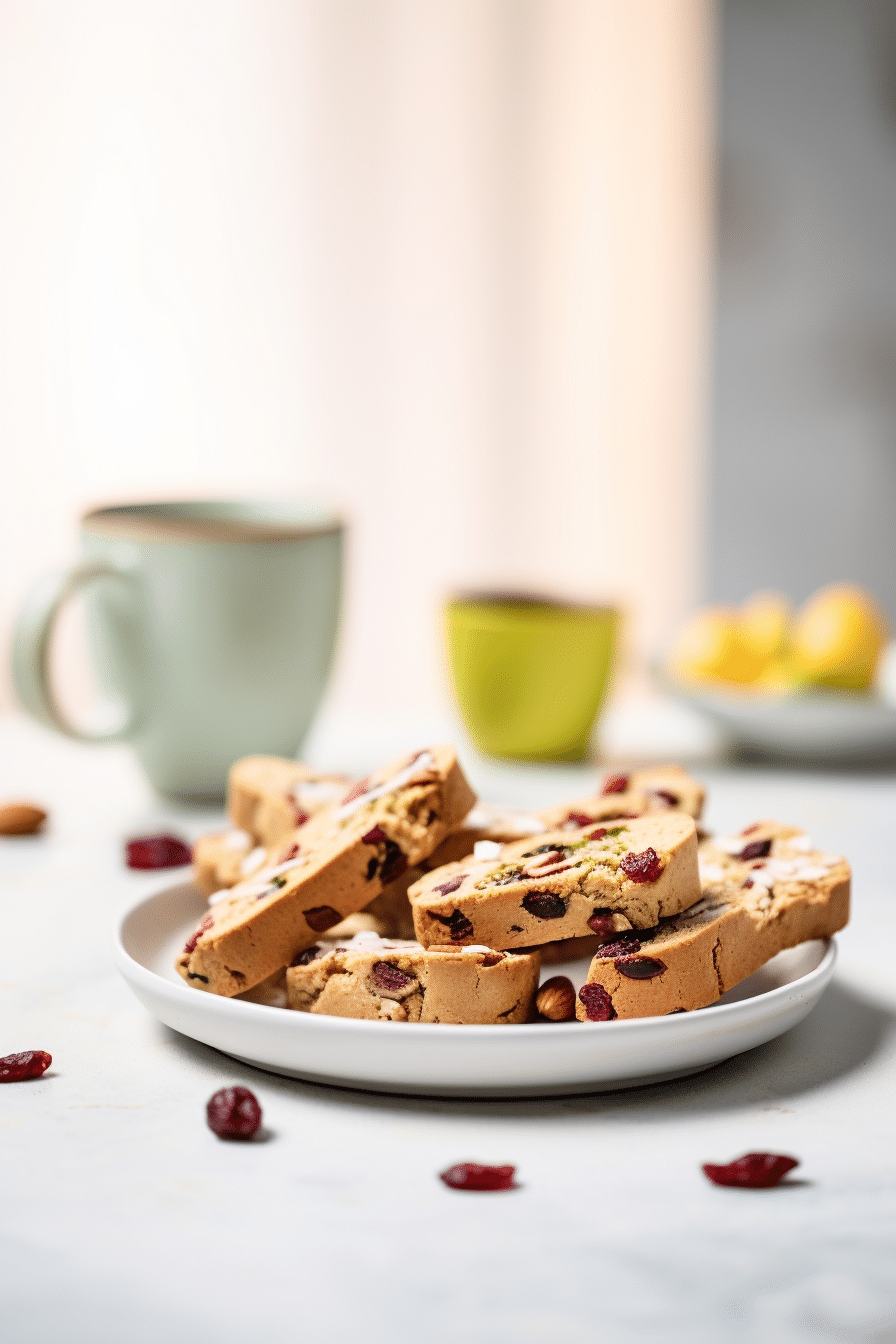 Step-By-Step Baking Guide
The secret to perfect biscotti lies in the details of the baking process. Begin by preheating your oven to the optimal temperature of 350°F (175°C) to ensure even cooking. As you combine your dry ingredients, be sure to whisk them thoroughly for a uniform mixture that will contribute to the biscotti's texture.
When mixing the wet ingredients, aim for a consistency that will hold the dry ingredients together without being too wet or sticky. The dough should be pliable but not overly tacky, allowing you to shape it into the iconic biscotti log with ease. This step is crucial, as the shape and thickness of your log will determine the final size and crunch of your biscotti.
Once your log is shaped and in the oven, the first bake is where it begins to take on its character. Watch for the golden hue and firmness that are indicative of readiness for the next phase. After cooling, slicing the log into individual biscotti requires a gentle sawing motion with a serrated knife—be patient and precise to avoid crumbling.
The second bake is what gives biscotti their signature crispness. It's imperative to monitor them closely and flip them at the right moment to achieve an even golden brown without overbaking. Remember, they will continue to harden as they cool, so a little flexibility when they come out of the oven is perfectly acceptable.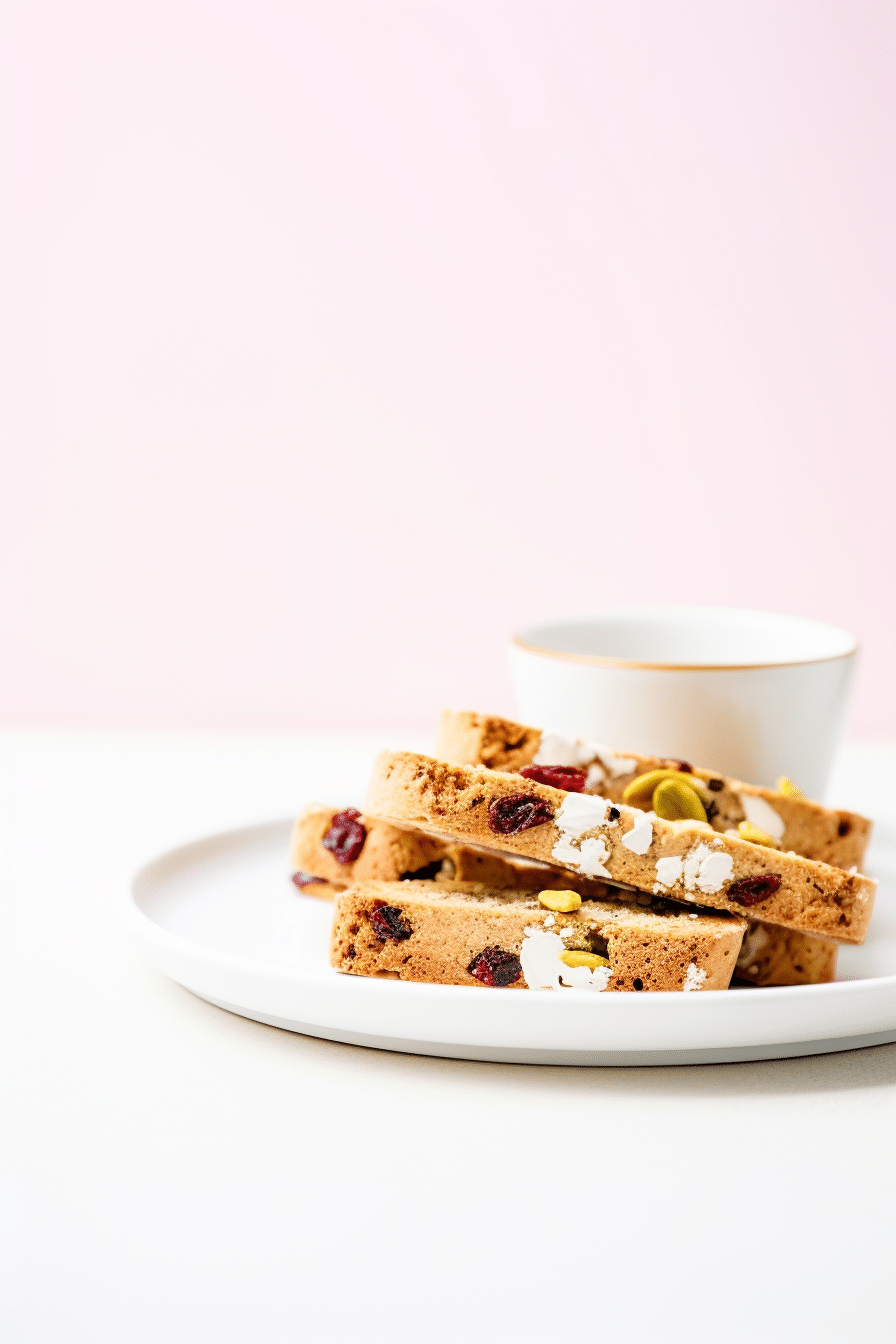 Variations
Chocolate-Dipped Biscotti
For those who crave a touch of decadence, melting sugar-free dark chocolate and dipping one end of the cooled biscotti can add a luxurious twist. Allow the chocolate to set and you have a treat that's both visually stunning and deliciously satisfying.
Lemon-Almond Biscotti
Infuse a zesty brightness to your biscotti by adding lemon zest to the dough and substituting the cranberries with slivered almonds. The result is a refreshingly tangy biscotti with a delightful almond crunch.
Pumpkin Spice Biscotti
Embrace the flavors of fall by incorporating pumpkin pie spice into the dough and swapping the cranberries for pecans. This variation is perfect for pairing with a warm cup of coffee on a crisp autumn day.
Ingredient Substitutions
While this recipe is designed to be keto-friendly, there are times when you might need to make substitutions. If sugar-free dried cranberries are not available, consider using fresh cranberries that have been chopped and patted dry to maintain the tart flavor profile.
In place of erythritol, other keto-friendly sweeteners like stevia or monk fruit extract can be used, though you may need to adjust the quantity based on sweetness levels. If you're nut-free, seeds like pumpkin or sunflower can replace the walnuts for a similar crunch.
FAQs
Can I use a different type of flour? Almond and coconut flours are ideal for keto baking due to their low carb content. However, if you have a nut allergy, sunflower seed flour or pumpkin seed flour can be used as substitutes.
How should I store the biscotti? Store them in an airtight container at room temperature for up to a week. For longer storage, they can be frozen.
Can I make these biscotti dairy-free? Absolutely! This recipe is naturally dairy-free, so no substitutions are necessary.
Are these biscotti gluten-free? Yes, by using almond and coconut flours, these biscotti are gluten-free and suitable for those with gluten sensitivities.
Can I add chocolate chips to the dough? Yes, you can add sugar-free chocolate chips to the dough for an extra indulgent treat.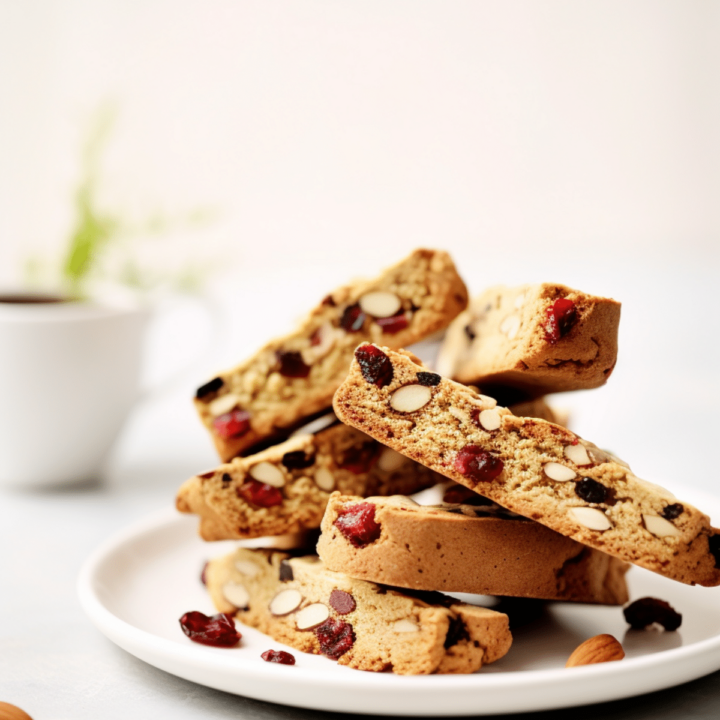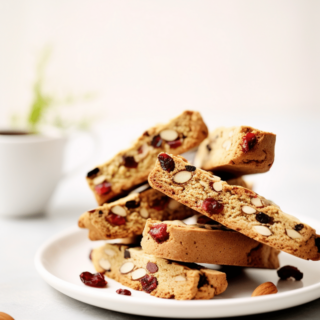 Crunchy Keto Cranberry and Walnut Biscotti
A delightful twist on a classic Italian biscuit, this Keto Cranberry and Walnut Biscotti recipe is a perfect low-carb treat to accompany your morning coffee or as a sweet snack throughout the day. Packed with tangy dried cranberries and crunchy walnuts, these biscotti are baked twice for that signature crisp texture, all while keeping your macros in check.
Ingredients
- 1 1/2 cups almond flour

150g / 5.3oz

- 1/2 cup coconut flour

60g / 2.1oz

- 1 teaspoon baking powder

4g / 0.14oz

- 1/4 teaspoon salt

1g / 0.035oz

- 1/2 cup granulated erythritol

100g / 3.5oz

- 3 large eggs

- 1 teaspoon vanilla extract

5ml

- 1/2 cup dried cranberries

sugar-free (60g / 2.1oz)

- 1/2 cup chopped walnuts

60g / 2.1oz
Instructions
Preheat your oven to 350°F (175°C) and line a baking sheet with parchment paper.

In a large bowl, whisk together almond flour, coconut flour, baking powder, and salt.

In a separate bowl, mix the granulated erythritol, eggs, and vanilla extract until well combined.

Gradually add the wet ingredients to the dry ingredients, stirring until a dough forms.

Fold in the sugar-free dried cranberries and chopped walnuts into the dough.

Shape the dough into a rectangular log on the prepared baking sheet, roughly 12 inches long and 4 inches wide.

Bake for 25 minutes, or until the log is lightly golden and firm to the touch.

Remove from the oven and let cool for 15 minutes. Reduce oven temperature to 300°F (150°C)

Once cooled, use a serrated knife to slice the log diagonally into 1/2-inch thick biscotti.

Place the biscotti cut-side down on the baking sheet and bake for an additional 15 minutes on each side, or until they are crisp and golden brown.

Cool the biscotti on a wire rack before serving.
Notes
- Ensure you use sugar-free dried cranberries to keep the recipe keto-friendly.
- If you can't find sugar-free dried cranberries, you can also try using fresh cranberries that have been chopped and patted dry.
- Store biscotti in an airtight container at room temperature for up to 1 week or freeze for longer storage.
- The biscotti will continue to crisp up as they cool, so do not overbake.
Nutrition
Serving:
1
g
Calories:
176
kcal
Carbohydrates:
8
g
Protein:
6
g
Fat:
12
g
Saturated Fat:
2
g
Polyunsaturated Fat:
10
g
Cholesterol:
47
mg
Sodium:
118
mg
Fiber:
4
g
Sugar:
3
g