"`html

Keto Avocado Eggs Benedict with Cloud Bread
Embark on a culinary journey that redefines a classic brunch staple with the Keto Avocado Eggs Benedict with Cloud Bread. This dish is a testament to the versatility of the keto diet, offering a deliciously rich and satisfying meal without the carb-heavy guilt. Perfectly poached eggs, smooth and creamy avocado, all served atop airy cloud bread and drizzled with a luxurious hollandaise sauce, this recipe is a keto dieter's dream. It's not just about cutting carbs, but about embracing wholesome fats and proteins to fuel your day. And with this dish, you'll do just that while enjoying every bite.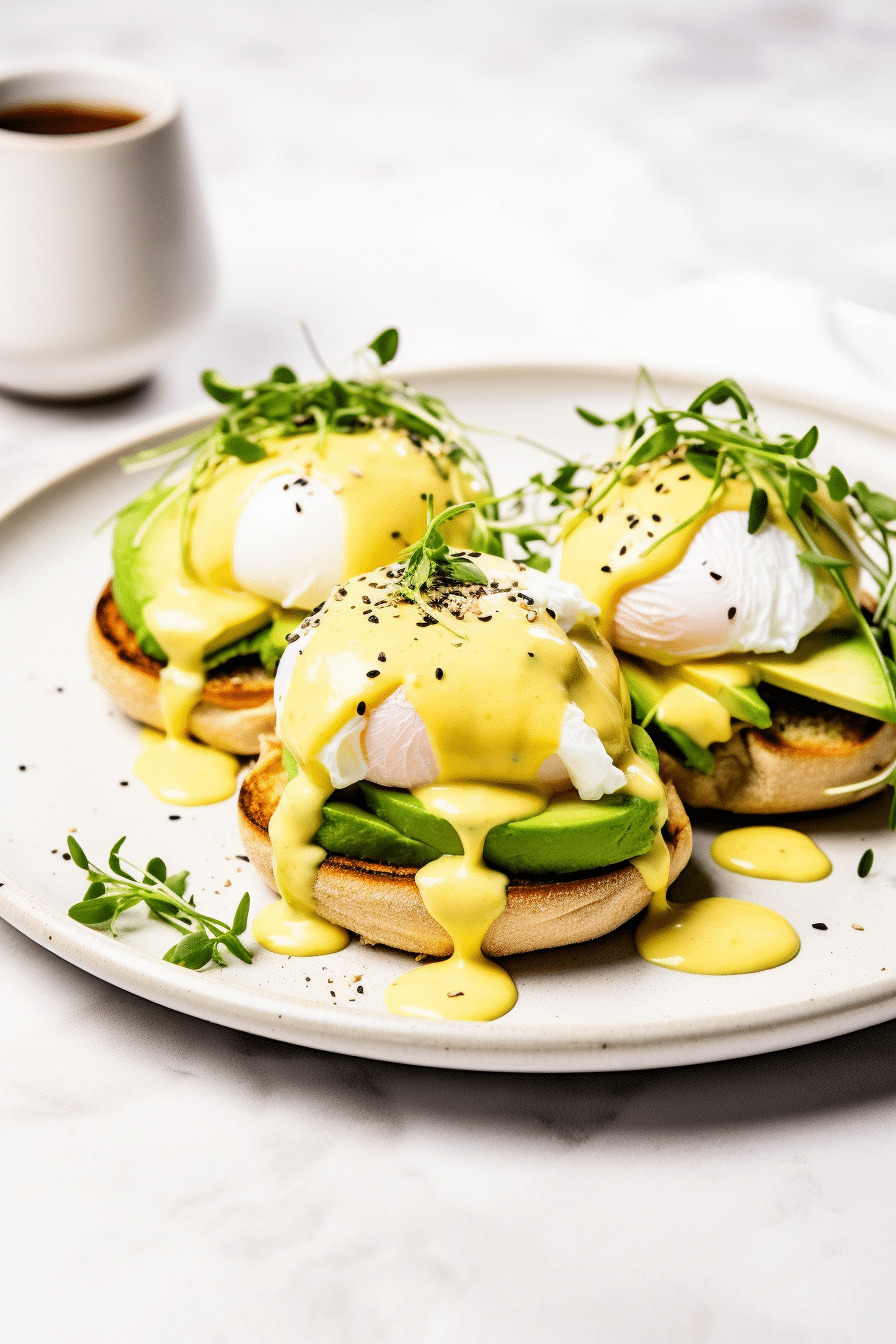 The Origin and Benefits of Keto Avocado Eggs Benedict
When I first embarked on my keto journey, breakfast was the meal I missed the most. The traditional offerings of toast and cereal were off the table, but then I discovered cloud bread, and everything changed. This low-carb alternative opened up a world of possibilities, one of which was creating a keto-friendly version of my all-time favorite brunch dish: Eggs Benedict.
The beauty of this Keto Avocado Eggs Benedict with Cloud Bread lies in its balance. The cloud bread is light and fluffy, providing the perfect base without the heaviness of traditional English muffins. Avocado adds a creamy texture and is packed with healthy fats and fiber, essential for maintaining ketosis. The poached eggs are a great source of protein, and the hollandaise sauce, with its indulgent mouthfeel, is surprisingly keto-friendly when made with real butter and fresh lemon juice.
Each component of this dish is carefully selected to keep your carb count low while maximizing flavor. It's a meal that will leave you feeling full and energized, without compromising your keto goals. The combination of textures and flavors is not only a treat for your taste buds but also a nourishing choice for your body.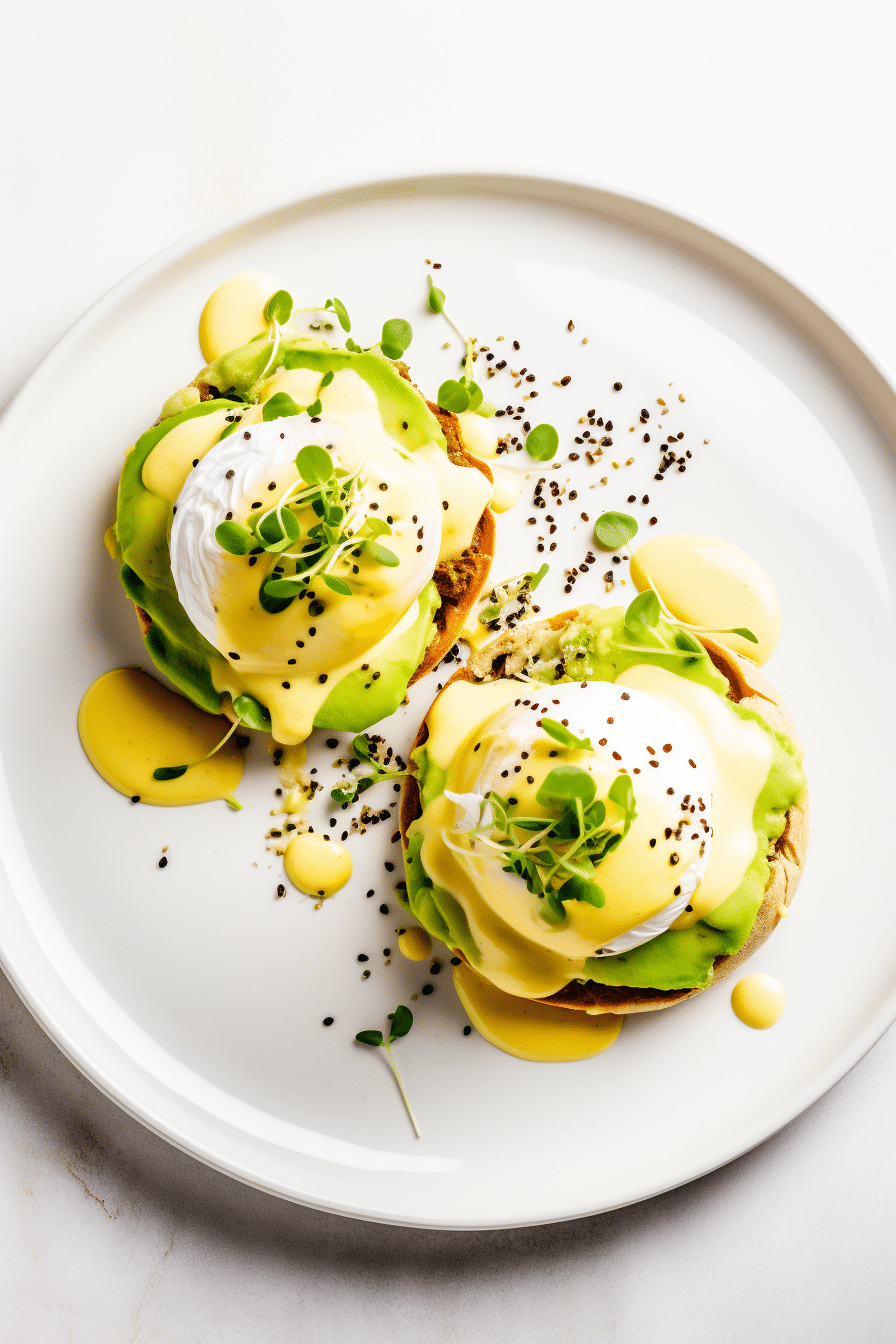 Mastering the Keto Avocado Eggs Benedict
Creating the perfect Keto Avocado Eggs Benedict with Cloud Bread is an art form that requires attention to detail. Here's how to ensure each element shines.
Cloud Bread: Start with room temperature eggs for the best volume in your cloud bread. When separating the eggs, ensure no yolk gets into the whites, as any fat can prevent them from reaching stiff peaks. Folding the yolk mixture into the whites is a delicate process; use a spatula and a gentle hand to maintain the airiness.
Hollandaise Sauce: The key to a smooth, velvety hollandaise is the emulsion. Add the melted butter in a slow, steady stream while blending to create an emulsion that won't break. If your sauce is too thick, a tablespoon of warm water can help reach the desired consistency.
Poaching Eggs: Fresh eggs are best for poaching as they hold their shape better in water. The vinegar in the simmering water helps the whites to coagulate faster, resulting in a neater poached egg. Gently slide the eggs into the water and don't overcrowd the pot.
Assembly: The cloud bread should be cool to the touch before assembling to prevent the hollandaise from melting prematurely. Layer the ingredients carefully to ensure each bite includes a bit of everything. The final drizzle of hollandaise is the crowning glory, so be generous but not excessive.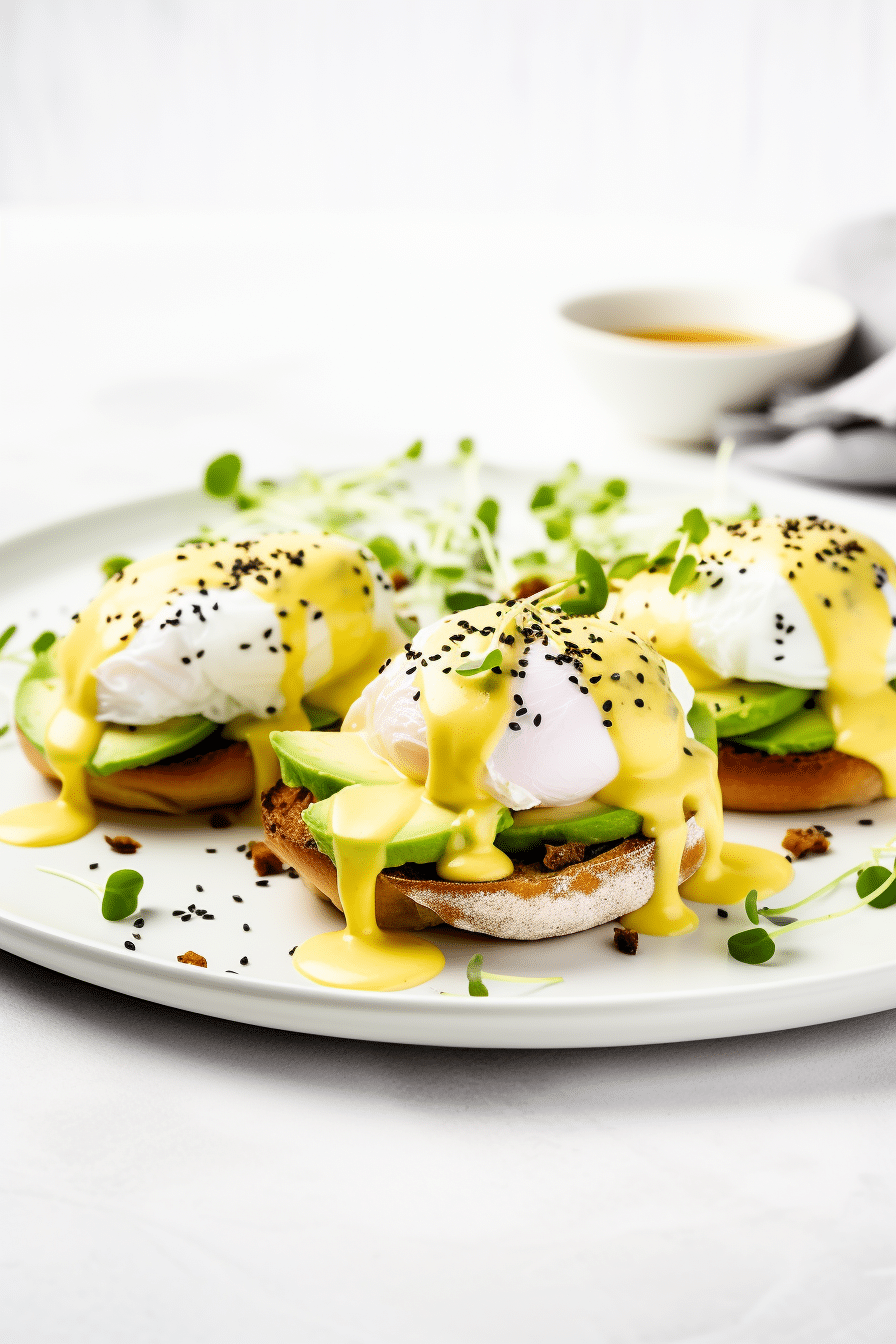 Variations to Spice Up Your Keto Eggs Benedict
Smoked Salmon Eggs Benedict
For a seafood twist, replace the bacon with smoked salmon. The salty, smoky flavor of the salmon pairs beautifully with the creamy avocado and tangy hollandaise.
Spinach and Feta Eggs Benedict
Add sautéed spinach and crumbled feta cheese for a Mediterranean-inspired version. The feta adds a tangy kick that complements the richness of the hollandaise sauce.
Spicy Sriracha Eggs Benedict
If you like a bit of heat, add a drizzle of Sriracha sauce on top of your hollandaise. It'll give your Eggs Benedict a spicy twist that's sure to wake up your taste buds.
Substituting Ingredients for Keto Avocado Eggs Benedict
Not everyone has the same pantry items or dietary preferences, so here are some substitutions you can make in this recipe:
Dairy-Free Cloud Bread: If you're avoiding dairy, you can use dairy-free cream cheese to make your cloud bread. The texture and taste will be slightly different, but it will still be delicious and keto-friendly.
Alternative Hollandaise: For those who prefer a lighter sauce, consider using a dairy-free butter or ghee in your hollandaise. This will also add a nutty flavor to the sauce that pairs well with the eggs and avocado.
Bacon Alternatives: While bacon is optional, if you're vegetarian or simply not a fan, you can leave it out or replace it with a vegetarian bacon alternative or extra avocado slices for more healthy fats.
Frequently Asked Questions
Can I make cloud bread ahead of time? Yes, cloud bread can be made in advance and stored in an airtight container for a few days. Just reheat gently before serving.
How do I prevent my hollandaise sauce from splitting? Keep the heat low and add the butter slowly. If it does begin to split, a tablespoon of warm water whisked in can often save the sauce.
Is it possible to overcook poached eggs? Yes, for a runny yolk, aim for 3-4 minutes of cooking time. If you prefer a firmer yolk, cook for an additional minute.
Can I use store-bought mayonnaise instead of hollandaise? While not traditional, you can use a keto-friendly mayonnaise as a quick alternative. However, the flavor profile will be different.
What can I serve with Keto Avocado Eggs Benedict? This dish is quite filling on its own, but a side of mixed greens or keto-friendly vegetables can round out the meal.
"`—
title: Keto Avocado Eggs Benedict with Cloud Bread
description: Savor the richness of a classic brunch favorite, reimagined for your keto lifestyle. This Keto Avocado Eggs Benedict with Cloud Bread swaps traditional English muffins for fluffy, low-carb cloud bread, topped with creamy avocado, a perfectly poached egg, and a velvety, rich hollandaise sauce.
servings: 2
prep_time: 20 minutes
cook_time: 20 minutes
cuisine: American
category: Breakfast
—
## Ingredients
**For the Cloud Bread:**
– 3 large eggs, separated (room temperature)
– 3 ounces (85 grams) cream cheese, softened
– 1/4 teaspoon cream of tartar
– 1/8 teaspoon salt
**For the Hollandaise Sauce:**
– 2 large egg yolks
– 1 tablespoon lemon juice
– 1/2 cup (113 grams) unsalted butter, melted
– 1/8 teaspoon cayenne pepper
– Salt, to taste
**For the Eggs Benedict:**
– 2 large eggs (for poaching)
– 1 ripe avocado, sliced
– 2 slices of cooked bacon (optional)
– Fresh chives, chopped (for garnish)
– Black pepper, to taste
## Method
**Cloud Bread:**
1. Preheat oven to 300°F (150°C) and line a baking sheet with parchment paper.
2. In a medium bowl, beat the egg whites and cream of tartar until stiff peaks form.
3. In a separate bowl, combine the egg yolks, cream cheese, and salt, mixing until smooth.
4. Gently fold the yolk mixture into the egg whites, taking care not to deflate them.
5. Spoon the mixture onto the prepared baking sheet, forming 4 even rounds.
6. Bake for about 15-20 minutes, or until golden brown. Remove and let cool.
**Hollandaise Sauce:**
1. In a blender, combine the egg yolks and lemon juice. Blend until smooth.
2. Slowly pour in the melted butter while blending, until the sauce thickens.
3. Add the cayenne pepper and salt, blend once more, then set aside.
**Poached Eggs:**
1. Bring a pot of water to a low simmer and add a splash of vinegar.
2. Crack each egg into a small bowl and gently slide them into the simmering water.
3. Cook for 3-4 minutes, then remove with a slotted spoon and drain on a paper towel.
**Assembly:**
1. Place two cloud bread rounds on each plate.
2. Top with sliced avocado and optional bacon.
3. Carefully place a poached egg on each round.
4. Drizzle with hollandaise sauce, garnish with chives, and season with black pepper.
## Nutritional Information (per serving)
– Calories: 650
– Carbohydrates: 8g
– Net Carbs: 4g
– Fiber: 4g
– Fat: 60g
– Protein: 22g
## Equipment Used
– Baking sheet
– Parchment paper
– Medium bowls
– Blender
– Whisk
– Slotted spoon
## Other Notes
– Cloud bread can be made ahead and stored in an airtight container.
– For a firmer poached egg, cook for an additional minute.
– The hollandaise sauce can be gently reheated if it cools too much before serving.