Welcome to your new autumn staple: the Low Carb Spiced Pumpkin and Feta Salad. This dish isn't just a colorful addition to your table; it's a carefully crafted symphony of flavors and textures that align perfectly with a ketogenic lifestyle. The natural sweetness of pumpkin is complemented by the tangy feta, while a selection of warming spices brings a depth of flavor that's both comforting and invigorating. This salad is not only a feast for your taste buds but also a nutritional powerhouse, offering a low carb profile that's high in healthy fats and fiber. Whether you're fully committed to the keto diet or just looking for a delicious way to incorporate more veggies into your meals, this salad is the answer.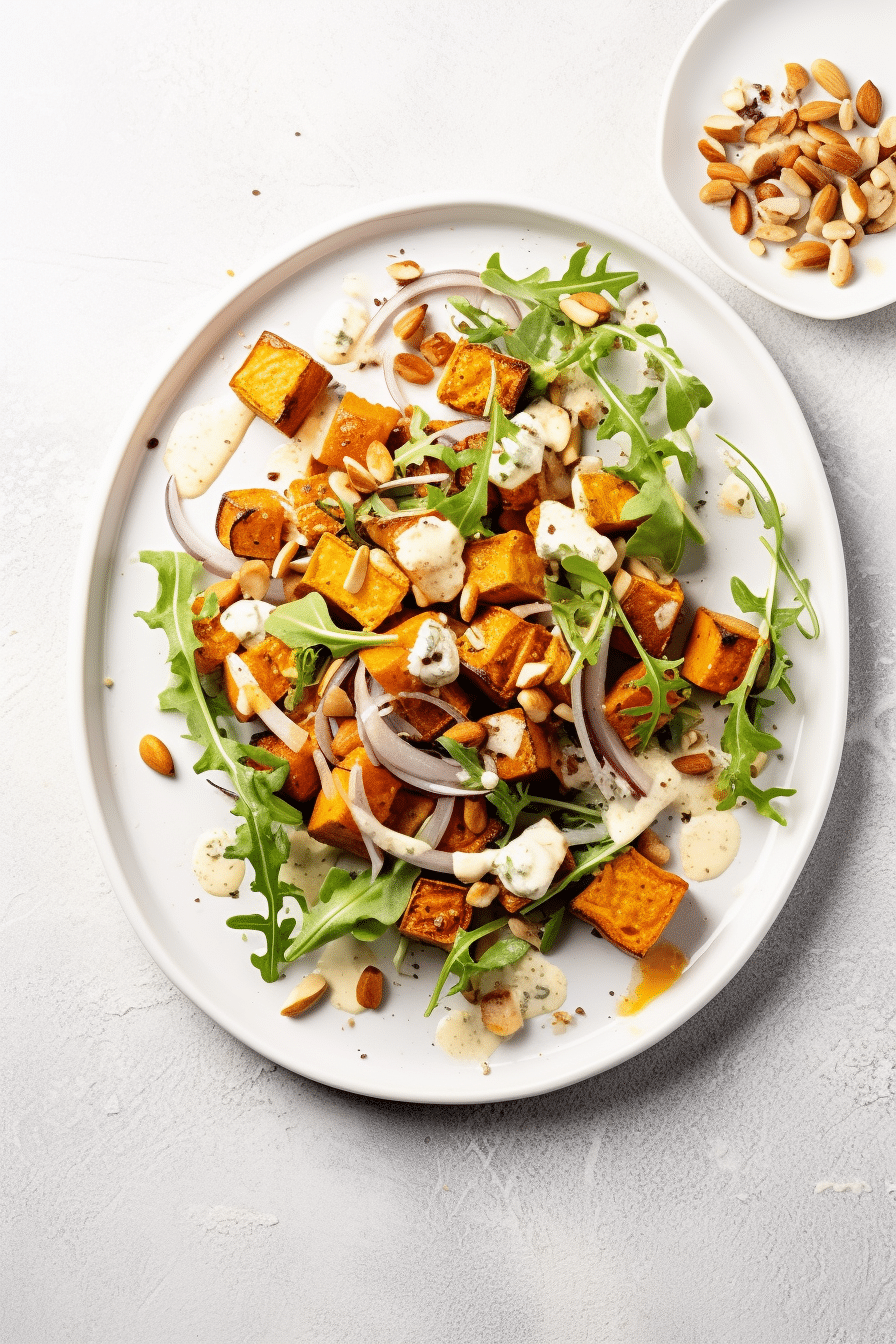 Recipe Details
There's something about the combination of pumpkin and feta that just feels right, especially when the air gets crisp and the leaves start to turn. This Low Carb Spiced Pumpkin and Feta Salad is born out of a love for hearty, yet healthy autumnal flavors that can be enjoyed without any carb guilt. As someone who adores the keto way of eating, I'm always experimenting with recipes that can deliver on taste without compromising my macros.
What makes this salad a standout keto option is its focus on high-fat and low-carb ingredients. The feta cheese brings that creamy, fatty goodness that's essential for keto, while the pumpkin, despite being a starchy vegetable, is used here in moderation to keep the carb count in check. The spices not only add flavor but also come with their own set of health benefits, like the anti-inflammatory properties of cinnamon and cumin.
Each serving of this salad offers a macro profile that fits neatly into a keto diet, with about 20 grams of fat, 7 grams of protein, and a net carb count of just 9 grams. It's a satisfying meal that won't spike your blood sugar, making it ideal for those looking to maintain ketosis. Plus, the vibrant colors and enticing aromas make it a joy to serve and eat.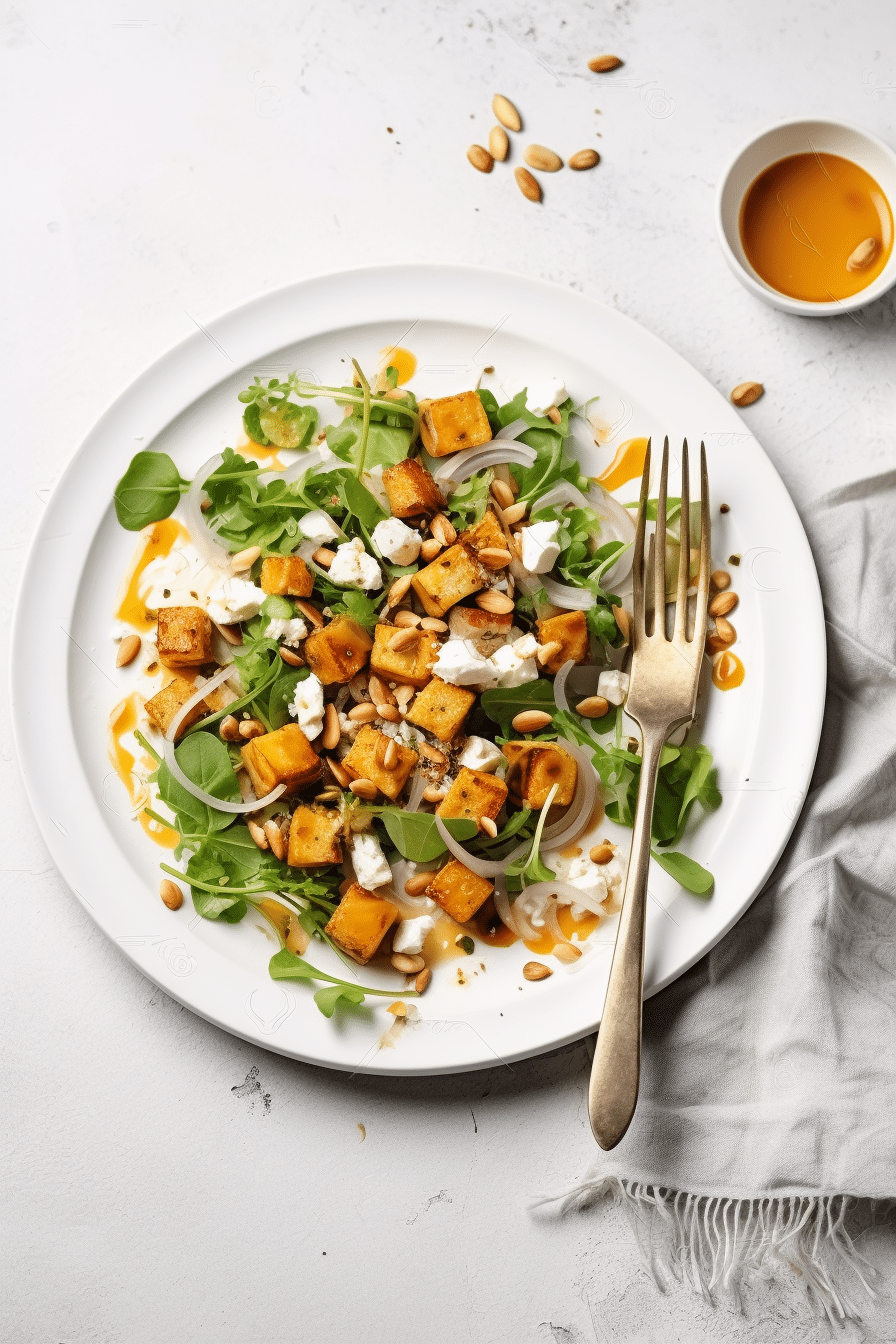 The Method
Creating this salad is a simple process, but as with any dish, the devil is in the details. Here's how to ensure your Low Carb Spiced Pumpkin and Feta Salad turns out perfectly every time:
Roasting the Pumpkin: This is where the magic starts. Roasting the pumpkin brings out its natural sweetness and gives it a softer texture that contrasts beautifully with the crisp salad greens. Make sure to spread the pumpkin evenly on the baking sheet to ensure consistent cooking.
The Spice Mix: Don't skimp on the spices—they're what give this salad its distinctive warm flavor. Freshly ground spices will provide the best flavor, but pre-ground will work in a pinch. Be generous with the seasoning to ensure every bite is packed with flavor.
Toasting the Pine Nuts: This step adds a delightful crunch and nutty taste to the salad. Watch the pine nuts closely as they toast; they can go from perfectly golden to burnt in a matter of seconds.
The Dressing: A simple dressing of olive oil, apple cider vinegar, and Dijon mustard complements the flavors without overpowering them. Whisk it until emulsified for a dressing that coats every leaf and crumble evenly.
Remember to let the pumpkin cool slightly before adding it to the greens to prevent wilting. And always toss the salad gently to keep the greens fresh and vibrant.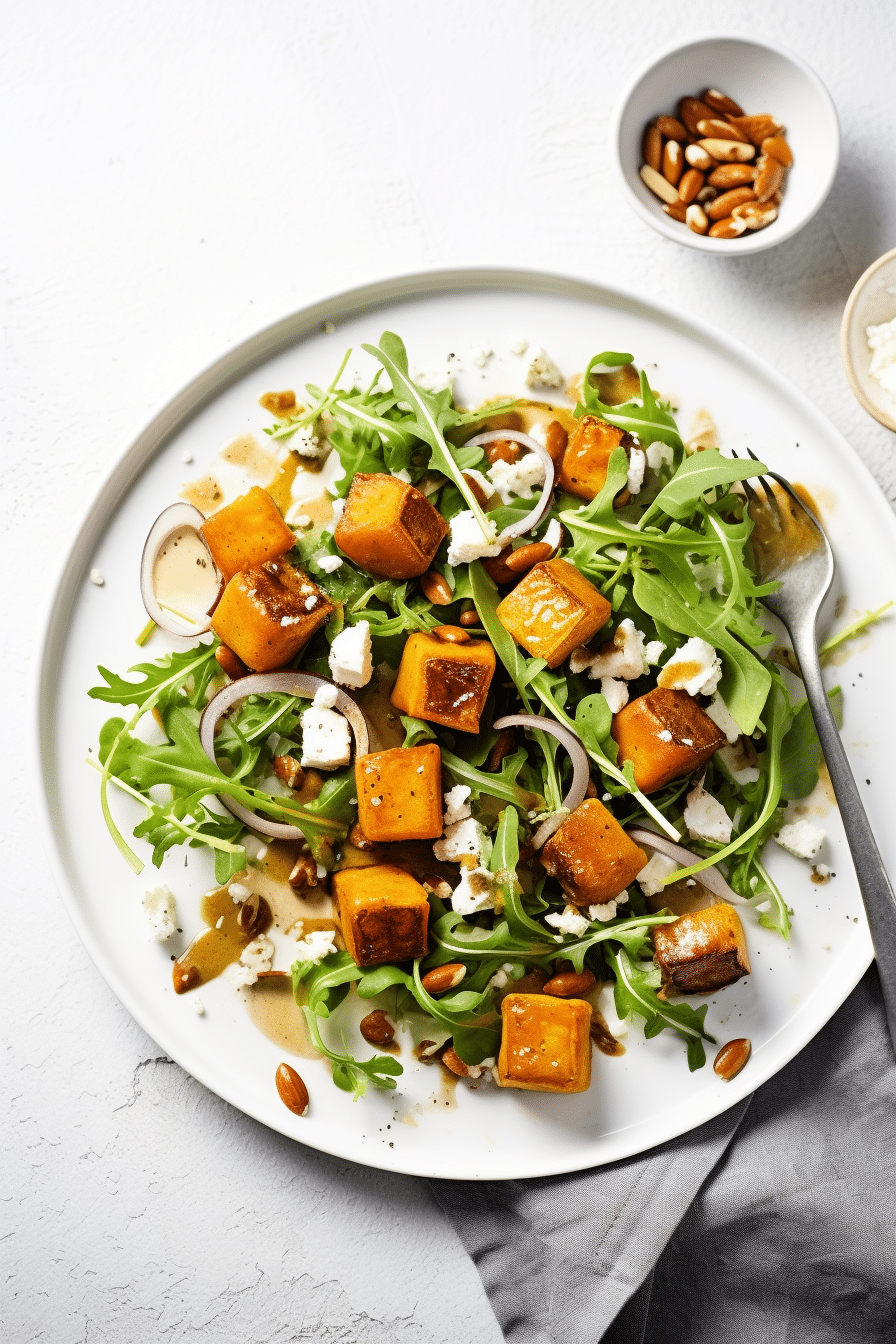 Variations
Spicy Pumpkin and Feta Salad
For those who enjoy a bit of heat, add a sprinkle of cayenne pepper or a few dashes of hot sauce to the spice mix. The heat will cut through the richness of the feta and add an exciting kick to each mouthful.
Roasted Vegetable and Feta Salad
Expand the veggie variety by adding other low-carb vegetables like zucchini, bell peppers, or eggplant to the mix. Roast them alongside the pumpkin for a more complex and filling salad.
Kale and Pumpkin Salad
Substitute the mixed salad greens for kale to pack in even more nutrients. Make sure to massage the kale with a bit of olive oil first to soften its texture and reduce bitterness.
Substitutions
If you can't find pine nuts or need a nut-free option, roasted pumpkin seeds make a great substitute. They still offer a satisfying crunch and are packed with nutrients.
For those who are dairy-free or simply not a fan of feta, try substituting with a vegan cheese alternative or a creamy avocado to maintain that rich texture.
Apple cider vinegar can be replaced with red wine vinegar or lemon juice for a different acidic component in the dressing. Each option will bring its unique flavor profile to the dish.
FAQ Section
Can I make this salad ahead of time?
Yes, you can roast the pumpkin and prepare the dressing ahead of time. However, for the best texture and freshness, combine all the elements just before serving.
Is pumpkin keto-friendly?
In moderation, pumpkin can be included in a keto diet. It's all about portion control to keep the carb count low.
What can I use instead of olive oil in the dressing?
Avocado oil or MCT oil are great keto-friendly alternatives that will still give you a rich, smooth dressing.
How do I store leftovers?
Store any leftovers in an airtight container in the refrigerator and consume within 2 days for best quality.
Can I add protein to this salad?
Absolutely. Grilled chicken or steak slices can turn this salad into a more substantial, protein-packed meal.
Description
Embrace the flavors of fall with this Low Carb Spiced Pumpkin and Feta Salad, a dish that marries the natural sweetness of pumpkin with the tanginess of feta cheese. Enhanced with a blend of warming spices and a crunch of pine nuts, this salad is a delightful addition to your keto-friendly menu. Not only is it packed with nutrients, but it also offers a harmonious balance of creamy and crunchy textures. Perfect for a light lunch or a side dish at dinner, this salad is sure to become a new favorite in your low carb repertoire.
Servings
4
Prep Time
15 minutes
Cook Time
30 minutes
Cuisine
Keto, Low Carb
Category
Lunch, Dinner
Ingredients
1 lb (450 g) pumpkin, peeled and diced
2 tbsp (30 ml) olive oil
1/2 tsp (2.5 ml) ground cinnamon
1/4 tsp (1.25 ml) ground nutmeg
1/4 tsp (1.25 ml) ground cumin
1/4 tsp (1.25 ml) chili powder
Salt and pepper, to taste
5 oz (140 g) feta cheese, crumbled
1/4 cup (30 g) pine nuts
2 cups (60 g) mixed salad greens
1 tbsp (15 ml) apple cider vinegar
1 tsp (5 ml) Dijon mustard
Method
Preheat the oven to 400°F (200°C). Line a baking sheet with parchment paper.
Place the diced pumpkin on the baking sheet and drizzle with 1 tablespoon of olive oil. Toss to coat evenly.
In a small bowl, mix together the cinnamon, nutmeg, cumin, chili powder, salt, and pepper. Sprinkle the spice mixture over the pumpkin, ensuring each piece is well coated.
Bake in the preheated oven for 25-30 minutes, or until the pumpkin is tender and slightly caramelized. Remove from the oven and allow to cool slightly.
While the pumpkin is baking, toast the pine nuts in a dry pan over medium heat for 2-3 minutes, or until golden. Remove from heat and let cool.
In a large bowl, combine the mixed salad greens, spiced pumpkin, crumbled feta, and toasted pine nuts.
For the dressing, whisk together the remaining olive oil, apple cider vinegar, and Dijon mustard. Drizzle over the salad and toss gently to combine.
Serve the salad immediately or chill in the refrigerator until ready to eat.
Calories
Approximately 250 per serving
Carbohydrates
12g per serving
Net Carbs
9g per serving
Fiber
3g per serving
Fat
20g per serving
Protein
7g per serving
Equipment Used
Baking sheet
Parchment paper
Small bowl
Large bowl
Whisk
Measuring cups and spoons
Other Notes
For a nut-free version, substitute the pine nuts with pumpkin seeds. If you prefer a bit more heat, add a pinch of cayenne pepper to the spice mix. This salad is best enjoyed fresh, but you can store leftovers in an airtight container in the refrigerator for up to 2 days. The pumpkin can be roasted ahead of time and added to the salad when you're ready to serve.