Indulge in a Festive Keto Delight: Low-Carb Gingerbread Trifle
As the holiday season approaches, the air fills with the enticing aroma of spices and the warmth of oven-baked treats. But if you're on a ketogenic diet, you might feel the temptation to stray from your low-carb path. Fear not, because this Low-Carb Gingerbread Trifle is here to save your festive spirit and your macros! This delightful dessert layers spiced gingerbread sponge, luscious vanilla cream, and a crunch of pecans, all while keeping your carb count in check. It's the perfect ending to any meal, offering all the traditional gingerbread flavors without the carb-heavy guilt. Get ready to enjoy a holiday classic that aligns with your keto lifestyle!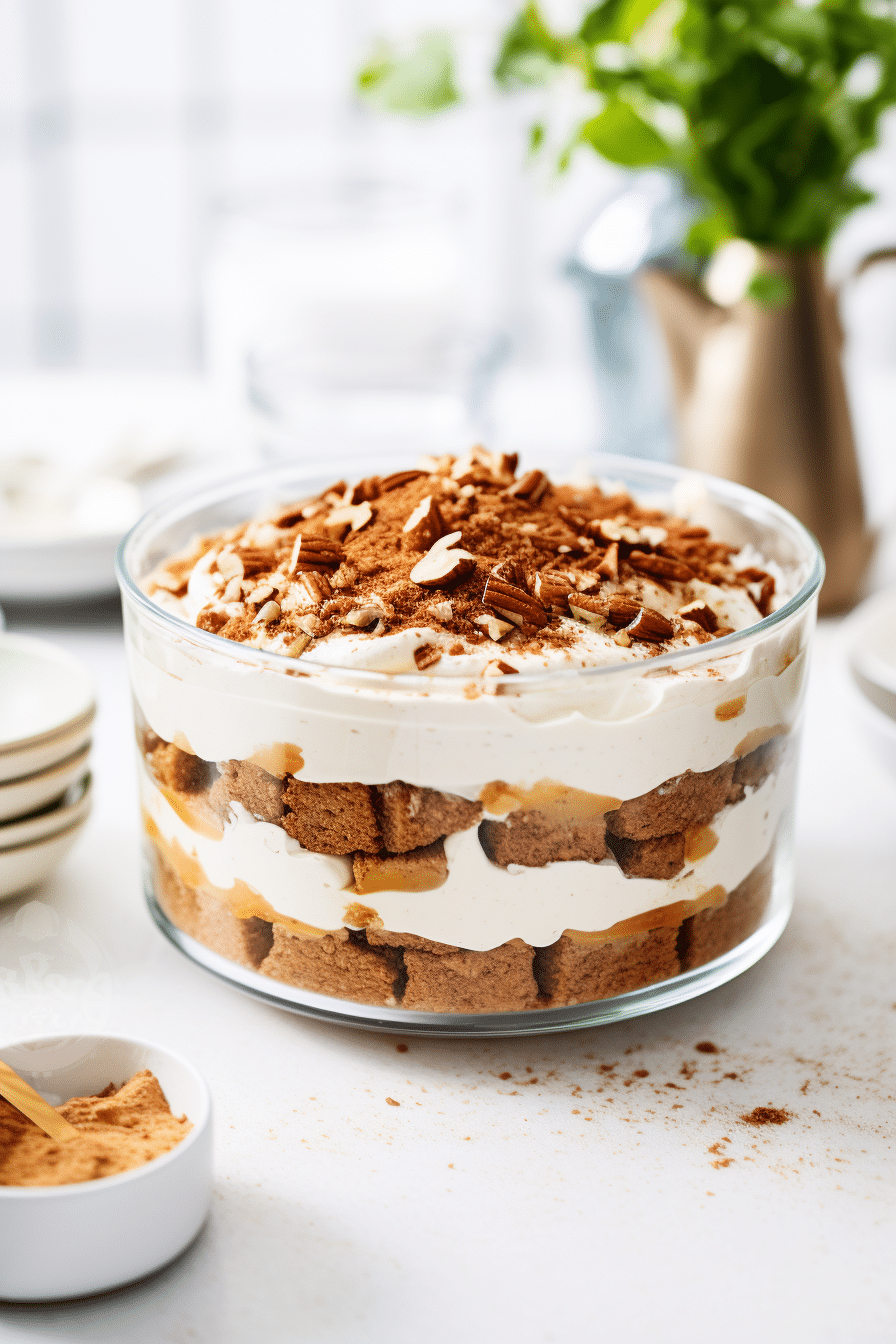 The Story Behind This Keto-Friendly Gingerbread Trifle
Imagine a dessert that takes you on a journey through a winter wonderland with each spoonful. That's what this Low-Carb Gingerbread Trifle does, with its rich, spicy notes and creamy texture. But how did this come to be a keto-friendly creation?
Traditionally, trifles are layered with cake, custard, and fruit, often leading to a high sugar and carb content. However, this recipe has been carefully crafted to bring you the same indulgent experience while sticking to a ketogenic diet. The secret lies in the selection of low-carb flours and sugar substitutes, which mimic the classic textures and flavors without the excess carbs. Almond and coconut flours create a moist and tender sponge, while Swerve Sweetener provides the sweetness without the sugar spike.
The gingerbread sponge is a nod to the festive season, with spices like ginger, cinnamon, and nutmeg evoking the essence of holiday cheer. The vanilla cream adds a velvety layer that contrasts beautifully with the spice-infused sponge. The result is a dessert that's not only keto-friendly but also gluten-free, making it a versatile option for those with dietary restrictions.
But why is this trifle an excellent choice for your keto diet? It's because every component has been thoughtfully chosen to keep the carb count low while maximizing flavor. The high-fat content from the heavy whipping cream and butter aligns perfectly with keto principles, helping you maintain ketosis while enjoying a decadent treat. With this trifle, you can have your cake and eat it too—keto style!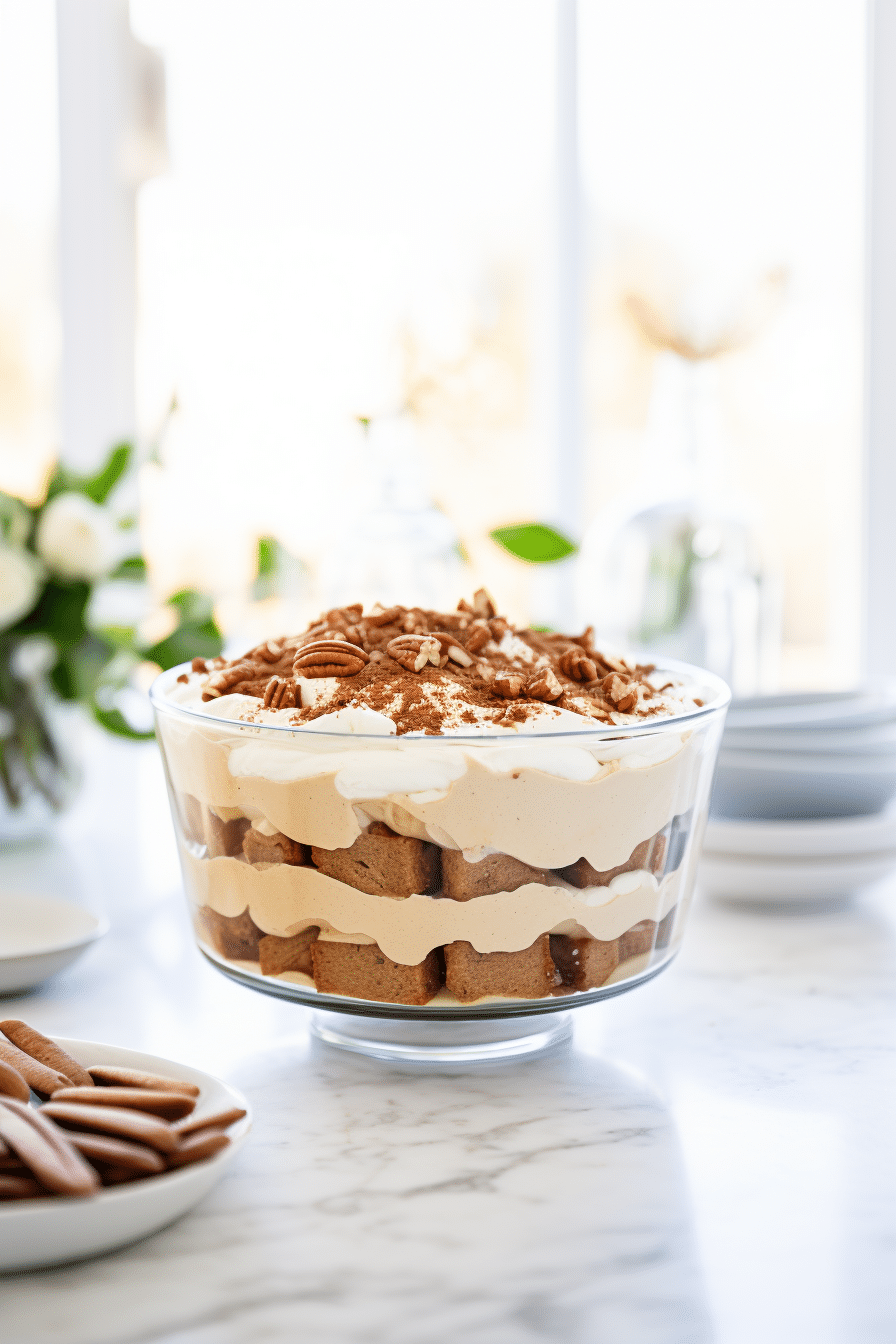 Creating Your Masterpiece: The Low-Carb Gingerbread Trifle Method
Embarking on the creation of this trifle is like painting a masterpiece, where each layer contributes to the final beautiful result. Let's dive into the method, ensuring you craft a dessert that's as stunning as it is delicious.
Preparation is key. Begin by preheating your oven and greasing your baking pan. This ensures a smooth release of the gingerbread sponge once baked. As you whisk together the dry ingredients, take a moment to inhale the festive spices—this is where the magic starts.
Mixing the wet ingredients separately allows for better control over the consistency of your batter. When you combine them with the dry mixture, do so gently to avoid deflating the eggs, which can affect the sponge's texture.
As the sponge bakes, watch for the tell-tale signs of readiness—a golden hue and a clean toothpick. Cooling is just as crucial, as it sets the structure of the sponge, making it easier to cut into neat cubes without crumbling.
Whipping the cream is where your patience pays off. Start at a lower speed and gradually increase, stopping as soon as stiff peaks form. Over-whipping can lead to a buttery texture, so keep a close eye on this process.
Layering the trifle is an art. Each layer of gingerbread, cream, and pecans should be even, creating a visually appealing and well-balanced dessert. If you're using sugar-free caramel sauce, drizzle it sparingly to complement, not overpower, the other flavors.
Chilling the trifle allows the flavors to meld together harmoniously. This waiting period is the perfect time to clean up and anticipate the joy of the first bite.
Remember, the best results come from attention to detail, patience, and the love of crafting something truly special for your holiday table.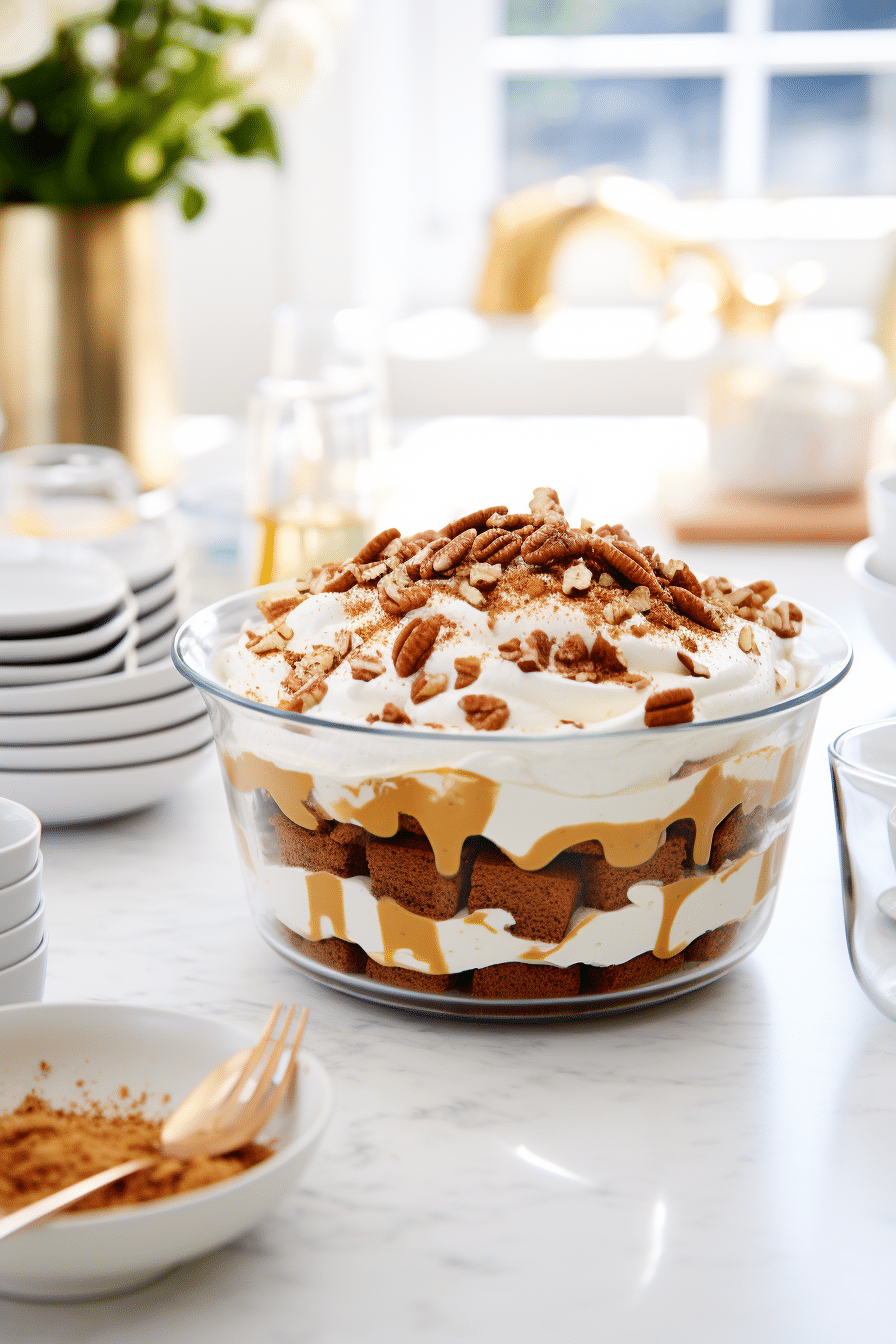 Variations to Spice Up Your Trifle
Chocolate Gingerbread Trifle
For the chocolate lovers, adding a layer of sugar-free chocolate ganache can turn this into a chocolate gingerbread trifle. Simply melt some keto-friendly chocolate with a bit of heavy cream and let it cool before layering.
Pumpkin Spice Trifle
Embrace the flavors of fall by incorporating pumpkin puree and pumpkin pie spice into the cream. This variation adds a delightful twist to the classic gingerbread profile.
Berry Delight Trifle
Introduce a tart contrast by adding a layer of fresh or defrosted berries such as raspberries or blackberries. Their natural sweetness and vibrant color make for a stunning and tasty addition.
Ingredient Substitutions for Every Kitchen
Not everyone has the same pantry items or dietary needs, so here are some substitutions to ensure this trifle can be enjoyed by all:
Almond Flour: If you're nut-free, sunflower seed flour is an excellent substitute for almond flour. It provides a similar texture without the allergens.
Coconut Flour: While coconut flour is unique, in a pinch, you can use additional almond flour, but remember to adjust the quantity since coconut flour is more absorbent.
Swerve Sweetener: If Swerve isn't available, any erythritol-based sweetener or stevia can be used. However, be mindful of the conversion rates, as sweetness levels can vary.
Frequently Asked Questions
Can I make this trifle ahead of time? Yes, you can prepare the gingerbread sponge up to 2 days in advance. Assemble the trifle at least 1 hour before serving to allow the layers to set.
Is this trifle gluten-free? Yes, by using almond and coconut flours, this trifle is naturally gluten-free, making it suitable for those with gluten sensitivities.
Can I use a different sweetener? Absolutely. While Swerve is recommended, any keto-friendly sweetener that measures like sugar can be used. Just check the conversion rates.
How do I store leftovers? Store any leftovers in an airtight container in the fridge for up to 3 days. The layers may soften, but the flavors will remain delicious.
Can I freeze the gingerbread sponge? Yes, the sponge can be frozen for up to a month. Thaw at room temperature before cutting and layering.

## Low-Carb Gingerbread Trifle

This Low-Carb Gingerbread Trifle is a delightful, layered dessert that offers all the festive flavors of the holiday season without the carb overload. With a sumptuous blend of spiced gingerbread sponge, rich vanilla cream, and a sprinkle of crunchy nuts, this trifle is a guilt-free indulgence perfect for any keto-friendly feast.

**Servings:** 8

**Prep Time:** 30 minutes

**Cook Time:** 20 minutes

**Cuisine:** British-Inspired

**Category:** Dessert

**Ingredients:**
***For the Gingerbread Sponge:***
– 1 1/2 cups almond flour (150g)
– 1/4 cup coconut flour (30g)
– 1/2 cup Swerve Sweetener, granulated (96g)
– 2 teaspoons ground ginger (4g)
– 1 teaspoon cinnamon (2g)
– 1/4 teaspoon nutmeg (0.5g)
– 1/4 teaspoon cloves (0.5g)
– 1/4 teaspoon salt (1.5g)
– 1/2 teaspoon baking soda (2.5g)
– 3 large eggs
– 1/4 cup unsalted butter, melted (60g)
– 2 tablespoons unsulphured molasses (30ml)
***For the Vanilla Cream:***
– 1 1/2 cups heavy whipping cream (355ml)
– 1/4 cup powdered Swerve Sweetener (48g)
– 1 teaspoon vanilla extract (5ml)
***For the Layering:***
– 1/2 cup chopped pecans (60g)
– Sugar-free caramel sauce (optional)

**Method:**
1. Preheat your oven to 350°F (175°C) and grease an 8-inch square baking pan.
2. In a large bowl, whisk together almond flour, coconut flour, granulated Swerve, ginger, cinnamon, nutmeg, cloves, salt, and baking soda.
3. In a separate bowl, beat the eggs, then mix in the melted butter and molasses until well combined.
4. Stir the wet ingredients into the dry ingredients until you have a smooth batter.
5. Pour the batter into the prepared baking pan, smoothing the top with a spatula.
6. Bake for 18-20 minutes or until a toothpick inserted into the center comes out clean.
7. Allow the gingerbread sponge to cool completely, then cut into 1-inch cubes.
8. In a mixing bowl, whip the heavy cream with the powdered Swerve and vanilla extract until it forms stiff peaks.
9. To assemble the trifle, place a layer of gingerbread cubes at the bottom of a trifle bowl or individual serving glasses.
10. Spoon a layer of the vanilla cream over the sponge, then sprinkle with chopped pecans.
11. Drizzle with sugar-free caramel sauce if desired, then repeat the layering process until all ingredients are used, finishing with a layer of cream and a sprinkle of pecans.
12. Chill the trifle for at least 1 hour before serving to allow the flavors to meld.

**Calories:** 320 per serving

**Carbohydrates:** 10g per serving

**Net Carbs:** 4g per serving

**Fiber:** 6g per serving

**Fat:** 28g per serving

**Protein:** 8g per serving

**Equipment Used:**
– 8-inch square baking pan
– Large mixing bowls
– Whisk
– Spatula
– Electric mixer
– Trifle bowl or serving glasses

**Other Notes:**
– The gingerbread sponge can be made ahead of time and stored in an airtight container for up to 2 days.
– For a nut-free version, substitute the pecans with seeds or omit them entirely.
– Ensure all ingredients are at room temperature before starting for the best results.
– The sugar-free caramel sauce is optional but adds a lovely touch of indulgence.