Keto Walnut and Blue Cheese Salad with Pear Dressing
When you think of a salad, you might envision just a simple side dish. But with the right ingredients and a burst of flavor, a salad can easily become the star of your meal. That's exactly what you'll find with this Keto Walnut and Blue Cheese Salad with Pear Dressing. It's a dish that's not only satisfying and delicious but also perfectly aligned with a ketogenic lifestyle. With its low carb count and high fat content, it's designed to keep you in ketosis while tantalizing your taste buds.
Imagine the crunch of toasted walnuts, the creamy tang of blue cheese, and a dressing that's subtly sweet yet full of zest. This salad is a dynamic combination of textures and flavors that will leave you feeling both refreshed and indulged. Best of all, it's incredibly easy to prepare, making it an ideal choice for a quick lunch or a sophisticated dinner side.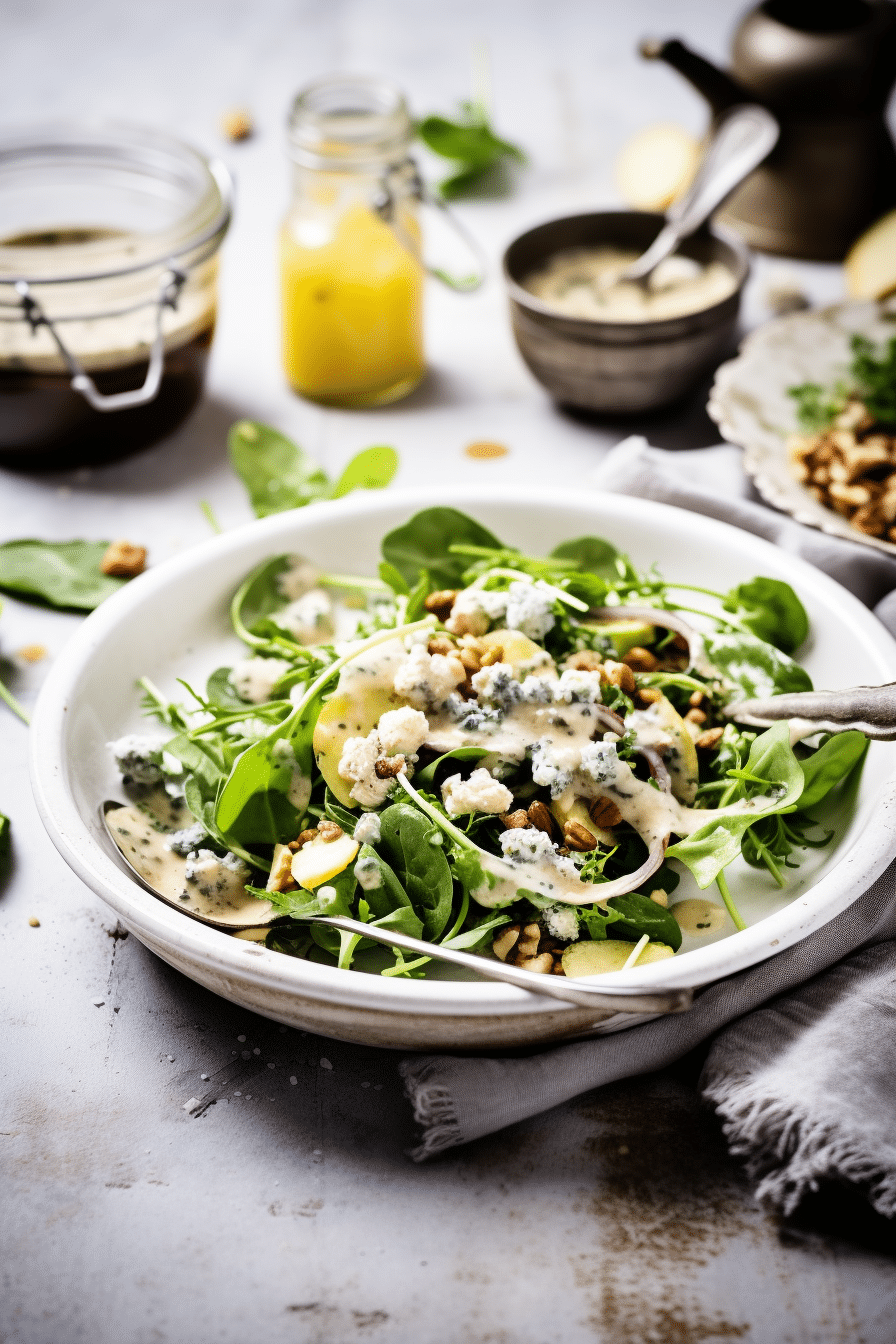 Recipe Details
This Keto Walnut and Blue Cheese Salad with Pear Dressing is more than just a dish; it's a celebration of balanced flavors and healthy, keto-friendly ingredients. The inspiration for this salad came from a desire to create a meal that could be both indulgent and good for you. On a keto diet, it's essential to find recipes that you look forward to eating, and this salad is exactly that.
Each ingredient has been carefully selected to provide the right balance of fats, proteins, and carbs. The walnuts offer a satisfying crunch and are an excellent source of healthy fats and antioxidants. The blue cheese brings a rich and savory flavor, as well as a good amount of fat and protein. And the dressing, made with a fresh pear, gives just the right amount of sweetness without compromising your carb limit.
The beauty of this salad lies in its simplicity and the ease with which it can be customized. Whether you're a seasoned keto dieter or just starting out, this recipe is a fantastic addition to your repertoire. It proves that eating keto doesn't mean sacrificing flavor or enjoyment. In fact, it's quite the opposite. This salad is a testament to how delicious keto eating can be.
With this recipe, I wanted to create a dish that could be enjoyed by anyone, regardless of their culinary skills. It's a straightforward recipe that yields sophisticated flavors, making it perfect for both everyday meals and special occasions. Let's dive into the method and see how this delightful dish comes together.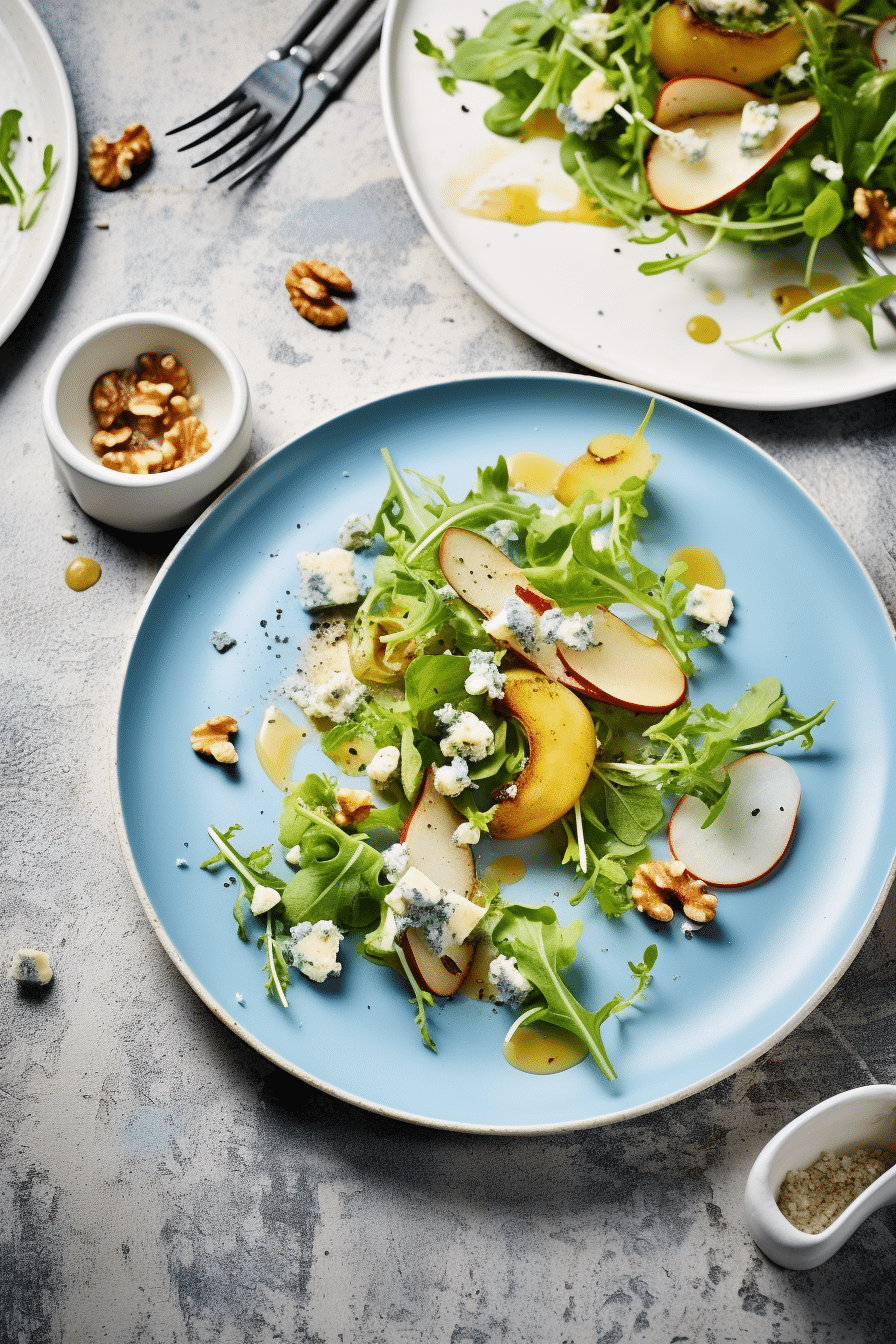 The Method
Creating the perfect Keto Walnut and Blue Cheese Salad with Pear Dressing is all about the details. Here's how to ensure your salad turns out perfectly every time.
Prepare the Pear Dressing: The dressing is the heart of this salad. Start by blending the pear until it's completely smooth – this is key for a creamy dressing. Taste as you go and adjust the seasoning to your preference. Remember, the pear should lend a subtle sweetness, not overpower the other flavors.
Toast the Walnuts: Toasting walnuts might seem simple, but it's a step that should be done with care. Watch the nuts closely as they toast, shaking the pan occasionally to ensure they brown evenly and don't burn. This will bring out their natural oils and enhance the flavor of the salad.
Combine the Salad Ingredients: When tossing the salad, be gentle. You want to maintain the integrity of the greens and distribute the walnuts and blue cheese evenly. This ensures every bite has a bit of everything.
Dress the Salad: Drizzle the dressing over the salad just before serving to keep the greens crisp. Toss it lightly to coat every leaf without making the salad soggy. The goal is a light, even coating of dressing that complements, not drenches, the salad.
Serve: Serve the salad immediately after dressing for the best texture and flavor. If you're preparing this ahead of time, keep the components separate and assemble just before eating.
These steps, while simple, are crucial for crafting a salad that's both visually appealing and delicious. Attention to detail can elevate this dish from good to great.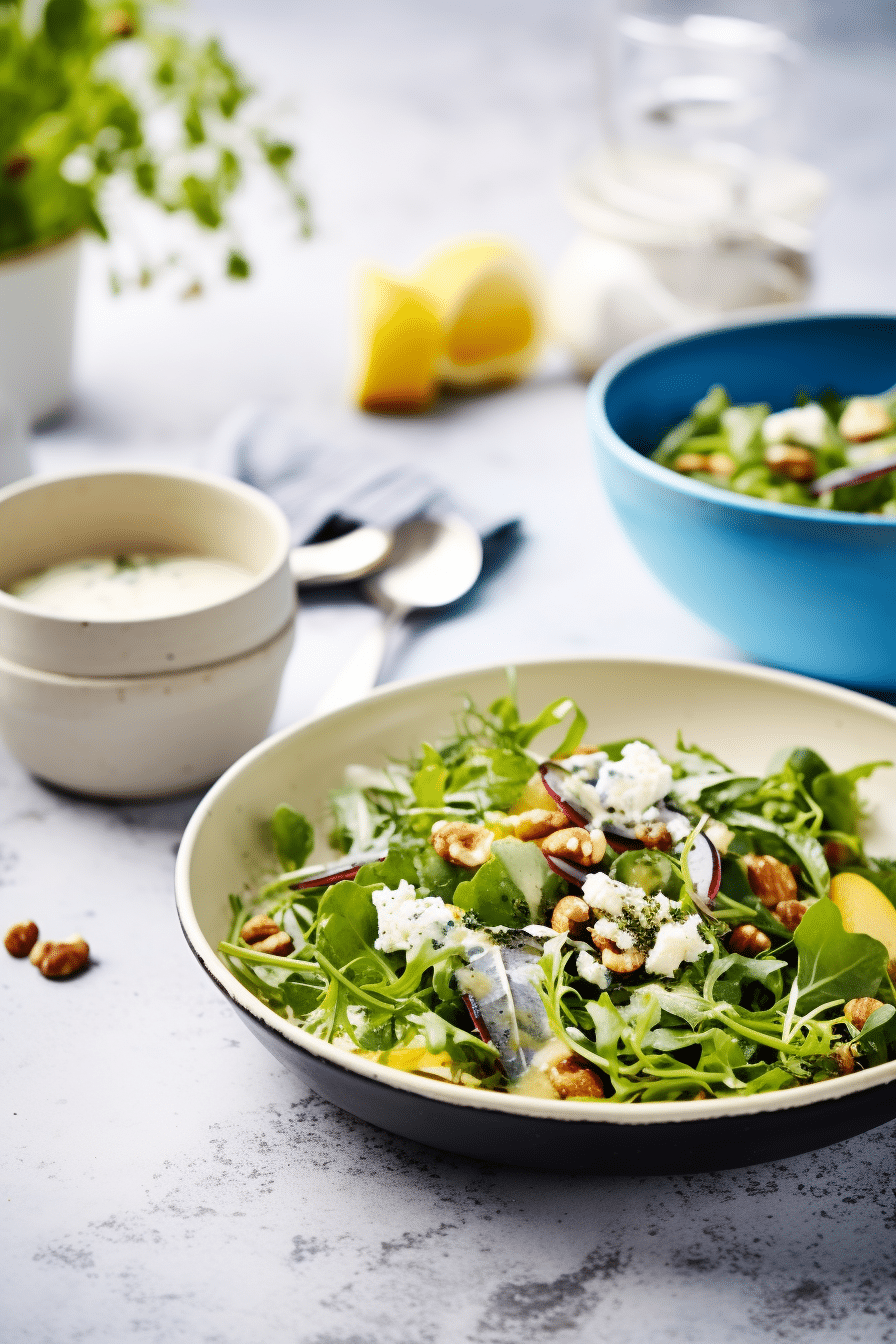 Variations
Avocado and Feta Twist
For a creamier texture and a different flavor profile, try replacing blue cheese with feta and adding diced avocado. The avocado adds additional healthy fats, making it even more keto-friendly.
Spicy Pecan Delight
If you enjoy a little heat, swap out the walnuts for pecans and add a sprinkle of cayenne pepper to the dressing. The spiciness will give the salad a whole new dimension.
Berry Citrus Spin
For a fruity twist, substitute the pear with a handful of raspberries or blackberries and add a splash of lemon juice to the dressing. This variation offers a tart contrast to the creamy cheese.
Substitutions
Understanding that dietary needs and preferences vary, here are some substitutions that can be made while still keeping this salad keto-friendly:
Blue Cheese Alternatives: If blue cheese isn't your favorite, goat cheese or shaved parmesan can be excellent substitutes that still provide a punch of flavor and creaminess.
Nut-Free Options: For those with nut allergies, roasted pumpkin seeds are a fantastic alternative to walnuts, providing a similar crunch and a boost of minerals.
Sweetener Swap: If erythritol isn't your preferred sweetener, other keto-friendly options like stevia or monk fruit can be used in the dressing to achieve the desired sweetness.
FAQ Section
Here are some common questions and answers to help you perfect your Keto Walnut and Blue Cheese Salad with Pear Dressing:
Can I make the dressing ahead of time?
Yes, the dressing can be made in advance and stored in the refrigerator for up to a week. Just give it a good shake or stir before using.
What if I don't have a blender for the dressing?
If you don't have a blender, you can finely chop the pear and whisk all the dressing ingredients together. The texture will be chunkier but still delicious.
How can I add more protein to this salad?
Grilled chicken or steak slices make excellent protein-rich toppings for this salad without adding carbs.
Is this salad suitable for meal prep?
Yes, you can prepare the components separately and assemble the salad just before eating to keep everything fresh.
Can I use a different type of vinegar?
While apple cider vinegar provides a nice tang, you can use white wine vinegar or red wine vinegar as a substitute.
Keto Walnut and Blue Cheese Salad with Pear Dressing
Indulge in the harmonious blend of crunchy walnuts, creamy blue cheese, and a subtly sweet pear dressing, all while keeping it keto-friendly. This Keto Walnut and Blue Cheese Salad with Pear Dressing is a symphony of flavors and textures that will elevate your meal to gourmet status. Perfect for a light lunch or as an elegant side dish.
Servings: 4
Prep time: 15 minutes
Cook time: 0 minutes
Cuisine: Keto, American
Category: Lunch, Dinner
Ingredients:
Mixed greens – 8 cups (226g)
Walnuts, roughly chopped – 1 cup (120g)
Blue cheese, crumbled – 4 oz (113g)
Fresh pear, finely diced – 1 medium (approx. 180g)
Extra virgin olive oil – 1/4 cup (60ml)
Apple cider vinegar – 2 tablespoons (30ml)
Dijon mustard – 1 teaspoon (5ml)
Erythritol (or keto-friendly sweetener) – 1 tablespoon (12g)
Salt – 1/2 teaspoon (2.5g)
Pepper – 1/4 teaspoon (1g)
Method:
Begin by preparing the pear dressing. In a blender, combine the diced pear, olive oil, apple cider vinegar, Dijon mustard, erythritol, salt, and pepper. Blend until smooth and creamy. Adjust seasoning to taste and set aside.
In a dry pan over medium heat, toast the chopped walnuts until fragrant and lightly golden, about 3-5 minutes. Be sure to stir frequently to prevent burning. Remove from heat and allow to cool.
In a large salad bowl, toss the mixed greens with the cooled, toasted walnuts and crumbled blue cheese.
Drizzle the pear dressing over the salad and gently toss until the ingredients are well coated.
Serve immediately, ensuring each portion has an even mix of greens, walnuts, blue cheese, and dressing.
Calories: 375 per serving
Carbohydrates: 12g per serving
Net carbs: 9g per serving
Fiber: 3g per serving
Fat: 34g per serving
Protein: 10g per serving
Equipment Used:
Blender
Salad bowl
Measuring cups and spoons
Dry pan
Other Notes:
For an even more keto-friendly option, you can replace the pear in the dressing with a lower-carb fruit, like berries, or simply increase the vinegar for tanginess without the sweetness. Additionally, for a nut-free version, sunflower seeds make a great substitute for walnuts.