Ultimate Keto Sloppy Joe Recipe
Welcome to a lip-smacking journey that will revitalize your taste buds while keeping carbs at bay – the ultimate keto sloppy joe recipe is here to rock your world. This dish demonstrates that you can still enjoy the decadence of a classic comfort food while honoring your keto commitments. Low in carbs and high in flavorful, satiating fats, this recipe is bound to become a staple at your dinner table.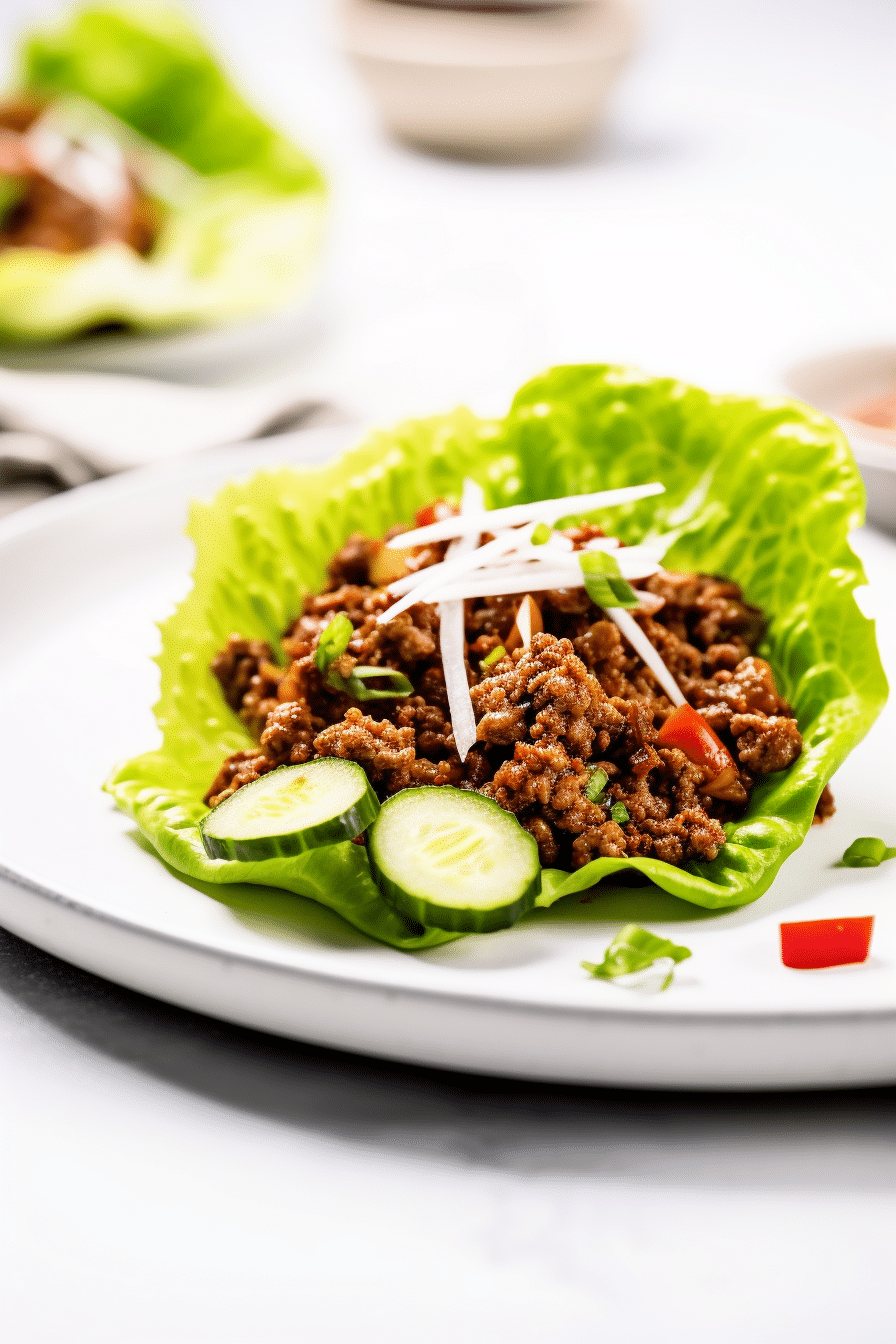 Where This Recipe Came From
The inception of this keto-friendly sloppy joe recipe came from a longing for traditional comfort food that didn't compromise my dietary boundaries. Ground beef, simmered in a tangy, robust sauce and piled high on a bed of greens or keto buns, provides a familiar, nostalgic warmth without the carb-heavy guilt. This rendition of the American classic is more than a meal; it's a conscious celebration of bold flavors within a keto context.
The beauty of this recipe lies in its balance – the high-fat and moderate protein components align perfectly with the ketogenic ethos. The sugar-free ketchup and careful selection of spices guarantee that every bite packs a punch of taste without the extra carbs. This dish is not merely good, it's an exemplary representation of how keto recipes can maintain the soul of comfort cooking.
The Method
Attention to Detail: Cooking starts long before the skillet is hot. Begin by meticulously dressing your vegetables; finely chop the onion and dice the bell pepper with equal parts precision and passion, as these will lay the foundation of your flavor profile. Garlic's potent essence is best welcomed in small sizes, so mince these cloves with care.
The Art of Cooking Beef: The ground beef requires your tenderness and attention in the skillet. The heat should welcome the meat without aggression – medium settings allow for a gentle sizzle. Prod and fold the beef with your spatula, breaking it apart into crumbles that show a golden brown hue yet remain tender.
Vegetable Integration: Introduce your chopped veggies to the browning meat, and observe how their colors deepen in the company of warmth. Stirring is a dance; perform it often enough to avoid scorching but do so with gentleness to let the flavors embrace each other without resistance.
Sauce Symphony: The sauce is the soul, and you're the composer. Infuse the pan with each liquid ingredient then serenade with spices. Treat smoked paprika, cumin, and chili powder like whispers of taste – with respect and intention. Your delicate stirring technique is key to prevent separation and ensure every note of flavor finds its place.
Simmer to Perfection: After seasoning to taste, dedicate time to a modest simmer. This is not mere cooking; it's alchemy as you transmute simple ingredients into a filling rich with complexity and depth.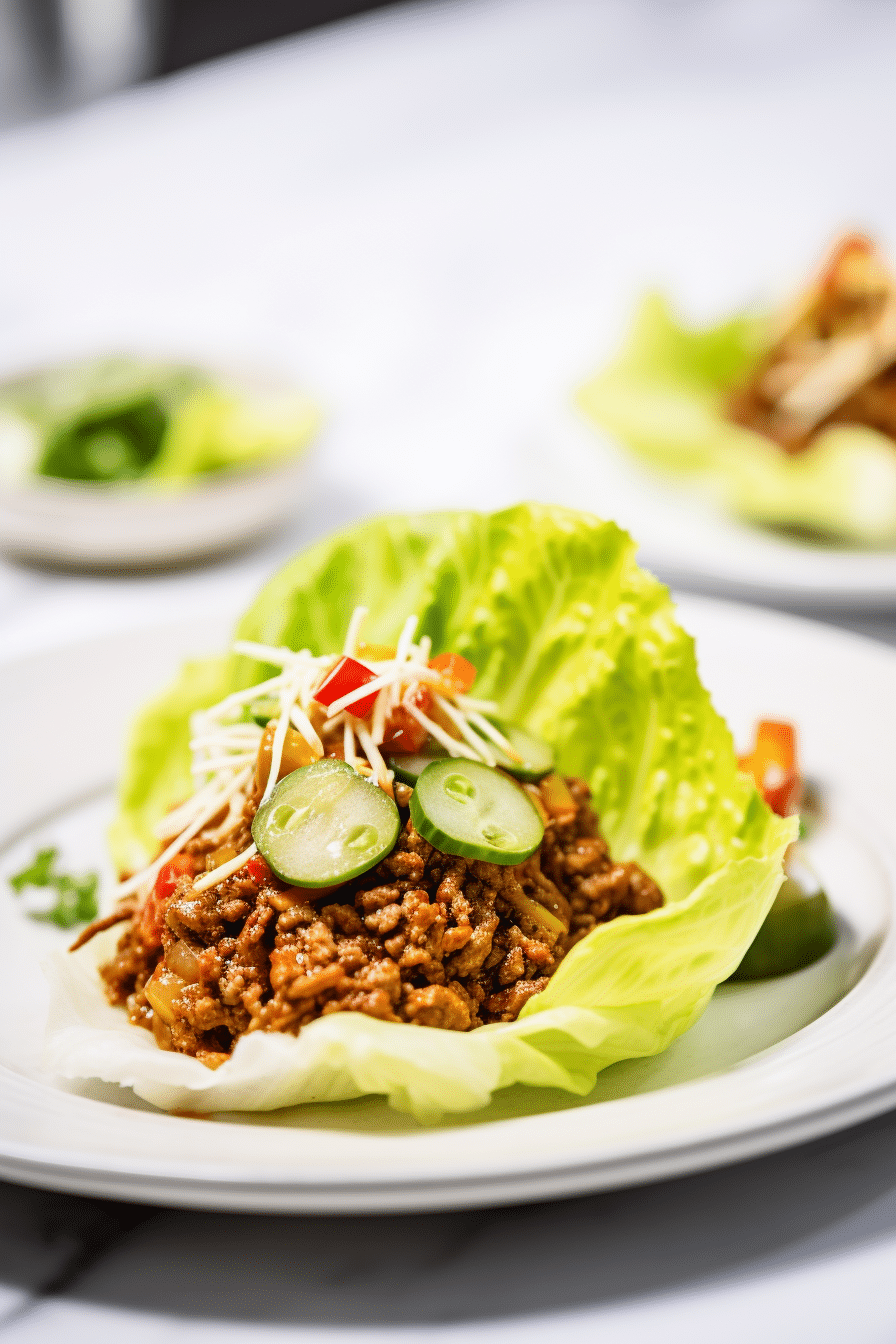 Variations
Spicy Keto Sloppy Joe: For those who chase the thrill of heat, a jalapeño variant can ignite your senses. Dice these fiery peppers fine and add them with the bell peppers to imbue the dish with a fiery yet manageable spice that sings in harmony with the savory undertones.
Turkey Keto Sloppy Joe: An alternative for the health-conscious or those preferring a lighter taste, ground turkey steps in splendidly. It absorbs the piquant sauce and spices just as well as beef but offers a unique, milder take on the classic.
Substitutions
Coconut Aminos for Worcestershire Sauce: A keto-friendly swap that doesn't skimp on umami, coconut aminos bring both the savory and the sweet, without the added sugars found in traditional Worcestershire sauce.
FAQs
Can I make this sloppy joe without sugar-free ketchup?
Absolutely! Though sugar-free ketchup adds convenience and flavor, feel free to replace it with a homemade mix of tomato paste, vinegar, and your preferred keto-safe sweetener, adhering to the ratio to maintain flavor integrity.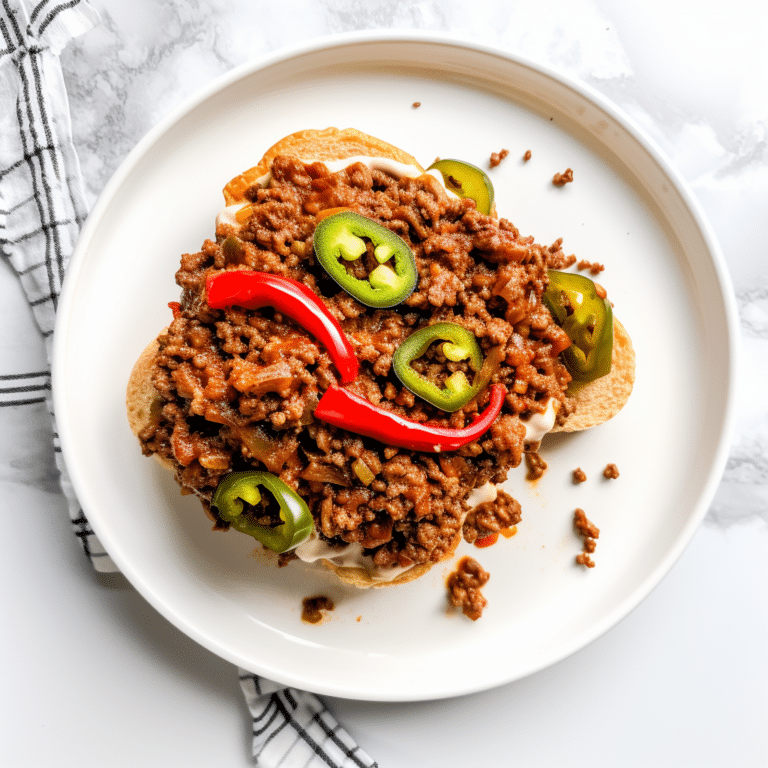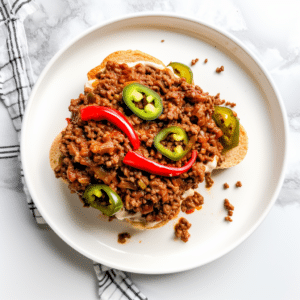 Easy Keto Sloppy Joe Recipe
Dive into the savory world of comfort food without a hint of guilt with this scrumptious keto-friendly Sloppy Joe recipe. Bursting with rich and meaty flavors, perfectly balanced with a tangy sauce, you won't believe it's low carb. Perfect for family dinners or casual gatherings, this dish is sure to satisfy your cravings and keep you on track with your ketogenic lifestyle.
Ingredients
1

lb

453g ground beef

1

medium onion

finely chopped

1

bell pepper

diced

2

cloves

garlic

minced

½

cup

118ml sugar-free ketchup

1

tbsp

15ml Worcestershire sauce

1

tbsp

15g apple cider vinegar

1

tbsp

14g unsalted butter

1

tsp

5g smoked paprika

½

tsp

salt

¼

tsp

freshly ground black pepper

¼

tsp

1.2g cumin

¼

tsp

1.2g chili powder

⅛

tsp

0.6g cayenne pepper (optional for heat)<
Instructions
Melt the unsalted butter in a large skillet over medium heat, taking care not to burn it. Add the ground beef and begin to cook, breaking it apart with a spatula. You'll want the meat to be browned but not overly crispy, allowing each piece to soak up the flavors that follow

With the beef beautifully browned, it's time to incorporate your prepped veggies — the onion and bell pepper. Mix them into the ground beef, letting them sweat and release their sweetness. The fragrant garlic joins the party next, stirring frequently to prevent any chance of it burning and becoming bitter.

Pour in the sugar-free ketchup, your tangy Worcestershire sauce, and the apple cider vinegar. Next, infuse the mixture with the complex notes of smoked paprika, cumin, chili powder, and an optional pinch of cayenne for those who favor a kick of heat.

Season the meaty mixture with salt and freshly ground black pepper, adjusting it to suit your personal preference. Let your Sloppy Joe blend simmer for about 10 minutes, allowing the sauce to thicken and the taste to deepen. This simmer is vital, as it marries all the components into a mouth-watering filling generous enough to lavish upon your favorite keto-friendly buns or lettuce wraps
Nutrition
Calories:
324
kcal
Carbohydrates:
10
g
Protein:
28
g
Fat:
20
g